Czech Wine Steps Out of the Shadows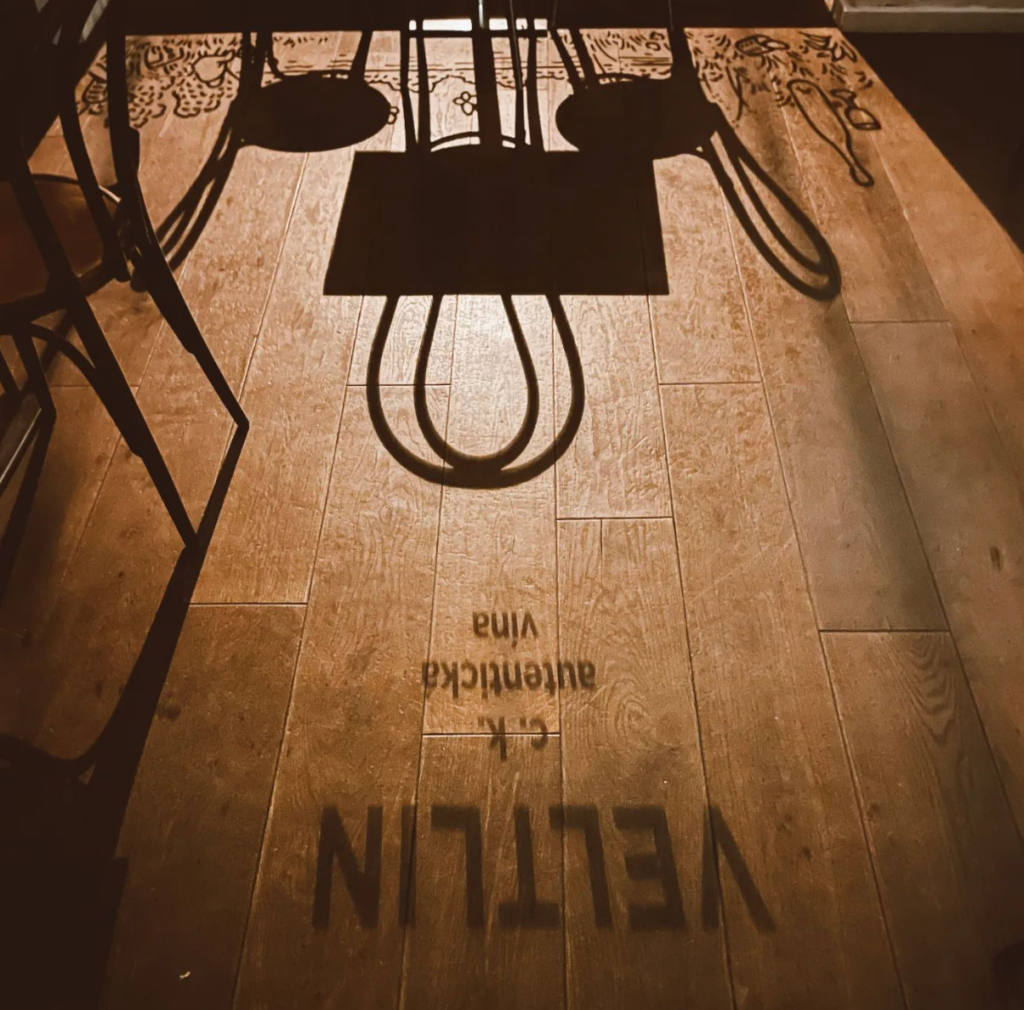 With Milan Nestarec now a household name among natural wine drinkers, wine bar owners Standa Soukup and Bogdan Trojak of Prague, the Czech capital could justifiably pat themselves on the back and consider their job done.
In their quest to champion Czech wine, they witnessed a humble, young winemaker rise to the top of the international natural wine scene. While the Czech wine boom can't be attributed to any one person or establishment, there's no denying the impact their establishment Veltlin has had on the buzz.
Will these two help launch more meteoric successes? And can a region that was so closely linked to other wine powerhouses finally forge its own path? To understand what has made the Czech Republic's ascent in the wine world so impressive, we should first consider all the country has endured.
When Czechoslovakia fractured into two nations in 1993, the present-day Czech Republic walked away with less than a third of the land then under vine. The wine region in the country's north, Bohemia, is more accessible to tourists but home to just 5% of the country's vineyards. "The good stuff," as Soukup puts it, is down south, in Moravia. That region's nutrient-dense soils of stone, gravel, sand, and clay draw most of the country's winemakers.
The Czech Republic's wine-growing history dates to the Roman Empire of the late 3rd century. The countries of central Europe's Habsburg Empire, (Veltlin focuses on Czech, Slovakian, Austrian, Hungarian, and small quantities of Romanian wine) which included present-day Austria, Czech Republic, Slovakia, Hungary, Bosnia, and Croatia, as well as parts of Italy, Poland, Romania, Ukraine, Serbia, Moldova, and Montenegro, stretched from 1282 to 1918. This superpower exported sugar and oil and offered port services to create booming industries. But the wine it made was primarily consumed within its own borders.
Central Europe enjoyed a robust wine economy until Communist rule post-World War II ground operations to a halt and nationalized private estates, forcing growers to give up their lands and their livelihoods. The plots, and all the knowledge winemakers had acquired over generations, were turned over to cooperatives that standardized the winemaking processes, leaving little room for innovation and resulting in a uniform taste and profile. Winemaking thrived, but mainly for consumption by family and friends. It wasn't until 1993, when the Czech Republic became an independent state, that winemakers were finally rewarded with the governmental stability and support required to resume their practices and re-develop their own styles. Restitution returned many of the vineyards to their rightful owners after nearly 40 years and alternate forms of compensation were issued to landowners for whom restitution wasn't possible.
A movement to thrust the wines of the Czech Republic onto the world stage began with a group of winemakers who sought to make wine that evoked emotion and a sense of place.
A movement to thrust the wines of the Czech Republic onto the world stage began with a group of winemakers who sought to make wine they deemed authentic — wines that evoked emotion and a sense of place. The group prided itself on crafting wines without additives or other industrial methods, while upholding sustainable farming practices. Where there might have been dogma, instead was passion. Trojak founded a group of seven small-scale producers in 2008. (It's worth mentioning that Nestarec was an early member of this group, which has since disbanded.) Surrounded by the safety of each other's company, they shared ideas and enthusiasm about how to reinvigorate and repopularize heirloom grape varieties. They banned GMOs and extensive SO2 usage and only allowed ambient yeasts for fermentation. Trojak felt that with a united front they could begin peddling these wines to restaurants around Prague.
It was about this time that Soukup, who was working as a presenter at a Czech national radio broadcaster, met Trojak. They opened Veltlin wine bar in the trendy district of Karlín in 2012. Named after the grape variety Veltlínské zelené (a synonym of Austria's Grüner Veltliner), Soukup and Trojak found the name fitting as the grape was the Austrian-Hungarian flagship variety and was also one that required some hefty damage control. If anyone could transform a perception that wines made from this grape were uninspiring, it would be these two.
The world has watched the natural wine wave crest and explode over the last decade-plus, but back in 2012, the term "natural wines" lacked the mainstream appeal of today. Soukup and Trojak dubbed them "authentic" wines, and there were only a handful of Czech producers whose values aligned with this ethos, which made selling the wines a challenge. The pair trudged on, running the wine bar and spreading the gospel of Czech wines to anyone who would listen, eventually instilling a more favorable opinion of Czech wines.
Today, Bodgan Trojak is hard to pin down; he's spread thin and seems to prefer it that way. When he's not tending his vines in Litoměřice, a city about a 50 minutes drive north of Prague, he's writing award-winning poetry, coordinating the Prague Drinks Wine fair, and overseeing a wine distribution company. He also co-owns another Prague wine bar, Autentista, alongside Veltlin.
Many experienced natural wine drinkers step into Veltlin for a deep dive into wines from Eastern European wines, but Soukup brims with pride that around half of their patrons come with no natural wine background whatsoever. "We don't judge. We love to serve our wines to all open-minded people."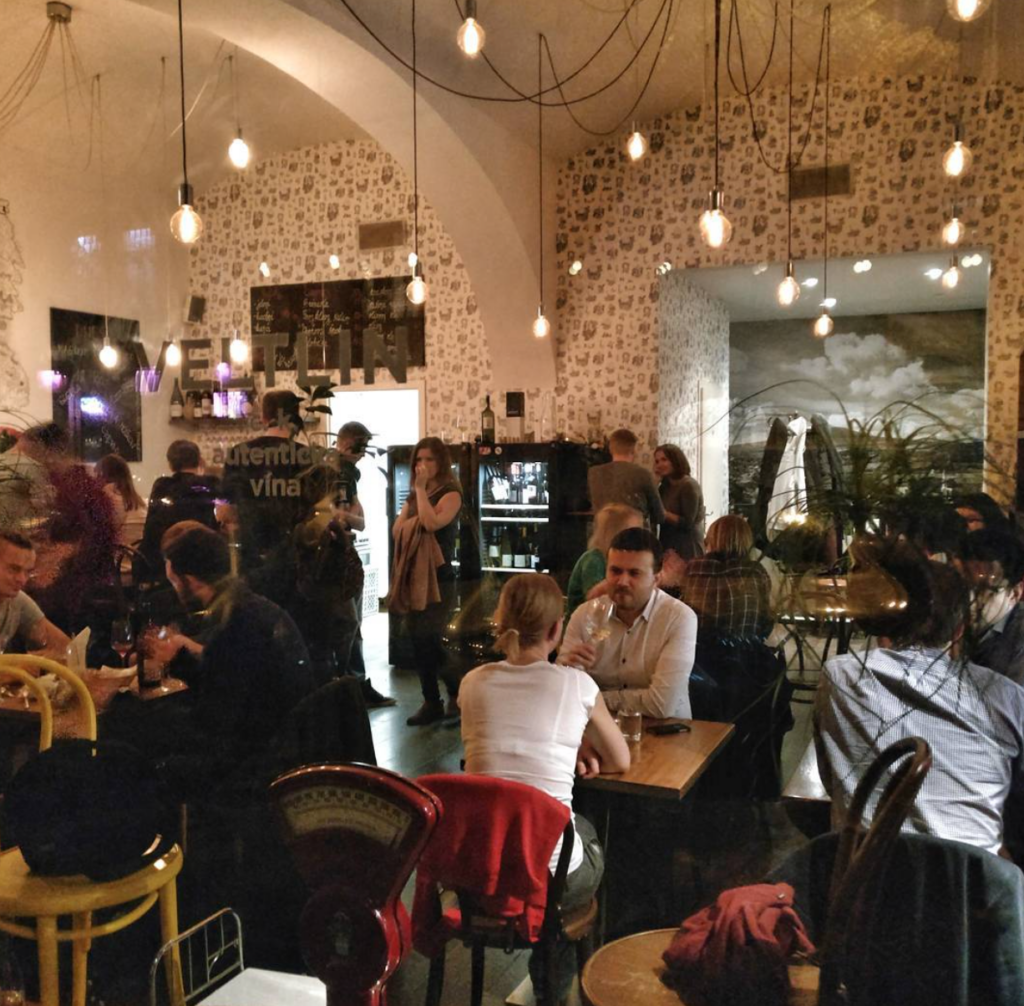 On a chilly Saturday evening, Veltlin is buzzing. Several couples make themselves at home, flirting and sipping, while a group of four chats away and a baby sleeps in its stroller beside the table. Downstairs, a private party is getting rowdier with each glass. It is the cozy neighborhood wine bar that just so happens to have a knockout list, like the hidden gems nestled deep in Brooklyn or Hackney.
Veltlin has no set wine menu because many of the wines they serve may oxidize too quickly to be pourable, even over the course of a few hours. With this freedom, team members are empowered to follow their mood and open whichever bottles strike them that evening. The evolving lineup includes the likes of Edgar Brutler's (Transylvania, Romania) SAITO 2021 that was lemon curd, tarragon, and honeycomb zipped up with a lively acidity and made from Furmint, Fetească regală, Olaszrizling (a.k.a. Welschriesling) along with a few other varieties that remain unknown even to Brutler. This wine, a mashup of Hungarian and Romanian grapes, was aged in 50% oak and 50% Italian amphora.
To try to pin down the wines of the former Habsburg empire would be a dizzying, if thrilling, task. Riesling, Pinot Blanc, Grüner Veltliner, and Silvaner are the most planted white grapes that would be recognizable to denizens of that empire. With the world's largest planting of St. Laurent along with significant plantings of Blauer Portugieser and Blaufränkisch, native grapes are noticeably absent from the lineup of Czech's top planted varieties.
Czech producers seem happy to draw on
their inspiration and travels
rather than rely solely on heritage.
But even if there is some overlap among German and Austrian varieties, Czech producers seem happy to draw on their inspiration and travels rather than rely solely on heritage. Trojak's Žernosecký Rezlík is a playful Riesling aged in Georgian qvevri with whispers of apple blossom and quince.
Nestarec's Umami 2019 uses both Roter Traminer and Gewürztraminer to create a wine that is as distinct as it is delicious. Sipping Umami, one of Nestarec's top-shelf wines, is like peeking into his notebook to see his menagerie of motivations up close. The grapes, hand-picked from a 1.35-hectare plot, were pressed and left on the skins for 12 hours before being left to age in oak for almost two years. The result is delightfully heavy on lime zest and apricot yogurt flavors, with a beautiful salinity.
The Veltlin duo started working with Nestarec around 2012, when his wine style was worlds away from what it is today. It's impossible to miss the brightly colored bottles adorned with funky graphics that have become his trademark. Today, they have the flavor profile and structure to back up the hype. And because Nestarec is fluent in English, he could travel around to fairs, which helped to position him as the face of modern Czech wine.
Soukup stresses that the success of Nestarec and his peers belongs to the winemakers alone. But one can't help note that if Veltlin hadn't placed these wines in restaurants and built up a reputation as a supplier with high expectations, there's no telling where they'd be today. "The first five years were quite difficult, but step by step, it got better," he says, rolling up his sleeves. "Six or so years ago, a lot of people from other countries started visiting our bar. And then we became kind of a center for natural wines [in the Czech Republic]. We had many visitors, many sommeliers. One summer, we hosted Noma staff for the weekend who came to see and learn about Central European wines because they're still quite unique."
If they post a winemaker on their Instagram profile, he or she better be prepared for an influx of orders, sometimes up to two pallets.
The visibility puts a lot of pressure on the Veltlin team, and as Soukup explains, there's a lot riding on their every move: "It's quite scary because distributors believe in what we do. So if we make a mistake, it can be a problem." Because the Czech Republic was part of the Eastern Bloc and under Communist Rule for more than 40 years, with little-to-no outside influence, Soukup points out that some bottles still lack artistic creativity. A winemaker might make stellar juice but need some creative direction. So in swoop Soukup and Trojak, who, before agreeing to work with a winemaker, will taste the wines, visit the vines, and make a full assessment. "We like to be 100% sure that if we offer their wine, we can represent it 100%."
The countries of the former Habsburg Empire have more in common than their famed love of beer. Winemaking cultures of these countries have progressed at different speeds, like a marathon in which various countries take the lead at various times. Hungary and Austria, for example, have seen great success exporting their wines, while the Czech Republic lagged. Have Central and Eastern Europe had a harder time making waves in the wine world because of their physical distance from Western Europe? Soukup seems to think so.
"We still need to find our own style, which this generation is already doing, because we need to go back to a time before Communism destroyed everything."
For Soukup, the Czech Republic's trajectory is promising, with a healthy dose of chance. "You can know everything [about winemaking], but it's still a matter of luck because you need to be lucky with the weather or lucky that you receive the bottles at the proper time. Nonetheless, I'm very proud of the newcomers on the Czech wine scene."
If the last 10 years indicate anything about the next, it's clear the Veltlin team isn't backing down on their mission any time soon. As they've learned, recognition is nice, but authenticity (and the pride that comes with maintaining it) is irreplaceable.