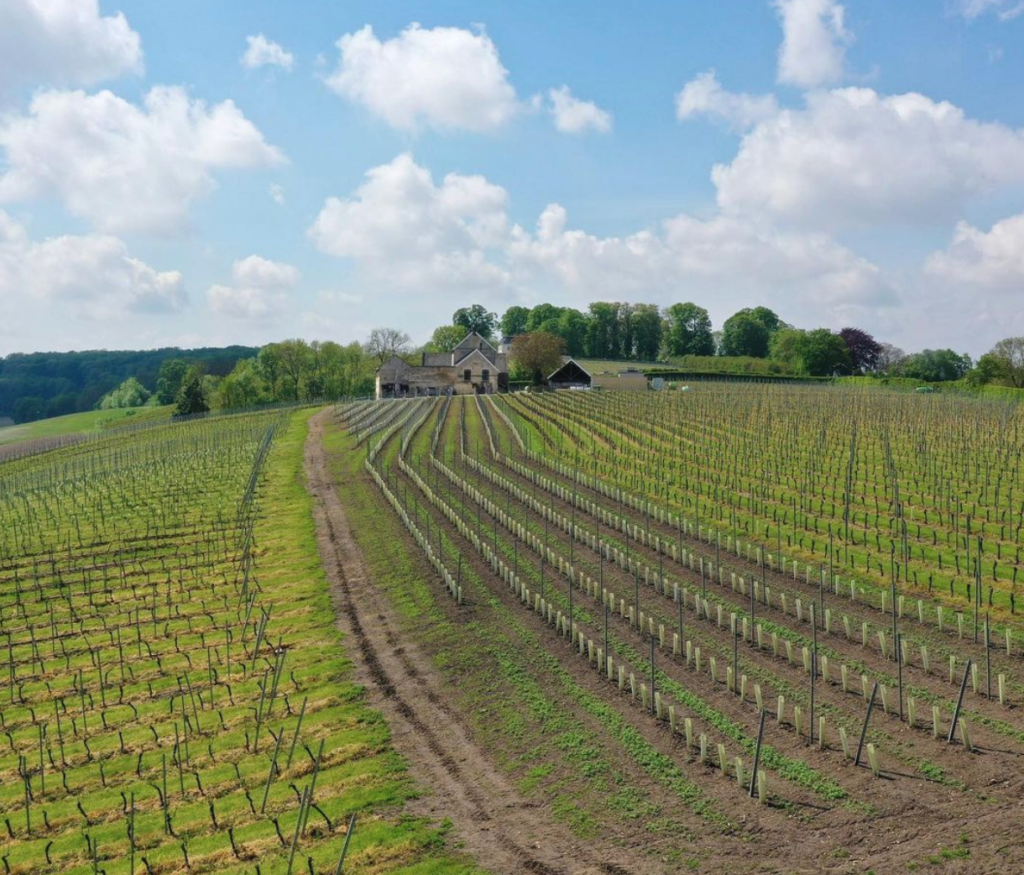 This year, 2023, marks the 50th vintage of commercial winemaking in the Netherlands. The Apostelhoeve winery was the first to take up the gauntlet and plant vines in 1970. Even though the growth of Dutch wine production has accelerated, Apostelhoeve has retained its prominent position. Its wines are allocated to retailers, wholesalers, and restaurants, but only after a personal conversation with owner and winemaker Mathieu Hulst. In the slipstream of Apostelhoeve's journey to success, a small but expanding — and increasingly interesting — Dutch wine sector is emerging.
Apostelhoeve is located just a half-hour walk outside the historical center of Maastricht, a city with Roman roots on the banks of river Meuse in the bucolic, southernmost part of the Netherlands. By car, the Ahr Valley is only 90 minutes to the east. Colmar, the heart of Alsatian winemaking, is five hours to the south.
The Apostelhoeve is spectacularly positioned on the Louwberg, one of the verdant hills overlooking the Jeker Valley, a small tributary of the Meuse River. As I enter its courtyard, a door to the kitchen swings open and Hulst comes out. Tall, blond, slightly balding, and in his mid-50s, he greets me with a cheerful smile. Hulst turns out to be an easy talker. Despite his southern accent, he has the disarming swagger of an Amsterdammer.
On the Farm
Hulst represents the second generation of winemakers at what is considered to be the Netherlands' oldest and arguably most successful commercial winery. His grandmother was a wine connoisseur with a well-sorted cellar. Her motto: drink one bottle, buy two more. Her son, Hulst's father, was the first to plant grapes, which initiated a gradual change from a mixed farm of fruit trees and cattle to a full-fledged winery. Now Apostelhoeve — hoeve is an old Dutch word for farm — has 20 hectares of vines and produces around 130,000 bottles per year (about 10 percent of the Netherland's total wine production), with the third generation, Mathieu's sons Robin and Gilbert, warming up to take over.
Looking south from the estate, a Riesling vineyard slopes steeply into the valley of the Jeker River. From its panoramic window, Apostelhoeve's tasting room boasts views of the blood-red tower of Sint Jan's church, the square twin towers of the Sint Servaas church, which honors Maastricht's patron saint — coincidentally one of the so-called ice saints whose feast days fall in mid-May, marking the last risk of damaging frosts — and the squat structure of Our Lady's Basilica.
Dutch Wine Defined
Winegrowing in what is now the Netherlands probably goes back to the Roman era. The oldest document mentioning vineyards around Maastricht dates from 968. Viticulture reached its apex in medieval times, before the Little Ice Age made it difficult to ripen grapes. Phylloxera, fungal diseases, and the conversion to more lucrative crops were the final blow to Dutch viticulture — the last vineyard was uprooted in 1946.
Apostelhoeve was the first estate to reintroduce winegrowing commercially. With its inaugural vintage in 1973, 2022 could have marked its fiftieth anniversary, but Hulst is quick to point out that, due to weather conditions, there was no crop at all in 1981. Although one could argue that a void vintage is no less a vintage, 50 fruit-bearing vintages in 51 years from a region that was, in the early 1970s, considered beyond marginal for winegrowing is noteworthy.
The Netherlands now counts about 165 commercial winegrowers farming more than 275 hectares of vineyards. 15 of the 23 most planted varieties are PIWIs. The average annual production over the five vintages from 2017 to 2021 was 7,500 hectoliters. 2022 delivered a bumper crop of almost 10,000 hectoliters, 15 percent of which was produced under one of eight PDOs (known as BOBs in Dutch). Preparations are also underway for four more PDOs. The two newest PDOs (Voerendaalse Bergen and Rivierenland) are mentioned on the map as being in preparation.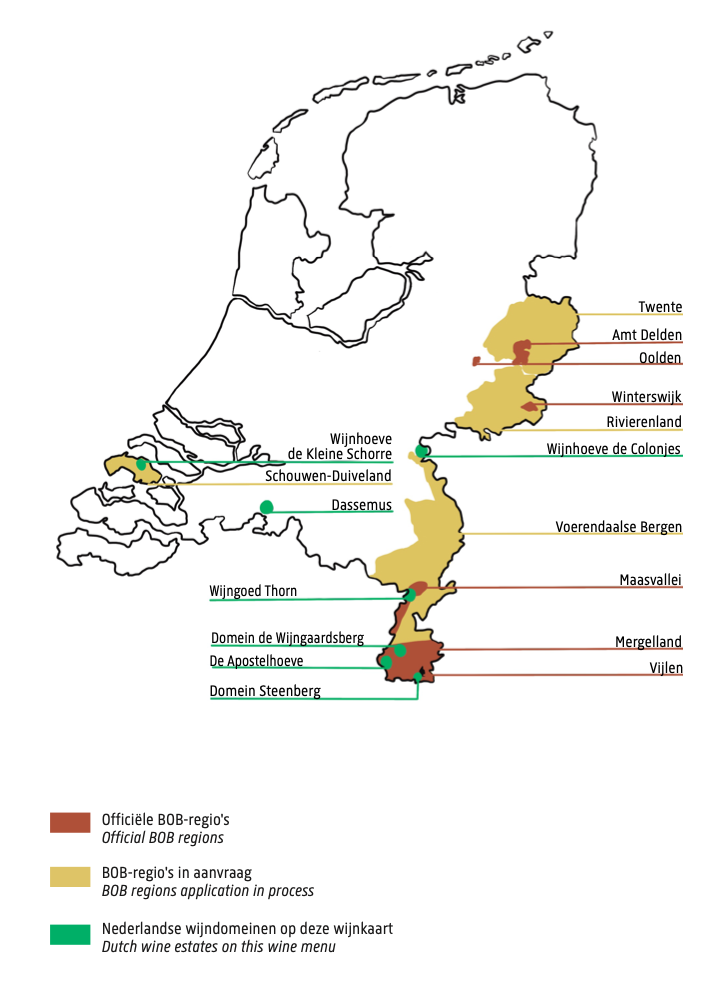 Max van Bockel, a Dutch sommelier with experience at some of the best restaurants in the Netherlands, says Apostelhoeve has been crucial for this development. Apostelhoeve's wines were fast movers during his four-year stint at restaurant RIJKS in Amsterdam. Tobias Visser, head sommelier at De Nieuwe Winkel, a two-star restaurant in Nijmegen known for its botanical cuisine, notes that Apostelhoeve's wines can stand their ground against German or French competition.
In the soil
Apostelhoeve uses the Mergelland BOB for its wines. The name refers to the dominant characteristic of the appellation: its marl (mergel in Dutch) bedrock, with a chalk content of 98 percent. Hulst points to the creamy off-white winery that was built from marl stones hewn out of a nearby quarry. In several places, veins of shells that haven't succumbed to the pressure of the layers of sedimentation above are visible.
Atop the marl, a layer of loess retains water and provides nutrients to the vines. The rich soil minimizes the need for supplemental fertilization. In the fall, Hulst sows grasses and herbs in alternating rows to maintain the soil's health. This vegetation also forces the vines to root deeper, prevents erosion, and supports pollination. Any lack of essential minerals (e.g., manganese, magnesium, or nitrogen) is usually supplemented through the foliar application of an algae-based spray. This further increases the vines' resistance to fungal diseases.
Agricultural regulations in the Netherlands, including the use of pesticides, are typically strict and often lean towards the German standard. While in the EU the use of copper in organic agriculture has been restricted to 6 kilos per hectare, Germany allows just 3 kilos. (The use of copper compounds as a pesticide in the Netherlands is not permitted at all, but as a foliar fertilizer it is.)
Apostelhoeve typically applies a chemical fungicide just once, during the fruit set. With that, the estate may not fall into the organic category, but with a notoriously wet climate (192 days with rain per year, fall and summer being the wettest seasons) Dutch winegrowers face an enormous challenge. That said, with the right measures, organic, even biodynamic winegrowing is possible, as for example Dassemus and tiny Land en Boschzigt, two other Dutch wineries, prove. The first planted only PIWIs, which are trained as a high curtain with the fruit hanging at 1.80 meters and a trailing canopy. This way the sun and the wind can more easily keep the fruit and the leaves dry. But as Ron Langeveld, the owner-winemaker says, the varieties and training system one chooses should depend on the location of the vineyard and personal preferences. There is no one-size-fits-all system. In the drier and warmer southern part of the Netherlands, where Apostelhoeve is based, the opportunities and threats are different.
The world turned upside down
Apart from Auxerrois, its signature grape, Apostelhoeve grows Müller-Thurgau, Pinot Gris, Riesling, and since 2020 some Viognier as well. The choice of Viognier, which has its traditional home in the Northern Rhône 750 km to the south, demonstrates how much has changed in Dutch winemaking. Climate change not only drives vintners to new varieties, it also makes chaptalization superfluous in many vintages. Acidification (to a maximum of 4 grams per liter) has been permitted since last year. It feels like the world has turned upside down. At Apostelhoeve neither chaptalization nor acidification was required for the 2021 vintage. Last year the Viognier was harvested at 97 Oechsle (about 13.6 percent potential alcohol) and a healthy 6.5 grams of acidity per liter.
Hulst fears that rising temperatures will make it increasingly difficult to grow Müller-Thurgau and Auxerrois. He therefore bought a new, cooler parcel on the other side of the Louwberg that is more exposed to cool, westerly winds. Before 1985, harvests had never started earlier than 10 October, but the 2022 harvest started on 4 September — roughly a day earlier for each intervening year.
Rising temperatures and more sunshine hours increase the viability of red grape varieties. Max van Bockel is convinced of the potential for red wine in the Netherlands. He loves Wijngoed Thorn's Pinot Noir 777 Barrique and Dassemus' Wilde Rode. With his Spätburgunder experience gathered during internships in the Ahr, Robin Hulst would love to plant some of it at Apostelhoeve. But for now the Hulsts stick to their trade: clean, fresh wines from white grapes.
German Wine Ties
At Apostelhoeve grapes are machine harvested. When the weather is dry, Hulst can use his harvester even in the steepest parts (a surprising 48 percent inclination) of his vineyards. The machine can harvest individual berries at the desired ripeness, a feature Hulst uses to separate grapes for different wine styles, in particular still versus sparkling.
Hulst initially took his cellar cues from France. After going through agricultural school (specializing in fruit cultivation) in Tiel, the heart of the Netherlands' fruit-growing region, Hulst gathered winemaking experience at several wineries in Alsace, among them Domaine Sick-Dreyer and Léon Heitzmann. Apostelhoeve's sparkling wine, the Cuvée XII Brut, for example, is modeled on Crémant d'Alsace.
However, time and proximity have strengthened the ties with Germany. Robin, age 27, Hulst's oldest son, interned at Peter Kriechel in the Ahr. Paul Schumacher, from the same area, is a good friend and a source of advice for the Hulsts. Mathieu reads German professional magazines and faithfully attends refresher courses organized by a German educational organization. For the second fermentation of their sparkling wine, the Hulsts use the facilities of Körtgen (Ahr), a service that is also used by the likes of Meyer-Näkel.
Freshness and Purity
All six of Apostelhoeve's wines are produced in the same manner. Freshness and purity are what Hulst and his sons pursue. After a few hours of cold maceration, fermentation in temperature-controlled tanks is induced with selected yeast. In December, after the first analysis, they make the blends for their Cuvee XII wines. To avoid crystals, the wines undergo cold stabilization. Before bottling in spring, the wines are cross-filtered with a machine Robin Hulst learned to operate over in the Ahr. Although the Hulsts would like to mature their wines on site, this step has thus far been left to wholesalers, retailers, or consumers. With demand more than twice as high as supply, selling soon after bottling is financially simply too attractive.
I found the Pinot Gris Apostelhoeve's most remarkable wine, not as broad as an Alsatian, and perhaps not as individualistic as Ziereisen's Grauburgunder or Schneider's Kilchmen, but with more substance than an average Pinot Gris. The mineral, slightly smoky Auxerrois with a touch of William's pear and a bit of texture was another favorite that has become the go-to for many Dutch sommeliers in (white) asparagus season.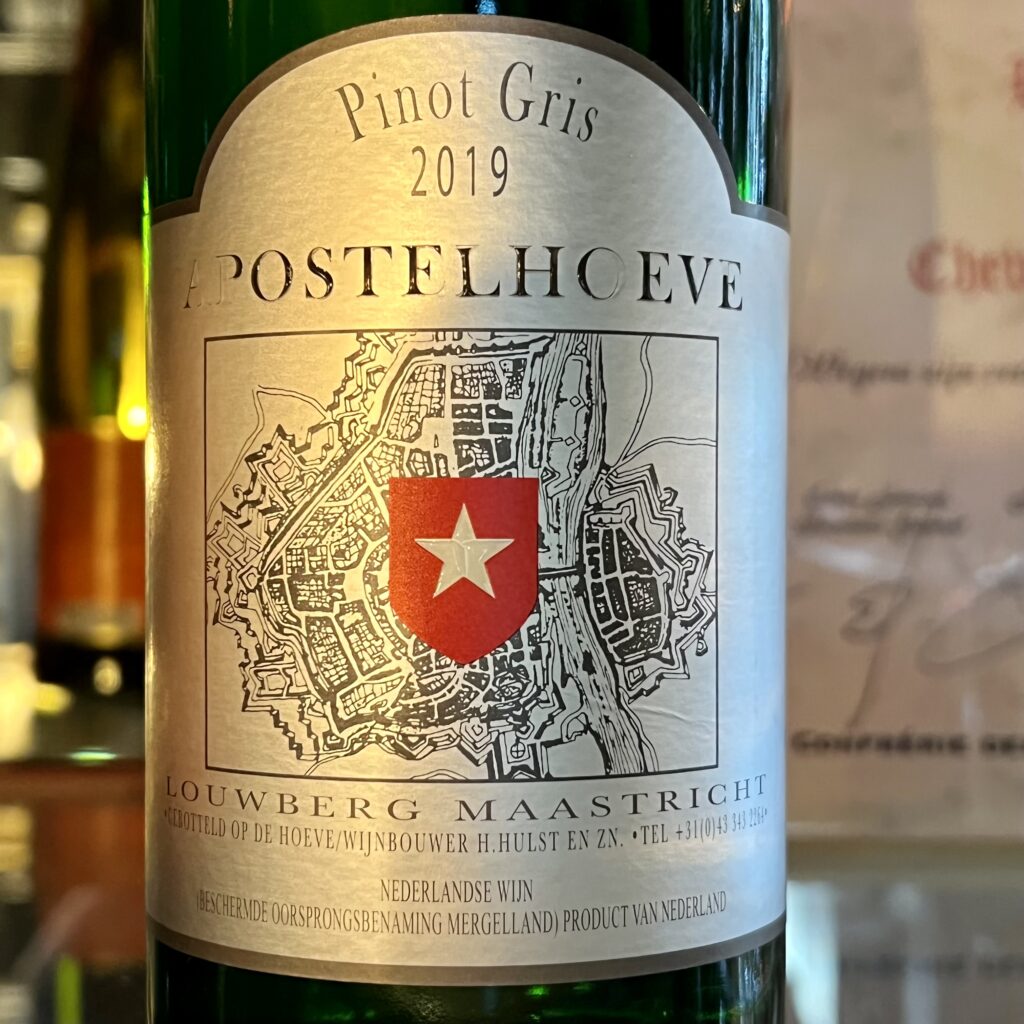 Carving out a niche for Riesling seems more difficult. That is not to say I didn't like Apostelhoeve's. With its mild acidity and subtle tropical and stone fruit aromas and flavors, it was actually lovely — but finding a place for it among the huge range of excellent German, Austrian, and Alsatian Rieslings is a daunting task. The estate's floral Müller-Thurgau is positioned as their entry-level thirst-quencher, although one that shows the variety's more serious potential. Hulst told me that he recently drank a 10-year-old bottle from his own library — it was tip-top. I haven't been able to try Apostelhoeve's mature Müller-Thurgau and I couldn't find much evidence for Müller-Thurgau's ageability, but given its underappreciation, Hulst may have revealed new potential for the often maligned variety. The Cuvée XII Brut, a blend of Auxerrois (50%) and equal parts of Riesling and Pinot Gris, is fruit-driven and receives 17 months of lees aging. The still Cuvée XII (of Müller-Thurgau, Auxerrois, and Pinot Gris), Apostelhoeve's bestseller, is perceived by sommeliers as its gastronomic wine. With a hint of licorice, ripe pear, bit of flintiness, broad mouthfeel, enticing opening, and rather long finish, it isn't hard to imagine how well this wine would pair with a host of lighter dishes.
Dutch fine-dining restaurants like De Kas, Saam, and RIJKS in Amsterdam, to name just three, all feature a good selection of homegrown wines, including the Cuvee XII. The latter, housed in a wing of the Rijksmuseum, has even dubbed its list of Dutch wines (with 16 wines from six wineries) "the gallery of honor" after the part of the museum where Rembrandt's Nightwatch is on display.
Demand for Apostelhoeve and other Dutch wines is understandably high – the quality is good and there is a diversity of styles, including orange, sparkling, sweet, and natural. The price for the best wines lies just north of €20 (retail), a position that gives the consumer a sense of exclusivity without going overboard. However, Visser hopes prices will come down. Although there may be justifications for a small premium (ground and labor prices are high in the Netherlands), internationally he finds the price-quality ratio for Dutch wine a bit out of balance.
Reaching Maturity
Apart from climate adaptation, Apostelhoeve's future plans focus largely on making the winery a source of income for Hulst's sons. With two new sparkling wines on the books, Apostelhoeve shows no lack of winemaking ambition. A newly acquired vineyard (planted to Pinot Noir and Chardonnay) on the Pietersberg on the other side of the Jeker River will be the base for a traditional method sparkler that will get 24 months of bottle aging before disgorgement. An even more serious Riesling Sekt is now maturing on the lees for a scheduled 36 months. Apostelhoeve's wines are proof that after 50 years, winemaking in the Netherlands has come of age.