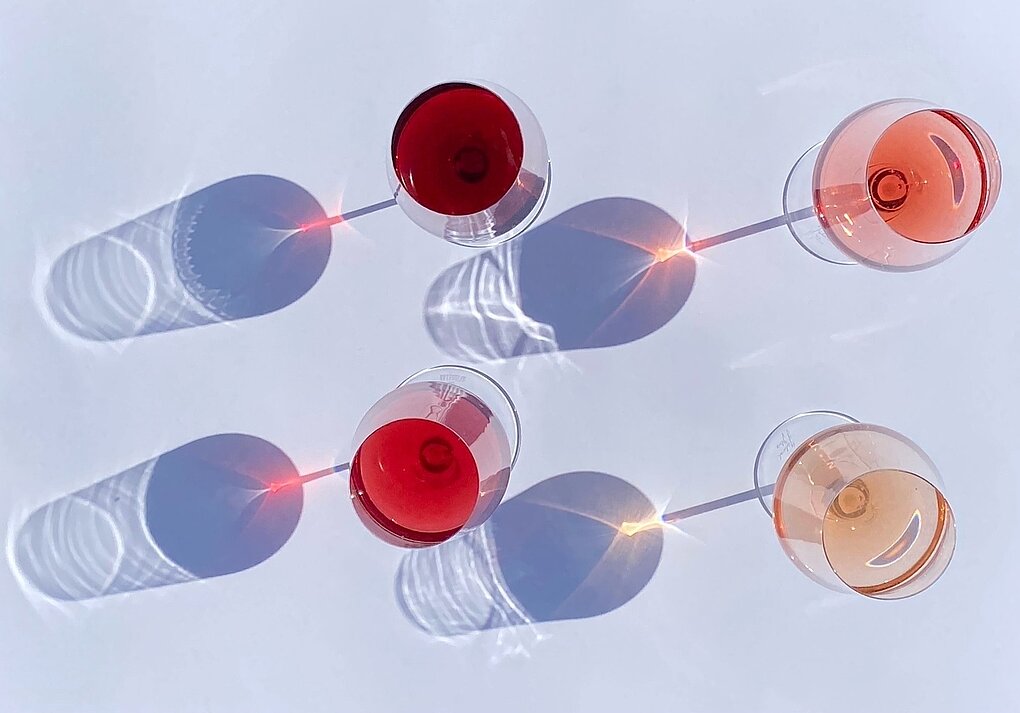 ​The sun blazes. The air shimmers. On the horizon four figures throw long shadows across the dry, crumbling ground. They are headed toward a city. Doors swing open. The four step from light into dark, their throats dusty and dry. Behind a deserted bar stands a man. He pushes four full glasses over to them. Out of the glasses sloshes a wine as red as the setting sun. If you aren't thirsty by now, you should at least be hearing the melody of a harmonica.
This is how the opening scene of a revival—the Rotling revival—could begin. The four men are Stefan Vetter, Agustin Novoa, Matthias Warnung, and Martin Lichtenberger. The man behind the bar, Holger Schwarz. They are all connected by a wine style, pressed from red and white grapes and long scorned by the wine crowd. They've all stepped up to make a case for diversity and complexity.
What Is Rotling?
While many other countries allow red and white grapes to be blended into a rosé, in Germany rosé is only legally permitted to be made from red varieties. This makes Rotling a German singularity. Despite a long history of various red-white blended styles, Rotling must, at least since passage of the infamous 1971 German Wine Law, be declared Landwein or simply Deutscher Wein.
In the natural wine context, Rotling gains a new dimension of interest as a category of its very own. Lightness meets tension. Juiciness flows into a current of compulsive drinkability. Tannins add expressiveness and depth. Its color is also a highlight.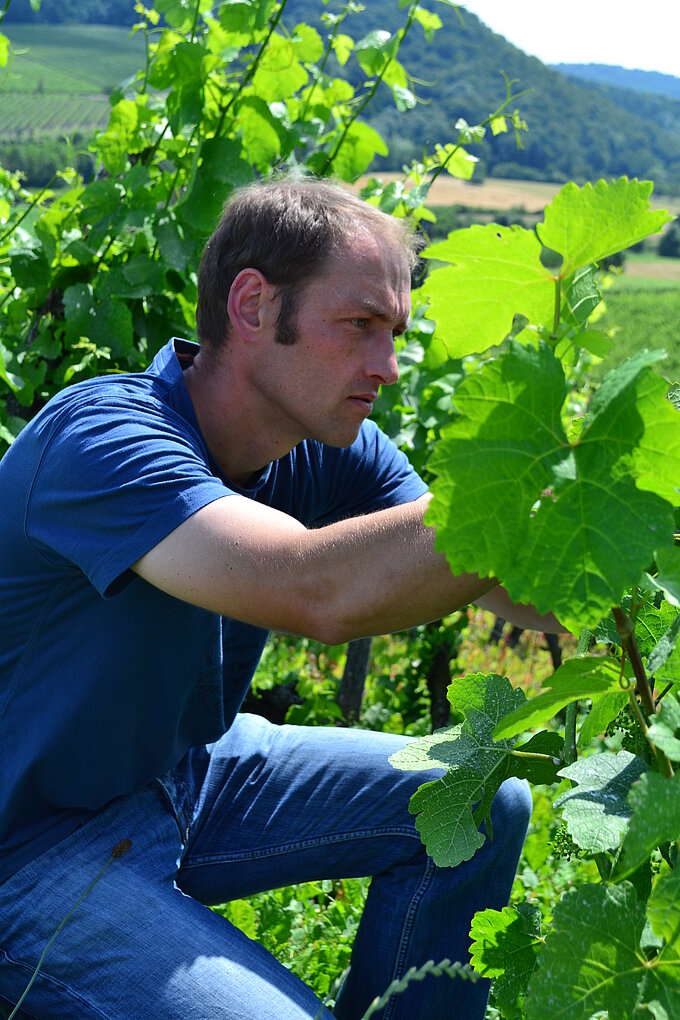 Stefan Vetter of Gambach in Franken stands out for his curiosity and love of trying new things. With his Rotling, which he named "La Gamba" because Rotlings can't legally include their place of origin on their labels, he wants to show how the integration of red and white grapes can enrich wine. "For a long time, Rotling was sweet and undrinkable," he says. But Vetter acknowledges that classic Rotling did serve a purpose: It brought people who would ordinarily drink flavored, low alcohol beverages over to wine — even if those Rotlings themselves were not a pleasure.
The current Rotling renaissance has brought about wines that are anything but trivial. They combine thrilling texture and aromas. "They strike a chord," says Vetter, "There's another facet that the blend of red and white brings: a basic drinking pleasure, often with a touch more than you find in rosé." His is made from Müller-Thurgau, Blauer Portugieser, and Domina (a modern German crossing of Portugieser and Spätburgunder). The grapes are crushed and pressed together, then fermented and raised in wood, staying on the lees until March at least.
"It's a good, honest sip that should offer more pleasure than a rosé or Silvaner when you want something uncomplicated," says Vetter – at least when it's well-made.2021 is his third Rotling vintage. With the dryness typical of his countrymen, Vetter notes that "if orders hold steady or rise, the wine can't be bad." But he believes its niche status will be tough to shed. "For most old-school wine drinkers," Vetter believes, "Rotling will always be frowned upon."
Rotling Invites Experimentation
Vetter was inspired by Holger Schwarz, who runs the avant-garde wine shop Viniculture in Berlin. Alongside his selection of natural wines, he enjoys developing projects with growers. "When we see a market, we approach growers as partners to create unusual projects, especially in the natural wine sector," he explains. He's taken on Rotling and its Baden cousin, Rotgold. "Schillerwein, Badisch Rotgold, Rotling – these names sound almost silly and so nicely old-fashioned," he notes. He sees the Rotling tradition firmly anchored in the retro movement (and as a source of humor), but with a new, clear awareness of quality.
"Even if [Rotling's] reputation has been ruined, we as niche players can do something to help it regain its appeal," Schwarz believes. "There's a story there: Older people still remember it, and we're taking a winking view of it."That's what got him to join up with Vetter to make "La Gamba" and with Baden's acclaimed Pinot grower Holger Koch to make "BaRo" – for Badisch Rotgold, a name that is not allowed to appear on the label because, by law, a wine in this style can only be made from Grauburgunder and Spätburgunder. Its two crucial criteria involve specific grape varieties and wine clarity – something that can be difficult to achieve with an unfined, unfiltered natural wine.
Schwarz prizes "La Gamba" for its "extraordinary coordinates." He notes that it offers Müller-Thurgau and Blauer Portugieser, falls under 10 % alcohol, and has "a distinctive cellar characteristic: open wood notes, a hint of cognac, a somewhat oxidative style – this gives the slightly tart Rotling a very distinctive character. There isn't much of this sort of Rotling in Germany." Rotling invites experimentation."That's what it's all about with the younger generation," says Schwarz. "What can they do differently?" And sometimes, he believes, it makes sense to do something in the wine-making process that doesn't fit the category.
"The only recipe is that there is no recipe," agrees Agustin Novoa, winemaker and general manager of Weingut Carl Koch. The native Argentinian, working at the estate in Oppenheim (Rheinhessen), says he's not fixated on style. "Our customers are open and expect something exciting."
Before the harvest, you can always imagine everything, he says — how it will work, which vineyard you'll make which wine from, the approximate yield. But now and then improvisation is necessary, such as when the press is already full. He says it helps that he has a dozen different varieties to play around with.
With the field cuvée, which Novoa has christened "divers," the aim was to take this discussion to the glass and set it on the table. "We co-harvested Riesling, Grauburgunder, Weißburgunder, and Silvaner," Novoa explains. After a week of maceration, just as fermentation kicked off, the wine was heading in an orange direction. At that point, his team had just harvested their Spätburgunder. He opted to press everything together and filled an old Stückfass – unclarified. It's the complexity and juiciness that Novoa likes. Harvesting in the style of a true Gemischter Satz, at varying points of ripeness, means "every variety contributes something: Spätburgunder brings not just color but also a certain creaminess, sour cherries on the nose, and crunchy acidity."
For maximum drinking pleasure, Novoa thinks it's critical that the wines not be fully oxidized and are free of Böckser aromas and additives. Even natural wines have to follow some rules: grapes for "divers" come from a very precise selection to keep the wine fruity and fresh, it's always topped off, made without added SO2 or excessive oxygen exposure.
G*mischter S*atz
A few years ago, growers Martin Lichtenberger and Anna Gonzales of Lichtenberger Gonzalez in Breitenbrunn, Burgenland started making a true Gemischter Satz of red and white grapes, simply called "Rot und Weiß" — but not by design. "We only discovered that red and white varieties were growing together there after flowering," says Lichtenberger. That's when they began to wonder: Why were these varieties interplanted in the past? What was made from them? What should they do with them? In Austria, it is legal to use the term Rotling, though not Gemischter Satz, once red varieties are added to the mix.
Lichtenberger and Gonzalez are less pleased, however, that Austrian wine regulations prohibit them from communicating this unique heritage. "This vineyard is older than the Austrian wine law," Lichtenberger points out. "Nevertheless, we're not allowed to classify it as quality wine, just as Wein aus Österreich" – without specifying variety or vintage. "Our predecessors thought hard about how and what they planted. It's a part of our cultural heritage we've forgotten."
The couple see it as their responsibility to preserve and revitalize this treasure. "For us, beauty is old vines with history, even if they don't yield much – not the perfection you get from vineyard consolidation, where vines stand in orderly rows," says Lichtenberger. "After three or four years, you start to understand the vineyard and the vineyard us. Then you have a nice partnership." 
Although no one can give an exact age for the old vines in these two sites, Lichtenberger and Gonzales believe them to be between 70 and 80 years old. What's certain, though, is that there's native DNA in them. There had been a nursery in Breitenbrunn. Their Blaufränkisch has local genetics they use for massal selections. And, in addition to this red grape, they have a hodge-podge of white varieties in their vineyards, likewise all with local tradition and history, including Welschriesling, Roter, Brauner and Grüner Veltliner, Weißburgunder, Grauburgunder, Muskat, and Traminer. But again, they can't call wines made from this unique vine material "Gemischter Satz" or "Mischsatz" because this designation is legally reserved for the Qualitätswein level.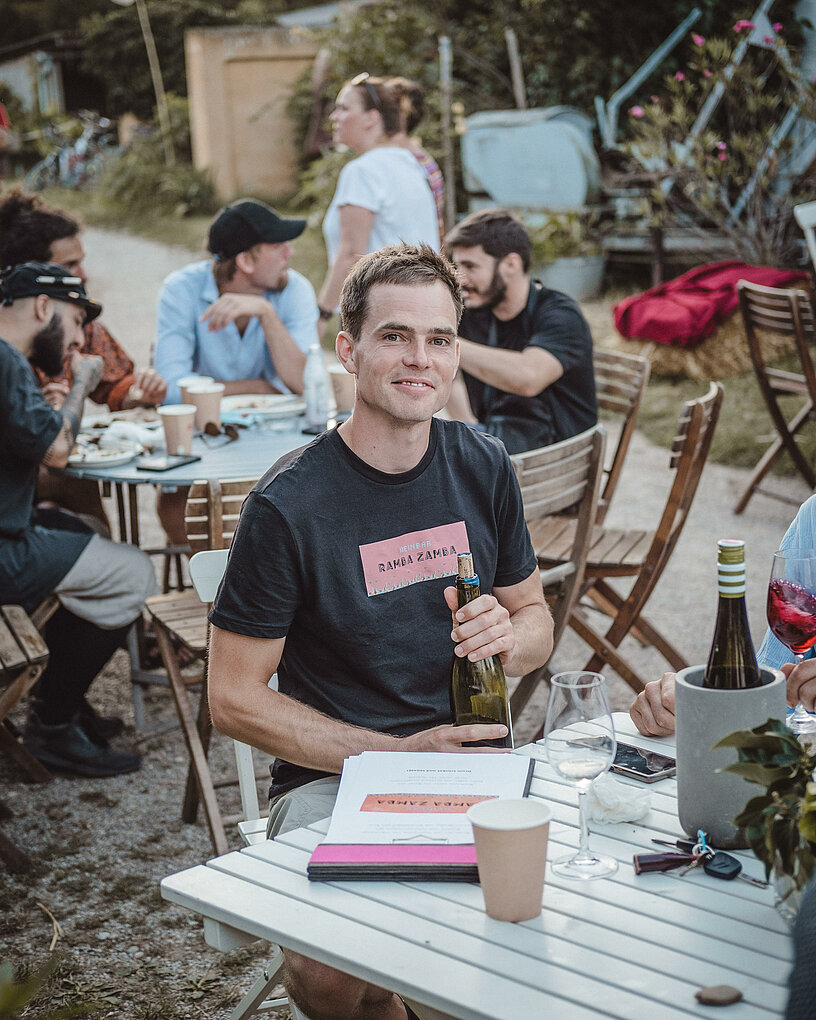 Matthias Warnung of the Kamptal, got his blessing to act freely directly from the person who makes the laws. "It was and is frowned upon to mix red and white varieties. I also thought it wasn't allowed until I spoke with a professor at the BOKU [University for Natural Resources and Life Sciences in Vienna], who was working on an update to the wine law."
It turns out you can, you just have to give up listing everything on the label – variety, origins, vintage – Warnung explains. He made his first Rotling in 2016 and called it "Nobody." "I look to see where I can open up boundaries and try new things," he says. "The style, the complexity I find very exciting. White varieties bring the acidity, reds the tannins, which gives depth but still isn't a red wine. Lighter red wines are also good in summer, but the white wine [component] creates extreme drinkability." 
He typically keeps the percentage of red grapes (in his case Zweigelt) between 15 and 30, depending on vintage conditions. The rest is Grüner Veltliner. But for Warnung, the decisive factor is time. "These processes just need it. Many wines have the potential, but they aren't given the time." Every vintage is more or less a new field cuvée in which he explores new territory and tries to challenge himself. "An old vineyard, lees contact in cask, these give complexity, depth. That's my interpretation," he says.
The Austrian and German wine scenes are packed with such outlaws. It's the fate of all pioneers to reset the rules, lay down new boundaries. What feels like recklessness today will someday seem like inevitable tradition.
Translated by Valerie Kathawala ​