German Wine's Radical Love Machine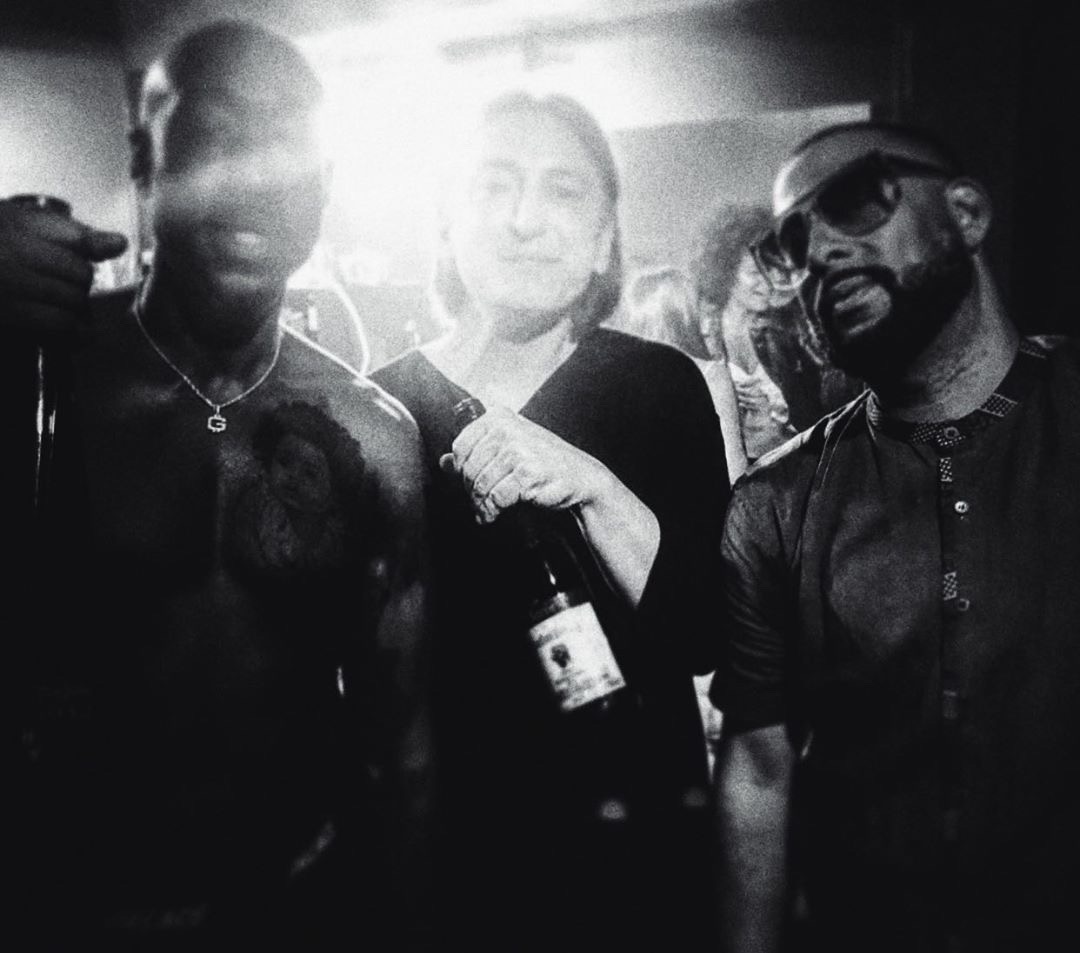 Known to his 18,000-plus Instagram followers as @soilpimp, Robert Dentice is a German wine collector and vinyl fanatic, founder of the @rieslingstudy event series, and a driving force behind a brand new project called @sourcematerialwine that is set to spread his evangelical zeal for German wine to the wide world.

Short of spending an evening at one of his legendary Riesling-, Silvaner-, or Weissburgunder-fuelled music events — and he'd sincerely love nothing more than to have you there — the next best way to get a sense of the radiant positivity he brings to German wine is to cue up one his many Spotify playlists, pour yourself a crackling Mosel Kabinett, and spend an hour scrolling through the mesmerizing, almost cinematic experience of his deep Instagram feed.

Dentice spoke with TRINK to share some insights into the origins of his radical love for German wine and his passion for turning people on to them.
Please set us up. Born and raised?
RD: I was born in Buffalo, New York. I lived there my whole life until I finished college and then moved to New York City in the early 90s.
Did you go straight from college into your current career?
RD: Yes and no. I actually moved to New York to work in the music industry. Then I found out how hard it is to have artistic integrity on the business side of that. And frankly, I couldn't get a job. So I accidentally stumbled into finance and then I realized what was available in that career and that there was no artistic conflict.
Now you are in healthcare investing?
RD: Yes, I'm a managing director in the healthcare group at Cantor Fitzgerald, focusing on the biotech sector.
Alright. So. Wine. How did you get pulled into its orbit generally and German wine's orbit in particular?
RD: I came to wine through food. I didn't come from a family of food people. My mom was a working professional, pizza night was the best food I ever got. But when I first moved to New York City, I went to Bouley because I wanted to go to a very nice restaurant to celebrate my wife's birthday. When I walked into the old Bouley, the really small one, there was a little hallway and the whole thing was filled with apples. I still remember it to this day. And I just became completely obsessed with food.
That led to wine. And that led to studying wine. Like most people, I started in California because it's easy. The grape is on the label, it's in English, and I could travel there. But luckily for me, very early on in my wine exploration, in the late 90s, I discovered dry Austrian wines. And that just was it for me. I fell instantly in love with them.
That was also a few years before the GGs started. So I went from dry Austrian wines into German. In the late 90s, early 2000s, there really were not a lot of dry German wines in the US. But then, as the GG class started to get much more common, I remember buying a lot of early Kellers for like 40 bucks. I transitioned from Austria into Germany. My favorite things to drink were mostly dry and Kabinett-style wines. They still are to this day. I buy tons of Spätlesen and Auslesen, but don't really drink them unless they have a lot of age.
"Over 20 years, I have just gotten deeper and deeper and deeper into Germany. I certainly drink lots of things around the world, but Germany is it for me."
How did you get into collecting from there?
RD: I pretty much have a collecting-type gene. But I am not very good at editing or organizing. Whether it's records or wine, I tend to go very broad and try to buy a lot of different things. And then, just by buying the stuff I liked, it sort of happened organically that I do have quite a large German collection. But it wasn't really about setting out to do that, it just happened through buying, tasting, going to Germany.
How many bottles are in your collection?
RD: It's close to 10,000. Probably 95% German.
For all that rare air, you've said "It doesn't always have to be about fire and unicorns." That really comes through in the ecumenism of what you drink. How does it play out in your collecting? Are you just as likely to lay in a few cases of Beurer Trollinger or as you are Keller G-Max?
RD: Definitely. Just to use Burgundy as a corollary, if you start with a Bourgogne-level Chardonnay, it's generally an indicator of quality. In my opinion, if you pour that for a novice drinker, they are not going to get a little flavor of what a Montrachet would be like. They're just too far apart in quality.
One of the great things I love about German Riesling is that if I pour a novice an Ulli Stein Blauschiefer for 20 bucks, they're going to see the connection to a G-Max. They're not that far apart. There is just no other region in the world where you can start at the $20 level and get a feeling for what it's like to drink the very best. 
"There is just no other region in the world where you can start at the $20 level and get a feeling for what it's like to drink the very best."

Do you gravitate towards a particular region these days?
RD: I wouldn't say so. It's more stylistic. I definitely prefer the old school, traditional, high-acid tension and liveliness of German wine, whether that's in the Mosel, the Rheinhessen, or Swabia.
Is there something in your collection that you are especially excited about drinking this year?
RD: In all honesty, throughout the pandemic I have been enjoying the simple wines — with a meal, with my wife, in my apartment, with a record on. The best wine I've had this year was the Keller Schubertslay GG, which was absolutely one of the greatest wines I've ever had. But putting that aside, just having a Weiser-Kuenstler entry level 19 is electric.
If you were advising a young German wine collector just starting out, what would you say?
RD: Well, first off, I would applaud them. You may have noticed that I have a lot of young musicians and artists who follow me and are all drinking German wine. I tell them all "I've saved you 20 years of spending lots of money figuring out that German wine is the greatest!" Second, I would tell them "focus on a style that you like, taste widely, try some things with age, don't be afraid of cellaring entry-level bottles."
You know, I've had Egon Müller QbA with 20 years of age that's outstanding. It goes back to what I was saying earlier, Germany is the only region where you can start with entry-level bottles and cellar them. And even if you step up to Kabinetts, you can still get them in the $20 to $30 range and they are 30- to 40-year wines. Martin Muellen makes wines that are $25 to $35 for 25 years of cellar age and they're just stunning. Same thing with Ludes. All that makes Germany a great place to start as a young collector — with a budget or not. 
"Focus on a style you like, taste widely, try some things with age, don't be afraid of cellaring entry-level bottles."
I want to be clear about one thing though: I drink German wine because I think it's the greatest wine in the world. Not because it's a great value. I think people try to bring that into the argument too much. But the wines would be great if they were 10 times the price, in some cases.
You have a radical approach to connecting people with German wine. Just putting the wines directly in their hands, no questions or expectations. How did that develop?
RD: First, it comes from a love of the wines and the people who make them. I've been to Germany multiple times. I hang out with all the growers when they come through New York. They're just the most amazing people. They spend so much time in the vineyard, they spend so much time making these great wines. I just feel the world needs to know.
The second part is that when I turn people on to these wines, getting to see how shocked they are by how great the wines are. You can see on my Instagram a musician called Skinny Pablo who started coming to the pop ups that my friend Eothan Alapatt does in Los Angeles, where I always bring tons of wines and open them for everybody. Skinny Pablo just really started focusing on this and hit me up a couple of times on Instagram with questions. We started a conversation and now he's a German wine fanatic. Nothing, nothing could make me happier.
Same thing with some younger guys in my office who are a totally different demographic — young, investment banker types all geeking out on German wine. That gives me an enormous amount of pleasure, knowing I'm turning people on to something that's great and helping growers.
How did RieslingStudy come about and how does it build an audience for German wines where you might not expect one?
RD: This year Stephen Bitterolf took a break from Rieslingfeier and that broke my heart because it's my favorite day of the year. So I decided to do a little Riesling event and call it RieslingStudy. I contacted Atoboy restaurant, which I love a lot. I pitched them the idea, started advertising it on Instagram and a couple other wine boards. Before you know it, it was sold out, with 50 people on the waiting list. A few German winemakers were in town and they all came. A lot of new collectors and people new to German wine — which is what I really want — came. I realized I was onto something and quickly put up another one.
I did a full buyout at Ops and it sold out in 30 minutes, with another 150 people on a waiting list. I would say a third of the people who came were your typical wine collector types. A third were people who are just exploring. A third were people I don't even know, including some record collectors who saw it on my Instagram. Monday Michiru, a famous, famous Japanese musician came. It was just amazing to see them all come together to drink Riesling and eat pizza.
"People don't think that Riesling is a great pairing with pizza until they try it. But if you think about Italy, what do they drink with pizza? Beer. Why? Because it's refreshing on the palate. A high-acid Riesling can perform the same thing a beer."
What about German wines beyond Riesling? Do you want to do the same thing for Silvaner, Scheurebe, Weissburgunder, Grauburgunder, Trollinger, Spӓtburgunder?
RD: Everything. Though I'm very selective on the Spätburgunder side. There was a long period when the wines really bothered me because I know all the winemakers are so much better than the wines they were making. But now we've got some really great examples.
Shifting to music, are you as enthusiastic about any genre or era of German music?
RD: Yeah, I love the Krautrock era of the 70s. I love jazz, soul, funk, hiphop. Krautrock to me is just somewhere between jazz rock and a little bit of funk.
How does music tie in to your new project and what is that all about?
RD: The project is called Source Material. Basically, it's a wine service curated by Stephen and me, done through an email subscription. But we want to go beyond simply curating the wine. We want to do music events, dinners, even things related to the fashion or art worlds. I really want to get to the people who are not currently fighting for their Keller allocations, I want to get people who have never tried German wine or are just starting to drink German wine.
Some of our offers are gonna be really crazy high end, some are going to be really inexpensive wines that anybody can jump in and try. There will be some wines that don't come into the U.S. and some we specifically ask a grower to bottle for us. 
"I really want to get to the people who are not currently fighting for their Keller allocations, I want to get people who have never tried German wine or are just starting to drink German wine."
One of the offerings we're working on is a curated pack by a very well-known German winemaker who has chosen some up-and-coming growers to highlight. Some will be things that Stephen is aware of, but are right now too small to fit into Vom Boden. Some of them are actually currently imported to the U.S., but we're going to work with their importers to make specific offerings. And the RieslingStudy concept will be part of the Source Material concept.
I really, really want tons of people who are not wine geeks. I want to keep bringing those people in so that hopefully, when they start their wine exploration, they start with a German wine.