A Remembrance of German Wines Past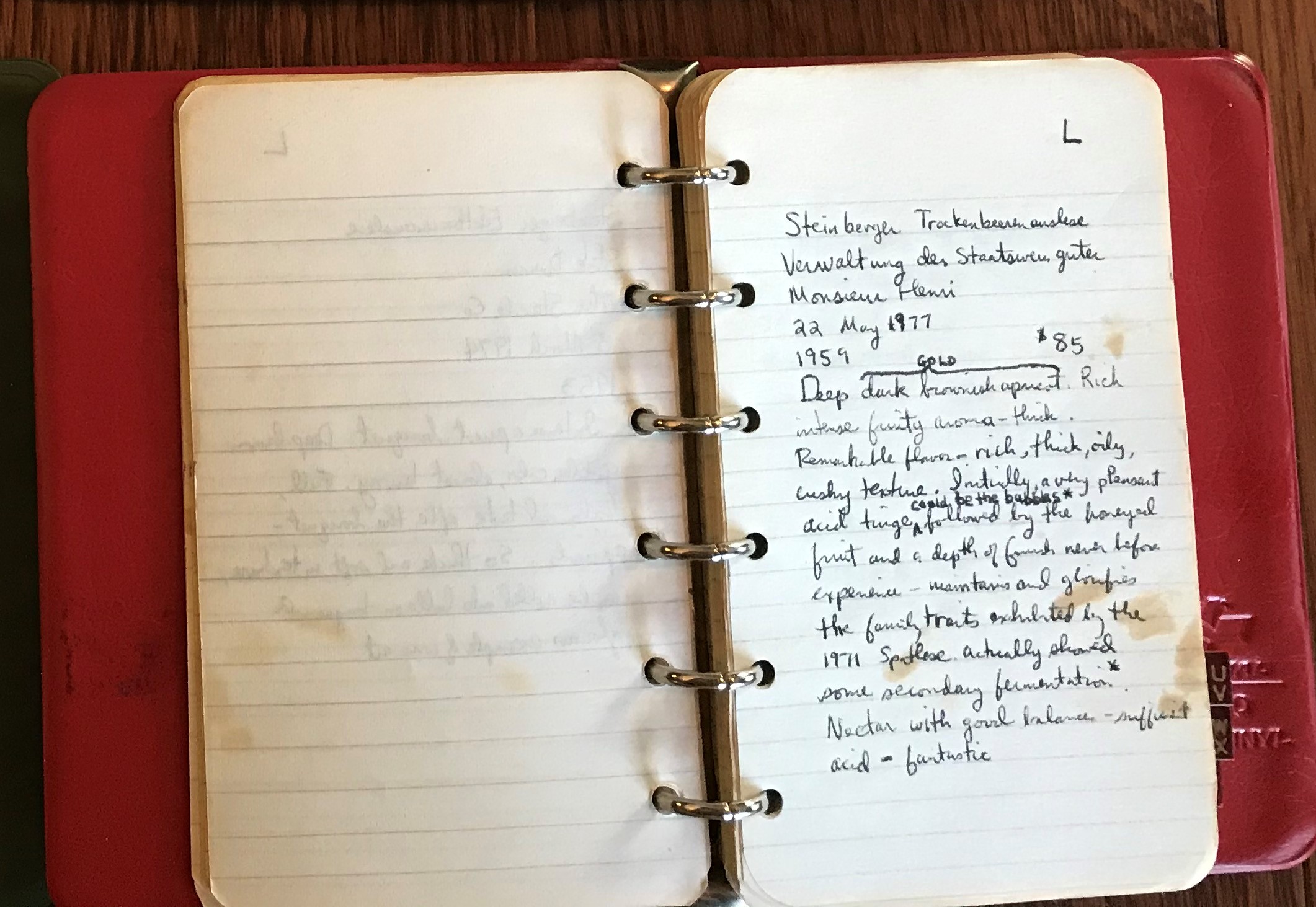 My twenty-something self left two gifts for the older man I would become: a doctorate in applied mathematics and four small, looseleaf notebooks. The degree opened many doors and reinforced my ability to do independent research, perform analyses, and document the results. The notebooks, along with labels from many of the bottles, form an archive of my first decade tasting wine.
Between 1969 and 1979, a period covering my student and early career years, I kept detailed notes on almost everything I tasted. During most of that time, I lived in Evanston, Illinois. It was dry until 1975, necessitating runs to Chicago or other suburbs to purchase adult beverages. Early on, I co-founded a tasting group with like-minded students. The wines that hooked me were overwhelmingly French and German.
Of the 450 records I kept, 254 are of French wines and 124 are of German. It was a strange time in German wine. Liebfraumilch, Zeller Schwarze Katz, and Blue Nun would have been more affordable on a student's budget, but I drank Prädikatsweine from prestigious villages. Wehlen, Hattenheim, Wiltingen, and Ockfen were all familiar to me.
The earliest entry of a German wine in my notebooks was a 1966 Wehlener Sonnenuhr Auslese from S. A. Prüm, tasted in May 1970. The price was around $7.00. My terse description: "lightly sweet, fruity, delicate."
Some in our group adopted the practice of serving an Auslese when we earned our Bachelor's degrees, a Beerenauslese when we were awarded a Master's, and a Trockenbeerenauslese when we obtained a doctorate. On 17 June 1970, shortly after getting my B.A., I ordered a 1966 Winkeler Hasensprung Auslese from A. von Brentano at the now demolished Lüchow's Restaurant in Manhattan. I have no recollection of the meal, but the wine was "Beautifully balanced, [with a] very delicate light bouquet, fine color, called 'Goethewein'." The price? $9.00.
My master's degree dinner was exactly three years later. With a friend's help, I prepared a six-course meal. The dessert, Souffle Rothschild, was paired with a 1969 Hattenheimer Heiligenberg feine Beerenauslese from Weingut Nitzling. The price of the bottle was about the cost of a week's groceries for two. "Light in body and color," I noted, "but beautifully balanced in fruit and sweetness. Not a luscious nectar, but a pleasantly asserting light liqueur. Clear medium yellow."
Admittedly, the wines were young.
Then again, so were we.
In June 1974, our group organized a tasting of six Auslesen from the much-heralded 1971 vintage. Admittedly, they were young. Then again, so were we, and impatient as well. Our practice was to rank the wines individually, then aggregate the rankings to arrive at a consensus. First place was then awarded to the wine with the smallest number and proceeded down to the next lowest for second place and so on.
Little did I know at the time that this method was later to be proven the best way to aggregate rankings by my dissertation advisor, Don Saari, more than a decade after I finished my research in an entirely different area. It turns out that the method we employed is called the Borda Count. Saari proved that it uniquely satisfies four rational properties. I continued to use it to recalculate the results of historically important tastings such as the Judgment of Paris.   
On 22 May 1977, we capped a tasting of classified growth clarets with a 1959 Steinberger Trockenbeerenauslese to celebrate the completion and successful defense of my doctoral dissertation. George Schaefer, proprietor of the eponymous wine shop in Skokie, Illinois, where a significant portion of my stipend went, confided that the wine had just sold for $200 at auction, but that he would part with his only bottle for $85.00 if I would pour an ounce for him.
It was worth every penny: "Deep dark brownish apricot – gold," I entered into the notebook. "Rich, intense fruity aroma — thick. Remarkable flavor — rich, thick, oily, cushy texture. Initially, a very pleasant acid tinge – could be the bubbles — followed by the honeyed fruit and a depth of finish never before experienced — maintains and glorifies the family traits exhibited by the 1971 [Steinberger] Spätlese [which began the tasting]. Actually showed some secondary fermentation. Nectar with good balance — sufficient acidity — fantastic." Years later, I can still recall the sensation it conveyed, of biting into a ripe apricot. You'll now need $2,848 to try it yourself.
In the summer of 1978, I made my first trip to Germany. I was invited to present my dissertation results to a conference at the Mathematisches Forschungsinstitut Oberwolfach in the Black Forest. Schaefer had agreed to arrange a letter of introduction from Kendermann, a noted exporter of German wines. This led to six days of touring and tasting in the Rheingau and Mosel. Unfortunately, my notebooks did not join me on the trip, so I rely here on faded memories.
 On the Monday morning of our trip, thinking an appointment had been made for us, we knocked at the door of the grand turreted house on the edge of the Mosel River across from the famous Sonnenuhr on the J. J. Prüm label. It had not. Nevertheless, Dr. Manfred Prüm invited us in for a brief visit. We were seated in a lovely salon and each handed a glass. I inhaled the intense fruit aromas and blurted "Auslese!" Dr. Prüm immediately replied, "No!"
Had I had the good sense to taste the wine instead of hotdogging it, it would have been obvious, and I likely could have identified the 1973 Wehlener Sonnenuhr Kabinett. The vintage was notable for richer Kabinetts but not for higher-level wines. Though my blind tasting ability remains poor, since then, I have always sipped before committing to what is frequently the wrong answer.
On the way to his appointment, Dr. Prüm drove us to ours at the Thanisch cellars, where I sampled the 1975 and 1976 Bernkasteler Doktor Auslesen. Although the wines were excellent, at about $35.00 each, they were out of my price range.
While my younger self knew the benefits that could accrue from a Ph.D., those of the notebooks were less obvious. Career and family pressures brought an end to this record of wines past. Delving into it from time to time has been a lasting joy.
As my career advanced, I moved frequently. When I lived in or near a wine region, I focussed on the local wines. Nevertheless, my love of Riesling, first developed drinking German wines, has only grown. At this writing, there are no wines from Germany of any variety in my collection. But Rieslings from Oregon, the Finger Lakes, and Michigan all have their places. Still, from time to time, I'll open a bottle of German Riesling and wonder why I don't do it more often.