Evolving the German Wine Queen Tradition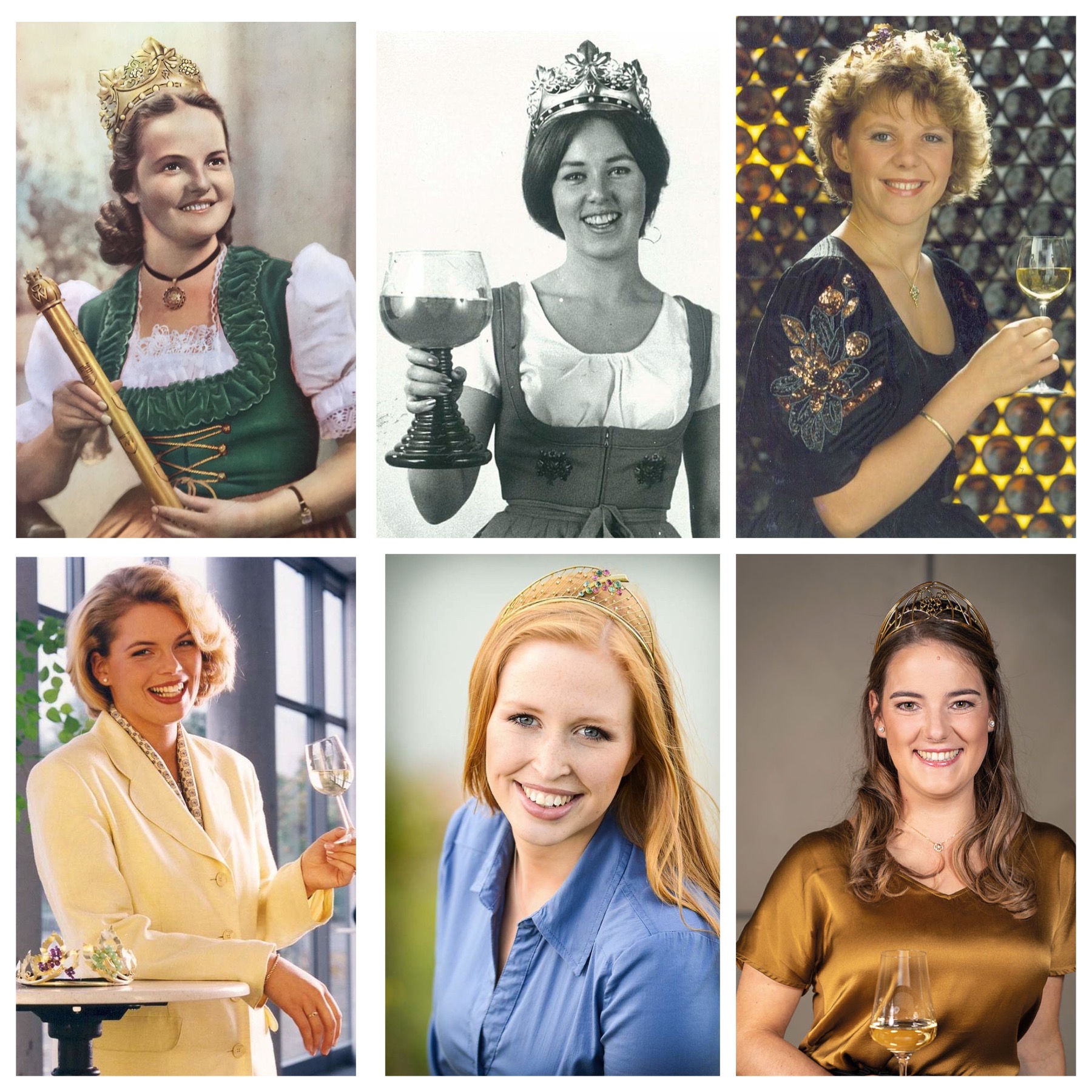 The story starts with a pedicure and a camping van.
Each year when the German wine queen visits New York City, Paul Grieco treats her to a pedicure. (If the queen's mother is also visiting, she gets one, too.) Grieco is a sommelier, vocal Riesling advocate, and owner/manager of Terroir wine bar in New York. He is also part jester, reveling in the micro-tradition of the pedicure while also pointing toward the intellectual esteem in which he holds every queen he's ever met.
Grieco honors the queens, he said, "because we [at Terroir] are fans of history and culture and [the queens] are an important part of historical harvest festivals. Without the harvest, there would be no wine…and no Terroir."
That is one snapshot of the German wine queen tradition.
Another shows the queen less as royalty and more as a modern young woman on an of-the-moment adventure with German wine. This August, the German Wine Institute, in partnership with an outfit that rents camping vans and arranges campsite reservations, has coordinated a camping van tour for the reigning queen and two princesses through the country's 13 wine regions (each year one princess is selected from each region). The trio will be posting digitally through the tour about their experiences. It's a savvy move, since camping van holidays are booming in Germany. Campers tend to look for retreat-like spaces with character and individuality. Many German wineries offer just that.
Those two snapshots speak volumes about the dichotomies that entangle the German wine queen tradition: historical resonance and contemporary savvy. A good time and hard work in wine. Intellectual bandwidth and the traditional construction of "beauty" as it was defined in post-War Germany when the tradition began.
"Dichotomy is an apt starting point for the exploration of a swirl of questions the wine queen tradition raises."
"Dichotomy" is an apt starting point for the exploration of a swirl of questions that the German wine queen tradition raises. What are the origins of this tradition? How can its questionable sexism or objectification of women continue? How, if at all, are organizers and contestants evolving the tradition? Why do many respected industry specialists support and, in some cases, even revere the queens and what they represent? And, perhaps most importantly, why do young women continue to seek the crown?
Parsing out what the German wine queen represents – and what the lineage has represented in post-war German culture – offers some perspective. It also helps to guide a conversation about the future of the tradition, and how that future reflects a changing reality for German wine on a global scale.
Establishing — and Altering — the German Wine Queen Tradition
The German wine queen concept was created in 1949 by publisher Daniel Meininger. "After the war, Germans were hungry for entertainment," says journalist Felicity Carter, former editor-in-chief of Meininger's Wine Business International magazine, based in Neustadt, and current Executive Editor of The Drop at Pix. "Wine took on a more important role."
Long before the "influencers" of today's social media channels, the wine queen was an attractor of public sentiment who also held commercial sway. The job description, if written in 1949, might have looked something like this:
Must dance well and present an attractive appearance. Schedule is demanding. Candidate must demonstrate physical and emotional stamina, and an unwaveringly positive attitude. Compensation is through travel rather than salary.
Petra Mayer, the German Wine Queen in 1988 and 1989, saw the opportunity as "a channel to share my love for wine in a very pure and natural way," although by that point it was becoming clear that the role could also be a stepping stone to other things. "I grew up on a wine farm and [the queen tradition] was a door, opening [for me] to see the world," Mayer said. "I had a mission, and I got excited as well by the opportunity this career offers me."
Mayer was in some ways the revolutionary in the lineage of queens. She was the first to push back against the standard expectations of dress codes and customs. "I thought [the dirndl] was somehow degrading me when I went to a workshop with young winemakers," she said. "I was about to be part of these people, to learn and to share. Why should I come with a dirndl and a crown?"
Julia Bertram, who reigned in 2012, at first became the German wine princess for her hometown, following in the footsteps of her grandmother, mother, and aunt, all of whom had been local wine princesses. As a child, Bertram never wanted to be queen. "In those days, I thought it's just smiling and wearing nice clothes. That's not what I wanted to do," she said. "But when I started drinking wine, I wanted to become a winemaker. I saw that [becoming queen] was great to do for your village and for German wine. To make friends, too. It's a lot of fun."
It is noteworthy that both Mayer and Bertram are still, to this day, deeply involved in the work of wine, Mayer as the Market Manager in Germany for Wines of South Africa and Bertram as head of her family's estate, which was founded in 1910 and which she took over in 2018. It is another of their shared commonalities, in addition to being born into winemaking families in their respective home regions.
A third commonality is that both Mayer and Bertram each represent different phases of the evolution of the wine queen role. If the job description were rewritten for today, it might look something more like this:
Product and industry ambassador. Must speak multiple languages. English essential, Mandarin a plus. Must demonstrate comprehensive knowledge of German wine in front of 1.5 million television viewers plus Masters of Wine, Master Sommeliers, journalists, politicians, enologists, and professors of wine. Schedule is grueling. Can expect to travel or present "on stage" more than 250 days of the year. Candidate must demonstrate physical, emotional, and psychological stamina, and an unwaveringly positive attitude. Compensation is through travel, networking, and professional exposure rather than salary.
The candidates are absolutely impressive, says Carter, who has judged (and written about) the competition in the past. "It isn't just a beauty contest anymore. What's really important is the knowledge [of German wine], the ability to deliver a speech on an impromptu basis, and being gracious at dinner and on TV." The televised portion doesn't reflect the full extent of the competition, where contestants are judged on a variety of skills including their multiple language fluencies and their ability to taste wines blind and accurately identify them.
Quid Pro Quo
The queens represent the German wine industry globally, while their travels expose them to valuable market intelligence. During the late 1980s, for example, Mayer did a tasting in Macau. She registered local enthusiasm for the wines. The logistical problem, and the reason German wine wasn't selling in Macao, she and her team realized, was that no one in the country had a bottle opener. "So we packaged differently and added a corkscrew."
A more recent example is Bertram's visit to Singapore in the early 2010s, where she presented Rieslings from the Mosel to ten professional sommeliers. She fielded questions on production, soils, tasting, and aging potential. That kind of experience throughout the year, beyond providing valuable feedback to the German Wine Institute, can be parlayed into future pursuits.
Julia Klöckner, who served as Germany's Federal Minister of Food, Agriculture, and Consumer Protection and was at one time considered a potential rival to former Chancellor Angela Merkel, is perhaps the most visible example. Previous queens have also gone on to found farming associations, establish careers in wine marketing, and become winemakers. Bertram, for example, credits the network she built while traveling as queen as foundational to building audiences for her wines.
"One year as queen is one year of marketing," Bertram said. "[But] I recognized that this is not what I wanted to do for my whole life. The most important thing when I gave away the crown was to get my hands dirty, in the fields and vineyards, close to the vines, not only talk about it. We export quite a lot of our wines, which is not common in the Ahr region. In many countries where I've met people as queen, it's nice to connect again."
The Road Ahead
In some ways, "alumnae" queens are a largely underutilized resource when their experience or expertise aren't revisited after they've handed off the crown. Though interviewees recognize the appeal of presenting the face of a younger generation, there's also a significant amount of gravitas and commercial advantage that can be conveyed by an experienced professional.
During interviews for this piece, I repeatedly heard a desire to anticipate and plan for people in the "queen" role who are not women, or are single-gender or unmarried. Simona Maier, from Baden, was the first transgender wine princess, and organizers can expect nominations at some point for a German Wine King and/or Couple.
This is a development that Grieco, and others, say they would welcome. "We are open-minded in our respect for the queens and the princesses," Grieco says. "Come one, come all. Fly solo, fly in pairs. Last time I checked, German wine does not discriminate."