Franken — Germany's Most Underrated Region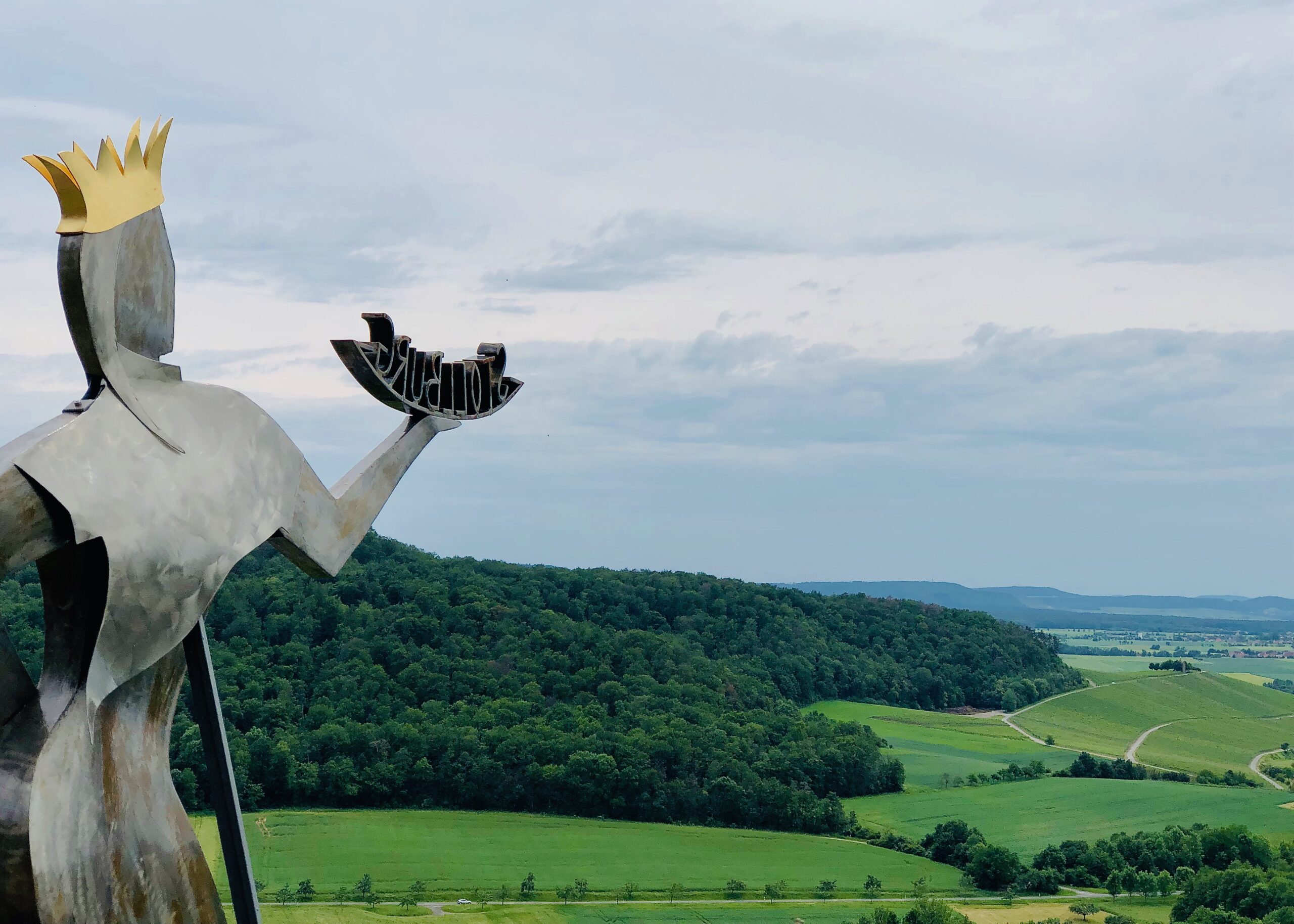 We'll come right out and say it: Franken (Franconia) is Germany's most underrated region. If you still think of it as the source of wan wines poured from squat flagons and drunk mostly at home, we're here to let you in on a secret: there has never been a more exciting time for this corner of northern Bavaria, where wine, not beer, rules the day.
The region sits just below the 50th parallel and at the cool, eastern edge of Germany's wine core. It's a perilous position for viticulture. As decades of frost-crimped and extreme-heat-affected vintages attest, its starkly continental climate can be a liability. But it is yields, not quality, that suffer. Franken loyalists know to plan ahead to ensure their favorites are kept in good supply. 
Nevertheless, wine has been a staple of life here for more than a millennium. Charlemagne had a hand in the establishment of many monastic vineyards. Anchored by the once mighty capital of Würzburg, home to powerful and thirsty prince-bishops, Franken had its heyday around 1600, when its vineyard area was eight times that of today. Its fame grew via ecclesiastical and charitable institutions as well as royal estates, with river transport and proximity to Frankfurt securing steady markets for the wines.
Today the region's identity is still shaped to a substantial extent by impressive historic estates. But they are now joined by scores of others, from multigenerational family growers to newcomers with micro-negociant projects to a vibrant troupe of Naturalisten.
With its 6,137 hectares stretched across a trio of soils and a wider array of microclimates, Franken offers a corresponding range of varieties and styles. It makes the most pleasurable sort of education to follow the Main River's famously ribboned course to discover the singular expressions around each bend.
Franken is divided into three principal districts, with divisions based on soil type and the course of the Main. In the west, Mainviereck, which includes Churfranken, is a hidden gem for superb Spätburgunder, aka Pinot Noir. At Franken's heart is the Maindreieck, dominated by Würzburg and its iconic urban vineyards, Stein and Innere Leiste. To the southeast, the Steigerwald, which takes its name and cool temperament from a massive forest that spreads eastward from the postcard village of Iphofen.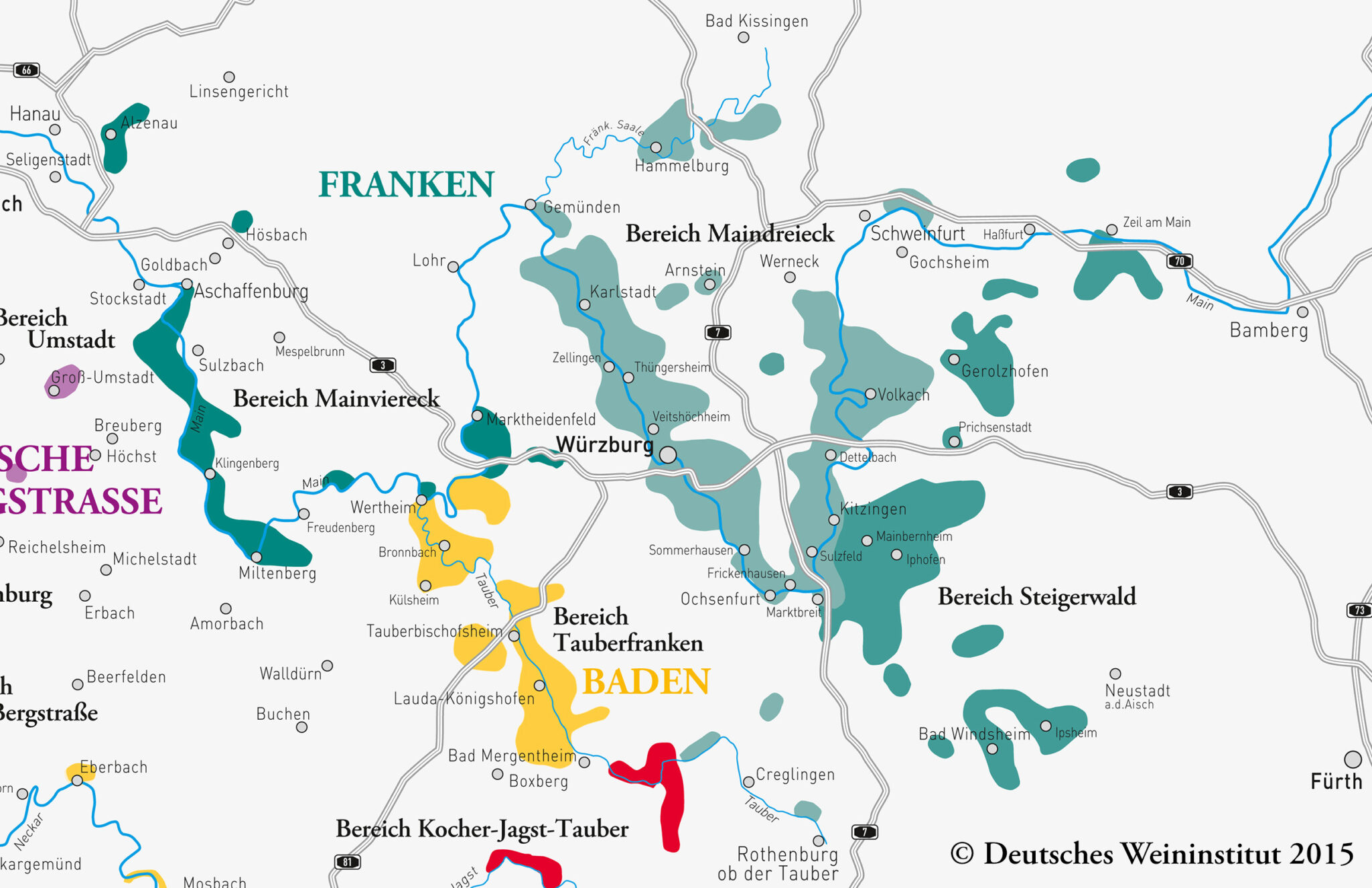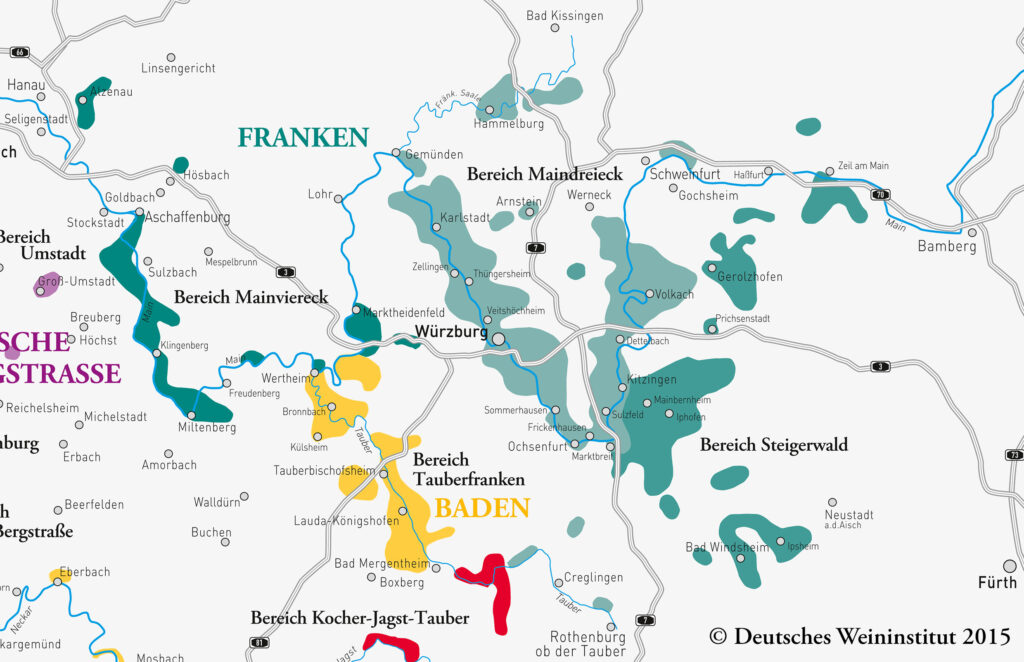 The Spiritual Home of Silvaner
White varieties dominate. And it is here that Silvaner in particular finds its spiritual home. The grape came to this part of Germany from central Europe in 1659. But, with the international spotlight on Riesling, Franken's shier "second" grape long waited in the wings for growers to appreciate what it needed to shine on the world stage. Though its appeal is more understated, and sometimes complicated by presentation in Bocksbeutel (flagon), at its best it can be both structured and weightless, earthy and ethereal, nuanced and complex, herbaceous and brightly mineral. To wit: "Trocken, in Franken, means Trocken," Wines of Germany author Stephen Brook wrote almost two decades ago, a dictum that holds today.
At its best, Silvaner can be structured and weightless, earthy and ethereal, herbaceous and brightly mineral.
Over the last decade, renewed dedication among growers throughout the region has effected a serious revival for Silvaner. The variety's terroir expressiveness when farmed, cropped, and vinified with meticulous attention turns out to be every bit as impressive as Riesling or Pinot Noir, both of which also flourish here.

Even serious German wine lovers are sometimes surprised to learn that Spätburgunder is so at home on Silvaner's turf. In fact, the "late-ripening Burgundian" excels on the precipitous terraces of red sandstone that rise from the Main in the western district of Churfranken. Growers have breathed new life into sites such as Grossheubach and Centgrafenberg, where iron oxide-rich soils and sharp diurnal swings yield Pinots of cool, slender finesse, with supple tannins, resolute acid spines, and long aging trajectories.
For most of the 20th century, the bread-and-butter grapes of the region included Müller-Thurgau, and smaller but significant quantities of frost-resistant crossings Bacchus and Kerner. But the tide appears to be shifting once again in favor of Silvaner, Riesling, Spätburgunder — even strikingly Chablis-like Chardonnay, a variety of talented young growers in Franken now appear keen to make their mark on. Look, also, for the revival of a traditional field blend Altfränkischer Satz, a mix of historic Franconian and other varieties, so distinctive it has earned a spot on board the Slow Food Foundation's Ark of Taste.
Soils, Village, Vineyards, Vines
Franken's Trias, or trio of characteristic soil types laid down in the Triassic period successively over millions of years and then variously eroded and exposed, is its most distinctive geological feature. Sandstein (various sandstones), Muschelkalk (shell limestone), and Keuper (marl-limestone) are responsible for the distinctive characters of Franken's surprisingly diverse wine offerings.
The story here is among the most compelling in German wine, yet it remains largely untranslated outside the country. Even today, official statistics show that the vast majority of wine from Franken is consumed locally. Get in it before the rest of the world does. You'll find, as we have, that narrowing down the selection has never been more difficult…
Select Grand Crus
Klingenberger Schlossberg
Casteller Schlossberg
Bürgstadter Centgrafenberg
Würzburger Stein, Innere Leiste
Iphöfener Julius-Echter-Berg
Eschensdorfer Lump
Rödelseer Schwanleite
Randersackerer Pfülben
Benchmarks
*Fürstlich Castell'sches Domänenamt, Castell
Silvaner can attain breathtaking splendor in the hands of Prince Ferdinand zu Castell-Castell. This should come as no wonder, given that his family has owned this now 71-hectare estate since the Middle Ages. The first documented planting of the grape in Franken was here, in 1659. The estate's cool sites at the edge of the Steigerwald, on soils of marl, loam, and clay, are all im Alleinbesitz (monopoles).
Working with ecological responsibility in the vineyard, including abundant use of cover crops to stem erosion on steep slopes, and an embrace of spontaneous fermentations for its GG and 1er Lage wines, the Castell family has redoubled its commitment to terroir-expressive Silvaners of grace and profound agability. Writing of a 1967 Silvaner Beerenauslese from this estate, one critic recently declared the wine "eternal" and gave it his first perfect score. But you needn't wait for such once-in-an-infinity wines to experience the estate's timelessness. VDP and EcoStep member. 
Weingut Rudolf Fürst, Bürgstadt am Main
In family hands since 1638, and now deftly guided by Sebastian Fürst, son of Paul Fürst, who brought the estate to international acclaim. Under the motto "form follows function," the young grower has taken a laser focus to the meticulous, low-yield farming of a fistful of varieties (Spätburgunder, the rare Frühburgunder, Riesling, and Chardonnay) and vinification techniques that suit each best.
With 21 hectares in the choice sites of Bürgstadter Berg, Centgrafenberg, Hundsrück, Schlossberg, and Bischofsberg, this is an excellent estate through which to explore the facets of variety and site, and revel in their agability. Fürst is a VDP member and part of the Trias group, a small association of growers dedicated to working out the identity of Franken terroir through their dry wines.
*Bürgerspital zum Heiligen Geist, Würzburg
Established in 1316, this storied winery uses the fruits of its urban vineyards to finance the city's largest elder care facility.  But its charitable aims never undermine its purpose: to coax the soul of Silvaner, Riesling, and Pinot varieties from its 120 hectares of vines.

With 80 percent of its vineyards on steep slopes, including its monopole, the Würzburger Stein-Harfe, and other choice sites in the Würzburger Stein, the focus is on interpreting various expressions of Muschelkalk soils, with an emphasis on minerality. Wines from the top of its range, evenly split between Silvaner and Riesling, with an array of GGs and 1er Lage wines in which texture, weight, and acidity come alive on a palate of delicate fruit and herbs. VDP member.
Hans Wirsching, Iphofen
Four centuries of experience suffuse Wirsching's wines with a serious expertise on ready display. Andrea Wirsching now leads the nearly 90-hectare family estate, which includes Iphofen's legendary Julius-Echter-Berg vineyard. This gently sloping site benefits from the cooling influence of the nearby Steigerwald, and from elevations of close to 400 meters above sea level at the top, with power and depth deriving from Keuper soils. The Wirschings fly the Silvaner flag with pride, but equal attention is given to Riesling and Scheurebe. Gentle pressing, a preference for native yeasts, and a proportion of whole-cluster give subtly arresting wines whose characters range from stony, herbaceous, and dry to nobly sweet. VDP member with Fair 'n' Green certification.

*Juliusspital, Würzburg
Germany's second-largest winery, with 180 hectares spread throughout Franken, including many of Würzburg's most important sites, was founded in 1576 as a charitable institution. The estate's grand scope allows it to explore the character of Silvaner, in particular, across the full range of sites, soils, and vinification styles, making an excellent estate from which to gain a thousand-meter view of the region's wines. Native yeast fermentations and elevage in large wooden casks distinguish wines of citrus and spice, racy tension, and serious finesse. VDP member.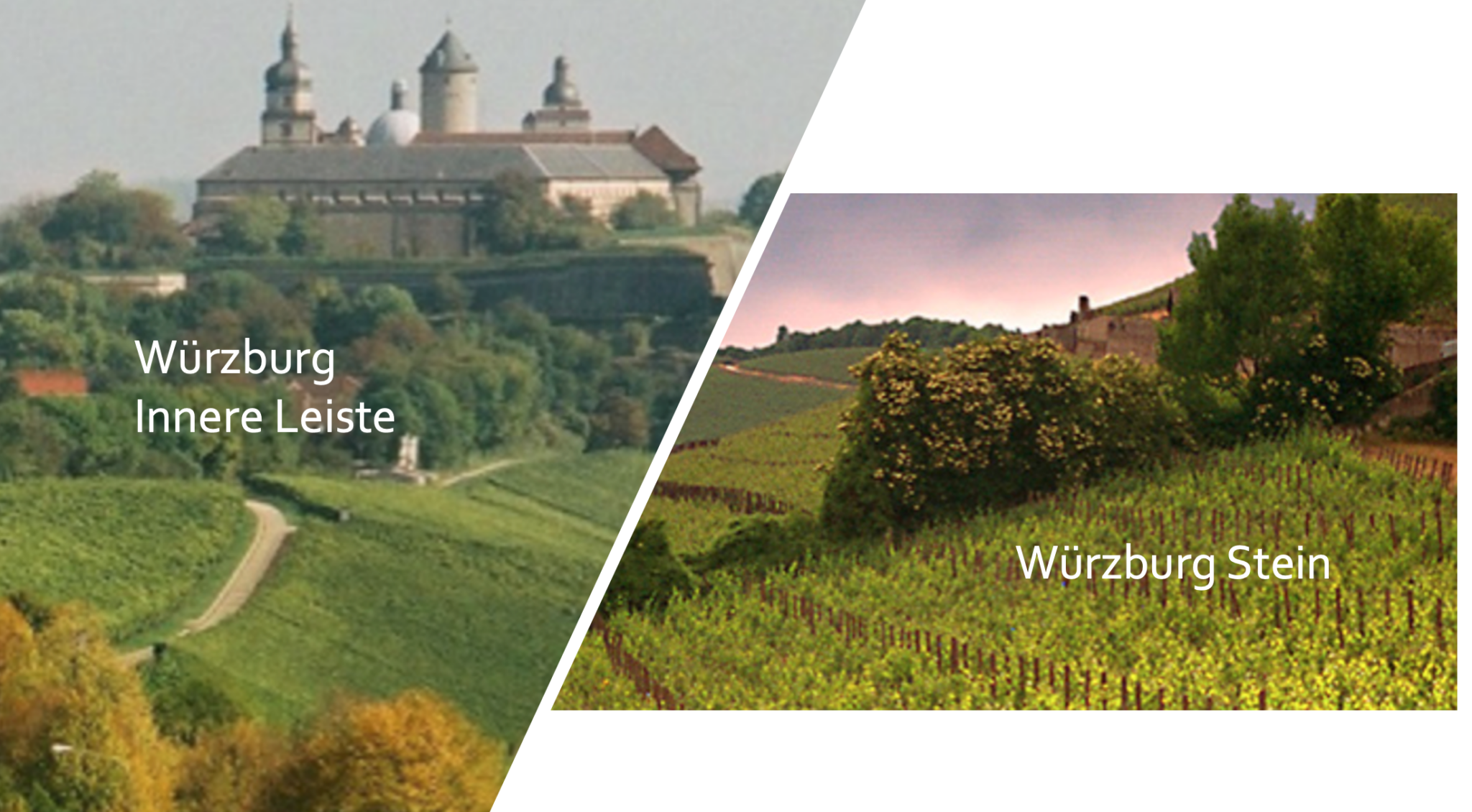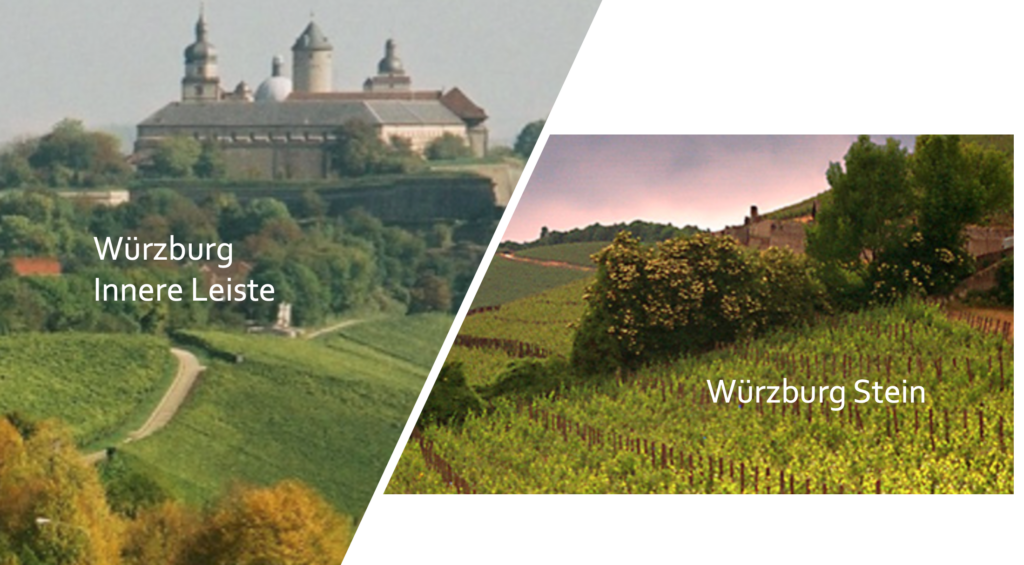 AVANT-GARDE
2naturkinder, Kitzingen
In 2012, Melanie Drese and Michael Völker began the risky conversion of a conventional family winery into a tiny engine of communal, ecological change. Committed to the ethos of natural wine, even as few around them acknowledged the movement, the couple farmed organically, seeking to restore vineyards to health through a blend of careful soil work and thoughtfully cultivated biodiversity above and below ground.
The small estate is one of Germany's most dynamic and forward-thinking, and something of a hothouse for training the next generation of pathbreakers. The estate first came to international attention with its zeitgeist-grabbing pet-nat "Fledermaus" from Schwarzriesling (aka Pinot Meunier). Soon natural wine lovers were drawn to "2NK"'s explorations of skin-fermented Silvaner, Müller-Thurgau, Bacchus, and a bright, poppy Domina.
Weingut am Stein, Würzburg
One of Germany's leading biodynamic wineries sits smack in the center of one of its most iconic vineyards, all within easy view of passengers filing through Würzburg's main rail station. Such urban vineyard set-ups are rare in themselves. But Sandra and Ludwig Knoll have turned their 40 hectares into an oasis of, and something of a showcase for, biodynamic viticulture and sensitive winemaking. Native yeast fermentations, long lees contact, and a focus on Silvaner, including terroir-driven expressions and rare a traditional method Winzersekt. Members of the VDP, respekt-BIODYN, and the Naturland organic certification program.
Weingut Leipold, Obervolkach
Paul Leipold shares the reins with his son Peter, in what appears to be a particularly happy partnership. Peter trained under two German legends: Paul Fürst and Klaus-Peter Keller. He's clearly absorbed these master talents for polish and finesse, as well as the latter's deep affection for Silvaner. With sites on all three of Franken's characteristic soils around the village of Obervolkach, northeast of Iphofen. In conversion to organic farming.
* Exported by P.J. Valckenberg, which provided support for this education feature.