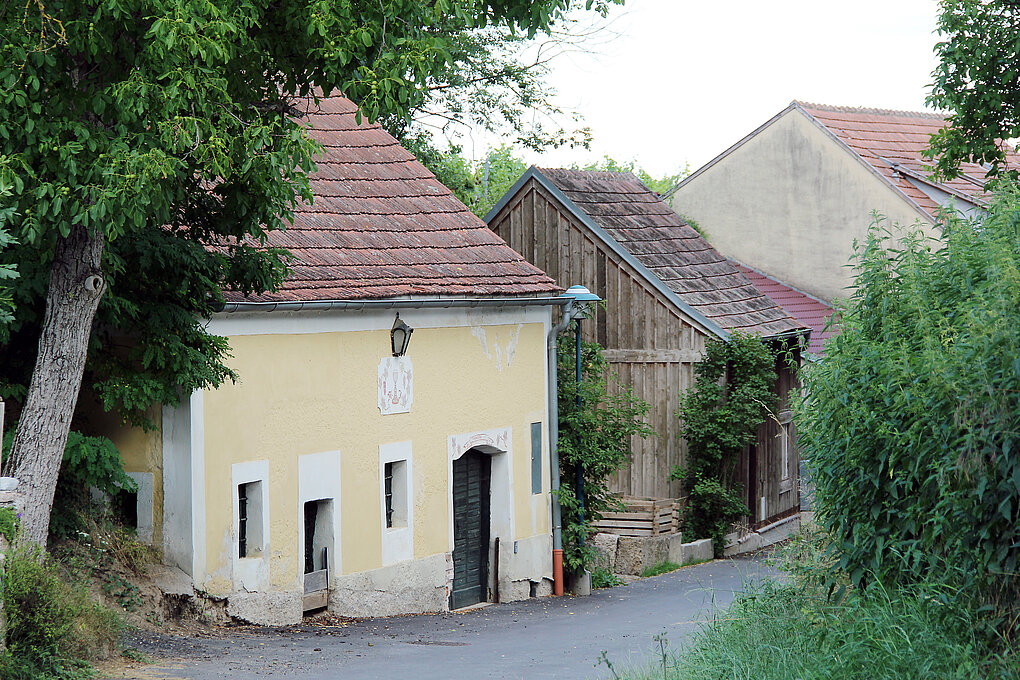 ​Wine regions are threaded along the Danube, one after another, like a string of Chanel pearls. Wagram, Kamptal, Kremstal, Wachau. And Traisental — the only one that lies exclusively south of the Danube. Its namesake river, the Traisen, divides the valley as the Seine does Paris or the Gironde does Bordeaux, into left and right banks. The tiny region flaunts French finesse and cool avant-garde. But also a rustic, down-to-earth charm. In Paris, the Left Bank is the quartier of intellectuals and artists. Through Yves Saint Laurent it achieved world fame in fashion. Who or what sets the tone and taste in Traisental?

Geology is critical to understanding the Traisental. To get to the bottom of it all, and to shine light on the sites, it's best to speak with a seasoned expert. Since 1995, geologist Dr. Maria Heinrich has been making outstanding contributions to geological research in Austria's wine regions. In 2005, it was the Traisental's turn.
"The forerunner of today's Traisen flowed from the Alps into a sea in the foreland," reports Dr. Heinrich. This was some 15 million years ago. The Urtraisen arose from what are known as the Kalkalpen, or Limestone Alps. Over millennia, the limestone repeatedly dissolved and reformed in combination with sandy gravel and scree to become a type of marl-clay conglomerate known as Hollenburg Karlstetten. The dimensions of the Urtraisen at that time are indicated by the washed-up scree, found as high as 380 meters above sea level.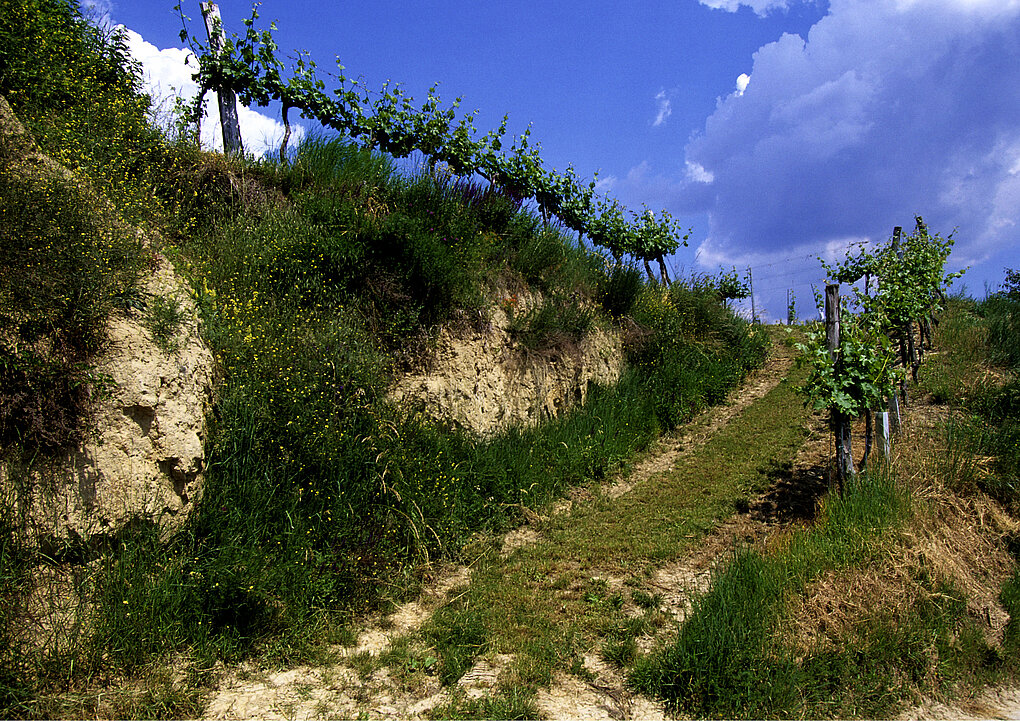 The region's viticultural history began some 4,000 to 2,000 years B.C.E. Evidence shows that as early as the Bronze and Iron Ages, Traisental inhabitants recognized the value of grapes for wine."Celtic clay vessels from 2,000 B.C.E., which prove wine was also fermented here, were found right in our town," says grower Markus Huber of Reichersdorf. "How those wines tasted is another question…"
The Traisental divides geologically into left and right banks, reflected in the flavor profile of the wines. Vintners on the left side include Tom Dockner in Theyern, Ludwig Neumayer in Inzersdorf, and Markus Huber — all three members of the Österreichische Traditionsweingüter (ÖTW, or Austrian Traditional Winegrowers), a group of growers, geologists, ampelographers, and other experts who collaborate on terroir investigation.
Vintner Rudi Hoffmann makes his home and wine on the Traisen's right bank. "In Traismauer" — a village with roots as a Roman settlement — "there's only a little gravel and conglomerate," he says. "The basis is fine-grained ocean sediment, the so-called Oncophora layer." The latter takes its name from the oncophora mussel, which lived in the shallow sea in this area some 17 million years ago. The deposits are composed of mica-rich sands and firm sandstones, containing quartz and feldspar.
Above the sands and sandstone lies a site of coarse gravel and firm conglomerate. The zone is also permeated with glacial meltwater ditches. "From forested ditches up to a plateau and back down to the next ditch there are occasional loess deposits," explains Hoffmann. "So in one vineyard, there are sometimes three different soil types."

The Traisen formed the area in such a way that viticulture is only possible at the higher sites. The risk of frost near the river is too great. In fact, wine growing stops altogether just south of here, near Einöd and St. Andrä. Huber and Hofmann, both of whom farm their vineyards organically, have the last two sites before this limit is reached. The source of the Traisen is close to the Styrian border, in the Kalkalpen. "But the area with the right climate for wine grapes to flourish is markedly smaller," reports Huber. "Just a zone of about six to seven kilometers." 
Climatically, there's plenty of tension, too. "We are the coolest of the Danube-area regions because we border the first of the Alpine foothills," Huber notes. "This gives us the greatest diurnal shifts, which are reflected in our wine style." The Dunkelsteinerwald, a forest that divides the Traisental from the Wachau, also imparts a coolness that benefits the wines.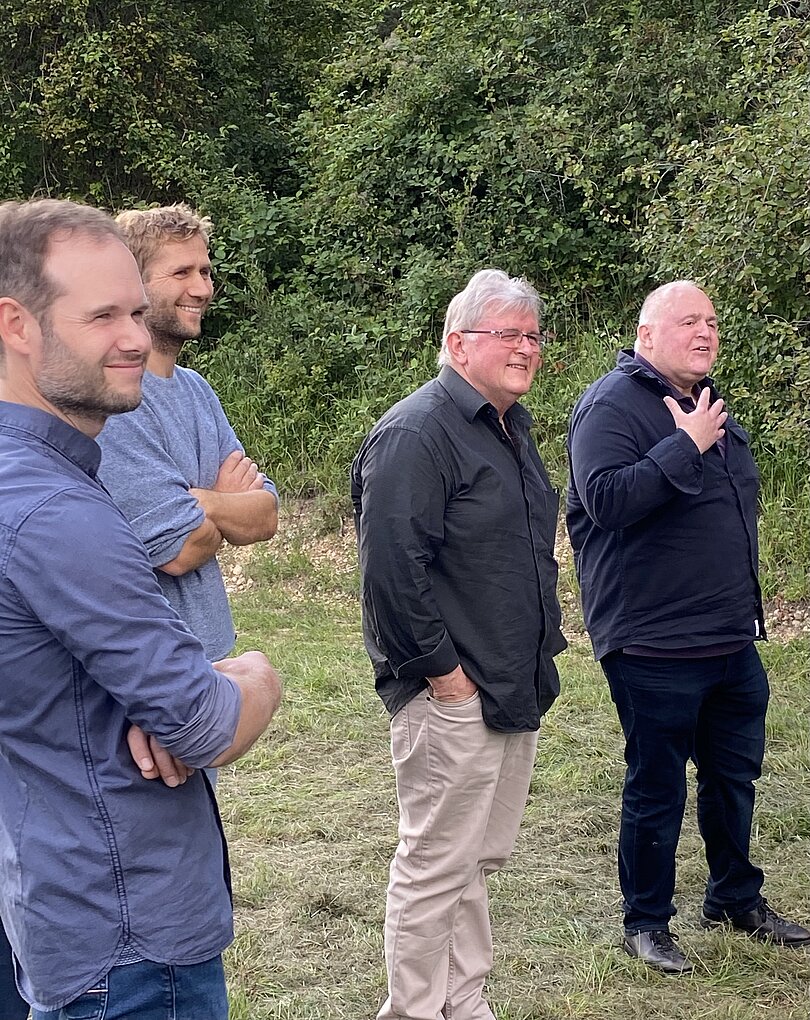 Ludwig Neumayer's story vividly illustrates the region's rapid transformation. "In 1984," he recalls, "we were still thinking of giving up winegrowing because we were so small. Our tasting room was the cow barn and feeding room." His brother, Karl Neumayer, recalls the turning point with pride and a mischievous smile. In 1985, Ludwig Neumayer took part in a national wine fair.
Afterward, their parents unknowingly opened the weekend edition of the Kurier newspaper and could scarcely believe their eyes. Among the ten highest-ranked wineries in Austria, their son had landed at number eight. The telephone started ringing off the hook. "People asked, 'Is this Weingut Neumayer?,'" Karl Neumayer vividly recalls. "Mama told them, "Yes, it's Neumayer and the wine is good, but we're not a winery. Still, you're welcome to come.'" 
Four years later, Ludwig Neumayer had made up his mind. They built a cellar and took it from there. At that time, Traisental was part of the larger Donauland-Carnuntum region. It didn't gain independent recognition until 1995.
It wasn't until 2006 that Traisental growers finally made a clear statement about their identity by earning DAC status, Austria's designation of protected origins.
In some ways, this development could be considered an outgrowth of the region's deep-seated communal mindset, expressed early on in the formation of the first co-op in lower Austria in Traismauer. 

"In my parents' time, our winery still had a small-farm structure,"Markus Huber recalls. When he finished viticultural school in Klosterneuburg in 1998, it was at the height of Austria's red wine boom. He headed to South Africa. "Being away opened my eyes," he notes. "In Traisental, everything's God-given for terrific white wines. I set about ripping out the red wine [grapes] and planting white wine [grapes] instead." 
Sixty-five percent of Traisental's vineyard area is planted to Grüner Veltliner, the highest percentage of any region in Austria.
Sixty-five percent of Traisental's vineyard area is now planted to Grüner Veltliner, the highest percentage of any region in Austria. Its high, rocky single vineyards, on the other hand, offer ideal terroir for Riesling. Last year, Tom Dockner, who took over his family's winery in 2007, won the prestigious Salon Österreich with his village-level Riesling Inzersdorf. "The passion for Riesling is apparently something you can taste," he laughs, modestly.
This year, the family operation celebrated its 110th anniversary. "Until my grandfather's time, this was a small farm – fields, livestock, fruit – a colorful mix," Dockner recalls. "Specialization came much later. We also sold almost exclusively to individuals who came to us." There was a similar smallholder relationship between family and land at the Neumayers, says Ludwig Neumayer. "We always farmed, but had relatively little wine. We didn't even have a full hectare of vines, it was more the size of a vegetable garden." Rudi Hofmann, in Traismauer, recalls his grandfather worked on a similar scale: 20 chickens, six pigs, one cow, one little green tractor, a 0.3-hectare vineyard, and a few fields of potatoes and vegetables.

The rise of the Traisental has been hard won. The qualities now evident in the bottle demanded vision and action. Hofmann, who had planned to become a restauranteur until he "got the crazy idea of becoming a vintner," bought vineyards 20 years ago that, at the time, no one wanted and earned him only mockery. "Cool climate, low yields, late harvest, high acidity. At the time, these [characteristics] were classified as unfavorable. And without climate change, nothing good would have come of them."
But guidance from wine legends Emmerich Knoll and Willi Bründlmayer gave him the perspective needed to support his courage. "Even then, Willi was giving a lot of thought to lyre vine training, shading, rising temperatures – and talked about seeking out cool sites." The high plateau on the right side of the Traisental means those vineyards are always dry, with low fungal disease pressure. He's only had botrytis once in 22 years. 

The Neumayer brothers also have their favorite spots, where the view has to be earned. "We had old single-stake plantings you could only work with a horse. The neighbor just ran a tractor through them," says Karl Neumayer. That neighbor swore he never wanted to set foot in the parcel again and offered it to the brothers, which is how they came by the stony, well-ventilated site, known as Ried Rothenbart. "It's a very healthy spot, but very low yielding," Ludwig Neumayer notes.
A quarter century ago, Traisental was home to about 700 farmers who made wine as a side business on not-quite 600 hectares. Today it's 200 farmers working 850 hectares. But handwork and [traditional] farming have been preserved.
The Traisental's Jausenkultur — snack culture — reflects this, offering holistic, handmade enjoyment. This pleases Hofmann. "What you see growing in the landscape appears on your plate in the wine tavern in the evening."Pigs are fed from the farmers' own fields, the Speck and bread are housemade, apple juice is pressed from trees in the garden, and of course, the wine comes from Traisental vines.
Produce grows even between the vineyard terraces, in little Waldgärten, or food forests. This form of permaculture began to take shape 20 years ago, part of an initiative by renowned permaculturist Reinhard Engelhart. There are herb gardens and even Naschgärten — snacking gardens, where nibbling straight from the plant is encouraged. Beyond this are Erwerbesgärten,or market gardens, where, for instance, asparagus is cultivated that winds up on the menus of top restaurants such as Vienna's Steierereck.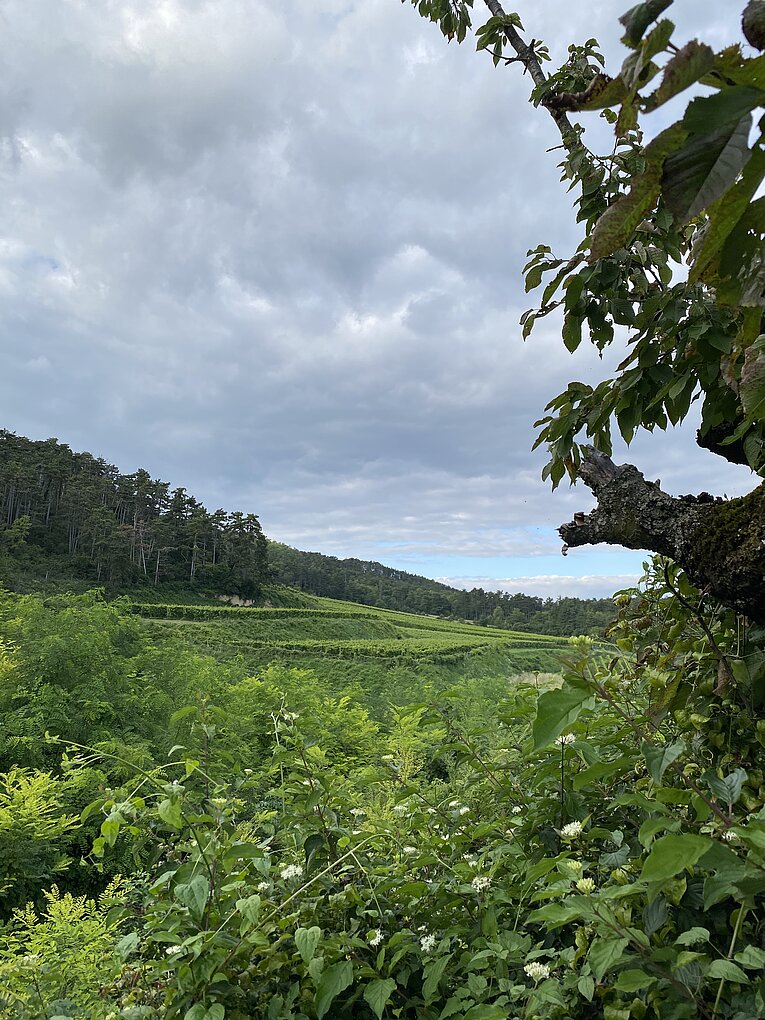 Young grower Viktor Fischer comes from the north, between Nußdorf ob der Traisen and Hollenburg. He took over his parents' wine and fruit farm in 2012. His father was one of the first to go through organic certification training at Krems' viticultural school, in 2006. Now his brother tends the fruit professionally, while he sees to the wine. Fischer trained and worked in Australia, with Huber, and at Geyerhof. He currently has 5.5 hectares and so it will stay: klein aber fein. "Our region still has a small structure; we have many part-time growers who sell their grapes via [local] wine taverns."
Old vines bear witness to history. "[Our] oldest vineyard, a field blend, is 75 years old," Fischer reports. "It's planted to Neuburger, Welschriesling, and Grauer Portugieser" — an extremely rare, ruddy-skinned Austrian variety. "Our Zweigelt is from 1968. We started out with a lot of Gemischter Satz, [Grüner] Veltliner established itself later," recalls Tom Dockner. Pinot varieties and Chardonnay came later. Traminer, a Veltliner relative, is also experiencing a revival, says Dockner: "I planted Gelber Traminer because it had more significance in the Danube region. In old vineyards, where the vines are between 55 and 75 years old, I found it interplanted with Veltliner."

Weißburgunder (aka Pinot Blanc) also yields an excellent wine in Neumayer's hands. "Inzersdorf is completely different from the deep sites in Wagram or even Nußdorf ob der Traisen," says Ludwig Neumayer. "There is the rich type of Veltliner from loess soils, but there are also chalky, almost Burgundian wines. They require more time to develop, but are then long-lived and timeless." He loves thinking in micro-sites. By that he doesn't mean vineyards, but rather various plots, harvested differently.
"It's like a big musical score," he says. "Composing something from various geological facets of a single vineyard or from a contiguous area is exciting." Calcareous, lean, and dry are for him synonyms of the Burgundian style. "From a historical perspective, 'Burgundian' also means engaging deeply with individual sites and creating micro-cuvees, which determine the character [of the finished wine]. But even the contours of the landscape have certain similarities."

Docker prizes one soil type in particular: limestone. "Limestone has become interesting because temperatures have gotten warmer," he says. "It yields exciting wines: very clear, precise, and focused. It's important to me that we convey our geology, which are soils on calcareous bedrock."
Expressing diverse soil types through a single variety and presenting each site differently is a goal shared by both Fischer and Hofmann: "We have so many sites," says Hofmann. So we group together the soil types — loess, Oncophora layers, and conglomerate — and work out [their characteristics]. For now, in up to 60 individual [microfermentations]. We'll get 10 wines out of this in which the soil types are very clearly reflected."

For Hofmann, the region's signature can be summed up in two words: cool climate. "Traisental [wines] are always pithy, from the limestone, with a certain hardness." He quotes Ludwig Neumayer, who once told him "'A Traisental wine needs time. Its aromas don't just leap out of the glass in November. I started out wanting to make wines that could be drunk young, but that doesn't work [here].'"
Tom Dockner also sees aging potential as a strength: "Anyone who likes wines with tension and classical style is in exactly the right place." In his view, the wines are never opulent, are ideal for food, and age well. "The single-vineyard wines tend to be closed in their youth. After two to four years, they become more interesting and between five and 15 years, they are optimal." 
The polarity between earthy groundedness and almost crystalline finesse is a Traisental trademark.
This point was driven home last autumn during a tasting at the [annual] Austrian Single Vineyard Summit, where Docker, Neumayer, and Huber also presented older vintages. Among them was a 2008 Riesling Ried Berg from Huber. At 13, it was as carefree as a teen of the same age. Vintage 2011 presented itself as filigree, with lovely fruit, while a Veltliner from the same Erste Lage, vintage 2010, was rich in extract, with velvety viscosity. A 2012 Riesling Ried Rothenbart from Ludwig Neumayer scarcely showed signs of age.
The wines were terrific across the board, testifying to the region's potential. "In comparison with other areas, our wines have their very own overall structure, are much more densely woven, compact, taut, typically with higher acidity as well," Markus Huber summarizes. Thirty years ago, this was a drawback, now, especially in very warm vintages, it's a plus.
Clearly, Traisental plays in the big leagues of excellent Grüner Veltliner and Riesling — all without having lost a trace of its authenticity. It's almost a complete wine world within a single region. What unites its growers is modesty, and their rustic, down-to-earth origins. "For me, the wines have a characteristic contradiction between earthy groundedness and a special, almost crystalline finesse," says Karl Neumayer. "This polarity is a Traisental trademark."
The Traisental needs suffer no comparison — not with Paris, not with Bordeaux. Neumayer leaves us with this thought, paraphrased from the German poet Friedrich Hebbel: "The Traisental is a small world, in which the greats rehearse."
Translated by Valerie Kathawala ​