3 Can't-Miss Sparkling Wines (with Umlauts)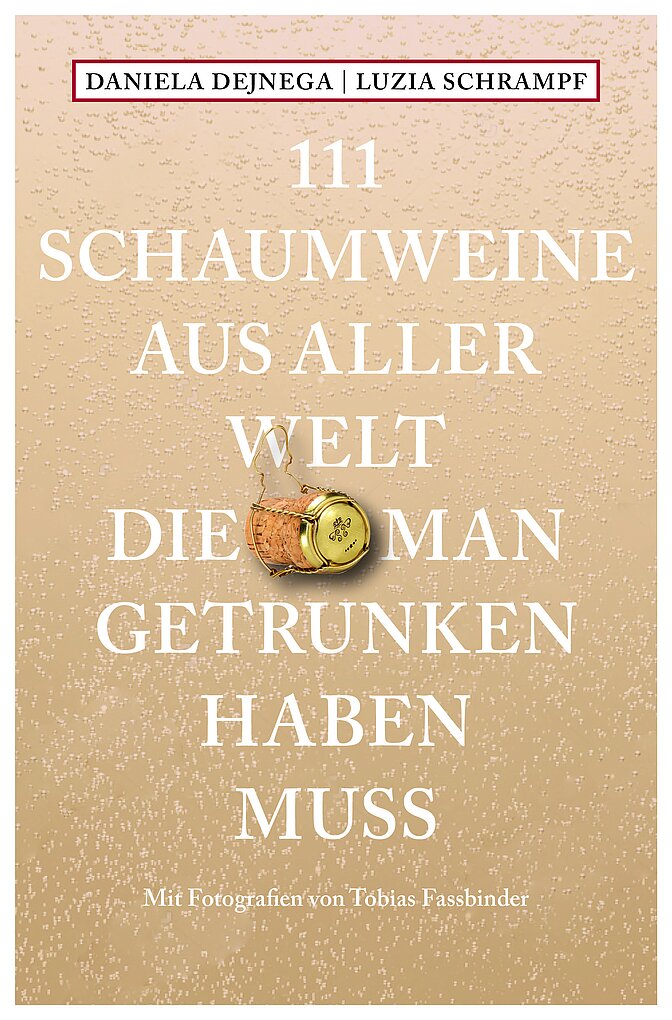 ​The world of sparkling wines is changing for the better. The number of producers approaching this beverage in serious, artisanal, and creative ways continues to climb. "Grower Sekt" from Austria and Germany is very much en vogue. We are witnessing a tremendous push to quality. For a long time, "mass over class" was the motto, especially in Germany. But for a new generation, awareness of terroir and a trend toward reducing residual sugar are increasingly the focus. No stone has been left unturned in Austria, either. For several years, Austrian Sekt has been governed by a three-tiered quality pyramid: "Sekt Austria," "Reserve," and "Große Reserve" (Grand Reserve). 
The Kamptal has become the bastion of top grower Sekts, while the Steiermark (aka Styria), with its cool climate, also offers outstanding conditions for high-quality sparkling wine production. The Swiss have been riding the Schaumwein train for years, above all Champagne, Cava, and Prosecco. But making their own sparkling wines was an idea they were slower to embrace. Little by little, however, Swiss producers are warming to the idea and making ever more exciting examples.
Like the title says, 111 Schaumweine aus aller Welt, die man getrunken haben muss (111 Sparkling Wines from Around the World You Must Not Miss) presents a selection of sparkling wines from around the world. My co-author Luzia Schrampf and I direct our attention less to "the usual suspects," more to personal discoveries that enthralled our noses, palates, and minds, and that tell wonderful and nuanced stories from throughout the sparkling wine world. In a German-language book, it's no surprise that one of the focuses is "umlaut wines," of which I present three special examples: from Germany, Weingut Meine Freiheit (distinctive variety), from Austria Hannes Harkamp (uncommon production method), and from Switzerland Tom Litwan (unusual story and variety).
Switzerland: Just a Wild Idea?
Petit Meslier Extra Brut – Tom Litwan, Aargau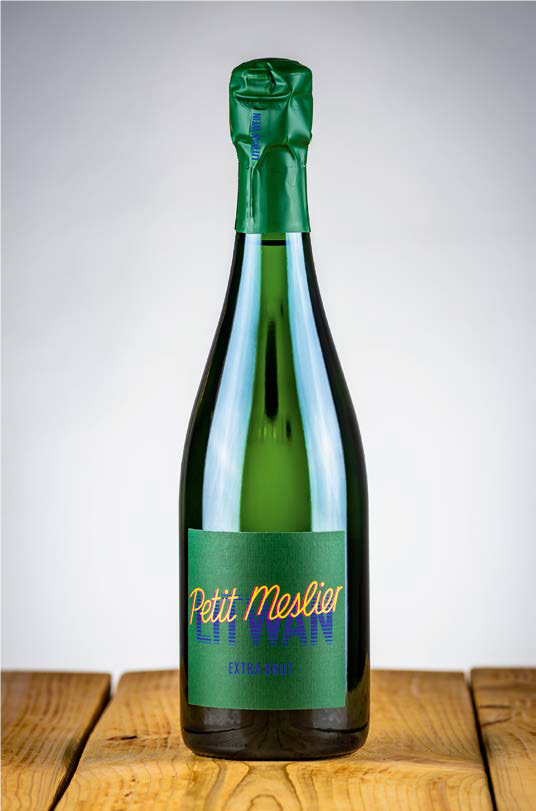 When the legendary reference book Wine Grapes by Jancis Robinson, Julia Harding, and José Vouillamoz fell into the hands of inquisitive Tom Litwan, he opened it and his eye fell on Petit Meslier, a high-acid, now-rare variety from Champagne. The Aargau winemaker was already toying with some sparkling wine ideas. But what he read fascinated him – and ultimately stimulated his new project. Petit Meslier plant material was difficult to obtain. But the French didn't leave him in the lurch. In 2010, Tom planted a small plot to young vines of this rare variety. "Initially, of course, I had no idea if it would work or if this was just a wild idea," he says, grinning.
But the French vines settled beautifully into northern German-speaking Switzerland. On calcareous marl soils at 500 meters above sea level, they slowly began to deliver significant yields. With vintage 2016, that yield was exactly 435 bottles. This first-class Swiss sparkler, with its vegetal, exotic, and smokey notes, fine essence, and glorious freshness simply drives a thirst for more. Litwan, who farms a total of 4.5 hectares, all biodynamically, and in fact specializes in Pinot Noir, has planted more Petit Meslier vines – lucky us!
Germany: Rare Color Play
Roter Riesling Brut Nature – Meine Freiheit, Rheingau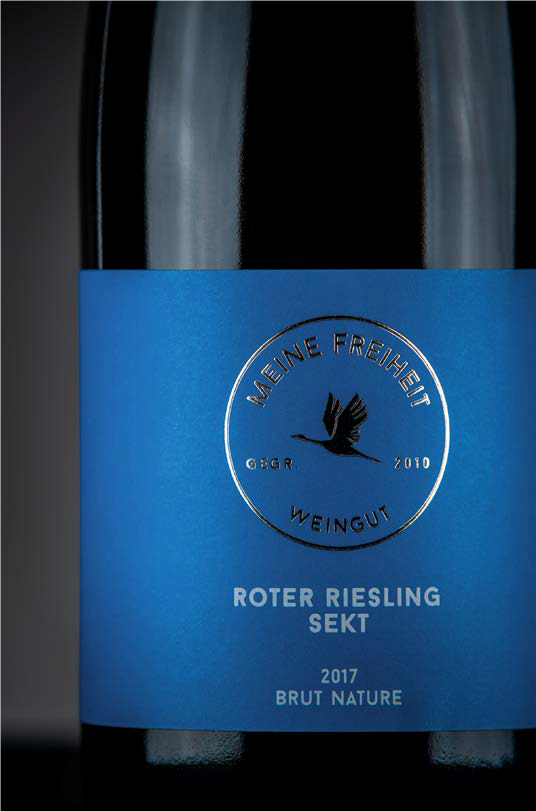 A Frankfurt investment banker with a weakness for historic grape varieties? Indeed. With neither a family background nor training in wine, Sascha Magsamen launched the start-up winery Meine Freiheit in 2010 – as a counterweight to the digital world of money. His interest in rare varieties is the reason that not only Riesling, but also Roter Traminer, Gelber Orleans, and Roter Riesling can be found in the Rheingau's best sites today. Meine Freiheit's general manager, Sabrina Schach, makes a wonderful bottle-fermented Sekt from the latter. Roter Riesling is a white wine variety with a reddish skin, a color mutation of Riesling. Twenty years ago, it had almost died out.
Today, there are some 50 hectares in Germany, 1.5 of them at Weingut Meine Freiheit. Sekt specialist Sabrina Schach is intrigued: "The ripe berries look very different depending on where they are planted. The color ranges from reddish-gray, to purple, to shades of orange. In the end, it's irrelevant to the wine because the skin pigmentation of Roter Riesling is unstable in such a way that even long skin contact always results in a white wine." Compared with Riesling, Roter Riesling has more extract, breadth, and red-fruit character. Nevertheless, it's ideally suited to Sekt. Thanks to its creamy fruit notes, even in bone-dry Brut Nature style, it's wonderfully accessible.
Austria: Open to Inspiration
Solera Reserve Extra Brut – Harkamp, Südsteiermark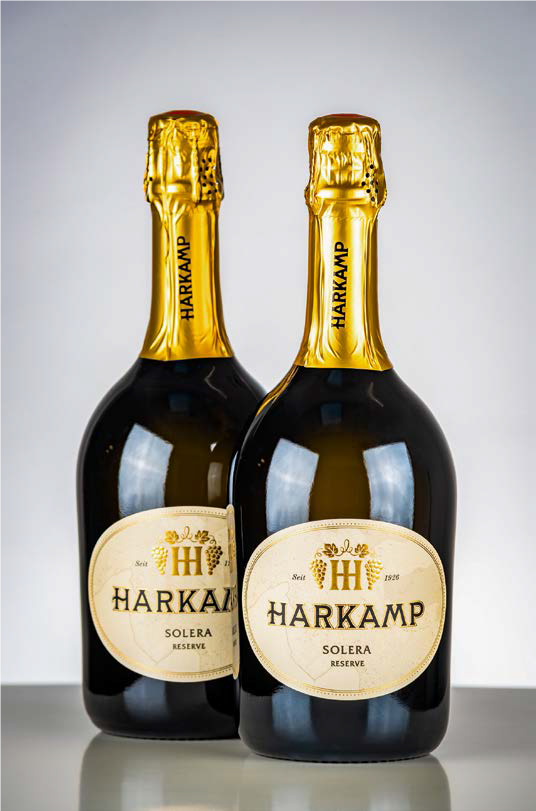 The fascination with fine bubbles hit Hannes Harkamp and his wife Petra early. Champagne, Franciacorta, Cava – they tried everything, traveled, got inspired, and came to the conclusion that high-quality sparkling wines should also be possible where they live, in Südsteiermark (Southern Styria). So, in 2010, they disgorged their first Sekt, a Reserve Brut vintage 2007 – the sparkling wine estate was born.
Hannes Harkamp quickly earned an outstanding reputation among his peers as a Sekt-maker-for-hire. But in 2021, the biodynamic grower narrowed his focus to concentrate on his own products. His most unusual sparkler in a whole series of finest grower Sekts is called "Solera." Sound Spanish? Yes, the solera system — the fractional blending method in which casks are topped up with new wine each year — is used in sherry production.
Harkamp discovered that a few winemakers in Champagne had adapted this method to their purposes. Now he, too, has a solera cask – containing a cross-section of all vintages since 2016 – two-thirds Zweigelt and one-third Weißburgunder (aka Pinot Blanc). Each year, Harkamp draws off roughly half the cask, then fills it with new wine. This [process] increases the complexity of the Sekt base wine each year. After traditional bottle fermentation and at least 18 months sur lattes, the Solera Reserve bewitches with bready-smokey spice, juicy creaminess, and extremely delicate perlage.
Translated by Valerie Kathawala
The book 111 Schaumweine aus aller Welt, die man getrunken haben muss (2022) is currently available only in German and excerpted in English exclusively in TRINK, with permission of the author and the publisher, Emons Verlag. ​