Get to Know: Rennersistas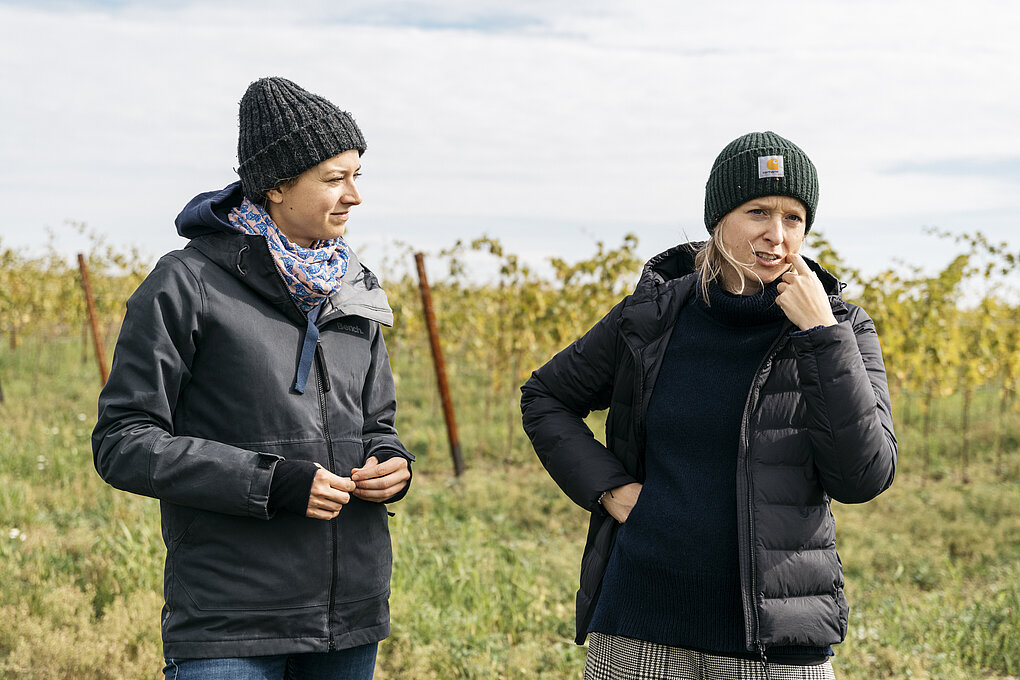 This article is an excerpted chapter from We Don't Want Any Crap in Our Wine (2019). After the book went to print, the Rennersistas informed the author that Susanne Renner left the winery, which will now be run by siblings Stefanie and Georg.
In 2015, Susanne and Stefanie Renner took over the family wine business in Gols, Austria and became their parents' bosses. In short order, the sisters converted to biodynamics and created their own line of wines, Rennersistas, in addition to the family's traditional red Renner cuvées. Ever since, Susanne and Stefanie have reveled in the freedom of making their own decisions and agree it's much easier to make wine together as sisters than as a couple. But if it hadn't been for some inspiring neighbors, there may not have been any Rennersistas.
"I have a plan, but I have a different approach than you do. You have to stop meddling! You can go get the grapes with the tractor." Stefanie Renner's message to her father, Helmuth, was clear. It was 2016 and the sisters' first harvest as heads of the family business. But Helmuth was still trying to call the shots in the cellar, while the sisters wanted to do things differently. They had converted from organics to biodynamics and started their own line of low-intervention wines.
It's early morning at the Renner winery on the main street of the small town of Gols, in Austria​'s Burgenland. I sit with Stefanie and Susanne at the long wooden table in their tasting room. "Our dad sometimes has tastings with customers, showing both the Renner and the Rennersistas wines and always says 'we', even when speaking of Rennersistas. That makes me incredibly happy and proud," says Stefanie.
"Our dad sometimes has tastings with customers 
and always says 'we,' even when speaking
of Rennersistas."
It wasn't obvious that the sisters would end up working together, let alone take over the family wine business. Growing up, they weren't particularly close. Susanne is three-and-a-half years older than Stefanie, who tended to play with her younger brother, Georg. Stefanie had long assumed Georg would be the one to take over the winery. But in 2011, the sisters moved into an apartment together in Vienna, got to know each other better, and realized they enjoyed hanging out and tasting wines. During that period their parents started talking about retiring, and selling the winery and the vineyards Susanne and Stefanie's grandfather had bought.
"At first, we said 'OK, sell.' But then we couldn't imagine the family without the winery. Our father has always been on the tractor," says Stefanie.
Yet, deciding to take over the family business was not an easy one. Susanne had felt pressure to take over the winery when she was younger; she was the one who had supported her father by going to wine fairs, meeting customers, and taking part in the local Pannobile network. But she had a passion for fashion, not wine production.
During her eight years in Vienna, she tried to make a career out of her interest. "I needed the years in Vienna not to think about the family business. I had lots of conflicts with my father, and I had always worked in the vineyards during the holidays. We had to, but it was never a passion. It was good to work in fashion design, and know what it's like to be an employee, to see the other side."
The sisters talked a lot before they eventually decided to give it a go. For Susanne, one of the many factors affecting her choice was that her hometown was important to her and she couldn't imagine raising a family in Vienna. "It felt like something we needed to try, even if we failed. During the Christmas break in 2013, we said, 'We'll do it'," recalls Stefanie. In 2014 they made the preparations. From 2015, they were both on board full-time.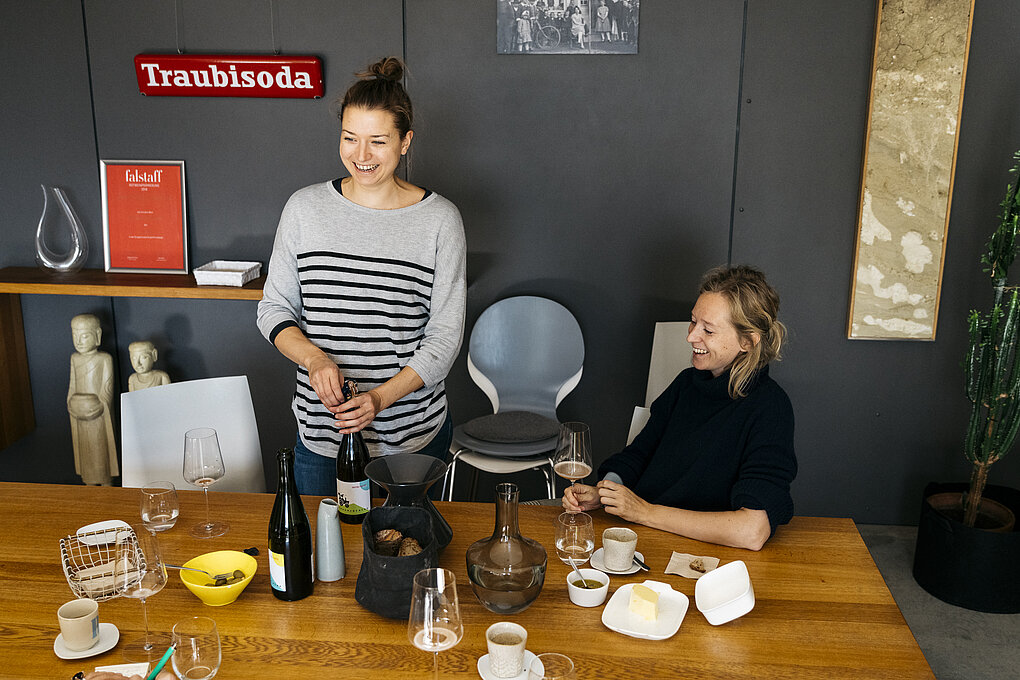 A family affair
The sisters started out with the fundamentals — what they wanted to achieve, how they liked to work — and once they agreed, divided the work between them. "Stefanie is more interested in cellar work and chemistry but hates to do presentations, so it was clear that we would split the work. We decide everything together and we both work in the vineyard, but I'm more in the office," says Susanne.
That year Stefanie, Susanne, and Helmuth worked together, as the Rennersistas operation was so small. But in 2016, the time had come to do things differently. They brought on interns for the first time and Stefanie took the reins of the winery. She felt reinforced by the interns, who cheered her on, a support that was necessary to tell her dad to go to the vineyard instead of meddling in the cellar.
"Afterwards, we sent him to Germany," Stefanie says, laughing. But there's no doubt this is a family affair, and one that is continually evolving. Last year, their brother Georg joined the business. Stefanie rejoices at the decision: "It's great for us. We're pruning together and he's a great help with everything."
No Pannobile, no Rennersistas
Stefanie gives me a T-shirt that says Liberté, Egalité, Pannobilé — Pannobile's now-famous slogan. The sense of community in Austria's Gols, and with the other members of Pannobile, is essential to the sisters. While Susanne got involved with the group early on, Stefanie was not. Her view of wine production was marked by her summers working in the vineyards and watching their hard-working parents. It wasn't until she met the other eight families in the group that she contemplated a future in winemaking: "They were super interesting, exciting, and cool, and I thought 'Maybe winemaking is cool, too?'"
The progressive group consists of Preisinger, Achs, Beck, Nittnaus, Pittnauer, Gsellmann, Heinrich, Leitner, and Renner. They experiment together and share equipment that would otherwise be too expensive for small-scale independent producers, such as a bottling line. They were also instrumental in forming respekt-BIODYN, a biodynamic association predominantly in German-speaking wine regions.
Pannobile was created as a reaction to the wine scandal of 1985. Winemakers in Austria and Germany had added diethylene glycol — one of the ingredients in antifreeze — to their wines to make them sweeter and more full-bodied. When the news broke, the export market for Austrian wines was destroyed.
"Here in Gols, two or three people were involved in the scandal. The reputation of Austrian wines was getting worse. Afterward, our father sat down with a group of people who shared the same ideas, who wanted a new beginning," Stefanie tells me.
Together with six others, Helmuth Renner started Pannobile in 1994 to show the regional typicity of their wines, rather than copying famous regions. It was an exceptional decision in the mid-1990s, when the trend was toward big, bold reds, and everybody wanted to imitate Bordeaux. But the Pannobile members have always been forward-thinking and different; today all except but farm biodynamically.
"Sometimes people don't understand us and what we're doing: biodynamics, no machine harvest, low-intervention winemaking, spontaneous fermentation," Stefanie says, sipping a delicious skin-macerated Welschriesling, with crackling freshness. "Austrians still drink heavy wines with lots of oak and a lot of sweet wines. That's why we sell most of the Rennersistas wines in other countries."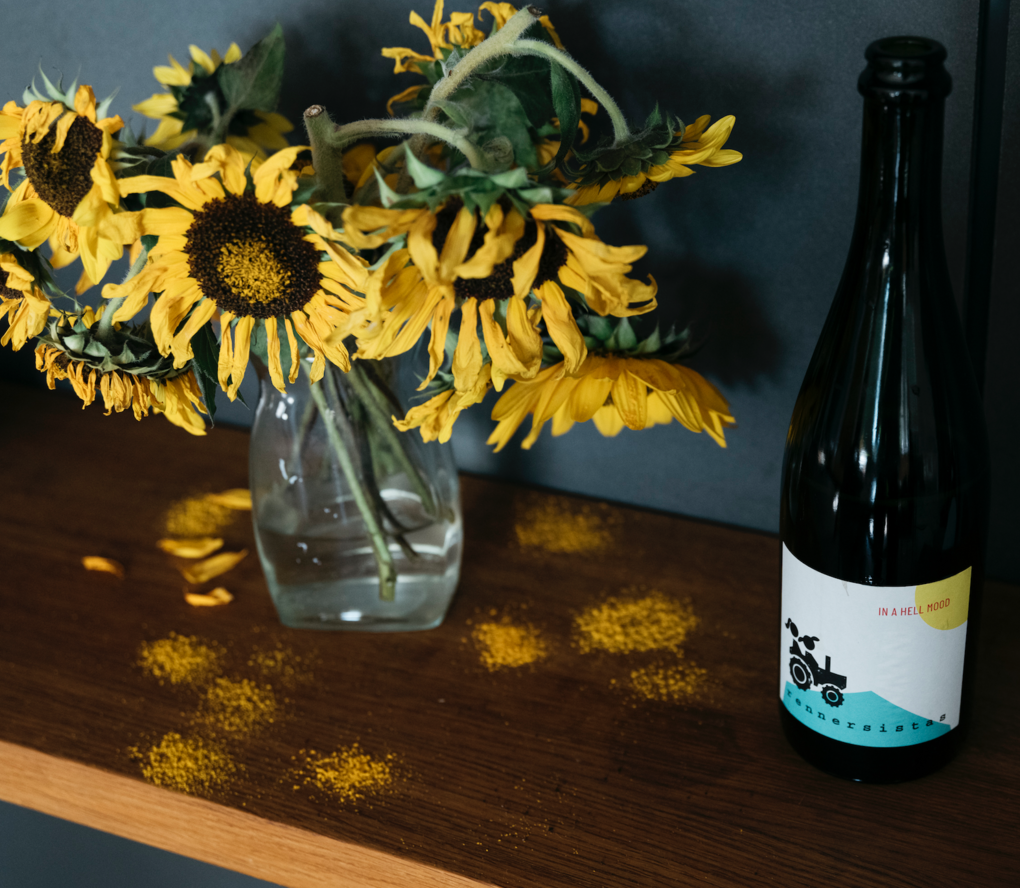 Understanding the Vine
On top of a hill above Gols, Stefanie and Susanne show me their newest vineyard, Obere Heide, where they've planted 5 hectares of mostly white varieties: Welschriesling, Gewürztraminer, Grauburgunder (aka Pinot Gris), Chardonnay, Grüner Veltliner, as well as Pinot Noir. Burgenland has traditionally been a red-wine region, but Susanne and Stefanie are gradually getting more whites for their Rennersistas cuvées.
"Having different grape varieties is much more fun and also more interesting and challenging," Stefanie argues, looking at their mixed vine rows. From here the Pannonian plain stretches out and the sky is wide. The wind blows fiercely, taking away what little warmth the October sun provides. It doesn't look like the perfect place for a vineyard, but actually, it is. Wind, if it's not too strong, is an organic and biodynamic winegrower's best friend. It reduces the need for spraying against mildew, so growers can limit their sulphur and copper use.
"This field was already organically farmed, so we only needed to convert it to biodynamics. It's chilly and always windy, which means flowering is usually pretty bad, but that's good. The grape clusters won't be too tight and we get fewer problems with mildew and rot," Stefanie explains.
Between the rows are a mix of cover crops: clover and peas. They contribute to biodiversity, attract beneficial insects, and encourage the entire ecosystem as well as bring oxygen and nitrogen to the soil. Nitrogen is one of the nutrients vines need to grow and stay healthy. "We never open the soil," says Susanne. "We mow it before harvest with something that looks like a pizza cutter, breaking the stems."
This no-till approach protects the soil, slows evaporation during dry periods, and keeps carbon in the soil, a factor that is increasingly desirable with climate change. Everything the sisters do in the vineyard is aimed at respecting nature, while at the same time benefiting from what nature gives. Like pruning. Pruning the vines in winter is a way to minimize excessive growth and get quality fruit. Stefanie and Susanne use what's called soft pruning to minimize the number of cuts, for each cut can be an entrance wound for vine trunk diseases, like esca, that ultimately kill the vine.
"You need to understand the plant, that it's a liana, and respect the flow of water and nutrients," Stefanie tells me. "It's time-consuming but it's logical once you understand it. You avoid big cuts and you cut where there's already dry wood." She points to a neighboring vineyard we're just passing, where the vines have big wounds in the old trunks and comments dryly, "In this vineyard, they definitely don't use soft pruning…."