Konni + Evi: Rewriting Possibility in Saale-Unstrut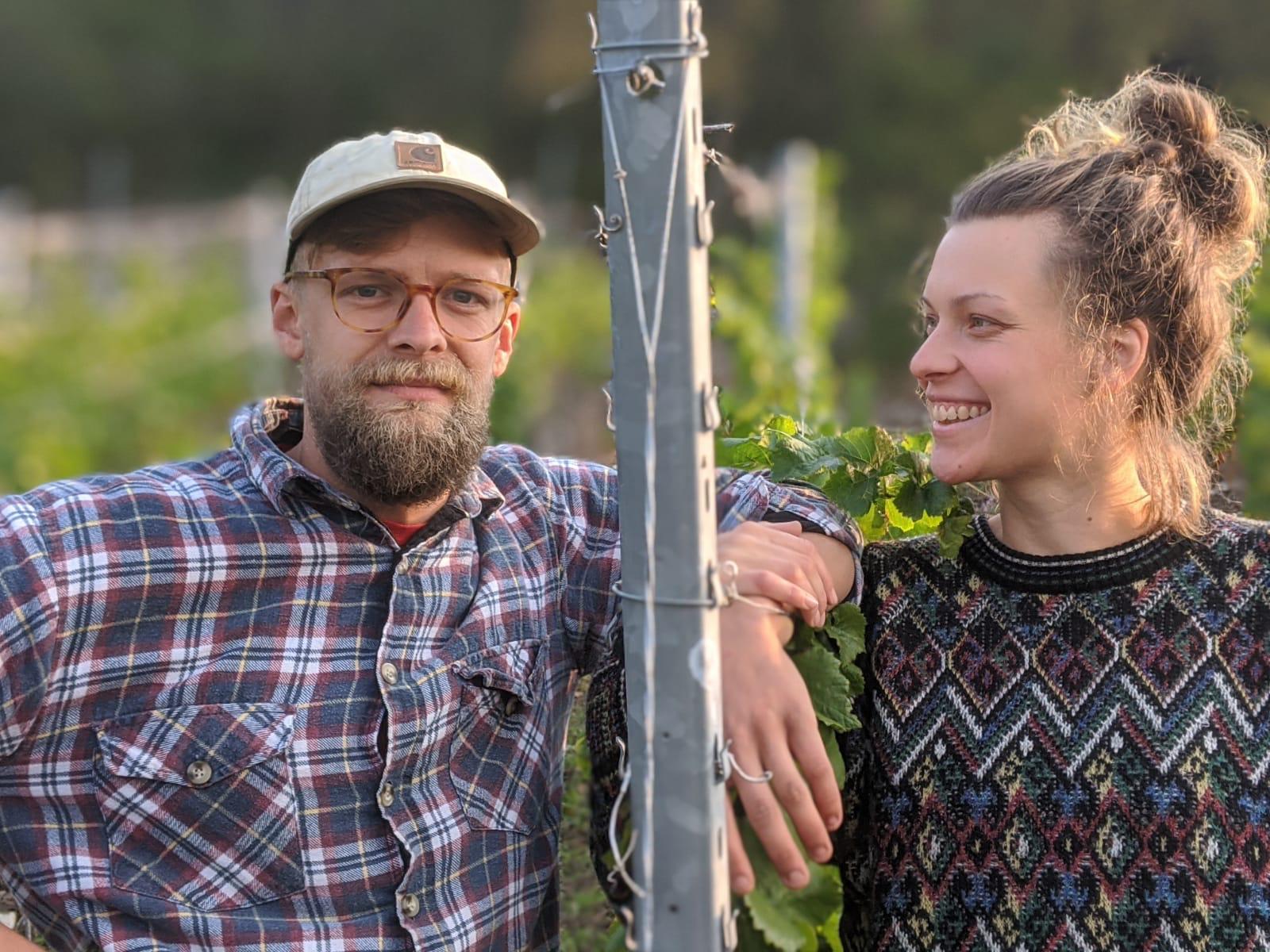 It's hard to believe now, but Germany was once a divided country, and the East was a strange microcosm of icons of that era: Sandmännchen, Jungpioniere, and FKK-Kultur. Not to forget its sparkling ambassador, Rotkäppchensekt. Also hard to believe: a destination for wine fans has now arisen in the area between Chemnitz and Cottbus, Magdeburg and Dresden.
And yet, from Berlin, the trip takes you almost 200 kilometers to the south, past Dessau and Lutherstadt Wittenberg, to a place whose name sounds to German ears disturbingly close to "Lauch" (leek). Laucha an der Unstrut has roughly 3,200 inhabitants, a bell museum, and one of the most interesting winegrowing estates in Germany. But don't head to the address printed on the back label because you'll end up at the private residence of the vintner's mother. Point your car instead toward the district of Burgscheidungen and then head on foot to a nobly weathered sandstone building.
"Earlier" — a phrase often heard often in the former GDR — the old school building was the stateliest structure in town. While it hasn't fallen into complete disrepair yet, it's not that far removed. Inside are rooms lined with concrete tiles and toilets of yesteryear. The room that was once the school cafeteria now houses stacks of freshly labeled bottles, and the former refectory serves as today's wine cellar. The stench of French fries and fish sticks has given way to classic cellar smells — a bit acidic, a bit fermentory.
Konrad Buddrus, who goes by Konni, offers a sip of Weißburgunder (Pinot Blanc) from the current vintage. It comes from 60-year-old vines, planted in calcareous soil amid conditions akin to those in Burgundy. A wine of Burgundian gravitas from German soil that charms while dressed in baby shoes, all while suggesting an adult depth and admirable cellarability. It comes from a little 3.5-hectare operation farmed by the 26-year-old Konni and his partner Eva-Maria Wehner. As one of Germany's smallest winegrowing regions, Saale-Unstrut always comes off a bit like that class nerd whom people only invite to a party out of obligation. But everyone knows the nerds are often the real cool kids. 
Saale-Unstrut always comes off like that class nerd people only invite to a party out of obligation. But everyone knows the nerds are the real cool kids.
Buddrus comes from Saxony, home to outstanding wines. A far cry from the rest of Germany, Riesling's promised land with Mosel, Rheingau and Pfalz estates devoted to the altar of cultivated yeast and Öchsle numbers. Many Germans, in fact, aren't aware that there's winegrowing in the former GDR. And if they are, then they know Rotkäppchen-Sektkellerei, whose products can be found in supermarkets across the country — plonk produced to appease the taste of the masses, its big selling point that everyone from grandma to great-grandchild will find them eminently drinkable at family gatherings.
Just as Buddrus' cellar was once a school, the roughly 760 hectares of the Saale-Unstrut winegrowing region, set between Querburg, Weißenfels, and Zeitz, is perpetually confronted by its past. In the former GDR, winemaking was state business. Three big players dominated the market: the aforementioned Rotkäppchen-Sektkellerei, Landesweingut Klosterpforta, and Winzervereinigung Freyburg-Unstrut. At the same time, many families cultivated a few rows of vines for their own use, under the motto "the first quarter hectare is for Opa."
After reunification, a few of these private growers used their newly won freedom to professionalize. Today, Saale-Unstrut is one of the most dynamic winegrowing regions in Europe. Nowhere else have so many estates been founded in so short a time: some 70 in a 25-year period. 
In the former GDR, winemaking was state business.
Konni & Evi, in the Burgenland district, is a perfect example. The road to reach them passes through rough landscapes towered over by wind turbines. Seemingly without transition, it sweeps into already withered poppy fields, steep vine terraces, and the two intersecting rivers that give the region its name. On the late-August day of our tasting, Buddrus, with his gold-blond crew cut, vintner's tan, and very short, very clean nails, is wearing a ripped t-shirt that reads "Cincinnati."
And then this: That morning one of the lenses of his glasses had fallen out, so he'd field-repaired it with tape. Fortunately, he had already bottled the current vintage the day before. He was helped by Jan Hugel, a Berlin sommelier who has worked at several of the capital city's hotspots, including Weinbar Rutz, Industry Standard, Wild Things, and Wagner Bistro. Hugel, whose t-shirt is adorned with the logo of a hipster Besenwirtschaft in Nierstein, was spending his summer here, learning winemaking in exchange for room and board.
The pair appeared to get along well, even though Buddrus' dialect is sometimes difficult even for other Germans to understand. It took a little getting used to his habit of saying "na" instead of "ja" (which sounds closer to the German "no" than the "yes") when nodding. 
Buddrus' mother, i.e. the woman whose address is on the wine labels, is a teacher; his father a car mechanic. As a teenager, Buddrus helped the winemaker next door to make pocket money. He enjoyed it so much that he apprenticed at a winegrowing cooperative and then studied viticulture and enology near Würzburg.
While there, he met primary school teacher Eva-Maria Wehner, who goes by Evi. What a coincidence: she was sharing an apartment with Jonas Brand, up-and-coming vintner from the Pfalz, who, together with his brother Daniel, runs the hyped label Brand Brothers. Buddrus and Jonas forged a friendship that remains strong today; just a few weeks earlier Buddrus had been at Brand's wedding. And Evi Wehner? She became Konni's girlfriend, following him north after finishing her training in her old hometown, even though she'd never done anything with wine before.
The Konni + Evi brand was created in 2016. The cellar in the old school building is in Laucha, while the five vineyard sites are scattered over a 25-kilometer radius. The couple found their first site, Ziegental, on Ebay Classifieds. Although it had been conventionally cultivated, the transition to organic farming was a given for the couple. "For the vines it was a punch in the mouth," says Buddrus, although the soil was noticeably rejuvenated after only a short time. "It's like taking a guy who just eats Schnitzel and putting a radish sandwich down in front of him." 
In the vineyard, the Saxon works according to biodynamic principles. Fertilization is done using dung sprayed with horn silica for better maturation. Back in August, two weeks before harvest, the vines were under nets to protect against birds. But there's nothing to be done about other dangers. The frost in spring 2020 led to a 70% crop loss. Not even controlled fires in the vineyards cold fend off the cold, "everything just froze right up." In better years, Buddrus and Wehner manage 12,000 bottles, already a low number by German standards. 2020 might see 4,000. 
The conversion from conventional to organic farming is "like taking a guy who just eats Schnitzel and putting a radish sandwich in front of him."

No other winegrower in the area is working organically, let alone biodynamically. Roughly 50% of local production comes from cooperatives, where the focus is squarely on volume. Which makes it all the tougher for the independent-minded, high-priced wines of Konni & Evi. In Germany, these bottles are rarely found outside the big cities. Their main retailer is Berlin-based Viniculture, which ships to destinations throughout the country. Many bottles head abroad, to the Netherlands, France, Great Britain, and Canada. Closer to home, Buddrus sells almost nothing. His bleak assessment: "Here there's a lack of dough and of understanding."
What he definitely isn't lacking is tenacity. The vines, which grow almost exclusively on steep grades, demand a lot of muscle power; the choice to forgo pesticides and other aids necessitates patience and creativity. It raises the question of just how many hours Konrad Buddrus ekes out of every day, given that he also helps out at another estate twice a week and is the father of two little girls.
Support — beyond the helper who comes down from Berlin — comes primarily in the form of his 32-year old partner. "Evi helps with everything and doesn't mind getting her hands dirty," Buddrus raves. And, let us note, this comes on top of her job as a primary school teacher and leader of a four-person household.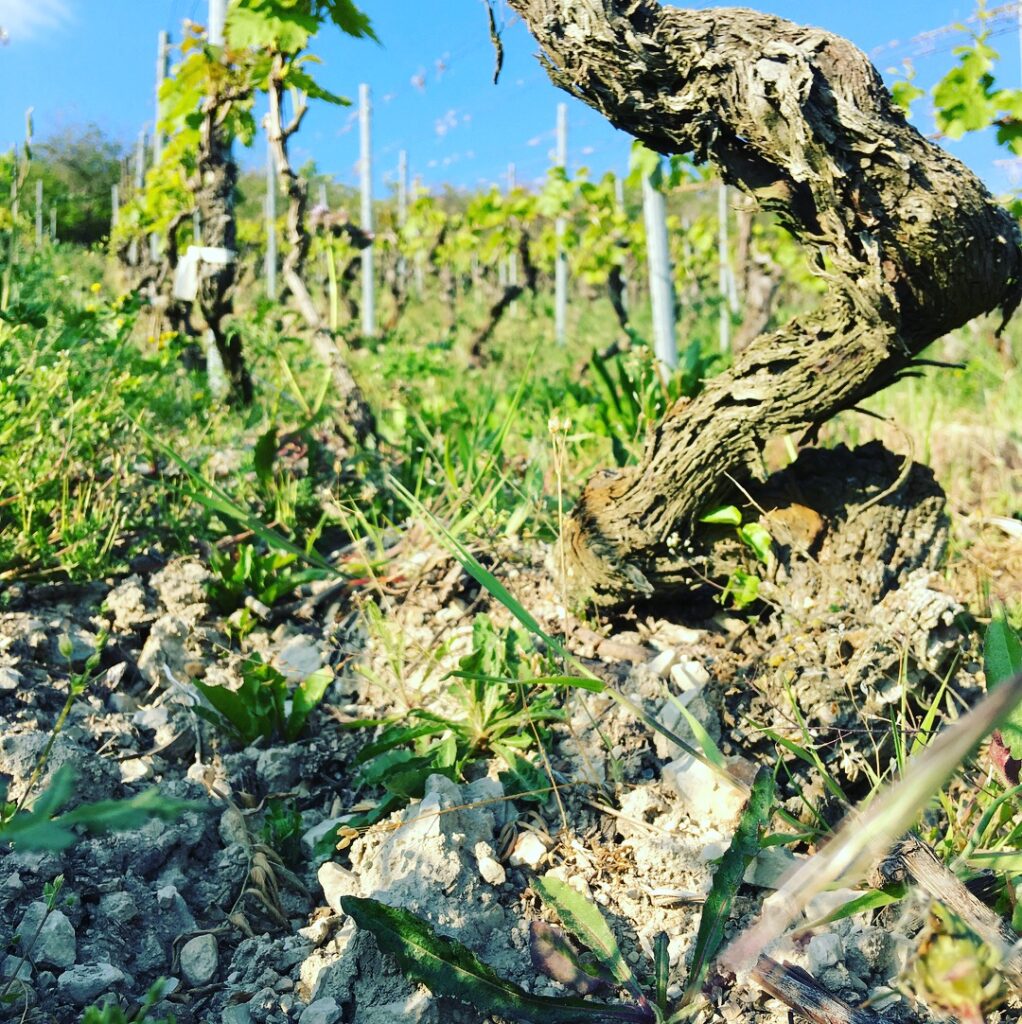 The winegrower is proud not only of his family, but also the steep, newly planted Vitzenburger Schlossberg, whose limestone, gypsum, and sandstone soils are now home only to Silvaner vines. Unlike his other wines, he indulges the one from this site with opulence. Following five days of maceration, it ferments together with a small portion of whole berries, remaining in barrel for two years.
The result is a wine you'd swear is from the Jura. It's hard to believe this is Silvaner. This variety, which still stands deep in the shadow of Riesling and friends, is a particular favorite of the winemaking duo and currently makes up 60 to 70% of their portfolio. "We're now a Silvaner region," Buddrus declares, lighting a fresh blue Chesterfield off the one before. There's also a bit of red in the portfolio, a juicy, fresh Portugieser with just four days of skin contact and a cuvee blended with Riesling called S.O.S. Rot, produced together with Jonas Brand back in an exceptionally hot and dry 2018. 
The result is a wine you'd swear is from the Jura.
Scant precipitation has been a problem in other years as well. It's leading Buddrus to a decision that has other growers throwing up their hands in confusion: no irrigation, even in one of the driest regions of Germany. "If a dry vineyard doesn't grow, then it shouldn't grow," he says fatalistically. He is "murderously curious" about what will come of the Silvaner clones of varying ages planted this year on the Vitzenburger Schlossberg site. You get the clear sense that Konrad Buddrus, known to all as Konni, prefers the vineyard to the old school — being out among his beloved vines, his children in their own way.
---
Translated by Weinstory.de