Oliver Zeter's Mise En Pfalz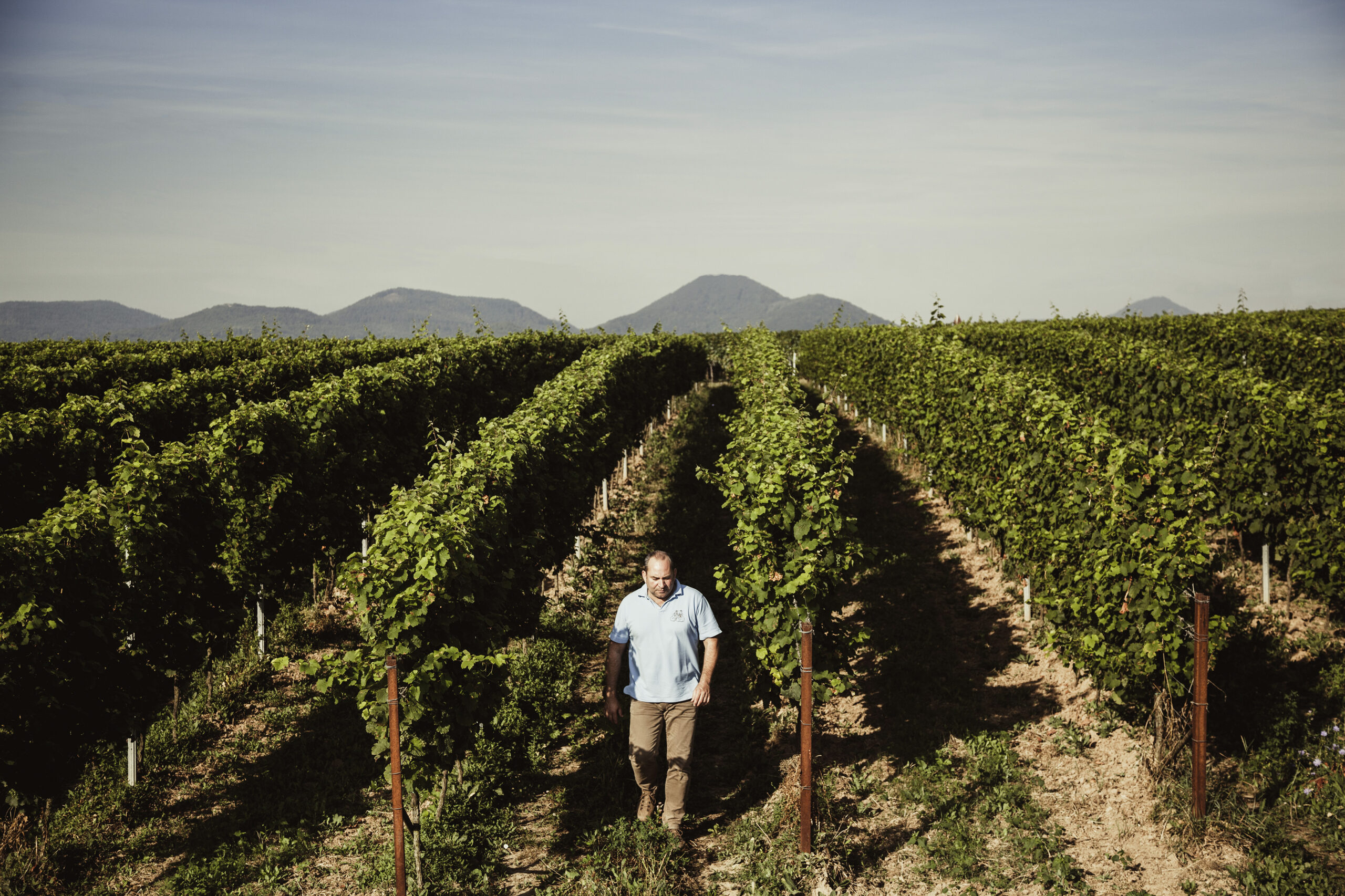 Zeter assesses the natural bounty of his home, the Pfalz, with the eye of a chef. The soils are his mise en place — the basis of his work — the grape varieties are the ingredients he brings to the table and the bottle. His favorite ingredient — Sauvignon Blanc — has become his trademark.
This love came early: in South Africa, 1992, at the Buitenverwachting winery in Cape Town. Now, he is celebrating 15 years as a Sauvignon Blanc iconoclast himself. A recent vertical tasting spanning his first vintage in 2007 to the current release, 2021, made clear the value of following palate and instinct.


His family roots are south of the city of Neustadt, where his grandfather grew grapes and operated a distillery. After his winemaking apprenticeship at the Dr. Deinhard estate (now Von Winning) and training as a viticultural technician, Zeter worked in his parents' wine import business. In 2003, after 11 successful years of working in distribution in Hamburg, he returned to the Pfalz. Home is home, as he says.
He brought with him a long-held vision of having his own vineyard. In 2004, he perched at the family winery, which was headed up by his cousin Leonhard Zeter. Hobby became calling. Vineyard area expanded, cask count grew. A winery of his own was clearly the next step. He found his new home in the Haardt mountains, in a hundred-year-old house that once belonged to the local wine commissioner, built on and of the Pfalz's signature terroir: Buntsandstein, or colored sandstone. His dream domain for Sauvignon Blanc and experimentation with French varieties was born.
Now he is wiser and knows that loess is far better than sandstone for Sauvignon Blanc; the grape needs a lot of water. He learned by doing, vintage after vintage: Healthy grapes are critical for clarity and aging potential. "Sauvignon forgives nothing," he says with 15 years of experience.
But he shies from taking credit for this pioneering move: "Sauvignon Blanc was already established, Bassermann-Jordan and Weingut Weik were far ahead there. Of course, the variety was still considered exotic, people couldn't even pronounce it correctly yet." But then Sauvignon, with its cosmopolitan aura, got hip. Suddenly, there were masses of it, made as easy drinkers from the Pfalz. "So at least no one said I was crazy," Zeter adds.
He still takes advantage of family connections. He makes his entry-level wine in steel tanks belonging to his cousin Thomas, the reds are cellared at his own estate, and a third location grew up along with Zeter's portfolio and houses his production. Unlike the bears that adorn his wine labels, Zeter is an analytical, thoughtful type — anything but grizzly.
That caricature symbolizes his great-grandfather, whose last name was Baer. The caricature commemorates an evening spent gathered around a Stammtisch almost 90 years ago, when the painter Otto Dill immortalized Baer, who had missed the meeting, on a postcard. The postcard, later sent to Baer, eventually fell into Zeter's hands. Zeter carried it with him for years before turning it into the logo for his own winery. The original now hangs framed in his winery on the Haardt.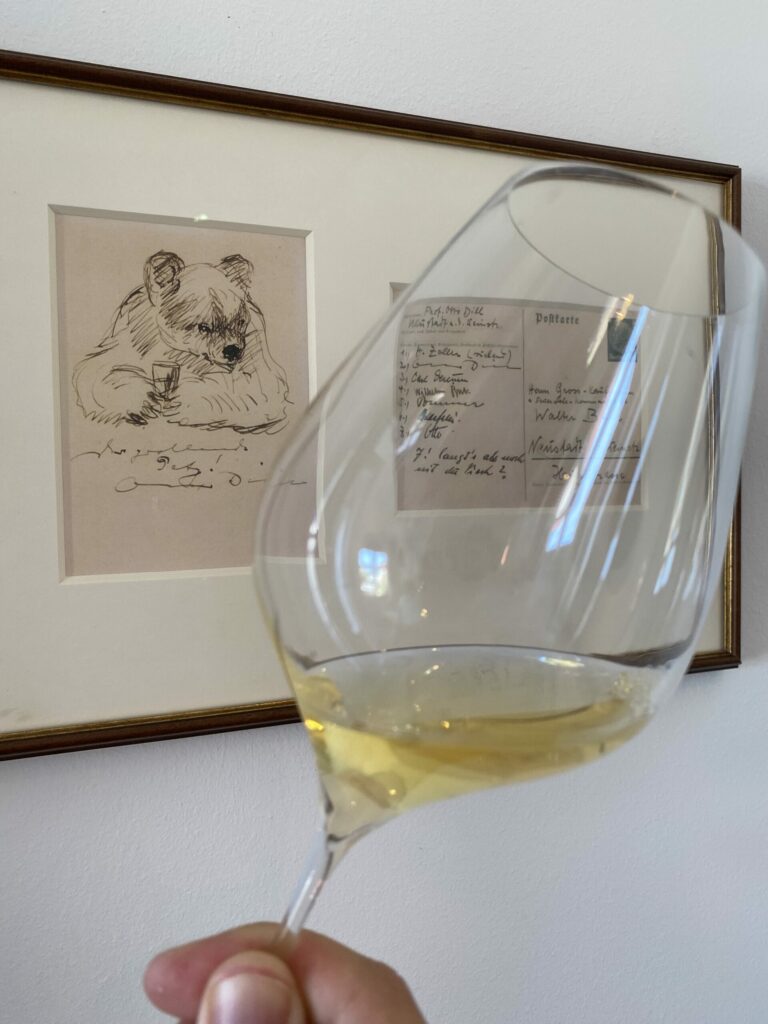 When, at age 43, Zeter went from wine merchant to winemaker, his first step was to rip out a Müller-Thurgau vineyard he quickly recognized had no future. His bet was on Sauvignon Blanc, his first love. He planted six clones, among them three from the Loire and one smuggled in from South Africa called Weerstasie (Afrikaans for weather station) — the very one that had first given him butterflies for Sauvignon.
At that time, it had only been two years since Sauvignon Blanc was admitted for quality wine production in the Pfalz. The variety was first permitted in Germany in 1999, initially in Württemberg, then in the wine regions of Rhineland-Pfalz in 2001.
Twenty years later, Sauvignon Blanc accounts for 1.7%, or 1,803 total hectares in Germany, putting it eighth among German whites in total plantings. Today, 722 hectares of it are in the Pfalz. This puts the region ahead of Rheinhessen and Baden and makes it the most important German wine-growing region for the variety. Almost half of all German Sauvignons — 600,000 liters — are produced here. Zeter's total production is up to 300,000 bottles, 40% of which is Sauvignon Blanc. 
Zeter was the first in the Pfalz to make a Sauvignon Blanc "fumé." This smokey style typically comes from cask aging; his is occasionally also raised in concrete. The share of new wood is between 60% and 70%. In his view, this is the best way to achieve structure, length, and finesse.
Only the best sites, selected in advance, are tapped for this bottling. Zeter relies on spontaneous fermentation, though in difficult phases he may add a neutral organic yeast. The wine gets ample time on the full lees, though he forgoes battonage. Some vintages go through malo. After bottling, wines spend a minimum of six months in the cellar before they reach customers' glasses. He also holds back part of every vintage to release five or even ten years later. It's important to him that his wines be consumed at the right moment, no matter how much patience this requires.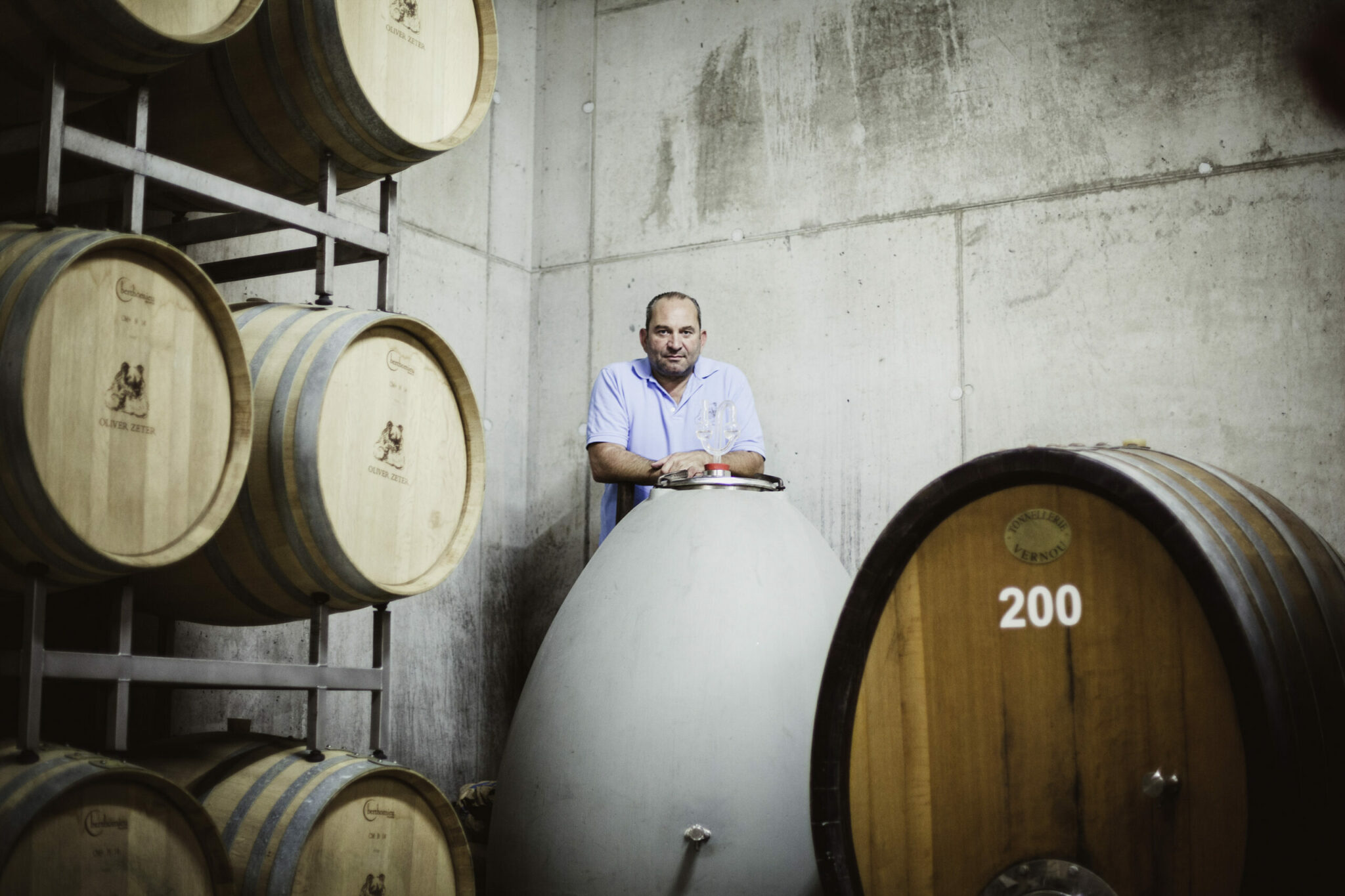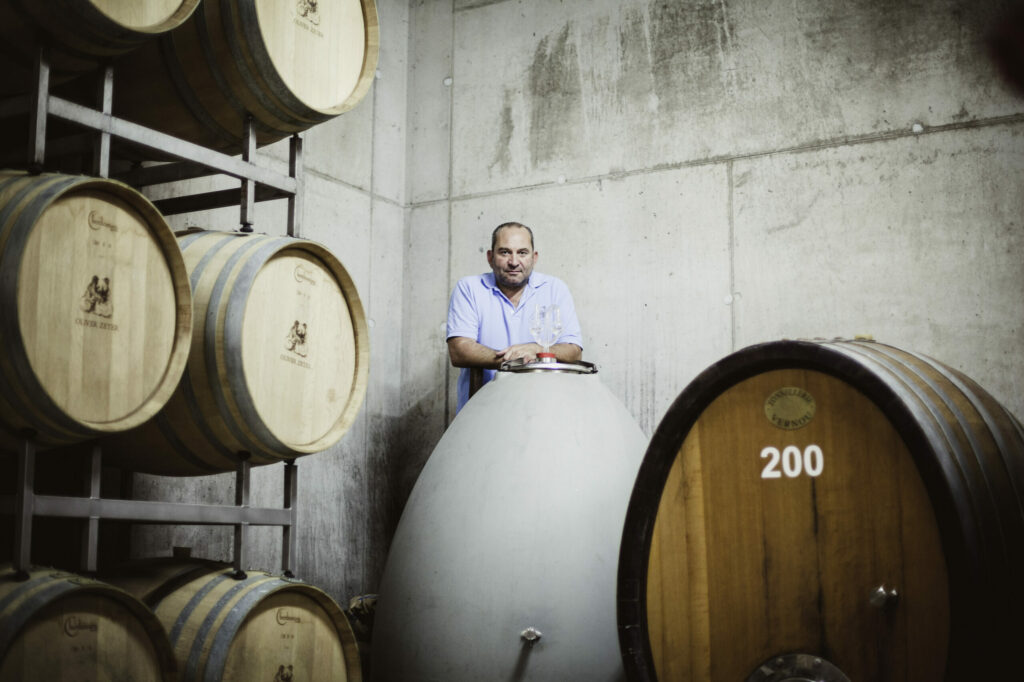 It was important to Zeter that he make a "serious" Pfalz Sauvignon, one that broke through the image of Sauvignon as a patio wine. His favorite clone, the late-ripener from South Africa, with its loose clusters and lower susceptibility to botrytis, proved the clear winner for his vision. He didn't want "big green cats that jump right out at you," as he puts it. Instead, he sought a balanced style. Up to that point, he found Pfalz Sauvignons "bacchanalian" and "unrepresentative of their terroir."
It wouldn't make sense to draw comparisons, he says, although it's clear he has definite taste preferences. "It doesn't matter whether it's Sancerre or Marlborough, the conditions in the Pfalz are just different. South Africa impressed me in the late 1980s-early 1990s; today I find it too opulent. The Loire is more subtle." Styrian Sauvignon, with its fresh, quiet tone, is more interesting to Zeter. "For me, length is more important than breadth. In combination with minerality." 
 
Although Zeter is a Pfalz native, he's able to take a clear-eyed view of the region. "The Pfalz is what it is. No one needs to say 'Hip-hip-hooray, this is Sauvignon Country now." Far more decisive is his aforementioned analytical view of varieties and soils. Arbitrarily planted vineyards still dot the Pfalz — Riesling might rub shoulders with Spätburgunder (aka Pinot Noir), Dornfelder, and Merlot — but not on his sites.
"The Deidesheim grand cru sites Kieselberg and Leinhöhle are magnificent for Riesling as well as Spätburgunder, but not for Sauvignon Blanc. Why? Because the soils heat up too fast, which would lead to premature ripening." Since Sauvignon is an early-ripening variety to begin with, accelerated ripening would lead to yellow-fruit characteristics and vigor that Zeter wants to avoid. Another consideration is Sauvignon Blanc's acute thirst. "I don't want fallow farmer's fields," he says with a smile. "I want more compact, water-retaining soils — not necessarily calcareous, but loam, clay, or loess. These are the more interesting sites for Sauvignon Blanc." 
He searches until all parameters are met: site, planting style, and grower partnership, for the all-important human factor.
He searches until all parameters are met: site, planting style, and partnership with the grower, for the all-important human factor. Of the 24 hectares Zeter works with, he owns just 6.5; the others are farmed by partners. Yes, he uses mechanical harvesters. But he also does his homework before picking, meticulously tending and selecting grapes. "We make a consumable product, even if it's a very fine one," he underscores.
He works in accordance with organic guidelines, with one exception: copper. He, like a growing number of his peers, no longer sees this as the best way to combat vine diseases. Instead, he applies a conventional spray that breaks back down into its component parts, including carbon and hydrogen, after a relatively short period of efficacy. He accepts that this rules out organic certification. "Unfortunately, we're stuck with the choice between the devil and Beelzebub here," he says.

Zeter's appetite for the new was and is determinative for the development of his estate. He loves food and is a passionate home cook. In his world, food and wine are inseparable. "A good wine elevates a meal and vice-versa. In a discussion, each person should hold back and not react too offensively. I don't like wines that are too extreme, too loud, too fat, too artificial." Just as flavors meld in cooking, the culinary and the vinous heat up Zeter's creativity. 
"When you notice that Sauvignon develops beautifully, then you also want to try Sauvignon Gris. Or when you drink a Chenin Blanc from Saumur, then you pay closer attention to where it was grown." He quickly found his next ingredient, this one a personal favorite: "Chardonnay is mega interesting." So he's now back to basics: discovering sites, setting parameters for himself, and making an entry-level Chardonnay that's not typically "Pfalz." It's not big on yellow fruit notes, nor is it round or even slightly off-dry. Instead, it gets a bit of structure through time in wood, has tension and edges, and is also, as Germans say, furztrocken, or fart dry.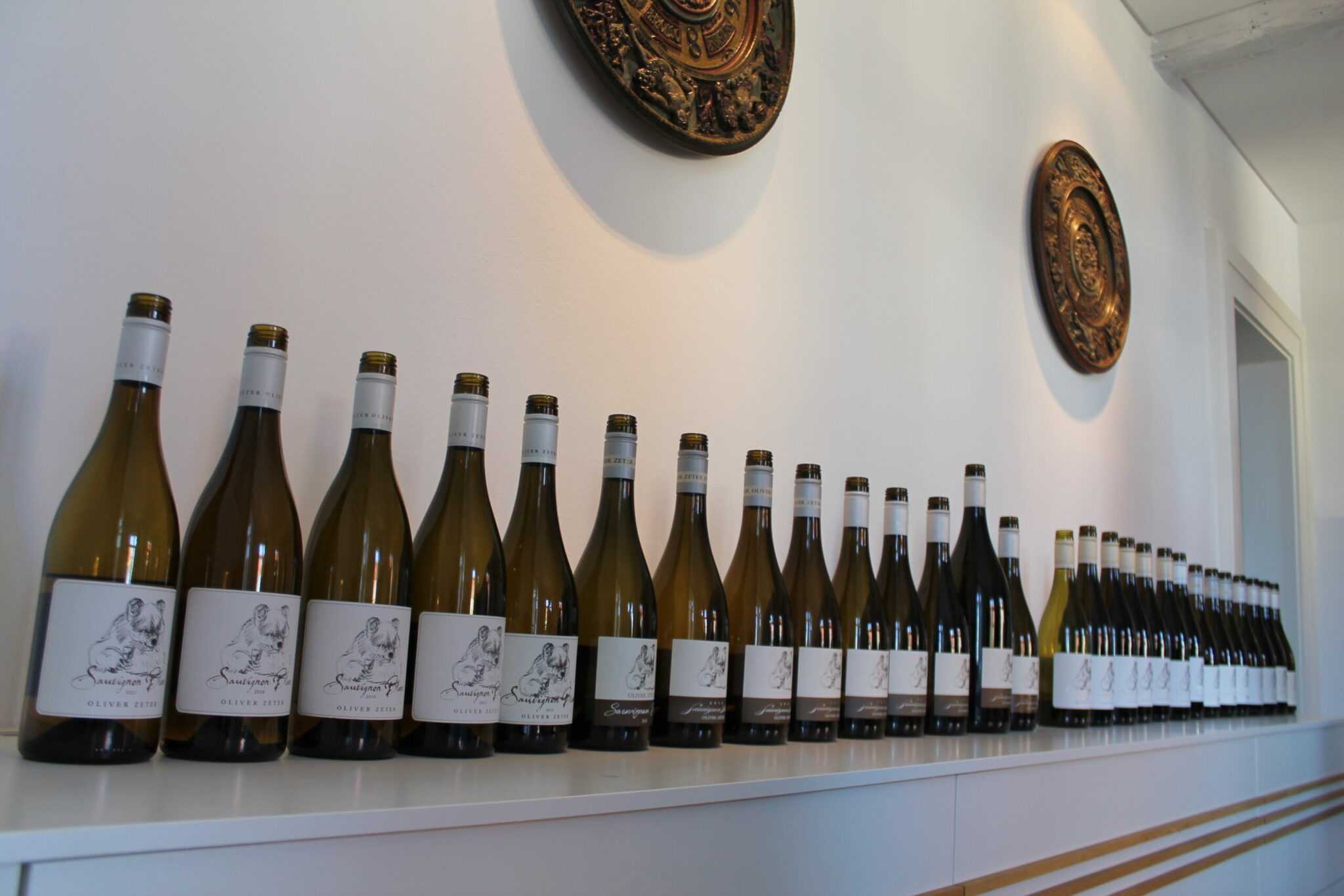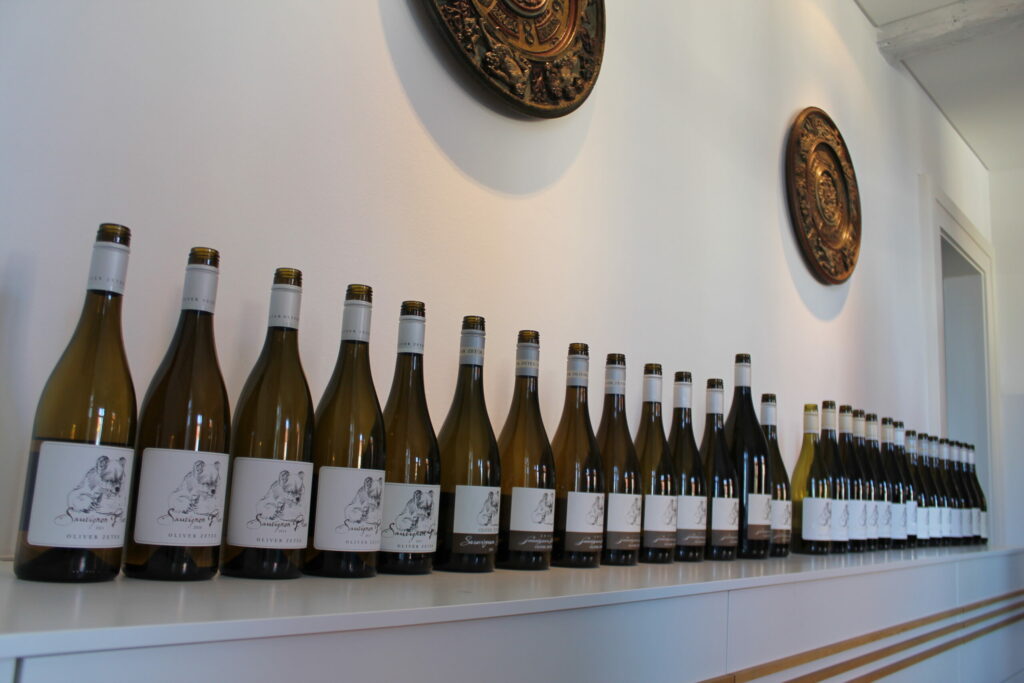 Zeter's all-in approach came through in a recent vertical tasting of 15 vintages, from 2007 to the current release. Missteps? Not one. The tasting, held in August at the estate, opened with the Sauvignon Blanc Gutswein, or estate wine, raised in tank. 2010 and 2016 evinced more spine, through the support of wood aging. As we sat stewing in the summer heat, Zeter gladly recalled the cooler vintages of 2008, 2010, and 2013, when the weather was suited to harvesting in his sleeveless anorak.
"Picture perfect!" was the judgment of Paula Bosch, legendary sommelier, formerly of Munich's Tantris, on tasting the 2017. Zeter regards it as an ideal vintage. The wine has reached the point at which secondary aromas are emerging, and the result is very balanced and spicy. There are parallels to be drawn between the Gutswein and the Fumé.
The current vintage, 2021, presented well-integrated acidity and delicate aromatics. The Fumé has just been bottled. 2020 showed juicy elegance. As promised, there'll be no Sauvignon Blanc clichés. The wines reflect the experiences of the vintage. Some are crunchier, some a trace creamier, with herbal spiciness. The color of the 2013, for instance, is very concentrated, but the wine is docile, slender, and fresh.
Vintage 2011 went down as a horror: -4 °C at 6 a.m. on May 4 of that year threatened to destroy everything. Unlike many other varieties, Sauvignon Blanc does not produce a secondary shoot if the first is killed by frost. Fortunately, almost 50% of the shoots survived. This is the first vintage in which a Sauvignon-typical greenness is notable. Older vintages are very harmonic, yet always fresh. 2010 is elegant and juicy, with floral echoes. The vintage that started it all — 2007 — is ultimately super balanced and fine. 
 
At the end of the tasting, Bosch noted with admiration that it would take a lot of footwork to find such quality at such reasonable prices in the world's major Sauvignon regions. The caliber, she says, matches that of Styria today; the pricing that of Styria 20 years ago. Consider this your insider tip.
The caliber matches that of Styria today at the pricing of Styria 20 years ago. Consider this your insider tip.
Oliver Zeter has achieved his goal: to make wines, in his words, of "piquancy, not schmalz or opulence" that "flourish with food but aren't show wines." This is proven on the evening of the vertical tasting, when dinner is served under open skies, and thrilling dishes are served by starred-chef Sven Niederbremer, accompanied by wines from the Zeter portfolio.
The wines hail from sites such as Steingebiss, Nussriegel, and world-famous Saumagen. Among the selected varieties are Chenin Blanc, Viognier, and Syrah. The occasion is celebrated with Zeter's Sekt Zeró 100 Grande Cuvée Réserve Brut Nature, a wine that took high honors in Meininger's Top German Sekt competition.

In his 15 years of winemaking, Oliver Zeter has gathered ample experience, which he shares with his young team, one in which everyone profits from each other. "I'm the old dog," jokes the 58-year-old great-grandson of the original bear, with a rakish grin. "I don't want to allow myself slip-ups."
For Zeter, it's all about going deeper. One example of this? He's finally found a third site, this time for Chenin Blanc. The "Herzog" vineyard, just 0.3 hectares, has just given him his first harvest. We can look forward to 900 liters of it. Likewise, a Chenin Blanc Sekt that will spend 32 months on the lees. Meanwhile, top critics now mention Zeter's Pinots in the same breath as those of Baden cult producers Enderle & Moll and Weingut Ziereisen. It may not be long before his Sauvignon Blancs join the ranks of other acclaimed iconoclasts pushing the boundaries of German wine. 
---

Translated by Valerie Kathawala