EAT & TRINK | Pfalz Riesling and Taiwanese Beef Noodle Soup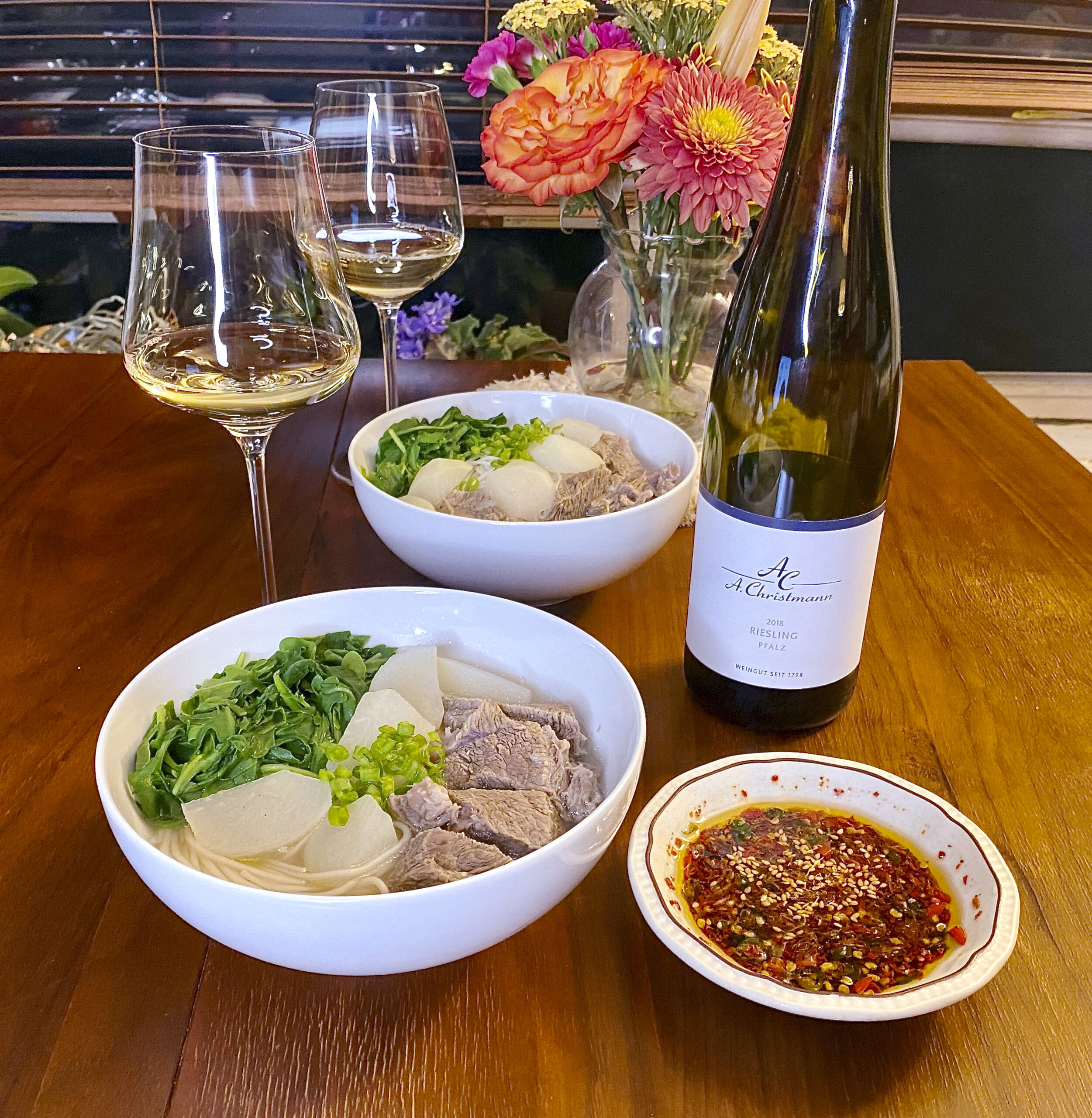 If you ask a person from Taiwan to choose the 10 dishes that best represent his or her cuisine, Taiwanese Beef Noodle Soup is inevitably on the list. More than a beloved national dish, the soup has become something of an obsession — like pizza to New Yorkers.
Taiwanese Beef Noodle Soup was created by soldiers who retreated with the Nationalist government from mainland China to Taiwan in the 1950s. For political reasons, they were banned from returning to their hometowns. Missing both family and familiar cuisine, the soldiers used local ingredients to create a dish that evoked the flavors of home.
The ingredients are simple: beef (usually the shank), noodles, and a few condiments. There are two approaches: One is a dark broth cooked with soy sauce and red chili bean paste, which gives it a spicy kick. The other one is clear, delicate, and subtle. Daikon and a few spices, such as Sichuan peppercorn, star anise, and bay leaf, are used to give the broth both sweetness and savoriness, and to flavor the beef. The focus is on the essence of each ingredient.
The focus is on the essence of each ingredient.
Although Taiwanese Beef Noodle Soup is a national delicacy, I didn't grow up eating it. The story starts with my mother. She grew up in a rice-growing family. My grandfather owned a few cows to help him plow the land. Out of respect for their labors, the entire family refrained from eating beef until my grandfather retired from farming. Since my mother didn't eat beef as a child, she never considered using the ingredient after she got married and had a family of her own. So, not a single beef dish appeared on our table while I was growing up. Although my mother never stopped my father or me from eating steak or beef dishes when we ate out, she still abstained throughout her life, with a discipline I admire.
I only discovered different styles of Taiwanese Beef Noodle Soup later, in college, when friends and I would hunt for edible delights between classes. My appreciation for the beauty of this dish has only grown. This simple dish has, over time, come to symbolize the cuisine of my homeland, deep in my heart.
I've lived in New York City for more than 15 years now. Learning to cook Taiwanese Beef Noodle Soup is my remedy for homesickness.
Wine, of course, can be equally curative and transportive. Weingut Christmann is run by a seventh-generation winemaking family, in the heart of the Pfalz. The estate, led by father-daughter team Steffen and Sophie Christmann, covers 21 hectares of vineyards scattered over 16 locations and has been practicing biodynamic viticulture since 2004.
The grapes for the 2018 Pfalz Riesling Trocken are sourced from three sites in the quintessential mid-Pfalz villages of Gimmeldingen, Deidesheim, and Ruppertsberg. The wine displays white blossom, lemon peel, yellow peach, apricot, with a hint of flint and wax in the back. It's dry with racy acidity, scents of dried pineapple, and a lingering stony minerality. It's a full, ripe style of Riesling that perfectly conveys the warmth and abundance of the Pfalz.
I paired this Riesling with the non-spicy, clear broth version of Taiwanese Beef Noodle Soup. What surprised me most was the way the acidity and fruitiness of the Riesling amplified the sweetness from the daikon and broth. The result was unbelievably good. And in this case, it works perfectly, especially dipping the beef into the soy sauce-based condiment of garlic, Sichuan peppercorn-infused oil, sesame oil, fresh red and green chilies, sesame seed, and red pepper flakes. The sauce serves as a buffer both to enhance the flavor of the beef and build a bridge for the Riesling to cross over, from glass to bowl and back. When every element mingles in the mouth, the wine pops and delivers an unexpected unity of flavors.