Eat + TRINK | The Yin-Yang of Lagrein and Jing Jiang Rou Si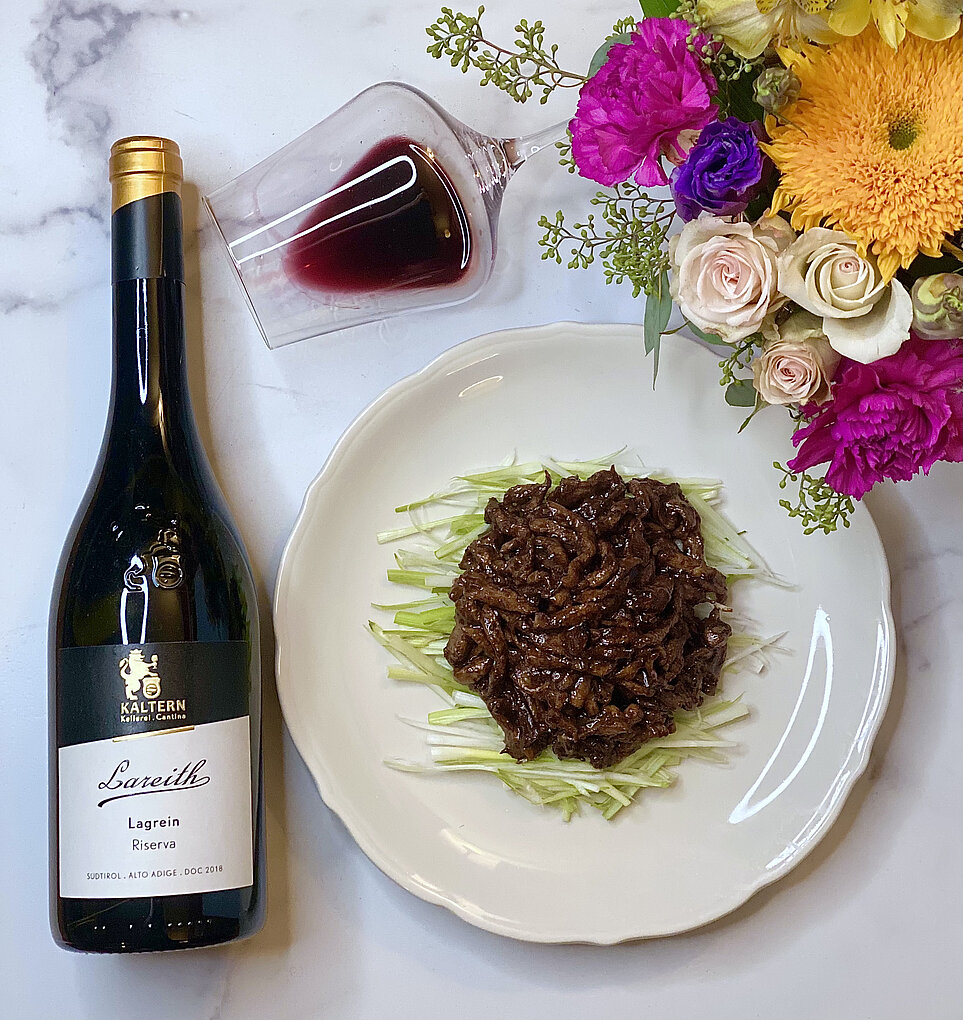 Jing Jiang Rou Si (shredded pork with sweet bean sauce) is a classic of northern Chinese cuisine, originating in Beijing. Only a few ingredients are needed to make this sweet-savory dish: shredded pork tenderloin, scallions, sugar, and sweet soybean paste. Though traditionally served in tofu skins, it can be enjoyed wrapped with paper-thin popiah or pillowy gua bao; or eaten simply as is.
The origin story of this dish can be traced to the 1930s, in the northeastern part of the Forbidden City, the imperial palace complex at Beijing's heart. There, a man who, together with his grandson, made tofu for a living, once walked by a local Peking duck restaurant. The grandson had never eaten the dish before and was curious about its flavor. He asked his grandfather if he could try it. Because they didn't have much money, the grandfather promised the grandson he would buy him the dish when the Lunar New Year arrived.
A few months passed, the Lunar New Year was just around the corner. The grandfather had forgotten his words, but the grandson remembered. He begged his grandpa for the duck dish. The grandfather knew he had to keep his promise.
However, instead of buying the Peking duck, he peered through the restaurant's kitchen window to see how the dish was made. He went home and tried to replicate it using shredded pork, a more affordable alternative to duck. He wrapped the meat in simple homemade tofu skin. The grandson enjoyed the dish, happy his grandpa had kept his promise.
When the grandson grew up, he started to work at Quanjude, a celebrated Chinese restaurant in Beijing known for its Peking duck. It was then he realized that the dish his grandfather had made was something else. He didn't blame his grandfather. On the contrary, he preferred his grandpa's version and worked with him to perfect the dish. Since then, Jing Jiang Rou Si has been a signature dish in Pekinese cuisine.
For a period of time, Jing Jiang Rou Si appeared on my childhood dinner table regularly. The dish is known in our family as a "rice killer." My father and I would insist on extra bowls of rice whenever my mom made it. The charm of the dish doesn't stop there. It also serves as a perfect lunch box side dish because the flavor of the shredded pork only deepens with reheating, like beef bourguignon or Japanese curry.
Jing Jiang Rou Si wasn't a dish my mother grew up eating. Since my ancestors came to Taiwan from Fujian, China, the cuisine my family makes is generally more subtle in flavor, as Fujian cuisine highlights the freshness and original flavors of ingredients, without heavy seasonings.
But Jing Jian Rou Si is an exception. The seasoning is super flavorful thanks to the sweet bean paste in the sauce for Peking Duck. The paste is a condiment broadly used in northern Chinese cuisine, but not in the south. My mother passed away some years ago, so I can no longer ask her, but I've concluded she must have learned how to make the dish from Fu Peimei, the "Julia Child" of Taiwan. Peimei was a renowned Taiwanese cooking show host and cookbook author, specializing in Chinese cuisine. I grew up watching her shows with my mom, who was a big fan and collected her cookbooks. Funny that my mother-in-law also had a collection of Fu Peimei's cookbooks. They now sit on the bookshelves of the apartment my husband and I share in Brooklyn.
But it was a wine, not a memory, that motivated me to make Jing Jian Rou Si.
But it was a wine, not a memory, that motivated me to make Jing Jian Rou Si:
The Kellerei Kaltern 2018 Lagrein Riserva 'Largeith.' Made from 100% Lagrein, one of Alto Adige's distinctive native red grape varieties known for its high anthocyanin content, acidity, and tannins, the Largeith is fermented in barrique and left in cellar for a minimum of two years (both in barrel and bottle), to be labeled Riserva.
This full-bodied, concentrated, powerful Lagrein displays intense but alluring aromas of violet, black cherry, fig, licorice, and thyme, with the irresistible sweet spice of vanilla, cinnamon, and nutmeg on the nose. Although a bit tight on the palate, I knew its richness and structure would be the perfect match for Jung Jian Rou Si.
The day after opening this bottle, my husband and I gathered the ingredients for Jing Jiang Rou Si and followed Peimei's recipe. We couldn't wait to dig in and have it with the Lagrein. After a bite of Jing Jiang Rou Si with a sip of Lagrein, my hypothesis was proven. The lavish, powerful Lagrein balances out the deep flavors of the sauce, while the wine's acidity and tannins offset the richness of the sauce.
It always excites me when a pairing exceeds my expectations. However, being able to apply my expertise in wine to connect different cultures through food and wine and share these with you brings me joy. Only one thing could have made me happier: tasting this pairing with my mother.
---
INGREDIENTS FOR 4 SERVINGS:
10 oz pork tenderloin, cut into long, thin strips (about 1 1/2 inches long, the thickness of chopsticks)
1½ cup scallion, shredded
2 cups canola oil or mild, high smoke-point oil preferred
3 tbsp sweet bean paste
3 tbsp sugar
2 tbsp water
20 pcs popiah, spring roll wrappers or tofu skins (optional)
Marinade:
1 tbsp soy sauce
1 tbsp cornstarch
1 tbsp scallion-ginger water (soak 1 chopped scallion and 2 slices of ginger, chopped, in water for 5 minutes)
1 tbsp Shaoxing rice wine
1/8 tsp white pepper
PREPARATION:
Marinate pork with soy sauce, cornstarch, scallion-ginger water (without the solids), Shaoxing rice wine, and white pepper. Mix well until the pork has soaked up the condiments for about 15-20 minutes.
Put the shredded scallion on a plate.
Heat oil in frying pan to 300°F. Add in pork strips and stir fry for 15 seconds until the pork has turned white. Remove and set aside. Drain off oil.
Mix in sweet bean paste with sugar and water in a bowl. Heat 2 tbsp oil in the same pan. Add the mixed sweet bean paste in the pan, stir-fry until the fragrance is released, the sugar is melted, and the sauce is smooth and shiny.
Add pork back to the pan. Stir thoroughly until the pork is evenly covered by the sauce for 1-2 minutes. Scoop the pork over the scallions.
How to enjoy the dish:
Mix the pork and scallion. Put pork and scallion in the center of the popiah or whatever you have on hand. Roll it up, fold it like a spring roll, and enjoy. You can also enjoy the dish with a bowl of rice.
Cheers!