Weingut Blankenhorn: French Inspiration, Local Engagement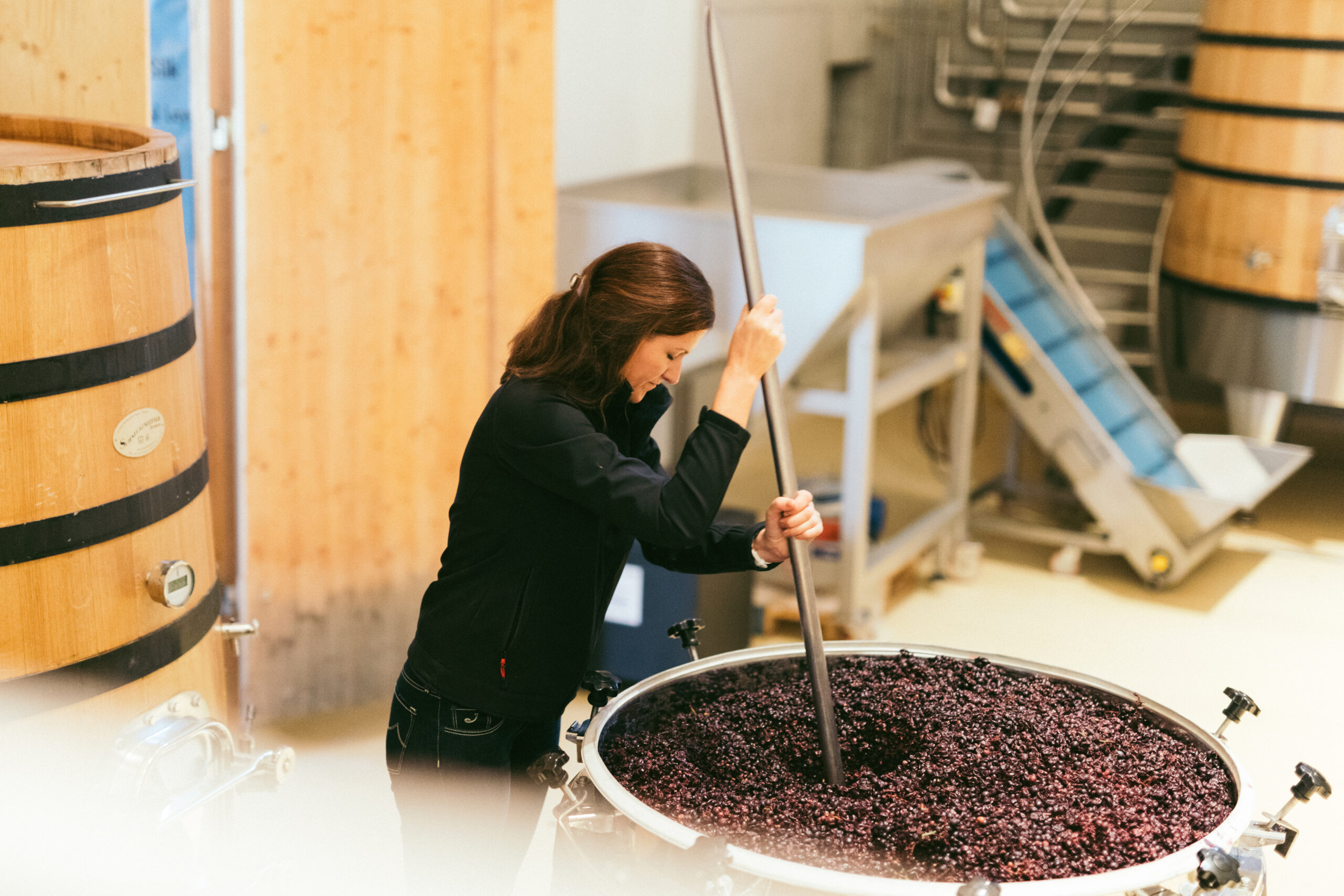 Weingut Blankenhorn
It wasn't love at first sight for Martin and Yvonne Männer of Weingut Blankenhorn in Schliengen. On a trip to Switzerland in spring 2015, they were initially disappointed by the Gutedel (a.k.a. Chasselas) they found there. Or, to be more precise: by how the vintners they encountered vinified it. But when they ordered a bottle of 18-year-old Chasselas Médinette Dézalay Grand Cru from Domaine Louis Bovard on their last night in Geneva, at the Michelin-starred Le Chat-Botté, they realized they had found the key to making a multifaceted, indeed divine Gutedel. Ever since, Langlebigkeit, or longevity, has been part of Weingut Blankenhorn's DNA. Their wines tell a story of local engagement and French inspiration.
"We are still a young winery," explained Martin when I visited him at the 25-hectare estate on a sunny morning in late August. It was a few days before harvest, which was about to kick off with Auxerrois, destined for the Blankenhorn Sekt. The Männers bought the VDP winery in 2014 from the Blankenhorn family, which had run it for several generations.
Around a medieval defense tower, an old, cross-vaulted cellar (still used as a barrel room) and a renovated, 19th-century main building, the Männers have built a stylish new wing with a wine bar, an event space, and another barrel room, north-facing and walled with windows, which epitomizes the couple's desire for transparency and engagement with their customers. Martin practices what he preaches — our conversation was open, no mealy-mouthed prattle.
Having grown up among her family's vineyards and in her mother's oenological lab in the Pfalz, Yvonne's future was bound to be in wine.
Having grown up among her family's vineyards and in her mother's oenological lab in the Pfalz, Yvonne's future was bound to be in wine. After passing her exams at Geisenheim, Yvonne gained experience in New Zealand, Italy, and the Ahr. She now has responsibility for the winemaking at Blankenhorn. Martin, who studied law at Würzburg University, got the wine bug from his uncle, a vintner for a cooperative in his native Kaiserstuhl, and a professor who took his students to wine taverns.
But at heart, Martin is an experienced businessman. Despite their strong combined skills, it must have required courage to acquire and run a winery. The risks are paying off. After a probationary period, as is usual when wineries change hands, Blankenhorn is now a full member of the VDP, and on track to achieving ambitious goals.
The friendly village of Schliengen in Markgräflerland — the part of Baden where Germany abuts France and Switzerland — lies at the foot of the Blauen, a 1,165-meter-high mountain on the southwestern side of the Black Forest. Just like the rest of southern Baden, the lower reaches of the Blauen consist of calcareous sediments accumulated in the same shallow prehistoric sea as in Burgundy.
Towards Schliengen and Müllheim, the center of Markgräfler winemaking, the Muschelkalk, or shell limestone, has taken on a brownish hue, while further south it is sparkling white. Blankenhorn's latest vineyard acquisition, two small parcels in Istein totaling just 0.3 hectares, seems likely to bring clarity about whether the color difference leads to different wines. To my palate, the limestone environment certainly contributes to structure.
Just like the soils, the weather has much in common with Burgundy. The Belfort Gap, a saddle between the Jura and Vosges mountains, allows warm Mediterranean air to flow from the Rhône and Saône valleys into the Rhine valley. Markgräflerland and its vineyards are among the main beneficiaries. At night, cool air from the Black Forest flows down into the vineyards, slowing the ripening process.
In general, time is an essential ingredient for the Männers' way of making wine. They adhere to a philosophy of limited intervention and maximal handwork. The couple find it important to see, smell, feel, and even taste the cap throughout fermentation. All experiments and experiences are documented. "Our wines aren't lucky shots," says Martin. And indeed, the results are noteworthy, solid, and delicious.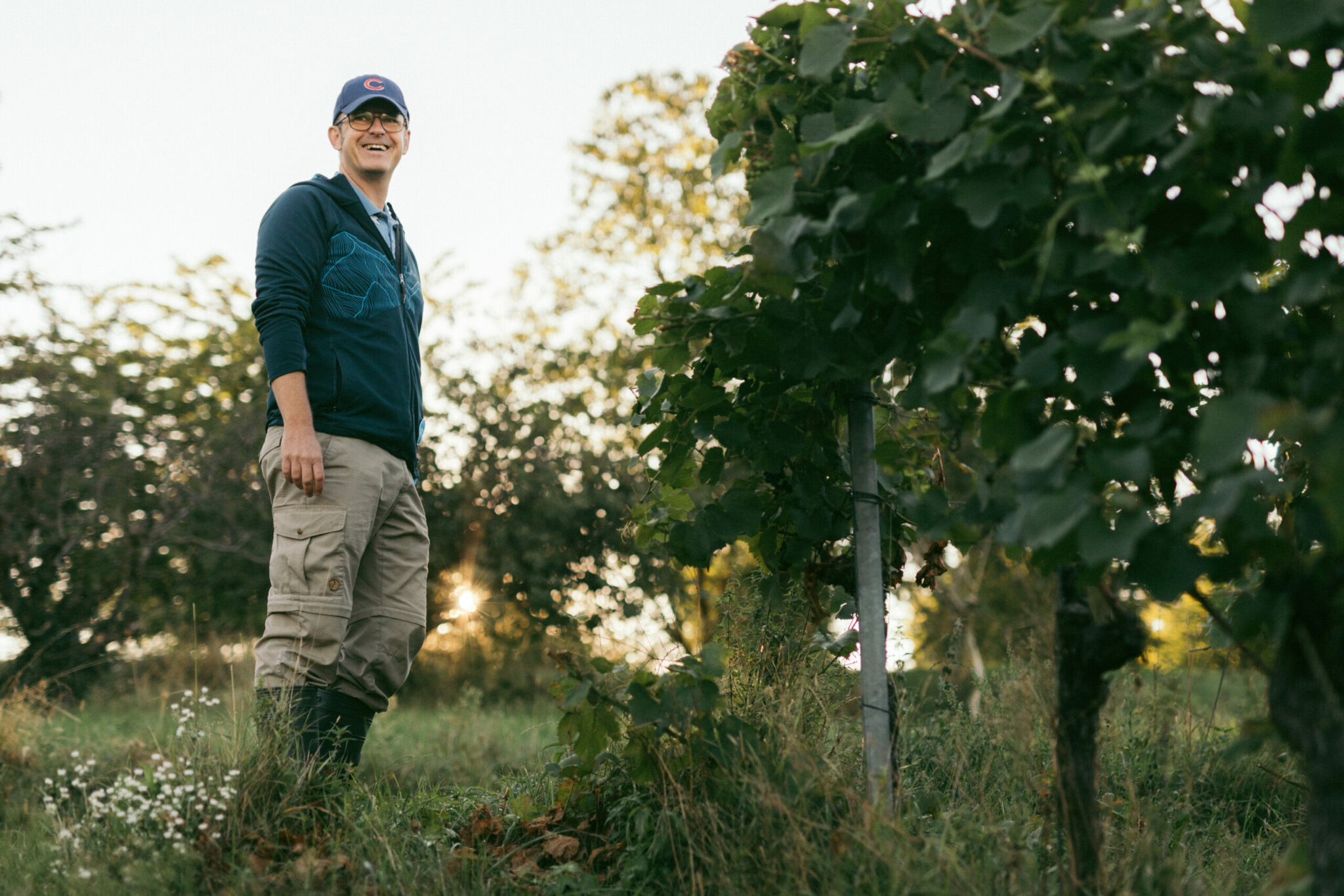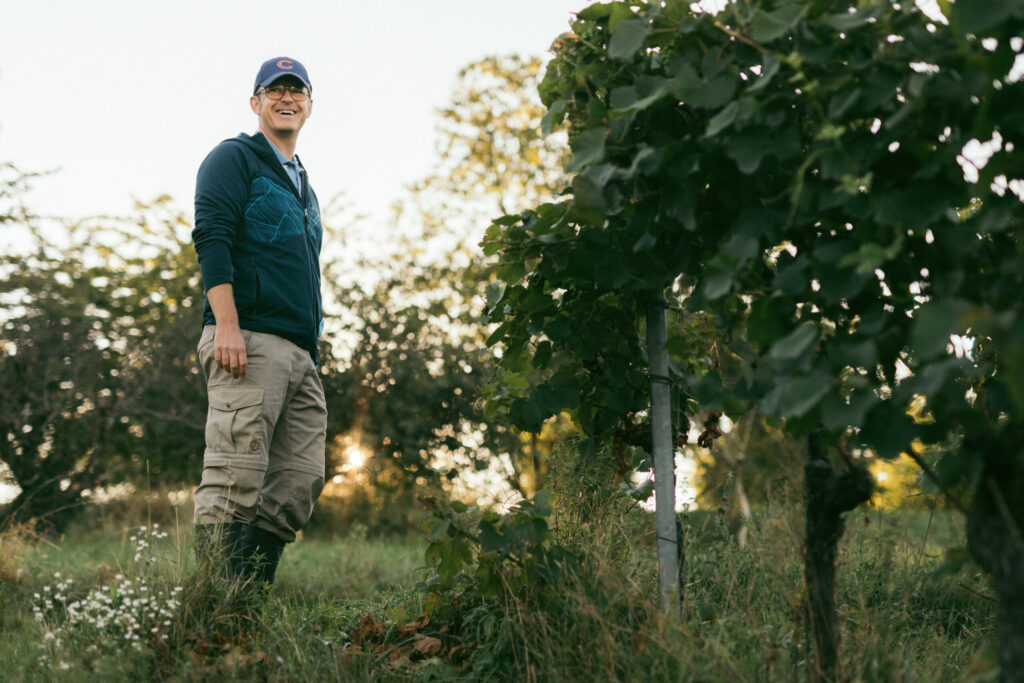 Burgundy, and France at large, is a huge source of inspiration for the Männers. It also reveals where their ambitions lie. A relative owns the biodynamic Boris Champy winery in the Hautes Côtes, providing Martin and Yvonne not only with weather info, but also support in their conversion to organic and biodynamic farming. Over the past year, they began to work organically — official conversion will follow in the coming years. Just like the illustrious wineries Pontet Canet and DRC, Martin believes that biodynamics improves the quality of the grapes, although he isn't dogmatic about biodynamics founder Rudolf Steiner's teachings.
The Männers are also big fans of Chardonnay and Pinot Noir, and they treasure their smaller holdings of Cabernet Sauvignon, Merlot, and even some Syrah, part of which they took over from the previous owners, part of which they planted themselves. Their top wine is currently the Postillon, a commendable Bordeaux blend of Cabernet Sauvignon and Merlot.
The French influence carries over to naming and labeling, too. For their top Gutedel, the Männers use the name Chasselas, saving the German alternative, Gutedel, for the simpler stuff. Although Martin expressed slight unease with this decision, it was the outcome of a discussion he had with fellow vintners in Markgräflerland about the emotional and commercial value of the two names.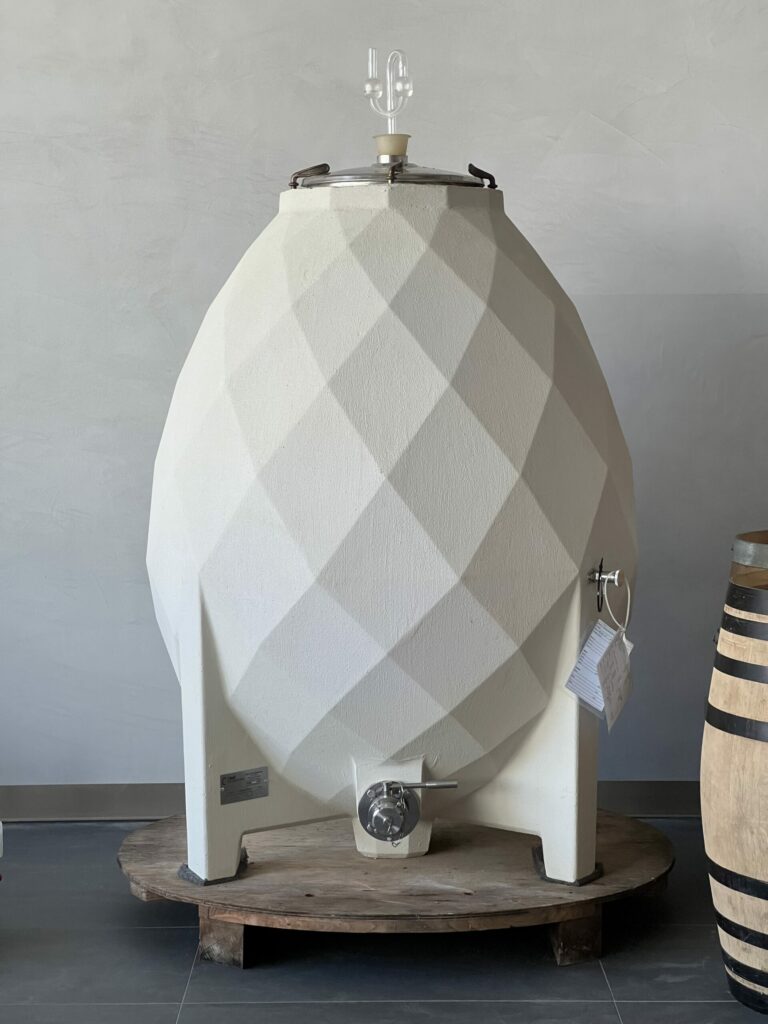 In the barrel room, some of the Blankenhorn Chardonnay is maturing in a concrete egg, to become the Grundwein, or base wine, for a new traditional-method Sekt. For the future, the couple would like to make their Gutedels, at least some of them, in concrete to give them even more texture and weight. "Like a Chablis," Männer says, clarifying his vision.
Most notably, their Spätburgunder tasted quite Burgundian, an observation that clearly pleased Männer. "We are looking for dark cherry rather than raspberry and strawberry, also in color," Männer says. They were also spicy rather than fruity. The Ortswein 2019 stood out for an appealing hint of undergrowth, while the Erste Lage Ölacker 2018, notable for its ripeness and long finish, and the GG Sonnenstück, with its gossamer tannins, were obviously aged in partly new barrels, imparting well-balanced oaky (spicy, not sweet) flavors to the wine.
With Gutedel, Blankenhorn shows its other, more local face. Although it is native to the Swiss canton of Vaud, Gutedel is Markgräflerland's signature white variety. Alongside wineries such as Weingut am Schlipf (Claus Schneider) and Weingut Ziereisen, Blankenhorn is on a quest to raise the grape's profile. Just as in Markgräflerland, the vast majority of Swiss Chasselas is easy-drinking and, in the case of the Walliser version Fendant, often slightly petillant.
But the Swiss have a hidden tradition of aging their Chasselas. (Coincidentally, this became crystal clear at this year's Swiss Wine Tasting in Zürich, where the organizers and exhibitors went out of their way to show the world Gutedel's potential). Blankenhorn is tapping into this tradition. As it is not particularly prone to oxidation, the variety is indeed suitable for aging.
The Swiss have a hidden tradition of aging their Chasselas. Blankenhorn is tapping into this.
With its rather neutral aroma and flavor profile (typically subtle blanched almond and hay), Gutedel is also an ideal variety to express terroir, Männer says. Although it doesn't necessarily have to be neutral to be able to express its origin, as Riesling, for instance, demonstrates, the Blankenhorn Gutedels seem to owe at least some of their linearity to the limestone soils.
Climate change hasn't been an issue for the grape yet, either. Gutedel has relatively low levels of acidity — rising temperatures can hardly make them lower, Martin adds tongue-in-cheek. To retain acidity, Yvonne therefore avoids (but doesn't actively stop) malolactic conversion and accepts the need for (minimal) acidification, something that is permitted in Baden.
Blankenhorn draws on bygone winegrowing practices. Based on extensive tasting, Martin situates the turning point in the early to mid-1980s. Before that, the Gutedel vines were typically pruned high to facilitate work in the vineyard and for higher yields. The flip side is less depth of flavor. Aiming for quality and concentration, new vines are now planted with stems trained closer to the ground and yields are reduced by green harvesting.
The Männers bottle unadulterated Gutedel (meaning no adding of other varieties such as Sauvignon Blanc for flavor or acidity) and give the wines time to ferment — mostly spontaneously and at ambient (typically higher than controlled) cellar temperatures (16 to 18 °C). If they do use cultured yeast, it is a neutral one. For additional texture, flavor, and complexity, even their entry-level Gutedel stays on the full lees for four months; the others at least ten.
As a result, all four of Blankenhorn's Gutedels (a Gutswein, a regular Ortswein, the top-level Ortswein Courage, and Le Clocher, a single-vineyard Gutedel) are snappy, with a degree of smokiness and a creamy, lees-based texture. The Courage 2018 I tasted still felt a bit closed, displayed the first oxidative overtones, had a touch of butter, and a notably longer finish than the others. Surprisingly given the cooler vintage, the Le Clocher 2020 showed riper fruit. Its roundness seemed streamlined by slightly higher acidity than the Courage.
This new style of Gutedel has brought Blankenhorn success, but predominantly outside the region. Despite the opening of a wine bar where they can showcase their own wines, the Markgräfler clientele is typically very loyal to a local producer and a soft, broad, unspecific style — something Baden legend Hanspeter Ziereisen reports experiencing as well.
Until last year, Gutedel wasn't permitted for Erste Lage wines, but the Männers' efforts have helped change that.
Strangely enough, there are no Gutedel Grosse Gewächse (GG) yet. In Markgräflerland, VDP vintners must comply with the rules of the regional organization, which doesn't permit the variety for GG classification. Until last year, Gutedel wasn't permitted for Erste Lage wines either, but the Männers' efforts have helped change that. Timo Renner, the chairman of the regional VDP organization, informed me that Gutedel  Erstes Gewächs (EG) is required to come from an Erste Lage, needs to be aged in wooden barrels, and may not be sold until a year after harvest. Le Clocher is Blankenhorn's designated EG.
Martin and Yvonne have no plans to pursue permission for the GGs, though. As Martin says, the required degree Oechsle (the German measurement for ripeness and sugar content, and indirectly potential alcohol) for GGs is higher — unattainable for thin-skinned Gutedel without developing botrytis, or worse, other forms of rot. As Blankenhorn's policy is only to work with clean, unaffected grapes ("Only if you would eat the berry, do we use it in our wines"), a Gutedel GG is out of reach.
Blankenhorn may be a winery reborn, but over the past eight years it has worked out a coherent, if split, profile that tells us something about the past and future of the region: at once French and local. I dismiss the sometimes-heard argument that taking inspiration from France is contrived — Markgräflerland's soil and climate are simply too similar. As the crow flies, the distance to its neighbor is just a few kilometers. Moreover, their vision of long-lived Gutedel might well help the region carve its own niche. Their Courage testifies to that.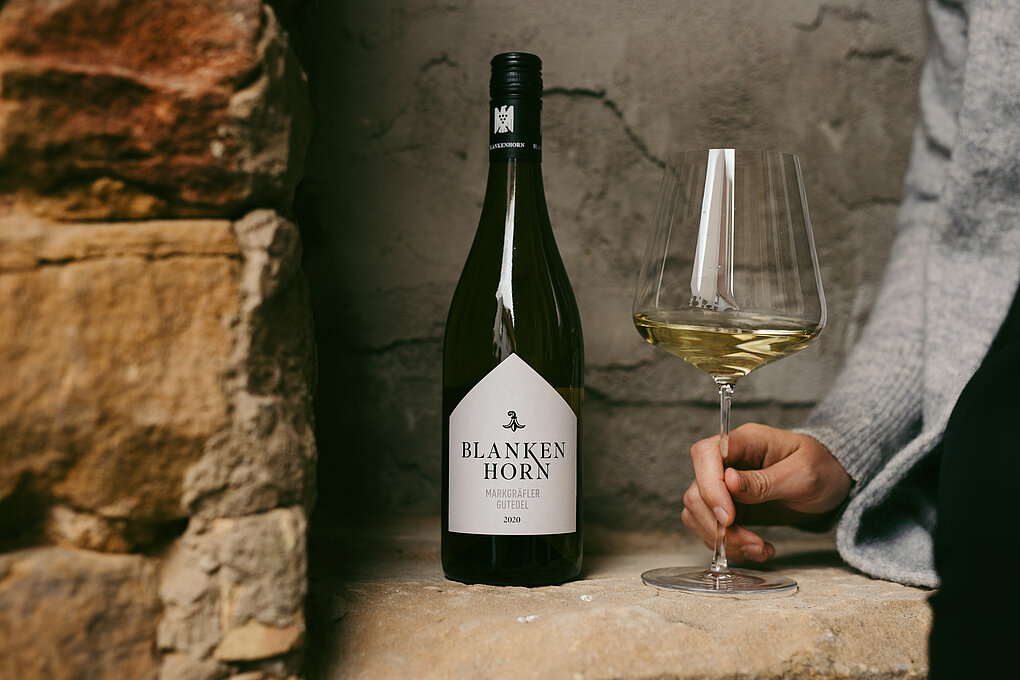 Markgräfler Gutedel VDP.Gutswein 2021
Fermented and aged in stainless steel.
A pure and clean nose with typical hints of white blanched almond and hay. On the palate, dry with a distant trace of ripe sweet yellow fruit and candy. A bit smoky. No edges.
Schliengen Gutedel VDP.Ortswein 2019
Fermented in stainless steel, matured partly in stainless steel, partly in large oak casks (Doppelstück, 2,400 liter).
A clear step up from the Gutswein. More depth, with a suggestion of tropical fruit. Nutty almonds. Creamy, almost velvety. Lacy acidity.
Schliengen Chasselas Courage VDP.Ortswein 2018
Made with a small percentage of Roter Gutedel. Spontaneous fermentation. 10 months in large oak on the full lees. Partial malolactic fermentation.
After an initial whiff of musty cellar, aromas of green herbs, almonds, and wet stones came to the fore. Buttery note, with vague hints of bruised apples and walnut, a bit leesy. Quite complex. Needs time to open up. Long finish with a suggestion of bitter almond.
Schliengen Chasselas Le Clocher VDP.Ortswein 2020
Warm late summer, early harvest (late August). Spontaneous fermentation. 10+ months in 1200-liter cask (Stück) on the full lees.
Aromas of subtle ripe fruit. Dry. Surprising freshness, higher acidity than you would expect. Linear without losing a sense of roundness and creaminess. Very elegant, but will improve with time.
Schliengener Ölacker Pinot Noir VDP.Erste Lage 2018
Ölacker is a cool site, an advantage in the hot 2018 vintage.
Partial whole cluster. (Blankenhorn never ferments with more than 40 percent whole bunches, and only when stems are ripe).
Ripe, red fruit, mostly cherries, on the nose. Somewhat spicy. On the palate the secondary flavors of maturation in oak barrels dominate, but the balance with sour cherries and raspberry remains. Notes of tobacco reveal some bottle aging. Present but fine tannin structure, smooth mouthfeel. Long finish.
Sonnenstück Pinot Noir VDP.Grosse Lage 2018
A part underwent cold maceration, spontaneous fermentation, aged for 12+ months in mostly new oak barrels.
A slightly darker color than the Ölacker suggests more concentration. Still quite closed on the nose. Generous amount of filigree tannins. A bit herbaceous with the faintest hint of vanilla and sweet spice, ripe and sweet dark cherry and raspberry. Needs time.