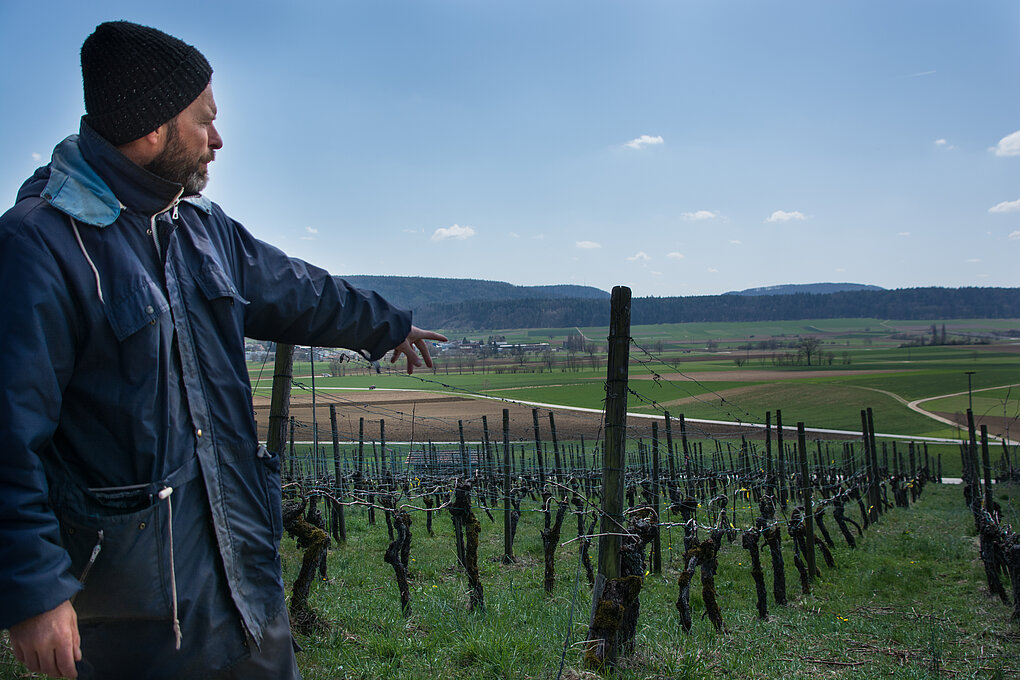 Swiss wines remain rare on the international wine scene. But a new generation of talent committed to uncompromising work and meaningfully sustainable viticulture is slowly changing this.
Markus Ruch has been cultivating his own vineyards in the Klettgau, part of Switzerland's northernmost canton, since 2007. He is widely credited with producing the first Swiss natural wines and leads the movement today. His Pinot Noirs and orange Amphore are served from NOMA in Copenhagen to Konstantin Filippou in Vienna. Ruch's wines are classy. With a twist.
For those less familiar with Swiss geography, the canton of Schaffhausen is situated north of the Rhine, the natural border with Germany. Agriculture is still an important pillar here and viticulture goes back to Roman times. Historic documents show the Allerheiligen monastery owned vineyards in the Klettgau as early as 1100 and monks brought Schaffhausen's winemaking to its first blossoming. Before the French-speaking cantons joined the Helvetic Confederation, Schaffhausen was the largest wine producer of the old Eidgenossenschaft, as Switzerland was known prior to its modern constitution in 1848.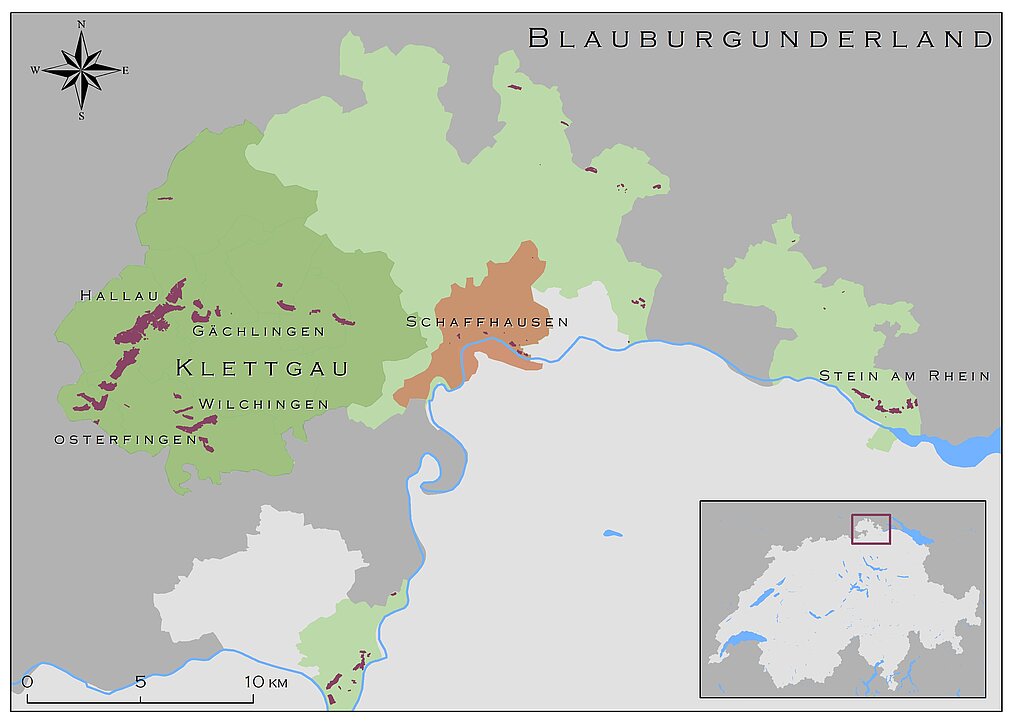 Today, AOC Schaffhausen counts 483 hectares under cultivation, almost three-quarters of which are devoted to Blauburgunder, the local name for Pinot Noir. The rest is made up of Müller-Thurgau and a multitude of other varieties. In 2002, the region was officially labeled Blauburgunderland, with the Klettgau the most important of its four subregions (Schaffhausen/Reiat, Stein am Rhein, and Buchberg/Rüdlingen are the other three).
The Klettgau is distinct from other regions in the larger conglomeration referred to as Deutschschweiz, or German-speaking Switzerland. Tucked between the Black Forest and the Randen and Reiat massifs, it forms a tectonic unit with the French Jura. Shielded against wind and rain, its microclimate is rather dry. In prehistoric times the Rhine meandered through the valley and left a sedimentary bedrock of limestone gravel, shell limestone, and fine clay that resembles the chalky soils of Burgundy. Pinot Noir loves these conditions.
The Klettgau's northern rim forms the largest contiguous vineyard of the Deutschschweiz. With vineyards at elevations up to 550 meters above sea level, the region is predestined to produce fresh, elegantly structured, mineral, light- to medium-bodied wines with streaky acidity and primary flavors of red berries and cherries.
Tradition rules here, with large conventional producers still the regional figureheads. But in recent years a newcomer has taken the stage. Still a bit of an outsider at home, Markus Ruch has become an acclaimed indie rockstar and one of the best-known names in Swiss wine beyond the country's borders.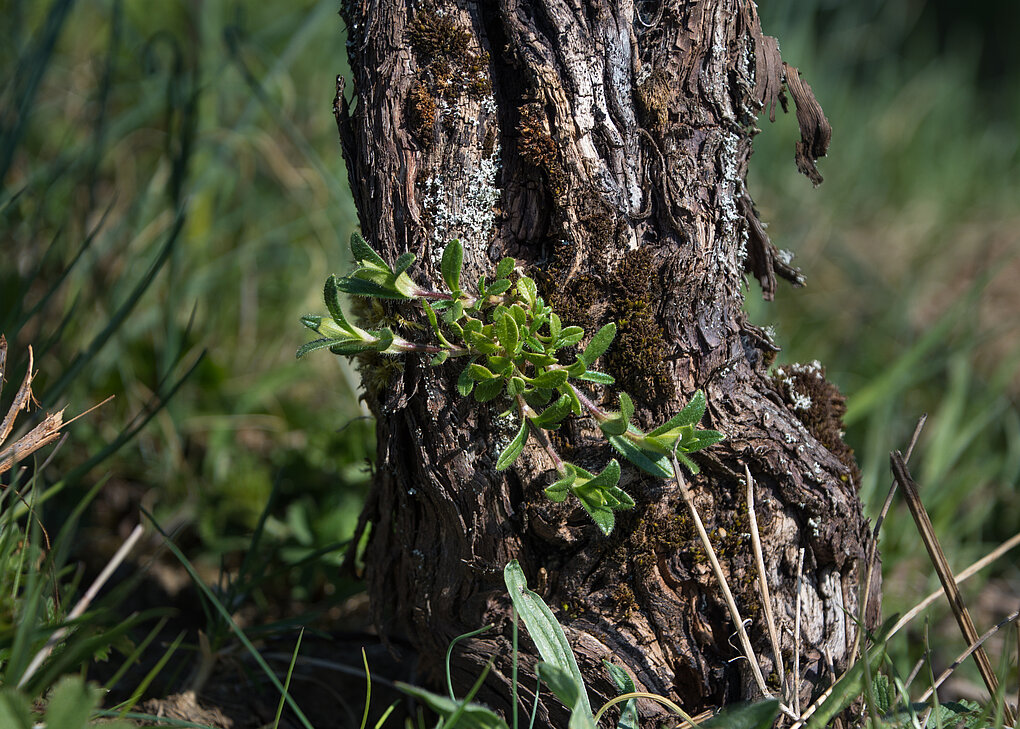 In early April, my wife Liliana, and I met Ruch in the Zehntenscheune, in the historic center of Neunkirch, a warehouse built in 1528, now home to Weinbau Markus Ruch. The small enterprise counts 3.5 hectares of vineyards in Gächlingen and Hallau and turns out just 13,000 bottles a year. Ruch is a handsome man in his forties, slender, tall, bearded. His steel-blue eyes stand out, as clear as the sky on the day of our visit, following two consecutive frost nights.
He takes us to his prime cru. The Schlemmweg in Gächlingen is mentioned as a single vineyard in documents from the 14th century. It is a steep, south-facing slope climbing from 430 meters to 490 meters above sea level. The gnarly wooden Pinot Noir vines here are 60 years old; the whole parcel yields a mere 1,300 bottles a year. We are standing on gargantuan layers of shell limestone and the stretch is brimming with dandelions, chives, wild tulips, and myriad other flowers, grasses, and herbs. Insects emerge from their hideouts after the icy night, mice dwellings are everywhere, the feather of a red kite lies on the grass. The whole place feels in total equilibrium, self-sustaining and self-sufficient, almost detached from time and space.
The whole place feels in equilibrium, self-sustaining and self-sufficient, almost detached from time and space.
We witness a neighbor driving a little tractor up and down his rows, generously spraying herbicides on the ground, which still has brown patches from last year's treatment. Ruch shakes his head in contempt. He turns away, caresses one of his vines, and sets out on a two-hour sermon, his whole body reinforcing every word he speaks. Two things quickly become plain: The man did not come here to answer my questions. Pinot Noir is his destiny.
After breaking up forever with his banking job in 1998, Ruch launched into the study of conventional viticulture. He quickly moved on to biodynamic practices. He learned the essentials during several stints in Italian-speaking Ticino and in Valais. He picked up the art of making natural wine from none other than Dominique Derain in Saint-Aubin, Burgundy. When Ruch started making his own natural wines in the Klettgau in 2007, he was a pioneer.
Still, he calls himself a traditionalist, driven by an almost obsessive inner force to produce flawless wines, never really content with the result, let alone with himself. Ruch is convinced a truly excellent wine can only come into existence when the same hands lead every step in the process — from pruning to bottling. Obviously, even a workaholic will kill himself trying to cultivate more than the acreage that Ruch currently owns. Ruch does not produce his wines for any kind of market or money. "All I do is follow the single purpose of reflecting the terroir as microscopically as possible," he says."When I started here, the whole place was like it was on steroids, full of fertilizer and herbicides. I first had to decelerate it, depriving it literally of everything. Only if you do not nurture the plants do they send their roots deep down to where the real terroir lies. Learning from others helps to avoid mistakes, but at the end of the day you must apply your knowledge and make your own decisions exactly where your feet stand."
Ruch fully relies on his intuition, developed over tens of thousands of hours out alone in nature.
Integral to this is treating every vine individually. Ruch fully relies on his intuition, developed over tens of thousands of hours out alone in nature. His radical minimalism led him to turn his back even on some key aspects of biodynamics. "How can you still speak of terroir if you cover your vines in heaps of dung that you need to carry over from 20 kilometers and more away?" In Ruch's thinking, 95% of what impacts the final quality and character of the wine happens in the vineyard. Once a vineyard is brought into balance, the vines will extract terroir in its most condensed form. "Now you want to ensure that you conserve all that distilled information by intervening as little with the vinification process as possible," he affirms.
This starts with spontaneous fermentation at low temperatures. The process lasts 20, even 30 days and would freak out a conventional winemaker. If things go wrong the entire harvest can turn to vinegar. Ruch, though, has the experience to let go. He uses the same intuition as in the vineyard, sniffing, swirling, and stirring with his bare arms. If the smell of acetone gets too strong, he nudges up the temperature with a low-fi immersion heater.
Depending on the cru and vintage, the wines age for 12 to 18 months exclusively in used oak barrels. They are bottled unfiltered and unfined, with little to no added SO2. Ruch does not ride the current "no sulfites added wave," however. "A wine does not become evil simply because it contains some sulfites," he says, slightly annoyed by the discussion. Ruch's vision is to create a Pinot Noir like a Burgundy Grand Cru from the 1990s. With its laser-like precision, salinity, and sky-high acidity, the 2016 Gächlingen Schlemmweg probably comes as close as it gets.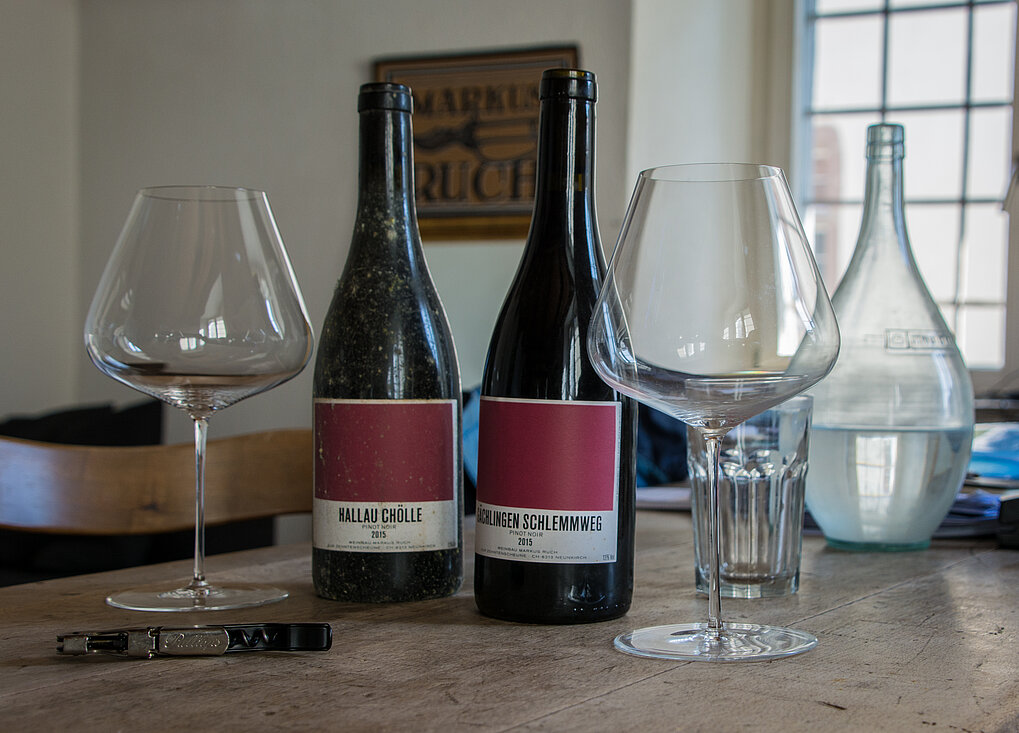 Ruch still cultivates some stretches of Müller-Thurgau, though he is "a bit fed up with it," he says, rolling his eyes. "But emotionally I cannot give up on it yet. Müller-Thurgau belongs to this place." To infuse the grape with character, Ruch leaves parts of it in an amphora, macerating on the skins for up to a year. His Klettgau Amphore was among the first orange wines made in Switzerland. He turns the rest of his Müller-Thurgauinto a delicious pét-nat. A dry sparkling wine — appley, peary, citrusy, with teeth-clenching yet well-integrated acidity, and a pleasantly low 10% alcohol — is still an object of experimentation.
"The cider branch helps us grow more holistically in an agricultural sense."
Bubbles form Ruch's second pillar, as the cidery he runs together with Beni Oswald as Oswald+Ruch. What began as a side project now turns out as many bottles as the wine business. "The cider branch helps us grow more holistically in an agricultural sense," Ruch explains. The apples, pears, and quinces are ancient varieties like Bohnapfel, Surgrauech, Berner Rose, Champagner Bratbirne, Konstantinopler Apfelquitte, or Tobiässler. The fruit comes from trees up to 200 years in age, growing in increasingly rare meadow orchards that build biodiversity by supporting living spaces of tremendous ecological value. Oswald+Ruch not only make what might be the best ciders on the planet but also significantly contribute to nature and habitat preservation in the region.
Like Ruch's wines, the ciders are made with indigenous yeasts. They range from off-dry to medium sweet. The Neunkirch Apfel is the archetype in the portfolio and uses apples randomly collected in the orchards still dotting the village of Neunkirch. It's a charming cider, nicely balanced in its perfume, tannins, and acidity. The Neunkirch Birne is a classic, medium-dry Poiré made with pears from the same orchards. In homage to Jaques Perritaz, the godfather of Swiss cider, the Neunkirch Apfel, Quitte, Birne uses a blend of apples, pears, and quince, the latter adding an enchanting floral bouquet. My favorite of those I tasted is the Belle de Boskoop. With their rusty peels, Boskoop apples are truly no lookers. But real beauty lies within and their sugar-acid structure reminds a bit of the Riesling grape.
Both pét-nat and cider make use of the méthode ancestrale but seem to be mere finger exercises for a much more ambitious project Ruch has been mulling over lately. Frustrated by the — in his opinion — unacceptably low quality of Swiss sparkling wines, he wants to create a crémant in the style of zero-dosage Champagne. "This could finally rid me of the Müller-Thurgau," he says in uncomfortable excitement. "In some years I may only offer Pinot Noir in a few variations." A man must follow his destiny. And we are in Blauburgunderland here after all.