He Who Controls the Spice Controls the Universe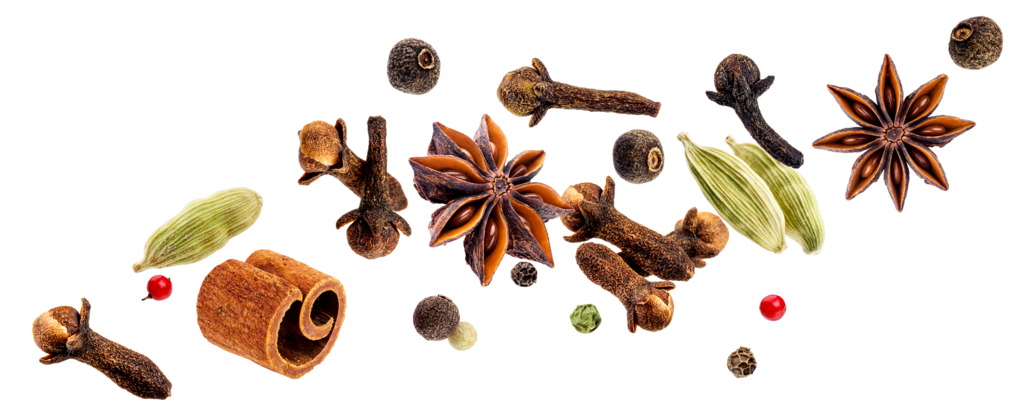 Picture yourself at a German holiday market (if such things were happening in 2020) — a mug of glühwein in hand and the scent of fresh pfeffernuss cookies in the air. It's no surprise that these warm, spicy aromas are key attributes in many wines from Germany and Austria, South Tyrol, and the German-speaking parts of Switzerland. And there's a hidden world of compounds and precursors to thank for this distinctive and alluring range. Much like a chef in the kitchen, growers can influence the aromatic and flavor complexity of their wines by playing with soil type, exposition, vine age, clones, pick times, fermentation methods, and more to mute or enhance these elements.
If you know the line, "He who controls the spice controls the universe," then you know how important "spice" is. Well, it's not only important to sandworms from the desert planet Arrakis, it's also an element that speaks volumes about origin in food and drink. Some spices originate from a particular region and can define its cuisine. They can add flair and personalize a signature dish. Who doesn't have a secret family recipe that, until you were privy to the ingredients, you spent time agonizing over, figuring out the "special something" in it?
What makes a wine spicy? "Let's start by talking about spice in general," says Ali Bouzari, culinary scientist, author, educator, and co-founder of Pilot R&D and Render. "'Spicy' is a word that contains multitudes. The spices black pepper (piperine), ginger, and horseradish each offer something different. But it's not always chemistry, sometimes it's perception. As an example, in wine, either from fermentation or right off the vine, a peppery note is pure aroma that is reminiscent of the source and the brain connects that — like a filter on a phone, the brain colors it in. The brain can associate many things as spicy: the burn of alcohol, grippy tannin, or a note of clove or nutmeg."
Pyrazine, eugenol, rotundone, oh my!
Let's review a few compounds, formally known as monoterpenes, that give certain "German-speaking" wines the flavors and aromas that make them stand out. 
Over 50 terpenic compounds have been identified in grapes and wine, and they each contribute in various ways. Rotundone offers a distinctive aroma of pepper and is found in high concentrations in Austria's signature white grape, Grüner Veltliner.
"Rotundone belongs in the terpene family, which, in general, tends to offer aromas of spices and herbs," says Bouzari. "It's also found in marijuana and most other resinous things. It's not a compound that gives zing — it's more like the aromas evoke memories of zing." 
There is even a compound, β-isophorone, found to give saffron aromatics in some Germanic varieties, such as Gewürztraminer and some Rieslings. 
To break down holiday spice elements at an experiential level, common aromas redolent of gemütlichkeit — Germany's answer to hygge — would include cinnamon, clove, nutmeg, and star anise. The compounds responsible for these notes in a wine are ethyl cinnamate, anethole, and eugenol. 
To get completely technical: ethyl cinnamate is the ester of cinnamic acid and ethanol, giving cinnamon aromas, while eugenol is a member of the allylbenzene class of chemical compounds responsible for notes of clove and nutmeg. Anethole's related sensory impressions are of star anise, and may be a result of a chemical change taking place during fermentation and/or derived from the soil.
Could, should winemakers manipulate these compounds? "Essentially, tinkering is exactly what winemakers are doing," says Bouzari, "the way they handle soil composition, harvest schedule, and fermentation all contribute to herding compounds into different situations. So, indirectly, all winemakers are amplifying or dialing back certain compounds."
Does terroir come into play?
"Of course terroir comes into play!" says Bouzari. "Where a grape is grown, how it is watered, etc., all affect the metabolism and leave a footprint on the chemicals it starts and finishes with." Diurnal shift and long ripening seasons can concentrate flavor and aroma as well. For example, the Mosel's red slate famously imparts a spicy element to Rieslings grown on it. "Slate is the most important component in our Rieslings," says Danny Immich, winemaker at Weingut Immich-Anker in Enkirch. "Here we have blue, gray, and red slate, among other things. A blue slate wine is always very lean, sparse, and mineral. Gray slate a little more full-bodied. And red slate is very spicy and voluminous." Playing with these elements does indeed allow Immich to control the spice.
A Selection of Spicy Grapes With and Without Umlauts
Gewürztraminer is king when it comes to spicy wines in these areas. Prominent in intense aromas and flavors as well as hectares, it is certainly the best-known "spicy" white wine. Gewürz translates to "spice" and wines made from this grape display an intense bouquet of ginger, clove, and even saffron (hello again, β-isophorone!). Its thick skins make it especially suited to vinification as a dry, texturally complex orange wine.
Muskateller is another popular family of over 200 grapes, all endowed with spicy notes. This ancient variety is found in a few places in the Kaiserstuhl district of Baden and around the Pfalz in Germany, and is widespread in Austria. Generalization is difficult, but it takes a musky approach to spice, with wafts of nutmeg and cinnamon that balance out its heady floral aromas. 
Scheurebe is a crossing of Riesling and Bukettraube, created by German viticulturist Georg Scheu in 1916 and now planted primarily grown in Germany and Austria. Whether vinified dry or exposed to botrytis, it sings of nutmeg (ethyl cinnamate) and pepper (rotundone) and pink or white grapefruit.
Grüner Veltliner has long been Austria's flagship white grape, boasting uncompromising white pepper aromatics (thanks again, rotundone) and a refreshing, tingly body.
Blaufränkisch (known as Lemberger in Germany)gets a lot of spice from its skins whereas the majority of aroma compounds can be found in the pulp of other grapes. This native Austrian grape can deliver wines that evoke black pepper (rotundone) and baking spices (notes of clove come from eugenol, nutmeg and cinnamon come from ethyl cinnamate) against blackberry, violet, tobacco, and iron, depending on where it is grown.
Zweigelt is a crossing of Blaufränkisch and St. Laurent. It is Austria's most planted red grape and can range from easy-drinking youthful wine to a robust, elegant wine, suited to single-vineyard bottling and, in a few cases, can be worthy of aging. It is known for bright cherry notes and can feature cinnamon (ethyl cinnamate), clove (eugenol), star anise (anethole) and black pepper (rotundone). 
Acolon is a rarity grown in Germany and German-speaking Switzerland and is itself a cross of Blaufränkisch and Dornfelder created at the Weinsberg Research Center in Baden-Württemberg in 1971. It's a wine to seek out for soft, velvety clove (eugenol) and five-spice pepper (anethole) over a light-body and gentle tannins.
Pairing Possibilities
Gewürztraminer is a perfect partner with game pie or aromatic deserts and pungent cheeses. If game pie isn't in your weeknight cooking rotation, It goes also very well with Asian takeout. Its layers of texture and flavors open endless pairing options. As far as regional cuisine, Gewürztraminer is a perfect match with smoky foods like South Tyrol's signature speck and Canederli dumplings. It also lends itself to dishes that push boundaries. "It immediately makes me think of cashews—they have a kind of tropical flavor that is a great match to a Gewürz's lychee notes," says Bouzari. "You could do something with cashew cream like a curry or in lieu of a cheese course."
Zweigelt, with its robust flavors, is easily paired with hearty BBQ but works well with light fare and even fish as it has a light-to-medium body. There's no wrong pairing with a Zweigelt. "I think baking spice is a fun note to play off of grains—barley, sorghum, amaranth, quinoa," says Bouzari. "I guess my backward thinking starts with the idea of cinnamon and sugar on oatmeal?"
Breakfast Zweigelt, people. Now that's spicy.