Rheingau – Past, Present, (And Future?) Greatness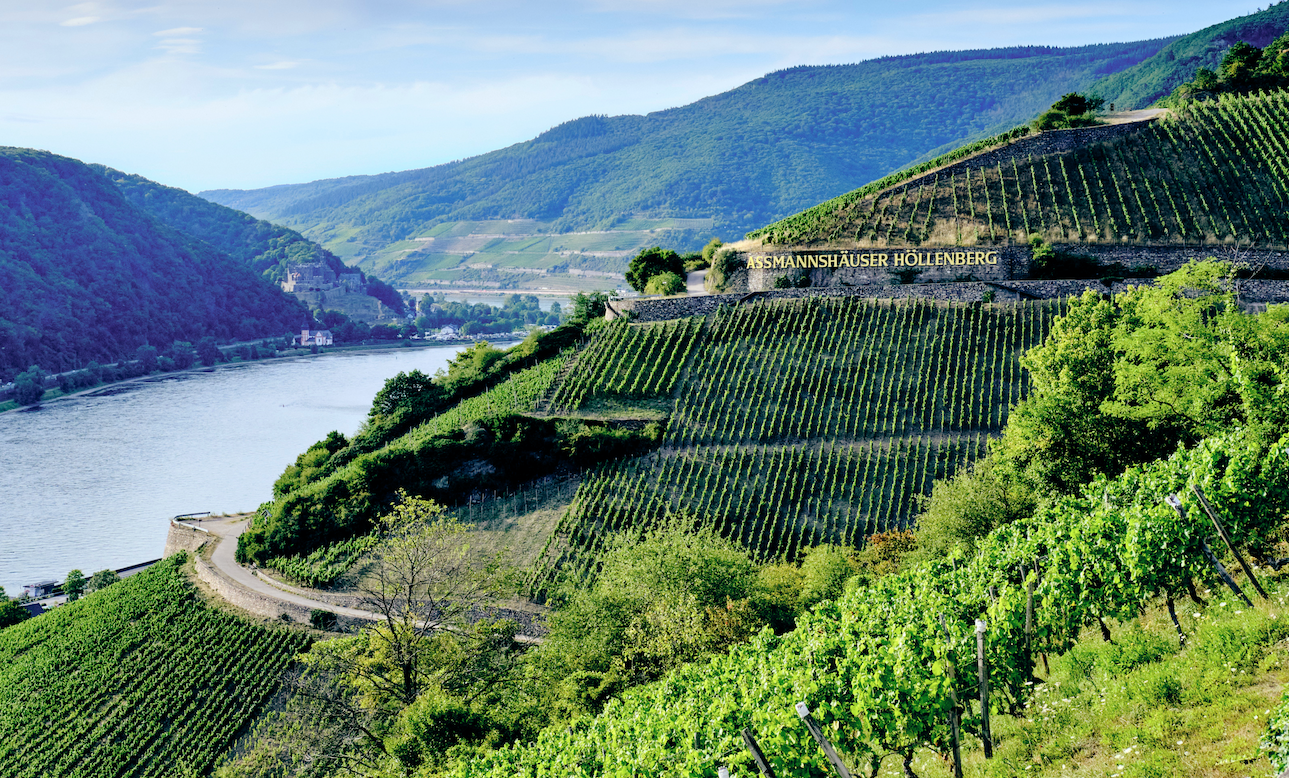 The Rheingau. A small, splendidly historic region of aristocratic estates and superb terroir awaiting an energizing charge. The steady ship in Germany's often storm-tossed seas, navigating a course of admirable quality through the centuries.

Its large estates set global benchmarks; its noble mien, iconic landscapes, and heralded vineyards have always set it apart. In recent times, however, the Rheingau's identity has become somewhat obscured by the dominance of large, in some cases impersonal estates and global warming has diminished its long-held prominence as one of the few German wine regions capable of achieving consistent ripeness. If it is often described as "underachieving," the word does hint at the present and potential greatness of its grand crus and historic sites.
There are glimmers of what is achievable from both benchmark and avant-garde producers, illuminating a path forward for the wines — above all Riesling, but also Spӓtburgunder — to shine. As one keen observer of the scene has noted, the Rheingau is one of the few German wine regions from which "a new story has yet to emerge." Notable actors and intriguing plot lines are in place. What will catalyze them into action on this grand stage?
History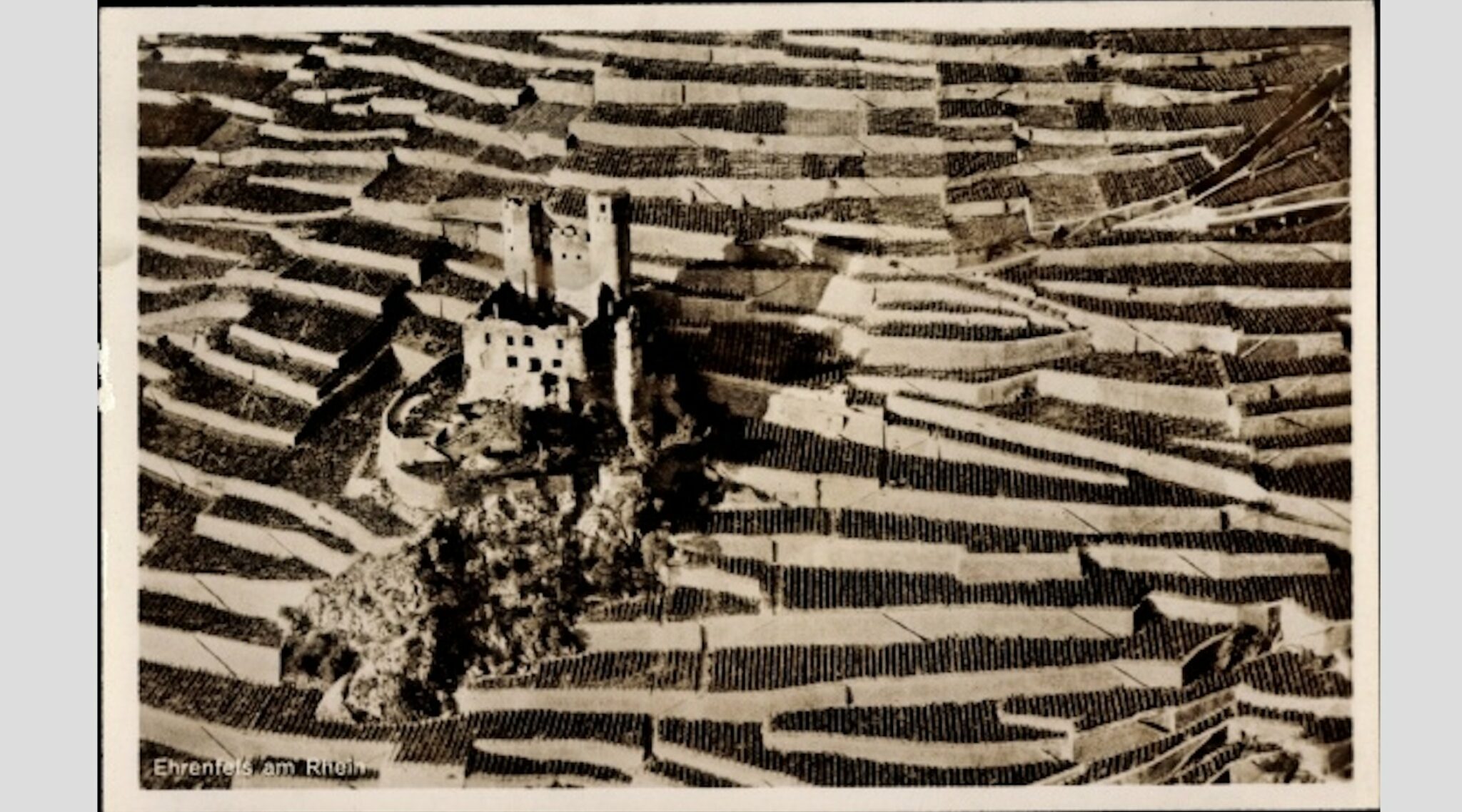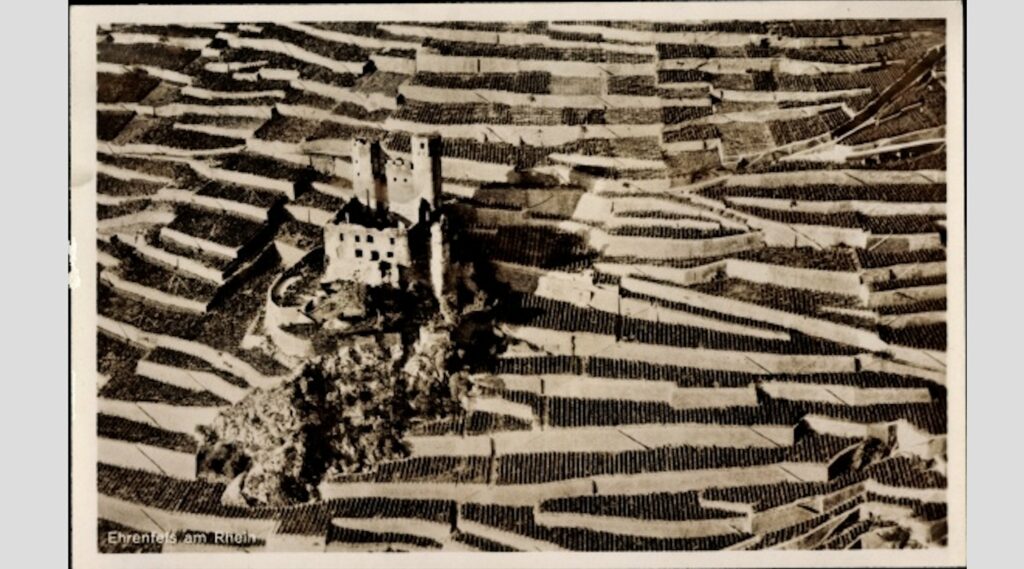 In the 19th century, critics claimed the Rheingau's only true rival was Burgundy's Cote d'Or. A sunny, attractive climate drew the wealthy to build their Schlӧsser on commanding sites along imposing south-facing river banks, ribboned with vines. The region's proximity to one of the largest metropolitan areas in Germany (including the wealthy cities of Frankfurt, Mainz, and Wiesbaden) has kept it on the radar of investors near and far and its wines flowing through the market.
But it was much further back in time, in the early Middle Ages, when the Rheingau was dominated by large ecclesiastical estates — most famously Kloster Eberbach, still a major producer today — whose scrupulous cultivation ensured the quality of the wines while ready access to river transport helped spread their fame, that the Rheingau became the stuff of legends.
Change came in the early 19th century with Napoleon's conquest and the radical secularization that followed. Merchants, banks, and wealthy individuals took over, attracted by the status and secure investment the Rheingau vineyards represented.
In the 20th century, two calamitous wars and their aftermath took a devastating toll. Post-war, extensive Flurbereinigung (vineyard reorganization) saw to it that stunning vertical labyrinths such as the Rüdesheimer Berg and its terraces of ungrafted old vines were smoothed into more anonymous submission. Today we must look long and hard to find preserved parcels, such as the Kaisersteinfels, poised so high on the Rüdesheimer Berg as to be out of bulldozer's reach.
A mid-century propensity to creeping sweetness in German wines was compounded by the country's 1971 Wine Law, which diluted much of what had been distinctive about the Rheingau (including its unique system of Prädikate).

The once regal oceanliner began to appear rudderless.
Refusing to accept this, Bernhard Breuer of Weingut Georg Breuer stepped in to change course. In 1984, he and several like-minded producers founded a quality-oriented organization they called the Association of Charta Wine Estates, to insist on the then-radical ideal of producing highest quality — dry — Rheingau wines.
They were the first in Germany to attempt to shift focus from sugar levels to places of origin, elevating single vineyards to prominence with their Erstes Gewächs (premier cru) demarcation. This step paved the way for the VDP's Grosse Gewächse (grand crus). Today, in part due to this heritage, more than a third of Rheingau vineyards are cultivated by VDP members, the highest proportion of any German wine region.
But just as the Rheingau was beginning a mini revival, climate change stepped in. Until the 1980s, the region's comparatively mild climate was almost unrivaled for its ability to reliably ripen Riesling and Spätburgunder, an obvious prerequisite for quality. But since the 1990s, rising temperatures in Germany's other, formerly marginal regions have brought those places into the spotlight — in essence leaving the Rheingau to figure out its unique identity once again.
What will it take to make the Rheingau Shine again?
Well, it's complicated. Many critics point to the need for a shot of ambition, a sense of vigilence in the region's vineyards and cellars: A serious investigation of site and a measure of greater care in farming, couple with more intuition, perhaps, in the cellar. For now, consensus holds, too many Rheingau vineyards are (rather too) safely in the hands of stakeholders who may not always have the push for quality wine foremost in mind.
On the consumer side, a greater appreciation for what the Rheingau does so superbly — dense, mineral wines of moderate alcohol, great extract, and superb texture and depth, as well as noble sweet wines — would certainly help. The Beerenauslesen and Trockenbeerenauslesen of the Rheingau are wonders of the wine world: rare gifts of nature capable of balancing extraordinary sweetness with refreshing piquancy and salinity.
Against this background, producers who are achieving these standards and meeting consumers where they are stand out all the more brightly. These include growers with a firm commitment to organic and biodynamic farming, who are revealing new dimensions of soil and variety in their wines.
These are the producers who are leading the Rheingau back to the forefront of all that German wine is capable of: precision and tension, complexity and nuance — while holding on to the Rheingau's signature ripeness and concentration, the qualities that originally propelled wines of this region onto the world stage. Sprinkled among them are avant garde individualists, unafraid to push with a little stylistic provocation, just to keep everyone on their toes.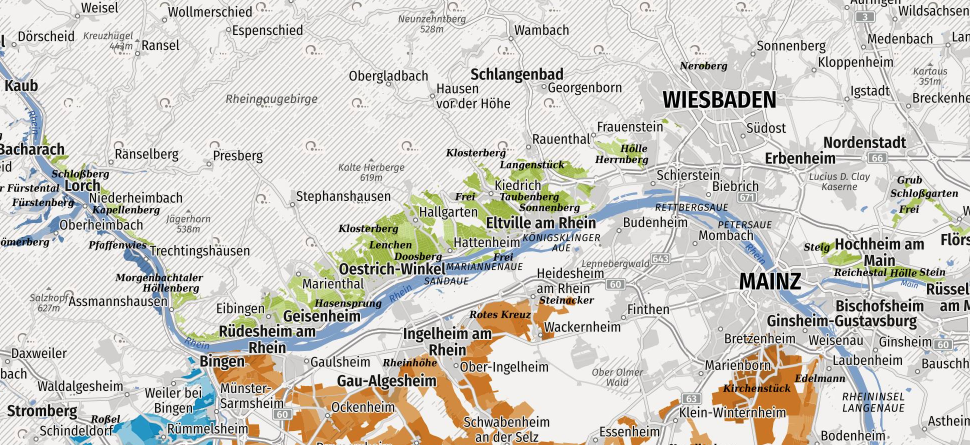 Geography and Climate
The Rheingau sits at 50 degrees north latitude, for centuries the northernmost limit of where wine could be grown. Viticulture there was made possible by a kink in the course of the Rhine: a place where the river ran into the Taunus mountains and the Taunus refused to submit. This forced the Rhine into a lateral valley and carved a mass of broad, south-facing slopes of varying pitch ideally suited to being cloaked in vines. The roughly 30-km stretch of the waterway is slow and wide, almost lakeline, creating a reflective surface that moderates temperatures, allows for a luxuriantly long growing season, and traps the humidity essential for noble rot, and by extension nobly sweet wines. 
Villages, Vineyards, and Vines
Despite its outsized historical reputation, the Rheingau is one of Germany's smaller regions, at just 3,185 total hectares. One expert describes it as essentially four micro-regions: "the riverfront versus the hills, the east versus the west." Coming to terms with these distinctions helps to understand the character of the place as a whole.

Among its main villages, the best-regarded riverfront villages (west to east) include Lorch, Assmannshausen, Rüdesheim, Geisenheim (home to Germany's great wine university, a key player in shaping modern German wine growing and making), Oestrich-Winkel, Hattenheim, Eltville, Rauenthal, and Hochheim (famously shortened to "Hock" as shorthand for Rheingau Riesling).
Among the upland villages (again, west to east) Johannisberg, Hallgarten, Kiedrich, and Walluf stand out.
The region has historically been dominated by Riesling and this remains true today, with the queen of white grapes accounting for 78% of plantings. For centuries the Rheingau has also been home to a small amount of Spӓtburgunder (12%), and today there is also a scattering of Weissburgunder (1.6%).
Select Grand Crus
Assmannshausen Höllenberg (its steep slate slopes are iconic for Spӓtburgunder)
Rüdesheim Berg Roseneck, Berg Rottland, Berg Schlossberg (at 70% grade, the Rheingau's steepest vineyard), Kaisersteinfels, Rosengarten
Rauenthal Nonnenberg and Baiken
Lorch Krone
Johannisberg Hasensprung
Hallgarten Hendelberg
Hattenheim Steinberg (a Cisterian clos of 32 hectares in sole possession of Kloster Eberbach since 1239)
Kiedrich Gräfenberg
Oestrich Doosberg
Walluf Walkenberg
Geology
Rheingau vineyards sport a kaleidoscopic range of soils — slate, quartzite, and mica schist, along with sandstone, sandy loess, marl, and loam  — and elevations, as well as varying proximities to the Rhine and the forested crown of the Taunus mountains, giving winemakers here a broad palette of terroir expressions to play with.
What makes a Rheingau Wine?
The Rheingau offers tremendous stylistic diversity. Among Rieslings, the dry wines are marked by a stately breadth, density, and extract, their fruit enlivened with a mineral, and in the best cases, saline element. Be they graceful Kabinetts, dry single-vineyard Grosse Gewächse or nobly sweet BAs or TBAs, there is no mistaking their hallmark ripeness and concentration. Spӓtburgunder, especially grown on the great slate sites of Assmannshausen, offers an elegant red counterpart, often deep and concentrated, but also capable of delivering superb energetic freshness. Exploring the Rheingau village by village through its Ortsweine is another excellent way of understanding the individual identities of each of the Rheingau's many distinctive terroirs.
Benchmarks
*Weingut Johannishof, in Johannisberg, is owned by the Eser family and led today by 10th-generation winemaker Johannes Eser. His 20 total hectares include holdings in grand cru sites such as Berg Rottland and historic vineyards such as Auf der Höll, first documented in 1180. A full range of Riesling styles from estate wines to Prädikate to Grosse Gewächse are acclaimed for their distinctive precision and cool slate tones, piquancy and texture.
*Weingut Robert Weil, pride of Kiedrich, was founded in 1875 and is now led by Wilhelm Weil. Devoted to Riesling and Riesling alone, they produce standard-setting classic wines. With 90 hectares spread among top sites in Kiedrich's Klosterberg, Turmberg, and Gräfenberg, the estate produces a wide array of bottlings, from Ortsweine to Prädikate to TBA, as well as Sekt. Noted for their clarity, etched acidity, balance and finesse across the board, Weil's wines are consistently cited as Rheingau reference points.

In 2020, the estate made a statement by introducing an ultra-premium Riesling in strictly limited production, perhaps meant to play on a rarefied field with the likes of Klaus-Peter Keller's G-Max bottlings. The wine, called Monte Vacano, is sourced from grapes grown on a choice 0.5 hectare "Lay" parcel of the Kiedricher Gräfenberg. The name Vacano pays tribute to the family of founder Robert Weil's wife Emilie, originally of Italy's Lombardy region.
*Hessische Staatsweingüter Kloster Eberbach, tucked into the Eltville valley, this estate can be summoned in a single word: history. Originally founded almost a millennium ago as a Cistercian monastery, this was one of the most important wine producers of the Middle Ages. Its holdings were spread over vast tracts, generating wealth and fame for the estate. At one point in its history, the monastery even had its own fleet of ships for transporting wine to the centers of the medieval wine trade.

Over time, a number of historical travails altered Kloster Eberbach's fortunes until Napoleaonic secularization (1803) put the estate in the hands of an aristocratic family who worked to elevate it to even greater prominence. It has been a place of firsts in German wine, including the first to use the term Trockenbeerenauslese for wines made from fully botrytized dried grapes (1893). Since 1945, it has been the property of the Federal State of Hesse, holding 238 hectares, spread among sites from Assmannshausen to Hochheim — an indication of the ecclesiastical estate's power and reach long ago.

Cellarmaster Katharina Puff has begun to introduce native yeast ferments and move away from filtration in the vast range of Rieslings and other varieties she now oversees. The estate's library of back vintages has been described by critics as "exquisite;" its status within German wine "a site of pilgrimage."
Avant-Garde 
Joernwein in Geisenheim is the project of acclaimed young producer Jörn Goziewski. Working solo in a rented cellar corner and with just 1.3 hectares in prime sites dotted throughout the Rheingau, he values the region not for its historic standing, but its remarkable intersection of soil and climate, provocatively calling his wines "everything the Rheingau is not." Working primarily with Riesling and a bit of Spӓtburgunder, his experiments extend to gentle skin-fermentations and whole-cluster vinifications, with long lees time in stainless steel and wood, all unfiltered, unfined, and without adjustments. He seeks to make wines of density and complexity, but also elegance and drinkability — in his words, "natural wines, with corners and edges."
Weingut Hamm in Oestrich-Winkel, is that rare thing in the Rheingau: a small family-run estate practicing organic farming. The Hamms were early adopters of the practice, with conversion of their 7-hectare estate in the 1970s and certification in 1990 . Now led by young siblings Aurelia and Julius, the Hamm's Rieslings come, in part, from old-vine holdings in some of the village's most esteemed sites and make expressive terroir wines. They believe playing with native yeasts and cask ferments elicits more character and dimension in the wines. Their mature vine offerings win plaudits for their distinctive herbaceousness, fine salinity, and verve.
Dr. Corvers-Kauter also in Oestrich-Winkel, is owned and run by husband-and-wife team Dr. Matthias and Brigitte Corvers and their son Philipp, who recently joined the estate and brought with him a forward-thinking approach to cultivating their 12 hectares. They are mostly dedicated to dry expressions of Riesling, with a scattering of Spӓtburgunder and the very rare Roter Riesling. Farming is organic, native yeasts favored, as are gentle basket pressing and natural settling, all contributing to wines that show a new facet of the Rheingau.

*Exported by P.J. Valckenberg, which provided support for this education feature.
8 Jan 2021: The authors acknowledge an important correction to the listing of hillside and riverfront villages kindly noted by Terry Theise.