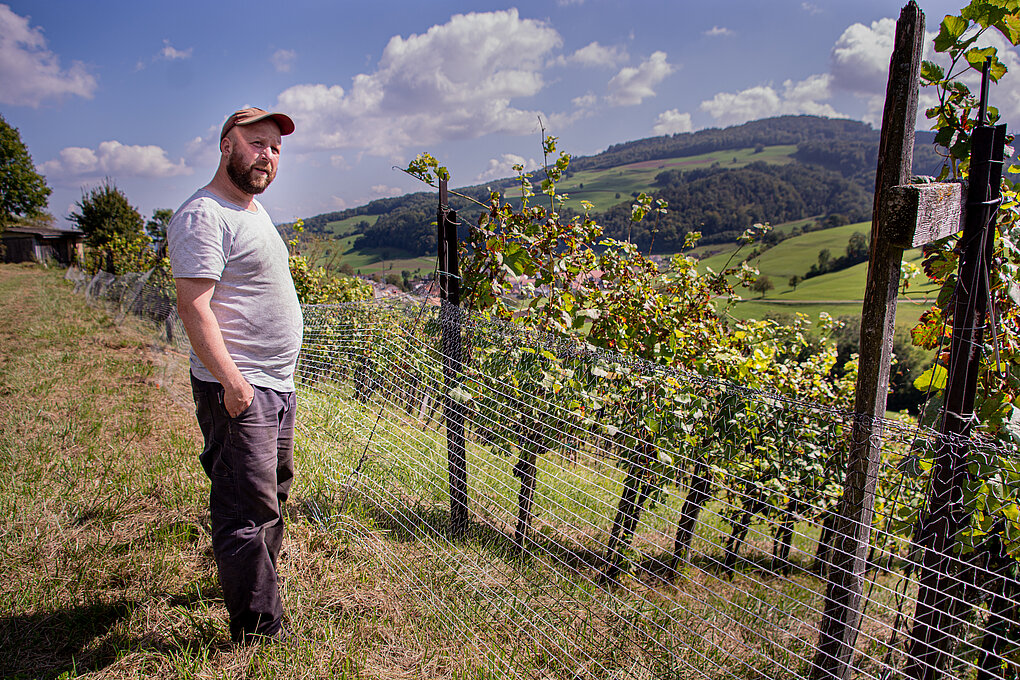 ​Trained mason Tom Litwan began crafting elegant yet edgy, biodynamic, low-intervention Pinot Noirs and Chardonnays in Switzerland's Aargau back in 2006. Today his wines play in the same league as top French and German producers.
Normally, the Aargau is better known for its notoriously jammed locations along the A1 highway connecting Zürich with Bern and French-speaking Switzerland. The canton's sole claim to gustatory fame is a carrot cake, Aargauer Rüeblitorte. Litwan's decision to make wine here may initially surprise, but looking a bit closer, it actually makes a lot of sense.
Before phylloxera bedeviled the old world at the end of the 19th century, the Aargau produced more wine than the Valais, today Switzerland's most important wine region. The Aargau lies at the same latitude as Burgundy and its vineyards sit on Jura lime marl. The earliest evidence of viticulture here was found in the archeological remains of Roman settlements near Windisch, Augst, and Zurzach. Today, AOC Aargau counts some 400 hectares under cultivation and is the fourth-largest wine-growing region of Deutschschweiz (German-speaking Switzerland) after Zürich, Schaffhausen, and Graubünden.
At the end of September, my wife Liliana and I meet Litwan in front of his cellar in Oberhof. Last year around this time, picking was in full swing. But this year cool temperatures, heavy rain, and hail delayed harvest until late October. The mild, sunny weather over the last few weeks helped to reconcile the miserable conditions and gave vintners a few moments to breathe before the final push of the season.
But there was nothing to indicate that the inconspicuous building our GPS navigated us to was home to Litwan Wein. Litwan himself, unassuming and wearing his signature cap and a friendly smile, was waiting for us in his white Renault van. He looked slightly worn by the many hours of extra work fighting the predations of mildew and canopy vigor caused by the ghastly wet conditions of 2021. We hopped into the van for a three-hour ride along steep and winding dirt roads, over green hills, along chalky rocks, and through ancient forests. Not at all the "highway canton" I had known.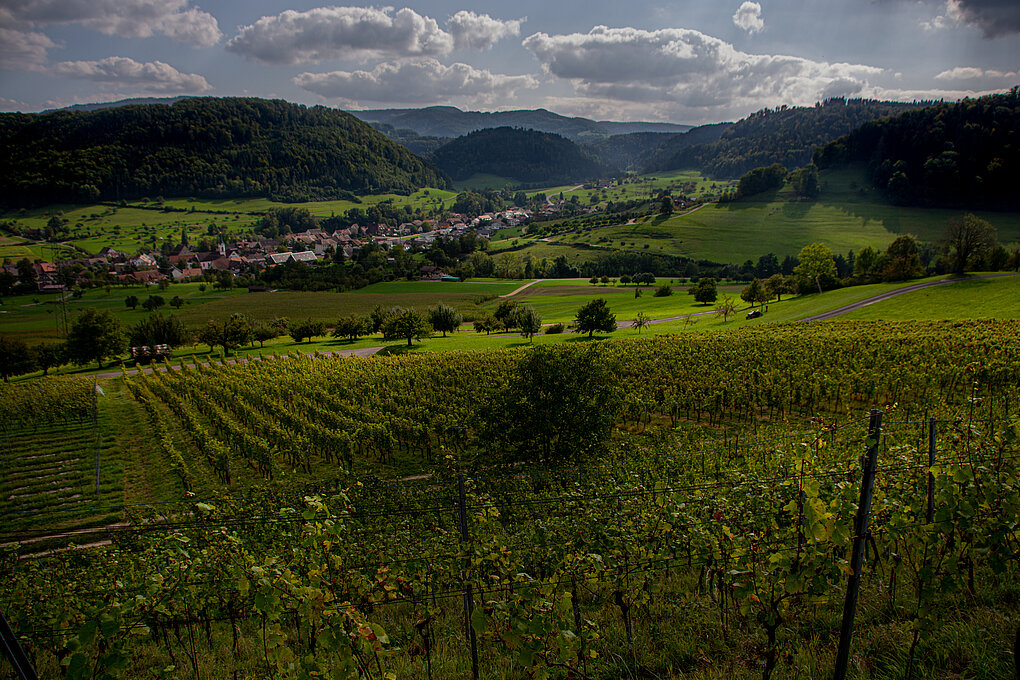 Litwan's eight vineyards are situated in the Jurapark, which is part of the national repository of nature reserves and tectonically belongs to the French Jura. The vineyards are spread over eight villages in two valleys divided by the Jurasüdfuss massif. "This is my hail insurance," Litwan says, pointing to his diffuse sites. "It is highly unlikely that hail strikes everywhere at the same time." The tiny dots make up six hectares and Litwan produces only single-vineyard wines. Given the small yields, differing exposures of the vineyards, and low-intervention techniques in the cellar, each wine is unique to its respective terroir and can vary significantly between vintages. The wines have a certain edge that demands an open mind and healthy curiosity.
Our first stop is Chalofe (dialect for "Kalkofen," or chalk oven) above Thalheim. This is where Litwan's journey began in 2006. It is still his most precious vineyard, producing the most precise, elegant, filigreed, and expressive Pinot Noirs. At 500 meters elevation, the climate pushes the limits of what will still allow grapes to fully ripen. The vines grow right beneath a forest, providing for strong diurnal shifts that benefit aromatic development. A steady wind keeps the vegetation dry. Anyone who has experienced the vineyards of Arbois and Pupillin will be struck by immediate déjà vu.
Anyone who has experienced the vineyards of Arbois and Pupillin will be struck by déjà vu.
We taste the Thalheim Chalofe 2014. The robe is a pale ruby, on the nose and palate dark strawberries, red cherries and currants, violets, withered roses, cloves, licorice, black pepper, some chocolate and tobacco, and wet autumn leaves. The wine is fully dry, with a medium body, tannins, and alcohol, and rocket-high acidity. Multidimensional and terroir-driven, oak far in the background, with a very long and super salty finish, this is how I like Pinot Noir best.
The Chalofe vineyard also hosts a few rows of Petit Meslier. This very rare variety still resides in the classification of Champagne AOC. Because it was low-yielding, it was almost entirely displaced by Chardonnay. Litwan, however, is not interested in quantity. And here on the Jura hills, the Savagnin crossing is in its natural habitat. Litwan turns the Petit Meslier into an exclusive, vintage extra brut Blanc de Blancs. The base wine ages in used barrique for a year and after secondary fermentation stays on the lees for another three years before disgorgement. The sparkler is the most expensive wine in Tom's portfolio and my wife and I will certainly leave our 2016 bottle in the cellar for years to come.
Litwan's vineyards have been Demeter-certified since 2010. He does not make a fuss about or romanticize it, though, and you will search in vain among his vines for the tulips that ornament the vineyards of his peers, Markus Ruch and Hans-Peter Schmidt. To him, biodynamic farming is a means, not an end. "But you still make natural wine, don't you?" I ask. "I have a semantic issue with the term," Litwan explains. "Wine is a monocultural product and does not have much to do with nature. To me natural wine is a trend. Once their beards are shaved off, the hipsters will move on to the next thing someone told them was cool."
I begin to understand where the edge in Litwan's wines come from.
I begin to understand where the edge in Litwan's wines come from. "We should start talking about quality again and not only about how a wine is made," he goes on. "Certainly it is not the 'no sulfites added' brand that makes a wine natural. Without sulfites there would be no life on the planet. I think the whole discussion has socio-cultural roots. If we hear about sulfur we think of the devil and the purgatory. To me such biblical connotations are dangerous."
Still, compared to conventional winemaking and the amounts allowed by law, the sulfites added to Litwan's wines are marginal, as are his cellar interventions generally. All his wines ferment spontaneously and rest in used oak barrels for a year before they are bottled unfiltered and unfined. "The quality of a wine is determined almost entirely by your work in the vineyard," he is convinced. "All you do in the cellar will only diminish its expression."
A glance at Litwan's career path helps explain his thinking. After school, he first trained as a mason. At the end of the 1990s he did a stint as "guy Friday" at a small guest house near Chablis. There, he made friends with Samuel Billaud, who today runs one of the most reputable domaines of Chablis. While other 18-year-olds downed vodka Red Bull, the two young men were tasting the Burgundy grands crus in Samuel's father's cellar. "I quickly realized that artisanal and biodynamic wines had a lot more to offer in terms of their vibrance and certain spin than conventional wines," Litwan recalls.
When he decided to study viticulture and make his own wines, there was no question Litwan would take a biodynamic approach. He trained with Jean-Daniel Schlaepfer of Domaine des Balisiers in Geneva. With the support of Pierre Masson, a godfather of the biodynamic movement, they converted their vineyards in the early 1990s. At the Center of Viticulture in Wädenswil, this was ill received. And as Litwan refused to conclude his senior year with a conventional producer, things escalated to a point where he left the country's highest-regarded school to finish his studies in the French-speaking part of Switzerland.
When Litwan left Geneva to start his own venture in the Aargau, he remained resolutely on this path. Today, Litwan Wein produces roughly 15,000 bottles a year, of which 70% is Pinot Noir; the rest is Chardonnay and Müller-Thurgau. Litwan works mostly on his own, with the help of a few hands when needed. His early experience in Chablis had a deep, lasting impact on him. A clear, precise, northern Burgundy style is the unmistakable benchmark for everything he does.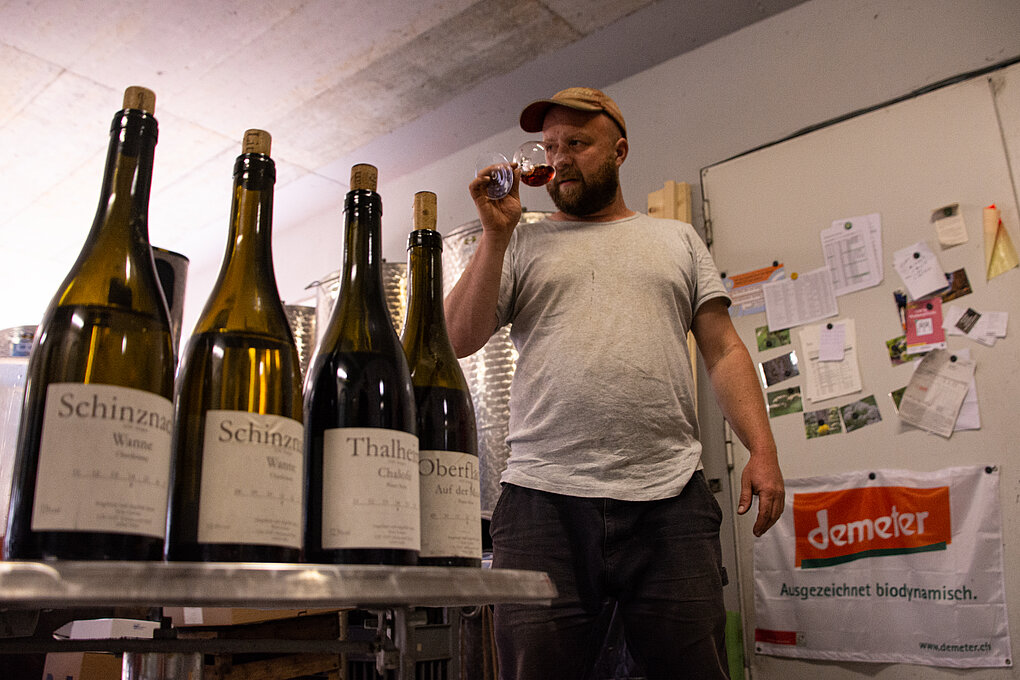 Litwan's prime cru for his whites, the Schinznach Wanne, for example, is a sheltered biotope in the shape of a bathtub (thus the German name Wanne) that yields as little as two barriques of Chardonnay in some vintages. We tasted the 2014 and the wine marched in like a White Walker. Its merciless cool-climate structure is reconciled by a gargantuan kaleidoscope of flavors, from tart apples, pears, and lime, to hibiscus flowers and nectar, to brioche and vanilla notes. The 2011 showed a bit rounder, displaying Riesling-like petrol scents, notes of honey and tangerines, lemon curd, roasted nuts, and butter cookies. The 2015 vintage was the fullest of those I tasted. It exhibited the most oak, vanilla, cocoa butter, a bit of coconut, subtle citrus notes, a hint of pineapple, and toasted white bread. In all three wines, the Jura acidity was higher than Kurt Cobain playing MTV Unplugged, and it almost goes without saying that the wines were bone dry. Each was distinct, but all blew me away with their captivating precision, incomparable salinity, and vibrating tension. There was sheer beauty in their undisguised austerity.
We make another stop, this time at Litwan's most scenic vineyard. Auf der Mauer("Atop the Wall"), in Oberflachs right next to Kasteln Castle, is built on a dry stone wall construction resembling the vineyards of the Côte-Rôtie. It is Litwan's most sheltered, warmest, and driest vineyard. The vines here literally grow on rocks. Lizards bathe in the late September sun. Auf der Mauer yields the ripest Pinot Noirs and produces the fullest, spiciest wines in the portfolio. The 2012 was in top shape. Pale but healthy ruby, with notes of ripe strawberries, red cherries, dried cranberries, violets, dried Italian herbs, flint, hints of smoke and leather, dry, silky tannins, medium body, and, like all of Litwan's wines, alcohol around 12.5% and that lip-smacking saltiness on an almost never-ending finish.
Litwan sells more than 90% of his wines on the domestic market, reconfirming the reputation the Swiss have for not really sharing their wines. Thus, the chances to get hold of a bottle abroad are quite slim. Naturally, it does not help that given all the difficulties of the season, the 2021 harvest was 80% smaller than average. At home, though, Litwan's wines are found on the menus of virtually every grand house, including all of the Michelin three-starred restaurants in the country, Schloss Schauenstein, Cheval Blanc, and Hôtel de Ville — evidence that the best of Switzerland's hand-hewn wines have found their way to the top. Avant-gardists like Litwan are showing the way. Trained in a Burgundian tradition, they work with respect for nature, distilling the purest of the local terroir. Strong-headed and visionary, they follow a dream, and in doing so, leave their own footprint on the wine world. ​