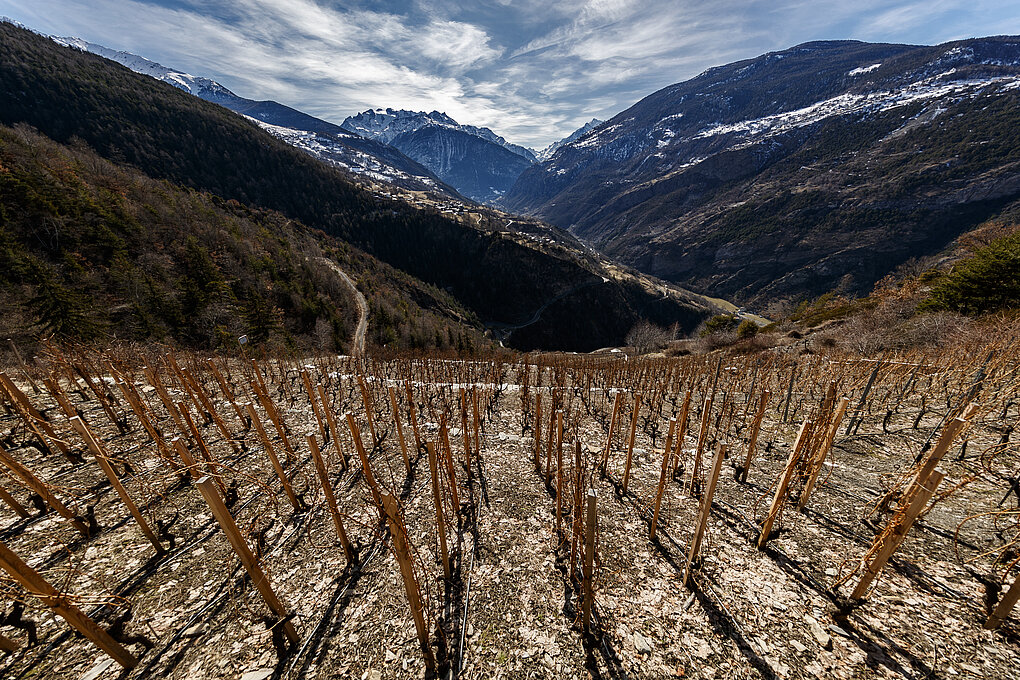 What makes a wine region singular? While there are as many ways to answer this as there are regions in which to grow wine, for me it was special varieties like Heida that opened the doors to the wine universe of Switzerland's southwestern region of Valais. Some 15,000 hectares of vines are cultivated in Switzerland. With 5,200 hectares of its own, one in three bottles of Swiss wine comes from Valais, the largest wine-growing canton in the country — and a star in all things autochthonous. Sixty different varieties can be found here, among them the Heida of Visperterminen.
One of my first wine trips took me to (what was then) the world's highest vineyard.
Since then the climate has changed somewhat, pushing ever more vines to be planted on ever higher sites; the Heida vineyard Rieben in Visperterminen is no longer Europe's highest. That said, even now I almost get dizzy when I visit this oenological singularity.
Countless wine lovers have likely unknowingly passed this vineyard while on their holidays. Switzerland's most spectacular vineyard, located near Visp, climbs steeply into the sky to a height of 1,150 meters above sea level and can be seen right from the train when travelling in the direction of Zermatt or Saas-Fee. Hundreds of retaining walls have divided the precipice into little vineyards, many of which are no bigger than two bedsheets put together.
Wine is grown here? Naturally. The slope's southern exposure in the driest part of Switzerland, where large expanses of stone in the form of the walls turn the Rieben into a warming chamber that holds until deep into autumn, gives the grapes the ripeness they require. The vines in question are not the Valais' white wine variety number one — Chasselas — but a local specialty: Heida.
I credit my introduction to Madelaine Gay, the Grande Dame du Vin Suisse. She was my mentor in all things autochthonous grapes. She and I eventually launched a wine collection from just such varieties, now overseen by her protégé Damien Caruzzo.
Meanwhile, Heida has become one of the most popular rarities of Valais. It shines a bright golden yellow, with inviting aromas of papaya, honey, and ginger. On the palate, a racy Traminer note mingles with flavors that call to mind roses, apricots, and mint. It is delicate, yet potent, with a crunchy acidity. A glorious and singular pleasure.
But, as Gay recalls, it wasn't always so: "Not all that long ago the people of Valais mocked Heida. I made my first Heida in 1983 and the comments weren't subtle: 'too sour,' 'too hard,' 'unenjoyable,' people told me. They said the wine was too young and should be left to the Upper Valais in Visperterminen. But around 2000, the grape's image began to change. We planted this variety in central Valais and strictly controlled yields in order to harvest grapes of optimal ripeness. We improved everything about the vinification, too. It's important that it be seductive, with fruity, spicy aromas and fresh notes and characteristics that make it sybaritic. If I picture all of Heida's flavors and aromas, I involuntarily summon the image of something with a peacock's tail. In sum: it does everything to please — and to ensure a second bottle is uncorked."
"Heida does everything to please — and to ensure a second bottle is uncorked."
Heida is the most international of Valais' grape rarities: worldwide 1,500 hectares — above all in France and Austria — are planted to it. But there the grape goes by a different name: Savagnin Blanc.
Heida is a very old variety; it has been shown to have similarities to European wild vines and its origins remain stubbornly unclear. It could be from Franche-Comté in France or the Pfalz in Germany. Ampelographers sometimes point to the area around Tramin in South Tyrol as the place of origin for Savagnin Blanc, even though by the end of the 19th century it was no longer cultivated there. (That at least explains the German name, Traminer.) As a member of the ampelographic Traminer family, Savagnin has a rosé cousin, known in Alsace as Klevener de Heiligenstein. (However, it has nothing to do with Klevner; that's what Pinot Blanc is called there.) Incidentally, in Alsace it is said that 200 years ago growers selected the spiciest Traminers to breed the Gewürztraminer vines that later took root in Germany, German-speaking Switzerland, French Jura, and the entire Franche-Comté.
In Upper Valais, the variety was noted under the name Heida as early as the end of the 16th century. In 1901, an examination of the grape determined it to be a very old variety planted in Visperterminen. Even if Visperterminen was long the only place in the Valais where Heida was cultivated, the growing popularity of the grape as well as the joy growers took in it ensured that it would be increasingly planted in Lower Valais as well. The vine has a medium to high level of vigor and gives moderate yields that vary according to clone. Heida vines are less well suited to rich, fertile soils, preferring more austere landscapes.
Of course, it helps that the name "Heida" in association with Switzerland triggers thoughts of Heidi, the protagonist of Johanna Spyri's successful children's books. But there is no established connection to the grape variety. In the old dialect of the Upper Valais, the word was used to mean anything primeval, pre-Christian, and "of heathen times." So Heida probably refers to the time before the evangelization of the Valais. Since 1812 (that is, in the post-Napoleonic era) Francophone residents of Valais also call Haida "Païen."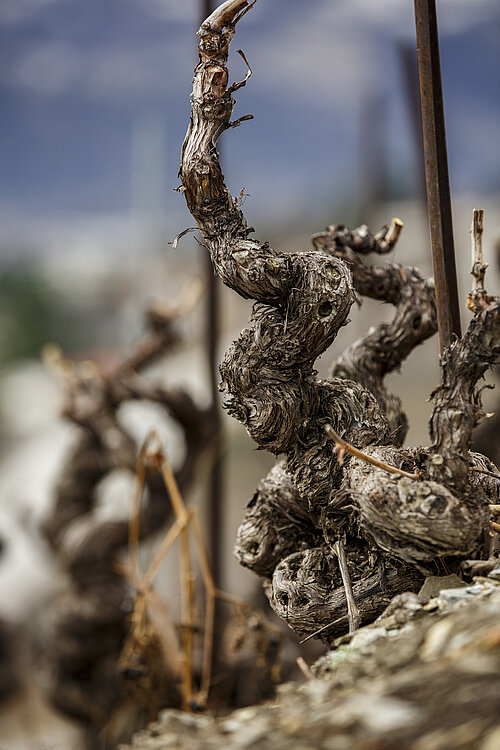 Today dry and slightly off-dry as well as fortified wines are made from the grape. They tend to be relatively high in alcohol, often around 14% abv. In 1901 Dr. F. G. Stebler, professor at the ETH Zürich research center, was prompted to summarize: "Heiden (more commonly Heida), as the wine is simply known, is also reputedly effective against unwelcome inhabitants in the human body. Taken in the morning on an empty stomach, it will encourage the strangers to leave. Heida is a dangerous bone-breaker that loosens the tongue and is able to move people to the most blissful moods.Go and test it yourself!"
But back to the Rieben vineyard. It's a barren morainic slope of light calcareous clay and sand soils. Because every vine enjoys a breathtaking view of Zermatt and its snow-capped peak in the distance, Heida acquired the nickname "Gletscherwein" — a name that did not please everyone, especially producers of true Gletscherwein, which comes from a totally different region in another side valley of the Upper Valais.
Every vine enjoys a breathtaking view of Zermatt and its snow-capped peak in the distance
The commune of Visperterminen is divided into thirds: the Tärbinerbärg, the right slope at the entrance to the Vispertal, and the Nanztal. About one tenth of it is designated as cultivable, with its striking sloped sites displaying the extreme variations in elevation typical of inner-Alpine areas. The inhabitants of the Tärbinerberg were once nomadic peasants and this explains Visperterminen's stretched and plucked-at appearance, composed of various clusters of houses on differing sites on the slope.
You needn't spend much time in Visperterminen to determine that the Church and faith play a dominant role here. Countless chapels testify to the source of strength for the pious Visperterminer (95% of whom are Roman Catholic) that enables them to bear the hardships of life on this mountain. Even the name of the St. Jodern Kellerei, which looks after the Heida vines here, is connected to that of a brave bishop who is said not only to have outwitted the Devil but also have saved the Pope in Rome.
In the Rieben vineyard, there is a vine named for Madeleine Gay – one of four honorary ambassadors of this enological cultural asset, who made wine connoisseurs the world over aware of Swiss wine. The owner of the vines is the Heidazunft, which supplies grapes to the St. Jodern Kellerei cooperative.
In Switzerland, you'll find many cooperatives, among them Provins, Artisans Vignerons d'Yvorne, Cave de la Côte, Cantina Sociale Mendrisio, and VOLG Weinkellereien. The principle aim of these coops is to help each other by joining forces. It's often simply too arduous for the owner of a vineyard or parcel to do everything — from farming to bottling to sales, all by him- or herself. This is why numerous growers come together to supply a central cellar that can vinify and market diverse wines.
St. Jodern Kellerei dates to 1979, a time when autochthonous varieties were unpopular in the Valais and above all Fendant (aka Chasselas), Pinot Noir, and Dôle were being uncorked. Back then, Chosy Chanton, often called the "Indiana Jones of lost grape varieties," was not yet so well known. In 1965 he began to rescue old varieties in Visp. Now his son Mario has taken up the task. In the Chanton portfolio are, among others, Heida, Himbertscha, Lafnetscha, Rèze and Gwäss (Gouais).
1980 was the first year St. Jodern Kellerei's 120 members could deliver their grapes to the newly built cellar. Now that number is up to about 500 members from whose grapes some 400,000 bottles are produced each year. Here Heida is offered in a broad array of expressions: the entry-level "Heida Visperterminen," "Heida Melodie" with residual sugar, "Heida Barrique" and "Heida Veritas" from centenarian vines and amphora aging.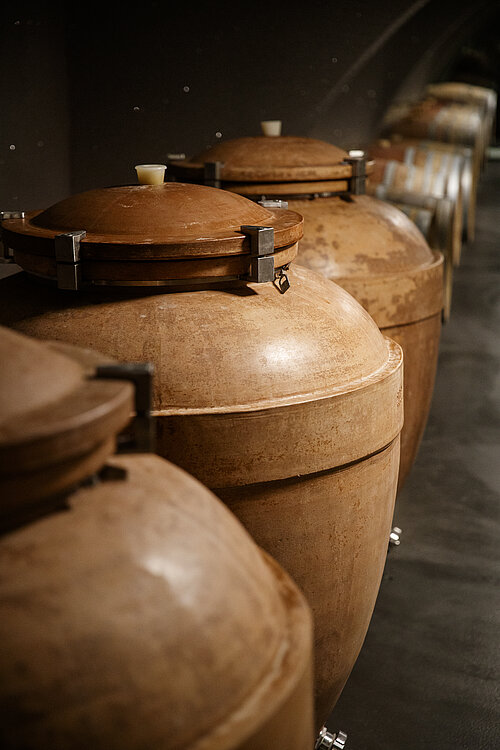 Behind every one of Switzerland's old varieties are legends and stories, offering insight into our past — and it's exactly this that fascinates me about them. Of course, their flavors also play a role, but their origins and development are sometimes even more exciting. No one should miss the chance to drink a glass of Heida in the steep Visperterminen vineyards. From then on it will be clear why wine enjoyed in its place of origin remains so bright a memory.
Translated by Valerie Kathwala