Explore a Swiss Wine Nature Park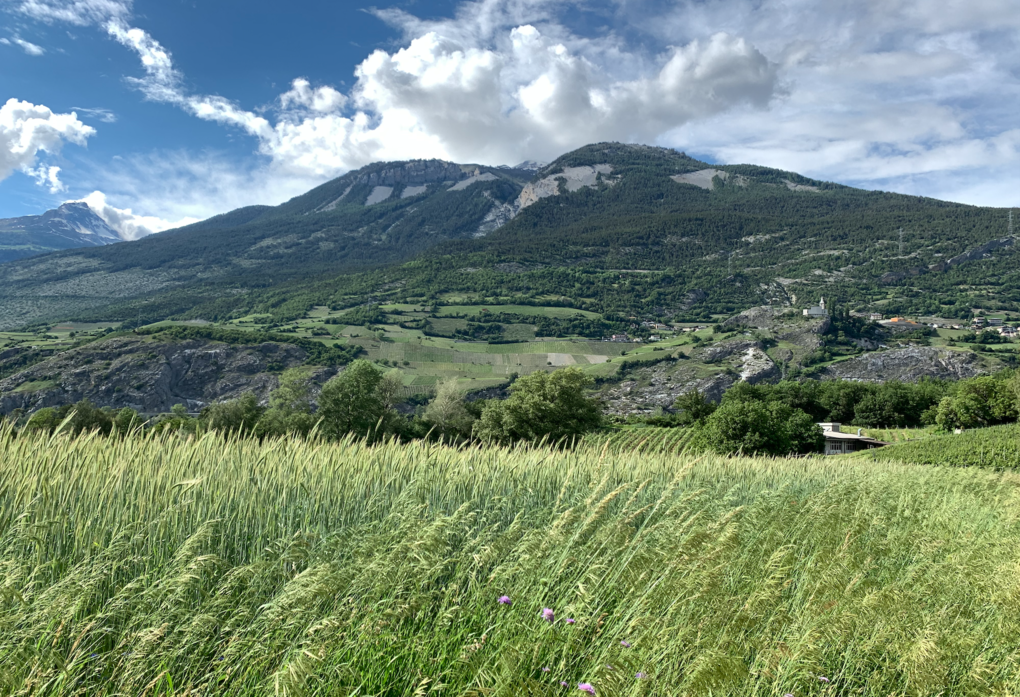 A footpath leads from Leuk, a village straddling the Rhone, up to Varen, which is perched on a cliff. The trail is steep and strewn with pebbles in early summer. But three lightfooted young people with small backpacks move at a steady pace, in the way the Swiss tend to do when they grow up hiking in the Alps. The trio checks a list of clues they picked up at the Leuk tourism office. This treasure hunt will take them along groomed trails for eight hours (several pauses included) to wineries within the extraordinary Pfyn Nature Park.
Wine is at the heart of these popular hikes: set off when you like, wines await you, along with snacks like crisp breadsticks made from organic grape-seed flour and air-dried meats from one of the region's finest butchers — all grown or made inside the park. Everywhere, the colorful mosaic of Alpine vineyards is visible.
A new role for Pfyn wineries
Pfyn, in the canton of Valais, has more than 80 wineries within its boundaries or on its periphery. The vineyards and cellars are part of a sustainable development partnership, a remarkable ode to how quarreling farmers, ecologists, and governments can stop, listen to each other, and shake hands on a plan that benefits everyone. Thirty-five years ago the area saw fraud and violence, turning it into a battleground between those who wanted to preserve critical forest land and some in the wine business who insisted on unfettered freedom. At issue was a major legal restructuring of vineyards at the south end of Salgesch, now in the center of the park.
Today, Pfyn area wineries work closely with the park and the land. "Land," many of them will tell you, means the entire reach from the wild upper Rhone River to the forest to the steppes, a stark landscape of dry brush and rock below snow-capped peaks.
Olivier Mounir in Salgesch is widely considered one of Switzerland's top vignerons and is a member of the prestigious Mémoire des Vins Suisses. He says there is steady movement here towards organic farming, with wineries now seeing themselves as part of a larger picture and some of them shifting to biodynamics. "A few years ago, there weren't too many of us. But as others began to see that it could work, interest grew."
The same is true for the park's regional products label, which serves as a sustainable practices certification. Two of Mounir's 35-plus wines carry the label, and five other cellars in Salgesch and Varen have some of their wines certified, for a total of 36 wines, with more in the pipeline. Overall, the park counts products from 26 artisans, available in small shops as well as supermarket chains.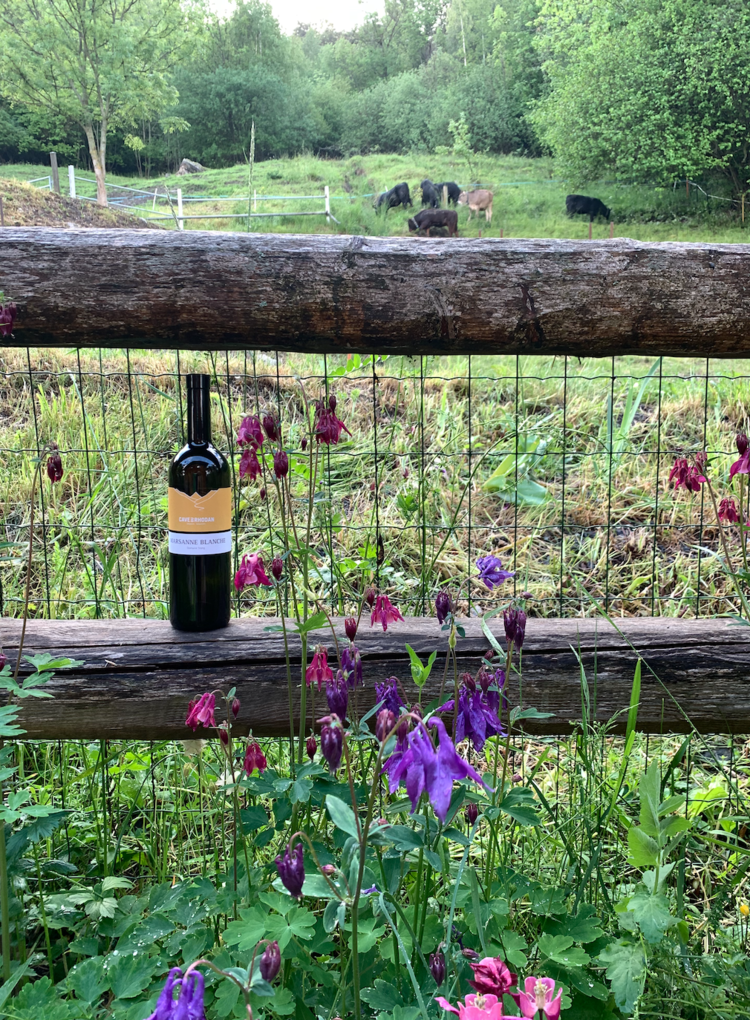 Inside a wine park
Sustainability is a buzz theme in wine circles everywhere, but it made headlines around the world this month as Swiss citizens went to the polls to consider banning all synthetic farm and vineyard pesticides within 10 years. The initiative failed, but the heated debate stirred up strong feelings about finding balance, protecting nature and growers, and keeping consumer food prices within acceptable limits. It also educated people about the options, risks, and costs of going pesticide-free.
Pfyn was built on a concept that is regaining relevance: that sections of wilderness and settled areas, residential and industrial, can share space. The park sits along one of Switzerland's language divides, but most of the villages in it are German-speaking. Known as Finges in French, it is one of three regional parks "of national importance" in the country. It was created in 2005, with the Pfynwald, a rare Mediterranean pine forest in the Alps, sitting within it. The park is a biodiversity haven, long loved by biologists, streaked with waterfalls and streams rushing to join the Rhone.
The park is also an association of communes, with businesses and associations encouraged to become partners. "Already, at the outset, we had innovative vignerons in the region," says Viola Anthamatten, vice-director of Pfyn, "and the park sought to cooperate with them."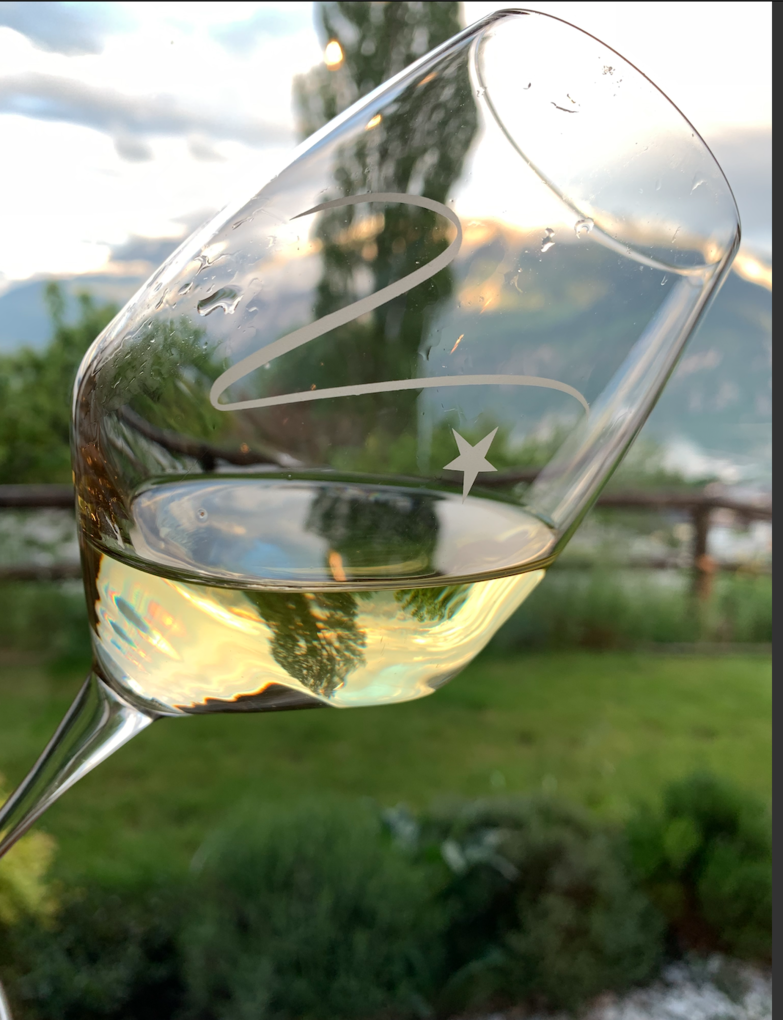 Cooperation takes many forms
Valais is Switzerland's largest wine-producing region, with 4,800 hectares under vine (61% red wine grapes) and some of the country's most exciting, well-made wines from a stunning range of grapes, including the native Petite Arvine and classy Amigne, elegant Cornalin, and lusciously rustic Humagne Rouge. The park's wineries, at the eastern end of the canton, are creative. Competition is fierce; the village of Salgesch alone has more than 30 wineries. One winery here proposed holding a wine-tasting event with scores of people at a long table, outdoors.
The idea caught the public's imagination, was endorsed by and became a canton-wide event, and "Tavolata" is now the current marketing theme of the Valais Wine association. A group of wineries in Leuk celebrates Switzerland's oldest vine by taking turns making the touted Cornalin "Vitis Antiqua 1798" from it and its offspring. Albert Mathier in Salgesch was buying amphoras from Georgia and burying them well before others in Switzerland considered reviving this ancient winemaking method.
So it's maybe not a surprise to find that the park didn't simply invite wineries to join a partnership; to some extent, it was the other way around. "Since the commune of Salgesch was behind the creation of the first nature park in Valais, we can say the developments in the world of viticulture opened the way for the park to come about," says Anthamatten.
From a violent past, a peaceful future
Vineyards and grape production nearly tripled in Valais during the 20th century, from 2,001 hectares in 1900 to 5,259 in 1995. However, the boom years of 1939-69 were encouraged by a dark development: Swiss researcher Paul Hermann Müller's Nobel Prize for discovering the toxic nature of DDT on insects. Chemical treatments simplified vineyard work, parcels were consolidated, woodlands were cleared for vine planting. The notion that biodiversity and wine quality were suffering as a result had not yet gained ground and eco-activism was in its infancy, as shown in a rich exhibition, Vineyards and Nature, at the park's visitor center in Salgesch.
By the 1980s, however, there were signs of change. Officials in Salgesch, concerned about a decline in quality and drop in the area's longtime reputation for excellent wines, created Switzerland's first AOC in 1988. This established lower yields and sugar levels that were later adopted elsewhere in Switzerland. Today this matters less, argues Mounir, "but at the time it was a very important step."
Meanwhile, the developments mentioned by Anthamatten were anything but peaceful in Salgesch in 1980. The small town's vineyards were often hard to reach and wineries argued they should be able to expand the size of their vineyards by pulling up the oaks that are crucial to this ecosystem and adding roads, terraces, and walls. They weren't the only ones in Valais, but the tough stance taken here by ecologists in 1980 in the face of strong and sometimes damaging commercialization of wine drew wider attention.
The canton sparked anger when it approved vineyard expansion plans and some of the work began — only to have the Swiss high court call a halt to it after the World Wildlife Fund (WWF) brought legal action. The arguments between some Salgesch growers, the WWF, and the Valais nature protection body, as well as the commune of Salgesch, erupted into a level of violence that landed one man in the hospital and provoked much speculation over who his attackers were (they were never found).
Next-level biodiversity
Peace was struck in 1995, the result of intense negotiations and work on the part of growers who argued that cooperating with nature served everyone's best interests. The forest came under protection and the park was created two years before the federal government announced its system of "parks of national importance." Wineries agreed on compromises to expansion. A younger generation of growers, raised to consider sustainable development, has helped.
Today wineries host or take part in many of the park's events, from educational vineyard and nature hikes to the sold-out long-table events. Classes in pruning and citizen scientist projects to count local bird populations and build birdhouses are offered to anyone who lives in a member commune.
Is it working? Anthamatten says Covid-19 disrupted plenty, yet the park saw a meaningful increase in visitors in 2020. "Nevertheless, we're sorry that we've all paid too little attention to the fact that the virus is a zoonosis and thus, in the end, a biodiversity problem. The more we maintain biodiversity and therefore guarantee the stability of our ecosystems, the better we'll be able to avoid these problems in the future. And Swiss parks are doing much to contribute to this."
Click here for a list of wineries that carry the Pfyn nature park label. ​