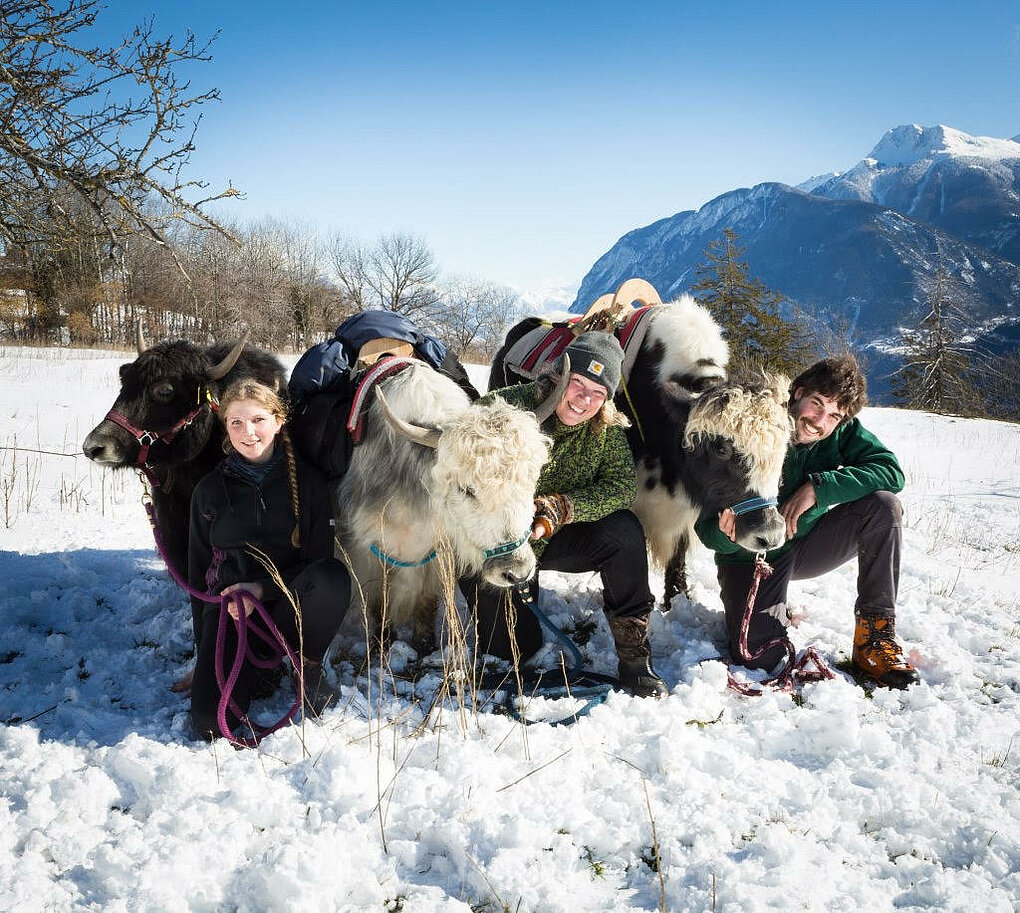 ​There's no "yak crossing" sign in front of Caves du Paradis. Nevertheless, in September cars and trucks on the busy industrial road at the edge of Sierre, Switzerland were forced to cede to sturdy yaks trekking from the vines across to the Paradis cellar, their broad backs loaded with ripe Gamay grapes.
The yaks appeared to enjoy their new temporary jobs, unusual work for a yak, who normally tills or treks. The pickers in the vineyard quickly made friends with the quiet, gentle creatures, recalls winery owner Olivier Roten, once they realized that the long horns would not get in their way — or worse. Grapes were harvested, a dry, fruity Gamay was made, and now it is working its way towards bottling. Roten and Christian Wyssenbach are mulling over the experience, and why you might or might not want to put a yak on a wine label.
Wyssenbach owns the yaks, but he's also a long-time employee and right-hand man at the winery, the cellarman who worked with Roten's grandfather. Yaks —and goats, sheep, horses, a mule, and an ancient pony – are what Wyssenbach sees when he leaves the winery and goes home to the small rescued animals farm where he helps his wife Patricia, who is a specialist in re-educating equines. The farm is near the mountain resort of Crans-Montana. 
The yaks were invited to help with harvest as part of the Wyssenbachs' work to find creative ways to encourage their animals "to be open to new experiences." One yak among the grape carriers, with a lusciously long silvery-white coat and eyelashes to match, was orphaned at birth. After three years, she was welcomed as a member of the Wyssenbach family, wandering into the house much as a large dog might do. When she joined the other rescued yaks, she had no experience as part of a herd; she was shunned and obliged to eat separately.
The animals have been in Europe since at least the early 19th century when a British lord famously tried and failed to import and integrate them on farms; the French were somewhat more successful, tempted by reports of their usefulness as pack animals and suppliers of milk, but also for meat and fur.
The actual vineyard labor was relatively light, says Roten. The animals carried two crates of grapes each and worked for only a few hours, their owners taking care that the animals weren't overwhelmed by this new work, physically or psychologically. The yaks certainly added a cheerful note to the harvest work, he laughs. The winery seems like the perfect cross-cultural place to give Asian yaks a chance to have a new experience working with people when the occasional Swiss job arises (there are about 1,200 of them in Switzerland). When not out harvesting, they accompany people on mountain treks, sometimes carrying picnic baskets — wine included, of course.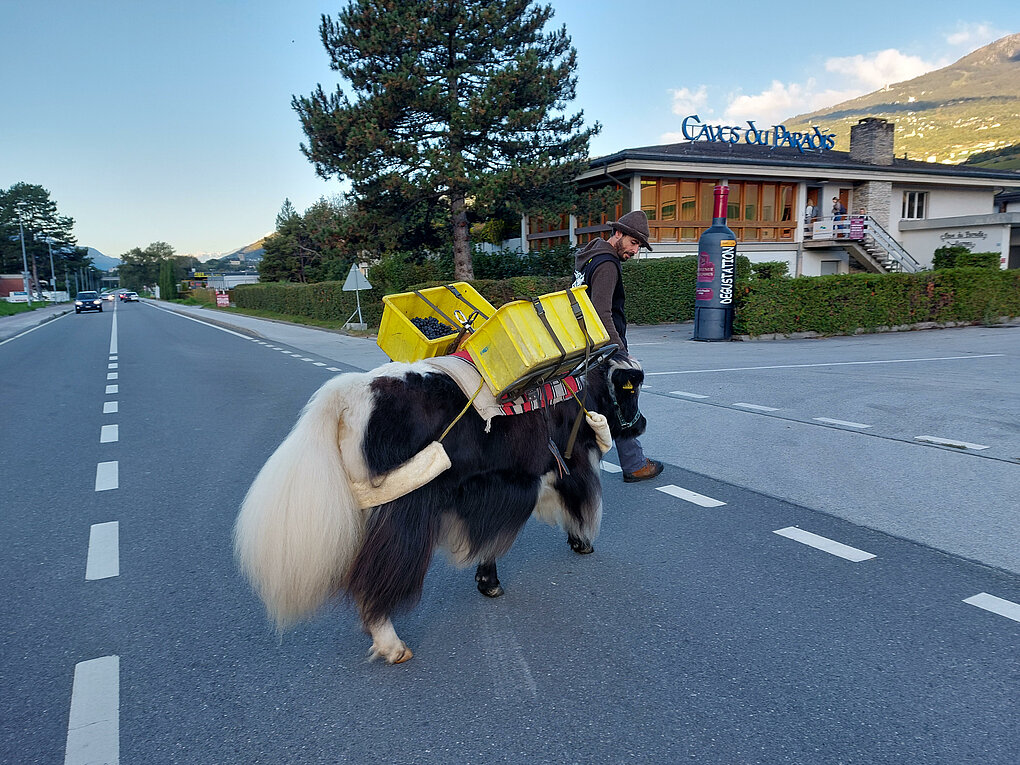 Caves du Paradis is in French-speaking Sierre, with the wild Raspille river that is the German-French divide tumbling down next to it. Its vineyards are on the other side, in German-speaking Salgesch. Roten's mother is French, his father from Leukerbad, and he went to school in both languages. Wyssenbach, too, is bilingual, as is his daughter, who is being educated in German; Patricia speaks French. Roten's wife, Laine Boswell, is American and she runs a business that features an export line of their wine, Avalanche.
The winery was built in 1959 by Roten's grandfather, and expanded by his father. Making bulk wine for restaurants from growers up and down the valley was a large part of the business until recently, although the winery has long had its own brand of bottled wines. After Roten completed the OIV (International Organization of Vine and Wine) Master's degree in Wine Science and Management, he came home keen to use new approaches for a higher-quality bottled line. The results have been impressive, with several wines winning gold medals at the Concour Mondial de Bruxelles, the Swiss national competition Grand Prix du Vin Suisse, and the Mondial du Chasselas.
The Roten Gamay, made with a touch of yak help, is part of the estate's newer-style wines: the 2020 is unfussy and charming, delightfully fresh and crisp, all red berries and balance, made in stainless steel tanks.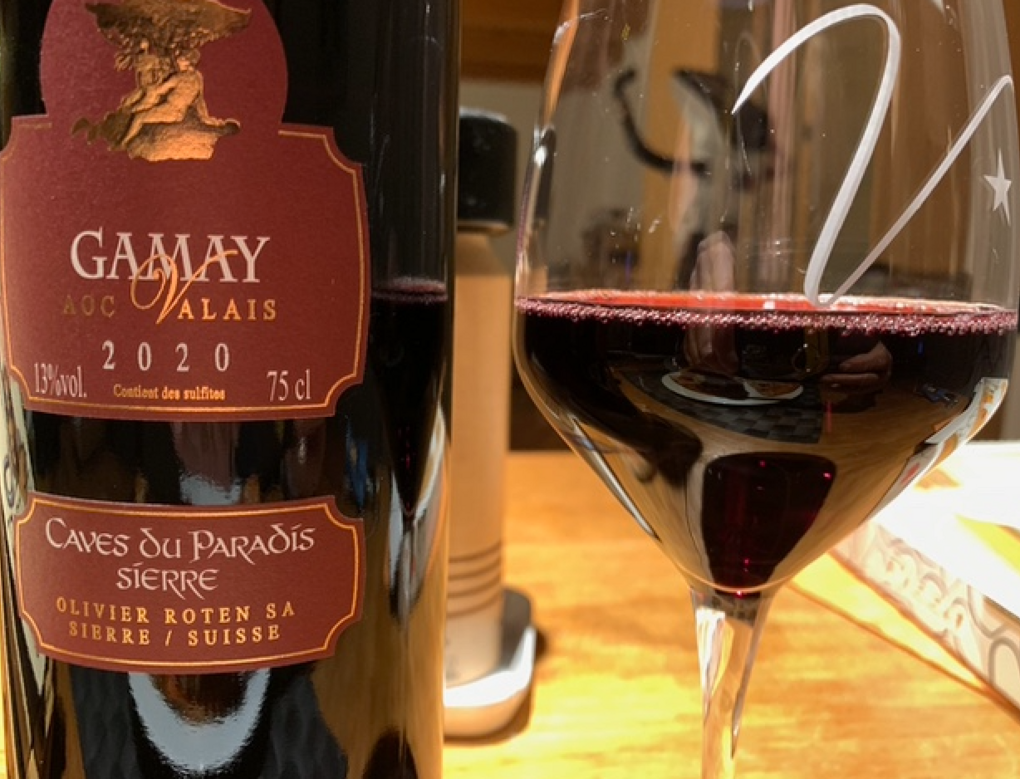 Swiss mountain businesses, including wineries, like to build ties with other mountain communities. Roten is toying with the idea of promoting the Gamay as their yak wine. One possibility is to contribute part of the sales to help shepherd families in countries where the yaks come from; the money could go towards buying a yak to help them weather difficult financial times.
Neighboring winery Domaines Chevaliers has its "Sherpa" wines. Their owner Patrick Z'Brun is an avid mountaineer who climbed Everest. Part of the sales of this wine goes to fund Sherpa village schools.
There are currently no firm plans to give the yaks additional work in the vineyards, although they might enjoy mowing down the green cover (their favorite food) between rows. More seriously, the Wyssenbachs are encouraging people to get to know these mountain animals by taking walks with them on the many trails in the resort area. That kind of familiarity with people, which breeds calmness, will help when they make a harvest-time return to the vines.