Crémant is Germany's Best Kept Secret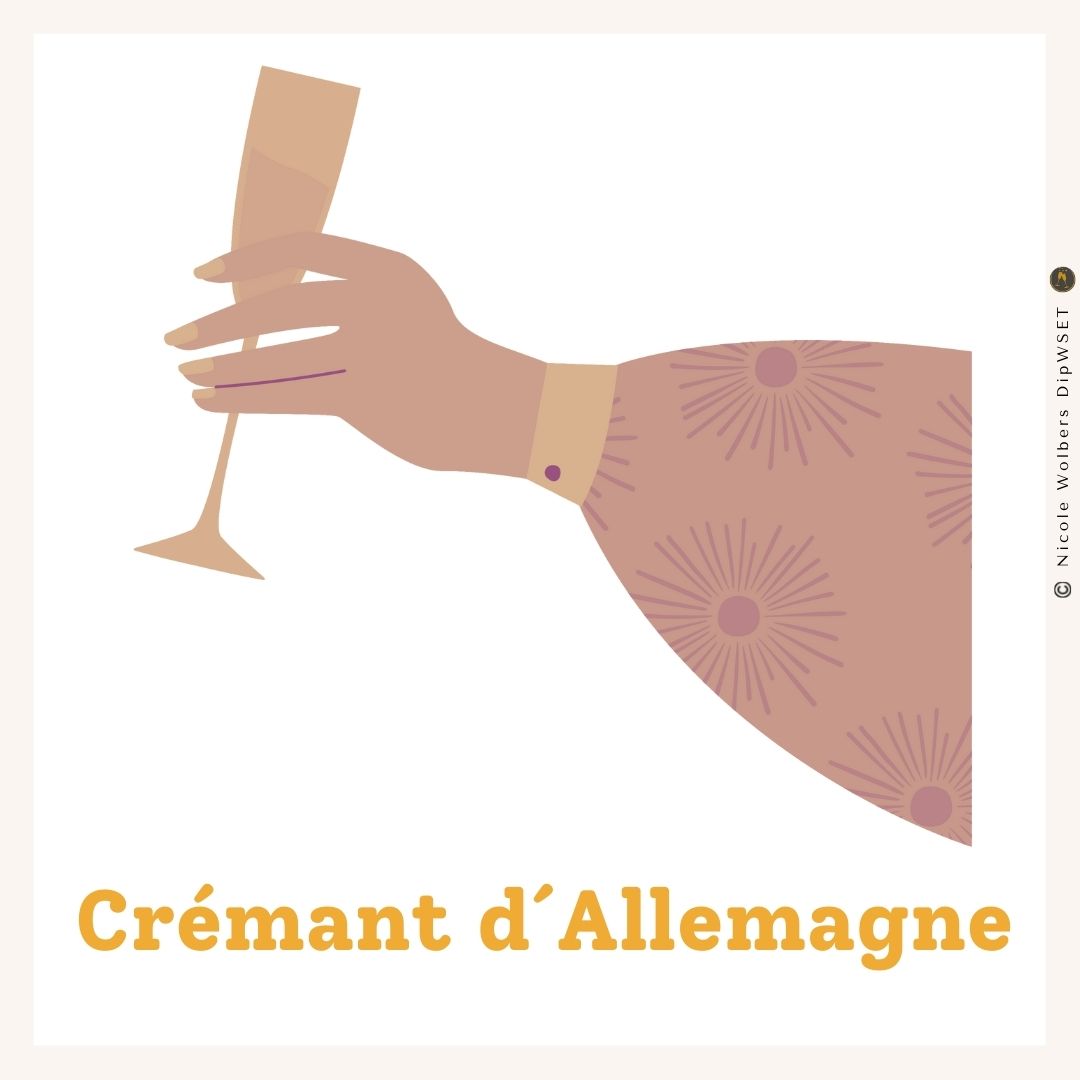 German Crémant is one of sparkling wine's best-kept secrets. The high-quality classification requires strict hand harvesting and whole-bunch pressing to ensure that only the purest juice is used. Since its legalization over a decade ago, it has built a sparkling identity for itself, separate from its more established cousin Sekt.
As one of the world's best-selling sparkling style, crémant has at some point most likely graced your glass. Wine aficionados appreciate it for its delicate mousse, high quality, and ultimate value. Yet even among those who know and love crémant, few are aware that, far from being the sole property of France and Luxembourg, this wine has a long tradition in Germany as well.
Crémant for Europe
Crémant's origins lie in Champagne. Some caves choose to produce not just Champagne, but also a sparkling wine bottled under lower pressure, in the belief that this encourages a gentler perlage (aka mousse). To better distinguish it from the full-pressure sparkling wines, Champagne houses introduced the term fine mousse crémant. When, in the 1980s, the term "Produced using Methode Champenoise" was banned for all European wines except those from Champagne, France's other wine-growing regions adopted the crémant name for their bubbles.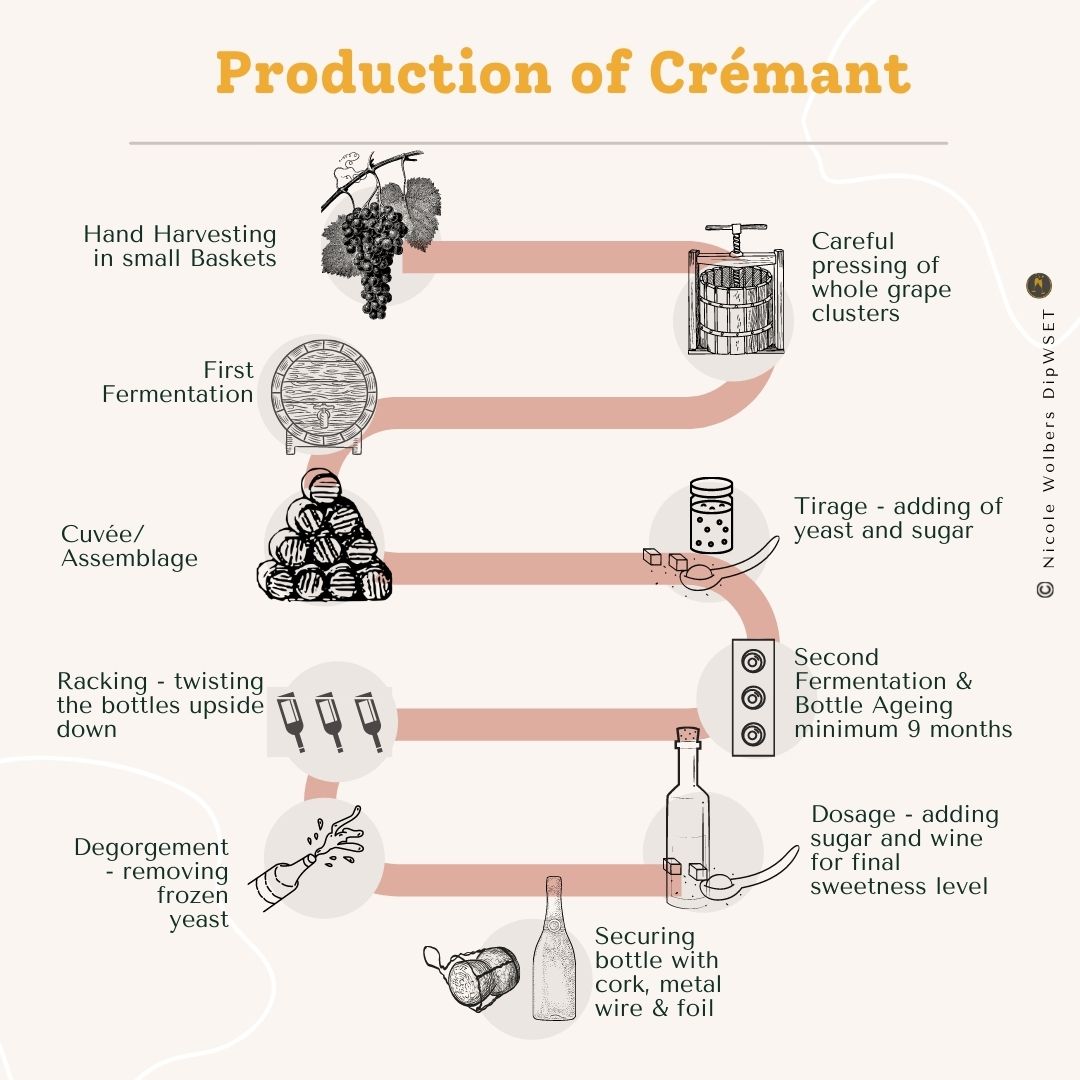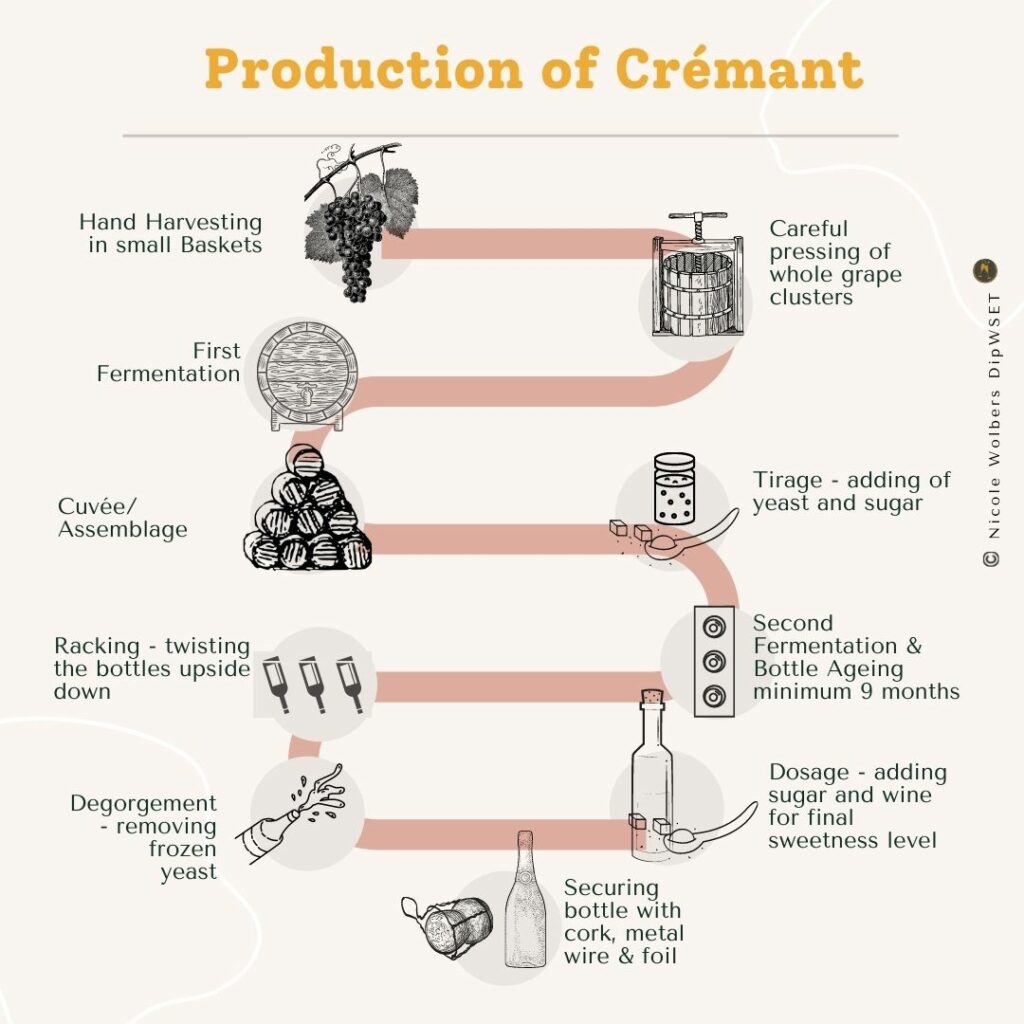 In 1994, famed Spanish cava producer Cordoníu went before the EU Court of Justice, protesting what it called an unreasonable decision to stop marketing its successful Gran Cremant de Cordoníu, which had been sold under that description since 1924. The Spaniards ultimately prevailed and European legislation allowed production of crémant across the EU based on the established traditional production rules.
Crémant from Germany
In 2009, German lawmakers oriented their definition of crémant for German sparkling wines to the EU ordinances. Each growing region was allowed to contribute its own modifications, including permitted grape varieties, residual sugar content, and lees aging. This kicked off a conscious effort by a growing number of German wine estates to pursue what many believe to be the most elegant expression of the art of German bottle fermentation.
Despite the considerable overall sales of sparkling wines—close to 3 million hl of those over 6% alcohol in 2020—the share of what's known in Germany as Winzersekt, or grower traditional method sparkling, totaled an estimated 3.5%, while crémant notched an estimated 0.5% share (estimated value). The real percentage is surely somewhat higher, but unfortunately not all wines produced as crémant are recorded at the regional quality control boards as such.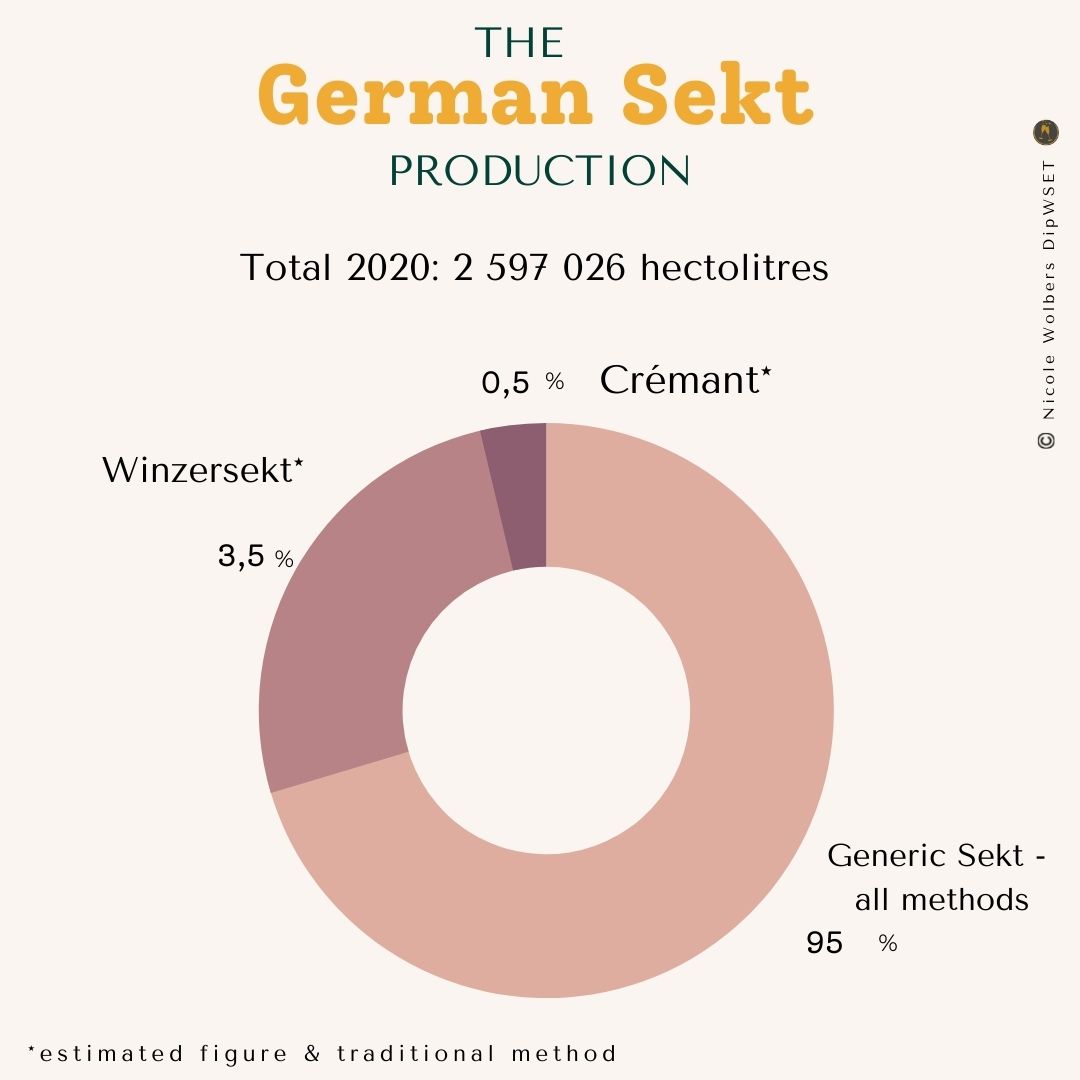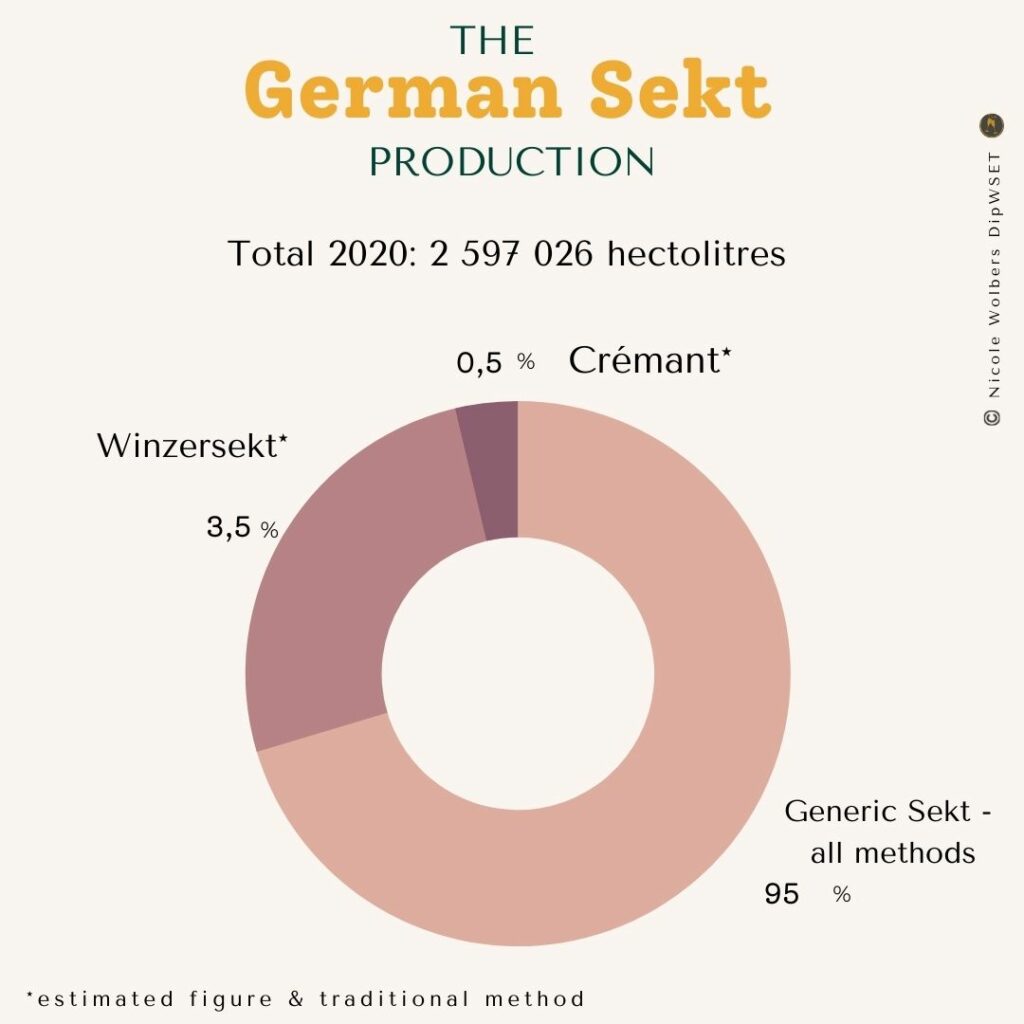 According to Moselwein e.V (an association promoting wines of the Mosel, Saar and Ruwer), producers can reduce paperwork and costs by labeling high-quality bottles produced using traditional bottle fermentation as Deutscher Sekt (German Sekt) instead of crémant, as only sparkling wines from one specific region need to be officially tested by the regulatory board. Beyond this, generic German Sekt brings with it fewer regulations regarding, for instance, origins of the grape. Producers are free to use grapes from different wine regions in one cuvée or buy in high-quality grapes to make their Sekt. This allows greater flexibility compared to the crémant musts, as the grapes must be grown and handled in the winery within the declared region.
Crème de la Crémant
From a quality standpoint, crémant stands at the peak of German sparkling wine production, exceeding the tight requirements of even Winzersekt.
These stipulations include:
Hand harvest
Whole-cluster pressing for wines from white grapes
Maximum yields of 100 liters must per 150 kg grapes
Traditional bottle fermentation
Nine months bottle fermentation
White or rosé style
Residual sugar may not exceed 20 g/l (Pfalz – maximum 15 g/l) which means the wines will never be demi-sec
Use of the term 'crémant' exclusively in connection with the specific wine-growing region (bestimmte Anbaugebiet, or b.A.), such as Crémant Mosel. Crémant can be produced in all 13 wine growing appellations of Germany.
The rules for Winzersekt, by contrast, do not mandate hand harvest or whole-cluster pressing. "Purely from a requirements' standpoint, crémant represents the highest class of quality for German sparkling wine," says Florian Lauer of Weingut Peter Lauer, in Ayl an der Saar. "We are happy to orient ourselves towards that." Lauer says his customers from Luxembourg in particular perceive crémant as the pinnacle of sparkling wine, and automatically understand German bubbles the same way. The same applies to sweetness level: customers expect a dry palate. Indeed, while the majority of producers produce Brut, Brut Nature is enjoying an increased popularity due to the excellent natural ripeness of German grapes along with their acidic freshness.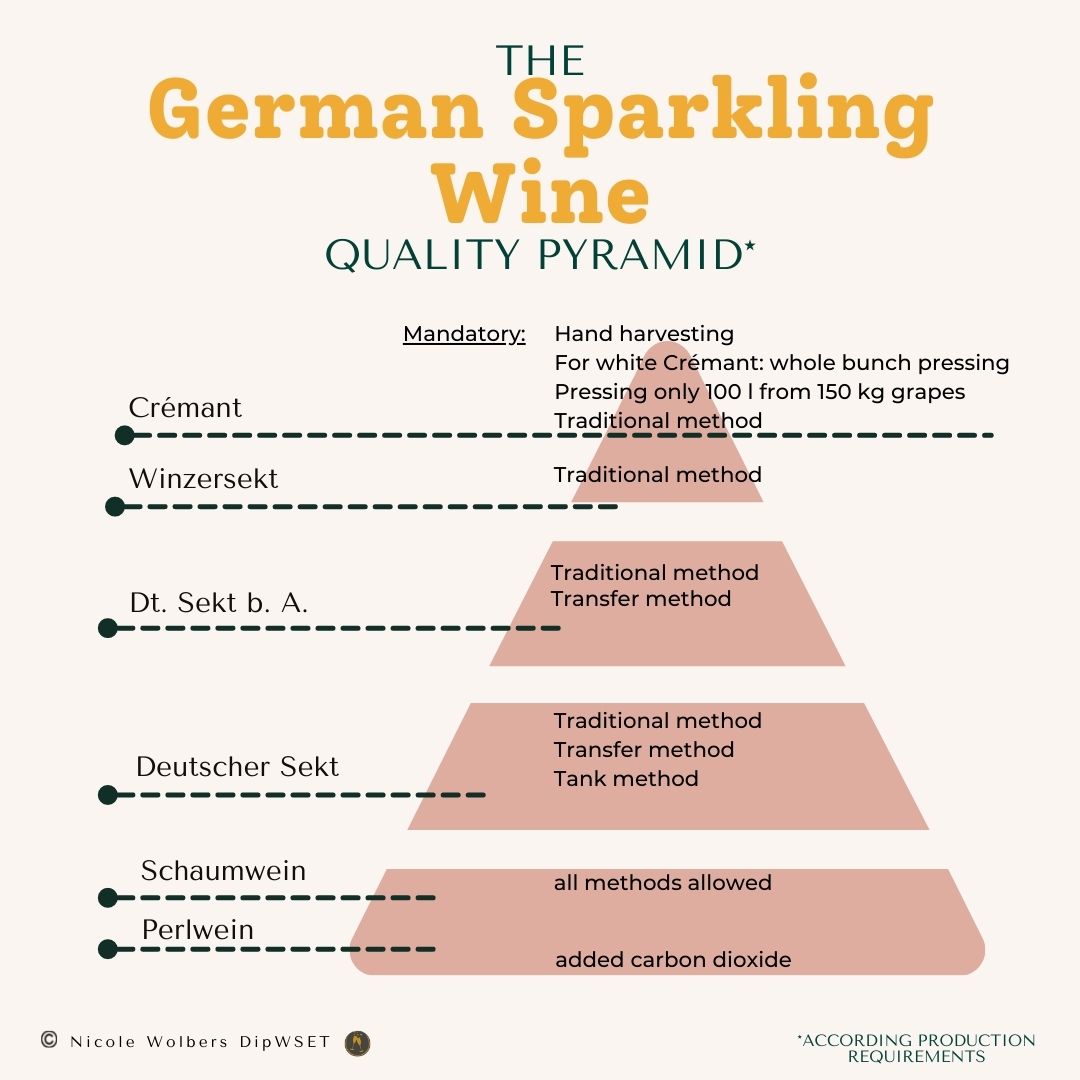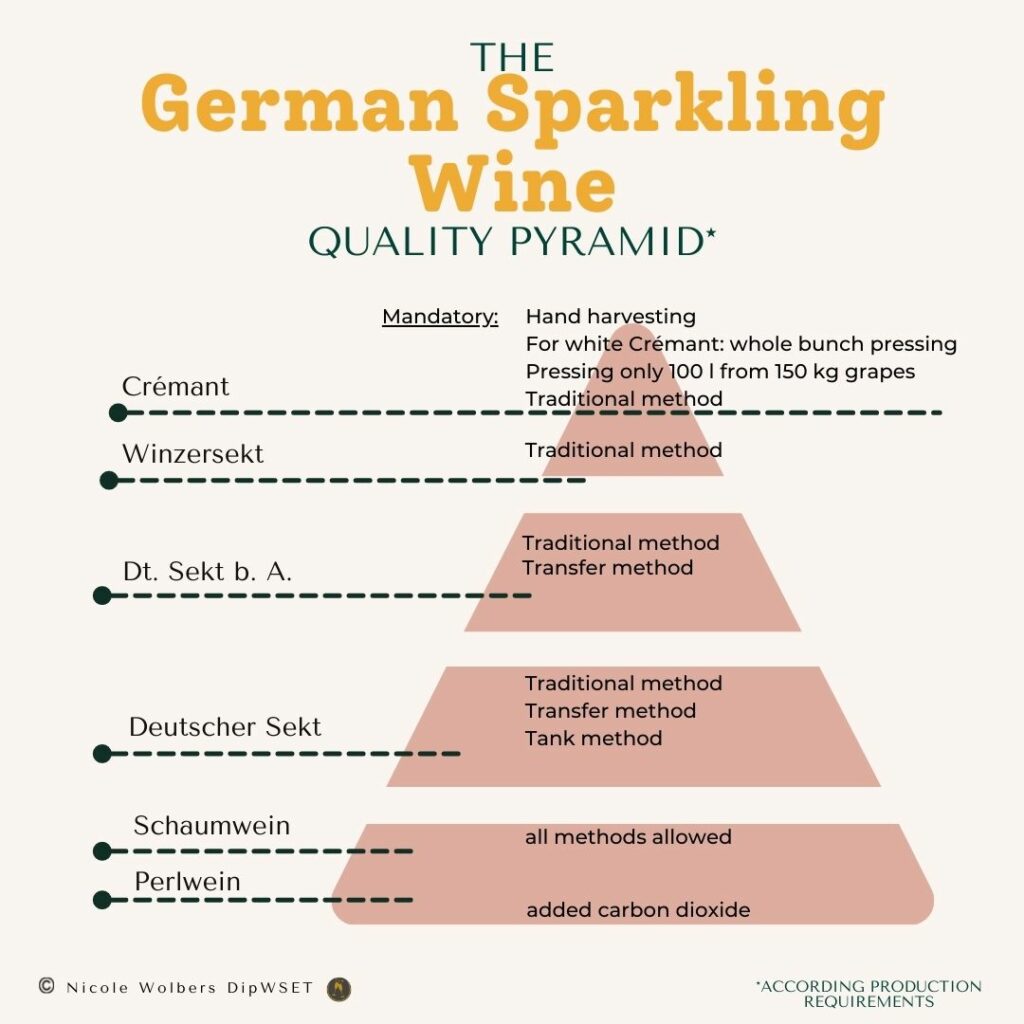 Susanne Winterling from Wein- und Sektgut Winterling in Niederkirchen, Pfalz, emphasizes the value of crémant to consumers: they always know precisely which region the grapes came from. The category offers a legal guarantee that the wines were produced according to the highest standards within the German sparkling wine classification.
Culture and Tradition
Crémant has particularly deep roots in the historical region that stretches from Luxembourg through the Mosel and across the Rhine, known as Moselle Franconia. And a close look quickly reveals how the culture, history, and lifestyle common to these regions are interwoven into this sparkling wine. Just as in neighboring France, the importance of food and wine in daily life quickly becomes evident. Conviviality is also a major part of the culinary framework.
Today, German crémant has established itself as a pocket of exceptionalism in the sparkling wine world. "For us in the Saar, at the junction of Germany, Luxembourg, and France," says Lauer, "the term 'crémant' is simply an everyday thing. Local customers ask for it by name."
Where is Crémant Produced in Germany?
Although crémant can be produced legally in each of Germany's winegrowing regions, strong cultural ties between France and Luxembourg in the country's southwest mean that the majority of producers (roughly 50 estates) are located there.
Within its own niche, crémant is on an upward curve. While 698 hl (24 estates) were produced in 2019 in the Pfalz, that figure rose to 850 hl (25 estates)* in 2020. Baden also saw a jump from 237 hl (7 estates) in 2019 to 730 hl (14 estates) in 2020**. The style is also ascendant in the Mosel, primarily in the upper Mosel, Saar, and the area around Trier.
The most recent player in this field is also the one with perhaps the most sparkling experience: the Rheingau. In 2021, Weingut Bibo Runge released its Lagensekt Crémant Rheingau Pinot Noir Hallgartener Schönhell—the first crémant anywhere in the wine region. CEO and owner Markus Bonsels says the premium quality and high production standards appeal to their clients. Crémant offers an opportunity to experience the singular expression of the signature vineyard Hallgartener Schönhell: Gentle south and southeast facing slopes allow the Spätburgunder (aka Pinot Noir) to thrive in the mix of clay, loam, and gravel soil, achieving a lovely fruity ripeness while preserving acidity.
Variety and Joy
Thanks to the regionally differentiated choice of grape varieties, crémants are produced from more than just Chardonnay and Spätburgunder. First and foremost: Riesling, especially from Mosel and Pfalz, where styles can range from lean, racy, and mineral-driven with a delicate fruitiness to creamy and rich with a cornucopia of ripe fruit aromas.
"The creaminess of the yeast pairs with the animating expression of the variety, making Riesling an ideal lees contact wine," says Lauer. He is legendary for making sparkling wines with up to 20 years of maturation behind them. Other bottlings include floral and finely fruity varieties such as Auxerrois, Weiß- und Grauburgunder, (aka Pinots Blanc and Gris) and Muskateller, which impress both as cuvées and monovarietally. Red varieties such as Schwarzriesling (aka Meunier) and Spätburgunder tend to be found in blends as well as in Blanc de Noirs.
The High Art of German Crémant
For quality sparkling wine fans, crémant offers incredibly good value. One can confidently say that there are few that disappoint, which is a statement in and of itself. "In Germany," says Lauer, "crémant is associated with quality, since there are few cheap French versions on the market!" The wines taste notably drier than their French counterparts, and are often produced as Brut Nature. Crémant d'Allemagne offers top artisanal craftsmanship paired with complex enjoyment and provides wonderful insight into what regional German sparkling wine can be.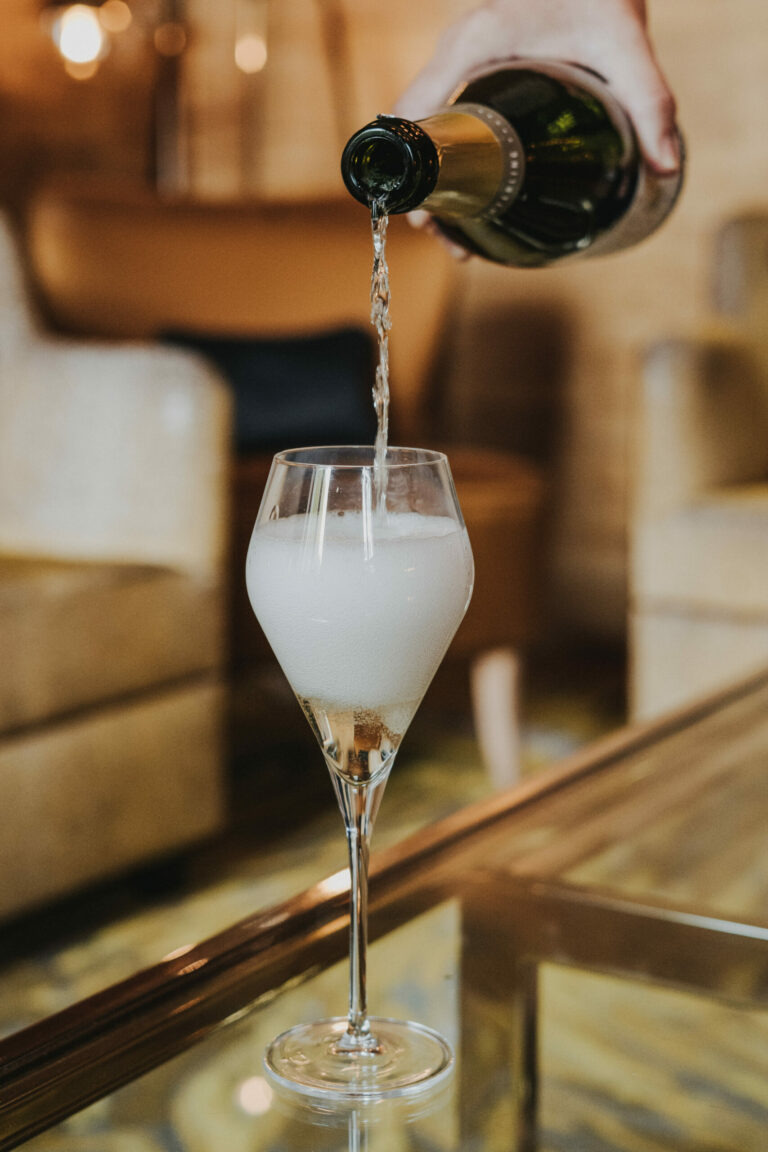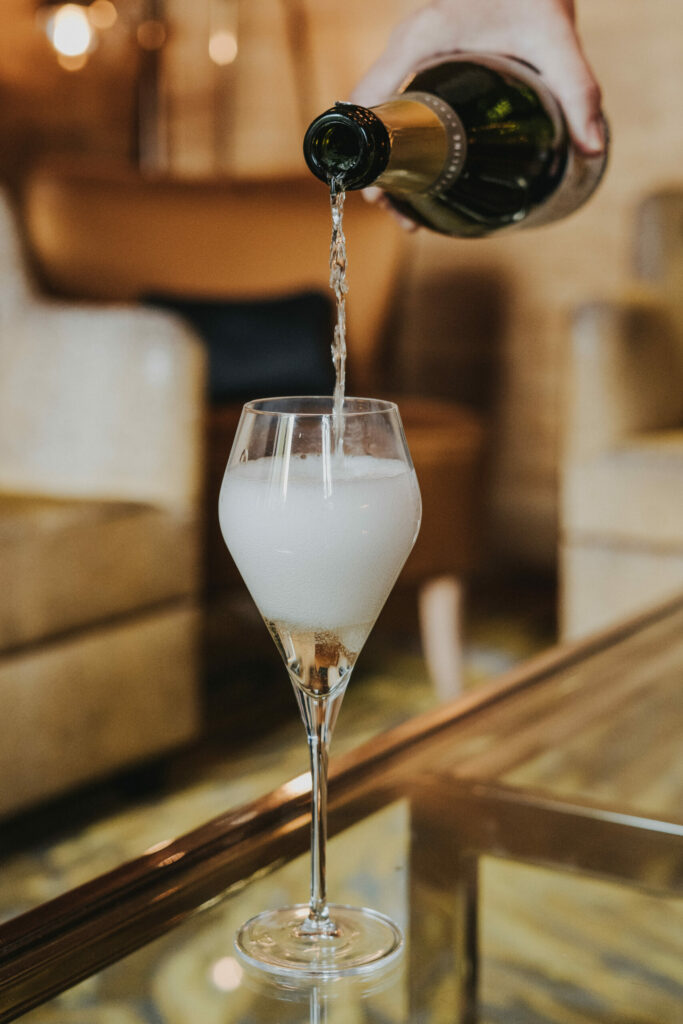 Wines to Try
Privat-Sektkellerei Reinecker, Baden
This sparkling wine producer is well known within the German Sekt world. The Reinecker family were very early entrants into the production of high-quality bottle-fermented wines in Baden. Even the entry-level wines offer a terrific insight into the impressive portfolio. A cuvée of Sauvignon Blanc, Weißburgunder, Chardonnay, and Spätburgunder, the Crémant Baden NV makes its case with a freshness and lightness that belies the warmth of the region. Nuanced aromas of elderberry, apple, and pear as well as tropical fruit linger together in this complex crémant. Notes of rising bread dough, hazelnut, and an array of fruit aromas come together on a mouthwatering, saline palate marked by a fine, subtle sweetness. Elegant, racy, and delicately, delightfully fruity.
When looking for a Riesling from the Saar, all roads lead to Weingut Peter Lauer. The Riesling vines thrive on the region's famously steep slopes. Beyond still wines, the sparkling version also offers a unique thrill. A magnificent choice for those who like their crémants fresh, crisp, and saline, such as the Saar Riesling Extra Brut.
Yet at Florian Lauer's estate, well-aged Riesling crémants also more than make the cut, offering a fascinating study of the development potential of sparkling Rieslings with extended lees contact. The gently moussed Crémant 1992, despite its creamy, deep, and vinous nature, never loses its characteristic verve on the palate. Aromas of mushroom, hay, smoked bacon, and dried fruit make this a beautiful pairing with any meal. 
Weingut Stephan Steinmetz, Mosel
Scratch the surface of Mosel winemaking and you'll soon find the historical grape variety called Elbling. The shell limestone soils of the southern Mosel are perfect for Pinot varieties and for Elbling, while Riesling plays a lesser role. It is anything but simple to produce good wines from these striking, distinctly acidic grapes. Yet Stephan Steinmetz, of the eponymous estate, is a master of his craft, producing sparkling versions that are pure pleasures. The delicate creaminess of his chalky Elbling Crémant Brut enchants through its typicity, with fragrant aromas of stone fruit, juicy citrus as well as subtle hints of still-warm cake.
Wein- und Sektgut Winterling, Pfalz
In the heart of the Pfalz, in Niederkirchen near Deidesheim, the Winterling family were among the first to discover the wonders of crémant. They began producing these sparklers back in 1982. Alongside the powerful, mineral-rich single-site Sekt Ruppertsberger Reiterpfad Riesling Brut Nature, the Pinot Rosé Brut offers an expression of the estate's craftsmanship. Spätburgunder, grown on heavy, calcareous clay soils, shows just how elegant a German crémant can be. With a fine bead on the palate, the aromas dance between wild berry and sweet grapefruit. Spicy and refreshing.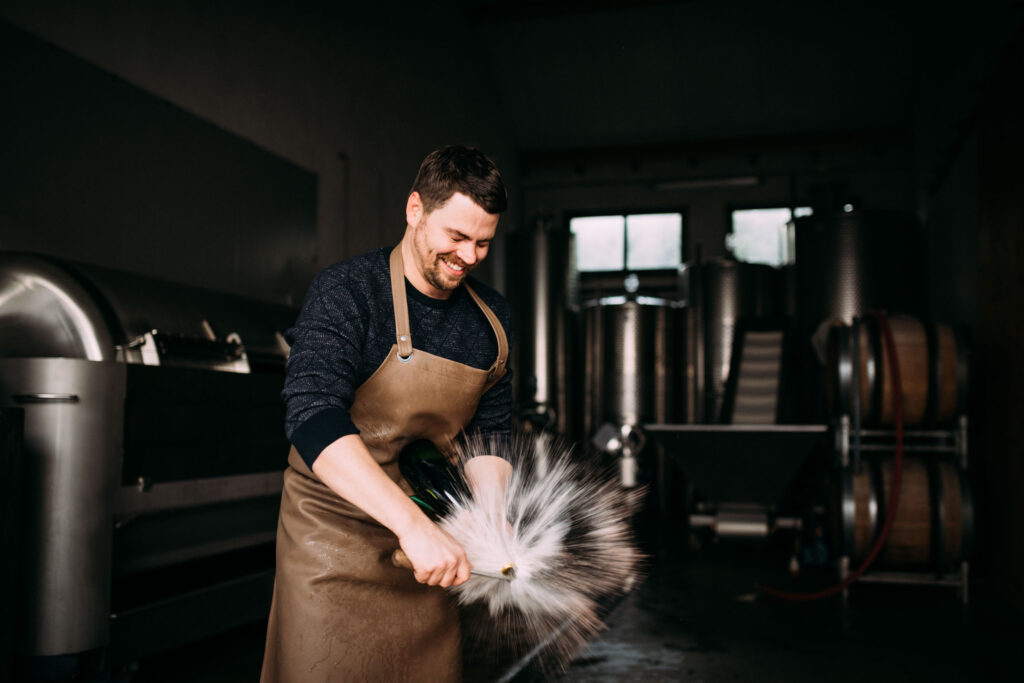 Alongside its rosé Riesling Sekt Provokateur, Monika Eichner and Markus Bonsels of Weingut Bibo Runge have once again produced another surprise: the first crémant from the Rheingau. Hallgartener Schönhell Zero Dosage is a monovarietal Pinot Noir from the estate's signature site. Nuanced aromas mingle with an enticing mix of herbs, rosehip, juicy currants, and nuts. Approachable and refreshing with a delicate mousse that caresses the palate. A crémant that promises a long and beautiful future to come.
---
Translated from the German by Weinstory.de