Still A Place For Prädikat?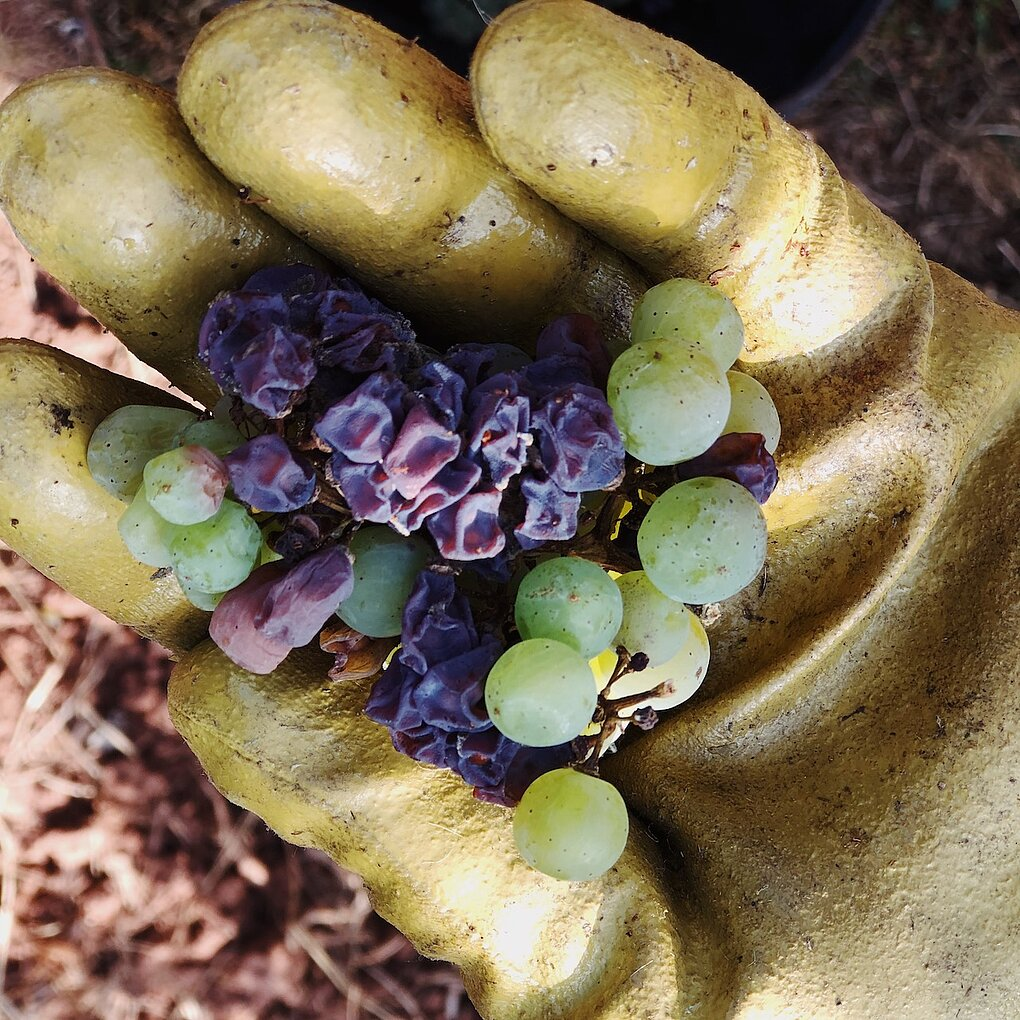 The one piece of German wine law I thought I fully understood was the Prädikat system. First, I memorized the Prädikat levels. Later, I memorized the minimum must weights. I pushed aside my frustration that the sweetness of a wine did not correspond with Prädikat level — accepting that residual sugar wasn't part of the system.
Before visiting Germany, I never expected that the lack of consistency in sweetness for Prädikat wines would be an ongoing point of tension in the very country that came up with the system. Or, that by prioritizing origin over Oechsle degrees, Germany's renowned wine organization Verband Deutscher Prädikatsweingüter (VDP) would in essence dismiss the entire century-old philosophy of Prädikat wines that they themselves helped create! Beyond sweetness levels, I never considered that there would be disparities in the way minimum must weight was achieved, or that how that level was achieved was ultimately just as important as the level itself.
Over the course of a very cold week in December, visits with three German producers brought me to the realization that the parts that I'd pushed aside or left unquestioned were perhaps the very key to understanding Prädikat wines.
The Provenance of Prädikat?
In 1971, the German government gathered a group of people with Master's degrees in obfuscation in order to achieve more clarity in labeling laws. This group divided wine into two quality categories (Landwein was only added a decade later, in 1982).
The base category, they decided, was simply to be dubbed Wein, and needed no geographic indication. The next step up, Qualitätswein, required that the grapes be grown in one of Germany's 13 recognized growing regions — a.k.a. Anbaugebiete — in order to carry a region's name on the label. Chaptalization, practiced to raise alcohol levels, was allowed for both categories. However, a subcategory of Qualitätswein, called Prädikatswein, prohibited chaptalization and divided grapes into different quality levels based on the natural minimum sugar level of the must. These Prädikatsweine were acknowledged as the highest quality wines.
But the idea for Prädikatsweine dates back much further.
In 1910, an agricultural organization called the VDNV (Verband Deutscher Naturweinversteigerer– Association of Natural Wine Auctioneers) was founded to support the making and marketing of natural, unchaptalized, wine. The organization set strict quality standards, implementing rules for everything from planting, grape varieties, and yields to the timing that harvest could take place and the cellar practices that could be implemented. The resulting wines were recognized to be of superb quality. Members printed an eagle logo on their label, a version of which continues to be used today, for easy identification.
Instead of collapsing when the 1971 German wine law implemented the Prädikat system and made the term 'natural' illegal in wine labeling, the VDNV pivoted to become the VDP. Members agreed on even higher quality standards and lowered yields, set an increased minimum must weight for each Prädikat over what the wine law of 1971 demanded, made estate bottling a requirement, and focused on creating a system to classify the highest quality vineyard land.
Over time, the mission of the VDP morphed from promoting natural ripeness to promoting top vineyard sites. In 2012, they launched a four-tier vineyard classification starting with Gutswein and culminating in Grosse Lage. The big idea? "Origin Is Everything." That same year, the organization decreed that its members could only use Prädikat for wines that were off-dry and sweet. Grosse Lage dry wines, under the new system, had to be registered as Qualitätswein…which meant that they could be chaptalized.
Oh, the irony.
Squabble Over Sweetness
Weingut Koehler-Ruprecht, known for its high quality wines raised in traditional German oak Stück, Halbstück, and Dopplestück (with these casks often being 100 years old), was one of the longest standing members of the VDP, having joined the organization in 1926 when it was still the VDNV. It then left the VDP in 2014 (the regulations put forward by the VDP in 2012 allowed for a changeover period).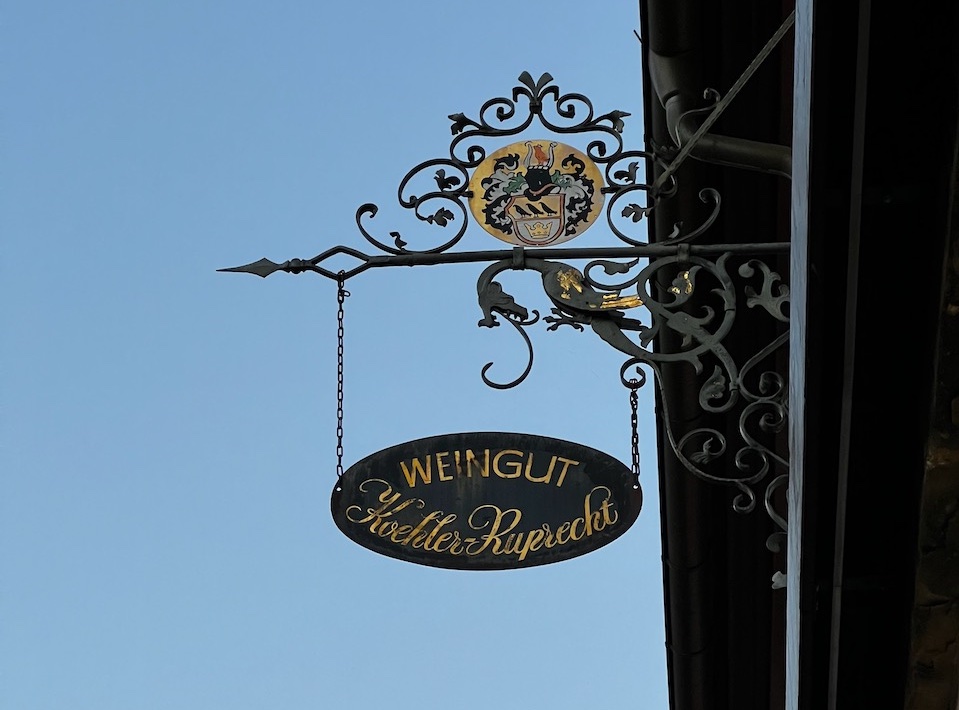 While Koehler-Ruprecht is resolutely against chaptalization for top quality wines, the split was much more about the estate's interpretation of the Prädikat system. In a single year, Koehler-Ruprecht makes at least three different Rieslings from the same vineyard at different Prädikat levels — all of them dry. In 2020, they produced Kallstadter Saumagen Kabinett Trocken at 12% abv, Kallstadter Saumagen Spätlese Trocken at 12.5% abv, and Kallstadter Saumagen Auslese Trocken at 13.5% abv. Each wine expresses the vineyard but varies in richness and mouthfeel. Their interpretation of the Prädikat system has nothing to do with residual sugar of a finished wine and could be more comfortably compared with Vinea Wachau's classification of Steinfeder, Federspiel, and Smaragd. Have no fear, this philosophy is not unique to Koehler-Ruprecht.
Throughout most of Germany's winegrowing regions, other growers including J.B Becker, Stein, Sybille Kuntz, and Hermann Ludes, have chosen to view Prädikat through the lens of the different levels of viscosity, mouthfeel, and body weight achieved by fermenting different must weights to dryness for at least some of their portfolio — like Koehler-Ruprecht they label these wines with the Prädikat followed by trocken.
And so you have the split between what Prädikatswein means to those within the VDP and those outside the VDP. But keep digging, and you will soon find that to Prädikat or not to Prädikat is only the beginning.
Picking for Prädikat
Even among those who subscribe to the same interpretation of Prädikatswein with regards to residual sugar levels, how those sugar levels are achieved in the vineyard is governed by two distinct philosophies.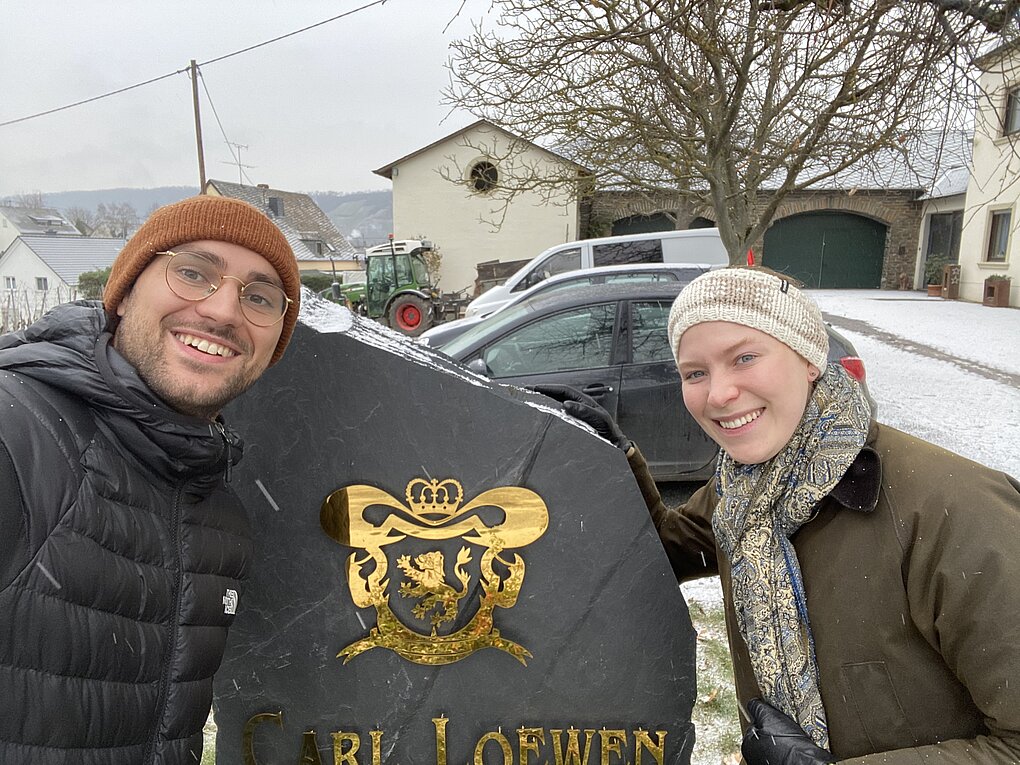 The first philosophy contends that every vintage is different and thus optimal ripeness is achieved at a different must weight every year. A vineyard may achieve perfect ripeness at Kabinett level one year but not until Auslese the following year. Or that vineyard may be capable of making a full range of Prädikats as a picking season progresses. But in this philosophy a grower never guarantees or tries to predict that they will make a certain Prädikat level from a certain vineyard. They pick in passes, or just in small areas to select perfectly ripe fruit and then see which Prädikat the picked fruit fits.
A vineyard may achieve perfect ripeness at Kabinett level one year but not until Auslese the following year.
The second philosophy contends that a vineyard's unique slope, aspect, and drainage result in a microclimate that best suits it to make a certain Prädikat level. By selecting the Prädikat level that best suits the vineyard, and making that Prädikat level every year, the wine produced better expresses vintage variation. To best express the terroir, a grower will pick an entire block to offer a snapshot of the various ripeness levels and marry them to show the whole of what the block gives. Pick date is key in order to fall within the accepted range of Prädikat for the entire block.
J.J. Prüm subscribes to the first. Carl Loewen to the second.
The Prüm family has been making wine in the Mosel village of Wehlen since well before Christopher Columbus casually invented adverse possession. They were a founding member of the VDP and their committment to producing high quality sweet wines predates even the Prädikat system itself.
In this sense, you can tell what a vintage was like by what bottlings they produce from which vineyards.
"The ideal ripeness of a parcel changes year to year,' Dr. Katharina Prüm tells me. "Sometimes I visit several times to harvest the fruit of a parcel at peak ripeness. I can harvest Kabinett, Spätlese, and Auslese in one day in different parcels." Unlike some, J.J. Prüm never declassifies their fruit to a lower Prädikat level. If the vineyard doesn't give them a certain level of ripeness, they don't make that Prädikat. In this sense, you can tell what a vintage was like by what bottlings they produce from which vineyards.
The Loewen label, by Christopher Lowen's own description, is an "up-and-coming producer." Despite the family having acquired their first vineyard in 1805, it has only been in the last two generations that wine has become the sole focus of the estate. The family has prioritized old ungrafted vineyards on steep slopes and in the last fifteen years has garnered an international reputation for quality.
"It's incredibly difficult to choose the harvest date," Christopher Loewen tells me. "I will have different ripeness levels in a vineyard and they will contribute to the complexity of the wine but together it needs to match the Prädikat." Over time Loewen has found that the Longuicher Herrenberg vineyard lends itself best to Kabinett, the Leiwener Laurentiuslay vineyard to Spatlese, and the Thornicher Ritsch vineyard to Auslese.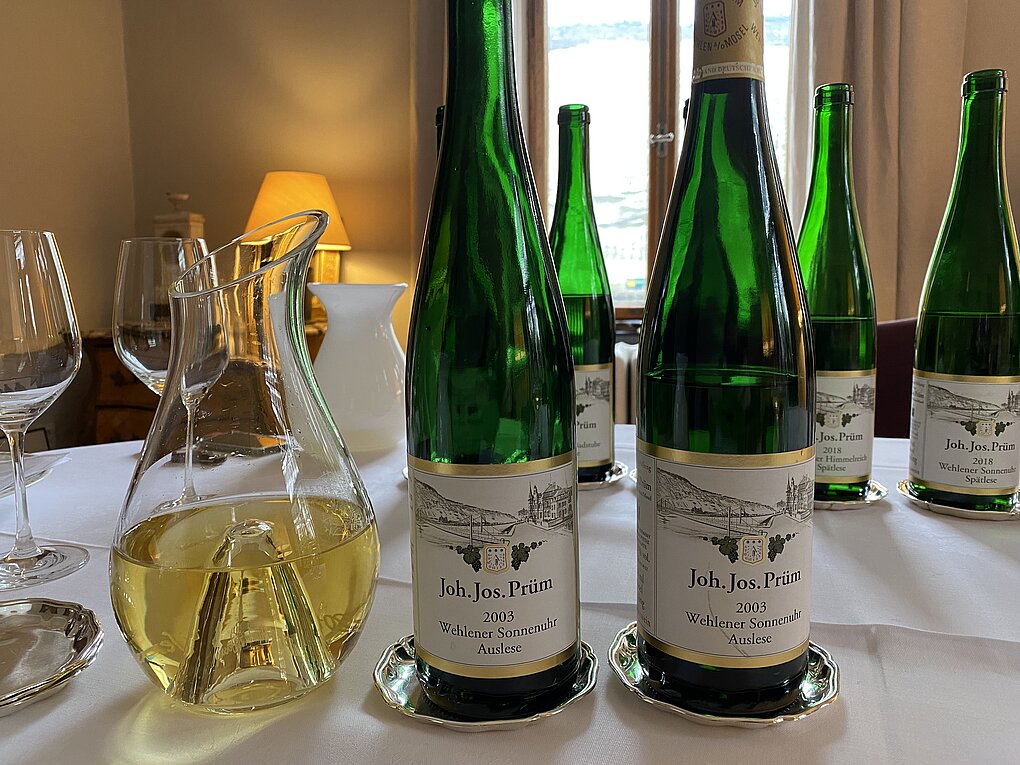 "2013 was a beautiful year for botrytis." Prüm says while explaining how she decides which Prädikats J.J. Prum will produce from which vineyard. "The only Spätlese we made was from Wehlener Sonnenuhr, everything else was a higher Pradikat. We had to select the healthy grapes [from the botrytised ones] for the Spätlese, the opposite of usual. You have to control for vintage."
"A wine should always express its vintage," Loewen says.
"If I wanted a vineyard just for Kabinett, I wouldn't have balance," says Prüm.
"If I harvested in passes, it wouldn't show the expression of the parcel or the vintage," says Loewen.
I sat with two sets of magical wines and two incredibly intelligent and worldly winemakers on the same day, in two different wineries, less than 25 miles away from each other. Their wines made it impossible to say who was correct.
Prädikat Predictions?
There seems to be an inextricable link between the actions of the VDP and what happens with German wine law. In 2021, a new German wine law adopted the VDP classification of vineyard hierarchy dividing Qualitatswein into six categories with the lowest levels referencing Anbaugebiete and regional wine. The next four are the VDP categories of Ortsweine, Einzellage, Erstes Gewächs, and Grosses Gewächs…the catch?
Erstes Gewächs and Grosses Gewächs are only for dry wines and cannot be labeled with Prädikat. While producers are still free to label with Pradikat followed by "Trocken" to denote a dry wine, in essence the law (instead of VDP mandate) prioritizes a single dry wine per site (only one GG per producer per site is allowed) instead of a range of dry wines from different ripeness levels.
As a consumer, the only thing I like more than straightforward labeling is a variety of options. And I hope that the new labeling law does not push Prädikat strong dry wine producers to jump on the bandwagon, limiting options for the sake of simplicity. In the debate on whether Prädikatswein should be allowed to be dry or if minimum must weight should be achieved in one pass of an entire vineyard or in multiple passes for multiple levels within a single vineyard…I have no opinion. My only opinion is that diversity of options is far more intellectually stimulating than a single system.
Tasting Notes
2020 Koehler-Ruprecht Kallstadter Saumagen Kabinett Trocken, Pfalz
A stony nose with ripe melon, pineapple, and dried apple. Fig and cologne spice. The palate is driven by a linear high acidity with flavors of fennel and cedar musk. Quite dry and light but rounded in body.
2020 Koehler-Ruprecht Kallstadter Saumagen Spätlese Trocken, Pfalz
Spicy radish greens, melon, pineapple, savory, and chamomile on the nose. Mineral with intense, high acidity. Despite the mouthwatering acidity, this is weighty on the palate with more melon juiciness and a fuller body than the Kabinett.
2020 Koehler-Ruprecht Kallstadter Saumagen Auslese Trocken, Pfalz
Rich aromas, incredibly ripe cantaloupe and peach. Blind I would have thought it was Austrian Riesling in Smaragd style. Desiccated florality leads to a spicy phenolic palate with pithy lemon and grapefruit character.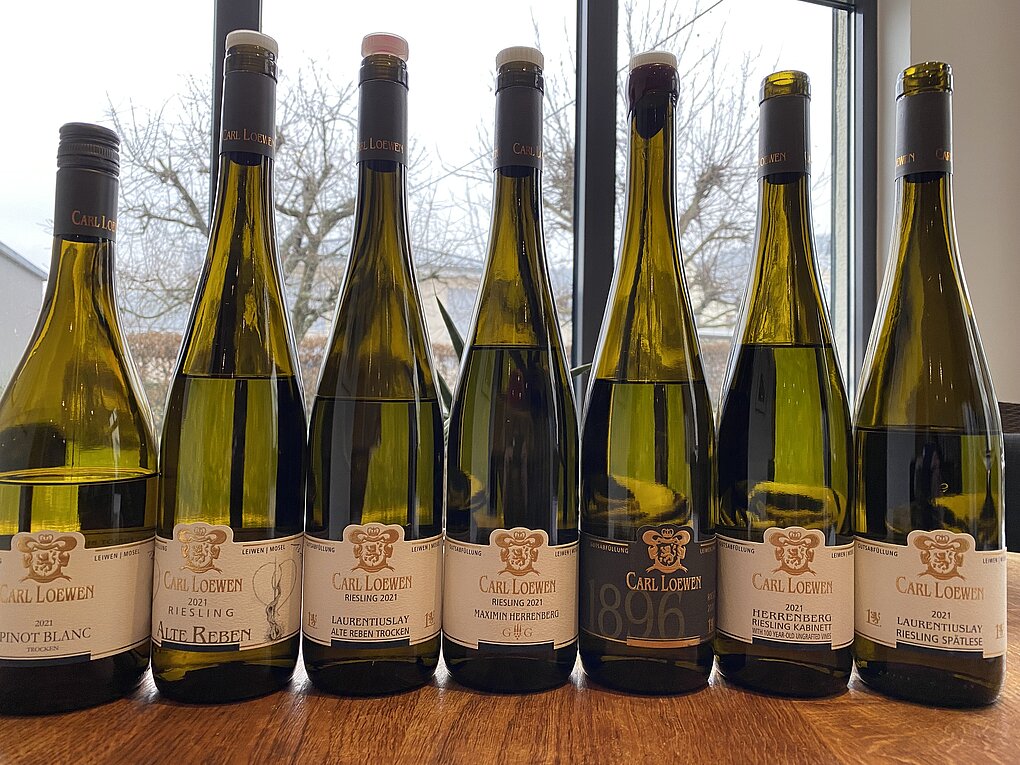 2021 Carl Loewen Longuicher Herrenberg Kabinett, Mosel
Medium lemon green in color. Volcanic mineral reduction gives way to delicate blossom aromas, lemon, and savory tarragon and makrut lime. Restrained sugar levels round out moderate plus acidity levels. 38g/L RS.
2021 Carl Loewen Leiwener Laurentiuslay Spätlese, Mosel
Medium lemon green in color. Crushed granite on the nose with a curry leaf reduction, cumin, and a salt spray alongside lemon peel and light blossom aromas. Creamy mouthfeel and sweetness balanced by high acid. 53g/L RS.
2020 J.J. Prum Wehlener Sonnenuhr Kabinett, Mosel
Pale lemon green in color. Lemon lime aromatics with grass and curry leaf. Very fresh high acidity and sight effervescence on the palate. Delicate sweetness with lime zest character.
2018 J.J. Prum Wehlener Sonnenuhr Spätlese, Mosel
Pale lemon green in color five years down the line. A slight prickle on the palate. Mineral honeysuckle nose with fresh quince, lavender, orange, and vanilla blossom. Extremely delicate and intensely aromatic with well-balanced sweetness. Fresh and light with high lime-like acidity and a salty slatiness.
2003 J.J. Prum Wehlener Sonnenuhr Auslese, Mosel
Deep gold in color. Nectar. Silken texture with apricot, persimmon, candied lemon, honey, and saffron. Intensely complex and incredibly sweet with well-balanced acidity and a long, unraveling, unctuous finish. 115g/L RS.