When Wines Play the Lang Game in Austria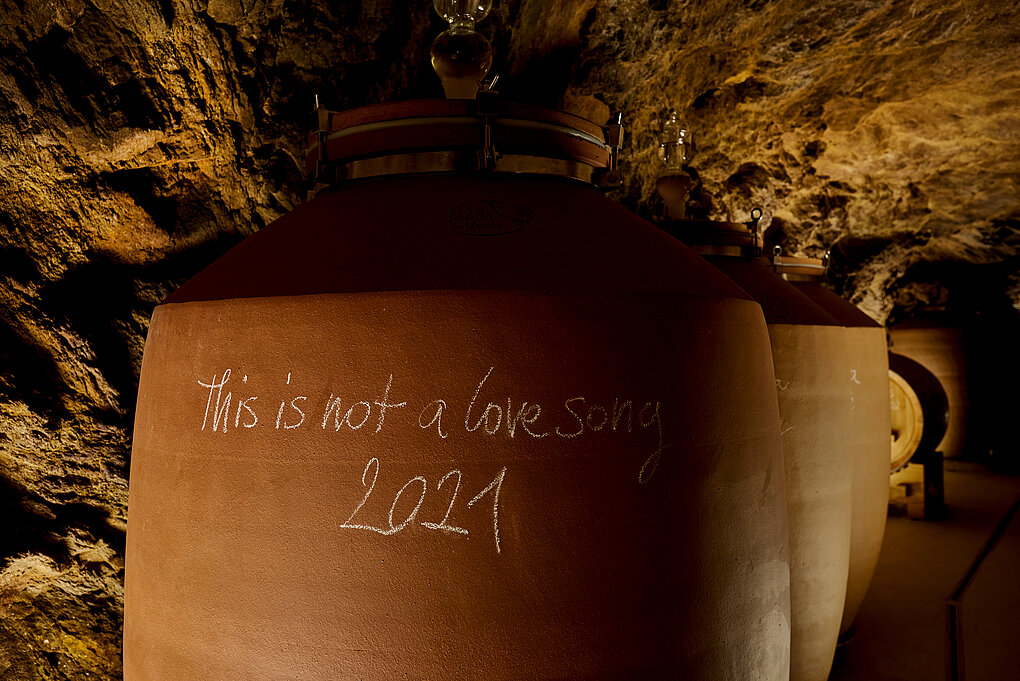 ​"In the past, nature held very little meaning for me," Kremstal winegrower Markus Lang admits when asked to remember the first impressions of his vineyards. Fifteen years ago, he came to the parcels on Austria's Steiner Schreck as the Virgin Mary to her child: naive and fully unprepared. He inherited the vineyard from his great uncle, whose winemaking reputation preceded him… for wines to be avoided at all costs.
"But opening the gate to the vineyard for the first time, I was struck by a feeling that I belonged there," he recalls. "So I got to work. And it was a lot of work. The vineyards were completely neglected. While hard work is certainly not foreign to me, repeated days of manual labor outdoors were a new challenge. Up to that point, for me nature had been a hike through the mountains or a weekend round on the golf course."
A Clean Slate
A materials science engineer by trade, Lang enjoyed a long career in the aeronautics industry. He worked at the German Aerospace Center in Cologne before being headhunted by the United States Army for a post that included several years in the U.S. He also held positions at Airbus and Audi, and in recent years served as managing director of various machine construction firms. He was, in other words, part of the international engineering jet set. A neglected vineyard of centenarian vines in Austria's Kremstal is pretty much as diametrically opposite as it gets.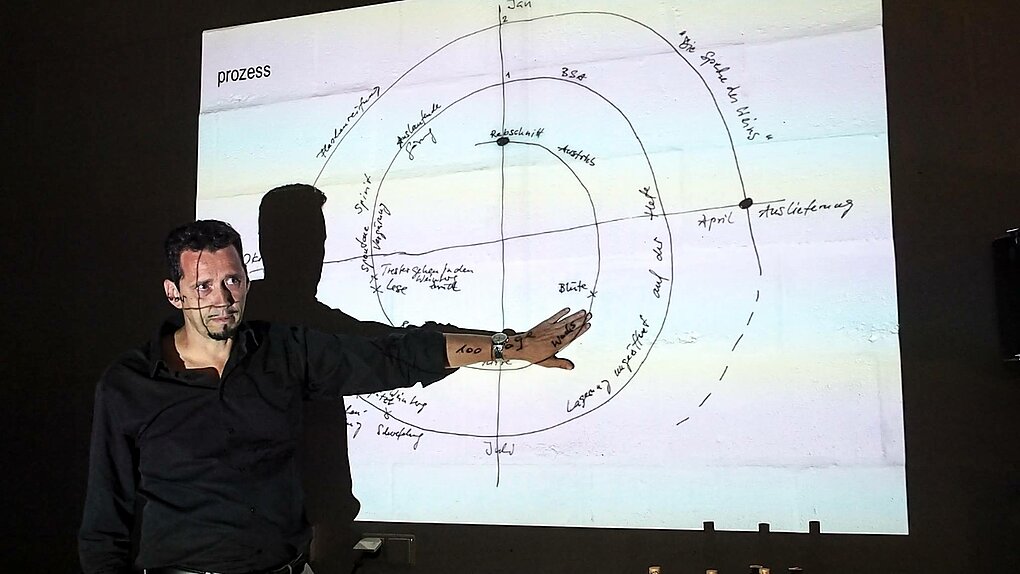 Lang began by familiarizing himself with the vineyard, picking a place and simply digging in. "The first time I passed through the vineyard with pesticides, I felt terrible afterwards. So terrible in fact that I knew I needed to find a different way." And with that realization came the recognition that the vineyard had grown from a mere workplace into the place he most wanted to be.
Well, he, and a few others.
Meeting the Neighbors
Foxes and badgers, worms and insects, not to mention the vines themselves, everyone—including Lang—has a part to play. "At one point in the coldest part of winter, I found myself standing in the vineyard, deeply concerned about how the others were coping." The question, and its answer, gave rise to the name of his Grüner Veltliner from the site he calls "Fuchs und Dachs"—Fox and Badger.
Grüner Veltliner thrives in the loose, loess soils of the Steiner Braunsdorfer, a vineyard that Lang was able to add shortly after he grew serious about winemaking. Yet when things grow really cold, foxes creep into burrows dug by badgers in the vineyard soils and lay atop those badgers. It's a short-lived harmony that ends as soon as things warm up.
"Opening the gate to the vineyard, I was struck by a feeling that I belonged there," Lang recalls. "So I got to work."
With the warmer weather, the vines wake up as well. "It became clear to me that in winter, the vines withdraw completely into their root systems just as you and I retreat into the warmth of a cozy firelit room," Lang says "Other vintners know that, of course, but it was one of many things that I had to learn. I was a blank page. I knew nothing, my wife knew nothing, yet we faced decisions at every turn. Ultimately, we did the things that made sense to us and didn't do the things that didn't make sense."
From Engineer to Soil Scientist
Following his experiences with pesticides in the vineyard, Lang first began researching organic cultivation, and then soil science. He was so captivated by the material that he returned to university to study it from the ground up—despite already holding a Ph.D. in engineering. He read the theosophists, then Rudolf Steiner, had a sit-down with biodynamic sage Frank John, and eventually applied his first dose of biodynamic preparation 501. His methods were in turn so impactful that his neighbors sought him out to find out what he was using on his vines.
To Lang and his wife, Heidelinde, with whom he shares the decisions in the vineyard, it became increasingly clear that flowers and plants are conjoined by certain forces. Wood is chopped in winter when the lunar cycle is at a low point. Plants are tended at the single best time. Grapes are harvested at exactly the right moment. For Lang, that moment arrives when Riesling has achieved pH values of 2.9, Grüner Veltliner at 3.0.
Of course, the grapes must also taste good, but good for Heidelinde and Markus Lang tastes quite different than many neighboring vineyards where the grapes are harvested two, three, and even four weeks later.
These bottles are an acquired taste. They do not seduce from the first sip. Perhaps, not even from the first day.
In the hot summer of 2018, Lang harvested his three hectares between August 22 and 31. Sixty-five days after blossoming. Isn't that a bit bold, people asked, given that the golden rule to harvest is 100 days after blossoming? Absolutely. Sixty-five days after blossoming was a solid two to four weeks earlier than harvest at many neighboring winemakers. In 2018, Kremstal Rieslings could reach 14.5% alcohol. Lang's, however, stayed steadily between 11 and 11.5%.
In Search of Precision and Harmony
However, the achievement of creating wines so different from what has come before is the result of far more factors than simply shifting harvest dates forward. Lang's vineyard parcels are differentiated by more than just his Demeter-certified methods. He pegs his canopy heights at 2.4 to 2.6 meters (as compared to the prevailing average of 1.5–1.8 meters), wrapping the vine tips back onto the training wires instead of cutting them in an effort to avoid confusing the plants. The early-harvested clusters are then weighed while still out in the vineyards, before being conveyed to the estate's gem: a massive wooden Baumpresse based on Lang's own concept.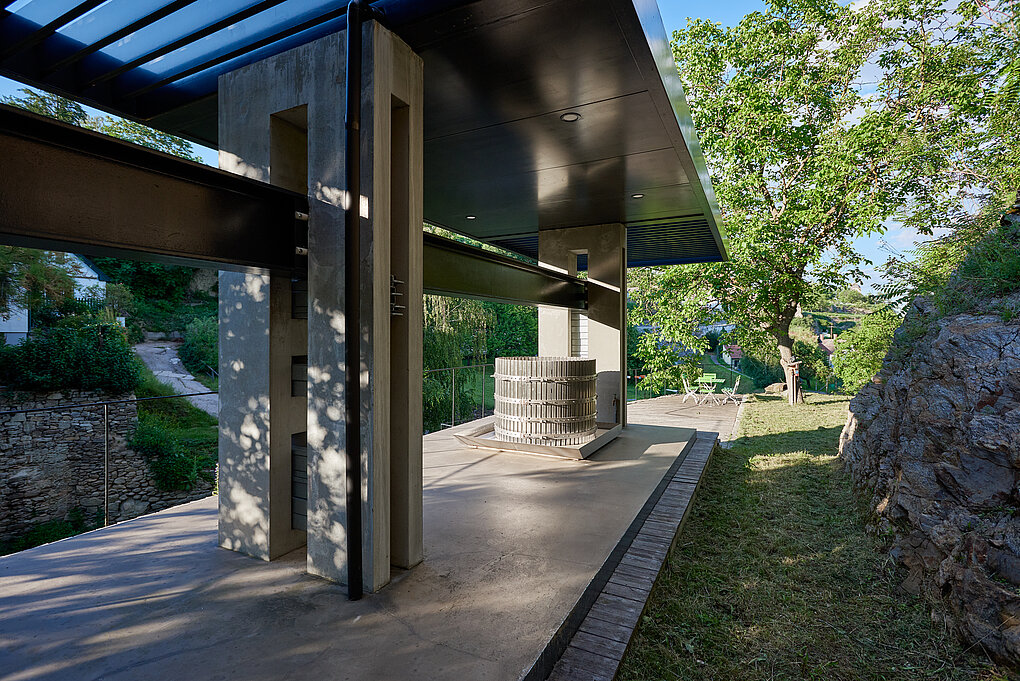 This style of wine press dates to the Romans, and even today a similar Baumpresse can be found on the premises of Langs' friends at Nikolaihof in Austria's Wachau. Lang's press, however, is different. Cleverly crafted by an experienced engineer, his modern iteration is capable of applying up to 100 tons of pressure through manual operation to produce a seemingly contradictory result: an extremely slow and gentle pressing of the grapes over the course of 2.5 days. This allows for yields of 80%, with hardly any sediment. In the press, the grapes are in a reductive environment, but the juice that runs out is completely oxidized before spontaneous fermentation begins.
His earthenware amphorae from Bordeaux and large wooden barrels from prestigious Austrian coopers Stockinger und Schneckenleitner, used for fermentation and maturation on the gross lees, are kept in an old tunnel that maintains a constant 9 °C. As an engineer whose very nature is to leave nothing to chance, Lang has outfitted the tunnel to maintain a constant, ambient humidity of 70%. In this environment, the grapes mature slowly but fully. "Only once did I have a wine not fully ferment. In most cases, I add 3% to 5% whole clusters to the juice. Those grapes are the site of intracellular fermentation. And as they split open one after another, they keep the fermentation moving forward."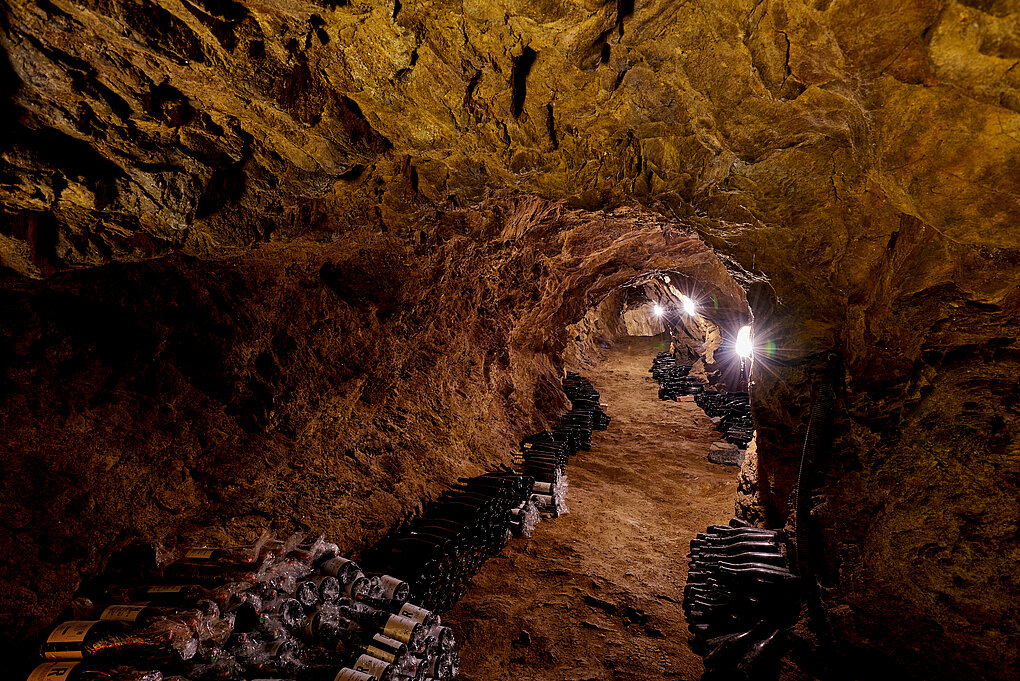 The wines then continue to mature there for two to three years. When it comes to selecting the right moment for bottling, Lang relies again on the pH value. He prefers 3.3, which he considers finished, then adds minimal sulfur, a high-quality cork, and seals the bottle in wax.
Lang's 2012 vintage was the first to hit the market. In October 2021, he retired from his position as managing director of a Viennese engineering company to devote himself to wine. That feeling the vineyard ignited in him continued to grow, and so too did the positive response to the wines of those around him.
Unquestionably, these bottles are an acquired taste. They will not seduce from the first sip. Perhaps, if we're being honest, not even from the first day. These wines need time. The time they receive in the cellar is only the beginning, and they most certainly need more in bottle.
At first glance, Lang's wines explore a different, uncharted Kremstal. Yet a deep dig into the granite and loess soils, especially the defining Gföhler gneiss (crystalline primary rock with granite origins), makes it clear that they are instead part of the region's tradition. Lang fittingly calls his Riesling "This is not a love song." Considering these wines as a whole, I recall the line: "Let me see you stripped down to the bone." They are so clear, so precise, so light, so crystalline. Lang has indeed stripped the Kremstal to its rawest skin. And dialed the cool factor up to 11.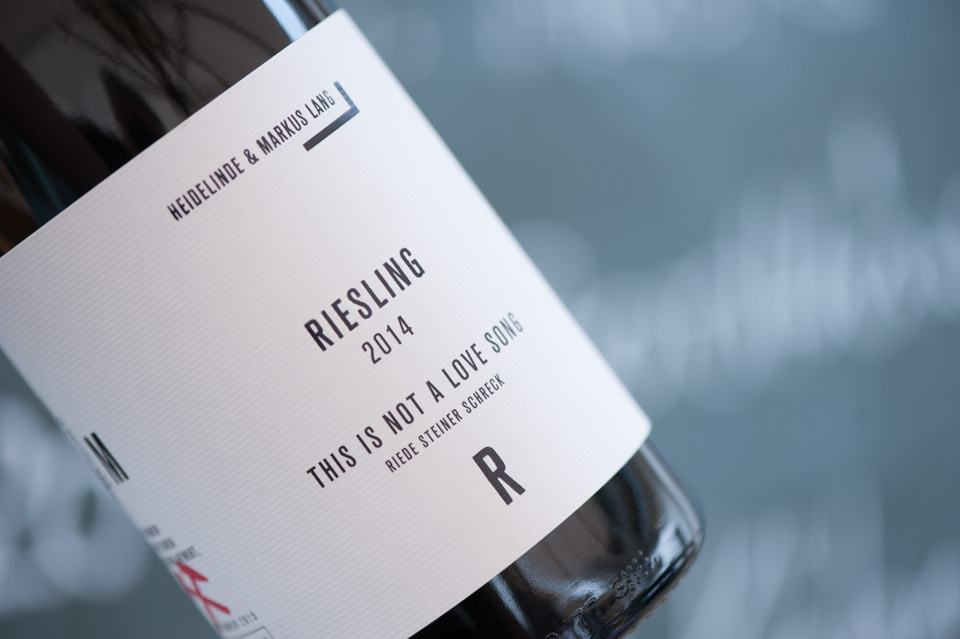 Heidelinde & Markus Lang, Riesling
"This Is Not a Love Song" 2018
The delicate, pale, and clarion nose opens with a citrus and floral façade that, given the proper time and space, reveals a deep, spicy core. Alongside lemon and grapefruit, aromas of crisp peach and pear emerge, as do accents of verbena, anise, and yeast. Each element joins the next in a clear, balanced, and honest Riesling expression; sleek and nimble despite its concentration. The linear, even lean, palate reverberates with cool, ethereal flavors. The old vines lend the wine a distinctive edge, depth, and minerality. While the extended lees contact translates into a saline and silken texture, there is something French and playful, with more than a breath of Burgundy itself. Ultimately, at its heart it is and remains a Riesling unto itself: cool, clarion, and herbal with a fast-paced and saline-driven momentum, full of verve and vibrancy.
Heidelinde & Markus Lang, Grüner Veltliner
"Fuchs und Dachs" 2018
Pour "Fuchs und Dachs" into a large-bowled Burgundy glass and it will reward you with a wine of equal parts elegance and finesse—while the aromas are worlds away from any Grüner Veltliner you've encountered before. It beguiles with beauty, sophistication, and a subtlety more often associated with the cool sites of Burgundy. Perhaps it is something in the skillful integration of spice? White stone fruits, ripe but still quite crisp, mingle with citrus fruit, fresh herbs, and stone. Accompanying accents of poached pears, oak, and the mere suggestion of vanilla are topped off with ethereal mint whispers. Creamy on the palate with a round though zippy acidity. Extended lees contact lends this Grüner Veltliner its elegance and silken texture. Beneath all that smoothness pulsates a cool, vibrant, grippy, and mineral-driven core. Here, too, one can clearly say: a highly independent wine that, despite the early harvest, lacks for nothing, and rewards fans of a slender yet complex, unrelenting yet energetic expression.
Translated from the German by Weinstory.de ​