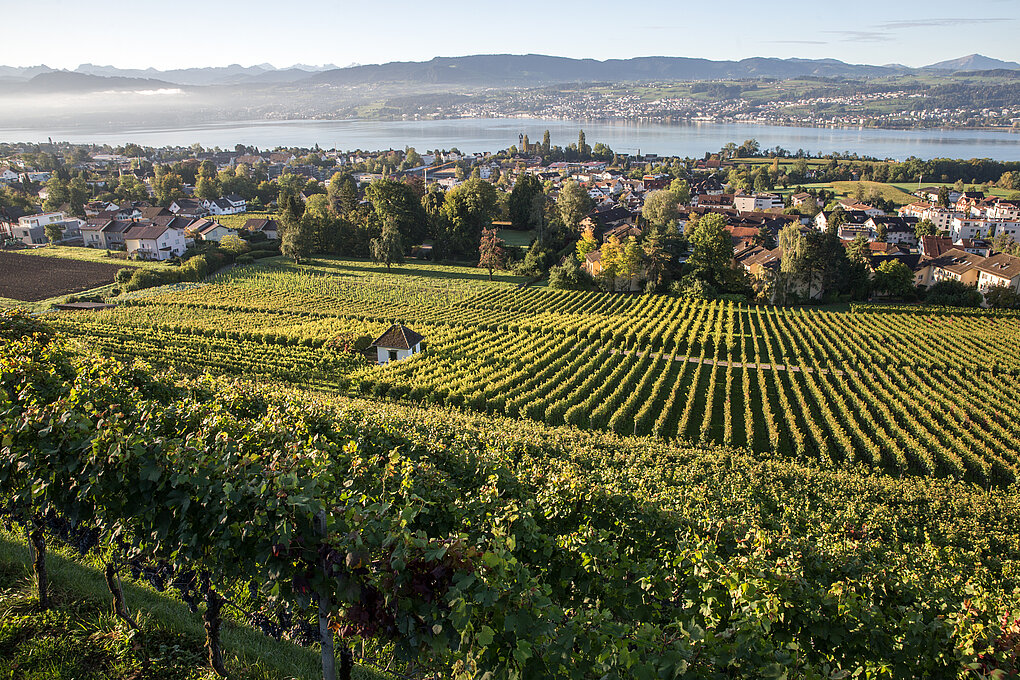 ​Räuschling isn't just wonderfully umlauted, it's also one of the most exciting autochthonous white wine varieties in German-speaking Switzerland. This became clear to me on a March afternoon in 2015. I had accepted an invitation from Mémoire des Vins Suisses to come to Zürich and take part in a Räuschling vertical tasting — featuring vintages that stretched back to 1935 — at Weingut Schwarzenbach in Meilen on Lake Zürich. Since then, I taste every Räuschling I can get my hands on. The lively acidity, fine citrus aromatics, and aging potential of this rare variety fascinate me over and over.
Native Grape
The first time I heard the name Räuschling, I naturally thought of the German word Rausch, meaning the state of mind that follows copious wine consumption. Although Räuschling's intoxicating effect can't be denied, etymologically, the name has nothing to do with inebriation. Instead, some believe it derived from the vigorous rustling of leaves in the wind. The leaves of the Räuschling vine are exceptionally hairy and thick, so they rustle more audibly than others. Alternatively, the designation Räuschling may have developed from the word Russling, a reference to the very dark, berusste — or, sooty — color of the vine wood.
Theories aside, Räuschling originated not in Switzerland but in Germany, specifically in Landau, in Rheinland-Pfalz. The grape was first documented in a well-known guide to herbs written by botanist Hieronymus Bock in 1546 — under the name Drutsch(t). However, in Switzerland the variety is first mentioned in 1759 in documents from the town of Schaffhausen, in the same breath as the synonym Zürirebe, reinforcing its deep connections to Zürich.
The "Sherlock Holmes of grape varieties," biologist José Vouillamoz, explains Räuschling's genetic origins: "Genetic analysis showed that Räuschling is a spontaneous crossing of Gouais Blanc (Heunisch) and Savagnin (Traminer). These two varieties were very widespread in Europe during the Middle Ages. Wines made from Räuschling are generally light and have appealing acidity and delicate citrus notes, doubtless the legacy of its parent varieties." Räuschling was also reportedly once at home in Württemberg, Alsace, and northern Switzerland. But the variety has completely disappeared from Germany, Vouillamoz confirms. Worldwide, there are now just 25 hectares of Räuschling, all in German-speaking Switzerland.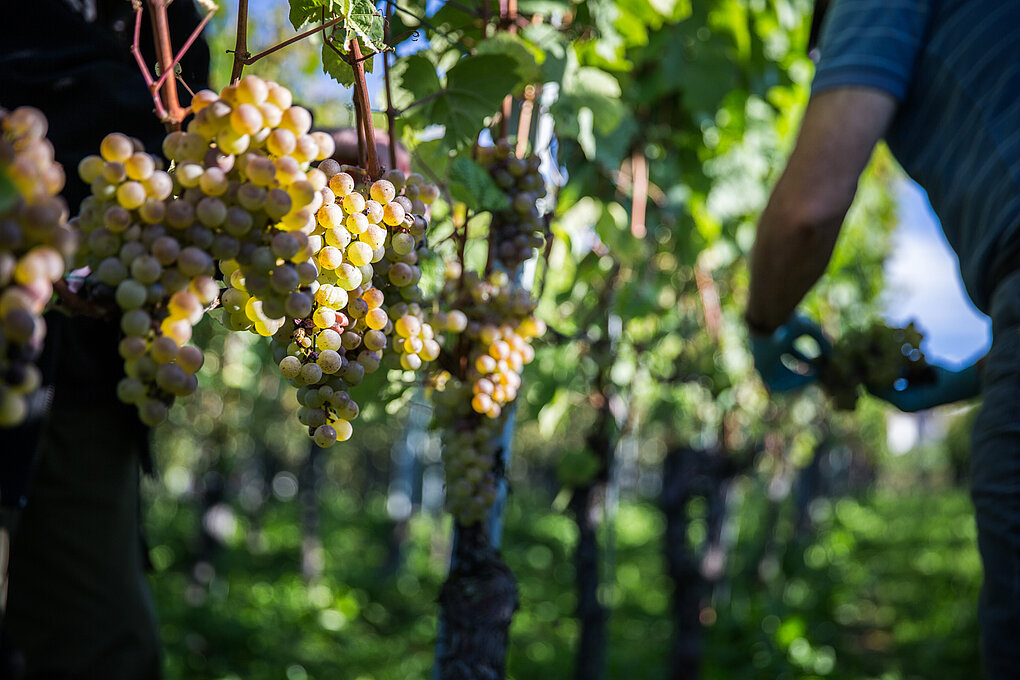 Rescue at Lake Zürich
The present-day center of Räuschling cultivation is the canton of Zürich. The hotspot is Lake Zürich, where Räuschling and Elbling dominated vineyards roughly 150 years ago. Both were displaced over time by less labor-intensive varieties such as Müller-Thurgau. By the 1960s, Räuschling was facing complete eradication.
Yet a few growers kept the faith. Foremost among them was the aforementioned Schwarzenbach family, who contributed substantially to Räuschling's rescue. Today, it is actually their chief variety. Young Alain Schwarzenbach, who, together with his partner Marilen Muff, has headed up the winery on Lake Zürich's right bank since 2016, explains: "My grandfather was always very fond of drinking Räuschling, so he held onto it tightly. My father turned himself into a Räuschling expert. The microclimate we have on Lake Zürich is very favorable for Räuschling. So we also consistently get a structured wine from it."
A prime example is the "Seehalden" Räuschling, an expressive and tautly structured wine of place through which Weingut Schwarzenbach is represented as a Mémoire des Vins Suisses member. Mémoire is an organization founded in 2002 by three Swiss wine journalists who wanted to promote high-quality wines from Switzerland and, especially, to showcase the aging potential of top Swiss wines.
The heart of the organization is a treasury in which each member winery (currently 57 producers from throughout the Confederation) contributes 60 bottles of a selected wine each vintage. On special occasions, the treasury is opened to give experts and the public a chance to be convinced of the cellarability of Switzerland's best wines. The Schwarzenbach's Räuschling Seehalden has been among these since 2005.
Räuschling Renaissance
High-quality wines from Räuschling can't be taken for granted. The grape tends to be high yielding and for years resulted in only thin, nondescript wines. The primary characteristic of this Suurgörpsel — or "sour belcher," as the Swiss declaimed it — was always its tremendous acidity. Diederik Michel of Weingut Diederik in Küsnacht on Lake Zürich explains: "Earlier, growers were happy to get the gigantic yields that hung in the vineyard and just hoped that the grapes would somehow ripen. But the result was always the same: sour. Today we limit yields by green harvesting about half the grapes."
Michel sees Räuschling not only as a regional speciality worthy of preservation but also as an important calling card for all of Lake Zürich.Rico Lüthi, who also works his two hectares of vines in choice lakeside sites, treasures the once-derided grape. Yet he stresses: "In the vineyard, Räuschling is a challenge. It requires a lot of attention and care because it's so vigorous. The berries are large, the clusters are compact, and in a damp autumn, the berries split easily. Rot then becomes an immediate threat and selection is the name of the game."
Räuschling is not only a regional speciality worthy but as an important calling card for Lake Zürich.
Fourteen years ago, Lüthi, together with the Schwarzenbach and Rütihof estates, launched their joint project, R3. Their mission was to create cellarable top Räuschlings in homage to Lake Zürich's characteristic variety. For the R3 "supercuvée," each of the three growers supplies their best Räuschling grapes from three different sites with three different soil types: weathered sandstone, loamy clay, and gravelly limestone over nagelfluh, a distinctively Alpine conglomerate rock. In this way, the trio seeks to convey Lake Zürich's terroir in the glass. Indeed, year after year, R3 delivers. It is a complex white wine with minerality, freshness, elegance, and opulence.
Just a few kilometers from the village of Uetikon am See, Erich Meier farms just under seven hectares of vines. Abounding in character and precision, his Räuschling is regarded as a benchmark for the variety. Still, it accounts for just 12% of his total production. Meier says: "For me, Räuschling is our local variety and we're very proud of it. It represents Lake Zürich and is a specialty I can't imagine being without."
Although regulating yields is also important to him, he prefers less deleafing in the fruit zone to preserve acidity and structure. He's looking for  harmony in the berries, which is why he determines the point of harvest through 'eating tests.' He explains: "In the cellar, I rely on spontaneous fermentation and elevage in fourth-use barriques or in clay egg. Sometimes we let the wines go through malolactic fermentation so that we don't have to deacidify."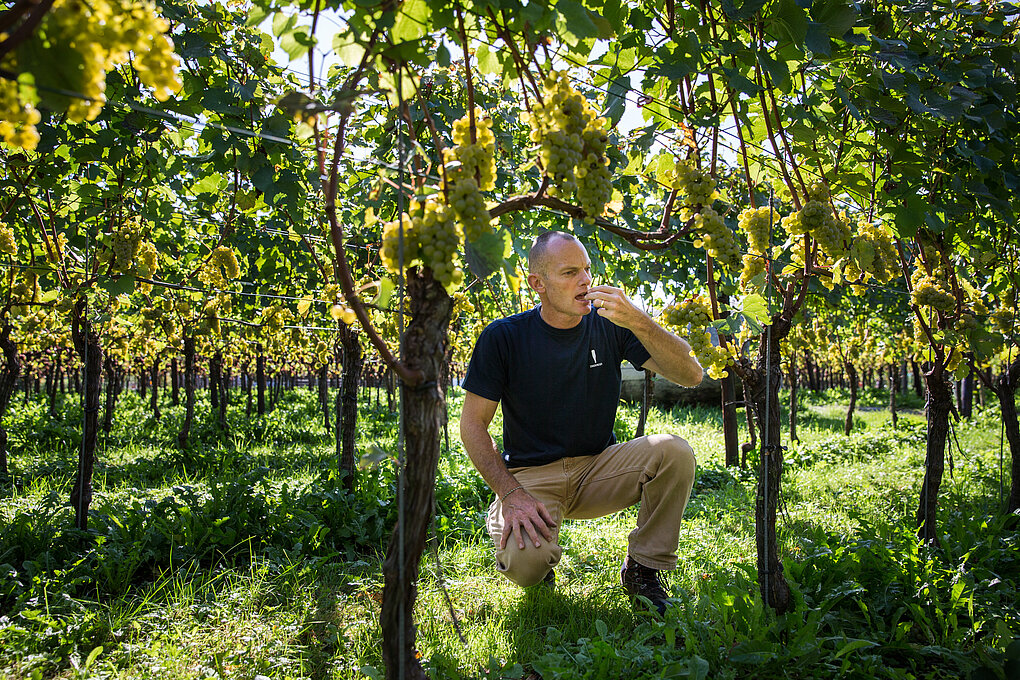 Meier's Räuschling features on the wine list of the deeply traditional five-star Zürich restaurant Baur au Lac, whose chief sommelier Marc Almert finds Räuschling an exciting topic: "For me, Räuschling is Zürich's answer to Sauvignon Blanc: fruit-forward, with crunchy acidity and moderate alcohol. We particularly like to pair Räuschling with light, summery seafood or vegetable dishes, but also often offer it as a local aperitif." The idea of "Swissness" excites not only international guests at Baur au Lac, but Zürichers themselves are also big fans of 'their' grape, Almert reports.
Rushing Rhine Falls
Pride in Räuschling is also found an hour north of the lake, in Uhwiesen am Rheinfall. At the Rhine Falls, the water flow is funneled from a 150 meters in width through a 23-meter drop — one of the highest-volume waterfalls in Europe. On the south side of the Cholfirst slope next door is biodynamic Besson-Strasser, whose six hectares of vines have been Demeter certified since 2004. Grower Nadine Besson-Strasser clearly regards Räuschling as her most important white wine variety.
"We have a full hectare of Räuschling. Fortunately, this is an autochthonous variety with terrific acidity, which is exactly what we want to emphasize," she says. Räuschling is also a perfect sparkling wine variety, as Besson-Strasser's Räuschling Brut Nature proves. "Räuschling is particularly well suited to our traditional method Sekts because, after a long maturation period on the lees, it still exhibits this wonderful acidity," she explains.

From Sleeping Beauty to Beast
Back to Meilen on Lake Zürich and the extraordinary ageability of Räuschling. In this, there is no getting around the gloriously stocked Schwarzenbach family cellar. The estate hosted its first major Räuschling vertical in 2008, when a wine from 1895 was uncorked. Microbiologist Jürg Gafner of the Agroscope agricultural research institute in Wädenswil subsequently analyzed the lees deposit of the 113 year-old Räuschling. To his astonishment, he determined that it contained yeast strains that were still alive. He was able to propagate these "mummy yeasts," naming them 1895C. Since then, they've acquired a legendary reputation. Some call them "sleeping beauty yeasts," others speak with a grin of "beasts."
Alain Schwarzenbach explains: "The 1895C yeast can ferment not just glucose but also pure fructose, which makes it resistant to stuck fermentations. This characteristic enables it to convert residual sugars down to the very last gram. So it's ideal for wines that shouldn't have any residual sweetness. Moreover, 1895C is very good at accentuating grape flavors and aromas without contributing its own. It yields linear wines that never tend to Böckser" — a wine fault characterized by sulfurous aromas. This powerful yeast strain, a symbol of Räuschling's indestructibility, is now used not only by many Swiss producers but even those as far away as Arizona. 
Music of the Future
Is Räuschling trending in Switzerland? Vouillamoz says no. "For years," he notes, "Räuschling's vineyard area has been holding steady at about 25 hectares." But with its inherent powerful acidity, Räuschling should at least continue to deliver refreshing wines of great drinkability and — for now — hold its own against the climate crisis.
Alain Schwarzenbach has his own opinions on this. "Yes, climate-wise, it fits. The grapes themselves fundamentally have a good resistance to mildew and the variety can still deliver good yields even when damaged by late frosts." But Räuschling is also very dependent on locational affinity, meaning that there isn't an endless array of sites in which it will thrive. Räuschling is better suited to heavier, clay-rich soils, he says.
Nevertheless, he can also imagine that above all in the Lake Zürich area there may be a somewhat stronger emphasis on Räuschling down the road. Erich Meier agrees. "Räuschling can surely hold its own in the future and won't disappear any time soon. But it's only shot at trendiness is if land prices around pricey Lake Zürich drop," he says with a knowing smile. It's highly unlikely vineyard space will open up on the lake's wealthy, heavily built-up 'Gold Coast.' Major increases are therefore impossible. Räuschling will remain a rarity.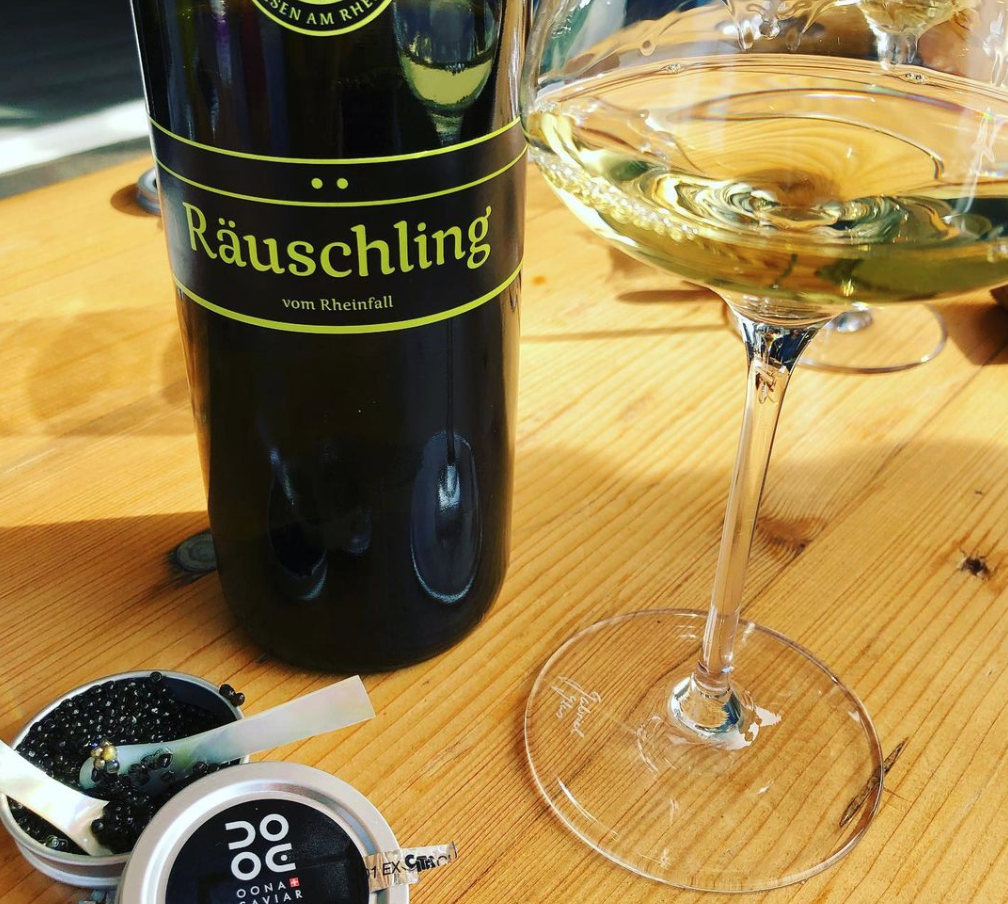 Tasting Notes
Schwarzenbach, Räuschling Seehalden 2021
This single-site Räuschling is penetratingly refreshing — a jump into cold waters on a hot summer day. Fine citrus notes, orange zest, and delicate herbaceousness on the nose are mirrored on the palate. In the foreground, an animating interplay of acidity is girded by fine creaminess, structure, and substance. The ripe, juicy fruit and fine length signal great cellarability.
Erich Meier, Räuschling 2021
Loads of citrus fruit and freshness mark this light-footed yet expressive Räuschling. Notes of grapefruit, lemon zest, and fresh apple accent a cool minerality on the palate. Great precision, clarity, and drinkability are the focus here. An elegant salinity emerges on the finish.
Rütihof, Lüthi & Schwarzenbach, Räuschling R3 2021
Monica Hasler-Bürgi (Rüthihof), Rico Lüthi, and Alain Schwarzenbach are the trio behind this top Räuschling. The wine presents itself with great elegance and complexity, with notes of fine, restrained citrus, white blossom, and hay. Tremendous freshness is embedded in creaminess. The wine has power, yet remains focused, with a finish that goes on and on.
Besson-Strasser, Räuschling vom Rheinfall 2020
This Räuschling, from biodynamic Weingut Besson-Strasser, is raised in large wood cask and concrete egg and exudes aromas of glorious depth and stillness. Fresh garden herbs and citrus character, with accents of orange and flowers, intermingle in the aroma. On the palate, unbelievable freshness, a fine creaminess, and grippy texture deliver exactly the right balance and distinctiveness.
Translated by Valerie Kathawala ​