Understanding Alto Adige-Südtirol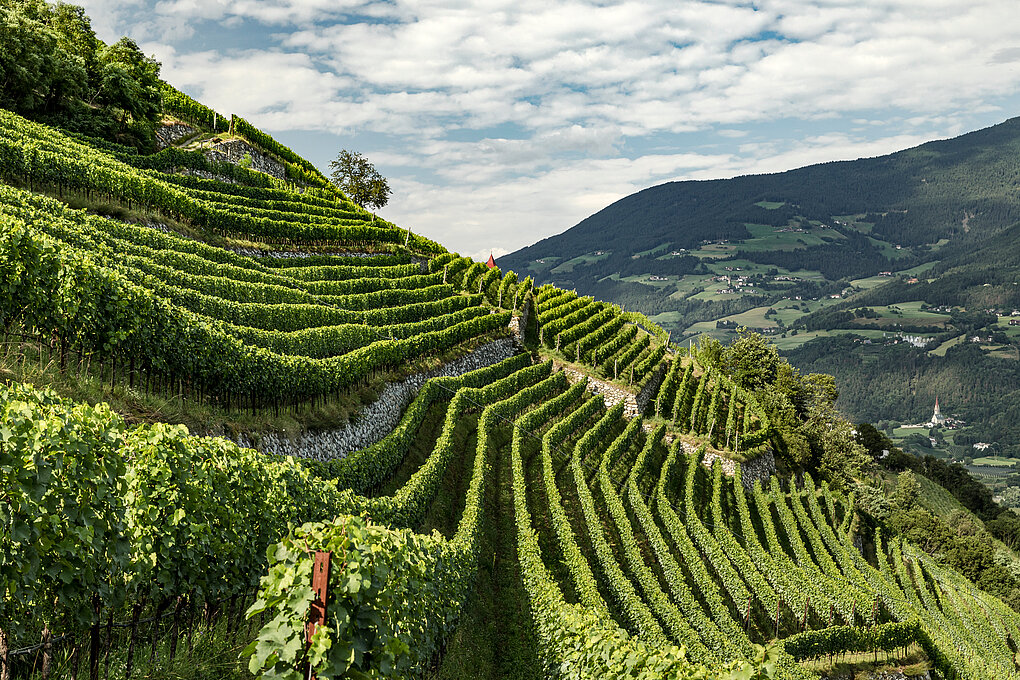 Alto Adige-Südtirol is one of Italy's most important and singular wine regions, arguably making the country's best white wines and among its most interesting reds. Yet it remains something of a mystery to most English-speaking wine lovers. This primer offers insight into the surprising contrasts and dynamics at play in the wines of this small yet majestic, mountainous corner of northeast Italy and helps explain why the region and its wines aren't better known by every sommelier and wine lover worthy of his or her spittoon.

The reasons for the high quality of Alto Adige's wines are numerous. Roughly 86% of
the region's vineyards are located in mountain habitats and 14% are planted on hillsides. "Outside of a small, historic area around Bolzano, there are no flatland vineyards in the region," according to Rudi Kofler, winemaker at Cantina Terlano/Kellerei Terlan. "So, you could say that Alto Adige has no village-level wines. We start with premier crus." Naturally, expert vineyard management and winemaking also play a role. Yields are kept exceptionally low: even the non-cru viticultural areas have average yields of 49 hectoliters/hectare, much lower than the national average of roughly 70 hl/ha.

At 5,380 hectares, the region boasts far fewer hectares under vine than, for example, the Pfalz (23,759 ha) or Burgenland (13,840 ha). It is, in fact, one of Italy's smallest wine regions. Despite its compact size, Alto Adige's complex viticultural reality has made it challenging for consumers to grasp. Unlike Germany with its flagship Riesling or Austria with its admired Grüner Veltliner, Alto Adige is not strongly identified with one grape variety. Instead, there are many different terroirs best suited to almost too many different grape varieties. The result is wine production characterized by diverse, small-volume wines made over a small production area.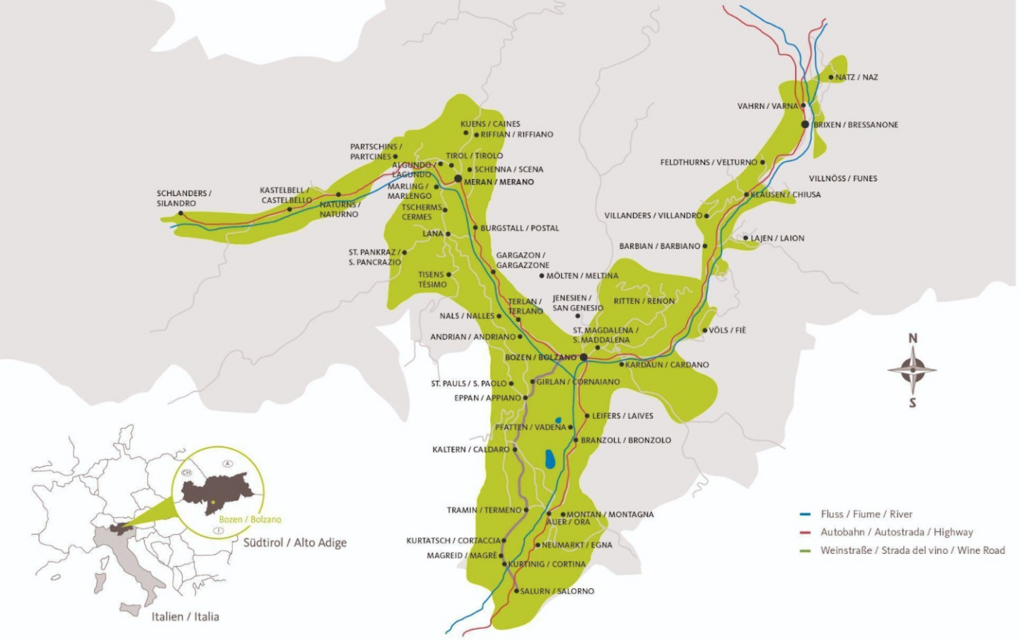 A structure of small individual land ownership — the average size of estate-owned vineyard land in Alto Adige is just one hectare per estate — favors cooperatives. Even today, about 70% of the region's wine production is made cooperatively. Despite the co-op wines being of very high quality and the co-op structure being integral to the economic viability of the wine sector here, this factor does limit personality-driven wine narratives, making it harder to tell the region's story as written in wine.

As the name suggests, Alto Adige-Südtirol has an unusual cultural position, straddling three distinct cultures and languages — Italian, German, and Ladin. This also leads to misconceptions. The region is the German- and Italian-speaking part of the larger autonomous Italian region known as Trentino-Alto Adige. Before it became Italian in 1919 as a spoil of World War I under the Treaty of Saint-Germain-en-Laye, Alto Adige was part of the Austro-Hungarian Empire. It follows that because outsiders tend to view Alto Adige as "Germanic," they assume and expect its wines to be similar to Germany's and Austria's.

In fact, very differently from those two countries, Alto Adige's most famous wines were historically reds, not whites. The latter have become the region's most important wines only in the last century or so. Today, production is 64% whites and 36% reds, with rosés included in the latter percentage.

Alto Adige has produced what are arguably Italy's best white wines of the last 20 years.

Among those whites, you might expect Riesling, for example, to thrive here. It is in fact one of the 20 grape varieties grown in Alto Adige, but until very recently, has not been an important grape or wine there. Even 20 years ago, most Alto Adige producers would tell you that there was no point in their growing Riesling because Austria and Germany were both making world-class wines with it, so why compete? Besides, there was never much Riesling in the region. But a handful of producers have started singing a slightly different tune, driven by market and sales considerations, importer pressure, and consumer trends. Still, at 1.8% of Alto Adige's total wine production, Riesling's share remains lilliputian. Grüner Veltliner claims an even tinier share. Believe it or not, Alto Adige is generally just too hot for those two grapes.

The extremely complex geological and climate reality of Alto Adige explains its plethora of grape varieties. The region boasts at least 38 geologic formations and/or units and at least 150 different minerals characterizing its soils. Furthermore, there is tremendous weather variability throughout the 150 kilometers of Alto Adige's winding, vaguely Y-shaped wine route. Despite its Alpine wonderland panorama, the region is anything but a cold place come summertime. Bolzano, Alto Adige's capital, is Italy's hottest city in August, usually duking it out with Palermo, Sicily for those bragging rights.
Not by chance, one of Alto Adige's mottos is "Where the North is already South." With 300 days of sunlight you can see why red grapes thrive there, too. The climate is crucial to the style of Alto Adige's wines because it is a rare combination of Mediterranean and mountain climates. Because of its relatively warm climate, Alto Adige's white wines are classically dry and never off-dry, with aromas and flavors that share the intensity shown by those of Alsatian and German examples. (True late-harvest sweet wines are fairly rare in Alto Adige).

It follows that there is no clear-cut grape variety that accounts for Alto Adige's best wines. The reds often get forgotten because the region is now so famous for its whites. But the reds boast noteworthy appeal and offer something for every palate, from drinkable to structured to ageworthy.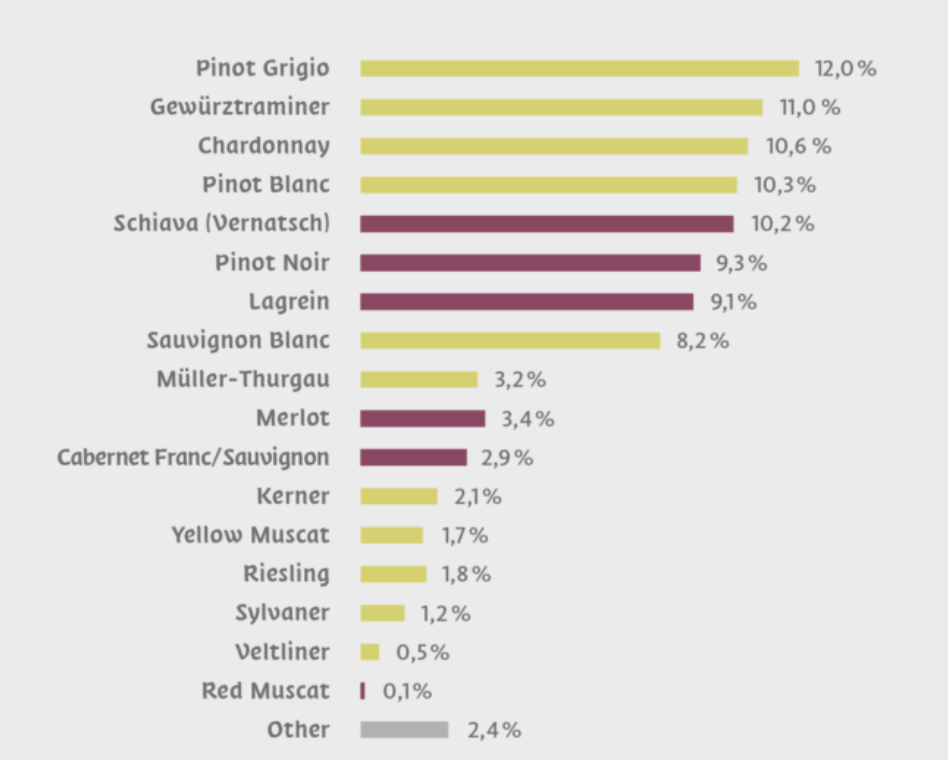 Some of these percentages may seem of little consequence, but keep in mind that regional geologic and climate conditions cause specific grapes to be intimately linked with specific areas. Take the Valle Isarco-Eisacktal, for example. This valley essentially runs northeast from Bolzano to the city of Bressanone, and is home to some of Alto Adige's very best white wines. It is historically linked to Müller-Thurgau and Sylvaner and, more recently, Kerner, a modern German crossing of Schiava and Riesling. Wineries such as Kuenhof, Manni Nössing, Köfererhof, and Pacherhof make world-class examples of each. Müller-Thurgau excepted, you won't find those three grapes growing anywhere else in Alto Adige or the rest of Italy for that matter.
That Sylvaner and Müller-Thurgau have called the Valle Isarco home for at least a century means that those wines are made from often very old (50-plus years) local biotypes, while wines made from Riesling and Grüner Veltliner are almost unfailingly the product of recently planted clonal nursery material.


It is my opinion that Alto Adige makes some of the world's best Gewürztraminer (still the region's most beloved wine, in both Alto Adige and the rest of Italy), Pinot Bianco, Sauvignon Blanc, Sylvaner, Kerner, and Müller-Thurgau wines; there are also some very good Pinot Grigio wines, and the Chardonnays are improving, especially among producers working with the grape at higher elevations. However, this is a very recent development.

Among reds, Schiava gives delicious, light-bodied, food-friendly wines. Lagrein and Cabernet wines have benefited from climate change and better winemaking, and now rank with Italy's best reds made from international red grapes. Climate change also means that Merlot, the Alto Adige expressions of which were historically much better than those made from the Cabernets, faces trouble because the region is getting too hot for it.
Regional geologic and climate conditions cause specific grapes to be intimately linked with specific areas
Now that we understand the basics, what recent trends are emerging in Alto Adige's wines? Karoline Walch of the Elena Walch estate thinks we will see a progressive increase in single-vineyard wines. This has never been Alto Adige's strong suit, unsurprising given that 70% of the region's production is in the hands of cooperatives. Until now, single vineyard wines have been made mostly by family-owned wineries, with examples such as Walch's Gewürztraminer Vigna Kastelaz, Tiefenbrunner's outstanding Müller-Thurgau Feldmarschall, and Hofstätter's equally noteworthy Gewürztraminer Kolbenhof. In fact, the Alto Adige Wine Consortium is currently at work on a zonation study of the region to identify historic single vineyards and specific vineyard district areas.
Most co-ops prefer to think in slightly different terms: rather than banking on single vineyard expressions, they are looking to make high-end white and red wines from the best plots and grapes. Gottfried Pollinger, cellarmaster of the Nals Margreid co-op, told me that "Pinot Noir has been increasingly successful in the last ten years because of small parcel, plot-by-plot vinification. Clearly, greater attention to our grapevines is also important: 50 years ago we were using Pinot Noir clones that were ideal for making Champagne, but we know better today." Examples of wines made with the best grapes from the best areas include Tramin's excellent Chardonnay Troy, Gewürztraminer Nussbaumer, and Epokale bottlings, and the Pinot Grigio Unterebner; Nals Margreid's Pinot Bianco Sirmian and Pinot Grigio Punggl; Terlan's Pinot Bianco Vorberg; and Elena Walch's new Pinot Noir Aton.

Willi Sturz, winemaker and technical director at Kellerei Tramin, points out that such attention to detail is allowing the region's producers to make high-end wines from grapes that had been previously used mostly for entry-level wines sold in demijohns, such as was long the case of Pinot Blanc (Terlan excepted, as it is a grand cru for the variety). "Gumphof's age-worthy, layered Pinot Bianco wine is a good example of what is now being achieved throughout Alto Adige with the variety," he says of his friendly Valle Isarco competitor.

High-end white wine blends are also on the rise, modeled after the historic and famous Terlaner line from the Terlano co-op. Cantina-Kellerei San Michele Appiano's expensive — but worth it — Appius bottling, a white blend first made only in 2010 is an example. In fact, the co-op's Sanct Valentin wines, especially the Sauvignon and Gewürztraminer, were long the benchmark by which all high-quality Italian white wines were judged.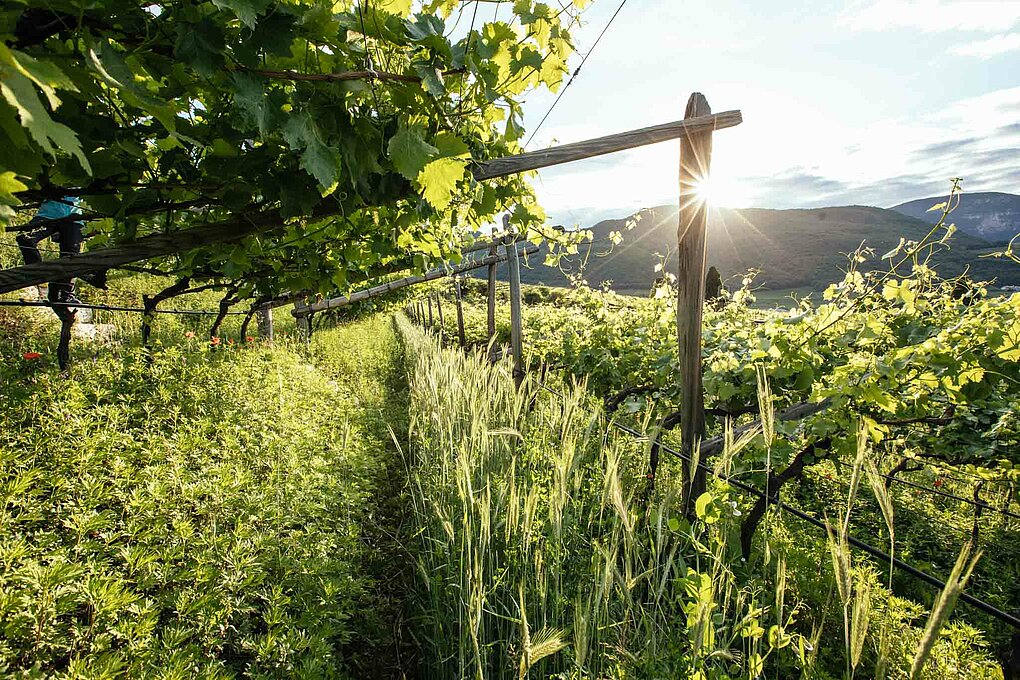 The region's mostly dry, warm climate facilitates environmentally responsible agriculture. You can expect the number of wines from organically and biodynamically farmed vineyards to increase steadily in the years ahead. Additionally, as in many parts of the world, viticulture is climbing upwards. More and more wineries are planting vines at 800 to 1,000 meters above sea level, which would have been unthinkable only 30 years ago. Sturz points out that "Chardonnay grown at 700 to 800 meters in Alto Adige is good but not complex, it's an Erste Lage wine at best," he says, using the German term for premier cru wines. "But we need it to be a Grosse Lage. We are now paying greater attention to such details, including planting at much higher altitudes and with cooler, east-facing exposures, but also selecting grapes from specific single vineyards rather than the best-looking grapes from larger areas that have less specific identity of place."
Last but not least, Alto Adige producers are keen on highlighting the age-worthiness of their whites. For this reason, wineries such as Elena Walch, Tramin, and Nals-Magreid, among others, are keeping their wines longer on the lees and some are now releasing their white wines later than they used to. In the ultimate analysis, through a combination of hard work, competency, and for the most part matching the right grape varieties to the right terroirs, and not chasing after the latest wine flavor of the month, Alto Adige has produced what are arguably Italy's best white wines of the last 20 years. The drive, passion, and organization in the region are likely to continue to produce outstanding wines that will improve further and reach ever greater heights.