In the Vinschgau: Small Growers, New Heights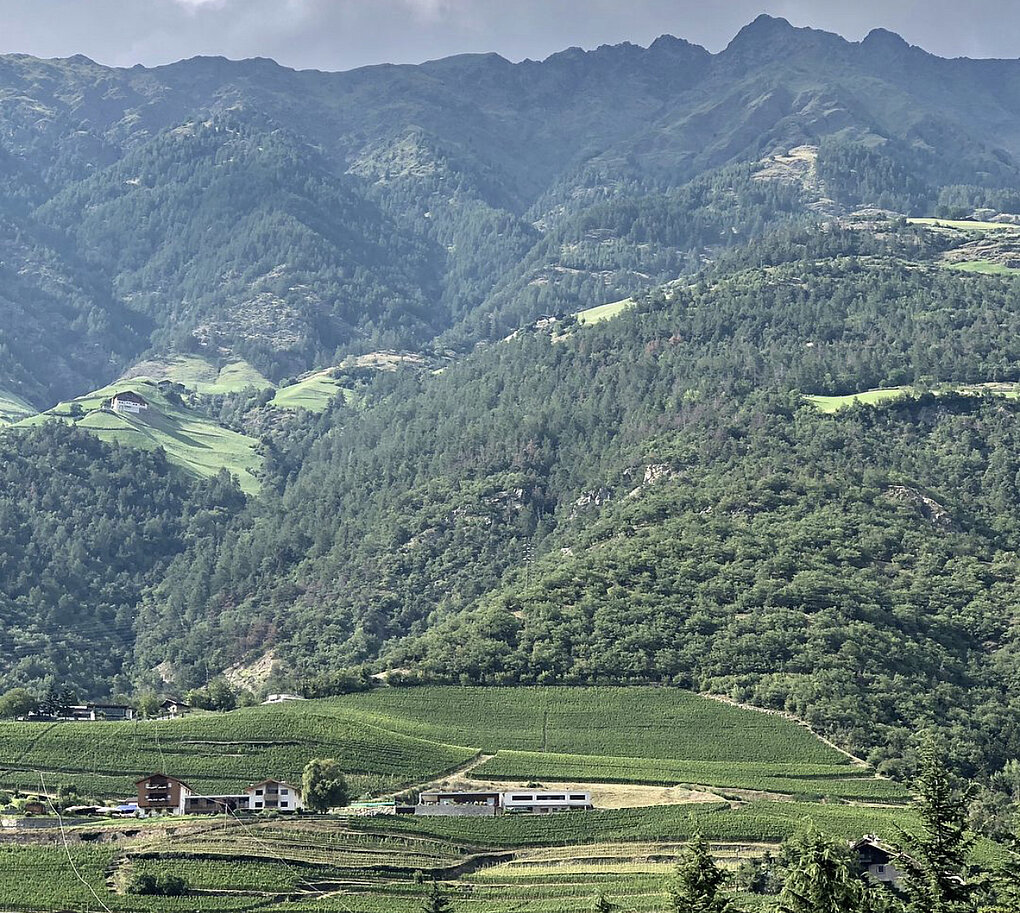 Far too few wine lovers find their way to Alto Adige-Südtirol's Vinschgau. Bafflingly, because it's a jewel of staggering Alpine scenery, perfect weather — and sublime wines.

It's also a short, gorgeous drive from the charming spa town of Meran, a place that still gives a feeling of being the last bastion of Habsburg high civilization before Alpine ruggedness takes over. 
Leave town via a narrow, rocky passage, note a handsome Tyrolean villa (this turns out to be the local flagship brewery) and the vigorous churn of the Etsch river as it runs alongside the road. A few more bends and drops and the staggering Vinschgau itself opens before you: A valley scaled for giants. To one side, a bank of deeply forested hills. Straight ahead, the spreading valley floor, amply quilted with the apple and apricot orchards that are the region's claim to fame. To the other side, the Ortler Alps, as they start their climb almost 4,000 meters into the sky.

Look closely and you can already pick out the first villages. And then, the vines.
South Tyrol: Lay of the Land
If we picture South Tyrol as a gangly letter Y, the Vinschgau is its loose-limbed left arm, pointing west, toward Switzerland. It's an impressively broad, lateral valley, sheltered by the mass and height of the Alps. The old saw about Mediterranean meets Alpine snaps to life here as you climb into the Vinschgau hills and find the vegetation shifting from seabuckthorn and rosehips to juniper and pine.
With forests, and ultimately, glaciers above, and vineyards that typically only start at 500 meters in elevation and soar above 1,300, the Vinschgau remains a bastion of true cool climate wines. Most of its vineyards are terraced, carved into the south-facing hillside of the imposing Sonnenberg. More than 300 days of sunshine a year see to sufficient ripeness.
Gravelly, fast-draining soils coupled with all that sun and a trademark wind do bring the challenge of dryness, but these arid conditions also alleviate disease pressure, making organic farming easier here than in the hotter, more humid basin around the regional capital of Bozen. Sharp diurnal shifts ensure verve and lift in both in the Vinschgau's signature varieties and in its distinctive blends. 
Alpine Wines
Though the vast scale of its Alpine landscape gives visitors the impression of infinite expanse, all of South Tyrol amounts to what one local producer affectionately calls a "micro region," home to a mere 5,500 of Italy's 650,000 total hectares under vine.
In this context, the Vinschgau, with its grand total of 76 hectares of vines, is truly a nano zone. Though the valley has boasted its own DOC since 1995 and some of its producers are widely exported, its wines remain far too little known.
Riesling, Blauburgunder (as Pinot Noir is known here), and Weissburgunder (aka Pinot Blanc) are the flagship varieties. They account for a number of excellent wines with a fine, fresh, filigree — yes, Alpine — character. Cold-hardy, disease-resistant hybrids are gaining importance. The truly rare native grape, Fraueler, shines in blends and almost impossible-to-find monovarietal bottlings. A few shimmering cuvees round out the offerings.
The Vinschgau calls itself "the valley of small wine growers" and, relative to the large co-ops that characterize much of the rest of South Tyrol, it truly is an enclave of tiny, highly individualistic family-run wineries — and a mere fistful at that.
Over the last few decades, these growers have honed their understanding of high-elevation terroirs and key varieties. This focus, coupled with a shift toward organic farming, experimentation with hybrids, and even flashes of stylistic experimentation, make the Vinschgau a fascinating lens through which to watch elements of South Tyrol's identity come into focus.
Cloisters and Individualists
The region's viticultural history dates to the Middle Ages, attested to by the presence of the 11th-century Marienburg cloister and its surrounding vineyards high above the village of Burgeis.
Over the centuries, the Vinschgau's farming families carried on growing grapes and making simple wines, though these were solely for local consumption. Eventually, orchard fruit cultivation took over almost everything.

In the late '70s, Oswald Schuster, a fruit farmer in the village of Vetzan, elevation 710 meters above sea level, became fascinated by the potential of the scant hectare of vines surrounding his home estate, recalls his daughter, Magdalena. "There has always been wine here," she says of the family property, Befehlhof, where viticulture was first documented in 1313, and taxes were paid to the cloister in the form of wine.
In 1981 — "a time when viticulture wasn't even a topic in the Vinschgau" — her father started to make wine commercially. "People laughed," Magdalena recalls. "Still, Befehlhof was a success." Within a few years, she says, Franz Pratzner in nearby Naturns also recognized the potential for quality in high elevation sites and followed suit, establishing Weingut Falkenstein. By 1992, they had been joined by Martin Aurich, who farms and makes wine at Unterortl from vineyards established in partnership with legendary mountaineer Reinhold Messner at his historic Castel Juval.
Although the number of producers remained miniscule, the region's clear focus on Riesling, Blauburgunder, and Weissburgunder gave it a sufficiently distinct profile to earn it DOC recognition in 1995. However, the Vinschgau is and likely will remain small scale, in part because suitable vineyard area is limited to a very narrow band and vineyard prices are steep ("on par with those of Barbaresco and Barolo," says Naturns-based vintner Dominic Würth). But those with family holdings, wealthy partners, or grape-sourcing savvy are proving quality can win the day.

---
Magdalena Schuster followed in her father Oswald's footsteps, but adopted her own stride. She studied at Geisenheim, Germany's highly regarded wine university, before embarking on a decade of practical training from the Pfalz to New Zealand. In 2009, when she returned to Befehlhof, then still a mixed farm, she narrowed the focus. "Now we are purely wine," she says, "and I do it all: vineyards, cellar, sales. But, of course, I have my father, who helps me very much."
It helps that they have only a hectare or so of vines, most tucked right around the estate. Among them are some of the oldest Riesling vines in the valley (planted by Oswald in the '80s) alongside a surprisingly diverse mix of traditional varieties, including Weissburgunder and Zweigelt. But it is the ultra-rare native grape Fraueler, cultivated only in the Vinschgau, that takes pride of place.
"There is only about a hectare of it being grown in total," Magdalena notes. Fraueler is valued for the high acidity it brings to blends, but Befehlhof is one of three estates in the world known to grow and vinify it monovarietally. The Schusters' is a delicate, vibrant wine, with flavors and aromas Magdalena describes as "elderflower-like, with citrus notes, and sometimes an herbaceous note of oregano and thyme."
Since her return to the estate, Magdalena, still working closely with her father, has shifted the focus in the vineyards and the cellar. "For me, it's important that the work be more based on observation: relaxed and trusting." Accordingly, she converted the family's vineyards to organics, and last year began the process of certification. "That was very important to me because the vineyards are almost all around the house." In the cellar, Magdalena favors what she calls a "slow" approach, focusing on the individual character of wines that could really come from nowhere else.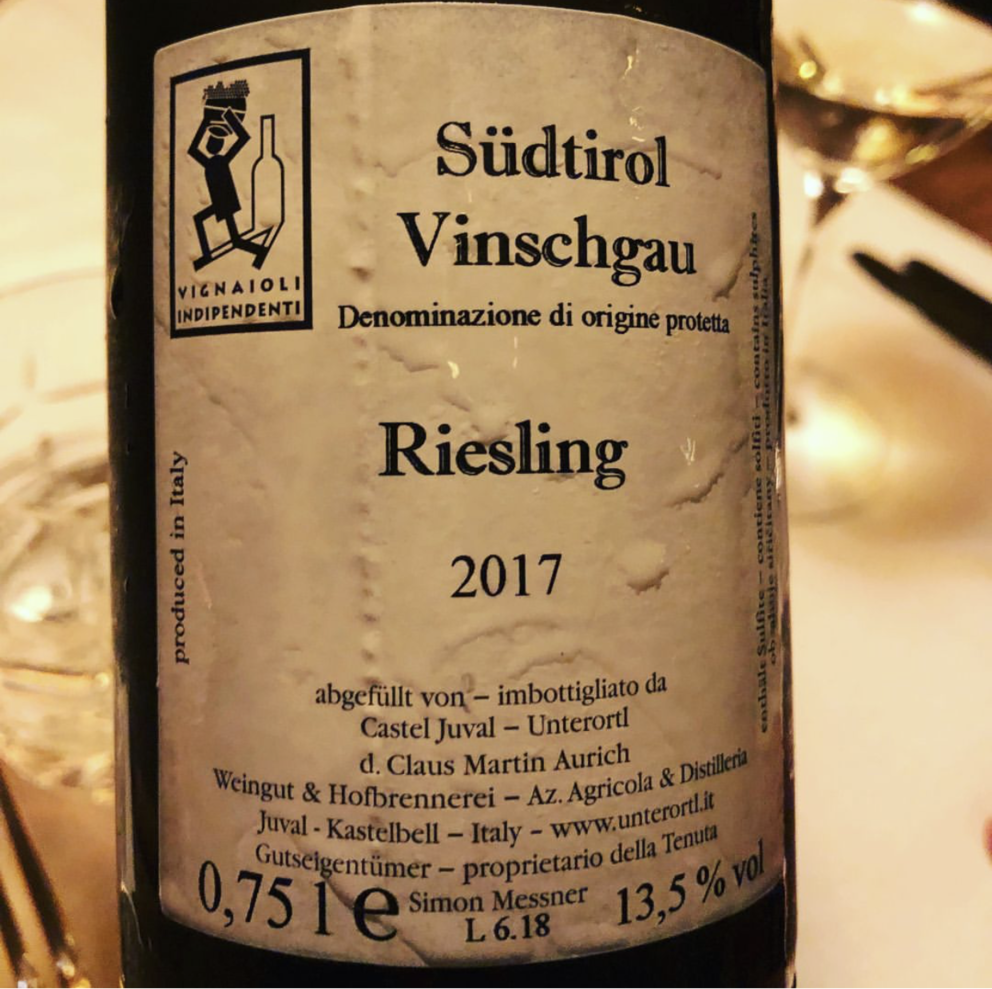 More than three decades ago, Martin Aurich came to South Tyrol — from Berlin by way of Geisenheim — and has long been settled in the Vinschgau. With his experience comes perspective, and he easily recalls a time in the '80s when South Tyrol struggled to define itself as a quality region.
As a measure of how far the region has come, he now sees far more focus on the understanding and definition of individual communes and crus.

"We've had many discussions in the last two years and now also have a proposal to define smaller regions and add those denominations to our labels. This is not the tradition in South Tyrol. But now, with more quality and lower production per hectare, it is becoming clearer what is interesting in which place."
His "place" is 4 hectares around the historic Castel Juval. "When Messner bought it," Aurich recalls, referring to the mountaineer who is something of a fixture of South Tyrol, "it was a mixed farm, with cows, apple trees, and some more-or-less dead vines." Aurich planted half a dozen varieties to see which would produce the most interesting results, playing with elevation as the key variable.
With sites ranging from 600 to 850 meters above sea level, he soon discovered Blauburgunder does best at lower elevations, where it's more protected, while Riesling thrives in the middle, and Weissburgunder and Müller-Thurgau excel in the upper vineyards. "Slowly, slowly we learned the character of our hill," he notes.

Influenced by early training at an experimental viticultural station, Aurich loves the research and trial and error of wine growing and making: testing varieties, native yeasts, maceration times. No formulas, but no wild risks either. 
This year, he felt the time had finally come to convert the viticulture at Unterortl to organics. "We feel a winery is a unit, from the owner to the workers to the clients to the agriculture, it's all one," he says. "My wife and I have our own garden and eat organic food. We also wanted to work in this way."
Unterortl's Glimmer cuvee, named for the mica schist of the site on which it's grown, brings together the Vinschgau's past, present, and future in a single bottle: The 2019 vintage is a blend of high-altitude Müller Thurgau, a newer hybrid called Johanniter, and native star Fraueler. The estate's Rieslings are also outstanding: focused and elegant, reverberant with tension and freshness.
Keenly aware of the sensitivity of the Alpine climate that surrounded her, van den Dries knew she would farm organically from the start. That meant working mostly with hybrids, like Souvenir Gris, Solaris, and Cabernet Cortis. She put in 6,000 vines on 2.3 (now expanded to 3.1) extremely steep hectares, interspersed with "all sorts of herbs, flowers, and animals," she says, with the goal of making wines that "are the end result of the natural cycle that regulates our vineyards across the seasons."
In the cellar, she relies on gentle pressing and native yeasts to preserve her wines' delicate Alpine character. She released her first wine in 2016, and her current offerings include both red and white monovarietals and blends that are snapped up by local restaurants and insiders.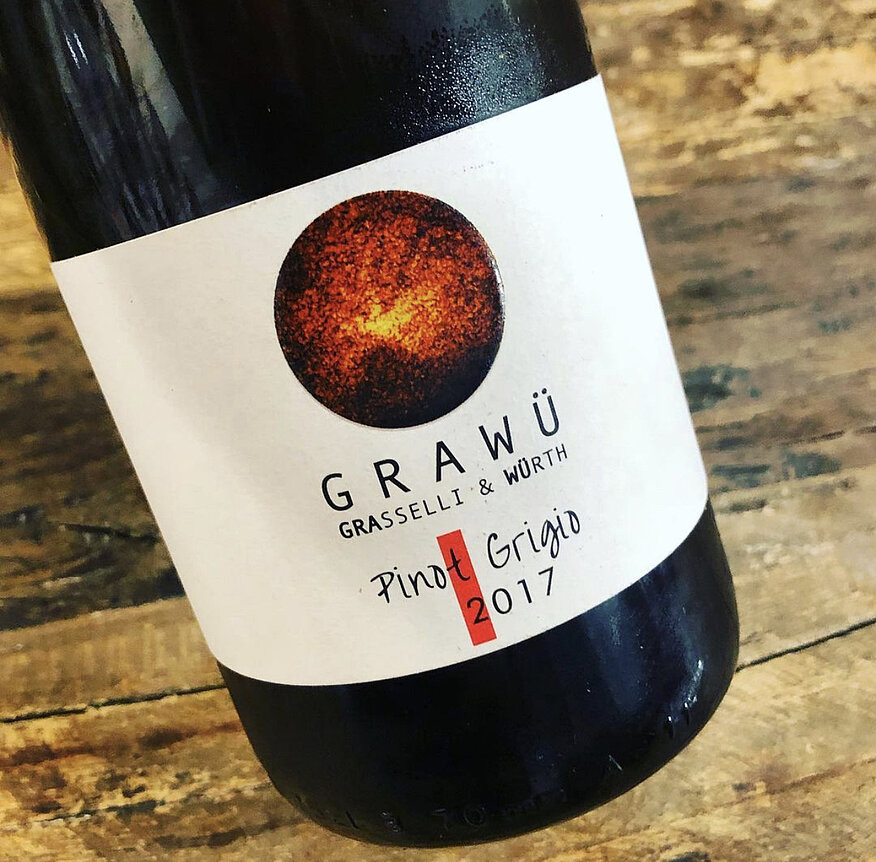 Dominic Würth, originally from Stuttgart, Germany, discovered his love of wine "very fast — not through a family tradition of growing or making it, but of drinking it." As he made his career working in restaurants, "the most important thing for me to know was always the wine list."
In 2007, he and his Italian wife, Leila Grasselli, started to drink and fall in love with natural wines. "They give you a completely new universe of taste and impressions," Würth says. "You can rediscover the whole wine world. This is what's so beautiful about them."
Three years later, the couple and their young children came to the Vinschgau, where Würth had been offered a job as winemaker at Stachlburg, a small organic winery in Partschins.
During this time, Leila and Dominic started to make their own wines in "a kind of experimental corner" of the Stachlburg cellar. Fascinated by ancient winemaking techniques, they began working with native yeasts and skin ferments, without sulfur, using varieties from the Vinschgau but also from small organic growers in nearby Trento — "our big chance to try out many things," notes Würth.
In 2017, they felt ready to go out on their own, and a year later they went full time with what Würth calls their "family project": GraWü. They rented a small piece of land in Naturns, on the south side of the valley, where they have half a hectare of Blauburgunder and plantings of two increasingly popular hybrids: Regent and Souvenir Gris. Due to the challenges of sourcing organic grapes from the Vinschgau's limited production, most of their fruit comes from growers in neighboring Trento. "We search for interesting terroirs, old vines, organic farming" and they are open to a range of varieties: Chardonnay, Pinot Grigio, Pinot Noir, Gewürztraminer.
"In some way, in my little niche, I am a part of the wine story in South Tyrol, too."
There is no question that GraWü makes some of the Vinschgau's edgiest wines, wines Würth describes as "in continuous development, dynamic, and full of taste, that reflect the liveliness of our family and the energy of the mountains from which they come." To achieve this, Dominic and Leila play with long skin ferments, carbonic macerations, native yeasts, and minimal added SO2, working with fascinating blends and a diverse mix of fermentation and aging vessels. A perfect example is GraWü's Ramato, a Grauburgunder (aka Pinot Gris) that sees five days on the skins and a year in oak. It delivers pinwale texture and a clean, savory, herbaceous palate — it's balance and energy hauntingly right.
"A young generation of winemakers like me is crushing traditions to make wines the way we want to drink them," says Würth. But far from alienating his more classically oriented neighbors, Würth has felt welcomed by them. He says the sense of community in the Vinschgau extends to "a really high level of shared economy," like the bottling machine neighbor Franz Pratzner organized to serve the needs of several of the valley's small growers. "I don't want to be different than the others, I just want to make different wines," Würth summarizes. "In some way, in my little niche, I am a part of the wine story in South Tyrol, too."