It Takes Two: Eva Fricke and Jenna Fields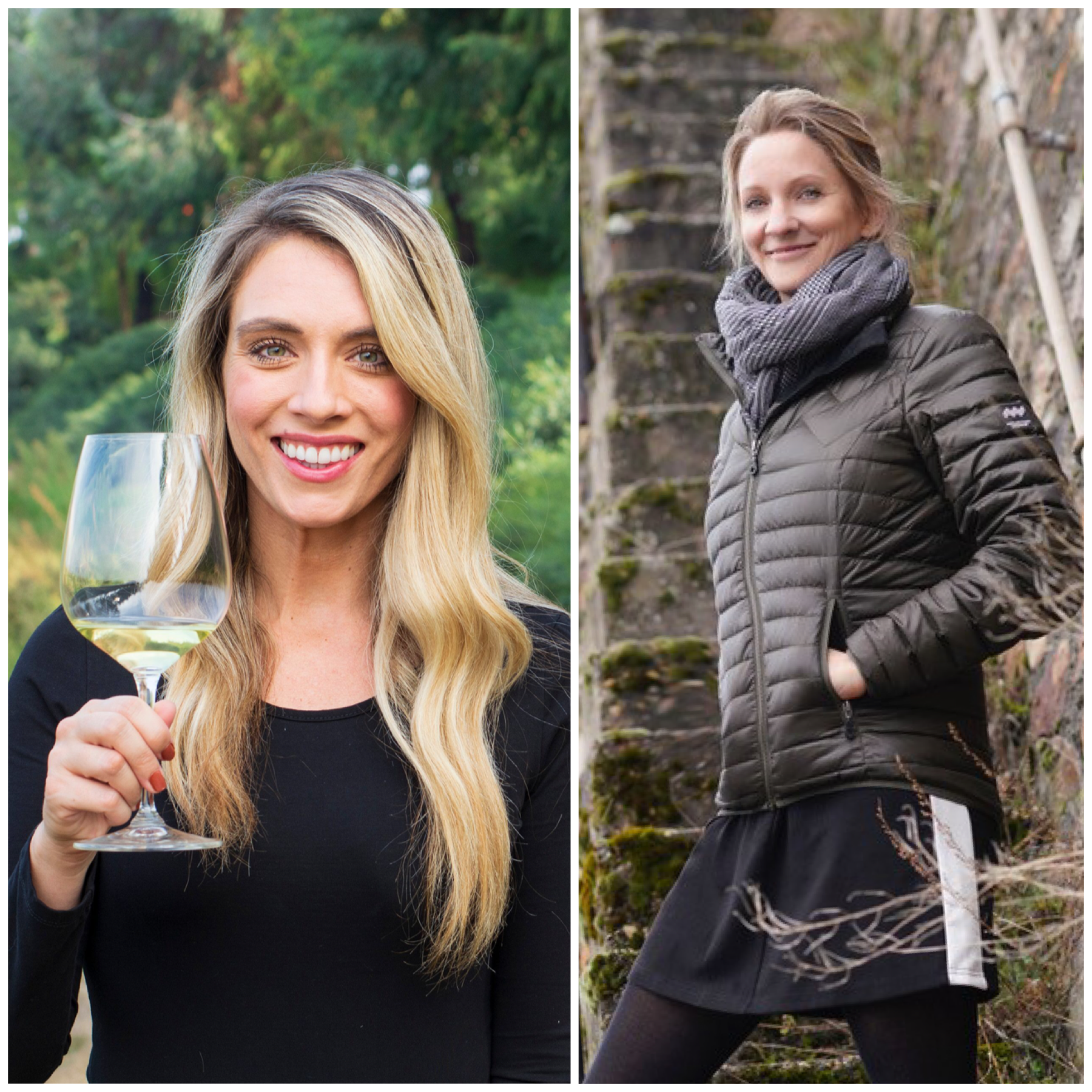 In wine, the relationship between importer and producer works better when it's more tango than transaction. First there is the careful footwork of their own internal negotiations, then a set of fancy steps together for the audience. The goal is to position the new producer within an aesthetic and cultural context that would-be consumers will find attractive. It is a delicate dance that requires surprising intimacy and collaboration — and sometimes a little frisson of friction as well.
Ideally, each partner brings something to the dance that the other desires but doesn't possess. It's a symbiotic, psychologically and economically complex relationship, one exemplified by a brand-new partnership between Eva Fricke's eponymous and by now globally revered Rheingau label and Jenna Fields' revamped U.S. import house, The German Wine Collection.
Their union comes at a thrilling, albeit fraught time for the business of German wine in the United States. It also comes at a particularly delicate stage for Fields' company.
"There is a balance between respecting and maintaining the previous generation of German importers already in my portfolio, while simultaneously expanding it with representatives of this new, up-and-coming generation," says Fields. "Eva epitomizes that with her philosophy in the vineyards and in the cellar, with her unwavering holistic approach."
"There is a balance between respecting the previous generation of German importers in my portfolio, while expanding it with representatives of this new, up-and-coming generation."
The combination of climate change (which benefits German wine regions by allowing riper and more complex yet dry red, whites, and rosés), a renewed dedication to organic, biodynamic, low-intervention wines, and a fearless generation of winemakers who have trained around the world has made this the best of times for German wine lovers around the world.
But then there's the 25 percent tariff on most German wines, which have bumped up prices on what were already niche bottles. The classic approach — hand-selling —is of course nigh-impossible in a pandemic.
Aesthetic and economic challenges plus plague. There's probably a German word for that, but Fields and Fricke are too busy disrupting the market to be hit up for translations.
Aesthetic and economic challenges plus plague. There's probably a German word for that.
Fields, whose company is based in Carlsbad, California, has found herself in an existential contradiction: she has taken on the task of resurrecting a quintessential German wine import house even as she transforms it into something more relevant to today's changed market. It should still be recognizable, but somehow more appealing and sexy, a facelift without evidence.
Fields' Journey
There is, arguably, no one better to perform this delicate surgery than Fields, who has devoted her entire career to studying every aspect of the German wine market in the U.S.
In 2008, fresh out of college, Fields was snapped up by Rudi Wiest and sent on his now-infamous annual 15-day tour of duty through Germany, visiting as many of the wineries in his portfolio as possible. The trip included several other major figures in German wine, including Fields' future competitor-comrade Evan Spingarn, who heads up the German portfolio at Bowler Wines.
"I had no idea what I was in for," Fields admits. "I knew nothing, and went in as a wide-eyed consumer with no frame of reference. My mind was blown and my life was transformed."
Like many young converts, Fields' enthusiasm was contagious.
"I've been in the wine business since 1992, so I clearly think German wine is exciting, but it's amazing to be around someone who is just falling for it," Spingarn admits. "I mean, I thought I was obsessed, but Jenna just redefined the meaning, and when she came home, she never looked back. Her entire career has been dedicated to telling the story of German wine to the American consumer."
Fields climbed the rungs of Wiest's import house, first just taking on sales calls in L.A., then expanding her role over the years until she did everything but formally hold the reins of the business. When Wiest signaled his readiness to retire in 2019, Fields considered her options.
"If we had just let Wiest step down, the portfolio would have been dispersed," Fields said. "The team and the growers didn't want to see that happen. Forty years of his vision and work were on the line."
Fields, plus a small operational team, refocused the portfolio from 25 to 17 wineries, 15 of which are members of the prestigious VDP in January 2019: mid-trade war, immediate pre-pandemic.
Suffice to say, amid all the pressures of taking over a business that was being severely tested by unprecedented factors, Fields was not hunting for opportunities to plump out her portfolio.
Until an irresistible offer arrived.
Fricke's Journey
"I learned that Eva was looking for a new partner in the U.S.," Fields says, alluding to the grapevine of colleagues, competitors, even journalists, that makes the import business flow around the globe, without revealing her sources. "It was an almost immediate yes because I'd always been a fan of her philosophy. I asked the other growers in my portfolio for their thoughts, and their responses were unanimous: Yes."
Fields knew — as one does with a new love they weren't looking for — almost immediately that Fricke could provide the lift and vigor she didn't quite realize The German Wine Collection needed until it arrived.
"Her estate was the missing puzzle piece," Fields says. "We didn't have any Rheingau wines in our portfolio. But what sealed the deal was our first tasting together, over Zoom, which ended up going until 3 a.m. because we were having so much fun."
The real draw was Fricke's extraordinary focus and farming practices, Fields explains, her drive to uncover the character and potential of single vineyards, to reveal a hidden range of flavors and textures, to explore a spectrum of styles from bone-dry to Trockenbeerenauslese, working organically and biodynamically throughout.

Fricke's ascent and approach mirrors that of many in the new generation of German winemakers. First, she doesn't hail from a German winemaking family or traditional wine region. Second, she spent significant time learning in vineyards abroad. After graduating from Geisenheim, Germany's top wine school, Fricke logged harvests from Bordeaux to Rioja, before settling in the Rheingau with the goal of bringing an outsider's eye to the region.
She worked first under Riesling eccentric J.B. Becker then as technical director at the benchmark estate of Weingut Leitz. Then, in 2006 while holding down her full-time job at Leitz, she started her own project, a demanding position she maintained for five years before going out on her own.
The key for her was to zero in on Riesling from slate and quartzite on steep, tough-to-farm slopes in parts of the Rheingau in Lorch. She then expanded her scope to include Kiedrich and other Rheingau communes.
"I wanted to give a real sense of place, of the Rheingau, to allow the terroir to shine through with minimal intervention," she explains. "The wines I make are also lower in alcohol, which is something I think people are looking for now. They reflect the spirit of the times."
Minerality and salinity are deliberate hallmarks, as well. "Every year, we see an increase in minerality and salinity in wines that we have converted from conventional to organic farming," Fricke observes. Moreover, there are certain vineyards she will only use for sweet or off-dry wines, while others lend themselves to dry styles. Soil pH, altitude, and exposition all play a role as well.
"Salt, sugar, and acidity form a triangle in cooking — and in Riesling. Our soils offer an amazing chance to play with these elements."
In all, Fricke's signature is a refined sense of balance. Today, some 80,000 bottles a year go out into the world with her name on the label and her sensibility captured by the liquid within — widely heralded to be shining examples of German wines at their best.
The Tango
These times call for all manner of reassessments. While sales goals are the lingua franca of most trade relationships, both Fields and Fricke laughed when I inquired about their expectations of each other.
"Pfff," Fricke began. "For me, the relationship, the intention is more important than sales targets. The tariff situation and the pandemic together have been horrible. But, in many ways, it has been an opportunity for philosophical clarity amid financial disaster."
"For me, the relationship, the intention is more important than sales targets."

German wine – with its propensity for intricacy and detail – has always had a particular need for deft translation, and with people like Fields and Fricke to do the job, the chances have never been better for it to find the audience it deserves.
For Fields, "it's about keeping the best Riesling producers in the forefront, while also exposing people to other varietals and categories that Germany does so well. When I started in German wine, we spent more time talking about grams of residual sugar, acidity, technical data, than we spent in the vineyard. Moving forward, it's all about wines that have a sense of place and tell the story of where they're from."
---

Watch Eva Fricke in conversation with TRINK here.
---
This article was edited on 21 December 2020 to reflect new information supplied by David Schildknecht about the location and description of vineyards Eva Fricke works with.