Veritable Vernatsch in Alto Adige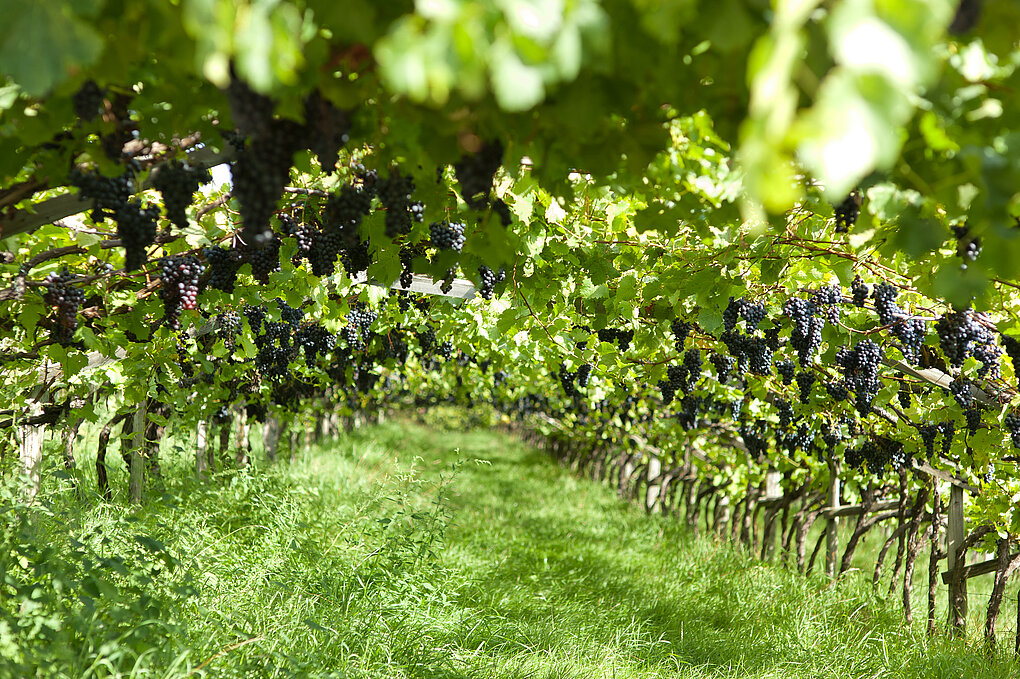 For centuries, the grape variety Vernatsch has been both flagship and albatross around the neck of Italy's northern region of Alto Adige-Südtirol. In this final installment of his three-part series, Simon Staffler looks closely at DOC Alto Adige and posits the question: Why Vernatsch?
"Vernatsch is unique in the world," says Martin Pollinger, winemaker at Weingut Eichenstein. The estate is located 400 meters above the city of Meran, and Pollinger is part of a new generation of winegrowers and winemakers who are finding their way back to South Tyrol's flagship variety. Surrounded by vines, Meran makes up the westward start of the "arm" of the Vinschgau Valley. "It reflects Südtirol in all of its essential features. Vernatsch is versatile, quaffable, and yet concentrated, diverse, complex and can be one of the most nuanced wines Südtirol has — when you're willing to dedicate yourself to it."
Winegrowers Martin and Marlies Abraham of Weingut Abraham thirty kilometers south in Eppan are dedicated believers in the future of Vernatsch, and their high-quality red is a recognized success throughout Italy. Above all, they advocate for the historical Pergl training. "Until recently, Vernatsch wasn't considered particularly modern or popular, especially for us in Südtirol," says Abraham. "Admittedly, we first needed to learn to believe in it ourselves… Vernatsch can be elegant and present itself with finesse without sacrificing complexity. You just have to tend and maintain it."
"For years I produced my wines as declassified IGT, but starting in 2012 I put the word 'Vernatsch' back on the labels."
South Tyrolean winemakers have historically been ambivalent when it comes to Vernatsch. On the one hand, there were, or are, winemakers who have always believed in the variety and accordingly "nurture" it in the vineyard and cellar; for others it plays a subordinate, inferior role. And despite the critical core, the renaissance of the last ten years has quietly revealed a number of pioneers, individual "fighters" for Vernatsch. Because the fact is: when Vernatsch is grown in good locations and properly managed, it produces great results.
The Legacy of Venatsch
Despite its role in the region, there are only a handful of historically designated Vernatsch cru sites. These include the historical sites of Kalterersee Bischofsleiten of Castel Sallegg in Kaltern and Gschleier Alte Reben of Kellerei Girlan. And a deep understanding of these sites is not only essential for the production of high-quality Vernatsch, but is also a relatively recent phenomenon.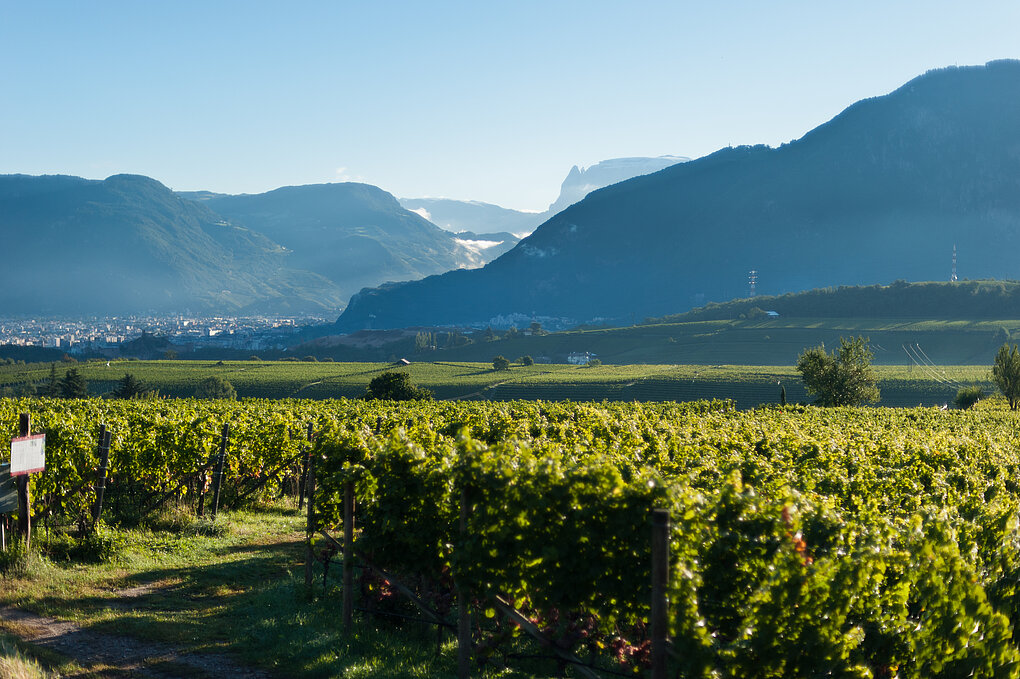 In vertical tastings (dating to 1976), the Gschleier Alte Reben, for example, demonstrates again and again that Vernatsch can mature and age as well as Pinot Noir and even Nebbiolo, maintaining its freshness and revealing a savory herbal character with time. Sitting at about 400 to 480 meters above sea level, the 80- to 110-year-old vines grow on the Girlan "backbone" of calcareous, loamy, and pebbly soils. With copious sunshine and persistent winds, the site produces high-quality, memorable wines with distinctive, dense and grippy tannic structures.
Coping with Climate Change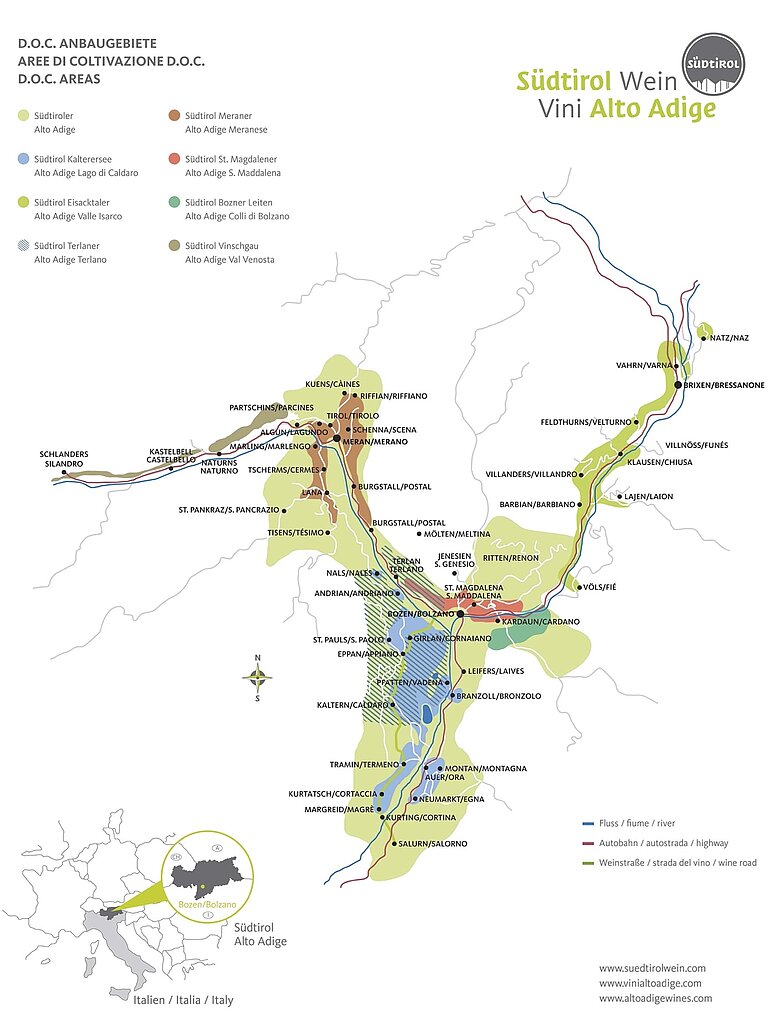 An entirely different structure can be found in the Vernatsch Mediaevum from Gump Hof located in the southern portion of the Eisacktal, the cool, narrow valley located east of Bozen. Growing at a similar elevation to the Gschleier Alte Reben on calcareous morainal soils, over firm quartz porphyry at the foot of the Schlern plateau, the wines from the somewhat more shaded valley tend to be cooler, saltier, more linear and redolent of red berries.
In the Eisacktal where Gump Hof grows its vines, climate change can be seen — for now — as a benefit. "A few years ago, you'd harvest at 17 to 18 degrees Babo; today we're at 19 to 20 degrees. This means physiological maturity is attained more often, especially for us in the Eisacktal, ostensibly a cool climate zone of Südtirol," says Markus Prackwieser winemaker. "You need to know the strengths and weaknesses of your sites. There are vines from the 1980s growing on Gump. I cold soak the wines for three or four days, minimal sulfur, and leave the wines to find their own way." He follows this elevage in large wooden casks. "The wines should ultimately be fresh, fruity, not too top-heavy — and nevertheless high-quality," he notes.
"Admittedly, we first needed to learn to believe in Vernatsch ourselves."

"Climate change has taught us that shade is of increasing importance," Abraham adds. "In Südtirol, Vernatsch is better adapted than Blaubürgunder [aka Pinot Noir], but you have to be careful. If you remove too much of the canopy, the grapes will get sunburned. Pergola training helps retain the acid and draw out the ripeness. The quality reflected in the deep red color of the grapes. Shade is very important, the finesse comes from that."
Stefan Kapfinger of Kellerei Meran says "We trained one single site in the Meraner space on guyot, but it didn't necessarily deliver the results we were looking for. The rest is on pergola. Our top Vernatsch, the Meraner Fürst, grows at 550 to 600 meters in elevation, in Plars near Algund. There we have higher sites with old vines." The changeable conditions of the last few vintages in the Merano area mean that the cooperatives have had to adjust the timing of harvest to accomodate for the caprices of the weather. "Based on the changing climate, at this point we are harvesting the Vernatsch when we have to, not when we want to. That gives me pause."
Finding the Factors that Work
For a future focused more on quality than quantity, small berried clones are now back in demand. In recent years, two such Vernatsch clones from the Provincial Testing Labs in Laimburg have been selected. The Laimburg works on behalf of the South Tyrolean winegrowers, granting unlimited access to the results and findings so that growers can implement them — if desired — in the vineyard. Compactly clustered variants of Vernatsch have smaller berries, grow more densely and have a thicker skin.
Although the number of old (50+) Vernatsch vines in the region is dwindling daily, a few determined winegrowers are working to preserve those last extant old vines for clone selection to enhance old stocks.
As with many varieties, it is increasingly difficult to talk about a single profile of Vernatsch. The variety presents various expressions depending on the soil.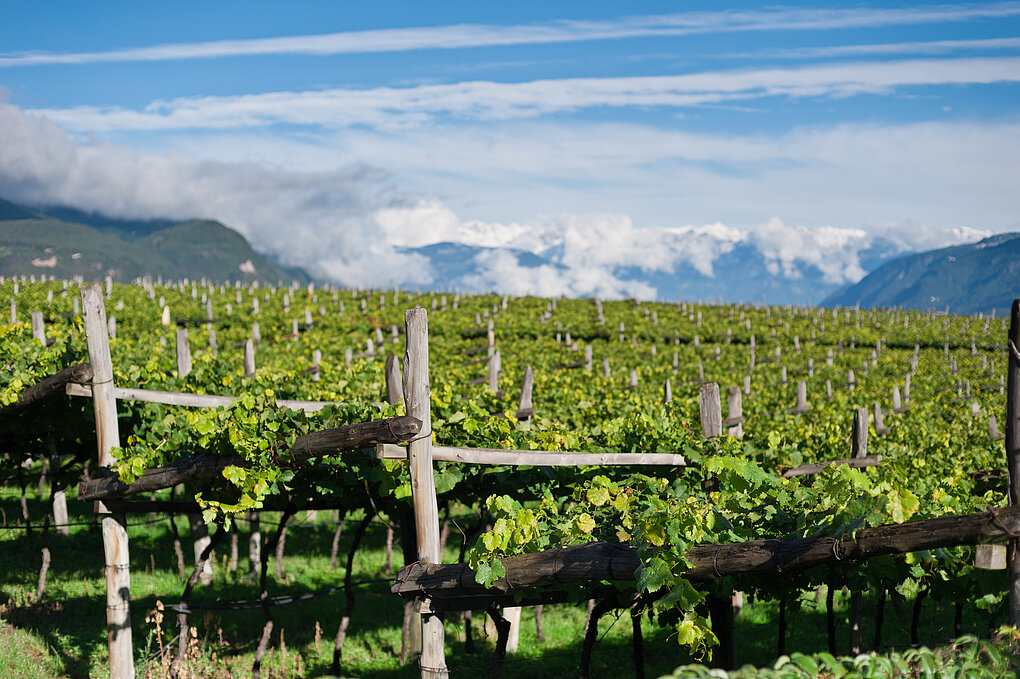 Limestone-rich sites result in warm, round, and approachable wines. Granite sites by contrast reveal vibrant wines with aromas of violets and a thrilling momentum on the palate. In morainal soils Vernatsch shows a lively spiciness, with grippy tannins, cool fruit, and palpable freshness.
What's crucial is physiological ripeness.
Vernatsch lives from the interplay of tannin and acid. Because Vernatsch itself is a low-acid variety, the freshness for which it is known comes from the tannins. Conversely, for decades, tannins were considered the enemy of South Tyrol Vernatsch. "Which is really incomprehensible," says Abraham. "People used to work in Südtirol like elsewhere with whole clusters, as they do in Rhône, for example. I also believe that raising it in wood lends Vernatsch an extra dimension."
Raising Vernatsch and the Role of Oak
Wood is also where brothers Benjamin and Johannes Pichler of Bergmannhof in Eppan raise their Vernatsch wines. Although they have long followed the classic tradition of raising their wines in large, neutral barrels, they recently added an unfiltered, limited release Hoamet: spontaneously fermented with 50 percent stems in open-topped fermenters, with 24-month maturation on the fine lees in used oak tonneaux. Only 615 bottles of this rare wine are made.
The process is similar for Arena from Joachim Wolf of Weingut Oberstein in Tscherms near Meran. The vines grow as field blends in high wire cordon training, with approximately one to two percent Lagrein, in a breathtaking amphitheater adjacent to the estate. Wolf uses only the finest and smallest berries and makes up to four passes at harvest. Fermentation occurs over numerous weeks, in part with stems. The Arena is raised for a year in cask, then spends another year in the bottle before release. The wine reveals exceptional depth, a grippy, elegant tannic structure and a distinctive spiciness.
On Character, Classifications, and Cornerstones
A few of the wines mentioned here bear not the Südtirol DOC appellation, but rather Weinberg Dolomiten Rot or Mitterberg IGT. As in many parts of wine-growing Europe, declassification is a growing trend. This choice can show a winemaker's focus on a more individualistic expression of style. The wine is not typical of the variety, the growers too often hear back from the commission.
But what is typicity?
Barolo grower Elio Altare once said: "Typicity is whatever reflects the prevailing standard at any given time, and is no expression of quality." And that is precisely what the growers are after with their IGT wines. The high quality wines embrace their own expressive character, and reflect the region and style of the individual winemaker. For many modern consumers, the deciding factor is the quality of the wine in the bottle, not the classification on the label. Paradoxically, an IGT bottle (with no indication of variety on the label) tends to draw more attention from consumers for its brand than its variety. "For years I produced my wines as declassified IGT, but starting in 2012 I put the word 'Vernatsch' back on the labels," admits Hartmann Donà. "The goal must be to bring a natural cycle to the vineyard, as well as high quality in the bottle so that consumers see it as a high-quality product."
The true cornerstone upon which the success of Vernatsch will be built requires change from within.
Why Vernatsch? The most plausible, and perhaps enduring, answer came from winemaker Hartmann Donà of the eponymous estate: "Tuscany has Sangiovese, Piedmont has Nebbiolo, Südtirol has Vernatsch. Do you truly believe that in Italy's grand winegrowing regions any winemaker has ever doubted the grape variety there?"
Epilogue
At the end of this series on Vernatsch in South Tyrol, I am certain of one thing: the variety has boundless potential. It is no longer simply a vehicle through which to make large quantities of wine. And although the hectarage in South Tyrol continues to decline, perhaps one day it will start to rise again. As an autochthonous variety, Vernatsch enjoys an envious moral high ground among winegrowers. With so many high-quality, high-profile examples, found in restaurants from Rome to Raleigh, Vernatsch has now carved out a place as a premium and elegant red wine all its own. There is little reason to seek out comparisons with other, better-known winegrowing regions. The true cornerstone upon which the success of Vernatsch will ultimately be built requires change from within. The important question is not whether the buyer, the sommelier, or the consumer trusts in the veritability of vernatsch. First and foremost, it is whether the growers themselves wholly, completely believe.
---
Translated by Weinstory.de