Epokale: A New Gewürtztraminer for the Ages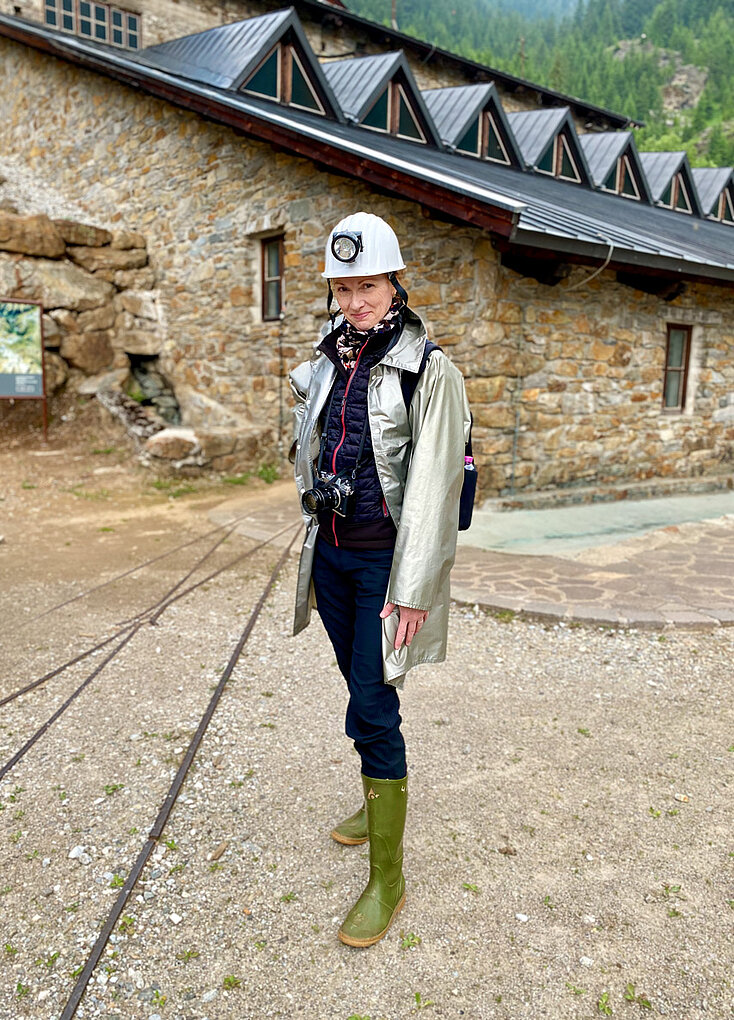 One day each year, workers at Cantina Tramin load 2,000 bottles of a golden elixir onto a truck for a 100-kilometer journey north from Termeno, Italy, to Masseria, which Germanophones call Maiern, in the foothills of the Alps. There the truck swaps pavement for dirt as it twists up Schneeberg Mountain through rocky fields dotted with pine. After 3.5 kilometers, it eases into a gravel yard flanked by railroad scrap. Ahead is the concrete façade of the disused Monteneve mine, with "POSCHHAUSSTOLLEN" — Poschhaus gallery — emblazoned above a rusty door.
The workers don miner's hats, rubber boots, and raincoats, transfer their cargo onto a diminutive yellow train, then climb aboard. The conductor signals, the train jolts alert, and the contraption rumbles into the mountain's black maw. The destination is a gallery 3 kilometers and a 20-minute ride into the stone, where this Gewürztraminer Spätlese, named Epokale (eh-poh-KAH-lay), will be aged. Water drips from the walls, which echo with the roar of wheels on steel. It is cold. The air is thin. After the train sputters to a stop, the crew dismounts, carrying their cargo on foot along the final stretch of murky tunnel. They load the new wine into plastic bins, gather up an older vintage, cart the cases back to the train, and reverse the journey home. The mountain's veins run gold.
The conditions that rendered
the mine onerous for workers
render it perfect for aging wine.
Every workday for 800 years, miners left their dwellings on the flank of this mountain, porting their daily rations, tools, and lanterns to the entrance shaft and greeting each other with "Glück auf!" an incantation not merely of success, but survival. They descended the ladders into the galleries to spend their day on foot and belly, picking at the organs of stone, fingering the rich veins of lead, silver, and zinc, and, later, cadmium.
The warmth of their breath wreathed their lanterns, and their leather boots were soon sodden, their woolen garments heavy with mud. Carts clattered past them, ferreting ore toward fresh air and daylight, where it was loaded onto horse-drawn rail cars, or, in winter, human-driven sleds, to be shipped off to processing factories in Austria that turned it into tools and trinkets for the masses and profits for the bosses. The mountain's veins run silver.
The Poschhaus gallery entrance to the Monteneve mine opened in 1967. Before then, and for centuries, workers entered near the miners' village called St. Martin. During its heyday in the 18th and 19th centuries, St. Martin was Europe's highest elevation community, at 2,355 meters above sea level, with a population of 1,000 residing in a mix of family homes and worker dormitories. It had mine factory buildings and offices, plus an inn, hospital, elementary school, and theater. There was a rifleman's group and community band.
The Magic of the Mines
Life above the tree line was not easy, especially in winter. But as the ore flowed north into Austria, along roads, and, later, rail lines, goods flowed back to the village to sustain it. Over centuries, the mine became mechanized and modernized, and after 1919, when the Italians took over from the Austro-Hungarians, the mine itself became an ore processing site. In 1965, construction began on the Poschhaus tunnel, and also on a dorm for miners down in the town of Masseria. The opening of the tunnel coincided with a fire in St. Martin that destroyed a workers' residence, and the town's fate was sealed. The village is now a tourist site, a mere 4 kilometers from the Austrian border, and the inn a hostel for vacationers seeking a breath of Alto Adige air. The mine didn't endure much longer. By 1979 production had ceased, and in 1985 so had all exploratory drilling. The complex is now part of the Ridanna mining museum, where for €3 a visitor can peer at yellowing artifacts, and for €30 can take their own train ride into the hill.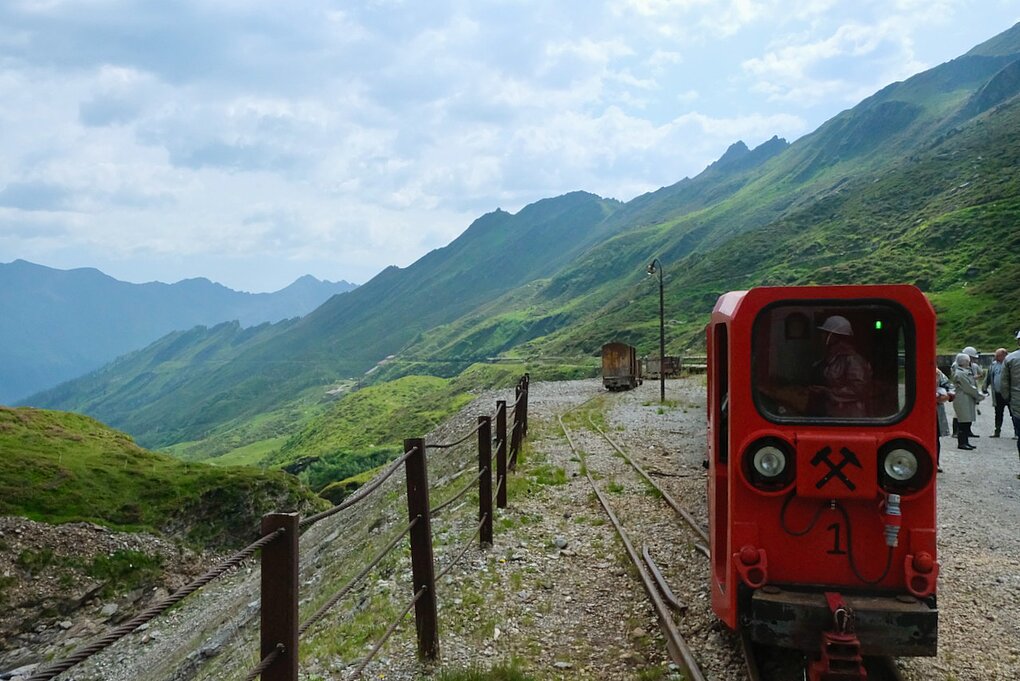 The conditions that rendered the mine onerous for workers render it perfect for aging wine. First, the temperature, a constant 11°C year round. The humidity is constant, too: 90%. It's pitch black inside. There are no vibrations. There is less oxygen in the mine than outside, but the air pressure is the same, namely lower, at this Alpine elevation, so there's less oxygen knocking on a cork's door. In short, it is an utterly stable environment for wines a winery wants to age a long time.
And Epokale ages a very long time.
The first vintage aged in bottle for seven years before release. Subsequent vintages' élevages range from five to seven. Gewürztraminer, especially sweet styles, can take it. Although today sweet Gewürztraminer is more closely associated with Alsace than Alto Adige, in the Middle Ages it was chorus and verse. Wine has been grown in this region of the Alps for two millenia, shifting historically between a preponderance of first white then red. Cold winters meant the wine didn't always finish dry, and sweetness was a luxury much prized. It wasn't until the advent of technical winemaking, designer yeasts, and the fashion for dry, crisp whites, that the drier style of Gewürz ascended.
A common mission
Alto Adige is historically a mosaic of tiny vineyard plots, and the families who farmed them were growers, not vintners. They sold their fruit to powerful regional wine producers, enjoying little clout in the exchange. The arrival of the railway in the late 19th century made it easier to ship finished wines, and the growers, eager for greater control, banded into cooperatives, building shared wine production facilities and centralizing administration and distribution. The first co-ops formed here in 1893, and currently Alto Adige has 12, which, according to their professional association, support 3,200 family growers who produce 74% of the region's wine.
While today sweet Gewürztraminer is more associated with Alsace than Alto Adige, in the Middle Ages it was chorus and verse.
Cantina Tramin is one of these co-ops. Formed in 1898, it now has 160 grower families farming 270 hectares of vine; two-thirds are white wine varieties. Twenty-two percent of all holdings, about 57 hectares, is Gewürztraminer, which is arguably Cantina Tramin's heart and soul. The winery produces five varietal bottlings, two dry and three sweet. Notable among the dry wines is the Nussbaumer vineyard designate, which for two decades has earned the Tre Bicchieri nod from Gambero Rosso.
If dry Nussbaumer is the serene oldest sibling, Epokale is the flamboyant youngster. The wine and its name pay tribute to the region's old Spätlese styles, "epochal," suggesting a wine out of time. But it has been made only since 2009, a year the grapes were über ripe and concentrated, prompting the team to explore options for the best pick of the fruit. The grapes derive from two plots in Nussbaumer, on the slopes above Termeno. The site smiles south, and its Dolomitic limestone and clay soils retain heat overnight. But the mountain shadow stretches across the vines in late afternoon, and they're further cooled by downslope breezes augmented by air off Lake Garda further south. In short, these are perfect conditions for Gewürztraminer, a cool climate grape with an appetite for sunshine.
Digging Deep
The grapes for Epokale are harvested in late October, when the sugar levels are high, the skins thin, and the berries highly perfumed. They're pressed and vinified in stainless steel, the fermentation is arrested by cooling to retain sweetness, and the wine then spends eight months in small steel tanks on the lees before bottling. Alcohol by volume and residual sugar vary widely by vintage (on which more later).
And about that élevage. No one at the winery can say precisely who came up with the idea of aging Epokale in the old Monteneve mine. Willi Stürz, the co-op's technical director, knew the sweet wine style would be well served by several years in bottle, but wanted to find an off-site location to spare space in the winery. It had to be cool and moist, but he also wanted a high-altitude site, to take advantage of the lower air pressure. Permissions and paperwork notwithstanding, the mine, only an hour's drive north, seemed like a perfect fit.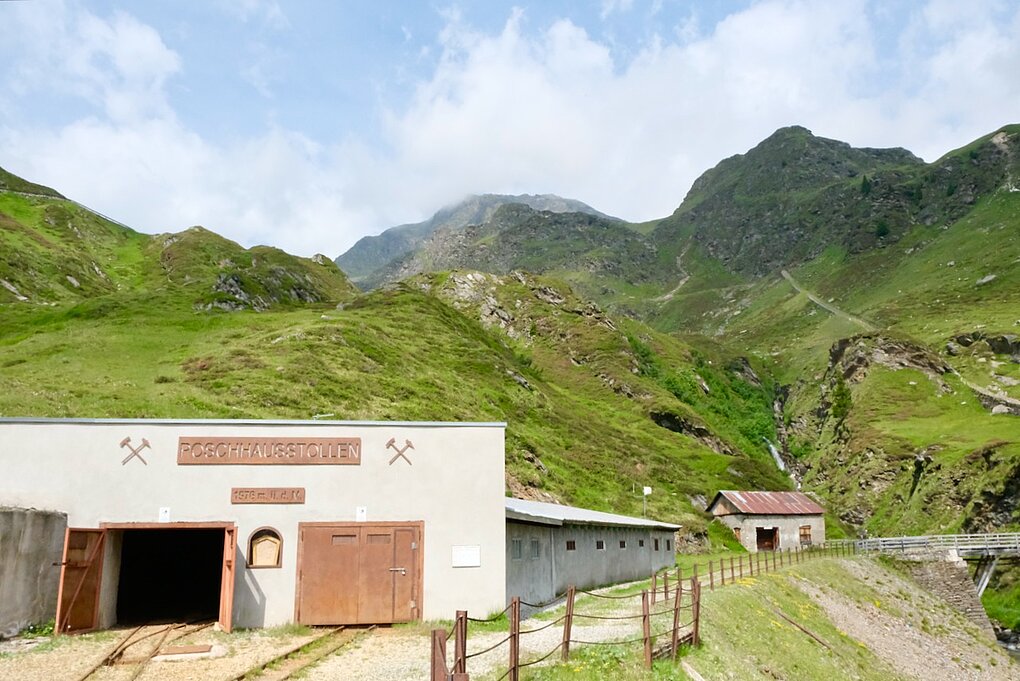 It also seemed like a gimmick. Wineries have, in the last decade, made headlines for aging wine underwater, both briny and fresh. SpaceX shot bottles of Petrus onto the International Space Station (someone later fetched it back). Research is ongoing about alternative aging protocols; the results are not (yet) decisive. I carried my skepticism about Epokale's mine aging into a six-vintage vertical tasting at Cantina Tramin in June. But after tasting, and a visit into the mine itself, I decided the approach was more strategy than stunt.
The vertical event was guided by Stürz along with sales director Wolfgang Klotz, with color commentary by Italian wine journalist Alessandro Torcoli. It included a preview of the 2015 vintage, which will be released this autumn, plus all other vintages made to date except 2014, which the winery has held back for longer aging. (Winery employees actually carried it all out of the mine, then carried it all back in again.)
Stylistically these wines are kin: golden-hued and profusely aromatic, sweet with modest acidity. But organoleptically, and technically, they are a heterogeneous lot. The sweetness, acidity, and alcohol vary widely by vintage, as does overall countenance. During the tasting it was revealed that one vintage, the 2011, did not, in fact, age in the mine, for reasons not explicated. It did seem different to me, quieter, but given the diversity in the glasses before me, I could not unequivocally attribute that to the more standard cellar aging.
Still, such variation suggests that Stürz and his team have worked in response to vintage, to the fruit coming in the door, rather than slavishly following some notional ideal. Take sugar, for example, which in the first edition (2009) clocked in at a whopping 107 g/L. In subsequent years this floated downward, as low as 23 g/L, and has been creeping up again; the 2015 has 55 g/L.
Sugar and Spice: That's What Gewürtztraminers Are Made of
The original intention was to make a wine that was sweet, but maybe not 100-grams sweet. "The beginning idea was the second and third wine," Stürz said, referring to the 2010 and 2011, which had about one-quarter the sugar content of the first vintage. Over time, the sweetness has quietly yielded the floor to a tertiary sense of nut and honey, dried apricot and spice. "After seven, eight years, we had the conviction that more extract and more residual sugar are better for the longest maturation."
But after tasting, and a visit into the mine itself, I decided the approach was more strategy than stunt.
2015, the newest wine, was also concentrated at harvest, but, he said, "The interesting thing is the high brightness. The harvest time was late, but the sugar content was not much higher." And despite having just emerged from six years inside the mine, "2015 for me is very young, a little bit closed," he said, "but I think has a long maturation time."
One certainty about Epokale is that it's delicious. That's not a hot take. Monica Larner, in her critical review of the inaugural 2009 vintage for The Wine Advocate, gave the wine 100 points, a first for any Italian white wine. That was in 2018. By then, the winery had already produced eight more vintages (and the 2009 was already sold out), so it cannot be said that such praise much altered their stylistic approach.
But recognition is always sweet. With Epokale, Cantina Tramin has successfully rebooted a historic style that fell out of favor two centuries ago. That's a pride point not only for the co-op's growers, but for all the region's families, who have long labored to safeguard tradition, sustain their livelihood, and grow along with the times.
---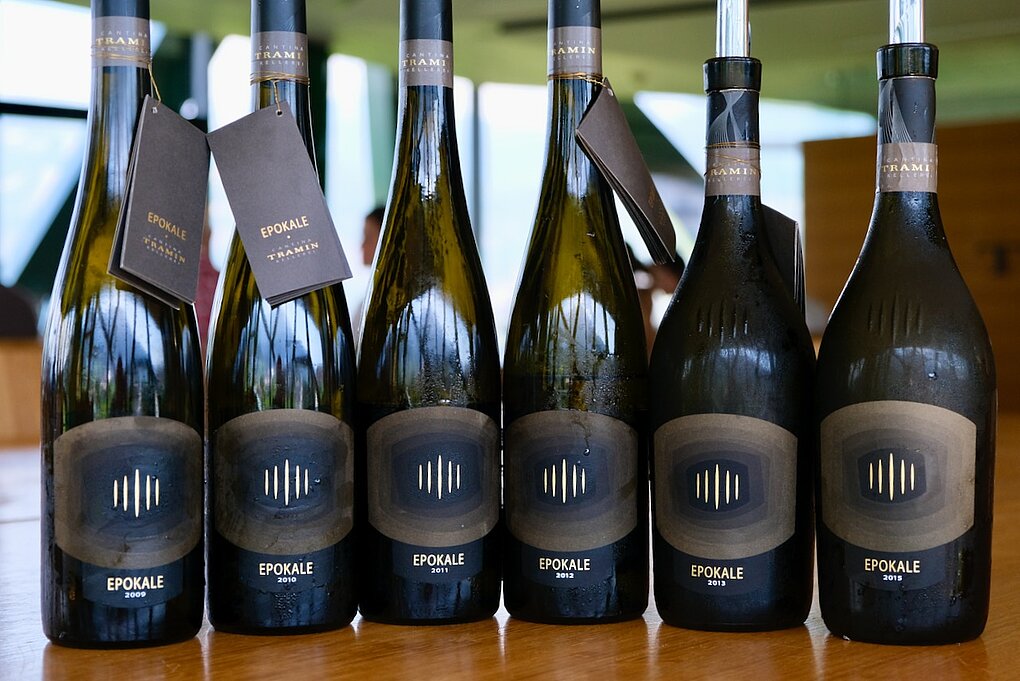 Epokale Gewürtztraminer Spätlese, Cantina Tramin, Alto Adige DOC
2009
ABV 12.5% | RS 107 g/L | TA 5.6 g/L
Rich gold color, the darkest of the samples. Wildly perfumed, suggesting jasmine and orchard flowers, with a heady thrum of caramel and honeyed peaches. The palate is opulent and sweet with stone fruit, dried apricot, spice, and nut, but lively acidity lightens the finish.
2010
ABV 13.5% | RS 36 g/L | TA 5.0 g/L
Yellow golden with savory and slightly herbaceous aromas, floral notes of white tree fruits, and a light, mineral edge. The palate is expansive, with abundant ripe apricot/peach nectar balanced by firm acidity. The finish is forever, with a closing lift of fresh field herbs.
2011
ABV 14.2% | RS 30 g/L | TA 5.0 g/L
Aged at the winery, not in the mine. Aromas are somewhat quiet, with just a sense of flowers and spice, and the palate suggests yellow apple and pear. Overall the wine shows less complexity and feels a bit modest.
2012
ABV 13.8% | RS 23 g/L | TA 4.5 g/L
Highly perfumed with aromas of Tahitian vanilla, jasmine, and beach roses, with plenty of spicy Gewürztraminer character. The palate offers a mélange of peach and pear steeped in field herbs and flowers. The acidity sits more widely across the palate, refreshing and lifting the wine.
2013
ABV 12.7 | RS 46 g/L | TA 5.0 g/L
From a cooler vintage, these aromatics are fresher, more youthful, delivering a sense of orange peel and apple blossom. The palate is piquant, with spiced apple and white peach fruit. Overall the wine feels softer but the kick of spice is enlivening.
2015
ABV 12.5% | RS 55 g/L | TA 5.1 g/L
The new vintage suggests Tahitian vanilla and Mandarin orange peel, and its sweetly soft palate is accented with flavors of stone fruit and spice. Somewhat closed, but given the experience of 2009 and 2010, it should blossom in three to five years.
All wines were review samples. My visit was part of a media trip organized by Studio Cru.