The New Magnetism of "Alt" Mosel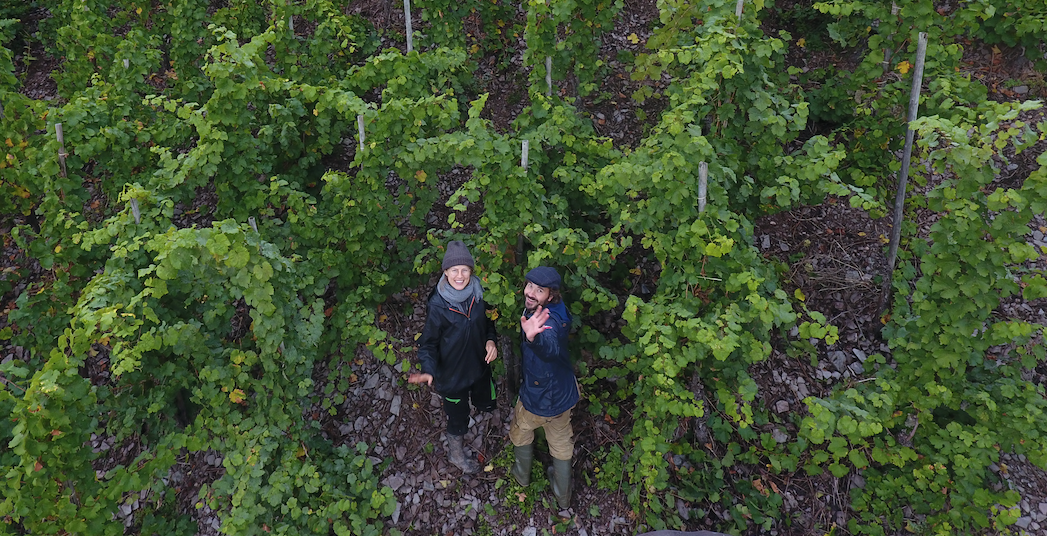 They're untethered. Free to make wine any way, anywhere they want.
They chose the Mosel. A region defined by staggering slopes and daunting hand work, a reputation for conventional farming, a signature grape famous for being a tough sell, and a surfeit of villages and vineyards whose lifeblood had seemed to be ebbing away.
Who are "they"?
"We're the fresh breath coming from outside," says Jasmin Swan, an insouciant German ex-somm who makes négociant wines under her Katla Wines label. Over the last year or so, she's emerged as something of a spokesperson for a loose-knit group of "outsiders" — not one of them a born Mosellaner, not one with a family heritage of wine — that includes a biochemical engineer from Finland, a former lawyer from Düsseldorf, a cook who honed his skills across Italy, an American escapee from the restaurant trade, and a prominent Belgian lifestyle writer.
What they all have in common is a sense of fresh opportunity in the "old" Mosel.

What they all have in common is a sense of fresh opportunity in the "old" Mosel: the chance to work on a human scale among charismatic mentors and to test their mettle on untamed terrain in a mythic landscape where barriers to entry are low and superlative vineyards come very cheap.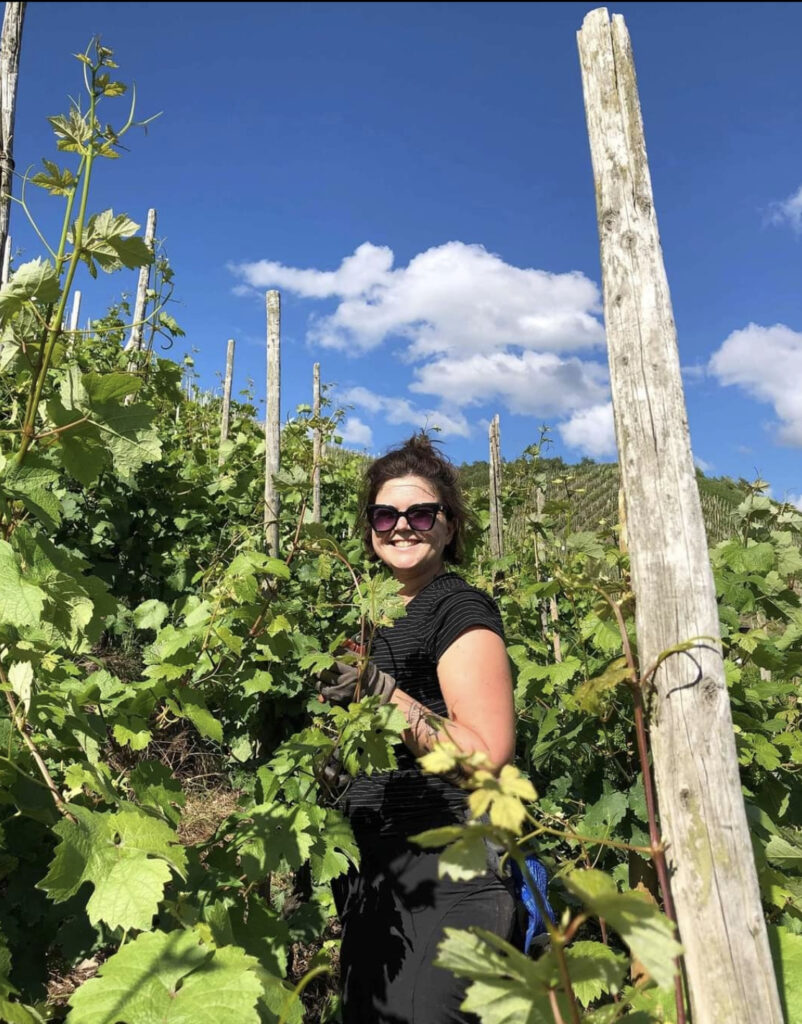 Not all identify with the "Alternative Mosel" flag Swan has planted. But they're definitely doing their own things. Some are deep into biodynamics. Others are pushing Riesling to stylistic extremes. Still others want to explore the potential of new varieties. More than one wants to master the tradition of Kabinett. "The Mosel is in a moment of transformation," says Swan. "We're here to mix things up and see what happens."
"The Mosel is in a moment of transformation," says Swan. "We're here to mix things up and see what happens."

The Mosel aristocracy needn't worry though. This crew has no designs on Wehlen's Sonnenuhr or Graach's Himmelreich. What they're after is the anonymous, the ancient, and the abandoned. And they can have it. Because in lesser-known villages up and down the Mosel, an older generation is fading away.
Small-scale growers — once the beating heart of places like Kinheim or Sankt Aldegund — find themselves at the end of a line. "For generations, good vineyards simply didn't come on the market; they could only be inherited or married into," notes Rudolf Trossen, himself a lifelong grower and vintner with small holdings inherited from his father and no offspring interested in taking them over.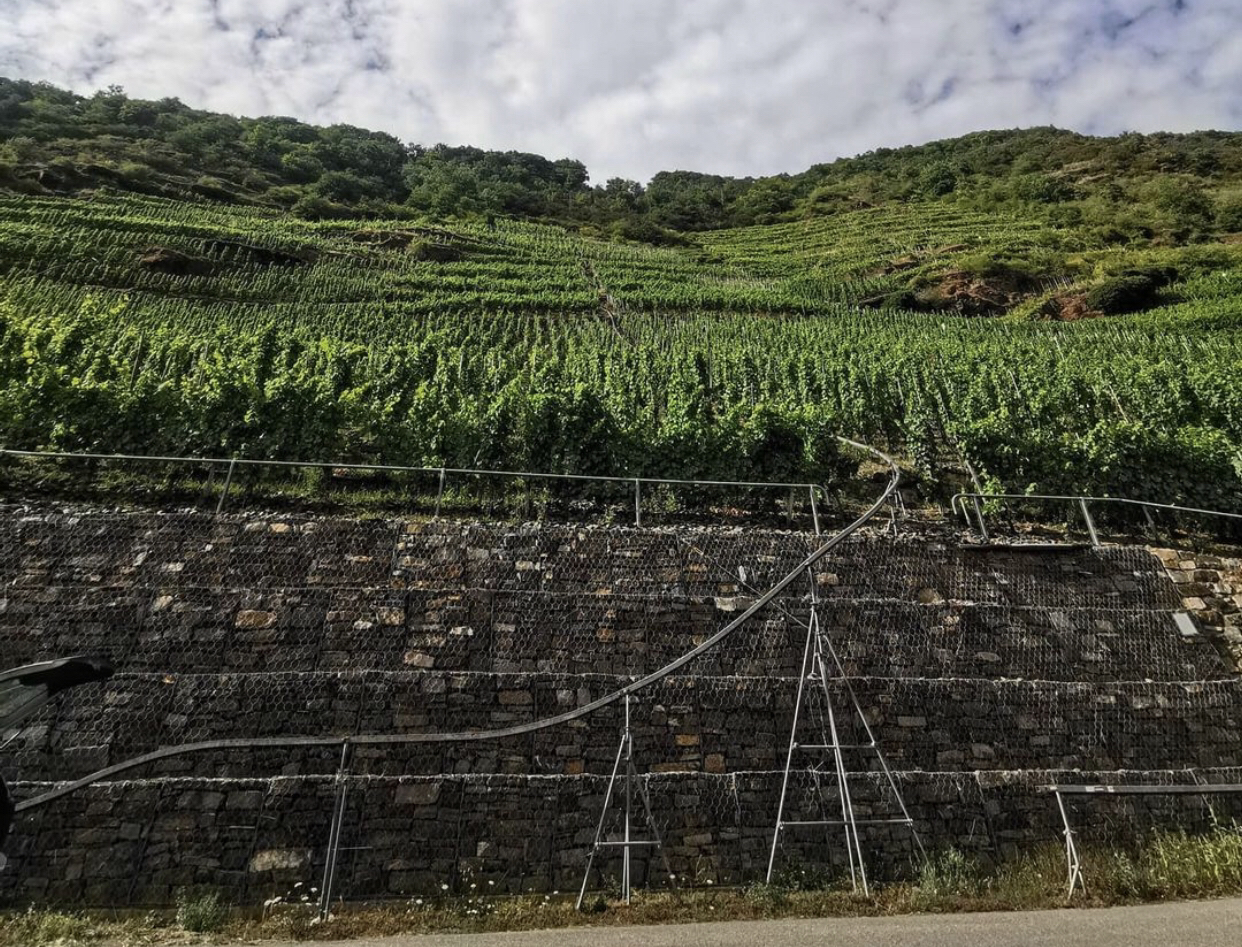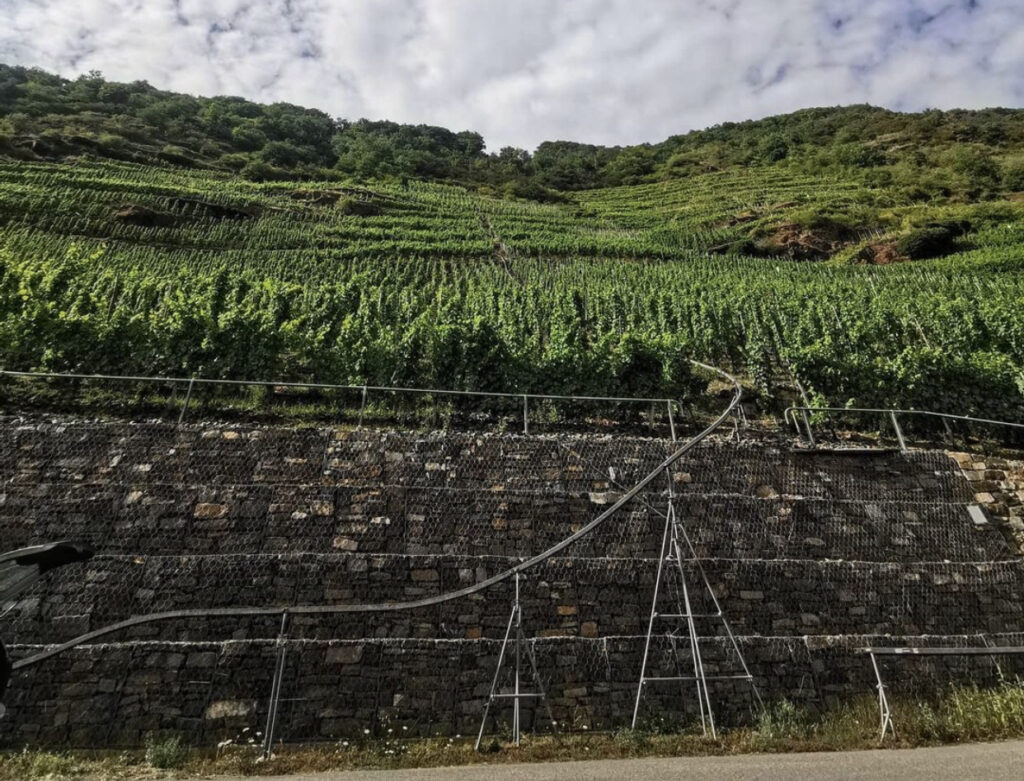 Jan Matthias Klein of Staffelter Hof, founded more than a millennium ago in Krӧv, notes that Mosel growers traditionally managed without paid employees. "Now, without family, owners have to hire workers or buy machines, making it so much more expensive." He explains that many of these estates are in "such bad shape" because owners simply had no money to invest in them — "another reason no one in the family wants to continue the business." Moreover, as Trossen points out, very few wineries are able to pass on the costs of work-intensive, steep-slope farming through corresponding bottle prices. The result? Countless small wineries are folding and their vineyards going up for sale.
Countless small wineries are folding and their vineyards going up for sale.
"I think a lot of the sons and daughters of the old winemakers have seen the struggle on the slopes and the low prices they got for that work," says Swan. "But we outsiders, we didn't grow up with that struggle. So, yeah, we are going into it with a certain naivete. But I think that's really refreshing and good."
Most outsiders point to the same initial attraction: the Mosel's incomparable, mythic beauty. Jan-Philipp Bleeke, an enterprising young German now working out of Klein's cellar, lived on New Zealand's stunning Waiheke Island for a time. He recalls his first glimpse of the Mosel through a train window: "I got exactly the same feeling I had when I got to Waiheke: This is it."
France Dejonckheere, a Belgian with a background in law who now splits her time between lifestyle writing and work in the vines, echoes the sentiment. When she arrived in the Mosel last year to work her first harvest, she fell in love with "the big landscapes, the space to breathe, being close to the water, and the way people have somehow always continued in this difficult landscape." Less than a year later, she and her partner Florian Wecker settled on two tiny plots in Kinheim and Kröv. This fall, with their biodynamic microestate Jus Naturae, they joined a continuum of Mosel winemaking that ties them all the way back to the Romans.
For many, the attraction of the "abandoned" Mosel
is freedom.
For many, the attraction of the "abandoned" Mosel is freedom. No one looking over a shoulder, no one to say no. "You have every possibility here. You can find your own style, go your own way," says Jakob Tennstedt, whose own restless search for connection ended when he found a few small parcels of mostly ungrafted vines he could farm biodynamically in the side valley of Kautenbachtal. Tennstedt, an intense, soft-spoken Berliner, spent years in Italy before he realized it would never feel like home. He decided to try Germany "one last time." A transformative encounter with a Saar Riesling guided him toward the Mosel. "I leased vineyards and immediately started my own project," he says. "The plots were really wild: I had to clear trees, reinvigorate the soils, replant vines. But it was the first time the feeling was 100 percent right for me."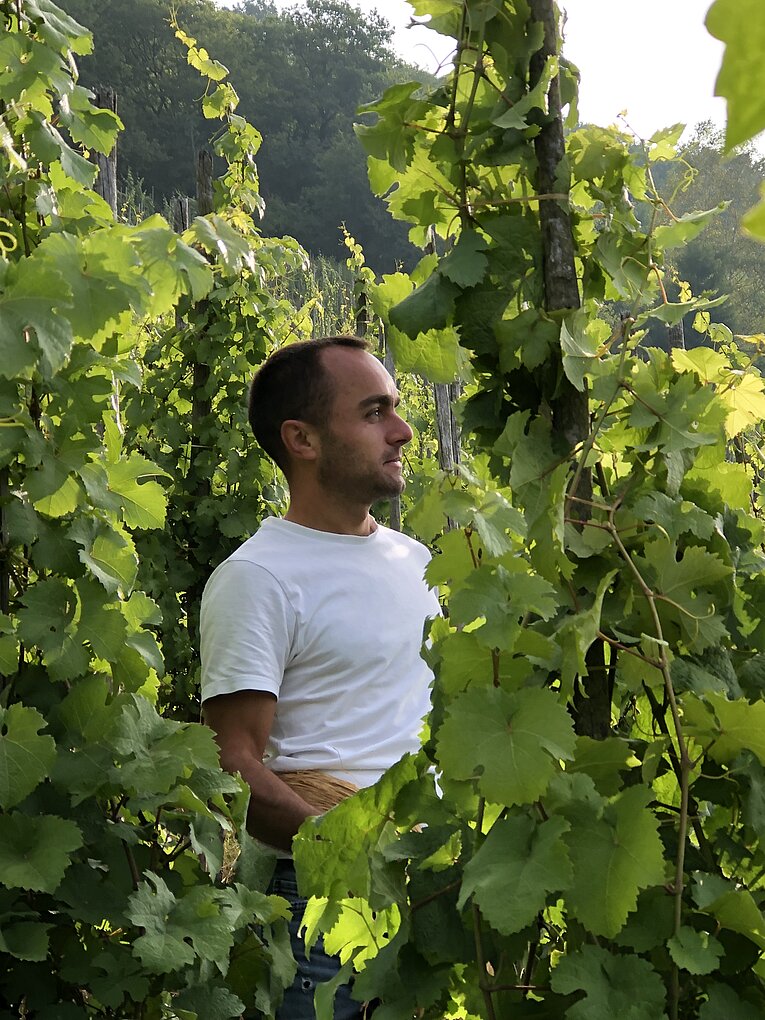 This sense of quest is echoed by Petra Kujanpӓӓ, curiously, one of two Finns in the outsider group. She has a master's degree in engineering and a quiet manner that belies her reputation as "the most badass lady in the Mosel" (Swan), earned for her singular focus on revitalizing vertiginous plots in Valwig and Pommern by hand. Like her peers, she has worked and trained around the world. When she arrived in the Mosel, she chose her sites not by reputation, but "based on what I myself saw the vineyards were capable of." Now she's staked her future on three scattered hectares she calls Shadowfolk Vineyards, a one-woman venture dedicated to painstaking organic and biodynamic farming and "trial and research" in the cellar.
Strong individualists are another powerful lure.
Strong individualists are another powerful lure. Names like Clemens Busch, Reinhard Löwenstein, Ulli Stein, Thorsten Melsheimer, Trossen, and Klein come up again and again in newcomers' accounts of what drew them in.
"A lucky accident" led Janina Schmitt, and her partner, Rebecca Materne, friends and fellow Geisenheim graduates, to a meeting with Löwenstein, an early force in reviving the walls of slate and vines in what was a withering Terassenmosel. He asked the women to share the role of cellarmaster at his estate, giving them time and space to develop their own project on the side. His encouragement and generosity influenced their decision to stay and start Materne & Schmitt, now in its eighth year and itself an influence on even more recent arrivals.
Wecker and Dejonckheere both regard the Trossens — the valley's first biodynamic growers — as vital mentors. Wecker is a thoughtful former lawyer from Düsseldorf with a master's degree in viticulture and oenology who trained under biodynamics expert Georg Meissner at Alois Lageder before coming to the Mosel to learn from the Trossens last year. Along with the critical lessons in biodynamic practice and theory he has taken from Trossen, Wecker says the human element has been particularly formative: "Rudi always has people coming by. Even if he's in the middle of lunch, he takes his time to lead them through tastings and it's never the same experience. If France and I happen to be there, he's always so generous to introduce us as 'rising stars of the Mosel' even if we feel we haven't earned it yet."
Kujanpӓӓ credits working a harvest with Clemens Busch for convincing her "I had to come back here and try my own thing."
Kujanpӓӓ credits working a harvest with Clemens Busch, an early adopter of organic viticulture in Pünderich known for his singular approach to terroir expression through Riesling, for convincing her "I had to come back here and try my own thing."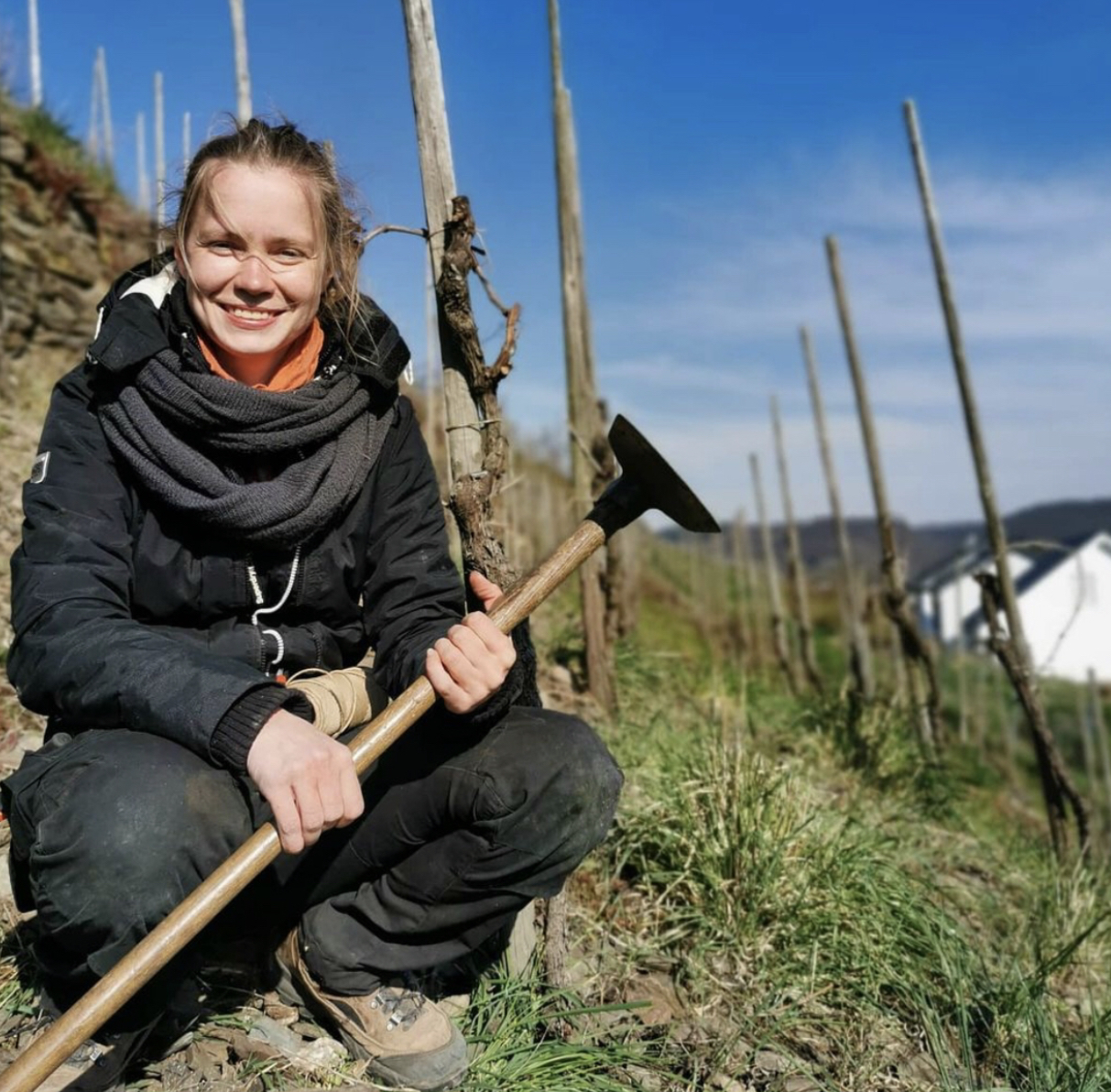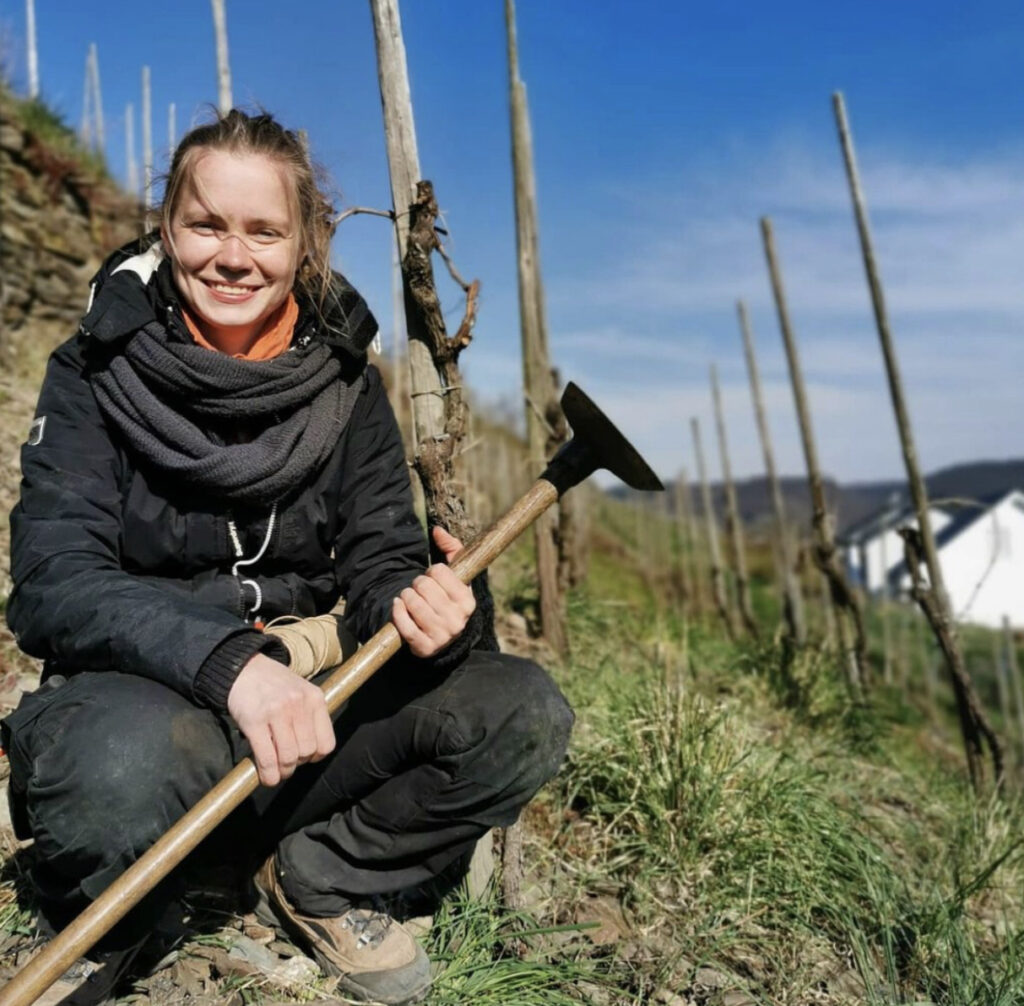 The youngest of these mentors is Klein, a gregarious figure who bridges the generations in more ways than one. As the heir to one of Europe's oldest wineries, he carries the weight of perpetuating tradition. As a playful innovator, he seems open to everything. In a hedge against climate change, he recently planted heat-loving Portuguese varieties. Last year, he added a new label to his range called Pandamonium, in part to diversify the family business, in part to create a market for small growers who are farming responsibly but are not yet certified organic. He also offers a corner of his cellar and advice from his own experience to those just getting started, like Swan and Bleeke.
Swan coined the term "Alternative Mosel" to embrace the spectrum of approaches she and others are bringing to the valley.
Swan coined the term "Alternative Mosel" to embrace the spectrum of approaches she and others are bringing to the valley. "I try not to be dogmatic about the definition," she says, "It's just people who are doing something different here. They have to be at least moving toward organic. But it's more about intention and celebrating unique wines."
Last year was her first vintage. "Hiltja" is a blend of the hybrid Cabernet Blanc grape and Riesling; "Sigyn" a cuvée of carbonic Regent and Riesling. You can already find them for sale in San Francisco.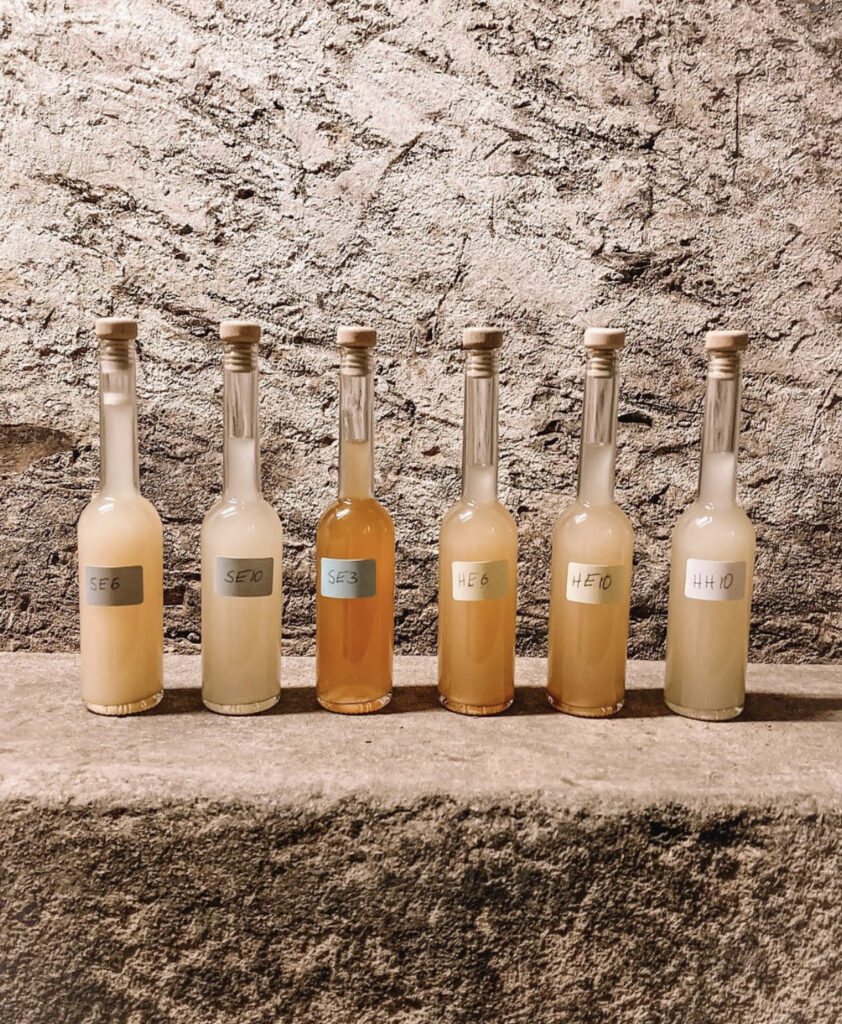 While natural wines seem a generational imperative, they're not the only driver for Mosel newcomers. Bleeke is as interested in perfecting the art of classic Kabinett Riesling as he is in making low-intervention pét-nats. Philip Lardot, a young Finn who worked his first harvest with Ulli Stein several years ago and has since been tapped to take over Stein's estate is at something of a remove from the Alt Mosel crowd. For his own project, he's upfront that he's "not as natural as some people," but favors clean, stable wines "that are the expression of the super hard work I do in the vineyard, protected with just a few milligrams of sulfur." Regardless of where they line up on natural wines, the outsiders are all in on a common secret: the low pH values naturally achievable in the Mosel lend themselves beautifully to low-intervention cellar styles.
The low pH values naturally achievable in the Mosel lend themselves beautifully to low-intervention cellar styles.
The clincher? Mosel living is cheap. Housing, cellars, equipment, and especially vineyards. "Around Sankt Aldegund, you can get the old plots for free," says Lardot. He explains that owners are motivated to sell or give away their fallow vineyards by a law that requires unused parcels to be ripped out to prevent the spread of vine diseases — a difficult and costly job. Klein sees this even in on-the-beaten-path Kröv and he highlights another cost savings for ambitious would-be growers: steep slopes mean handwork, obviating the need for upfront investment in machinery.
"All in all, for a fraction of the capital investment required in, say, Burgundy," summarizes Trossen, "in the Mosel you can acquire world-class vineyards and build yourself a future."
For many, their vision of that future must include working "on a human scale," as Dejonckheere puts it: being close to their vines throughout the year, developing an intuitive relationship with the land, keeping production small, involving friends, family, and neighbors.
The contrast between waning old guard and bold arriviste might be expected to set up at least a flicker of tension. But the newcomers are quick to dispel this suspicion. Tennstedt calls the Mosel "a culture of welcome," surmising that as the older generation fades, it is less interested in digging in its heels than quietly adjusting its thinking.
A cellar in Kinheim that now houses Jus Naturae is tucked beneath the home of a 93-year-old woman and had been empty for decades. But far from being put out by the new activity below, the elderly owner is delighted, Dejonckheere reports. "She tells us: 'Oh, I can smell the fermentation! It brings back memories.'"
Established winemaking families in Winningen are quick to share everything from equipment to advice, says American winemaker Robert Kane, who started Madame Flӧck Wines with Canadian partner Derek LaBelle in 2018. Kane's interest in wine evolved out of 14 years of working in restaurants. During a stint at a winery in Australia, he and LaBelle decided to make wine together. A chance internship in the Mosel determined where: "I fell in love with everything," he says — including Janina Schmitt, to whom he is now married.
Last year, Bleeke expanded this sense of interconnection by launching the Mosel's first community-supported wine project. "What I love so much about being a grower and winemaker," he says, "is sharing wine and knowing that in this way I've helped others to a moment of camaraderie. I wanted more people to be able to get this feeling, too."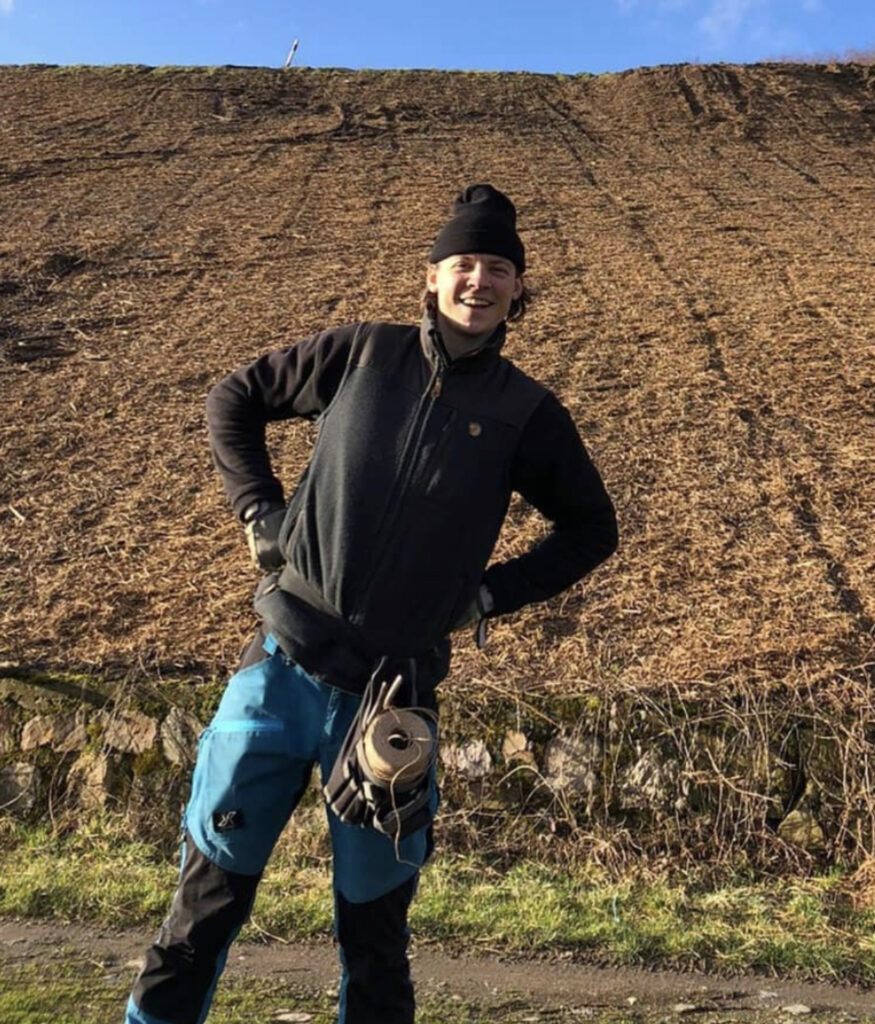 So, in addition to his own label, Bleeke heads up CSVino, an initiative he designed to bring anyone with an interest into the vineyards and cellar to learn along with him. The group of 30 members — ranging in age from 19 to 60 and coming from all parts of Germany — splits the cost of owning or leasing the vineyards, farming, and equipment, on a pay-what-you-can model. If it succeeds long term, it may point the way to a new paradigm for preserving the soul of small-scale Mosel.
Of course, there isn't a German wine lover alive who wants to see the story of the Mosel wholly rewritten. There is so much that is gloriously perfect as it is. But if change must creep in, it is reassuring to know it will be wrought by such creative, committed hands.