Are the British Getting a Taste for Umlauts?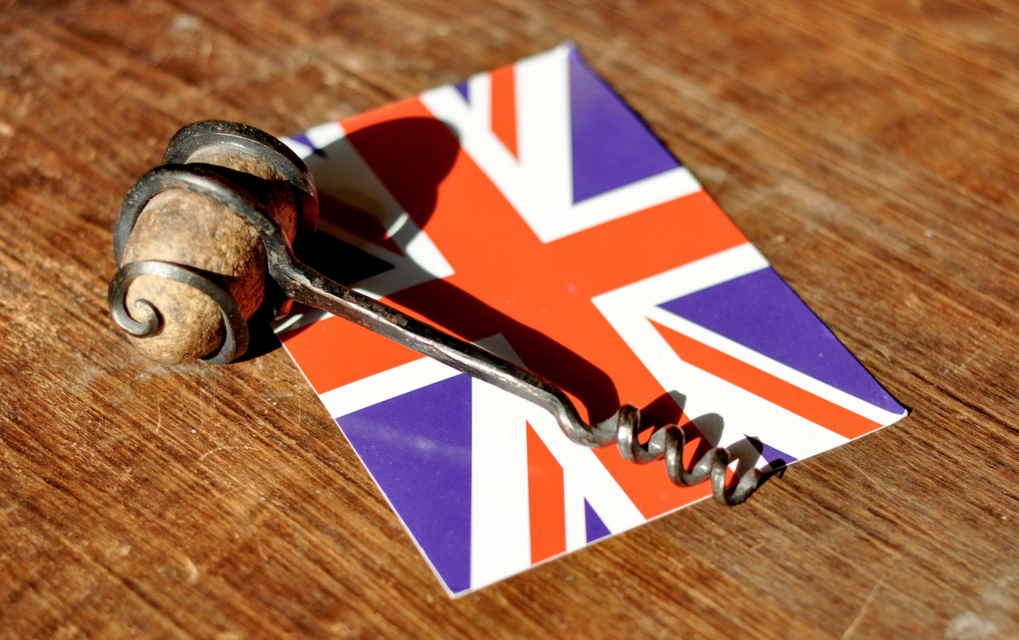 We British are not the world's most noted linguists, but that doesn't seem to put off some of us from drinking "German-speaking" wines. That said, the market for these wines has had a rough ride at times, which makes their current increasing popularity all the more intriguing.
Germany has historically boasted a well-established presence in the U.K. wine market. In the 19th– and early 20th– centuries German wines were famously on par with Bordeaux, Burgundy, Champagne, and Port in terms of price. After the fall of Napoleon, the Rhineland and the Mosel both entered a period of prosperity, initiated by a run of fine vintages in the 1820s. The German ancestry of the British monarchy naturally helped, but the popularity of German wines truly took off in the reign of Queen Victoria, and her German Consort, Prince Albert.
Even two World Wars that pitted the British against the Germans didn't really destroy that market. This was, in part, thanks to the devotion of several German wine merchants who re-established themselves in the U.K. after all was lost in their home country.
German wine was, at any rate, primarily a wine for the upper classes, who cherished the "Hocks" of the Rhine in all their late-harvest glory. Despite war, the aristocratic families of England maintained a relationship with their German cousins and those fine wine merchants with German origins supplied their clientele with the very best Germany had to offer.
The German ancestry of the British monarchy naturally helped, but the popularity of German wines truly took off in the reign of Queen Victoria, and her German Consort, Prince Albert.

What did kill the U.K. market for German wine was the sugar water flowing out of the 1971 German Wine Law, with Liebfraumilch largely to blame. It is astonishing to learn that in 1891, three cases of Liebfraumilch from the 1874 vintage sold at auction in London for the same price as three cases of Château Lafite 1865. But it was Liebfraumilch, the brand, not the wine from the vineyard around the Liebfrauenkirche, near Worms, that became synonymous with how far German wine had sunk. A country producing affordable fine wines with a 2,000-year tradition had shot itself in the foot.
It has taken until the current century for German wine to re-establish itself in the U.K.: Initially as a producer of top Riesling rather than süssed-up Müller-Thurgau, and more recently as a thrilling source of a lot more besides. The recent U.K.'s position as Germany's third-most important wine export market (after the U.S. and the Netherlands) attests to this.
First came the realization that fine German wine was (and still is) seriously good value, especially with the rise to prominence of superstar growers like the Haag brothers, Florian Lauer, Philipp Wittmann, and Klaus Peter Keller. Their wines compete on a field with the best of Burgundy, but sell for a fraction of the price.
Then we have a surge of new names, many having set up in once unfashionable regions. Newcomers from Bianka and Daniel Schmitt in Rheinhessen to Weingut Roterfaden in Württemberg, from Jas Swan in the Mosel to Andi Weigand in Franken are following in the footsteps of low-intervention stars like Clemens and Rita Busch or Rudolf and Rita Trossen. This fresh crop of growers and winemakers are emphatic about clean farming and ultra-low intervention, and show interest in the full diversity of varieties and styles that Germany has on offer.
In essence, we really have two separate markets for "umlaut wines" in Britain.

Fine wine merchants sell the more traditional offerings from Germany and Austria, mostly classic regions like the Mosel, Rhine, and Wachau. The indie scene, based very much around natural wine and a younger clientele, will probably gravitate to the regions above, plus Austrian lodestars Burgenland and Styria, and won't be afraid to sell Dornfelder, Silvaner, or Rotgipfler.
The latter are truly modern wines. Lighter, fresher, and more food-friendly, stimulating and balanced wines made from less familiar varieties, wines made by enthusiastic and welcoming Winzer and Winzerin (in fact it's thrilling that so many new winemakers, especially in Austria, are women).
The U.K. market for both German and Austrian wine has its specialists. Howard Ripley Wines probably brings in the most comprehensive range of Germans, with Wine Barn a noted specialist, too. Berry Bros & Rudd, and Justerini & Brooks all have some formidable estates. The low intervention scene is primarily covered by Newcomer Wines with regard to both Austria and Germany, and by Les Caves de Pyrene  with regard to Austria.

But that isn't the whole story. Several smaller importers have valuable additions, such as Dynamic Vines and Modal Wines. There's no one-stop shop, but real diversity. We are lucky in that all of the importers mentioned here sell to private customers as well as restaurants and during the current pandemic they have come to see the value of cultivating these private clients.
Sebastian Thomas, Director of Howard Ripley Wines, notes that selling German wine in the U.K. has always been an uphill struggle, yet he sees interest building. "Twenty years ago, we were lucky if a restaurant ordered a case a year," he says. Sales came mostly from private customers with a passion for Mosel Kabinett. Now restaurants play a major part in sales, especially for Grosses Gewächs (and a little Auslese). "Our annual en primeur offer of top dry wines becomes ever more popular," he adds. The superb quality of the 2019 vintage has brought a commensurate increase in attention.
I asked Anne Krebiehl MW, German-born author of The Wines of Germany (Infinite Ideas, 2019) for her thoughts about the market in her chosen country of exile. "Compared to a decade ago," she says, "there now is so much more German wine here – and the way Germany is seen has changed. It used to be all nobly sweet Mosel and haughty Rheingau, but the younger generation of winemakers has revolutionized that."
"Compared to a decade ago, there now is so much more German wine here and the way Germany is seen has changed."
She points out that independent wine shops now have more German wine that is not Riesling and that there has been a turnaround for the on-trade, again with dry Riesling and the Pinot varieties that do so well in Germany. "The change for Spätburgunder is most notable and a real value proposition, at entry level, at the high end, and in between. Another exciting development is traditional method Sekt, but that will take a while longer," she notes.
I asked about her perceptions of the role of the German (and Austrian) new wave — Landwein, low intervention, undersung varieties, non-traditional labels, often young or new producers — in the current market here. "I am seeing nothing Germany- or Austria-specific here that is not the same in other countries: cool kids doing fun stuff, some of it seriously good, some of it less so," says Krebiehl. "Nonetheless, I applaud the iconoclasm that has brought a whole new demographic to wine and questioned set ways of doing things."
Thirty years ago, Austrian wines had little traction in the U.K. market, aside from the mild fashionability of Grüner Veltliner. But it appears a market was ready and waiting.

Austria has seen a remarkable change in fortunes this century. Thirty years ago, Austrian wines had little traction in the U.K. market, aside from the mild fashionability of Grüner Veltliner. But it appears a market was ready and waiting. When Newcomer Wines opened their tiny specialist retail outlet in a shipping container in London's Shoreditch Boxpark in 2014, it became instrumental in building an audience for Austria's lo-fi wines. Perhaps only Les Caves de Pyrene comes close for a finger-on-the-pulse major Austrian range.
Austrian-born Daniela Pilhofer co-founded LITTLEWINE earlier this year, but she was also one of the co-founders of Newcomer Wines back in 2014. She makes a pertinent point, one that benefits U.K. wine consumers: "Many Austrian natural wines are much more famous and celebrated abroad than they are in their own country."
Austria, with 45,000 hectares (to Germany's 103,000), is an export juggernaut. Its wines now go to more than 100 countries, with exports by volume to the U.K. climbing from 51,000 liters to some 1,200,000 liters over the past two decades. By working effectively with sommeliers and journalists, the country's wine profile has sharpened, leading to a knock-on effect on wine tourism back home — something Germany could learn from, perhaps.
Pilhofer says the U.K. has played a substantial role in shaping how Austrian wine is perceived internationally "especially on the natural, minimal intervention side." She notes that five years ago, the conversation was about appellations and classifications. "Today, we talk about the person making the wine and their impact on the region, which is much more diverse than a country-wide style referred to as 'Austrian wine.' Slowly but surely, local regions like Burgenland and Styria, to name two, are getting a bigger part of the attention due to pioneering winemakers who redefine the expectations for Austrian wine."
Austria's impressive range of native grapes, to some extent a preserved legacy of its vital Gemischter Satz (field blend) tradition, sits well in the type of wine bars and restaurants frequented by inquisitive young consumers, and equally in the U.K.'s plethora of indie wine shops looking for something unique to sell.
In some respects, it is this vibrant edge of the German and Austrian wine market in the U.K. that I am most fearful for, as Covid continues and Brexit looms. I also note the rapidity with which these wines are flooding into Scandinavia, Japan, and Canada (to mention just three competing markets). If America's new president manages to remove its 25% wine tariffs, then that market, with its astute importers, is likely to recover, leaving less wine for us Brits. If unemployment affects the young professionals buying higher-priced low-intervention wines like these, the market might shrink. Quantities available in this sector are strictly limited by small vine holdings, so a market switch is not an issue for many producers.

Next year will doubtless reveal a great deal.