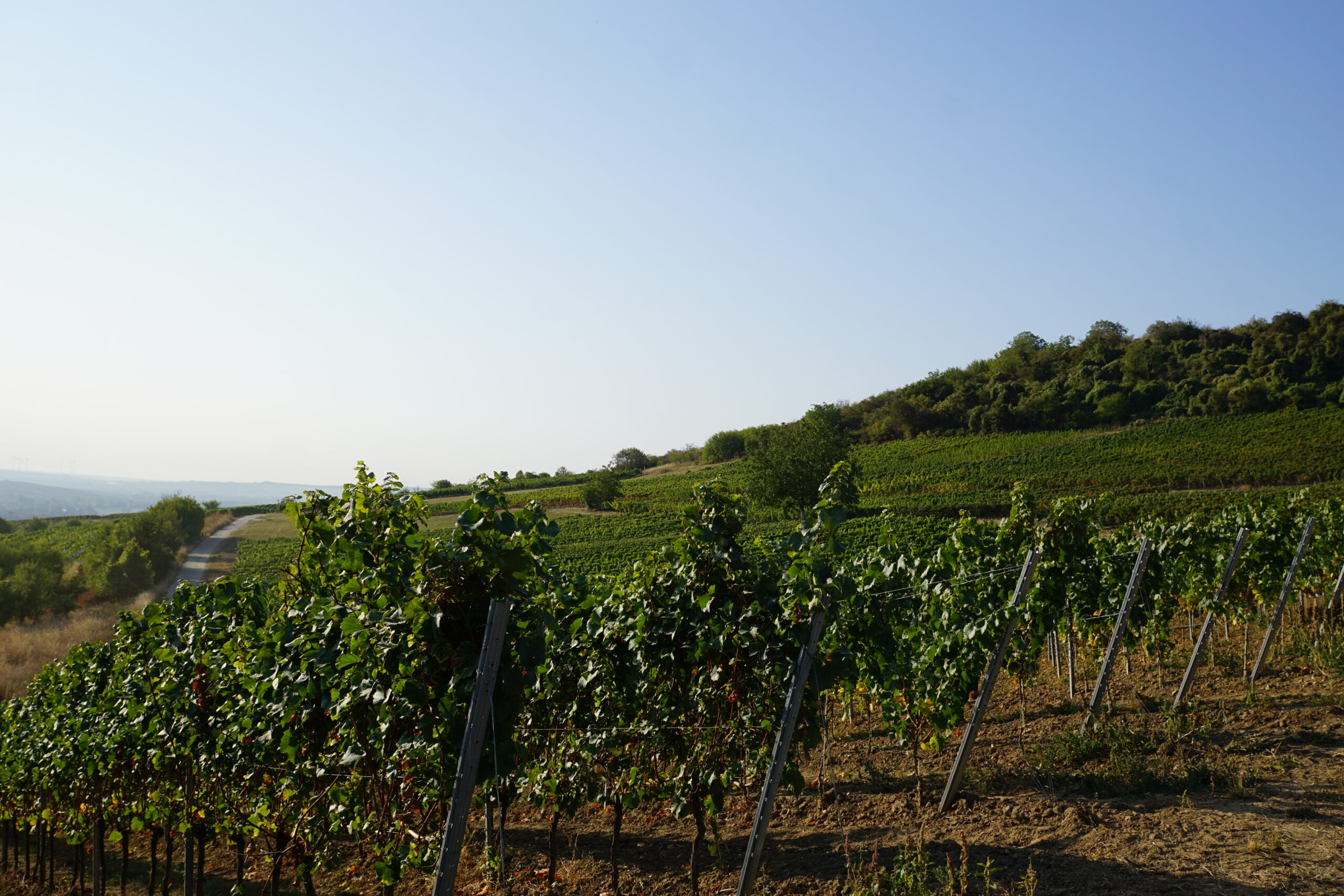 If there is an underdog in Germany's largest winegrowing region, Rheinhessen, it is Scheurebe. Vinified sweet for many years, Scheurebe — pronounced SHOY-ray-beh — largely fell out of fashion. But things changed, and with the dry wine revolution in Germany over the last 20 years, Scheu is back, with — to quote Patti LaBelle — brand new ideas and a new attitude. 
"Scheu," as aficionados like to call it, was bred by German viticulturist Justus Georg Scheu in 1916. Unhappy with the many highly acidic and sour Rieslings he encountered, Scheu (the man, not the grape) wanted to create a lower-acidity variety that could also be vinified dry. He in fact went on to breed an entire series, of which Scheu (the grape, not the man) was number 88, hence its first official name: Alzey S. 88, and later Sämling 88. However, with so many crossings, somewhere along the way his research grew muddy. So although Justus Scheu went to his grave believing that "his" Scheu was Riesling x Silvaner, DNA testing in 2012 proved it to be Riesling x Bukettrebe instead.
The Denazification of a Grape
In Germany, "8" is considered a signifier for the eighth letter of the alphabet, H, and "HH" is the abbreviation for "Heil Hitler" in the ideological language of the Nazis. Sämling 88, the Austrian synonym for the grape, is thus tainted. Unfortunately, this is not the only connection between Scheurebe and the National Socialists. Since Justus Georg Scheu did not want the variety named for himself, it was eventually dubbed Dr. Wagnerrebe in Rheinhessen for the then well-known Nazi and Landesbauernführer of Hessen-Nassau, Dr. Richard Wagner. (Ed. note: Landesbauernführer refers to the head of the organization of all farmers in Rheinhessen within the Nazi regime.)
After the war, the grape variety had to be denazified twice before finally receiving the name of Scheu (the grape) following the doctor's death in 1949. The denazification process is an official one, instated with the founding of the Federal Republic of Germany, and intended to neutralize, in a manner of speaking, thoes names and terms closely associated with the Nazi regime. For example, the Nazi symbol, the swastika, may not be shown in public even today. Neighboring Austria, by contrast, has largely renounced denazification. Produced in its sweet heritage stylings there, the variety continues to be called Sämling – meaning that it, together with Zweigelt, continue to await a reckoning… but that is a story for another day.
Good Sites and Ripeness are Crucial
Despite a rocky start, Scheurebe has become one of the most successful new German varieties. And since donning its new dry dress, it has earned itself a seat among the established aromatic grape varieties. Intense aromas from both sides of the family, reminiscent of grapefruit and early harvested rhubarb, cassis, gooseberry, mint, ripe lime and tropical fruit, are electrified by a vein of acidity from father Riesling.
Although at first blush the similarities are clear, the proclivity to refer to Scheu as Rheinhessen's Sauvignon Blanc does not, in fact, do justice to the variety. Scheu reveals a very different tension as well as acidity. Less bold, less showy than many German Sauvignons, it is perhaps best understood as Riesling's unconventional sibling.
"Scheurebe Kabinett. That's just fun, no need to explain, it just works."
The success of Scheurebe is, like that of many aromatic varieties, nearly entirely predicated on the selection of site. When it comes to Scheu, winegrowers like Daniel Wagner of Weingut Wagner-Stempel and Jan Eymael of Weingut Pfeffingen agree, two factors are key: good terroir and time to ripen. "I like to harvest Scheurebe overripe," says Wagner. "Not with botrytis, but only when the Scheu is really, properly cooked. Like a well-hung piece of meat. That's when the flavors emerge. It should be falling off the vine almost by itself. And in our location, it still retains the acidity."
The fact that Scheurebe needs such good sites could just have easily been its doom. The best sites are always reserved for a superstar — no question who that is in Germany — not the understudy. Wagner's love story with Scheu was simply the fruit of a chance encounter. When he acquired his cru site Sieferheimer Heerkretz from a winemaker friend in 2006, the deal included his agreement to take an old parcel of Scheurebe. Fortunately, Wagner calls himself a near compulsive hoarder of grape varieties and so he took it, vinified it and was thrilled with the quality. He now boasts a second plot as well: "If I had known what Scheurebe could do," he says, "I would never have planted Sauvignon Blanc. I think Scheurebe is ultimately much more important in Rheinhessen."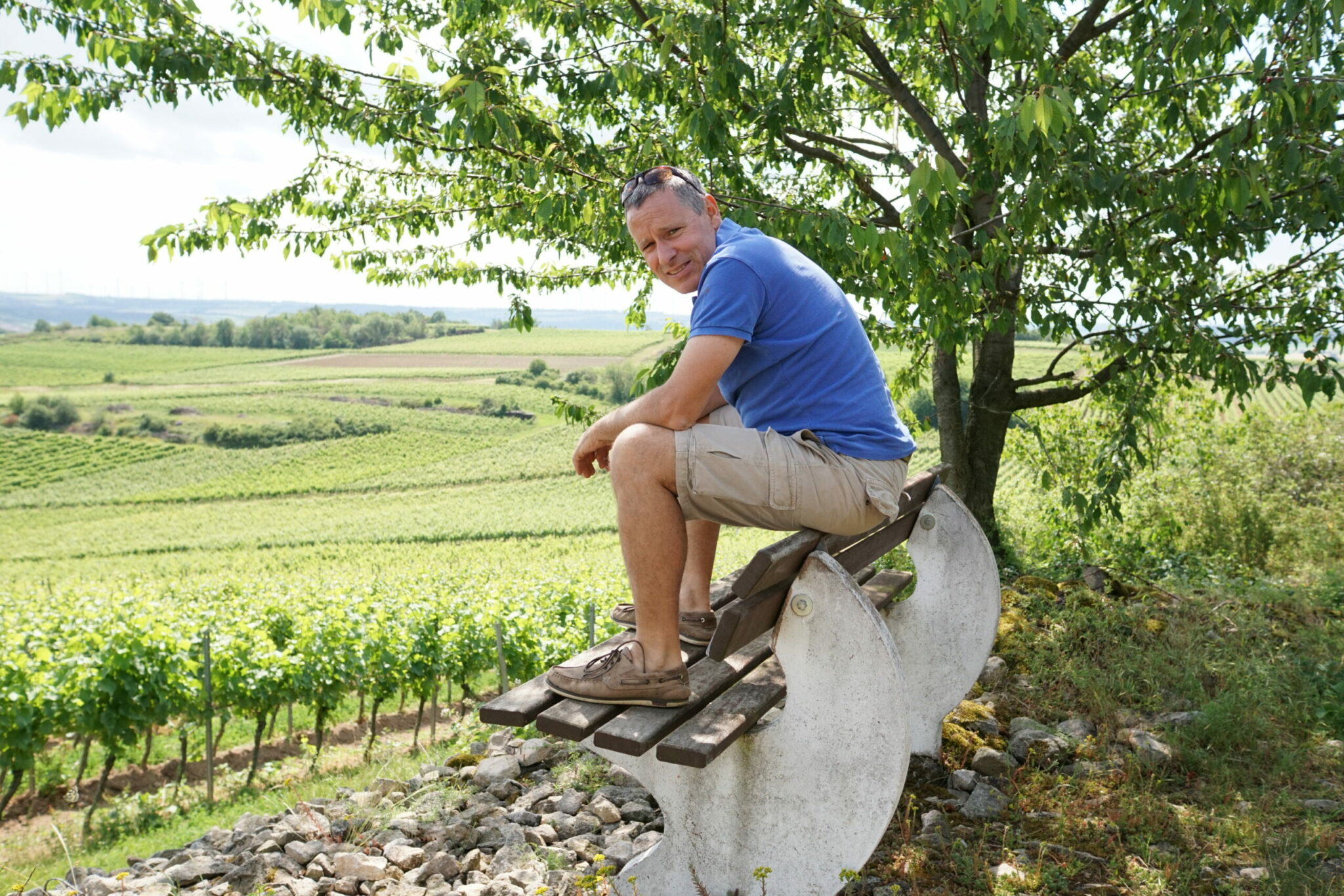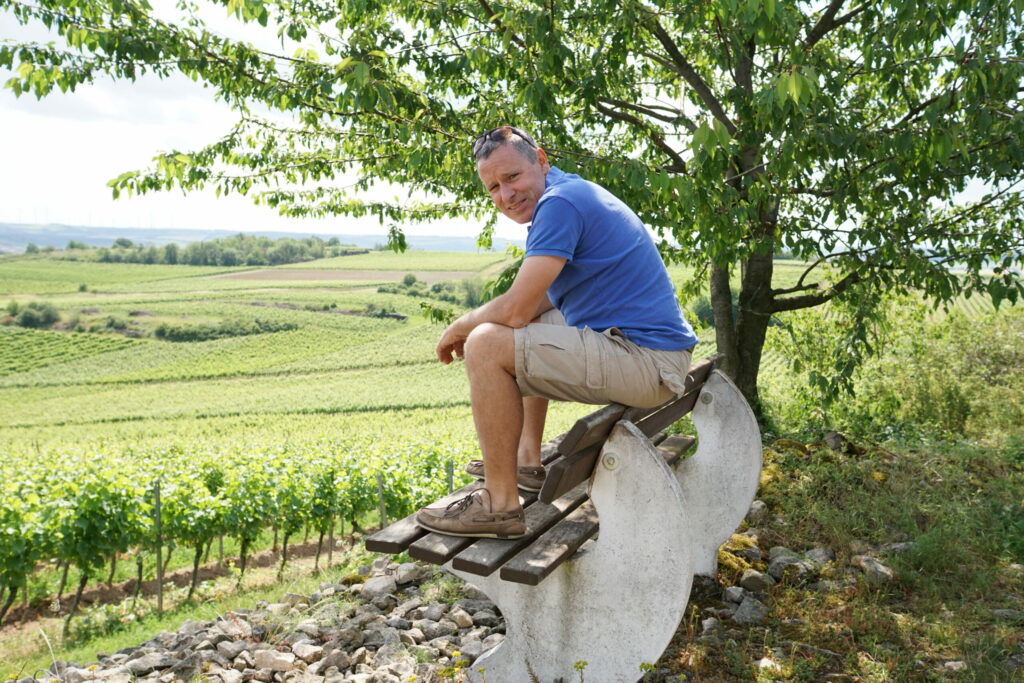 Julia and Klaus Peter Keller of Weingut Keller in Flörsheim-Dalsheim also attest to the variety's high status with their dry Scheurebe and beautiful Scheurebe Kabinett. Their 50-year-old parcel "La Borne"in Morstein is an excellent site for Grosse Gewächse, and more than capable of producing sinfully expensive GG Rieslings, as at nearby Weingut Wittmann. However, for Klaus Peter that is out of the question: "My wife Julia learned at Müller-Catoir under Hans Günter Schwarz. So there has always been a very special relationship with this grape variety. Now and in the future. Especially since Scheurebe in La Borne is a real climate beneficiary."
Müller-Catoir's longtime estate manager and winemaker Hans Günter Schwarz, along with Bernd Philippi of Koehler-Ruprecht, are counted among the greats not only in the Pfalz but indeed in all of German viticulture. Both men left indelible marks on a generation, bringing to life great wines even in the darkest days of German viticulture. Schwarz's undying love for Rieslaner (a true Riesling x Silvaner cross) and Scheurebe, in addition to his treasured Riesling, raised the level of those varieties at the Müller-Catoir estate to previously unimagined greatness. Today, the hallowed tradition continues with a portfolio that includes three Scheurebe wines, from Gutswein to Spätlese, and in exceptional vintages occasionally even a single-vineyard bottling.
Heiligenblut Scheurebe Kabinett is the fresh and fragrant "ah" to Pfeffingen's substantive and structured "O."
Jan Eymael of Weingut Pfeffingen also awards Scheurebe a special place of honor at his Pfalz estate. Eymael also learned his craft under Hans Günter Schwarz. He put theory into practice at his own estate with a parcel of Scheurebe vines his grandfather had planted in 1949: "My grandfather first tasted the variety at the auctions in 1948. It was a Trockenbeerenauslese. He was so enthusiastic that he immediately planted Scheurebe on his best Riesling site in the Ungsteiner Herrenberg. At the time, his colleagues simply shook their heads."
What a beautiful coincidence it was then that this Scheurebe Pfalz Annaberg 1945, the very wine Eymael's grandfather had tasted, was the first Trockenbeerenauslese Weingut Stumpf-Fitz ever produced, and was promoted by the grandfather of Claudia Schug, who now runs the Schug Carneros Estate Winery in California, where Eymael spent time in 1996. And it was Eymael's long-time American importer Rudi Wiest, of all people, who still owned bottles of this very wine, which Eymael would go on to acquire.
Eymael continues to benefit from his grandfather's decision today. The old vines are the basis for a Scheurebe that significantly expands the reputation of the variety. While the estate makes no less than seven different Scheureben, from dry Ortswein to noble sweet Trockenbeerenauslese, one of them has been a game changer from the first vintage: Scheurebe "O." Mash-fermented, vinified in oak and, according to Paul Grieco of New York wine benchmark Terroir: "Best Scheurebe on the planet!"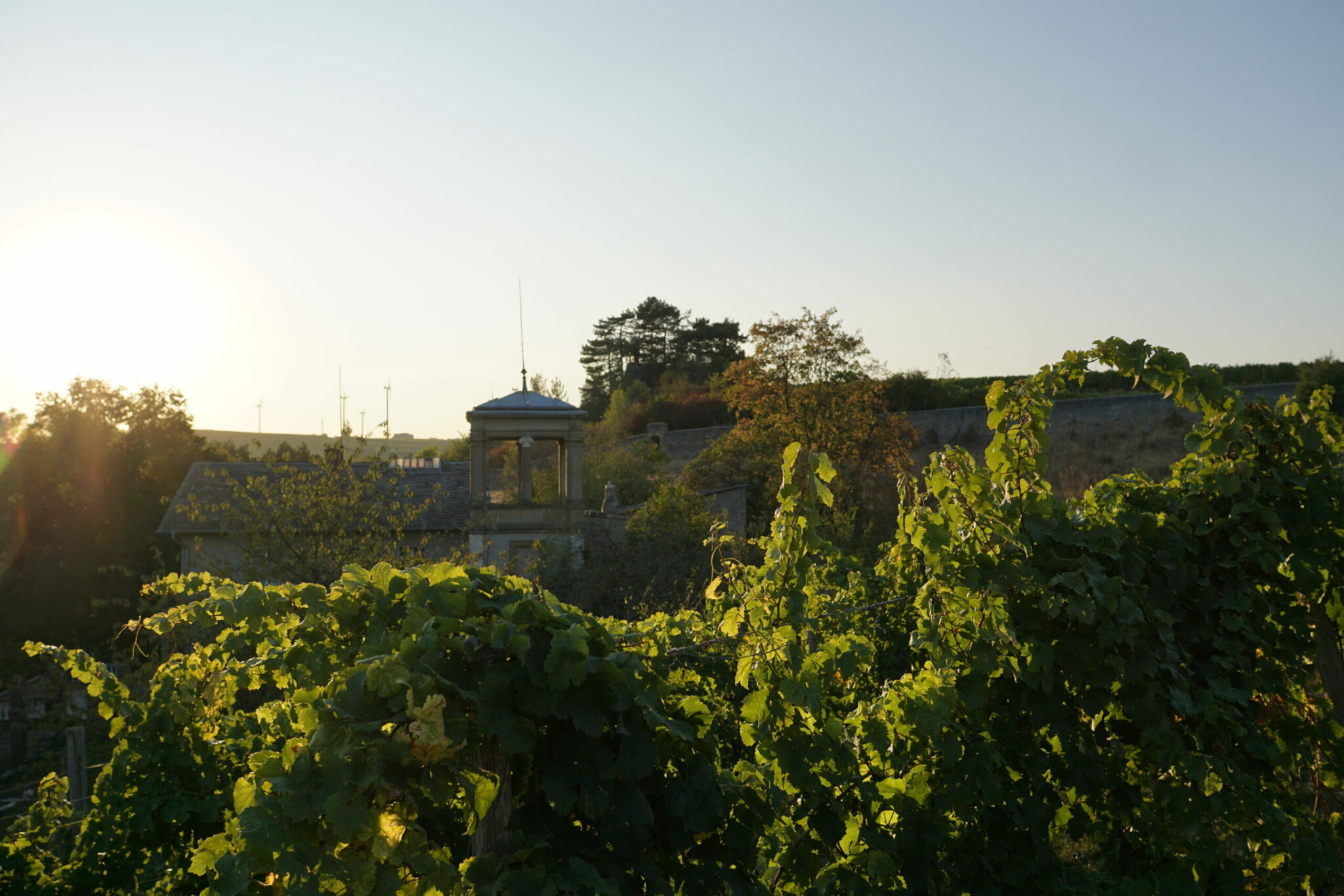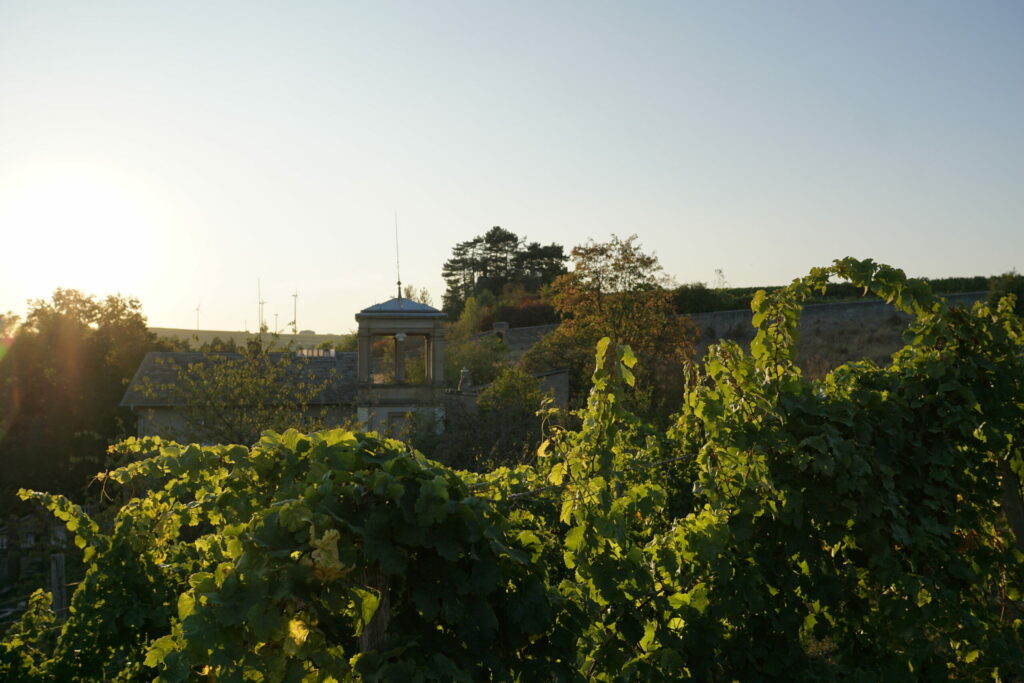 Like Eymael and the Kellers, brothers Christian and Martin Hannemann found themselves with Scheurebe vines upwards of 50 years old. Three years ago they took over the family vineyard in Alzey-Weinheim, just around the corner from Scheurebe's first planting in 1916 at the now defunct Landesanstalt für Rebzüchtung (State Institute for Vine Breeding) in Alzey. The estate goes by the name of Heiligenblut, and their monopole site is the Heiliger Blutberg. An unfamiliar name to some perhaps, but not for long. In addition to a range of wonderfully clear and fresh Riesling Kabinetts, the brothers produce an equally stunning Scheurebe Kabinett. Capturing the innate, clarion delicacy of the variety, Heiligenblut Scheurebe Kabinett is the fresh and fragrant "ah" to Pfeffingen's substantive and structured "O."
After years of sitting on the bench, it's refreshing to see Scheurebe finally getting the playing time it deserves. And not only in Rheinhessen and the Pfalz, but also in Franken, where it enjoys a long tradition, and where 60-plus-year-old plantings are back in action, with exciting projects on the horizon.
Because let's face it, there really is enough Sauvignon Blanc in the world.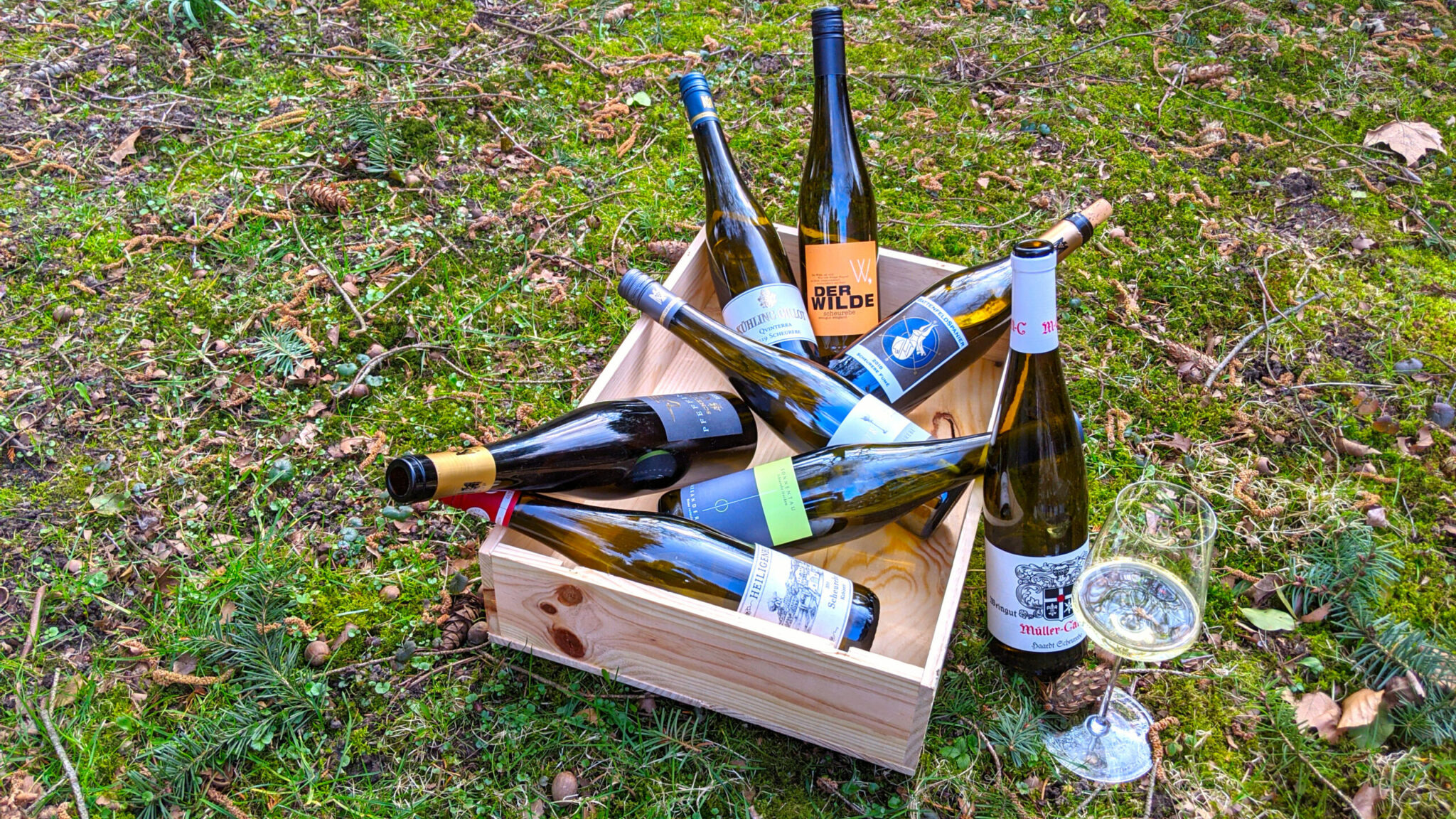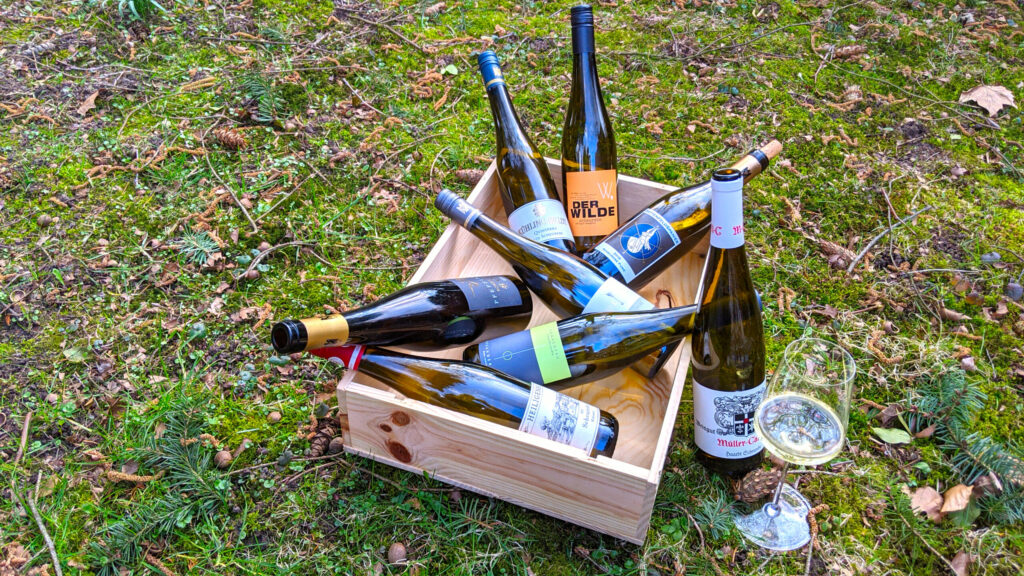 ---
Eight Must-Try Bottles of German Scheuerebe
Müller-Catoir Haardt Scheurebe, Pfalz
Despite Scheurebe's long tradition here, recent years have seen a noticeable uptick in attention. Clarion notes of mint, white currant, grapefruit, nutmeg, stone are followed by a lively acidity and chalky texture. Organically farmed, crisp, bright, and deep.
Heiligenblut Scheurebe Kabinett, Rheinhessen
Sophisticated and elegant, this silky Kabinett reveals fragrant aromas reminiscent of apples and pears, lemons and grapefruits. On the palate, creamy sweetness combines with a brilliant acidity. Precise, crisp, and bright.
Alexander Gysler Scheurebe "Sonnnentau," Rheinhessen
Alexander Gysler's Scheurebe is a relaxed and confident ambassador for the variety. From Demeter-certified biodynamically farmed fruit, the Scheu nimbly dances across the tongue, reinforcing its elfen 11.5% abv. Initially delicate, even shy (in German, Scheu is a homonym for shy: pun intended!), aromas quicken into a palate unafraid to crank up the volume with crisp, juicy, and refreshing notes of citrus and pome fruit flavors, savory spice, and a penetrating, linear minerality.
Wagner-Stempel, Scheurebe, Rheinhessen
Daniel Wagner's organically farmed old-vine Scheurebe is textbook Scheu. Citrusy aromas flirt with nuances of tropical fruit, cassis, and gooseberry accents. The juicy ripe fruit is pierced by fresh acidity and a fine minerality. Beneath all that refreshing crispness, this Scheurebe never lacks for substance or body.
Kühling-Gillot Scheurebe "Qvinterra," Rheinhessen
Very few estate-level Scheureben deliver the extreme substance found in Qvinterra from biodynamic grower Hans Oliver Spanier. With its zesty, complex style and mix of berry fruit, pear, and herbs, the palate shows a creamy, silky, and structured depth. Tension and momentum race wildly into a long, lingering finish. Inspiring!
Weigand Scheurebe "Der Wilde," Franken
Young Franken grower Andi Weigand's organically farmed interpretation of Scheurebe is a rather wild, still youthful and impetuous representative with a delightfully tropical accent. More guava, pepper, and herb than exotic New Zealand Sauvignon fruit. The juicy, mouthwatering palate delivers a crisp, saline minerality and a fine vein of acidity wrapped in a creamy, yeasty texture with the subtle nuances of ripe pineapple. Tremendous depth and tension.
Battenfeld-Spanier Scheurebe Fumé, Rheinhessen
A true insider secret, the least known of the best Scheurebe in Germany. In the tradition of Pouilly Fumé, Hans Oliver Spanier uses oak casks to give substance and structure to a Scheu with whispers of nuts and tobacco, reminiscent of blackberries with fleeting echos of the rugged, stony character and light footedness of Riesling Kabinett from the Ruwer. This Scheurebe expands to cover the palate both horizontally and vertically. The full scope of its acidity takes time to appear, but when it does, it is at first blush full-bodied, nearly tropical. But wait and the acidity ascends and mingles with the creamy texture to create a divine, miraculous whole.
Pfeffingen Scheurebe "O," Pfalz
Golden yellow in color and aroma, a Scheurebe unlike any other. Aged in oak and on the skins, with a texture reminiscent of Alsatian Gewürztraminer. Savory notes of nutmeg, ripe grapefruit, and orange. Absolutely dry with a fine tannic web on the palate.
---
Translated from the German by Weinstory.de