German Wines' Compass Swings North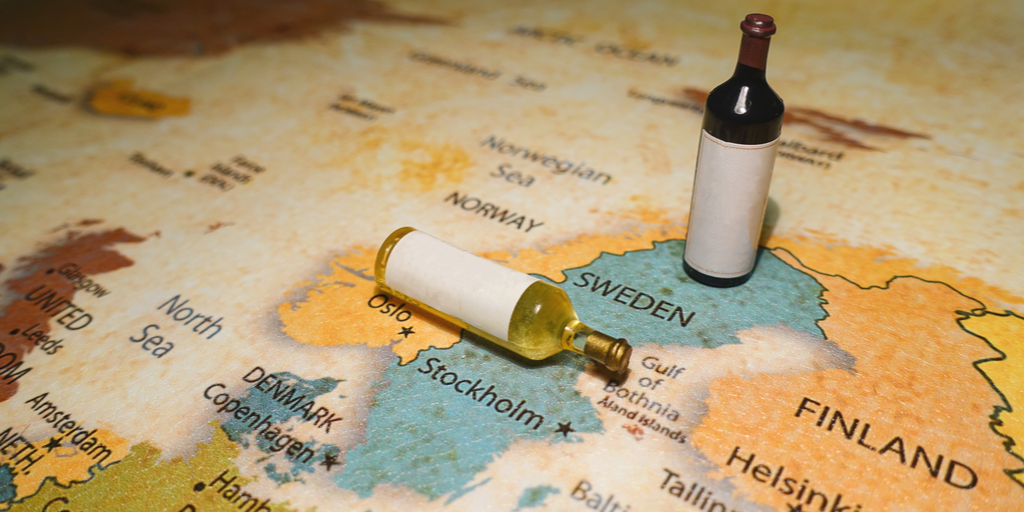 For decades, America was indeed the promised land: A vast nation of eager consumers with a low bar for entry. German winemakers were among the throng of sellers vying to win a sliver of Americans' massive spending power.
But times — along with politics and tariffs — have changed. Now, German winemakers are finding that their most loyal and free-spending audience may actually be up north.

How Did We Get Here?
The public's perception of German wine is capricious; more so, arguably, than that of any other wine-producing nation. After rising to prominence over the 19th century, German wine suffered through much of the 20th: phylloxera and two world wars ravaged the vineyards and their surrounding regions and ultimately impacted their reputation on the world stage.
As the economic value of German wine plummeted, quality took a nosedive as well, and a patchwork of lax federal laws loosened quality controls for German producers. The pressure to eke some profit off the land led, perhaps inevitably, to sweet industrialized plonk.
Things began to change in the '80s and '90s as Germany grew into an economic superpower. But there was arguably something deeper and more difficult to define happening: after the humiliation and shame of WWII, Germany began to rediscover its national pride.
Winemakers slowly returned to the farming and viticultural practices of their grandparents, the ones that had earned them acclaim. Climate change has allowed grapes to achieve new levels of ripeness and complexity—and evade the frosts that haunted vintners in past decades.
Since the end of WWII, much of the German wine industry's marketing effort has been understandably focused on the U.S., which imports the most wine worldwide by value, roughly $6.5 billion, about 17.6 percent of total imported wine. But recent data show German producers are finding their efforts may be better spent elsewhere, for both economic and philosophical reasons.
Who Is Drinking German Wine?
First, let's take a quick look at the numbers. Americans may be drinking a lot of imported wine, but the vast majority of it has traditionally been Italian and French. That trend has been impacted over the past year by the U.S. Trade Representative's 25 percent tariff on most wines imported from France, Spain, the U.K. and Germany, as part of the aircraft subsidies dispute between the U.S. and the E.U. Imports of tariffed wines to the U.S. have plummeted, as American retailers looked for better deals domestically or elsewhere. European producers, meanwhile, are looking to other, potentially more stable, markets to make up for lost or more challenging sales.
This year, the Nordic countries are expected to become the number one German export market in terms of value.
Meanwhile, German wine exports to Denmark, Finland, Norway, and Sweden have been inching up steadily in value and volume since 2015. This year, Scandinavia is expected "to become the number one German export market in terms of value," explains Ernst Büscher, a spokesperson for the German Wine Institute, adding that the region is expected to replace the U.S.'s status as top dog in 2020. (In 2019, the U.S. drank about $77 million worth of imported German wine, whereas Scandinavia consumed about $65 million worth.)
Since the beginning of the year, the sale of German white wines jumped 38 percent, 42.6 percent, and 10 percent in Finland, Norway, and Sweden, respectively. Sales of German red wines in Norway, meanwhile have soared 103 percent, with German rosé flying off the shelves even faster. In Finland, Norway, and Sweden, government monopolies control the sale of alcoholic beverages. Originally created to control consumption levels, the monopolies now focus on promoting organic, sustainable, and lower alcohol wines, three characteristics of an exploding number of German wines.
Anecdotally, Scandinavian importers tell TRINK that they're seeing evidence of incredible growth.
Åsa Gefvert, a sales manager at Swedish wine import company Handpicked Wines, says that five years ago, Handpicked had no German producers in its portfolio. Now it has four, and Gefvert sees that growing as "Swedish consumers are very open to experiencing German wines of all different grapes and regions."
In Denmark, CEO of wine import company Bichel Vine, Lars Bo Henriksen, also reports a nascent upsurge in enthusiasm. "When I took over the company four years ago, we sold about 600 bottles of German wine a year," Henriksen says. "Now we sell 80,000. It has been a tremendous success, and we see that continuing across the board. German wine prices have been steady and relatively low for many years, but the wine has gotten better not only because of a renewed emphasis on quality, but also because the world is getting warmer, which benefits the terroir there, especially in comparison to California and New Zealand, which also produce top Pinot Noirs, but for a lot more."
The Future of German Wine Up North
Sales numbers don't lie, and while they're certainly compelling, understanding what's driving them is more interesting.
"German wine has been on the rise in Scandinavia after a nadir, possibly due to a general anti-German sentiment after World War II, and certainly also due to bad experience with all the cheap, chaptalized stuff imported in the 1970s and 80s," says wine writer Thomas Bohle, who is based in Denmark. "But since 2000, awareness and consumption of quality German wine are on the rise, especially in the past decade. German wine is being promoted as a natural accompaniment to new Nordic cuisine."
But there appears to be an even deeper affinity between German producers and Scandinavian wine lovers.
"Our company started 20 years ago as an importer of specialized wines from the U.S.," says Ulrika Höijer, product manager at Divine Wines. "We were focused on Napa and Cabernet Sauvignon. Then we started opening up to classical European regions like Piedmont, Burgundy, Bordeaux."
But as time went on, and Divine became more embedded in Stockholm's market and gained a better read of what wine lovers wanted, not just what they were buying, the company branched out.
"In 2017, we began importing wine from a producer in the Pfalz," says Höijer. "People with special needs work in the vineyards, and in the cellar, and not only is the wine fantastic, but we found that the company's values appealed to people as well. Since that year, we've doubled in volume every year in terms of what we bring in and sell. In January of this year, we added two more producers, one from the Mosel and one from Baden."
The Mosel and the Rheingau are still the German regions that are top-of-mind in Scandinavia, and Riesling and Spätburgunder (aka, Pinot Noir) are varieties almost everyone is familiar with there. But they're not necessarily the ones generating the most interest, and they almost certainly don't represent the biggest areas of future growth.
"The next generation is so much more open," says Höijer. "What's most important to them is the story behind the wine. They're interested in pét-nats, skin-fermented whites, things that previous generations would never have wanted. Are they Demeter-certified? Vegan? This is more important than ever, and certification is essential. I also see the old workhouse wines like Silvaner playing first violin. Sekt, too, is the wave of the future."
"Are they Demeter-certified? Vegan? This is more important than ever, and certification is essential."
Danish wine writer René Langdahl Jørgensen also sees a growing interest in lesser-known varieties, lighter-bodied, chillable reds, less extraction, more acid — all things Germany now does extremely well.
"[German producers] are already in many cases certified organic and biodynamic, which is very important here," Jørgensen says. "And they need to just keep doing what they're doing stylistically, with lower alcohol, balanced wines, and the rest will follow."
There are some caveats for producers though.
"Can we simplify the labels for God's sake?" Höijer asks. "And let's forget about the gold eagles." Gefvert seconds the notion, advocating a clean, modern look. "Presentation is really important to Swedes and Scandinavians in general," she says. "The old school labels are not the ones they're going to go for."
Growth, says chief sommelier Thilde Maarbjerg at the Danish retailer Løgismose Meyers, is just beginning. "We started with German wines ten years ago, with one producer, but now we import from multiple regions and ten producers, and German wines have a share of about 20 percent of our sales," Maarbjerg says. "We have not seen all this country can deliver, and even as sommeliers we are sometimes still surprised to see the top Chardonnay, Lemberger, and Weissburgunder that Germany delivers, rivaling top wines from other regions and countries."
Germany's global reputation as a producer of excellent, responsibly made wine has never been higher, with the corresponding power to choose where it wants to expand and grow its footprint. Germany's relationship with the U.S., was in many ways, a product of its times: a vinous expression of a comfortable postwar connection that may have morphed with a changed political climate in the U.S. Now, Scandinavia, with its deep and genuine thirst for Germany's superlative wines, seems like a love match, underpinned by the sociocultural and philosophical ties, not to mention closer geography, that ensure a lasting partnership. The rest of us might need to prepare to fight for our share.