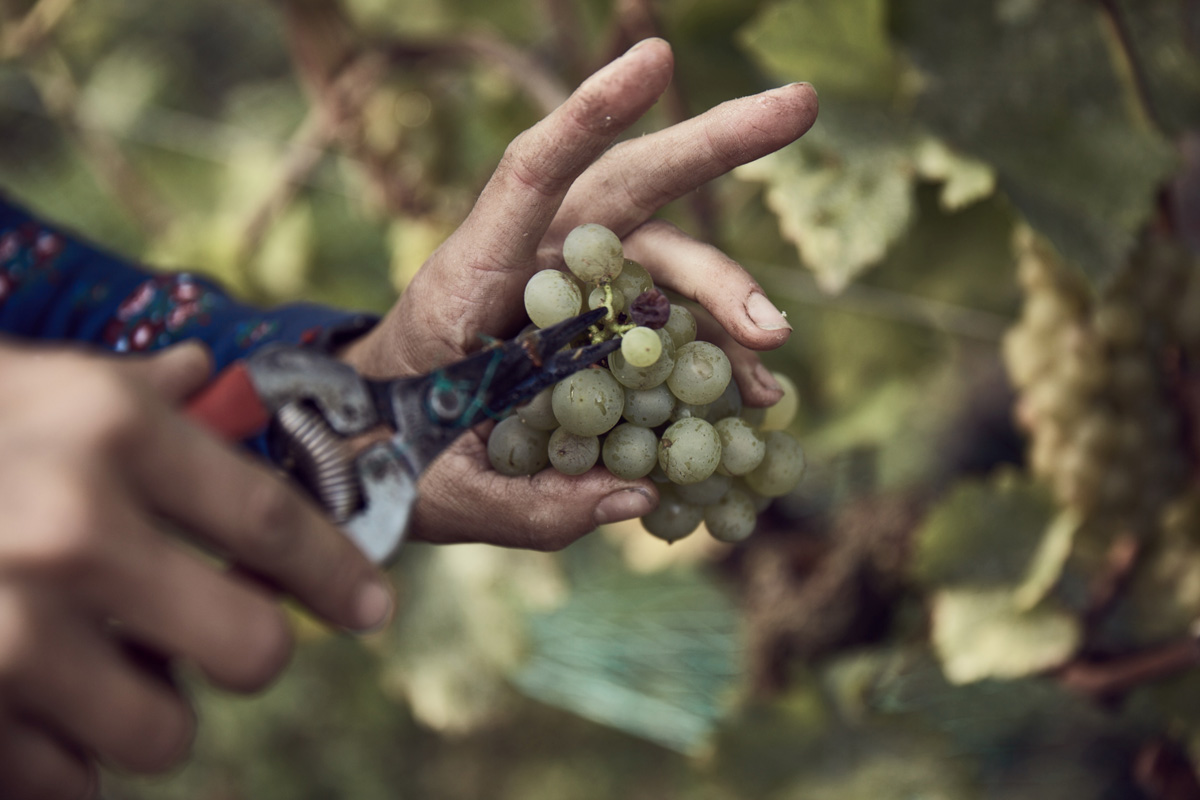 Silvaner. It's complicated. Ask about its nature or character, and like as not you'll get one answer: asparagus. With delicate vegetal aromas and moderate acidity, Silvaner is indeed a near perfect pairing for the fabled stalk that emerges from the earth to fill German grocery stores and market stalls annually between April and June. Yet, stop for a minute and imagine: what if there were more?
…the new darling of Germany's young winemakers, Silvaner is viewed as a national counterpoint to Burgundian Chardonnay or Saumur Chenin Blanc.
For many years Silvaner was Germany's most important grape variety, less inclined toward fruity fun and more toward structure, texture, spice, and earth. De facto it belongs in the Grüner Veltliner family and originated in Austria, although one would be hard pressed to find even a single surviving vine there today. If Riesling, together with the Pinot varieties, is the award-winning showjumper of German viticulture, Silvaner, by contrast, spends its life as a draft horse. Too few take the time to properly appreciate him, groom him, braid his mane.
Yet Silvaner has become the new darling of Germany's young winemakers, who view it as a national counterpoint to Burgundian Chardonnay or Saumur Chenin Blanc. Not least because the wine offers astounding acidity, powerful character, and uncompromising terroir expression.
RHEINHESSEN IS SILVANER COUNTRY
Silvaner was Chris Barth's first love. Chris lives in Rheinhessen — near Alzey, to be precise. A town familiar to those versed in German winegrowing history. Deep, vaulted cellars that once held thousands of barrels run beneath at least half the town.
Early in the 20th century, Georg Scheu bred the first Huxelrebe and Scheurebe vines in this locus of teaching and research. The producers, however, are mostly located outside the city limits, heading up the hill toward Alzey-Weinheim. To get there, you're certain to pass at least one vineyard planted with Silvaner. "Silvaner has always belonged to Rheinhessen," Barth says. "It's just that for a long time nobody did anything big with it." Barth is changing that. And he's not alone.
"Silvaner has always belonged to Rheinhessen." — Chris Barth
Recent years have brought a tremendous shift in the way people approach the grape. And these changing attitudes are what make a wine like Christopher Barth Handwerk Silvaner possible. Emblematic of a new generation, the wine is invigorating, revitalizing, and, dare I say it, refreshing.
Handwerk was harvested at 10% potential alcohol, and that during the warm 2019 vintage. Yet, despite its crunchy character, the fruit was anything but green. It spent more than a year on the lees in used oak barrels and was bottled without added sulfur. The yeast lends a subtle perceived sweetness to what is otherwise a completely dry wine, and the acid delivers enough crystalline tension to leave you scratching your head and asking: Could this be from Chablis?
PFALZ PROMINENCE
Andreas Schumann, managing director at Pfalz's Odinstal, has also spent the last decade transforming a hilltop summit on the outskirts of Wachenheim from a "Who?" into one of the finest estates in all of Germany. His secret? Relentless biodynamics, long lees contact, and minimal intervention.
For his Silvaner (Nackt), however, he took things a few steps further. He hasn't pruned the vines since 2012. The vineyard regulates itself, delivering loose clusters with small berries, just as nature intended. A portion of the grapes are aged in qvevris buried next to the vineyard. Another portion finds its way into used Fuder barrels.
A complete lack of adornment reveals the true character of the variety.
Living up to its name, Nackt ("naked") exhibits a certain self-confidence and candor in its undress. A complete lack of adornment reveals the true character of the variety and further suggests why this subtly bitter beauty is playing an increasingly important role among producers of natural wine. A wine neither of bulk nor body, Silvaner, when treated well, radiates clarity and translucence.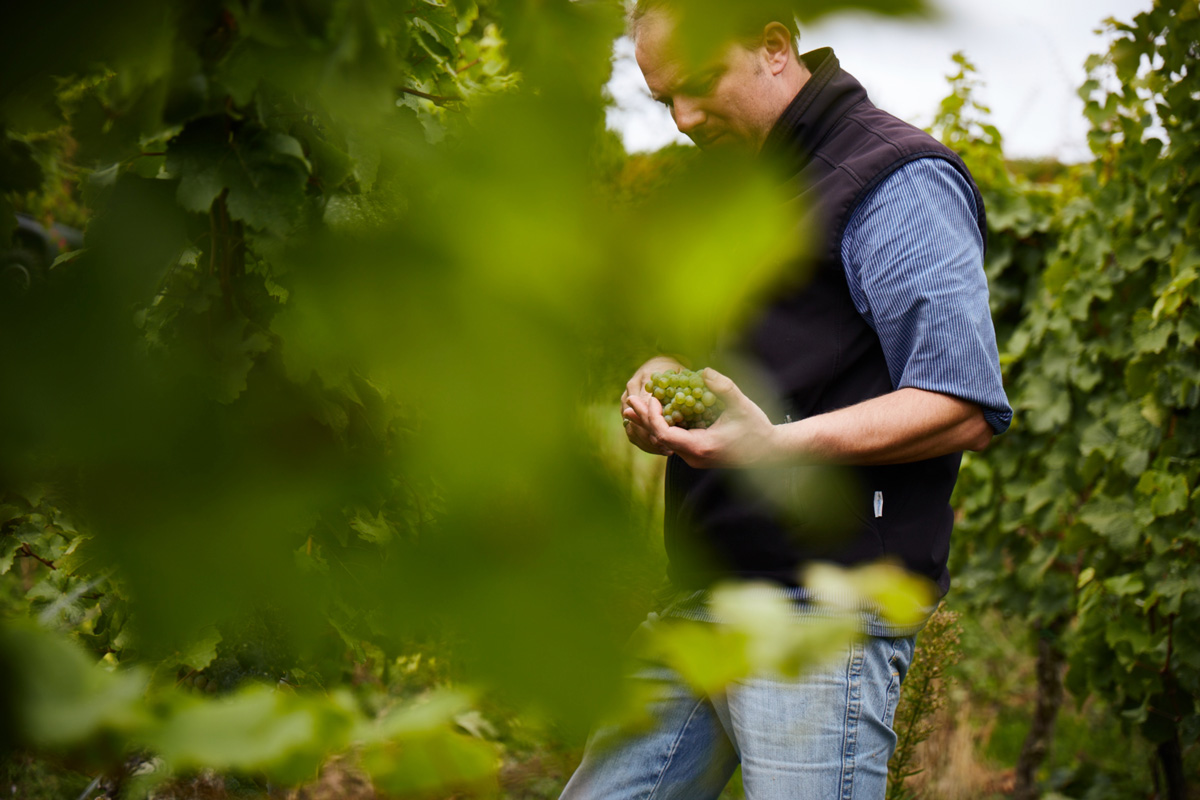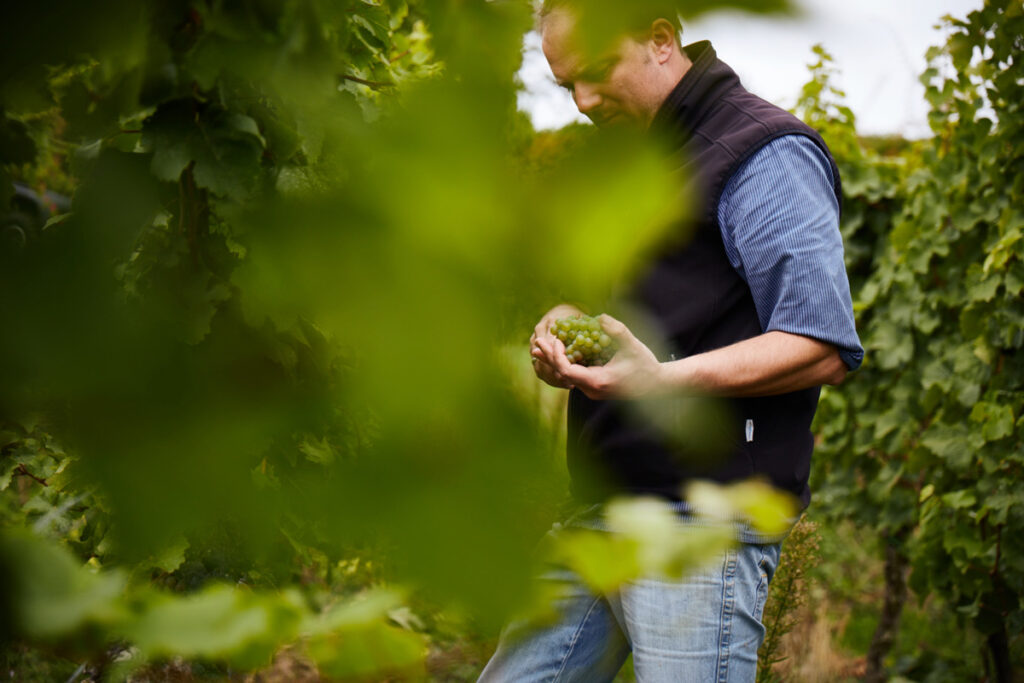 FAMOUS FRANKEN
Franken winemakers like Stephan Krämer, Andi Weigand, Richard Östreicher, and Tom Glass have also begun embracing clarity and precision as enduring markers of the new Silvaner generation.
They bring to the table a serious sense of how their wines measure up in international perception and an awareness of the broader context. One sip of the young Silvaner Augustbaum from Östreicher reveals the winemaker's intimate familiarity with France. An organic farmer by day, Krämer's dogged dedication to vegetables does not preclude his talents as a taster and visionary of Silvaner from the picturesque Taubertal.
This autonomy imbues Weigand's Silvaner with a range of daring flavors, without even an ounce of compromise in the variety's inherent character.
Likewise Andi Weigand. The still young winemaker has spent the last decade living and working in Iphofen, home to several of the most illustrious albeit conventional of Franken's estates. Yet his organic viticulture and experiments with extended lees and skin-contact have already marked him as a rebel.
And then there are his labels: classically famous sites stickered over in light of his decision to produce Landwein. This autonomy imbues his Silvaner with a range of daring flavors, without even an ounce of compromise in Silvaner's inherent character. One need only look to the vineyard soils around Würzberg and the Taubertal, where the decision to farm organically is decisive in counteracting more and more frequent periods of dryness, a direct effect of climate change.
SILVANER AS GRAND CRU
Until recently, Franken was the only winegrowing region in which Silvaner could be classified as a Großes Gewächs, akin to a French grand cru. Zehnthof Luckert, an estate that regularly vinifies Silvaner at the cru level, is home to the Sylvaner Creutz, from the site of the same name (Sylvaner is an antiquated spelling).
The wine easily holds its own against any number of great Burgundies.
It is the grandest and most complex Silvaner in the estate's portfolio. And the wine easily holds its own against any number of great Burgundies. First planted in 1870, the vineyard sits in the small village of Sulzfeld, tucked away from prying eyes, like the elusive Clos de Mesnil in Champagne.
And as unimposing as the vineyard is — its former owner was ready to mow down all the vines to build a house on its hallowed ground — the Silvaners are all the more powerful and spectacular grown on these soils. It's a complex wine capable of conjoining refined tannins, elegant texture, deep minerality, and a lingering saline finish.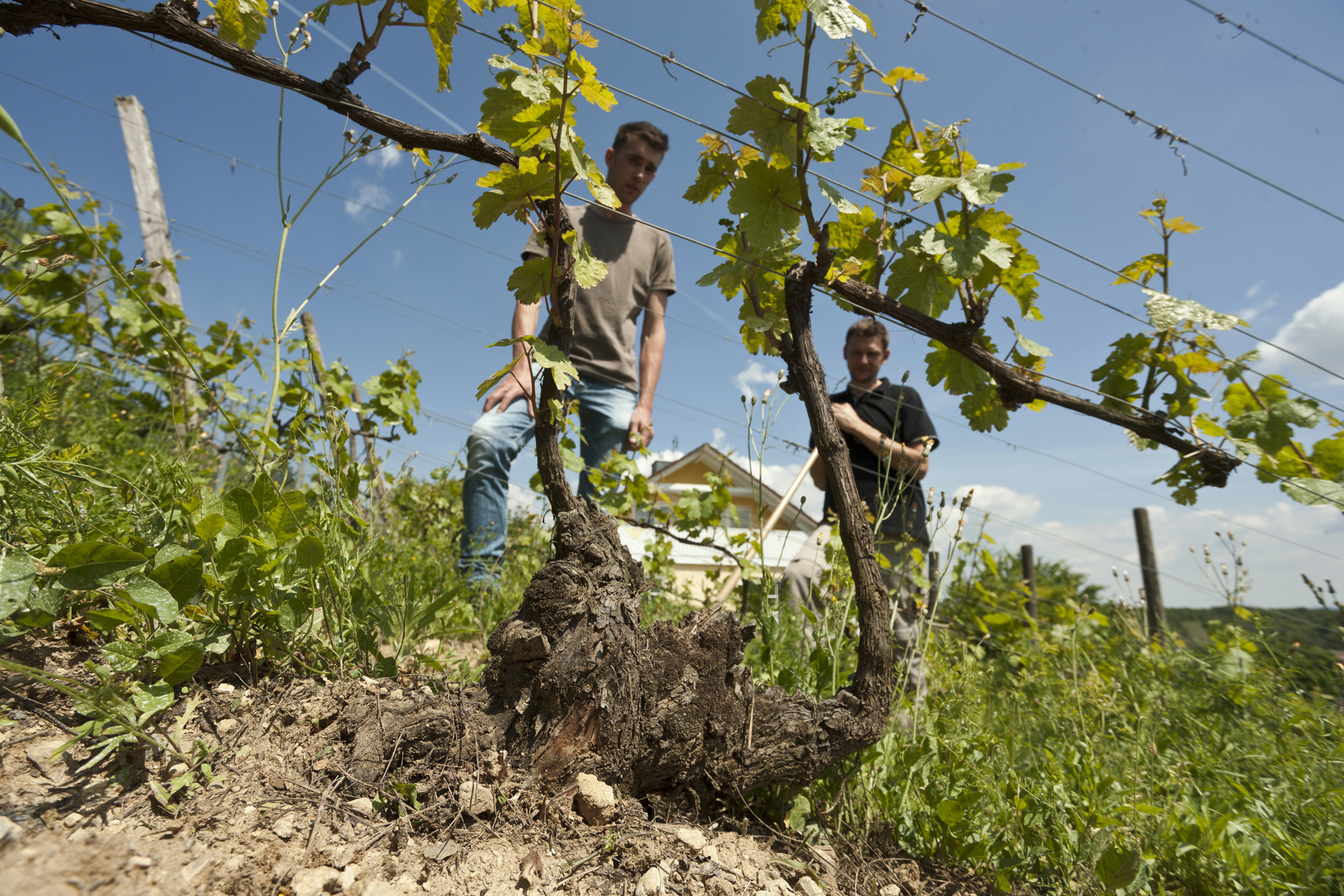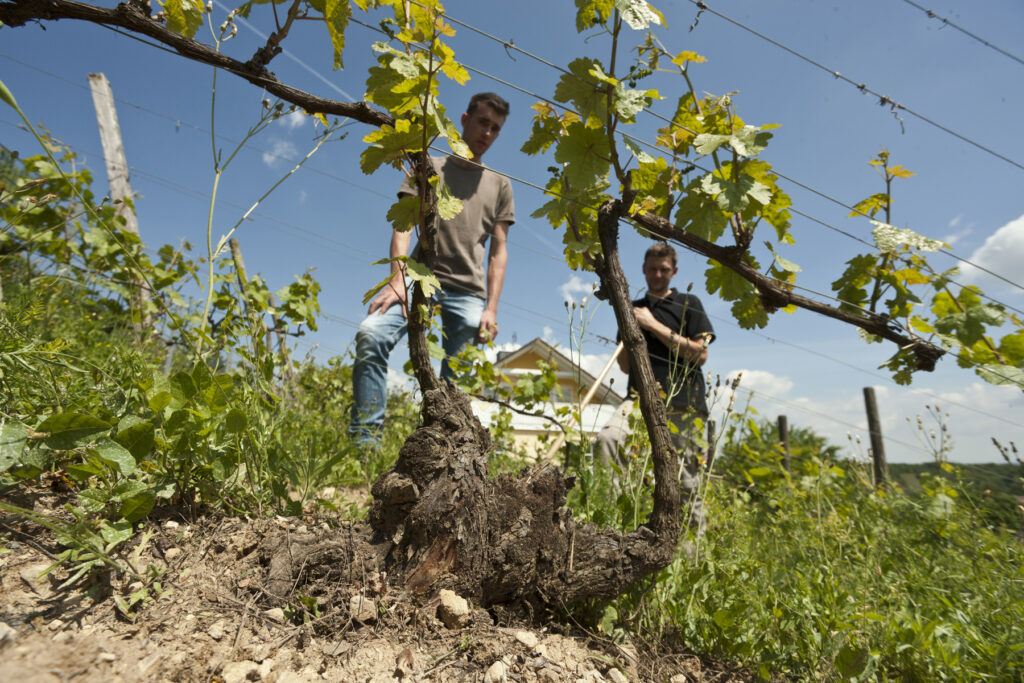 No less grand is Silvaner Grauer Stein 2018 from the still-youthful Carsten Saalwächter. Even in its first vintage, this wine climbed into the ranks of benchmark bottles for Rheinhessen Silvaner. A quiet and thoughtful tinkerer who studied under Schnaitmann, Ziereisen and several excellent estates in Burgundy, Carsten knows how grand wines are created. He correctly identified the potential in a gray chalk parcel not far from Ingelheim, where the vines are more than 50 years old.
Silvaner has what it takes when you follow its rules.
Ingelheim is a different Rheinhessen than the one people usually imagine. Ingelheim, where Charlemagne once established an imperial palatinate and brought vines from Burgundy, is still known today for top Spätburgunder (Pinot Noir). The fact that Saalwächter followed his inspiration to bring Silvaner to great heights here, of all places, makes sense in an oddly compelling way. The variety has what it takes when you follow its rules. In the vineyard: mineral soils, optimal canopy and soil management, early harvest, and preservation of acidity. In the cellar: barrel-aging, preferably in neutral wood, and on the lees. These are just a few of the conditions needed for Silvaner to walk the line.
From this approach emerge wines that shine with their honest, unmistakable character; worlds away from the subtly green, slightly vegetal or late harvest opulence of yore. Upon reaching a certain age, this new generation of wines develops a slight earthiness that – just saying – actually pairs exceedingly well with the similarly soil-bound white asparagus. Perhaps that's what makes this variety — even more than Riesling — the most German of all varieties.
---


2019 Handwerk Silvaner Trocken, Weingut Barth | Alzey, Rheinhessen
Craggy marl soils harvested on the earlier side of ripeness. The grapes are directly pressed in used wooden barrels and spontaneously fermented. Less than 5 mg/L sulphur added at bottling. Mellow stone fruit aromas are accentuated by notes of wild fennel, hops, and fresh herbs. A fine, silky texture from the extended lees contact emerges on the palate followed by citrus, stone fruit, an herbal elegance, and refined minerality. An incredible freshness and clarity courses through the wine, cinched tight with an electric acidity, and a fine, salty finish.
2018 Silvaner (Nakt) Trocken, Weingut Odinstal | Wachenheim an der Weinstraße, Pfalz
This skin-contact Silvaner is grown on Keuper (marl-limestone) soils and raised in neutral barrels and qvevris, before being buried in the vineyard. The silken, elegant texture is reminiscent of baked clay and far smoother than one would assume given its amphora production. Unbelievably complex and refined, with a round, lively acidity, pulsating minerality, and incredible drinkability.
2018 Silvaner Bochen Trocken, Andi Weigand | Iphofen, Franken
Welcome to the world of controlled oxidation! The longer the bottle is open, the fresher and more complex it becomes. The high proportion of limestone woven into these Keuper soils gives the wine its electricity and energy. Extended, gentle pressing in a traditional basket press over the course of one-and-a-half days. Spontaneous fermentation on the lees, minimal sulfur added at bottling. Captivatingly complex and nuanced. Continues to develop over a period of days.
2017 Silvaner Silex Trocken, Stephan Krämer | Auernhofen, Franken
This vintage includes a high percentage of whole cluster fruit, fermented in a process similar to carbonic maceration. Reminiscent of grape and apple must with an earthy, herbal, and stone fruit character. A touch of smoke and hops. A polarized palate of, on the one hand creamy complexity, with a soft acidity, and light yeast notes, and, on the other, a tense minerality and rejuvenating freshness.
2018 Silvaner Augustbaum Trocken, Richard Östreicher | Sommerach, Franken
French blood seems to flow through Östreicher's veins, recognizable in each and every one of the wines. He sourced the best barrels in Burgundy, a region he knows inside and out, and transfers this exquisite expertise not only to his Chardonnays, Pinots, and Cabernets, but also to this racy, crystalline, elegant, and expressive Silvaner as well. Aromas of citrus and stone quickly give way to a penetrating acidity, refined texture, and balanced structure.
2017 Sylvaner Creutz Trocken, Weingut Zehnthof Luckert | Sulzfeld, Franken
Ungrafted vines for this monument to the variety are no less than 150 years old. The wine swings between refined aromatics of greengage and Mirabelle plum, heritage pears, white and yellow flowers, as well as notes of turmeric, white tobacco, dry clay, wet chalk, and a touch of baking pie crust. A captivating tension transforms the palate, mingling with an impressive minerality and brilliant acidity. As only the great wines can do, it maintains a fixed tether to the earth while dancing in the heavens.
2018 Sylvaner Grauer Stein Trocken, Weingut Carsten Saalwächter | Ingelheim, Rheinhessen
The wine opens with a quiet reduction, nearly Burgundian elegance, and a complex nose laced with flinty aromas. Its elegant character grows with time and air, and notes of ripe yellow fruit, rich minerality, and a touch of baking bread begin to emerge. On the palate, the wine shows a complex duality in the form of its fine salinity, lively acidity, and fierce tension yoked to a silky elegant texture, tremendous grip, and intense substance and length.
And just in case you're in the mood for a few more:
Traditional: Wagner-Stempel, Philipp Wittmann, Battenfeld-Spanier, Klaus-Peter Keller, Paul Weltner, Rainer Sauer, Bickel-Stumpf, Max Müller I, Tobias Winkler, Rudolf May, Hans Wirsching
Avant-garde: Andreas Durst, Kai Schätzel, Laura Seufert, Weinmanufaktur 3Zeilen, Weingut am Stein, Tom Glass
---
Translated from the German by Paula Sidore / weinstory.de