Nahe – Welcome to Germany's Wild West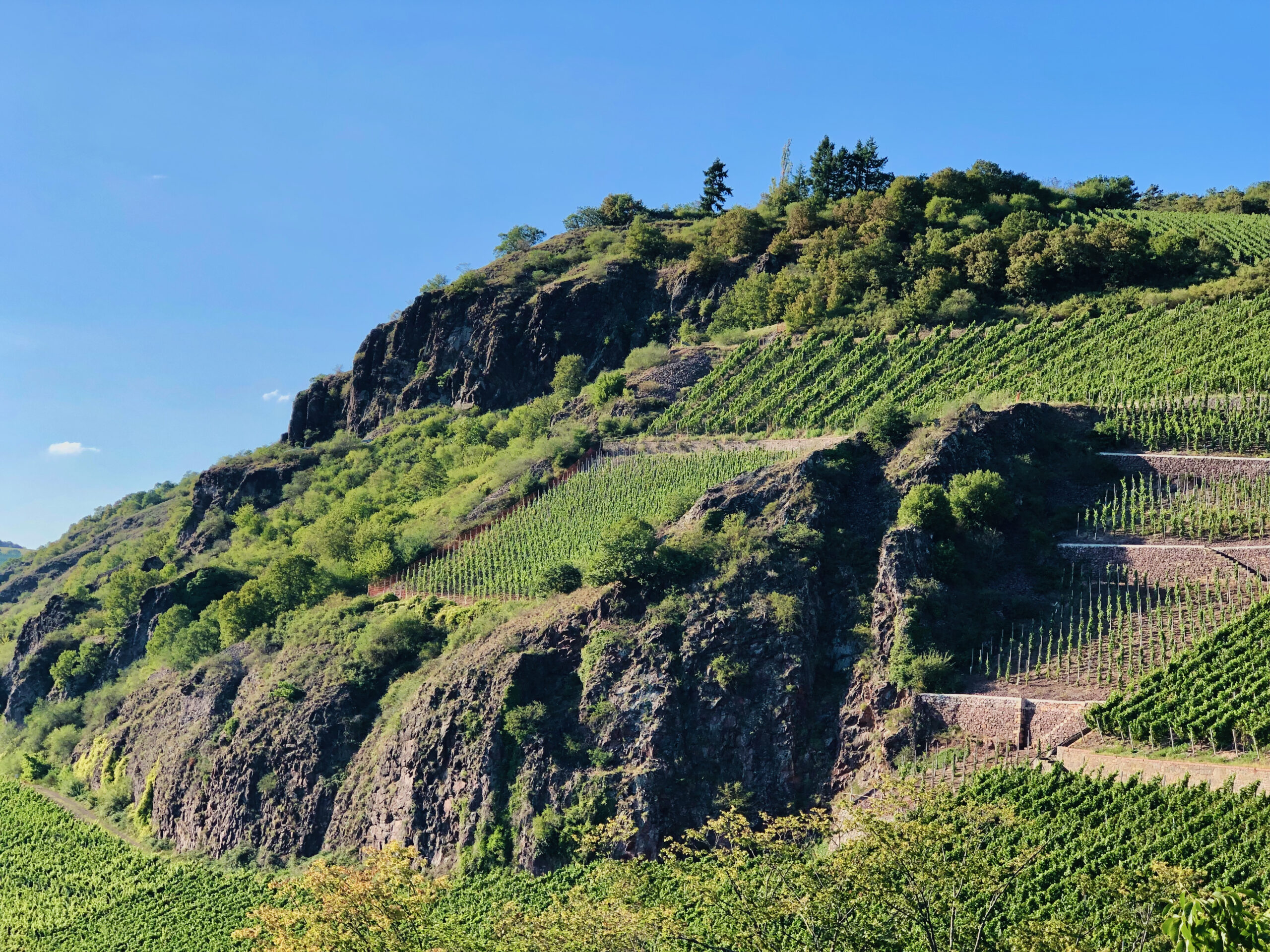 Some say it lacks the historical cache of the Rheingau, the legendary vineyard names of the Mosel, or the easy charm of neighboring Rheinhessen. There are no convenient river boats to ferry you between wine villages, nor even particularly good train connections. No argument: the Nahe [NAHH-heh] Valley demands that you put in a bit of work to explore its more far-flung corners.
The reward for those efforts is some of the most objectively fascinating landscapes, geology, climate, and wines anywhere in Germany. In fact, things can get downright adventurous in Germany's version of the (Wine) Wild West. From the first pour, a thrill ride awaits in wines of bracing acidity, remarkable tension, and razor-sharp precision. These are not bottles for the faint of heart, especially the Rieslings. They are unhedged, straight-dealing, and undeniably captivating—liquid reflections of the extremeness of the soil below.
But it takes a bold and steady hand to tame these unruly hills, whose very name derives from the Celtic term for "wild river." So while you might not see tumbleweed blowing around under the shadow of the imposing Roter Fels, the highest cliff north of the Alps, believe us: there are new sheriffs of fine dry, off-dry, and nobly sweet Riesling in town, and they mean business.
The New and the Old  
The Nahe is a winegrowing region of remarkable contradictions, many playing out over millennia. Archeological digs have shown that the valley, which flows from the Eckersberg (Mount Eckers) in the Saarland down to the Rhine at Bingen, has known winegrowing since Roman times. The ownership of the land… that's been a less settled matter. In the 8th century, large swaths of the land—and de facto a monopoly on winegrowing—were held by the Church, but were then devastated during the Thirty Years War. The region and its spoils fell into French hands during the reign of Napoleon.
The Nahe Valley would subsequently serve as ground zero for further geo-political divisions. In a pre-echo of 20th-century German division, the frontier between Bavaria and the Prussian empire was charted here along the Nahe and its tributaries—commemorated even today by the Luitpold Bridge at Oberhausen.
Yet for all that tumultuous history, the Nahe is also one of the youngest winegrowing regions in Germany. It has only existed as its own entity since 1971. Before then, bottles from these sites were typically labeled as Rheinwein.
This sets up the greatest contradiction of all: the gulf between the historically modest reputation of most wines grown here (a reflection of the extremely difficult terrain) and the remarkable quality now routinely achieved by the current generation of well-traveled and university-trained winegrowers. In their capable hands, the Nahe has gained major resonance not just in Germany, but the world over.
The Nahe's Pioneering Spirit  
To speak of the Nahe is to speak of the radicality of the landscape. It is a place of lush greenness and rolling farmland; it is also a place of narrow side valleys, imposing bare cliffs, and vertiginous rockscapes.
Perhaps most importantly from a winegrowing perspective: no other wine region in Germany packs as many geological formations into such compact space. The ancient volcanic activity that shaped this landscape churned and mingled disparate rocks and soils to such extremes that geologists have identified 180 different soil formations here. It is a stony spectrum that flips from one parcel to the next between slate or sand to quartz and clay, further interwoven with veins of rarities such as Rotliegend and porphyr to name but a few.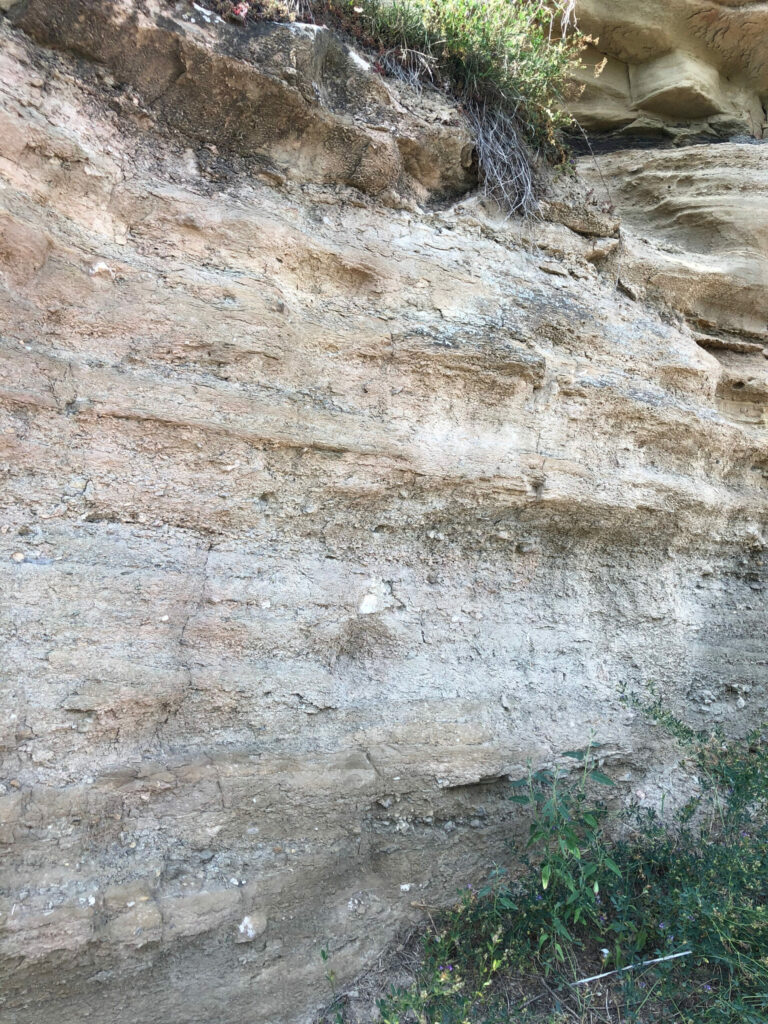 Understanding the intricacies of such diverse soils demands dedication and specialization. The small-scale winegrowing model that still thrives in much of Germany even today, driven in many cases by inexperienced and hobby growers, is ill-equipped to handle these specific challenges, and historically did little more than eke out an existence here. Only ecclesiastic or noble estates, such as Weingut Prinz Salm, founded in 1219, had the knowledge and resources to produce wines of quality.
This may explain why of the region's 378 classified Einzellagen sites, only 258 are currently cultivated; there simply aren't enough skilled hands and deep resources to do anything productive with them.
It would take a generation of pioneers, perhaps most notably the Royal Prussian Winegrowing Domaine of Schlossböckelheim-Niederhausen, today known as Gut Hermannsberg, to show how this terroir might be tamed. The trailblazing efforts of this institution, established in 1910, would open up a path for a century of further innovators like Helmut Dönnhoff, working at his eponymous estate in Oberhausen on the Nahe, and Armin Diel at Schlossgut Diel on Burg Layen. Pressure from consumers and growers would advance the cause of organic farming in the years that followed as well.
Wine adventurers can now rejoice in a new formally trained generation of vintners, in many cases with significant international experience, well versed in working this cold climate and giving beautiful voice to these complicated soils and steep slopes.
Villages, Vineyards and Vines in the Nahe
The Nahe River originates in the cool hills of the Saarland, due south, and runs 120 kilometers to Bingen, where it joins the Rhine. It is typically understood as having three distinct areas: the bucolic Untere Nahe (Lower Nahe), which stretches from Bingen to Bad Kreuznach; the prestigious Mittlere Nahe (Middle Nahe), between Bad Münster and Schloßböckelheim; and the truly wild Obere Nahe (Upper Nahe), which runs the rest of the way to Martinstein. Two major tributaries (the Glan and the Alsenz) as well as four significant streams (Gräfenbach, Guldenbach, Trollbach, and Ellerbach) also belong to the growing region.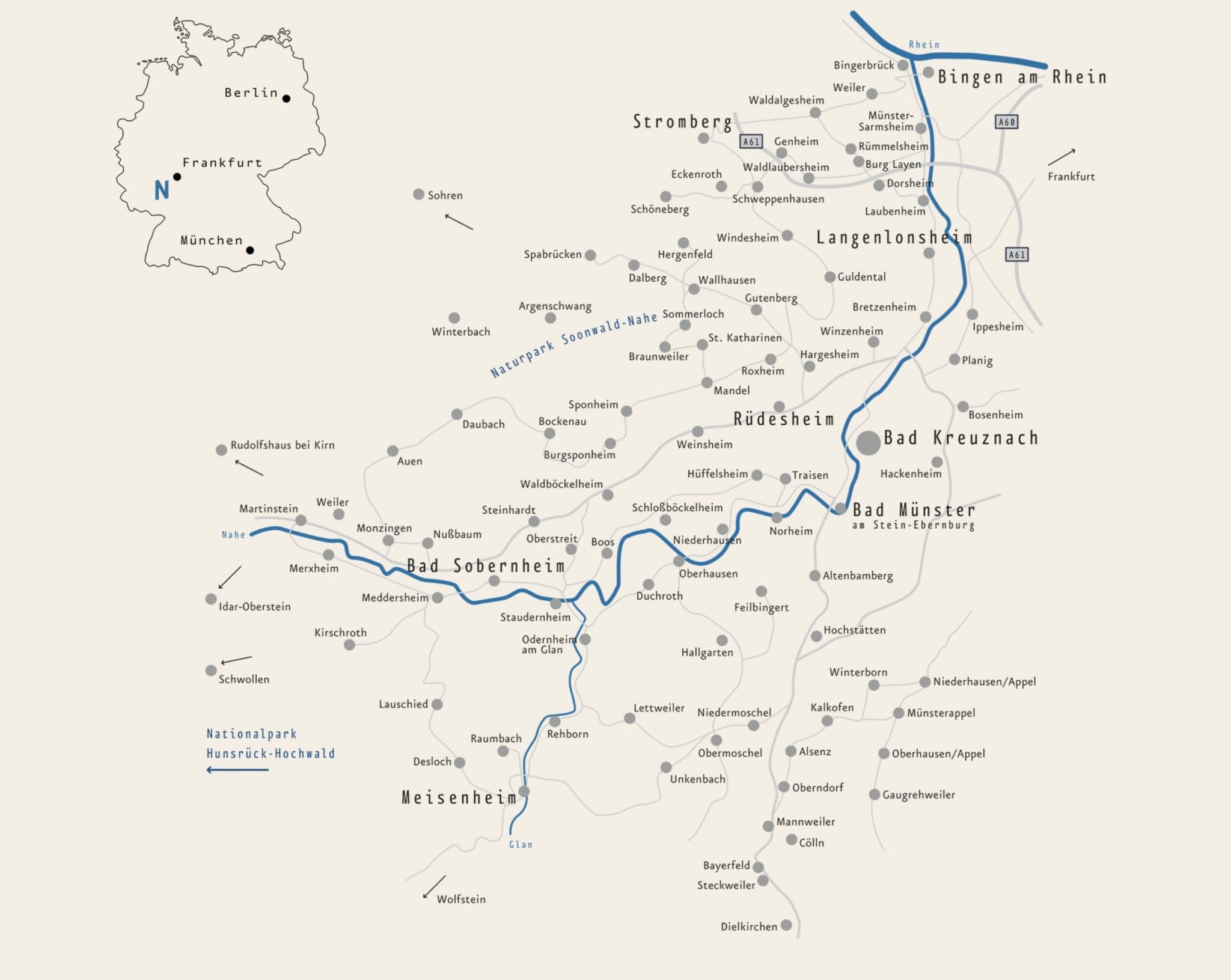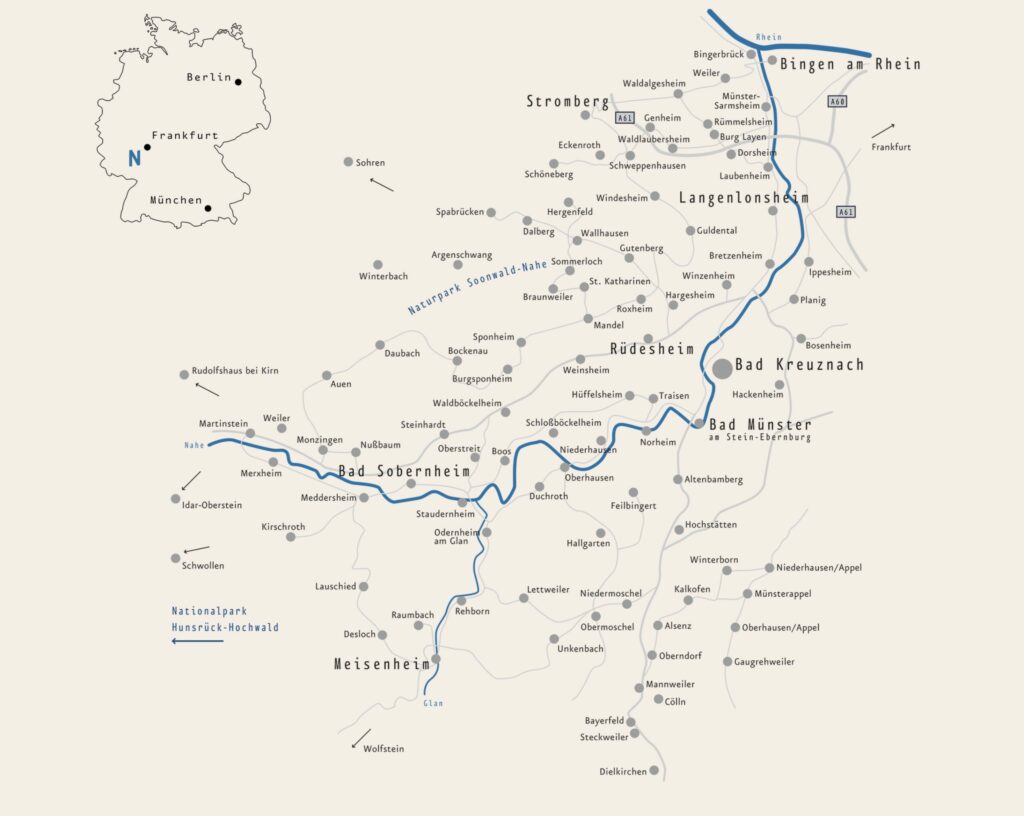 Just as the soils are diverse, so too are the micro- and meso-climates. The stretch closer to the Rhine is warmer, with an earlier vegetative period, compared with the middle and upper Nahe, which draw cooler air from the surrounding wooded mountain ranges. Wines from the respective sub-regions can be expected, as a rule of thumb, to reflect those conditions.
The Nahe's 4,239 hectares under vine strongly favor white varieties. Riesling is predominant, particularly among the quality wines, although there is still a healthy amount of Müller-Thurgau and Dornfelder in play. Individual vintners also cultivate Silvaner, Weißburgunder (aka Pinot Blanc), and, among reds, Spätburgunder (aka Pinot Noir).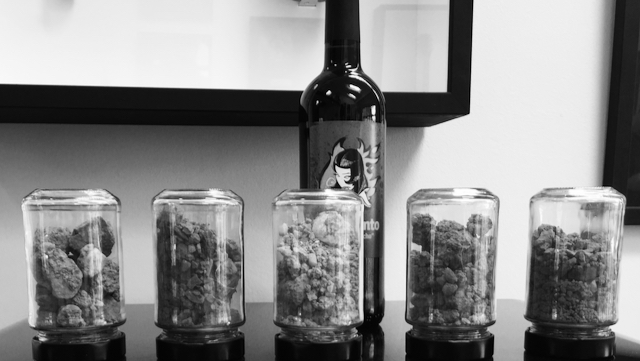 Select Grand Crus
Traisener Bastei
Dorsheimer Burgberg
Dorsheimer Pittermannchen
Norheimer Dellchen
Schloßböckelheimer Felsenberg
Monzingener Halenberg
Niederhausener Hermannshöhle
Bad Kreuznacher Im Kahlenberg
Schloßböckelheimer Kupfergrube
St. Remigiusberg
---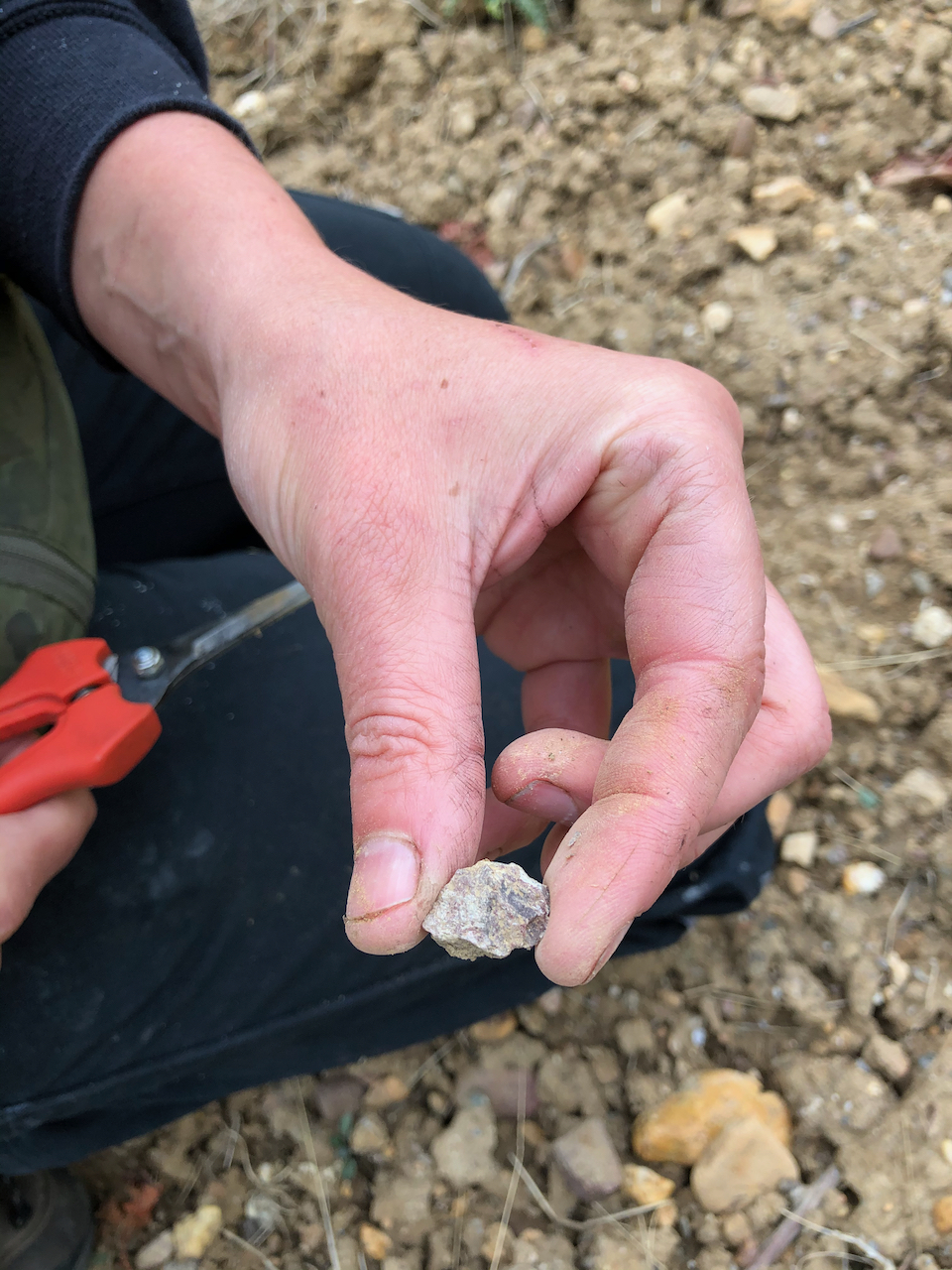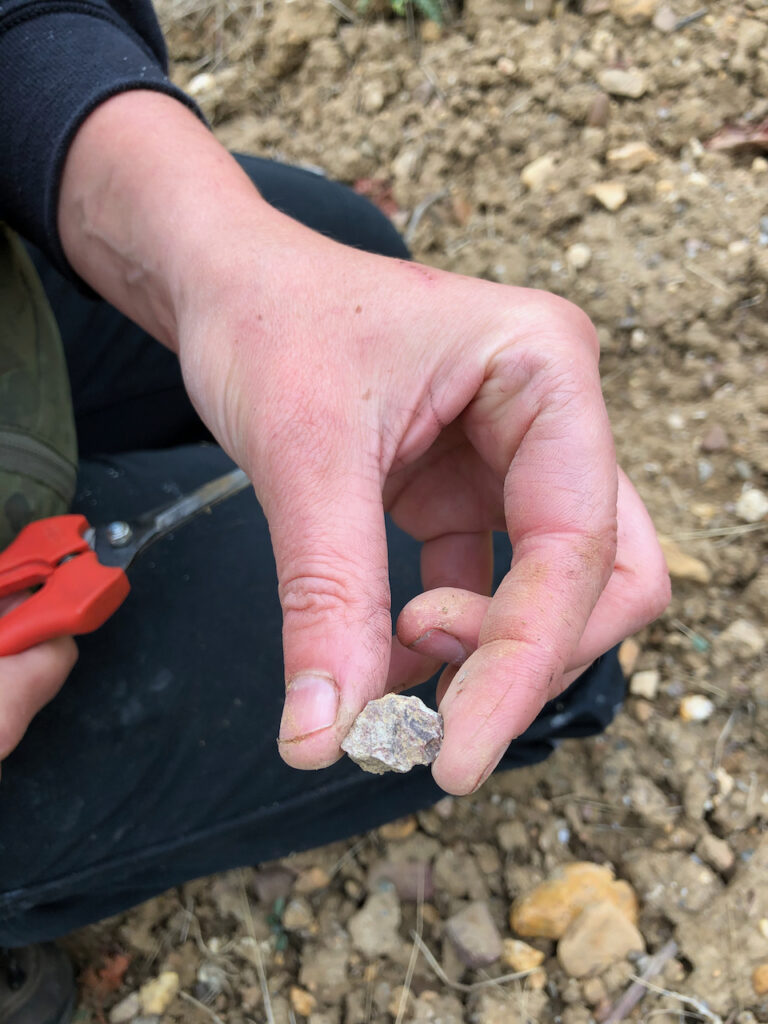 Select benchmark estates
*Weingut Prinz Salm
This is the very definition of a reference estate, as it is the oldest family-owned winery anywhere in Germany. The owners are indeed scions of royalty, and while Felix Prinz zu Salm-Salm has invested in land in other German growing regions as well, his heart remains near to his 11 hectares in Wallhausen. And as befits 32 generations of winegrowing, sustainability is key. Weingut Prinz Salm was one of the first estates to be certified organic in the region, beginning its transition back in 1988.

Gut Hermannsberg 
First founded in 1910 as the Royal Prussian Winegrowing Domaine of Schlossböckelheim-Niederhausen, at what was then the far edge of the Prussian empire, this estate brought notable rigor and professionalization to winegrowing on the Nahe. Even today it is home to a remarkable seven GG sites.

Schlossgut Diel 
Armin Diel pioneered not just winegrowing of impeccable quality in the Nahe, but was also instrumental in having the Nahe's voice heard within the VDP. Today daughter Carolin and her husband Sylvain produce wines on Burg Layen that beguile and bedazzle, and are enthusiastically implementing the kind of viticultural and simply cultural measures—such as green cover in the vineyards for better biodiversity and constructive promoting of the interests of long-time employees—that serve as a beacon for sustainability and forward-thinking.

Weingut Dönnhoff 
This estate in Oberhausen an der Nahe (not to be confused with the large industrial and beer-focused city of Oberhausen in Germany's Ruhr region) has become a beacon of what is possible in this region. Founder Helmut Dönnhoff focused on quality, quality, quality, trusting that the market would eventually follow. Son Cornelius has followed his father's remarkable lead and further enriched it with his own instincts. If offered a pour of Dönnhoff, don't say no.
---
Select avant garde estates
With experienced hands and a heart that beats for bubbles, Heiko and Ute Bamberger of Meddersheim have spent the last three decades making the Nahe a name for dry, hand-riddled sparkling. With 15 hectares of steep vineyards in the upper Nahe, the family estate is unafraid to push the envelope with sekts made from not only Riesling and Spätburgunder, but Gewürtztraminer as well. Be prepared to show patience—the estate sometimes waits up to 10 years before releasing its thrilling late-disgorged bottles!
Piri Naturel is young grower and vintner Christine Pieroth's indepedent line of wines, an outgrowth of her family's historic winery in Burg Layen. She is introducing her own style and a breath of fresh air to Nahe's wine scene with her small portfolio of natural wines, which tend to the rustic and straightforward, but are not shy on freshness or structure. Piri wines are fermented with native yeasts and given sufficient time to rest on their lees.
This VDP-member estate in Bockenau (Upper Nahe) is known as one of Germany's most recognizable champions of lo-fi wines, especially when it comes to spontaneous fermentation. Each bottle from Tim Fröhlich, like his 25 hectares of steep, classified vineyards, is equal parts challenging and enthralling. There is no better place to begin the wild ride of pace and potential that defines the new Nahe.
Martin Tesch may hold the title of doctor (in chemical engineering), but don't be fooled: his is the bold heart of a rebel. Perhaps unsurprisingly for a man known for his collaborations with German rock legends DIE ÄRZTE (and a lifestyle to match), he actually organized his Riesling-heavy portfolio from Langenlonsheim around an UNPLUGGED concept—no frills, let the stones sing. The results are gnarly.
*Exported by P.J. Valckenberg, which provided support for this education feature.