Unlocking Rieslingsekt's Potential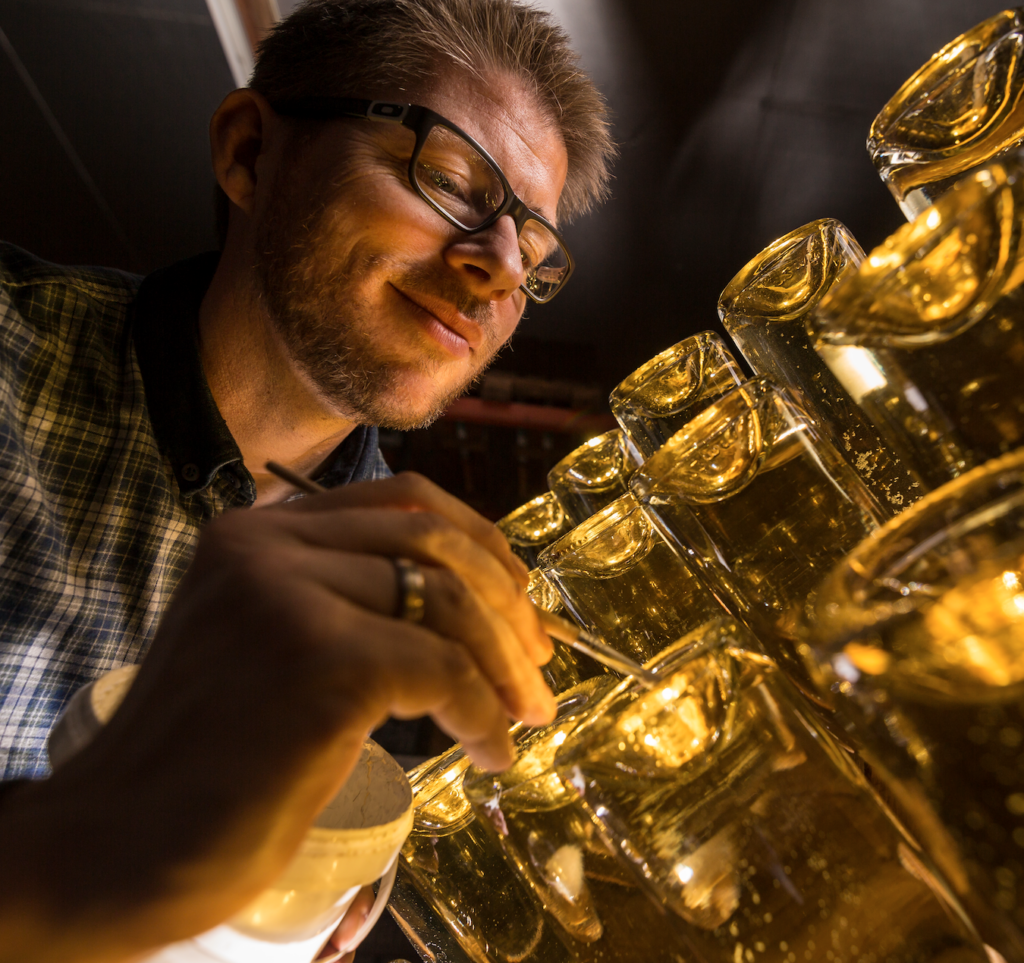 Riesling is admired for its complexity, longevity, and ability to reflect its terroir. The same is slowly becoming true in the sparkling wine sector, where bubble enthusiasts are discovering what aged Rieslingsekt can offer.
In the world of German wines, Riesling is the undisputed star. Still wines gained their historical reputation as early as the 15th century, while the 18th and 19th centuries witnessed the rise of traditional method sekt. Over time, large companies monopolized the production of cheap, tank-fermented sparkling wine, until smaller, individual wineries were finally allowed to produce and sell their sparkling wines in the early 1980s. This led to a gradual move among sekt makers towards the traditional method (Winzersekt), which today makes up about 3% of total German sekt production.
Germany proudly claims the largest share (40%) of Riesling plantings worldwide. Out of all 100 permitted grape varieties, nearly half (44%) of German wine consumers prefer the pleasures of Riesling in their glasses. According to the Deutsches Weininstitut, Riesling accounts for 41% of all registered Sekt b.A., followed by Spätburgunder (7%) and Weißburgunder (5%). These statistics highlight Riesling's role as the go-to grape for German sekt.
Beyond this, mature Rieslingsekt brings a new style and quality into the sparkling wine world. As sekt specialist Anne Krebiehl MW has observed, aged sekts offer discernible differences in style, ranging from variations in malolactic fermentation to lees contact and dosage. These elements contribute to an unprecedented expression within German sparkling wines.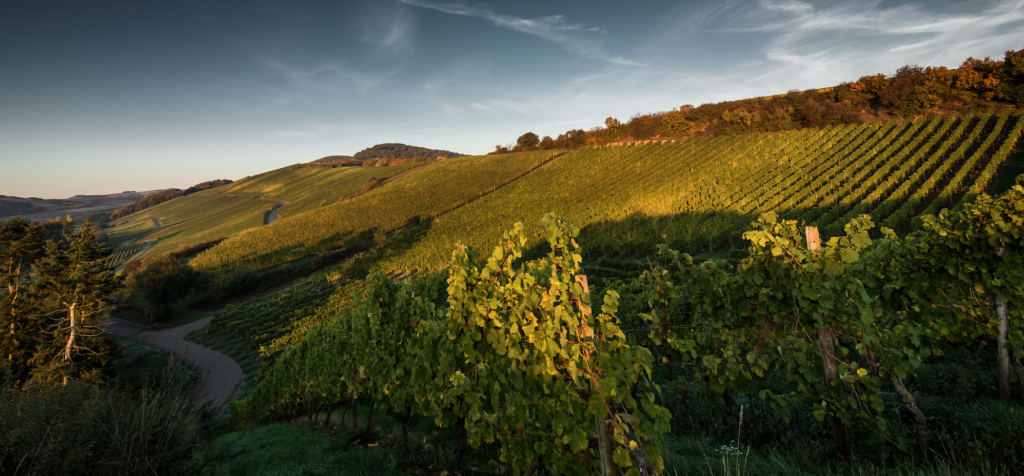 Site Matters
Germany's suitability for growing Riesling is rooted in its versatility, soil diversity, and cool climate. Producers know that the quality of their base wine begins in the vineyard. This understanding shapes the selection of sites for both still and sparkling wines, with an emphasis on cool areas for the latter. However, there are notable distinctions between the two categories. While still wines often do best on south-facing slopes for optimal sun exposure and ripeness, vineyards for sparkling wine production must provide coolness to preserve acidity while limiting sunlight penetration to facilitate slow phenolic ripening without excessive ripeness.
When harvesting Riesling grapes for sparkling wines, it is crucial to prioritize healthy, ripe grapes as unripeness can introduce unwanted green aromas. The amount of accumulated sugar should be relatively low to ensure a base wine with lower alcohol content, as the second fermentation adds approximately 1-1.5% alcohol. In addition, aged Riesling can exhibit a distinct petrol aroma. Some sekt makers intentionally avoid this note, while others embrace it to accentuate Rieslingsekt's distinctive character.
Of course, the condition of the harvested grapes significantly influences the final sparkling wine. Niko Brandner, cellar master at Sekthaus Griesel & Compagnie, notes that potential shortcomings may be masked by youthful fruitiness and aromatics, but evolve and intensify during the bottle aging process.
Base Wine is the Key
With its naturally low pH, well-defined acidity, and delicate interplay of fruit and mineral nuances, Riesling possesses superb aging potential. However, sekt makers agree that beyond sourcing perfect grapes, the primary challenge lies in preserving Riesling's aromatic essence during the second fermentation, as well as achieving a balance between autolytic qualities and Riesling's typicity. According to Brandner, Riesling does not develop the oxidative apple-sherry notes or pronounced brioche flavors commonly associated with other varieties. Consequently, winemakers typically focus on the production of high-quality base wines that serve as the foundation for subsequent fermentation. The choice of fermentation vessel and whether to allow malolactic fermentation are critical factors in crafting optimal base wines. Heiko Bamberger, a respected winemaker from the Nahe region, of Weingut Bamberger emphasizes the significance of this stage as it determines the aging potential and overall characteristics of the finished sekt. Carbon dioxide, which alters the perception of the wine, can accentuate any (un)desired attributes when combined with bubbles.
Sekt makers agree that beyond sourcing perfect grapes, the primary challenge lies in preserving Riesling's typicity and achieving a balance between this and autolytic qualities.
One crucial step in sekt production is assemblage, the blending process. Before creating a cuvée, the winemaker evaluates the vins clair, or base wines that have recently completed primary fermentation. Those exhibit a pure, acidic, less fruity character as they have not undergone aging. Reserve wines, aged in vessels or bottles, can also be included, offering structure, subtle oak nuances, and a degree of oxidation. Brandner stresses the importance of considering these elements to impart specific characteristics into the bottle-aging process. Balancing the dominance and vibrancy of Riesling for sekt is a delicate process that involves skillfully combining vins clair and/or reserve wines. The choice of yeast strains also plays a significant role. Some strains enhance spiciness, while others contribute autolytic flavors. Bamberger prefers a neutral yeast that adds elegance without overpowering varietal typicity. Once the base wine cuvée is established, the desired attributes are brought into the second fermentation in bottle. Developing these characteristics solely during the bottle-aging process would be slow, unpredictable, and potentially unsatisfactory. It is important to recognize that CO2 and lees act as protective agents in the bottle, limiting oxidative interaction.
Time Matters
To achieve a refined texture with a well-integrated, delicate effervescence requires an extended period of slow bottle aging. Riesling's natural fruitiness will gradually mellow, developing into tertiary aromas of honey, nuts, and spice. It also allows for the development of autolytic notes and imparts a silky sensation on the palate without losing Rieslings' animating freshness.
A comparison between the aging development of Rieslingsekt and still Riesling is not really possible.
Today, many premium Riesling sekts are released after a minimum of 36 months on the lees. When grapes are sourced from optimal vineyard sites, no dosage is necessary. In cases where the Rohsekt, or sparkling wine just after the second fermentation, requires dosage, this is administered to balance the final sweetness and acidity. Nevertheless, a comparison between the aging development of Rieslingsekt and still Riesling is not really possible. First, because the base wines have a different profile, as they need to meet other criteria. Second, as noted, the wine inside the bottle is well protected, reducing further development.

Recognition In Its Own Right
Krebiehl has declared that Rieslingsekt deserves recognition in its own right. Its unique style and expression set it apart from traditional method Chardonnay or Pinots. This recognition has been acknowledged by two prestigious wine organizations in Germany. In 2020, the VDP adopted a strict four-tier quality classification, similar to the one in place for still wines, for the production of sparkling wines. It created the VDP.SEKT.STATUT, which mandates a minimum of 24 months of bottle lees aging for VDP.SEKT®. Additionally, the VDP.SEKT.PRESTIGE® category mandates a minimum of 36 months of lees aging. The classic grapes allowed are Riesling, Pinots, and Chardonnay, supplemented by regionally permitted varieties.
A second association, the Verband Traditioneller Sektmacher (VTS), represents quality-focused sparkling wine producers across Germany. Founded in 2019, the VTS proposed rules for their members: nine months of aging is mandatory for entry-level sparklers, but most members release after 24 months. In 2021, the group introduced a top-tier "Réserve" level, requiring a minimum of 36 months of lees aging in bottle. In a next step to gain visibility, they held a Sektbörse, or sparkling wine marketplace, in Mainz last year. It proved a perfect platform to introduce the new category to an interested audience.

This recognition is driving even more attention to premium Rieslingsekt, not only within Germany but around the world. In the coming years, we can anticipate a growing presence of superb, sophisticated, matured Riesling sekts in the market, further revealing the true potential of this exceptional variety.
_________________________________________
Aged Rieslingsekt To Seek Out
Schlossgut Diel "Goldloch" Riesling Brut Nature VDP.SEKT.PRESTIGE 2013
This noted family winery (VDP and Sektmacher Verband member) is led by Caroline Diel in the seventh generation. Her single vineyard sekt from the renowned Goldloch site shows elegance, density, harmony, and complexity. Its enticing, complex bouquet reveals notes of quince and pear, combined with hints of brioche, salted caramel, and a touch of kerosene. On the palate, the perception of minerality is enlivened by a fine effervescence, showcasing the youthful spirit and richness derived from extended lees aging. Even a decade on, this sekt begs for further aging.
Griesel & Compagnie Riesling "Réserve Perpétuelle" Sekt Brut Nature
As one of Germany's most innovative sekt makers, Niko Brandner (Sektmacher Verband member) introduced a solera system in his cellar, bringing a staggered approach to blending vintages. This shapes the character of the Perpétuelle Riesling Sekt, which is made up of vintages 2013 to 2017. The cuvée received a further four years of bottle aging, yielding depth, body, and structure. It exhibits a potpourri of smoke, spice, toasted bread, and balsamic notes along with a touch of dried fruit, with an animating yet lingering finish.
Wein- & Sektgut Bamberger "Decade" 2010 Riesling Brut Nature
The Bamberger winery (Sektmacher Verband member) started its Decade project with the vintage 2009; 2011 is the current release. I highlight 2010 as it is perfect for drinking now. Without dosage, this Brut Nature showcases pure Riesling characteristics. A complex nose of dried stone fruit, stone, lemon zest, salty biscuits, hazelnut cream as well as hints of brioche complements depth, leanness, soft freshness, and elegance, on the palate. It ends in a long, fine, almost silky finish.