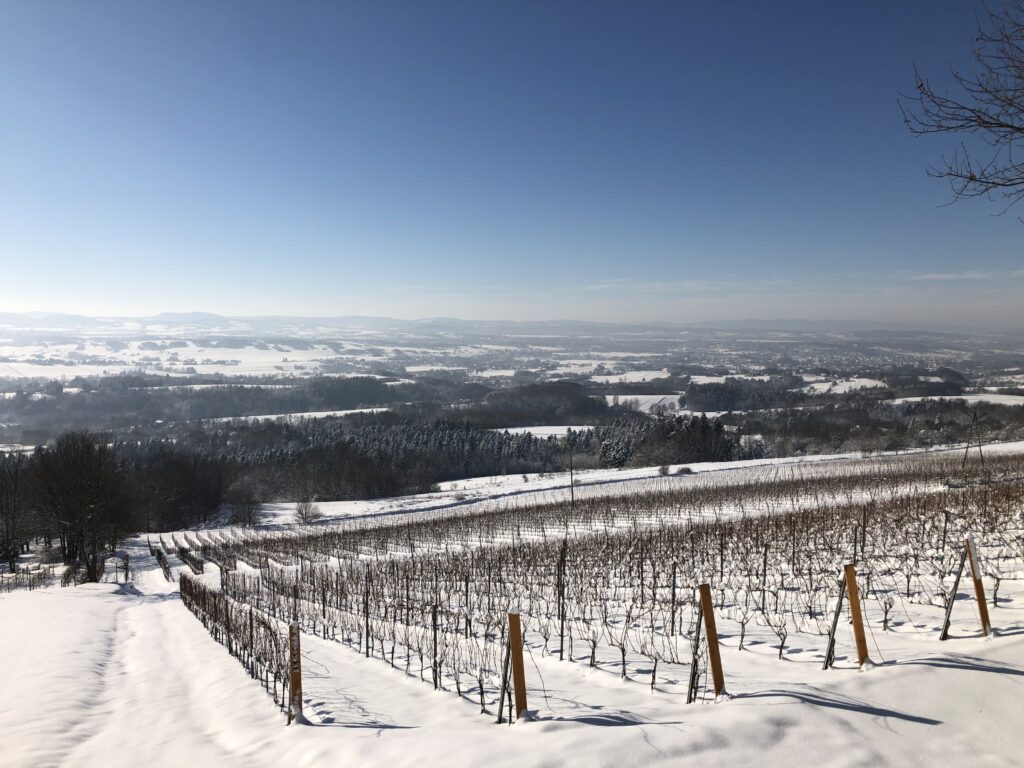 Unbeknownst to even the best-read wine buffs, Poland, whose capital lies closer to the Arctic Circle than Bordeaux, will soon grow hundreds of hectares of Riesling.
"Poland makes wine?" The surprise is universal, perhaps because the first bottle of Polish wine was officially sold in 2009 or because the country's vineyards lie north of the 50th parallel.
And yet, against the odds, Poland does make wine. More specifically, 2 million liters of it in 2022, from 770 hectares of vineyards farmed by 380 officially registered wineries. (Add another 150 who can't be bothered with the red tape). This makes Poland a big player in the European Union's viticultural Zone A, with a vineyard area notably higher than Sweden, Belgium, or the Netherlands, only trailing Great Britain. And not for long: while UK wine production (and prices) reportedly reached a saturation point this year, Poland's output continues to grow by 20% per year, every year. Still, domestic wine satisfies a mere 1% of consumption, which, against global trends, also continues to rise.
From the Rhein to the Baltic
Poland makes wine nearly everywhere in the country. Apart from a mountainous strip on its southern border, the climate is fairly homogeneous throughout its 312,000 km2, with slightly milder conditions to the west and south. Wineries can be found in each of Poland's 16 administrative regions, with the most successful in Lower Silesia around Wrocław; Zielona Góra (Lubuskie region) bordering on Germany's Saxony; the central Vistula region around Kazimierz Dolny, a historical town that attracts 2 million tourists annually; and unexpectedly, Western Pomerania near Szczecin, close to the Baltic coast (more on this later).
Poland made wine throughout its early history. The grapevine was brought from Bohemia together with Christianity, and benefited from the relatively mild climate of the Middle Ages and early modern era. In the seventeenth and eighteenth centuries, the Little Ice Age coincided with increasing imports from Hungary causing the area planted to vines to plummet. Pockets of vineyards survived notably in Podolia and Mazovia until 1945, when the Yalta Conference pushed Poland's border 100 kilometers to the west to include, among other wine zones, Grünberg, a large Sekt-producing region in pre-war Germany. Renamed Zielona Góra, the city is unique in Poland in boasting an almost uninterrupted history of viticulture: historic clones of Silvaner, Traminer, Riesling, and Tauberschwarz have been documented in vineyards.
Viticulture was slowly revived after the fall of Communism in 1989, starting unexpectedly in the south-east Carpathian region, which has some of the country's harshest climates. Here, hybrid grape varieties were preferred for their frost and disease resistance: Bianca, Hibernal, Sibera (the names are self-explanatory), and Seyval Blanc. It took a decade for vintners to understand that those early French–American hybrids had a glass ceiling of quality that can be broken only on very rare occasions. The most ambitious of the swelling bunch decided to bet on known, noble vinifera varieties. Pinot Gris and Blanc, Zweigelt, St. Laurent, Traminer and Chardonnay are showing promise, but two international grapes have caught growers' imaginations more firmly than others: Pinot Noir and Riesling.
Riesling has now become Poland's second most popular grape. With 65 hectares already in the ground, it lags only behind Solaris.
Pinot Noir's quirky behavior in the vineyard and cellar naturally restricts its expansion in Poland, also because several varietal choices can yield a stylistically similar wine: Regent, Zweigelt, and St. Laurent, three of the country's fastest-growing red grapes. The lure of Riesling, on the other hand, is proving irresistible not only in Zielona Góra and Lower Silesia but also the cooler Lublin region in eastern Poland. According to the first-ever cultivar stats released by Poland's Ministry of Agriculture, Riesling has now become Poland's second most popular grape. With 65 hectares already in the ground, it lags only behind Solaris, a Freiburg-bred hybrid with Riesling DNA.
Riesling's Journey from Zero to Hero
Businessman Marek Krojcig worked for several years in Germany. He returned to his family estate in Górzykowo, a green suburb of Zielona Góra, whose pre-war German name says it all: Oberweinberge. The slope falls steeply to the river Oder to the south. The conditions were perfect to revive the local tradition of viticulture, so in 1997 Krojcig planted Traminer, Pinot Gris, Saphira (another Riesling-based German hybrid), and Riesling proper. He started bottling the latter as the dry-ish, high-acid, green-appley Liryczny (Lyrical), and as the more richly fruity feinherb Znad Pradoliny (From the Old Valley). They were the first serious take on Riesling back in the mid-2000s, at a time when Polish vintners were still convinced hybrids were the only rational choice even though the various Biancas and Swensons could at best be considered half-wines. When Krojcig's poured his first Liryczny, Poland symbolically became a quality wine country.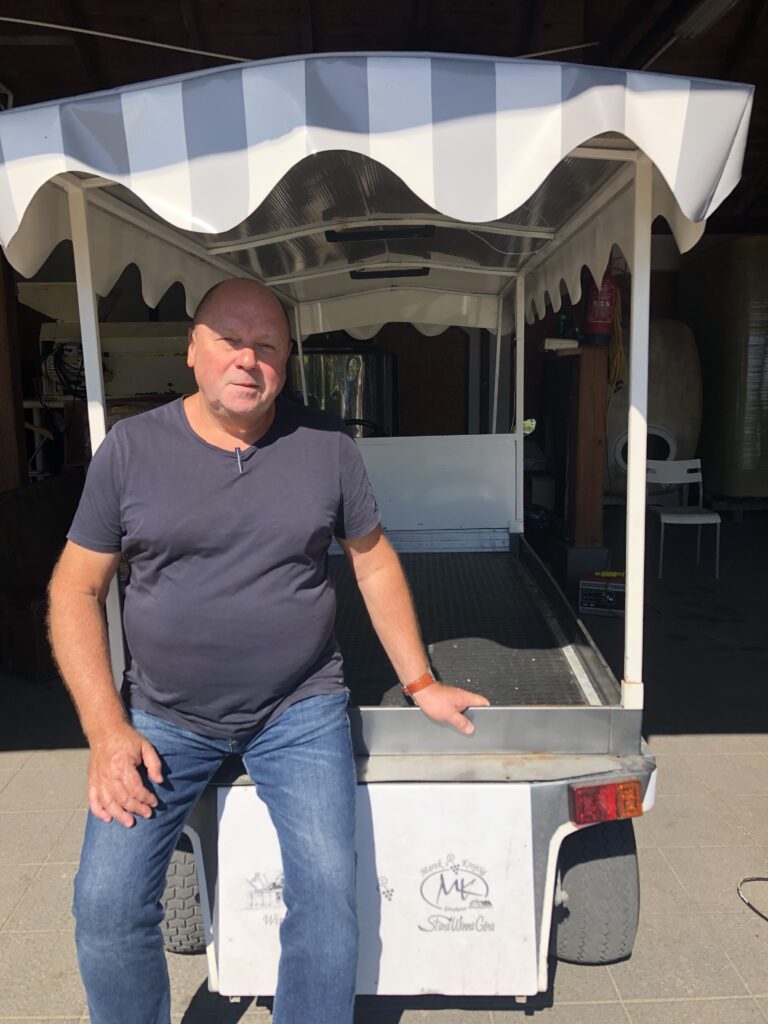 Despite being distributed by Poland's leading independent wine merchant Robert Mielżyński and adding a four-star hotel to his vineyard, Krojcig remained an under-the-radar winery. The name that elevated Polish Riesling to stardom is Turnau. Synonymous with one of the country's most popular singers, Grzegorz, it is actually a family of agricultural entrepreneurs with a Lviv-based business history going back to the late 1890s. Lviv was handed over to the USSR after 1945, so the family moved to Poland's "Recovered Territories" seized from the Third Reich, namely Pomerania, some 30 kilometers south of Szczecin (Stettin).
It is perhaps telling that Riesling's second Polish outpost was another historically German area (Slavic until the twelfth century, then part of the Holy Roman Empire), albeit with no tradition of viticulture. The Turnaus operate a large agrobusiness here, producing cereals and rapeseed on hundreds of hectares. In 2010, they decided to add an experimental vineyard, which has since grown to be Poland's largest (37 hectares). They planted a mix of new-generation hybrids such as Johanniter and Solaris alongside Chardonnay, Pinot Noir, and Riesling. More importantly, the Turnaus hired Franz Faust, a Rheingau vintner, as a consultant.
Faust's contribution has been significant. He gave the Turnau wines a purity of fruit and technical polish hitherto unseen in a country that had no professionally trained winemakers and only two oenology consultants. The Chardonnay, aged in oak and acacia, quickly became Poland's most serious, but the wine that benefited most from Faust's attention to detail was the Riesling.
The two key moves were to delay harvest and fine-tune the sugar-acid balance: the wine is usually bottled with the former slightly higher than the latter, which can mean 11 and 8.5g respectively, as in 2015 (some years, like 2019 and 2017, have been drier). The fruit profile is at first timidly appley but picks up a floral note after a few months; this is a Riesling with the slender body of Sachsen or Moravia but the steely acid structure of Nahe. The airy, transparent-yet-not-evanescent expression is perhaps an early attempt at expressing a sense of place, the cloudy rolling hills of the southern Baltic. Indeed, there is an echo of that flavor in the wines of Pomerania's other overperforming winery, Kojder (praised notably by Jancis Robinson), though it grows no Riesling, having opted for the Johanniter and Souvignier Gris PIWIs.
Here to eternity
As Polish winemaking matures, the enthusiasm for Riesling as the most noble white wine remains unfettered. This despite the fact that Poland largely lacks the slate, limestone, and sandstone soils favored by Riesling in its classic European regions, and that the country's short growing season, with a late spring and early autumn, make it difficult to achieve the prolonged hang time required for full ripeness.
Steep slopes maximize photosynthesis, and those vine-growing locales that are located on the Oder or Vistula rivers try to emulate the Mosel's sun-reverberating benefit.
The weather often turns dramatically after the autumn equinox, so any grapes still on the vine after 23 September may not be harvested at all. This explains the lean, green style of many Polish Rieslings. Tomasz Stola of Winnica Modła, in the Kazimierz region in central Poland, once poured me a Riesling with a pH of 2.79: embryonic fruity flavor and mouth-puckering acid.
But niches are continuously being carved in this marginal climate for the German grape. Steep slopes maximize photosynthesis, and those vine-growing locales that are located on the Oder or Vistula rivers try to emulate the Mosel's sun-reverberating benefit. Yields are adjusted to accelerate ripening, and winemaking gets better at filling the spare Polish frame with more succulence by means of short skin contact, bâtonnage, and residual sugar. Zeitgeist catches up, too: As German and Austrian Rieslings get riper and consequently drier, Poland might remain an outpost for off-dry interpretations of the grape.
The future style of Polish wine is still being defined in a dazzlingly dynamic process of becoming. Poland makes wine, and it could be the next big thing. When this becomes a reality, Riesling will likely be the Napoleon leading other cultivars in an assault on the established wine order.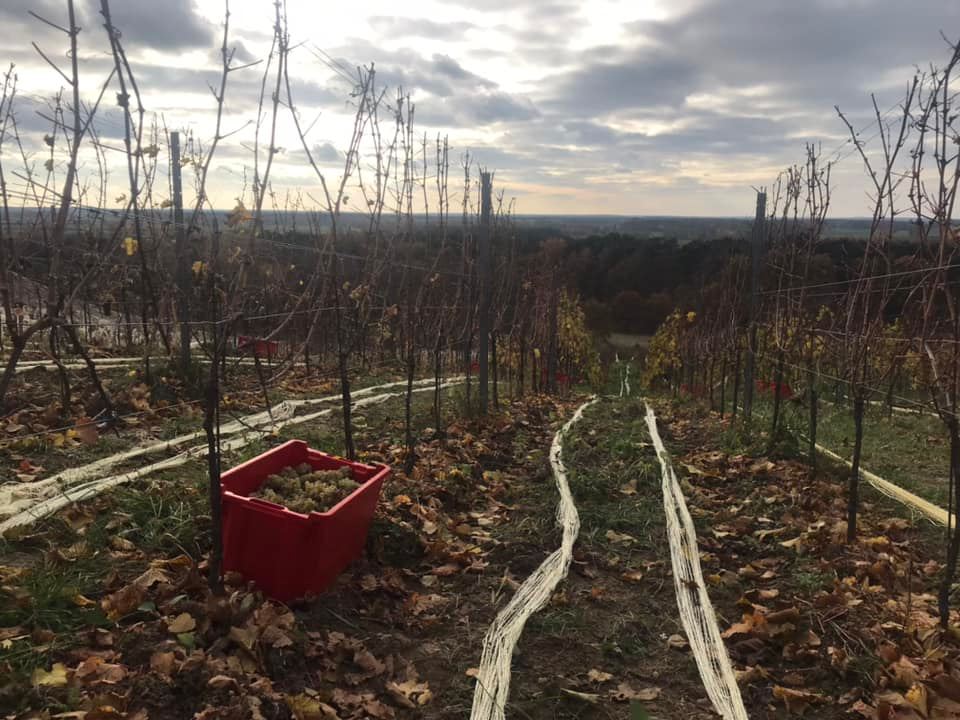 ---
Six Polish Rieslings to try
Marek Krojcig Riesling Liryczny 2021
Poland's first modern Riesling is still going strong. Clocking in at 11.5% alcohol, 8g residual sugar, and 8g total acid, it finds a special balance. The green apple and lime profile suggests early-picked Clare Valley Rieslings, but the medium body and thicker, pineapple-juice density feel very German. This is usually at its peak after 3–4 years, so the best is yet to come.
Turnau Riesling 2021
The wine that launched Riesling in Poland and a sure bet in every vintage—a recent vertical back to 2014 confirmed its excellent ageing potential. Early vintages evince a German style with zingy acidity balanced by succulent residual sugar, while recent warmer vintages have brought a smokier, more savory, Alsatian nuance to the profile. Batonnage adds a textural element, while the citron givré tartness on the finish remains uniquely Polish.
Margaret Blask Brut «100» 2021
This young winery is making a name for itself with impressive traditional method sparkling wines, usually blends of Riesling, Chardonnay, and Pinot but the «100» is pure Riesling. With its abundant mousse, broad shoulders, and healthy dose of autolysis (24 months on the lees), this is perhaps less vertical than German Riesling-based Sekts but does pack a sour apple punch.
Folwark Pszczew Riesling 2022
Although Marek Krojcig pioneered off-dry Riesling in Poland more than a decade ago, the style hasn't really picked up yet—a lot of simple everyday wines from different grape varieties are bottled with residual sugar but in premium efforts, the watchword is dry. This hotel-cum-winery, occupying a handsomely renovated old bishops' residence near Zielona Góra, strikes the right notes with its clean green apple enlivened by lemony energy. A fine Polish feinherb.
Silesian Roter Riesling 2019
Red Riesling is a natural grape skin color mutation, grown in miniscule quantities, notably in the Rheingau and Pfalz, and usually made into a white wine as the pigmentation in the skins fades during fermentation. Silesian, one of Poland's most commercially astute wineries, has morphed this grape into a successful orange wine, brimming with pink grapefruit and strawberry sherbet, crisp acidity, and finishing with lip-smacking tannins. A great food wine.
Saganum Riesling Nobilis 2020
Poland usually has early, cold, damp autumns, making late-harvest Riesling very risky business. Occasionally, though, a window of opportunity opens, as shown by this brilliant take on Vendanges Tardives from a winery specializing in sweet and amber wines. Apricot and peach intensity is offset by textbook Polish sour apple; a sommelier's delight.