St. Magdalener: The Beating Heart of Alto Adige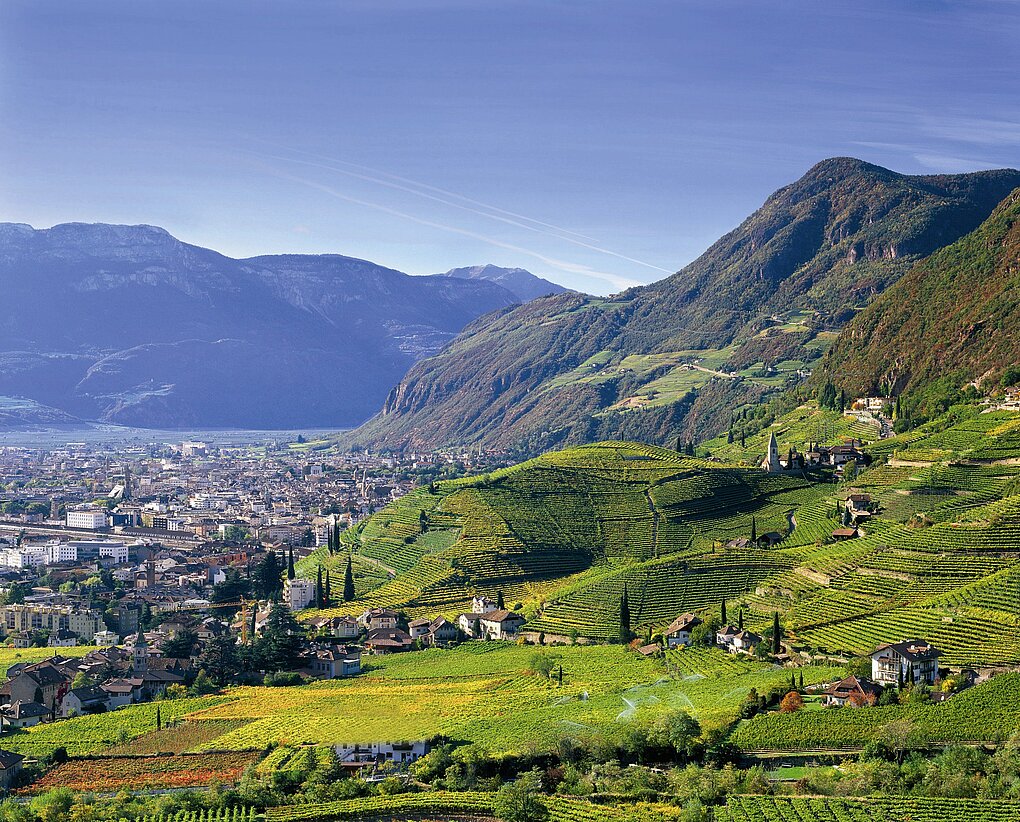 St. Magdalener is more than just a picturesque hill and a tiny, single-nave stone chapel on the outskirts of the provincial capital of Bozen-Bolzano. St. Magdalener is also the wine made from the two hundred hectares of autochthonous Vernatsch vines grown on the steep, dry hillsides surrounding the famous photo motif.
Derived from the Latin word "vernaculus" — meaning "native" — Vernatsch can also be found in Trentino where it is known as Schiava. The name Trollinger, as it is known in Germany, actually points to the origin of the variety — it was originally "Tirolinger," later corrupted to Trollinger. Although Vernatsch is best known as a fruity, pale-hued wine with low acid and gentle tannins, St. Magdalener, grown as it is on steep slopes that count among the sunniest and hottest in the whole of the alpine region, represents perhaps the most powerful and structured of the many Vernatsch expressions. DOC regulations, in addition, decree that a small amount of Lagrein may be mixed in with the principal variety, making it, in the most extended sense, a field blend. And shepherded by a mere 50 committed growers, the wine, like the chapel of the same name, constitutes an important part of the region's identity.
Know Your Roots
"We have an obligation to our region," says Katharina Mayr of Weingut Erbhof Untergazner. Her father, Josephus, leads one of the region's wine consortia, this one dedicated to St. Magdalener. The native grape seems to run in his veins. "Perhaps we as children unwittingly soaked it up throughout the years, and that's why we're so enthusiastic today. Whatever the reason, we feel an obligation to continue the heritage of our grandfathers and fathers."
Martin Ramoser of Weingut Fliederhof adds: "Although we grew up conscious of this responsibility, we also share a desire to produce Magdalener in ways even more elegant and more precise than in years past." Florian Gojer from Glögglhof shares that sentiment: "Magdalener is tough in the vineyard, tough in the cellar, and, when compared to other varieties, doesn't bring in as much in commercial return. You really need to understand what St. Magdalener is about, you have to really want to do it." He's joined by Markus Puff of Pitznerhof: "Especially with the infestations of spotted wing drosophila in the last few years, many farmers have pulled the ripcord, torn up their Vernatsch, and replaced the vines with more commercially attractive varieties."
"You really need to understand what Magdalener is about, you have to really want to do it."
So why haven't young winemakers simply switched to another variety? "It's too hot for white wines, and even in many cases for Blauburgunder [Ed. note: Pinot Noir]. From a climatic and soil viewpoint, no other variety fits as well. Besides, we love our Vernatsch," Gojer confirms. "It has its own identity and it belongs to us, to Bolzano, to Alto Adige."
Strong Together
Up on St. Magdalener hill, certain things feel possible that all too often seem elsewhere out of reach: the young winemakers, aware of both their responsibility for their denomination as well as for their past and their future, are in constant contact, tasting together and regularly exchanging ideas, experiences, and advice. Perhaps this collective approach is what has helped them emerge from the masses and establish their own identity. Their top wines in particular attest to the outstanding work of the region. Gran Marie from Fliederhof, Hub from Untermoserhof, and Annver of Pfannenstiehlhof, for example are already in their second or third vintages of these flagship bottles.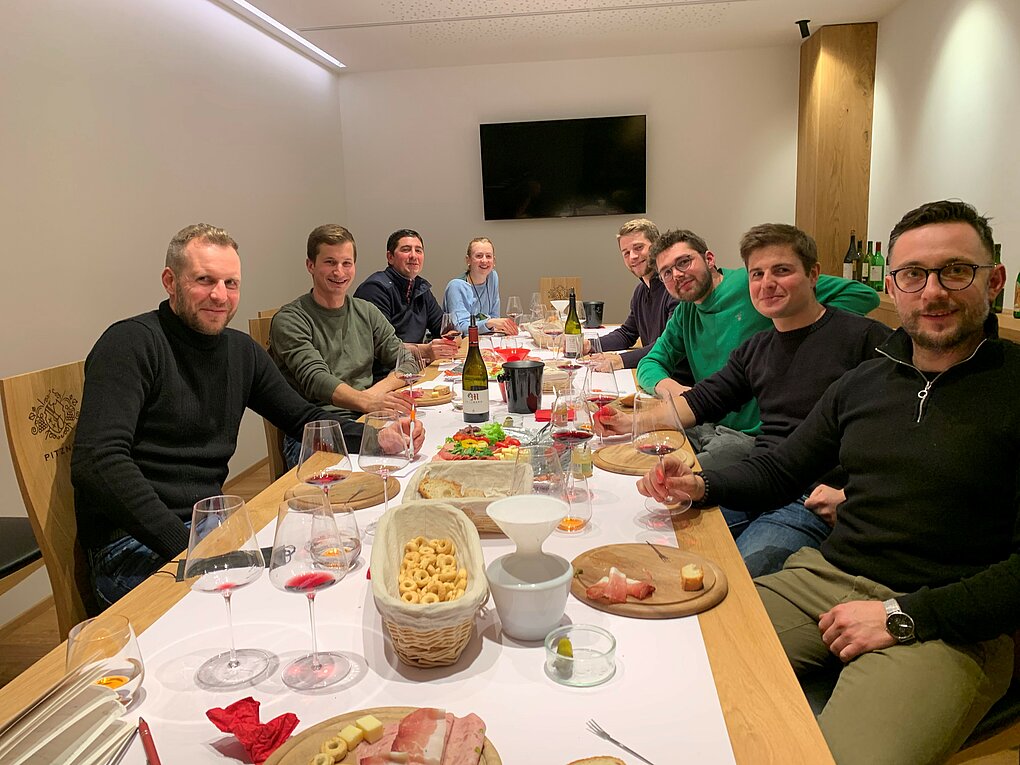 Never Change a Running (Vine Training) System
The steep, warm, and green Magdalener hillside, with its rocky Dolomite backdrop, is a beautiful showcase for South Tyrol's classic pergola vine training. With its vertical pillars and appended crossbeams, pergl shelters the grapes from the beating sun and offers a near ideal form of training for St. Magdalener. Little wonder then that it is seeing a revival elsewhere as well — even where its hours-of-labor-per-hectare calculations are orders larger than with other training systems — as climate emergency means that temperatures in and around Bozen-Bolzano continue to routinely exceed 40 degrees celsius. While some attempts have been made in the past to move to wire training systems, most have inevitably failed. The grapes were too exposed to the heat and over-ripened. Magdalener needs and seeks the shelter of shade. "That is the essential thing, the vine can develop at its own pace on the pergola," emphasizes Martin Ramoser of Fliederhof. The proof can be seen in the oldest vine on the hill, located at the peak near the chapel — ungrafted and over 110 years old!
"Besides, we love our Vernatsch," Gojer confirms. "It has its own identity and it belongs to us, to Bolzano, to Alto Adige."
Global gastronomy trends are benefiting St. Magdalener's inner character. Sleek, fresh, and approachable, it's hard to find a food that doesn't pair well. Magdalener is marked by an unmistakable mingling of cherry and raspberry aromas, accented with violet and rose petals. This delicate display is then underscored by an elegant spice, reminiscent of white or red pepper. Magdalener deepens and softens with maturity, its tannins recede to reveal a softer, gentler whole while never losing even a gram of its freshness. Its lightness makes it deceptively approachable, but it never loses its inherent complexity, elegance, and yes, charm.
---
Aromatic fruits, approachable, floral with accents of violet, juicy, delightful.
Enchanting, nuanced aromas linger into a complex palate both clear and long, memorable finish.
Appealing aromas of fragrant red berries, raised in tonneaux, elegant, juicy with saline accents wrapped in a beautiful creamy texture, balanced and long, reveals the underestimated power of Santa Magdalener.
Refreshing fruit in the nose and on the palate, elegant, structured, salty with momentum and a lingering finish.
Spicy aromas reminiscent of black pepper enchant the nose and lead into an expressive, elegant palate, equal parts finesse and length.
Made from slightly dried Vernatsch berries, lovely creaminess, fruit-forward center, elegant and long
2018 St. Magdalener Malanders, Weingut Pitzner
Red berries with a lovely creaminess, skillful integration of barrique revealing the potential ahead with a bit of patience, lingering and balanced.
2018 Gran Marie St. Magdalener Classico, Weingut Fliederhof
Elegant aromas open with clear fruit wrapped in a net woven of fine tannins, lingers across the palate, saline and long, with a balanced finish. Exceptional.
This is the first in a three-part series covering the many faces of Vernatsch in South Tyrol.
---
Translated from the German by Weinstory.de

9 Feb 2021: The German nomenclature is utilized here to reflect the historical traditions of the region and the author's wishes.