On the Way to German Chardonnay 2.0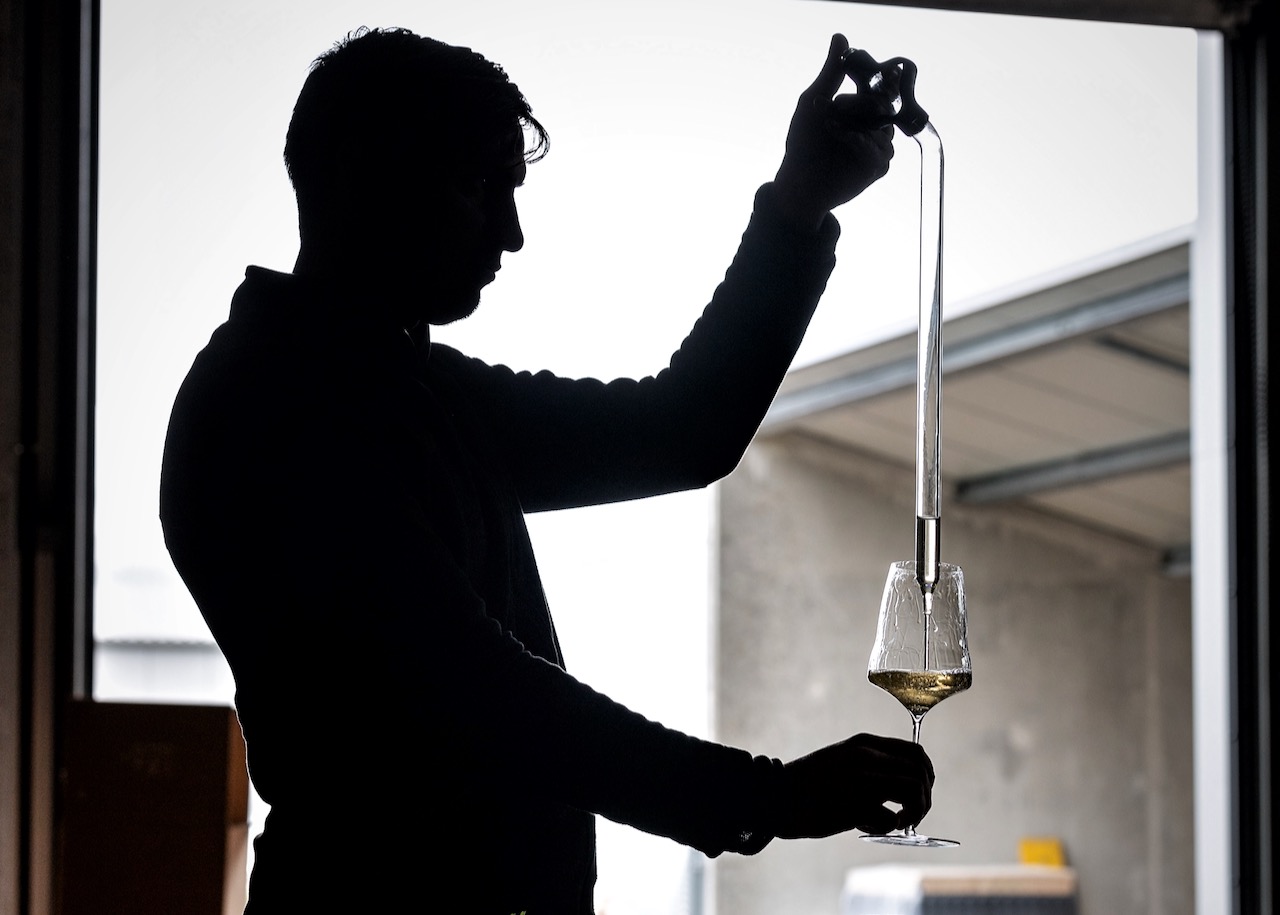 Roughly five years ago, a group of sommeliers, journalists, and ambitious wine aficionados gathered in Hamburg to dig deep into one of the world's great grapes. The idea was to offer an overview of what Germany had to offer in this illustrious circle of high-class wines. We called it 'Cool Climate Chardonnay.'
Burgundy's supremacy in terms of diversity of regions, sites, and above all experience barely needs mention here. Yet around the globe, growers have sharpened the focus on this grape variety, emerging from Burgundy's shadows and into the sunshine. No one went into the tasting thinking a German Chardonnay would earn spontaneous applause, or that wines such as Tolpuddle and Neudorf, Etienne Sauzet, and a Corton-Charlemagne from Chandon de Briailles, Sandhi, Hirsch or Kumeu would quietly shuffle into the background. And yet: it was apparently exactly the right moment for a seed to sprout. A seed that today is in glorious bloom.
Seemingly out of the blue
The recipient of that applause? A 2015 Chardonnay Réserve from Tobias Knewitz. At little more than 20 years old, the young Rheinhessen grower had only just begun to conceive his vision for a modern Rheinhessen Chardonnay grown on the iron-rich chalky soils of a cool site. His father's foresight in planting Chardonnay vines in the late 1990s gave the young Knewitz a head start, as the base materials he needed to work with were solid. While Tobias Knewitz views himself first and foremost as a Riesling producer, it was the 2015 Chardonnay — only his second to be bottled — that caused a stir in the German wine scene. Furthermore, it was the wine which, together with that of his friend Julian Huber of the esteemed Baden winery Weingut Bernhard Huber, set the style that would go on to find considerable international resonance. It was, one might say, the turning point in the evolving history of German Chardonnay.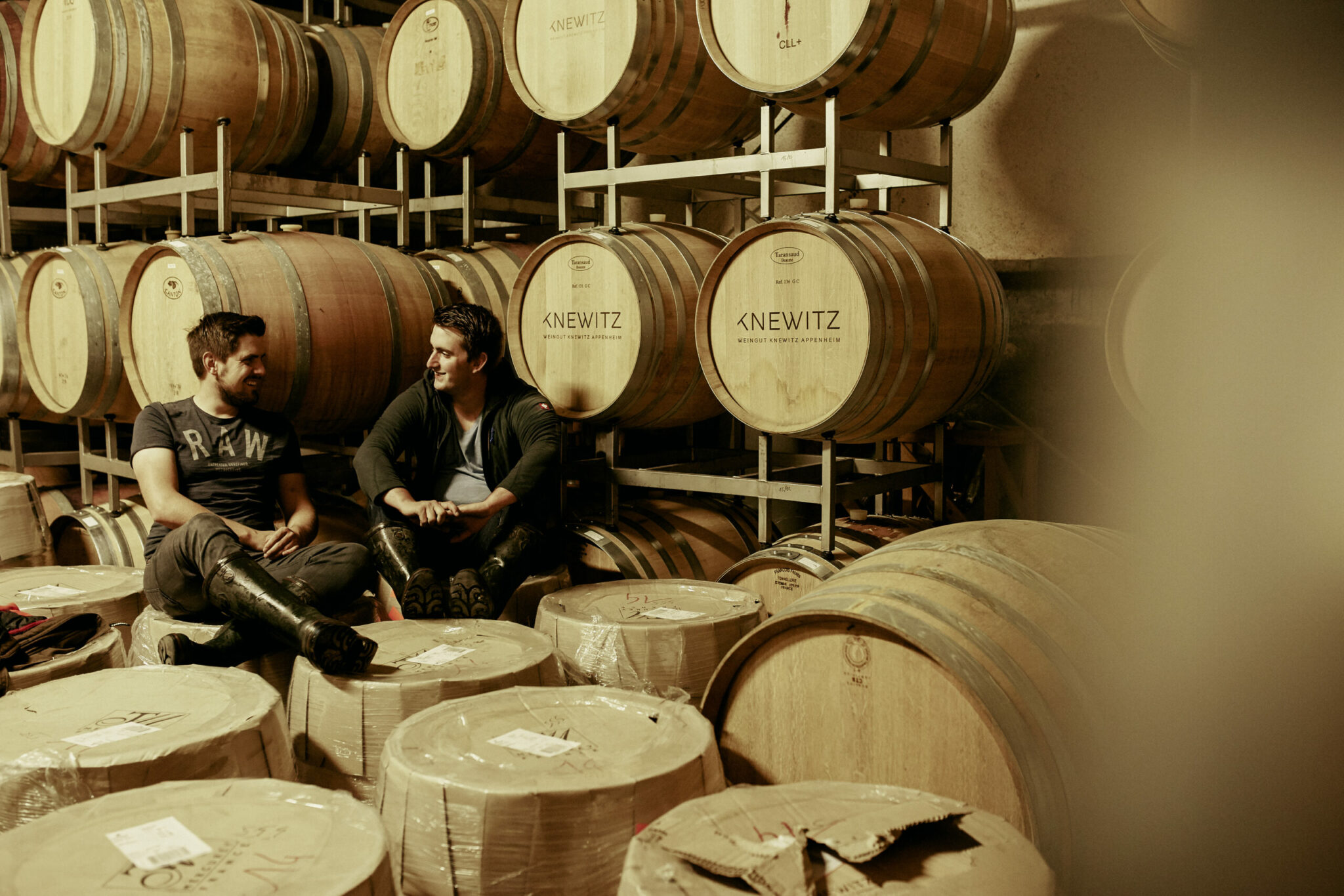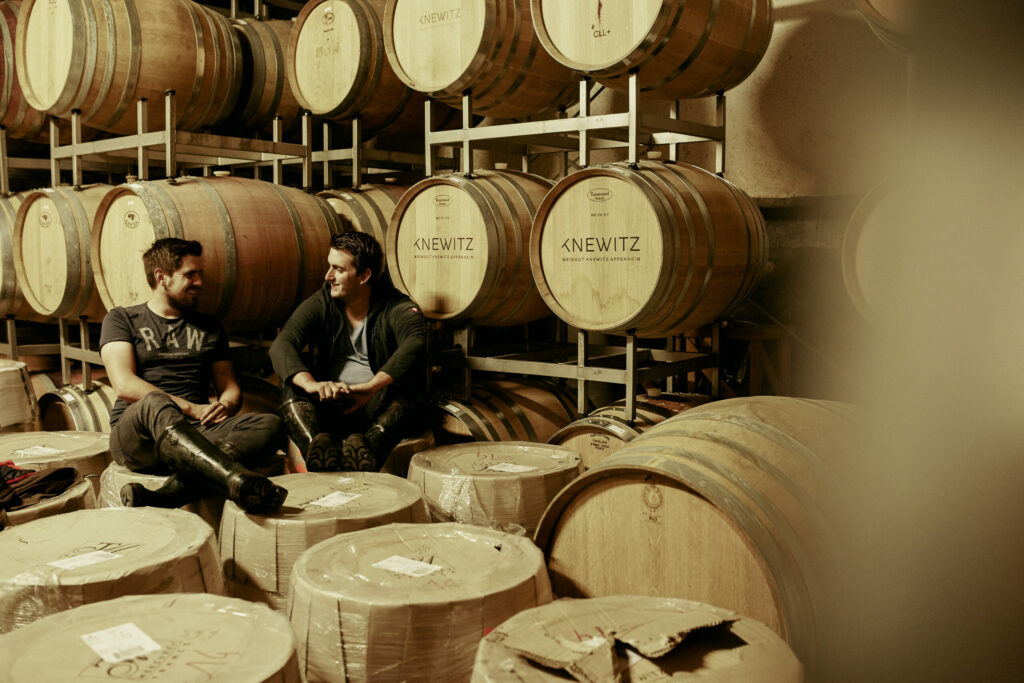 Chardonnay is a newcomer to the German grape canon. Any vines planted before 1991 were either registered as an experiment or declared to be Weißburgunder (a.k.a Pinot Blanc). The oldest German plantings may well be those in the parcels in Malterdingen, currently in Huber's possession. The Baden estate, together with Pfalz benchmarks Weingut Knipser and Ökonomierat Rebholz, are held to be among the earliest champions of the variety in Germany. Yet, until just a few years ago, these wines remained distinctly German in their markedly rich, oak-driven style. "Back in the mid-1990s, my father would harvest very ripe. That was what was done then. And the percentage of new oak was also very high. In some cases 100%," Huber says of his father's approach. Even if Bernhard Huber's Chardonnay quickly became an institution in Germany, it was his son Julian who took Chardonnay in a significantly different direction, at first in 2012 together with his father, and then on his own after his father's untimely passing two years later.
When reduction was king
This period starting in 2014-15 was an especially reductive period for German Chardonnay. "Coche-Dury" was the benchmark: an aromatic blend of cool nuance, finesse, and copious smoke and flint. However, while this style tasted good and gave the variety a decent jumpstart at home, the wines were loud and representative of a certain mindset at the time. "These wines reflected who we were then, as people," Knewitz says. "young, impetuous, quick to make decisions, and eager to initiate change. Today we're quieter and more considered, and we have an entirely different set of experiences — even if we're still pretty young." He's not just talking about himself, but also Konrad Salwey and Andi Rings, Johannes Jülg and Felix Keller, who is primarily responsible for the Pinot family grapes at iconic Weingut Klaus-Peter Keller. Despite their youth, these growers constitute the first generation of the New German Chardonnay Era.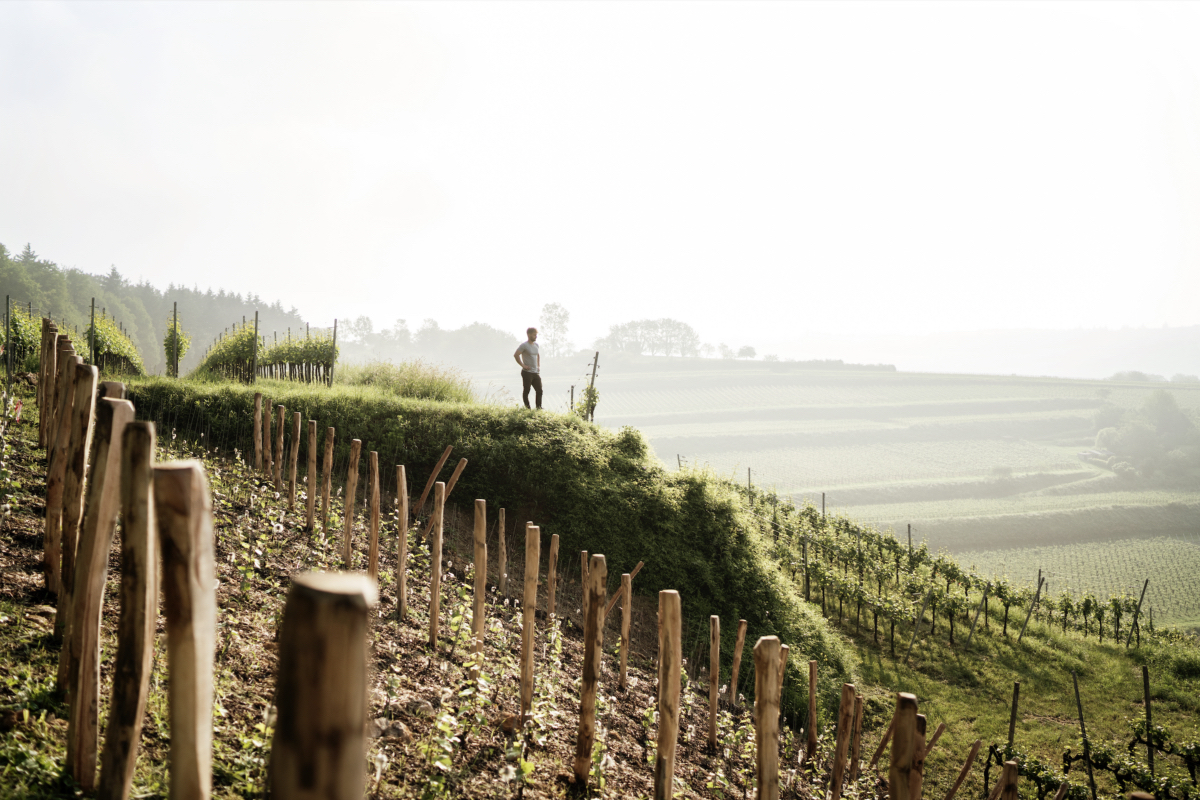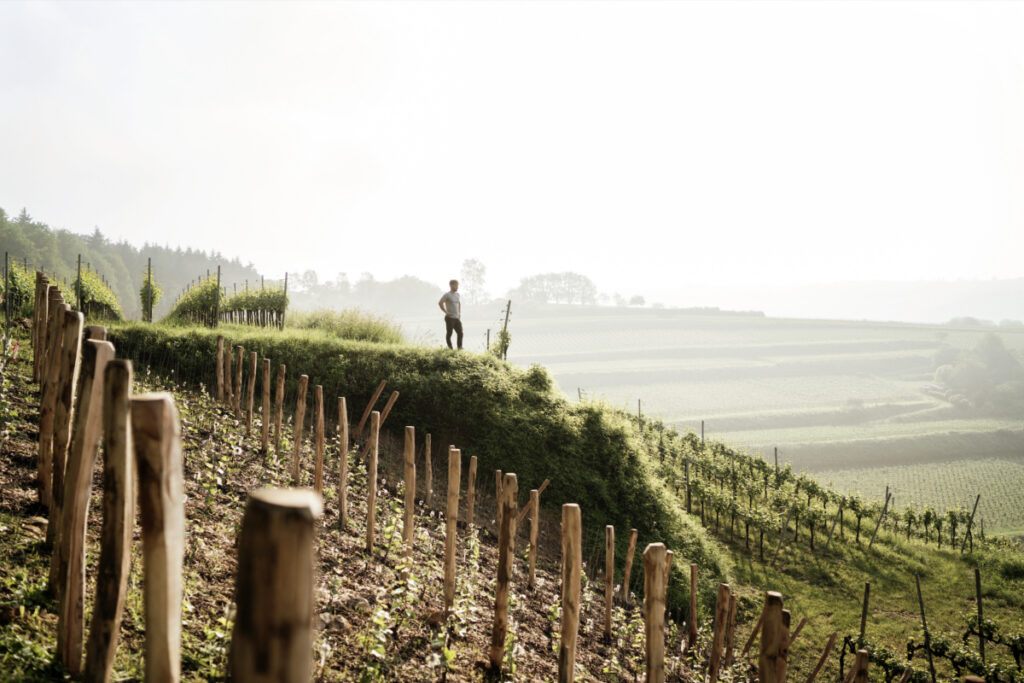 "Back then we seized the chance to become something radical, even if I wasn't really looking to do everything differently," says Huber. "But maybe I needed to get out there and put an exclamation point on it. On the one hand, I wasn't even done with my Geisenheim studies, but on the other, I already needed to take control of the winery." It was quite a balancing act, all at a time when Huber was still very much still figuring out who he was. Even then, Weingut Bernhard Huber was perhaps the most renowned estate in Germany for Spätburgunder and Chardonnay. Longtime customers may indeed have stumbled over the shift in style, which pushed towards earlier harvest, open and oxidative fermentation, extended lees contact, no finings and neutral barrels, in which the wines could develop much more reductively than under his father's watch. And then, following two years of a self-described "crass" style, came a pair of challenging vintages (2016 and 2017), including late frosts that sharply limited yields. But this learning phase was ultimately crucial for Huber.
on the way to german chardonnay 2.0
Since then, Huber has managed to shape his old-vine Chardonnay with a more refined reduction and nuanced barrel management, and to establish a better balance between tannins and acid structure. When replanting in the vineyard, wise clone choices and careful attention to rootstock selection result in delayed shoot development until after late frosts, and a renewed focus on acidity over aroma. Huber finds most of these vines in his own vineyards and uses them for his selection work. Knewitz describes the development at his estate, which he runs together with his wife and brother, in similar terms.
After the successful Sturm und Drang of the initial years, the three have adjusted and refined their Chardonnay style. While Chardonnay will continue to serve time on the lees, the influence of reduction has been dialed back. In exchange, the wine is given more time to find its footing, and is only released to the market two years after harvest. "What's most important to us is rediscovering the balance of freshness and concentration in this wine," says Knewitz, "As Riesling producers, we have oriented ourselves toward that variety's acidity and pH values. And on selecting the right wood. After all, we want to produce wines that will be fun in 10, 20, even 30 years."
In addition, the origin of the grapes has changed. Previously they all came from the Hilbesheimer Steinacker, where as today the Chardonnay comes primarily from the chalky limestone of the Appenheimer Honigberg and Goldberg. The parcel in Steinacker has shifted to Riesling. The Honigberg is rich in iron. The Goldberg is somewhat warmer, but also includes some of the estate's oldest parcels. "The wines," says Knewitz, "are quieter, but deeper."
Knewitz's decision early on not to cultivate a single-vineyard Chardonnay allows him considerable flexibility in terms of grape selection. It's a view shared by many young growers who have made strides in the development of their Chardonnay but who are not yet interested in head-to-head comparisons with French single-vineyard Chardonnays. These newcomers include winemakers like Jonas Dostert from the Obermosel and Moritz Kissinger and Carsten Saalwächter from Rheinhessen, all of whose initial bottles have turned heads in the past few years.
Chardonnay Réserve and Single-Site Chardonnay
Single-site Chardonnay is primarily found at estates that focus on Chardonnay, namely in the VDP. Such is the case for Julian Huber and several other estates in Baden, where Chardonnay was approved for Großes Gewächs classification within the VDP statutes for the 2012 vintage. The same now holds true in Württemberg. It didn't take long for Weingut Aldinger to switch its Chardonnay Réserve for the 2020 vintage into Chardonnay Untertürkheimer Gips, thus highlighting its origins.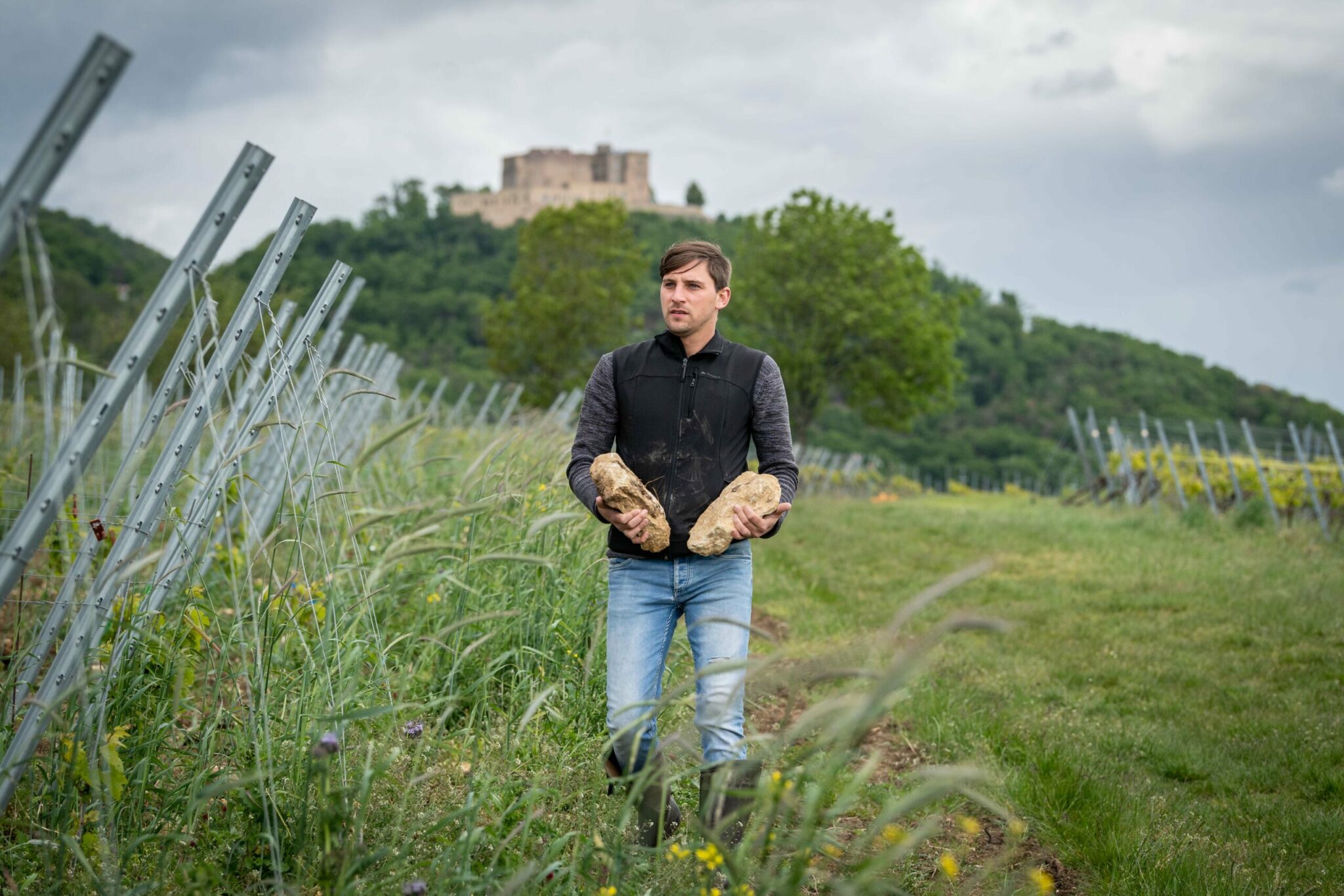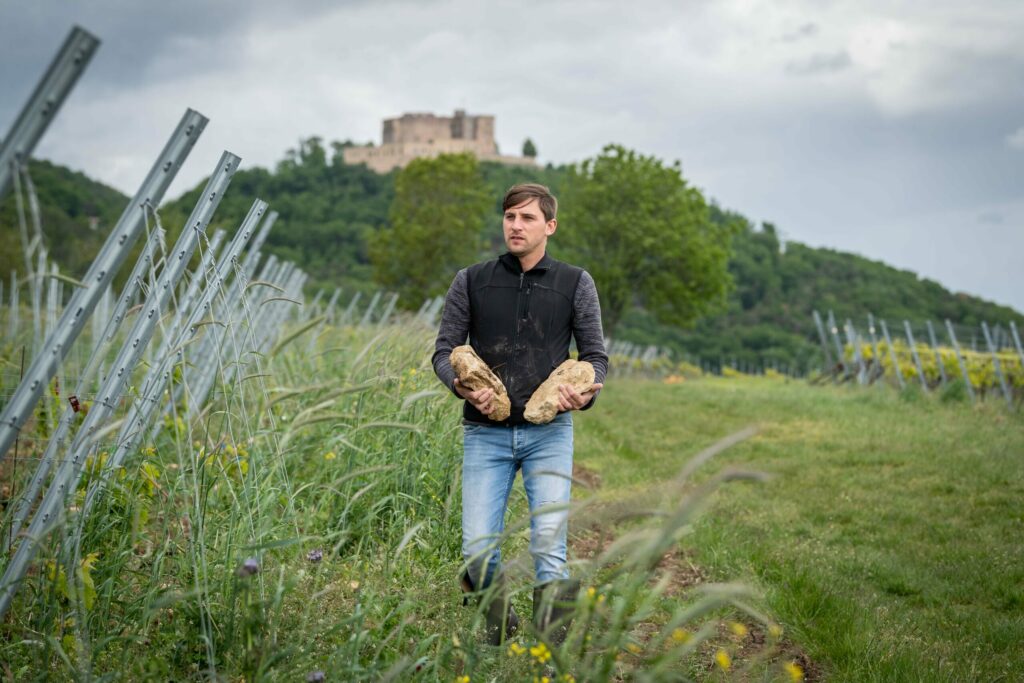 Beyond VDP member estates, winegrowers who already feel quite secure about the quality of their sites when it comes to Chardonnay are also focusing on site-specific production. This includes Weingut Seckinger in the Pfalz, whose portfolio currently includes three Chardonnays. Jonas Seckinger, together with his two brothers Lukas and Philipp, leads one of the most fascinating, if still quite young, estates in the region. "Chardonnay is showing its strengths in a time of climate change and rising temperatures, not to mention the increasingly dry soils that go with it. Riesling has more problems with the dryness, especially in somewhat sandy soils."
For Knewitz, it is not so much the Riesling that has to struggle with drought and heat as the Weißburgunder, which in Germany even today is considered the most important white Pinot variety for quality wines. Even though Pinot Gris is cultivated more frequently, it is Pinot Blanc that is found by far most often as a village oder cru quality: "From a purely climatic point of view, Chardonnay is the winner here," says Knewitz, "I don't know of any other variety that adjusts so quickly. In warmer vintages it laps even Weißburgunder, which can lack the necessary acidity." For Seckinger, it is Chardonnay's ability to adapt that impresses him the most: "Chardonnay shows its terroir, its origins, in a manner similar to Riesling. On the other hand, there is perhaps no more recognizable variety around the world. We try to adapt the individual style to reflect the origins of our wines. For the single site Chardonnay from the limestone soils of the Kapellenberg in Maikammer, we prefer a more oak-influenced, Burgundian style. For the wine from Linsenbusch in Ruppertsberg, whose vines root in colored sandstone, loam, loess, and a bit of calcareous marl, we orient ourselves more toward Jura" where reductive funk meets slightly oxidative yeasty notes.
Chardonnay earns new attention
Over the past few years, German Chardonnay and Pinot Noir have put winegrowing regions into focus that had long flown under the radar. Jonas Dostert is among them. He comes from a generations-old estate in Nittel, in the Obermosel where Germany, Luxembourg, and France meet. The Obermosel is fundamentally different from its better-known neighbors Mittelmosel, Saar, and Ruwer. Rather than slate, its soils are composed of pure chalk with a large fossilized component from extensions of the Paris Basin. Although the region is primarily known for Elbling, Dostert wanted something different.
German Chardonnay and Pinot Noir have recently put winegrowing regions into focus that had long flown under the radar.
In 2015, while still a traveling apprentice in Luxembourg and in Burgundy, he returned home and planted his first Chardonnay vines and secured a supply of fine used barrels, with the goal of creating Landwein from the Mosel. Following an uncompromisingly puristic approach, he slowly presses his Chardonnay whole cluster, then ferments it with native yeasts in neutral barrels and raises the wines on their full lees with no further interventions beyond minimal sulfur additions at bottling. Radiant, juicy, and saline, the result is reminiscent of a mouthwatering Jura Chardonnay, oscillating between incredible tension and relaxed ease, yet deliberately Deutsch.
bodensee: from one crossroad to another
From the Obermosel, we travel south to another crossroads, a place where Spätburgunder has been cultivated for roughly 1,200 years even as the oldest Chardonnay vines are a mere 30 years old. Welcome to the Bodensee (Lake Constance). It marks the convergence point between Germany, Austria, and Switzerland, as well as a winegrowing region that includes parts of both Baden and Bavaria. Lake Constance, one of Germany's most popular summer destinations, enjoys a very warm climate by German standards.
Yet it also is home to high elevation sites — up to 470 meters above sea level — with plentiful precipitation and wind, which blows along the Bavarian section of Bodensee, between the German Alpine foothills, the Bregenz forest, and the Swiss Alps. Here, Weingut Aufricht, a family-run estate in Stetten bei Meersburg am Bodensee, has grown in prominence over the past four decades. In 2018, Johannes Aufricht, who has recently took over the estate, added a micro-winery of his own. While Aufricht pursues the classic, straight-forward lake style preferred by the many tourists, he makes no compromises for the wines under the Johannes Aufricht label. So far these include a Spätburgunder, a sparkling wine, and a Chardonnay called Van Hauen. These wines are sourced from a limestone and clay vineyard, at 500 meters above sea level — making it among Germany's highest— that Johannes's father and uncle planted over 30 years ago using selection massale from Meursault, Montrachet, and Champagne. "I raise the Chardonnay for between three weeks and three months in new barrels on the lees. I don't want the oak to affect the taste profile too much. I'm a winemaker, not a carpenter. But used barrels are usually a bit too muffled for me. Afterwards the wine goes into stainless steel barriques and stainless steel eggs. I like to think of them as 'reactors'."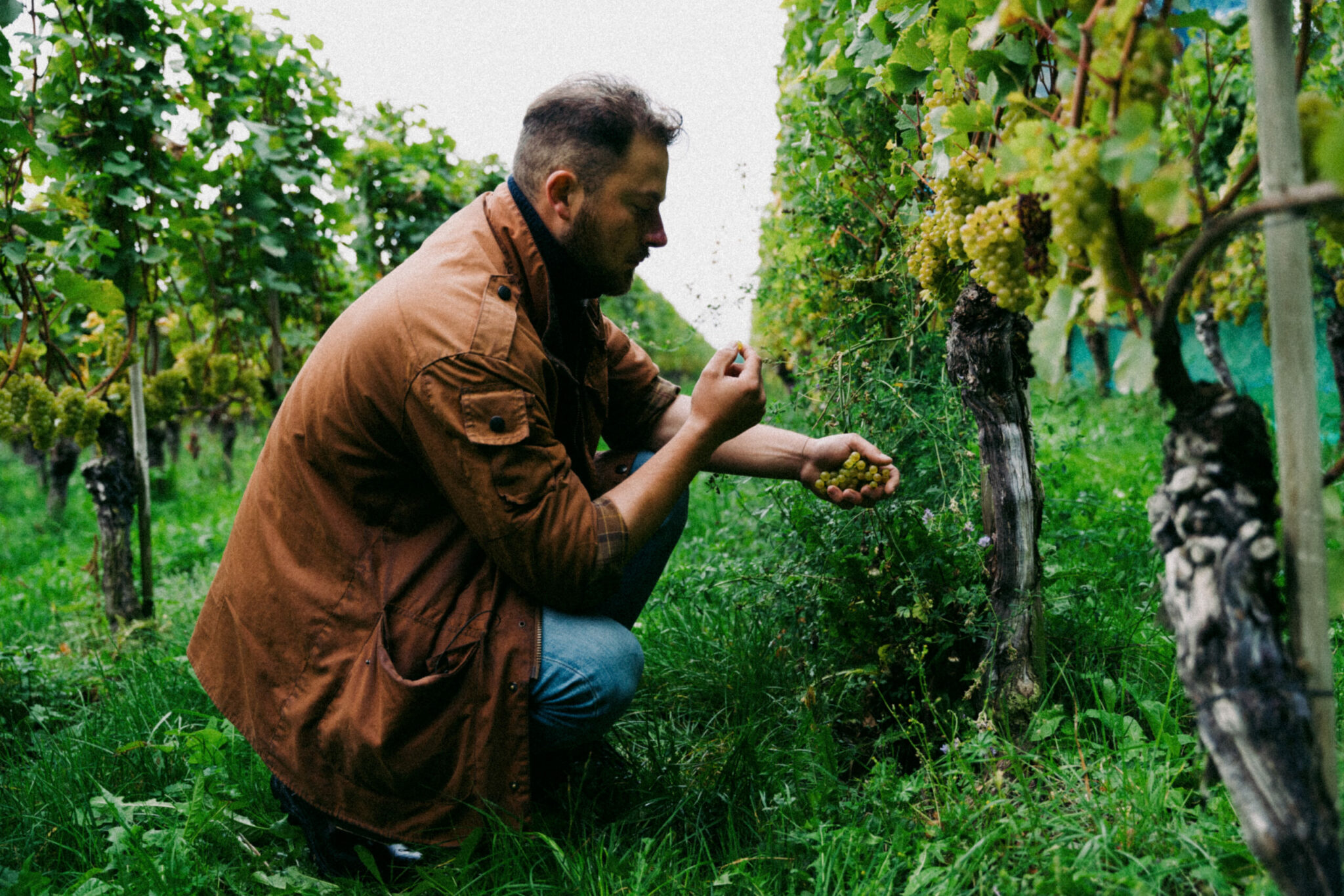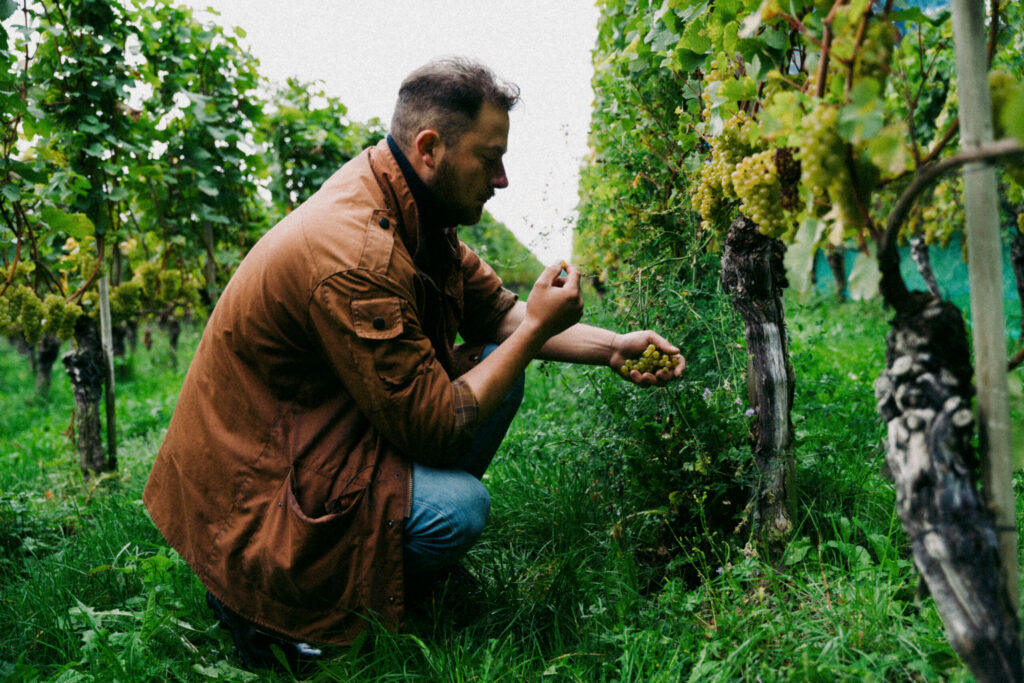 The 2018 and 2020 vintages are impulsive, edgy, and unsettled, like racehorses at the starting gates. One can taste the tremendous expectations that Aufricht puts on his wines and himself. His 2020 Van Hauen is exceptionally austere and linear. This is not the sort of bottle for people who love approachable and welcoming wines. Rather it is for those who revel in wines as ascetic, individual, and challenging as the vintage will permit. And that's precisely what makes the wine a fine addition to the ever-growing spectrum of German Chardonnay.
chardonnay redux
Using the same wines, from the same vintages as five years ago, I organized a new edition of the cool climate Chardonnay tasting. While the ranking changed a bit, Knewitz's Chardonnay Réserve 2015 — a wine clearly far from done with its development — once again was the runaway favorite.
In the face of climate change, German Chardonnay is poised to assume the role that Weißburgunder has held for decades.
To me, it is symbolic of the significant changes underway on the German grape variety landscape. In the face of climate change, German Chardonnay is poised to assume the role that Weißburgunder has held for decades. In 2005 there were just 1,018 hectares of Chardonnay in Germany. In 2020 that number had jumped to 2,558, and the trend continues to point up. Rheinhessen now leads the pack, with Chardonnay plantings having tripled over the same period; in Württemberg it went four times higher. The variety seems likely to establish itself alongside Riesling and Silvaner as the most important classic white variety of the future. The proof we're currently seeing in the glass — whether from young guns or old hands — is not only a delight to drink, but also suggests formidable potential. The Sturm und Drang phase has been largely transformed into one of refinement. And, like that 2015 Knewitz Chardonnay, is really only getting started now.
---
4 chardonnays to try
Carsten Saalwächter, Chardonnay 2020
One of the biggest talents on today's German wine scene is Carsten Saalwächter. The Ingelheim-based grower initially made a name for himself through Silvaners and Pinot Noirs, initially preferring Weißburgunder to Chardonnay. But in 2020, there was no more getting around Chardonnay. His vines grow in the Ingelheimer Höllenweg on pure shell limestone. Saalwächter, who apprenticed with German Chardonnay pioneer Hanspeter Ziereisen, presses his Chardonnay directly and quickly, with plenty of lees in the barrel. Fermentation is spontaneous and warm. The result is a mingling of juicy ripe fruit and subtle, flinty reduction more reminiscent of the Jura or Loire than Rheinhessen. What captivates is the silkiness of the palate, the nuance, and the elegance. With an enviable inner calm, this expressive Chardonnay delivers a fine acid structure, good concentration, and texture.
Karsten Peter, Chardonnay Mineral 2020
While the name Karsten Peter may not immediately evoke associations of Chardonnay and the Pfalz, lo and behold, the winemaker, who for roughly 15 years has steered the fate of Weingut Hermannsberg on the Nahe, originally hails from Bad Dürkheim in the Pfalz. At the time, he turned his back on his parents' estate. Then, a few years ago, he, his wife Anne, and their families began updating their parents' estate, streamlining, step by step, the range from 23 varieties down to three. One of those is Chardonnay, pressed without maceration and wild fermented and raised 100% in barrel (10% new). Beyond the unmistakable Pfalz ripeness, a pervading coolness marks the wine. "Mineral" starts off with smoke and flint, plenty of lime, lemon, pear, and a bit of pineapple before giving way to a bit of sweet yeasty dough and nuts, crushed stone and graphite. The same blend of warm and cool reemerges on the palate. The cool sites, whose vines have very good genetics — Karsten's father owned a vine nursery — and the coral chalk in the soil lend momentum, freshness, precision, and length. At the same time, the wine is juicy, salty, vibrant, and honest.
Simon Hornstein, Nonnenhorner Seehalde Chardonnay 2020
Roughly 40 minutes away from Johannes Aufricht, in the direction of Lindau, Simon Hornstein works in the town of Nonnenhorn. The town is currently home to tremendous dynamic development borne by numerous young winemakers wanting to show that the Bavarian section of Bodensee can do much more than the Müller-Thurgau for which it is mostly known. Some have trained their focus first and foremost on fungus-resistent varieties, others on classics — with Chardonnay assuming a significant place in their ranks. Hornstein, who first produced a vintage of his own in 2017 at his family's estate, quickly gravitated to Chardonnay, benefiting from the fact that his parents already had Chardonnay planted. His two best vineyards lie on the former banks of the lake, on a terrace (Seehalde) formed by the last glaciers. The terrace gravel and chalky-sandy fossil soils foster lean and precise wines. A tinkerer by nature, Hornstein soon determined how best to imbue impressive balance and fineness in his wines. Truly, the Seehalde Chardonnay is for me one of the most elegant German Chardonnays I know. With an impression of absolute crystalline tone and clarity, the wine is relaxed and harmonious, balancing juicy fruit and subtle spice, fine smoky and stony notes, a ripe and lively acidity, and a captivating concentration. Pure and only lightly supported by a precise dose of oak, right into its long finish.
Maximilian Kusterer, Esslinger Chardonnay 2021
And if we're talking about big talents, the Chardonnay from Maximilian Kusterer can't go unmentioned. The young winegrower leads his family's estate, with vines standing on vineyards planted as far back as 1220 in the Württemberg town of Esslingen. The Chardonnay doesn't go back that far. While the estate remains in the historic village center, the wines are today produced in a gravity-fed cellar erected in the heart of the vineyards in 2012 and running over four levels. The Ortswein, whose grapes hail from the two Essling sites Schenkenberg and Neckarhalde, underwent gentle whole-cluster pressing before a wild ferment in barrique casks, where they then aged for nine months. Here, too, finesse and balance stand front and center. The wine begins aromatic and floral, then turns toward fresh and pure with a citrus fruit that lends a gentle creaminess to the palate before being carried on by a wave of fresh acid. The Chardonnay offers a final dose of grip and decent barrel spice with savory notes on the finish.
---
Translated by weinstory.de