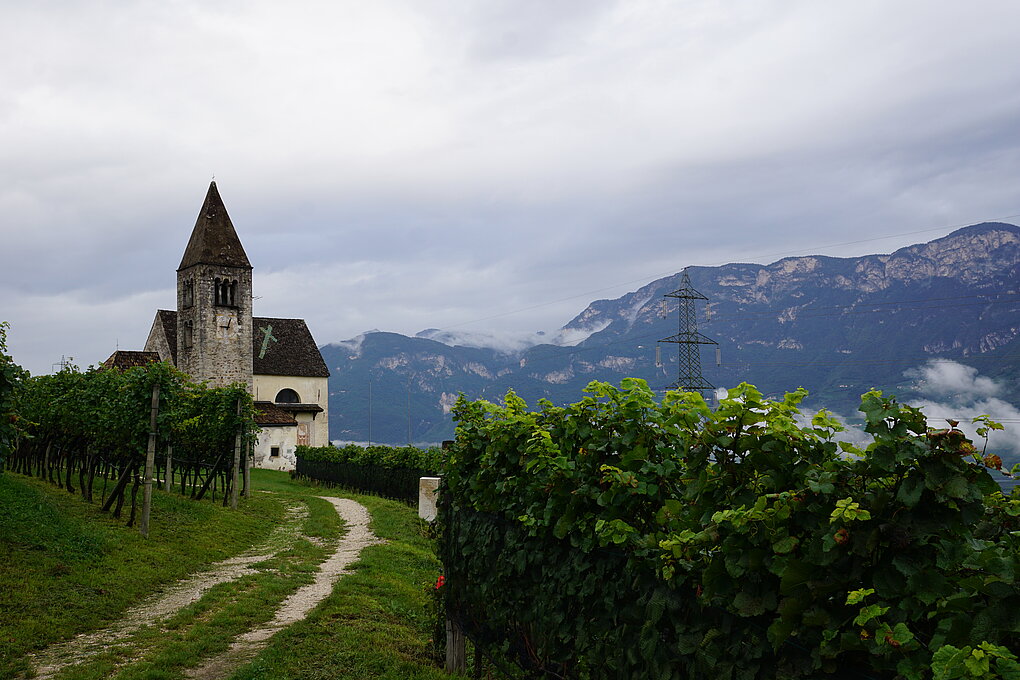 September. Südtirol-Alto Adige. I stand, slightly shivering, on a meadow surrounded by a herd of cows and the distant clucking of hens from a nearby farm. Beside me is winemaker Franz Haas Junior, who in his custom-tailored shirt would ordinarily be mildly out of place. Aren't we standing in a mountain meadow, after all? In fact, at 1,150 meters above sea level, Aldein-Aldino is the literal edge of the region's alpine viticulture, the highest Pinot Noir vineyard in Südtirol-Alto Adige, and likely by extension in all of Italy. An impressive elevation for a vineyard, not least because winegrowing has long tended to play out in the valleys.
Even at the time of my first visit in the early 1990s, the region of Südtirol-Alto Adige was mid-transformation, shifting from being an exporter of cheap, thin, off-dry red wines into growers of rich and refreshing wines, especially whites. Since then, I've traveled there frequently, witnessing the continued momentum as the region embraces the spheres of food and tourism as well as wine. Yet, as in so many traditional wine regions around the globe, the climate emergency introduces a number of challenging hurdles that might well require a complete transformation to weather the storm. To this end, an emphatically critical outside assessment.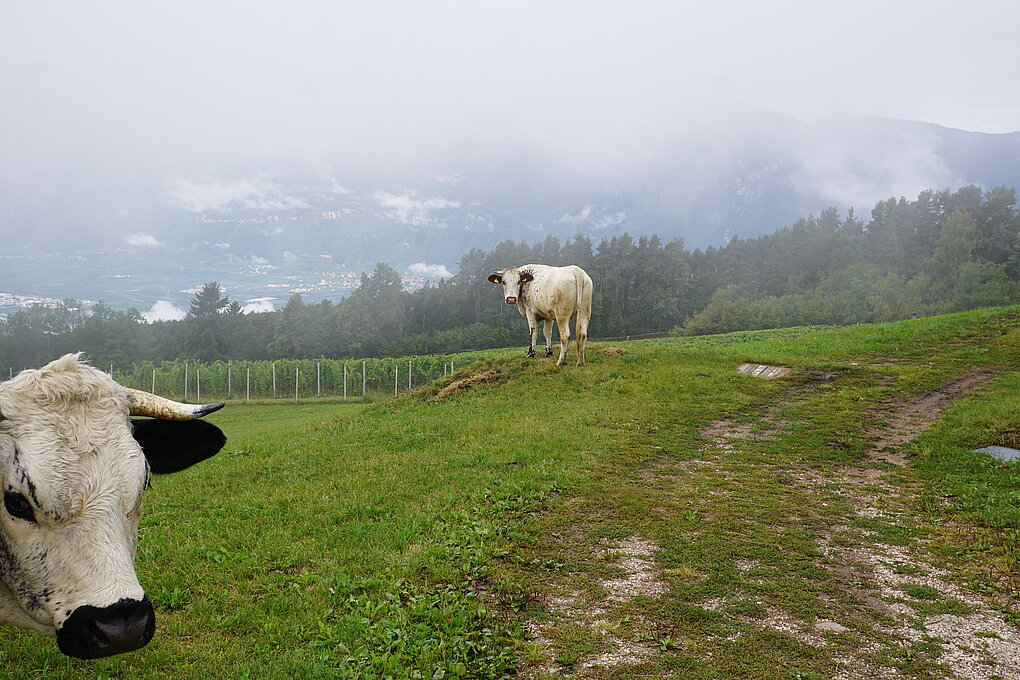 Franz Haas – High-Elevation Pioneer
The transformation of Südtirol-Alto Adige viticulture from cheap, generic, and residually sweet Vernatsch into premium production of globally in-demand red and white wines means many producers have also rediscovered, re-cultivated, or straight out replanted old, high and steep vineyard sites.
Long considered one of the grand Pinot specialists of the alpine region, Franz Haas was an early adopter of this move up the mountains. Based on the rising temperatures he witnessed 20 years ago, he established his first vineyard at around 800 meters meters of elevation. As today with the Aldein-Aldino vineyard, situated at 1,150 meters, that initial vineyard was not initially accepted by the provincial government into the quality wine appellation. For a decade, Haas could only make table wine from that hard-won fruit. (Following an extended struggle, Südtirol-Alto Adige was finally granted DOC status in 2010.) The outstanding quality of the fruit pushed Haas to continue climbing. "The problem right now," says Andi Punter from the Franz Haas estate, "is that traditional Pinot sites no longer resemble our concept of a cool, Burgundy-styled Pinot."
A New Weight Class for Pinot Noir
Pinots in the region today can sport heady alcohol volumes of up to 15.5%, worlds away from the Burgundian finesse of so many modern Pinots as well as those I tasted back in the 1990s. When tasting recent vintages of Cantina Girlan's Trattmann Pinot Nero Riserva and the Pinot Noir from the Vigna Ganger parcels, I was caught off guard by a Pinot style entirely unto itself. In addition to the familiar substance and structure, there was a warm, nearly southern character: deep, rich, and quite full-bodied. Without question, this can be posited as an entirely distinct, and perhaps even enduring characteristic.
All this raises the question: where does a viticulture trademarked on fruit and freshness go when the mercury starts to rise?
Gerhard Kofler, who is responsible for the wines of the Girlan Winery, takes this position: "What I can tell you right now is that at Trattmannshof, we're surely not going to achieve a Pinot of 12.5%. At the same time, it's hopefully not going to be above 15% either. While concentration is ok, so too are fresh aromatics and elegance. I think that with the red wines, we're on the right path, given that we're talking about conjuring up so much Burgundian elegance and finesse. We're much closer to our goals there than with the whites, which are much further away than the whites from Burgundy."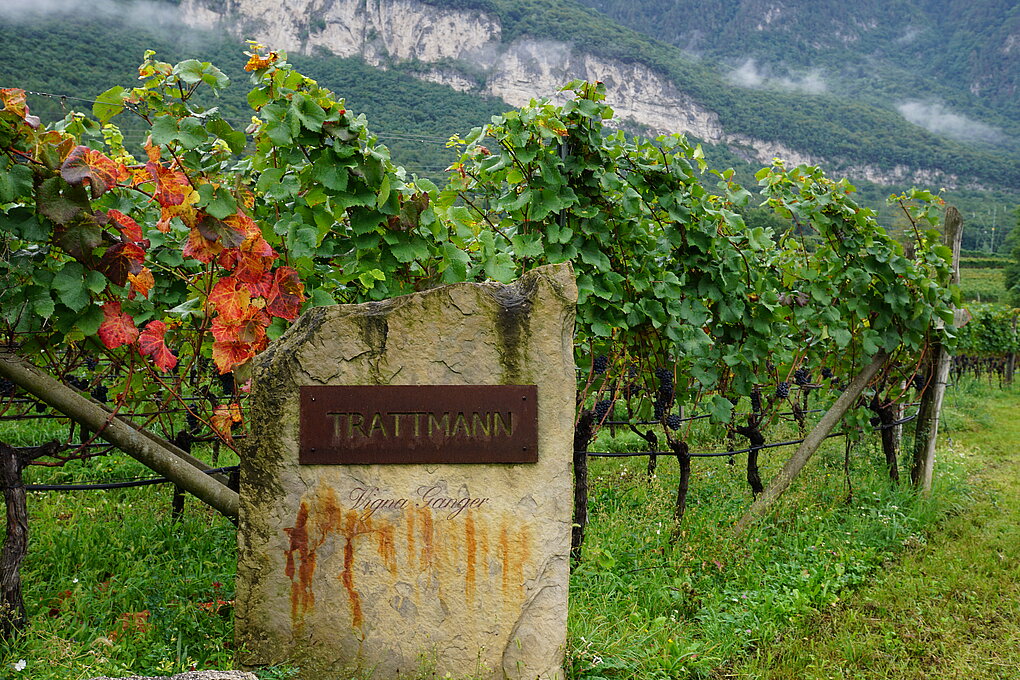 For Kofler, the challenges posed by the climate emergency are closely tied to those that arise from changes in trellising practices and the structure of the cooperatives. "We used to have pergola training, today we've got wire training, and with it 500 extra grams of grapes on the vine. Ever since the quality campaign back in the 1980s, members of the cooperative have been paid based on the sugar content of the grapes. At the time it made sense. I'd question it today. "
Hotter and Drier
Martin Gojer, who together with his family runs Weingut Pranzegg above Bozen-Bolzano, is a candid critic of his region. He doubts that the successful styles created in the 1990s and 2000s can still be pursued without compromise. And while the effects of the climate emergency in Südtirol-Alto Adige are not comparable with those observed recently in California and Australia or even Germany's Baden or the Pfalz, the numbers don't lie.
"The problem right now is that traditional Pinot sites no longer resemble our concept of a cool, Burgundy-styled Pinot."
Temperature trends are pointing upward, confirms Georg Niedrist of eurac research. His company has been analyzing climate data from the region over an extended period, and he's seen average summer temperatures of 21°C in the 1970s rising to 22.5°C in the 1990s and 2000s, and reaching 23.5 to 24°C in recent years. This has been joined by a tremendous dryness in the region that has an even more pronounced effect on the vines due to higher CO2 concentrations in the air. In short, these vines are thirstier than ever and 90% of all vineyards in Südtirol-Alto Adige are irrigated. (Source: Georg Niedrists Lecture at the Wine Summit 2019, "Extremely Normal. Climate and Climate change in Alto Adige's Wine-growing").
Vintage 2020 : A Prime Example
The current vintage expresses, in a single nine-month span, the entire spectrum of challenges facing South Tyrolean winegrowers today. The winter was warm, but March tended toward cool and wet, pushing budbreak significantly later than normal. April and May were then warm and unusually dry. "It was one of the earliest flowerings I've ever seen," says Barbara Raifer, who oversees the viticultural department at the Provincial Testing Labs in Laimburg. By mid-May and into the first half of June, nonstop rainfall led to an onset of fungal infection in the vineyards. Winemakers were on tenterhooks until high summer, which brought pleasantly warm days and cool nights.
In August, the vintage's roller-coaster went into freefall. As if warm temperatures and heavy rain weren't bad enough, an ever-increasing cycle of extreme weather ripped through the vineyards. In the areas around Meran-Merano, hail on August 22 wiped away the year's efforts and fruit for many vintners in a single icy blow. There are other problems connected with warm temperatures during harvest, namely the threat of fungal infections, especially if acid values fall before the grapes reach the desired ripeness. At that point, to achieve high ripeness levels and good acidity, one must reach deep into the old bag of tricks because the acid levels cannot be achieved in the vineyard alone.
Cultivating Alternatively
"Unless [that is] you accept the necessity of changing things in a natural direction," says Martin Gojer, who farms biodynamically. "Necessity is after all the mother of invention. The last such crisis facing the wine world was the scandal of the 1980s. Global warming is likely to go down as the next emergency, but not everyone is going to see it that way."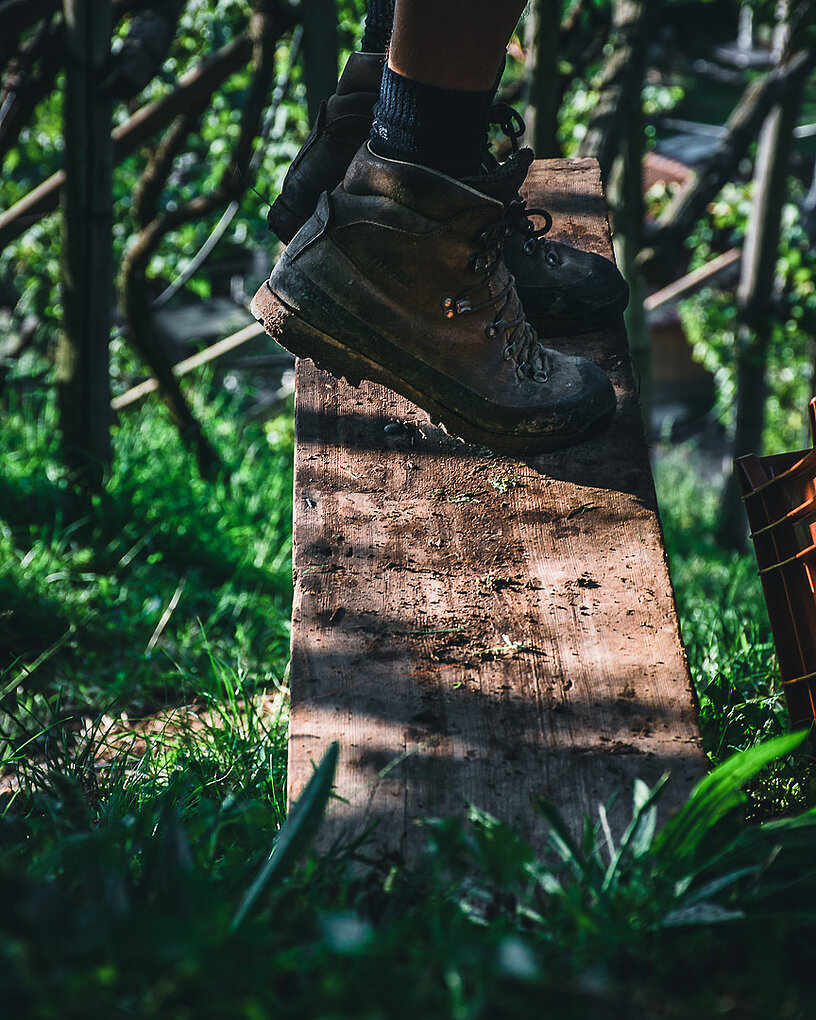 The emergency situation appears to be coming sooner than anticipated. It is clear that warming has accelerated significantly in recent years. The truth that this emergency must be met with a different model of winemaking is clear to many in Südtirol-Alto Adige. Yet the responses are varied.
While the Aldein-Aldino vineyard offers one example of how to move forward, Alois Lageder takes a different approach. Back in the 1990s, Lageder became an early prophet of climate change, working intensively with late agricultural scientist, oenology professor, and winemaker Rainer Zierock in determining which varieties could potentially be of interest for Südtirol-Alto Adige's future. Even then, Zierock's motto was "panta rei," everything flows, nothing is carved in stone. This led not only to the planting of old varieties such as Sémillon, Chenin Blanc, Syrah, and Tannat, but also new, disease-resistant varieties such as Souvignier Gris. All of these varieties are today found in the Lageder's experimental Comet range. These "comets" feel as if they've been picked from an alternate universe of the region's winegrowing. Whether these varieties are the right ones, or whether others will prove better choices, remains in the stars. For now, however, at Lageder, at least, an unconventional and open-minded approach has joined with masterful vinification to secure the demeter-certified estate a name on the global stage.
Both the Lageders and Gojer are certain that biodynamic cultivation has a future in Südtirol-Alto Adige: "At some point perhaps we can, hopefully, come to a more holistic view of it all. For how can we seriously talk about sustainability, while constantly irrigating our vineyards?" Gojer asks. "Last winter I leased a conventional vineyard that is connected to the watering system of an irrigation cooperative." The previous farmer, following the advice of the cooperative, Gojer explains, had been allowed to water on Saturdays. "Eight hours, every Saturday, 16 times a year, regardless of the weather. This year — as an initial transitional year — we got by with only two Saturdays for five hours, and harvested fantastic fruit. In the vineyards where we've been working with biodynamic preparations since 2012, we don't need to water at all."
Cooperative member Gerhard Kofler is also convinced that organic cultivation is the best choice: "In the Vigna Ganger and in Trattmann, we are already working with organic management. I'm also completely convinced that we're going to be able to eventually transfer this to the entire cooperative, but that's naturally a slow process . We're doing it step by step. We have model sites that the growers can use for orientation, but they have to want to start down this path."
Sustainability and More, Please
Some parts of the region's winegrowing scene give the impression that it continues today to rely on the — unquestionably well deserved — success of its reinvention in the 1990s. Long term, however, that's unlikely to be enough. Only roughly 7% of wines grown in Südtirol-Alto Adige today are certified organic. Compared to other regions of Italy — where organic cultivation represents 10% and rising — it is, simply put, too little.
The infrastructure needed to put organic cultivation on a broader footing is lacking. According to winegrower Matthias Messner of Eisacktal in an interview with Italian broadcaster RAI last year, there are no still no well-organized courses for organic cultivation in Südtirol-Alto Adige. And discussions with colleagues are an absolutely essential part of that process, says Messner, who himself has switched over to organic cultivation.
The truth that this emergency must be met with a different model of winemaking is clear to many in Südtirol-Alto Adige.
Circuitous approaches to the goal are appearing with more regularity. The recently published Südtiroler Wein Agenda 2030 cites, "sustainable cultivation is a question of survival, since continued use of resources as we've done in past decades simply isn't possible anymore. This extended aspect is something that most people grasp right away. Without question, this and initiatives like it have advanced the region a step forward, but the question is whether it moves the needle enough to match the changes poised to occur in the coming years?
Viticulture in high-elevation sites, a suitably adapted mixture of varieties and organic or biodynamic farming are three paths toward a potentially deeper change that would significantly advance efforts toward sustainable soil maintenance, a regional circular economy, conservation of resources, and a reduction of viticulture's CO2 footprint.
Südtirol-Alto Adige winegrowing has already exerted tremendous energy in re-inventing itself. But as has become ever clearer, that was only step one. The second is yet to come. And in a structure with many cooperatives, there's no doubt that this next step will require even more energy and open mindedness. If anything, the last two-and-a-half decades have more than shown that it is possible.
---
Translated from the German by Weinstory.de