Playing Bond, James Bond, at a Swiss Wine Hotel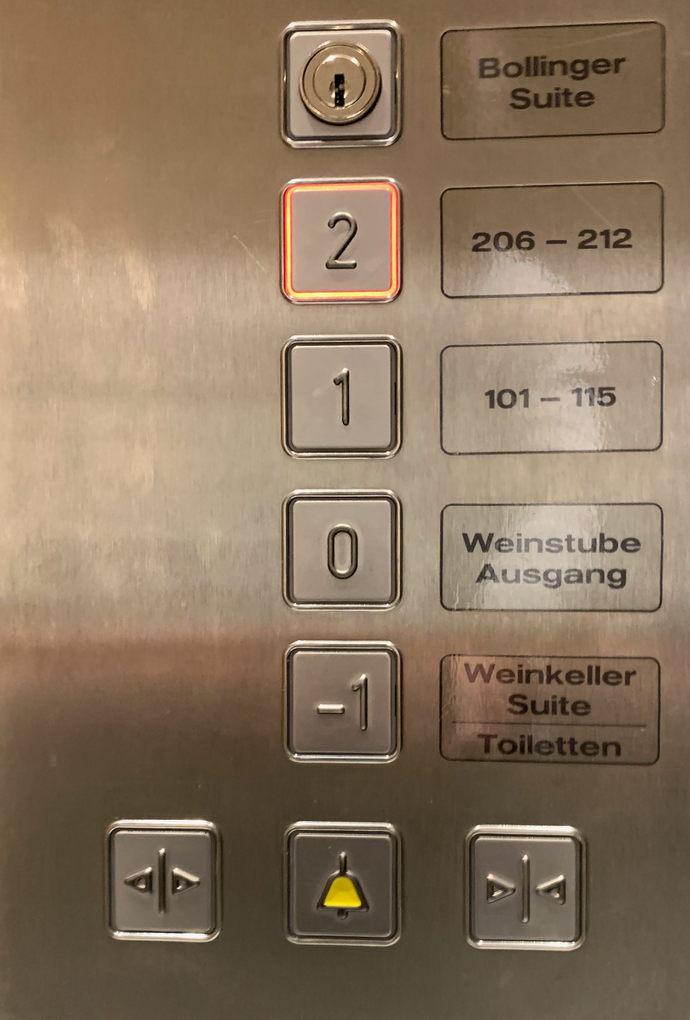 ​The lure of 007 and having bubbles at their fingertips in the Bollinger Suite pulls some people into Erlinsbach, in northern Switzerland, for a night or two of intrigue. Others fantasize about being lulled to sleep surrounded by gently aging (shhhh) vintage Burgundies in the Wine Cellar Suite. For the rest of us, it's a simpler dream of a night that opens with great food and a hard-to-find bottle of a Swiss vintage wine.
Albi von Felten was ahead of his time when he bought the Landhotel Hirschen from his parents 22 years ago. He and his wife Silvana are gratified to see the world catching up. A hotel, von Felten decided back then, must turn a profit while still offering guests an unhurried chance to eat and drink, in a way that is respectful of nature and people. Very unfashionable then, he laughs now. Luxury at any cost and fusion cooking that required foods from far away were trendy; vegans and even vegetarians were widely dismissed as odd.
There were tensions with Albi's parents, too. Their restaurant was classic French fine cuisine. "My father couldn't understand why we should buy fresh asparagus, locally and more expensively, just when everybody had had too much of it from elsewhere. As for the lobster tank, the coquilles St. Jacques, and the sole…" These were not exactly native to Switzerland and his voice trails off here.
Albi von Felten does credit his father with teaching him to appreciate good French wines, and some Swiss ones, even if few of the latter were aged, as was typical for Swiss wines at the time. Albi's growing love of aged Swiss wines parallels a broader change in Switzerland. Starting around 2000, more wineries began to mature their wines, led by those in the Mémoire des Vins Suisses group who set out in 2002 to demonstrate the potential for aging Swiss wines.
Several vignerons began to share their experiences, especially "how to vinify for age, looking for structure rather than fruit," says Mémoire co-founder Andreas Keller. The group also holds an annual meetup in Zurich called Mémoire & Friends, where they invite a number of like-minded wineries to present older wines to the public.
Two of these winemakers, Tom Litwan and Susi Wehrli from canton Aargau, are Landhotel Hirschen neighbors. The von Feltens' philosophy has prompted them to work closely together. Wehrli, whose family winery is a pleasant 40-minute walk to the next village, Küttigen, appreciates the way the hotel showcases her wines for visitors to the region. Litwan, whose wines are fast reaching cult status at home and abroad, runs a two-person winemaking operation 5 kilometers away and doesn't receive visitors; instead he asks people to try his wines at Landhotel Hirschen.
"It's not that I don't want to meet people," he says. "But I don't have the space or the time because it's just me and a couple who share a full-time job. The hotel gives me a place to send clients that's comfortable and better for tasting, and [the von Feltens] know my wines well. It's a good solution."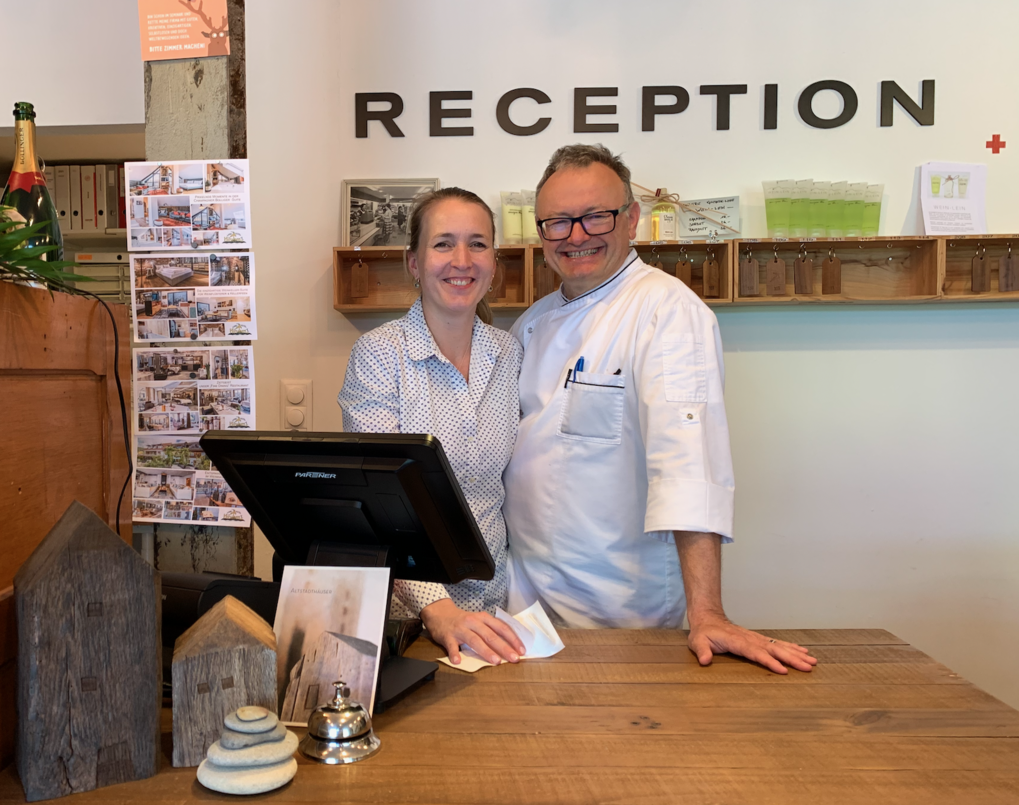 Albi von Felten has played an active role in encouraging local wineries to offer more red wines in particular, aged longer. He sees this as a natural extension of his advocacy for "slow foods," successfully convincing local farmers to produce porcelet or suckling pigs, for example. His wife oversees their small company, Genusswerk, which encourages small-production artisanal Swiss foods. Their value-added local specialties, including smoked sausages and aged cheese, are sold in the hotel shop and website.
The restaurant, featuring dishes such as Swiss river trout and many locally sourced wines, is the heart of the hotel. The chef insists that wine by the glass always be served with the bottle so the guest sees the label. As befits a restaurant whose early beginnings were a bakery, each meal opens with beautiful breads and rolls made from local organic grains. Next come vegetable starters such as herb waffles with radishes and wild broccoli soup, often from the hotel garden.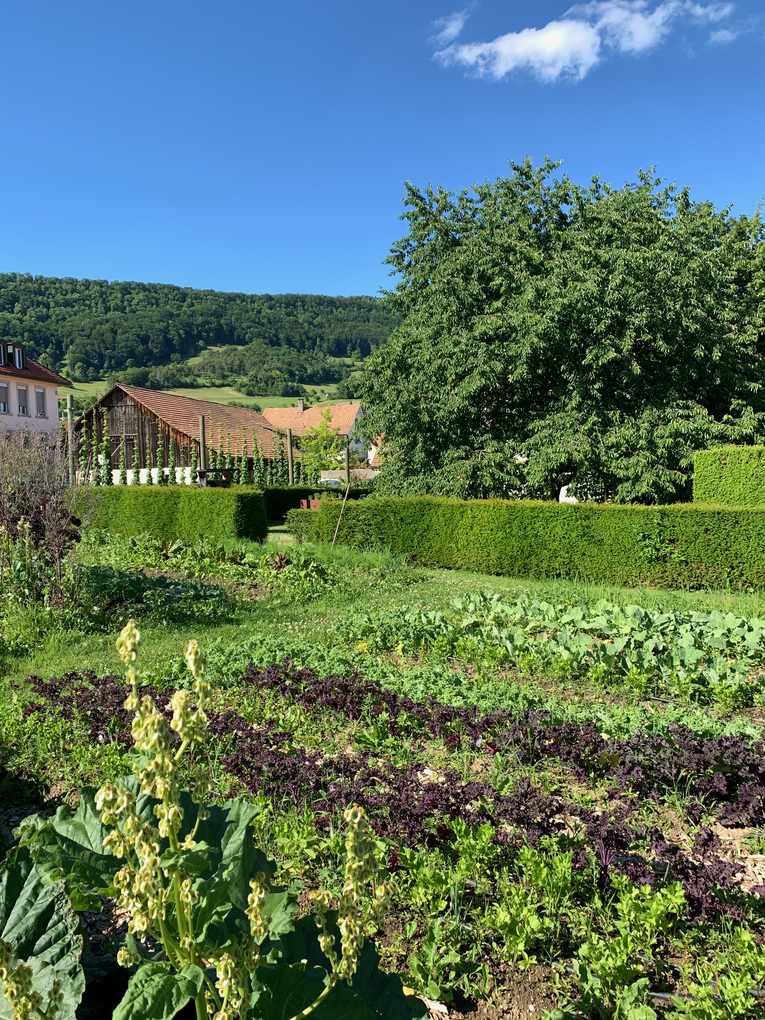 "Imagination is more important than knowledge." The message is written on a wine bottle hanging at the far end of Landhotel Hirschen's vegetable garden. There's time to reflect on those words as you finish a garden tour with a pre-dinner glass of Susi Wehrli's 2020 crisp, refreshing Riesling-Silvaner in hand. You're out here to study the enormous wild cherry tree and to watch unusual varieties of heirloom vegetables grow because the owner says it's the best way to understand the wine hotel's philosophy. "We can't go around explaining it to each table, so that's why we have the garden."
The dishes are, of course, complemented by a remarkable collection of Swiss wines. The eye lingers over the pages of the thick book of a wine list – here is the rare Amédée Savagnin 2015 from Raymond Paccot near Lake Geneva, produced only in good years, in small quantities. There is Daniel and Marta Gantenbeins' Pinot Noir 2010 and, better yet, a startlingly unusual vertical collection of their wines. Also mouthwatering and for smaller budgets: two younger Kerners from nearby producers.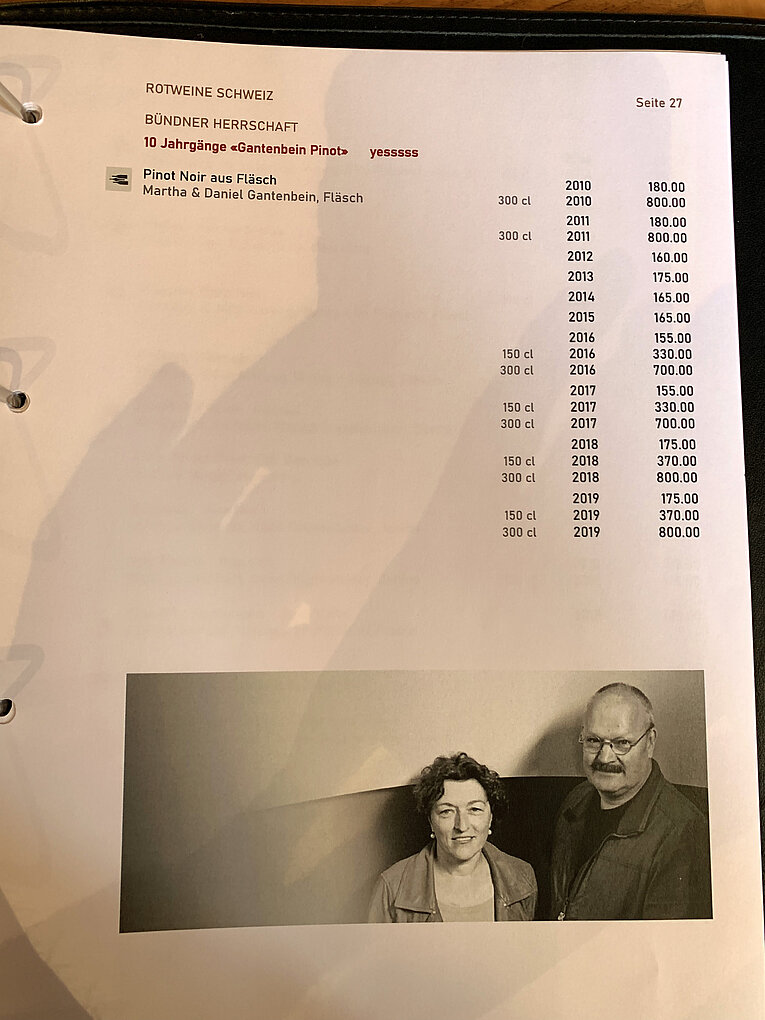 While the wine list boasts many treasures, the cellar has nothing to do with snobbery. It pays reverence to older vintages that acknowledge the time it takes many wines to be at their best. "Young vintages are fine and fruity, but that's what most restaurants have," says Albi von Felten. "In my view, very many great wines are drunk too young because there aren't any aged vintages. We at the Hirschen try to purchase ageable wines in sufficient quantities. Enjoying the right wine in its optimal drinking window is one step nobler and better."
Expect to pay a fair price at either end of the scale, from CHF6 for a glass of Wehrli's Riesling Sylvaner to CHF97 for the rare 2014 Grain Cinq late harvest blend from Marie-Thérèse Chappaz all the way up to CHF180 for the 2010 Fläsch Pinot Noir from the Gantenbeins. The same list is available in both the casual Hirschenstube and elegant restaurant. Organic and biodynamic producers have pride of place.
"Every year I backpacked with Lonely Planet under my arm," says Albi of his days as a young wanderer. "I traveled to so many places with wine! I would ask restaurants if I could cook there for two or three days." The travels were a deal negotiated with his father, who wanted him to help with the family business after he finished his studies as a chef and hotel manager. Three generations of von Feltens had run a bakery and café here before his father developed it into a fine dining restaurant. Albi yearned to explore other options, and learning more about wine was high on the list.
He came to understand in his early twenties that "what matters first, for me, is the winemaker's personality," at a time when his responsibilities as assistant manager at the luxurious Giardino Hotel in Ascona, Ticino required him to study wine more seriously. "I knew about good French and Swiss wines from the family restaurant, but I had to learn about wine in order to sell it to the clients! On my day off I would go knocking on winery doors and explain that I was a chef and wanted to taste their wines. I fell more and more in love with wine."
The wines at Landhotel Hirschen today reflect Albi's travels as well as his growing love affair with all things local. "I always felt good in restaurants with local products. I would take care to notice the local vegetables and fruit, especially old varieties that were disappearing," he says. "Local, I began to ask myself – is this what I want?" Today, the travelers come to him. The bucolic village of Erlinsbach is in a patch of Switzerland known for slow travel: prime hiking and cycling country near the historic old town of Aarau.
The hotel's jewel in the crown is its 26 rooms, each featuring a Swiss winemaker. Wineries select the décor, so each room reflects the character of its namesake producer. Massy from Lavaux has a magnificent large photo of Lake Geneva. Litwan has a room named for him that features a quiet pastoral vineyard photo and muted natural tones, while Wehrli's plays with the luscious colors used to differentiate the terroirs highlighted on their bottles. Most rooms have a contemporary, minimalist décor, are airy and well-equipped.
They are ideal for the hikers and cyclists (or if you're James Bond, Aston Martin touring) who crisscross this countryside. Vineyards next to wheat fields are a pattern that repeats across the rolling hills, including just outside Erlinsbach. Herds of sheep dot pastures in summer, sharing the land with farmers mowing hay, while red kites, the large birds of prey that breed here, soar overhead. From the Salhöhe Pass, the Black Forest of Germany is visible on a clear day.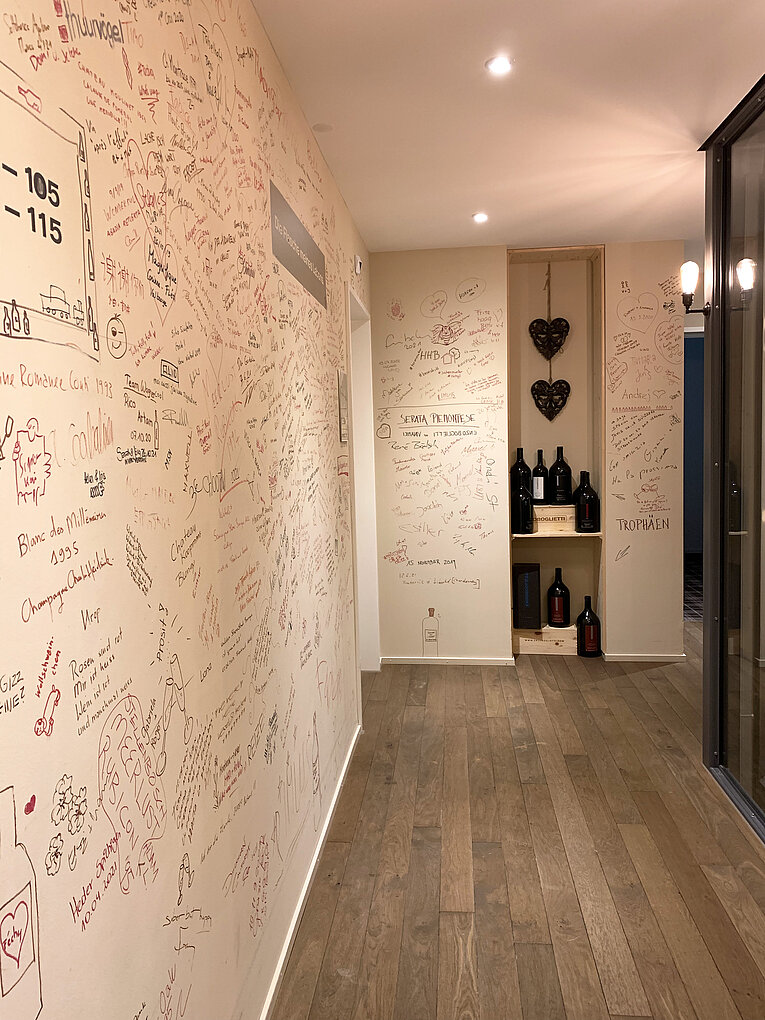 The wineries pay a modest fee and have use of the room for their own guests a couple of times a year. Felt-tip pens in the hall invite guests to scribble their love for the place or maybe just note their favorite wines on white walls. Wine is inescapable. Cozy overstuffed chairs and a chess table sit next to the self-serve wines-by-the-glass bar. Yet more inscribed empty bottles fill corners and windows as well as part of the wood pile outside. Everywhere, inside the hotel and in the gardens, there are places to hide away with a glass of great wine and to contemplate life. It's something the owners love to do, too — business permitting. ​