In Conversation with Michael Moosbrugger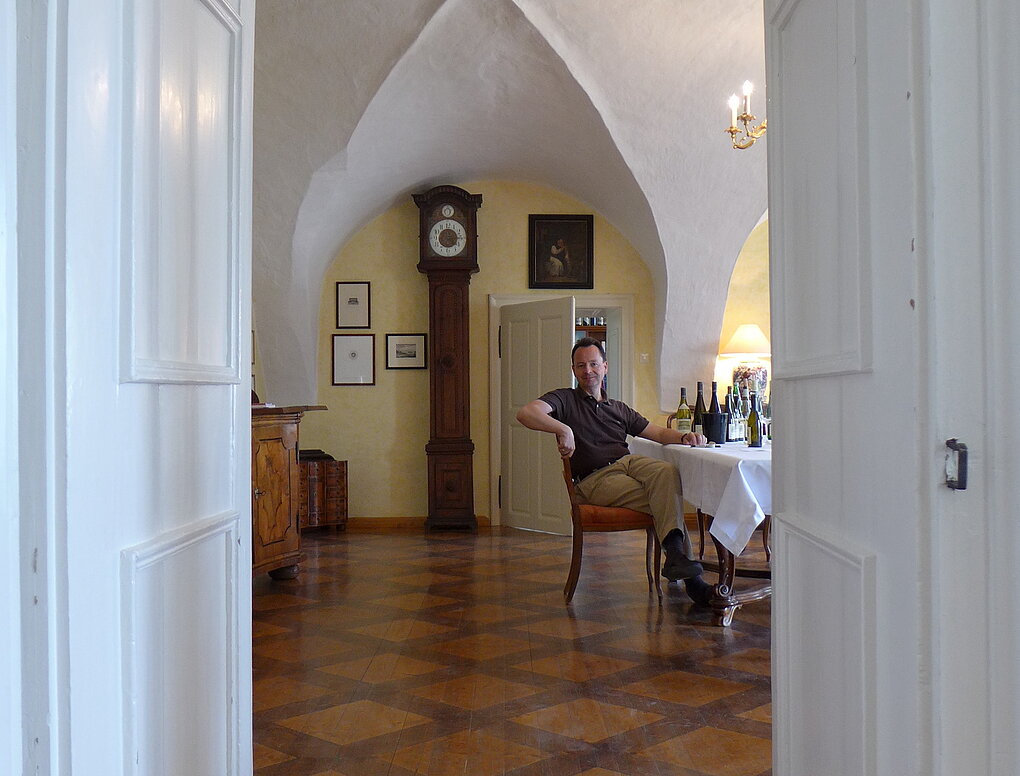 ​
It's hard to think of any one individual who has greater influence over where Austrian wine is heading than Schloss Gobelsburg proprietor Michael Moosbrugger. As chairman of Austria's Traditionsweingüter (ÖTW), Moosbrugger has overseen the rapid expansion of what is now his country's most prestigious and ambitious organization of wine estates and has spearheaded a movement to extend classification of Austrian vineyards beyond that of his organization and render it a federally codified reality. Moosbrugger is not only an organizer and lobbyer par excellence. It's rare to encounter someone who possesses such a deep and synoptic view of wine coupled with an ability to articulate it. A two-part interview explores the background, plans, and opinions of this viticultural visionary.
The following interview—translated and edited by the interviewer—was conducted in writing as well as orally in April and May 2022. Occasional excerpts from earlier conversations and correspondence have been interpolated. Consolidation under topical headings as well as the insertion of punctuation were made at the interviewer's discretion in an effort to best convey a sense of the dialog as it took place. Clarifications, notably names or expressions in the original German, are occasionally inserted in brackets. Part two—focusing on classification, appellation and how music can illuminate wine—will be published later this year.
AN IMPROBABLE STORY
David Schildknecht: When you arrived—without a viticultural family background or professional training —to take over Schloss Gobelsburg in 1996, Austrian wine was arguably experiencing its very first international upsurge. The legal and structural changes as well as the marketing impetus that emerged in urgent response to the 1985 glycol scandal had gained traction. Seth Allen and Terry Theise already had several successful years of Austrian wine importing behind them. The favorable press that had first appeared in Germany for Bründlmayer, Hirtzberger, Knoll, Kracher, Pichler and Prager was being echoed in the U.S. Did these developments influence your decision?
Michael Moosbrugger: Those developments had absolutely no influence on my decision because at that point I wasn't even aware of them! It was really a matter of my personal development that brought me to winegrowing and then to Gobelsburg. I come from a family of hoteliers that run a small five-star Relais & Chateau Hotel in Lech am Arlberg. Wine was always an important topic in our family. My father was a pioneer who accomplished a lot for the development of a wine culture in Austrian gastronomy and was among the founders of the First Austrian Sommelier Club. After my father's death in 1988, I had to take over responsibility for wine in the family business and spent a number of years as a hotelier and sommelier.
D.S.: So that's how the seed got planted! That makes you something of a pioneer as well, since for a sommelier to become a winemaker isn't all that rare anymore—especially in the U.S. Though I can't think of another sommelier whose emergence into viticulture was as auspicious or who experienced such a spectacular rise.
M.M.: Once it was decided at home that my brother should assume leadership of the family business, I took a position in Lower Austria, where the Salomon family ran a traditional farming estate [Gutshof] with an attached restaurant.
D.S.: You're referring to Gut Oberstockstall, which encompassed the winery of Fritz Salomon, whose two younger brothers Erich and Bert did stints running their family's Weingut Undhof in Krems-Stein and playing a big role in the development of Austrian Wine Marketing.
M.M.: That's where I learned all aspects of farming. But I saw that winegrowing fascinated me the most. After three years, I decided to look for an operational sphere of my own. It was just a lucky accident that at that moment the monastery of Stift Zwettl was debating the future of its Weingut, Schloss Gobelsburg, and seeking a long-term solution. In mid-December 1995, Willi Bründlmayer introduced me to the monastery. Three weeks later I moved in to take over the winery. By that point, Willi and I had shared a long friendship and mutual trust. It was important to me that I be able to implement my own ideas at Gobelsburg, and so we established a very simple arrangement:as long as the Gobelsburg wines were as good or better than those of Bründlmayer, he agreed that he wouldn't interfere.
D.S.: On the one hand you pursued a new style; on the other, you wanted to learn not just from Willi but from your ecclesiastic predecessors. So, how did you experience the tension that this must have created in your first years at Gobelsburg?
M.M.: Well, it has to be said for starters that Gobelsburg is not a winery that invites one to implement a stylistic ego-trip. First and foremost, one serves the House. But even with eight centuries of history and tradition, it's necessary to work in keeping with one's times and to find a contemporary expression of the region, the place, and the individual vineyards. So that means not revolution but evolution. Austria's Danubian regions have a stylistic identity that's distinctive and inimitable. Stylistic distinctiveness at an international level is what makes for the fascination with a place of origin like Austria. That's why I'm not very happy with wine estates who try to copy a style that isn't indigenously rooted—that of Burgundy, for instance—because in the end that harms Austria's identity. In the first years, I built on the classic wines of the estate, attempting to refine them and to create an instrument for conveying this stylistic distinctiveness of our regions that would justify the highest quality aspirations.
D.S.: So, here you are: a lay person tasked for the last 26 years with guiding an 850-year ecclesiastical winegrowing tradition into the 21st century. How has that mandate influenced your perspective and the actual steps you've taken?"
M.M.: As one of the oldest continuously run and documented wine estates in the world, Gobelsburg has a responsibility to Austria's viticultural inheritance. We are the "custodians," in keeping with the monastery's, and the Cistercians', ideals. Our task is to steadily improve the wine world and as ably as possible to carry it into the next generation.
D.S.: Just to insert a brief historical orientation: "Cistercian" refers to the Order of Citeaux, the monastery founded in 1098 that played a preeminent role in the development of Burgundian viticulture and was behind the 1109 founding of the Clos de Vougeot. In 1133, as only its eighth "daughter," Citeaux established the Abbey of Heiligenkreuz south of Vienna—which is also still tied to winegrowing—and five years later, Heiligenkreuz begat the Stift Zwettl monastery, 25 miles northwest of Gobelsburg. Is it known how soon after the establishment of the monastery it came into possession of the vineyards in Gobelsburg, Kammern, and Zöbingen that make up the estate today?
M.M.: The monastery received its first vineyards in Gaisberg and Heiligenstein in 1171, through endowments by Albero III of Kuenring and Heinrich of Zöbing. That's why last year we commemorated 850 years of monastic viticulture at Gobelsburg, though in fact winegrowing at Schloss Gobelsburg dates at least to Roman times.
D.S.: I believe it was one of those Kuenringer who supplied the grant money to found Stift Zwettl itself. At the time, that clan apparently controlled large portions of present-day Lower Austria.
M.M.: Correct about Zwettl. As to what the Kuenringer controlled, it was the area around today's Krems and the trade route along the Danube. But apropos "large portions of Lower Austria," over the centuries Zwettl developed a very far-flung collection of vineyard holdings. By the 18th century, these extended from Gumpoldskirchen in today's Thermenregion through Vienna and the Weinviertel and into the area around Krems.
D.S.: What special viticultural responsibilities or ways of conceptualizing wine go together with this religious legacy?
Since we live and work in spaces some of whose construction goes back nearly a millennium, the new cellar should be capable of lasting for 500 years.
M.M.: The cloister and above all the Cistercian Rule are for me the leitmotifs of Gobelsburg. The Cistercians shaped European agriculture for centuries. The very credo of the order—"simplicity and strictness"—leads to contemplating how one can fashion wine growing and making in a simpler, nearer-to-nature form, and then resolutely follow that path. Qui bon vin boit, Dieu voit ["Whoever drinks good wine recognizes God"] is another Cistercian dictum that suggests noble wine leads to knowledge of the divine. Quality, in turn, is not some well-defined, measurable entity, but something that can only be achieved as a byproduct of cognition.
D.S.: A literally concrete sense of responsibility to Gobelsburg's ecclesiastic legacy is manifest in your new cellar.
M.M.: Absolutely. I began in 2009 setting aside wine in cask as stock for future "Tradition" bottlings, which soon led to space getting very tight in the cellar. So we began thinking about a cellar expansion. In the process, I occupied myself intensively with the Cistercian tradition in architecture and construction. From this came the idea to carry over into the cellar certain aspects of the cloister itself. All Cistercian cloisters followed the same architectural plan: An inner courtyard, embraced by a colonnade and covered walkway …
D.S.: … which was literally the "cloister" …
M.M.: … with all of the functional rooms—chapel, meeting room, refectory, kitchen—extending off of this covered walkway. The idea of translating this into a wine cellar was discussed with our architect. The one further stipulation was that since we live and work at Gobelsburg, in spaces some of whose construction goes back nearly a millennium, the new cellar should be capable, at least theoretically, of lasting for 500 years. That condition meant that using conventional steel reinforced concrete was out of the question, as it's considered to have a functional life of at most 100 years. So, our cellar expansion was built entirely of stone and tile …
D.S.: … the same materials as in the Middle Ages …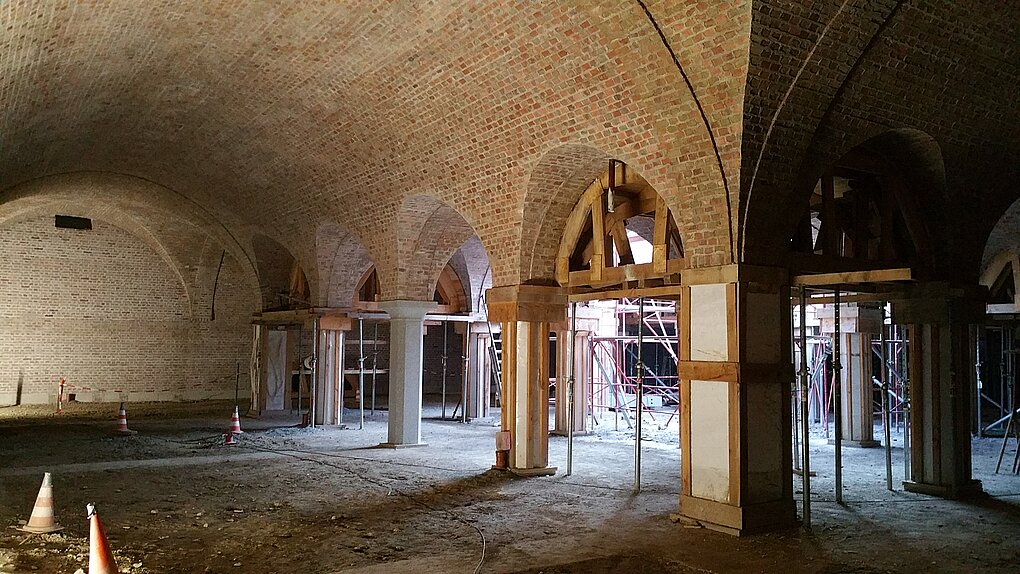 M.M.: … over a foundation of unreinforced concrete. Building this way does not correspond to contemporary standards. It requires artisanal skill and the know-how of generations. We were lucky to find a vault builder willing to take on such a project. It took three years. The granite pillars and paving stones come from a quarry in the Waldviertel, the very same quarry that supplied material for constructing the Zwettl Abbey. The oak from which the benches and doors are constructed—just like that for some of our casks—comes from the Manhartsberg, just north of here. Symbolism employed in the cellar originates with the Zwettl monks, because it was important to me that the monastery feel comfortable with the new cellar and that the Cistercian worldview and culture be perpetuated.
WHAT HAPPENS ON THE DANUBE
DOESN'T STAY ON THE DANUBE
D.S.: Since 2007, you've been chairman of the ÖTW, which currently encompasses 77 establishments in six winegrowing regions, and which has developed and implemented an extensive vineyard classification.
M.M.: The ÖTW is an organization that this year (actually, one year late, due to Covid) is celebrating its 30th anniversary. At the onset, it originally consisted of ten Kamptal and Kremstal winegrowers, who early on were already grappling with the theme of site potential and vineyard classification. Precisely because we as an organization consider marketing based on place of origin the most social and democratic form of marketing—one from which those with small market shares especially benefit—we support and further in particular the DAC system and want to help develop it in the best possible way for the common good.
D.S.: In 2001, the ÖTW was expanded to include the Traisental and Wagram; in 2018 Wien and Carnuntum joined. What's your vision for the future of the organization?
We should see it as our duty to place this international experience and marketing know-how at the disposal of the country's wine community at large.
M.M.: In mid-May of this year the ÖTW-Thermenregion was founded, and within the next two years the Weinviertel will also establish a regional branch. One could say that our organization is evolving from a regional into a national movement. Which is to say, in coming years we aspire to become active in Burgenland and Steiermark as well.
I see our organization as one that puts itself at the service of Austria's whole wine-growing community. ÖTW members have experience in marketing their wines on an international level, and for that reason, I think we should see it as our duty to place this experience and know-how at the disposal of the country's wine community at large.
This openness was always very important to me. The more of those who actualize our ideals and values, the more thoroughly these will be embraced by an entire region, and all parties will profit from that in the end.
D.S.: The Vinea Wachau has publicized a "Codex" to explicate, if you will, the governing rules within that organization for conducting the game with nature that is winegrowing, and in the process to offer a certain guarantee of quality. In the ÖTW, you've developed a similar statement, no?
M.M.: Austria's Wine Law is already so restrictive that it's difficult to narrow it even more stringently in the direction of a quality guarantee. But building on the deliberations, discussions, and processes that took place in connection with the development of a template for legal vineyard classification, we agreed on a "Promise of Quality" within the ÖTW that is also notably stricter than the Wachau Codex. This includes:
Member estates must be certified organic or sustainable.
Neither insecticides nor herbicides may be used in the vineyards.
Wines from (and labeled for) classified vineyards must be hand-harvested.
Yield per hectare for wine from Erste Lagen [premier crus] are capped at 60 hectoliters (and in the event of eventual Grosse Lagen at 50 hectoliters).
Wines from (and labeled for) classified vineyards may not be chaptalized or manipulated by machine.
Wines from Erste Lagen may not be put on the market until September following the harvest (in the event of eventual Grosse Lagen not before September of the second year following the harvest).
I won't claim that this represents the last word on the subject of quality—more is always possible. Such a promise or set of rules must be implementable and subject to control, without our wanting to establish a network of informers or a surveillance apparatus.
D.S.: Is the idea behind these "September rules" that great wines generally profit from longer cask maturation?
M.M.: The question of whether a wine "profits" from longer time in cask is not something that I can judge definitively. I basically go on the assumption that a winegrower will generally know what's best for his or her own wine.
If you think back to the 1990s and early 2000s, perceptions of quality were heavily influenced by alcohol levels. That has changed. Quality is now seen as having more to do with maturation and time. So, I find it appropriate that an organization should deliberate the parameter of maturation. But we only regulate when an Erste Lage wine may be marketed, not when it gets bottled.
INSPIRATION ANCIENNE AND NATURAL WINE MODERNITY
D.S.: What prompted you to launch your series of "Tradition" bottlings, and how will this be continued in the future?
M.M.: The starting point was experience tasting wines from the Gobelsburg vinotec. I began coming to grips with the history of winemaking. I spoke with my predecessor, Father Bertrand, and his cellarmaster from the '50s and '60s about practices at that time. It was notable that both of them viewed these winemaking practices as obsolete, a view I chalked up to the progressive mindset and spirit of renewal that characterized their generation. I was fascinated by the whole development of winemaking from the Greeks and Romans through the modern era, because clearly as a vintner and as someone responsible for a wine estate like Gobelsburg, one could learn a lot from this. Beyond that, I looked into the monastic records and expanded my knowledge by studying the technical literature.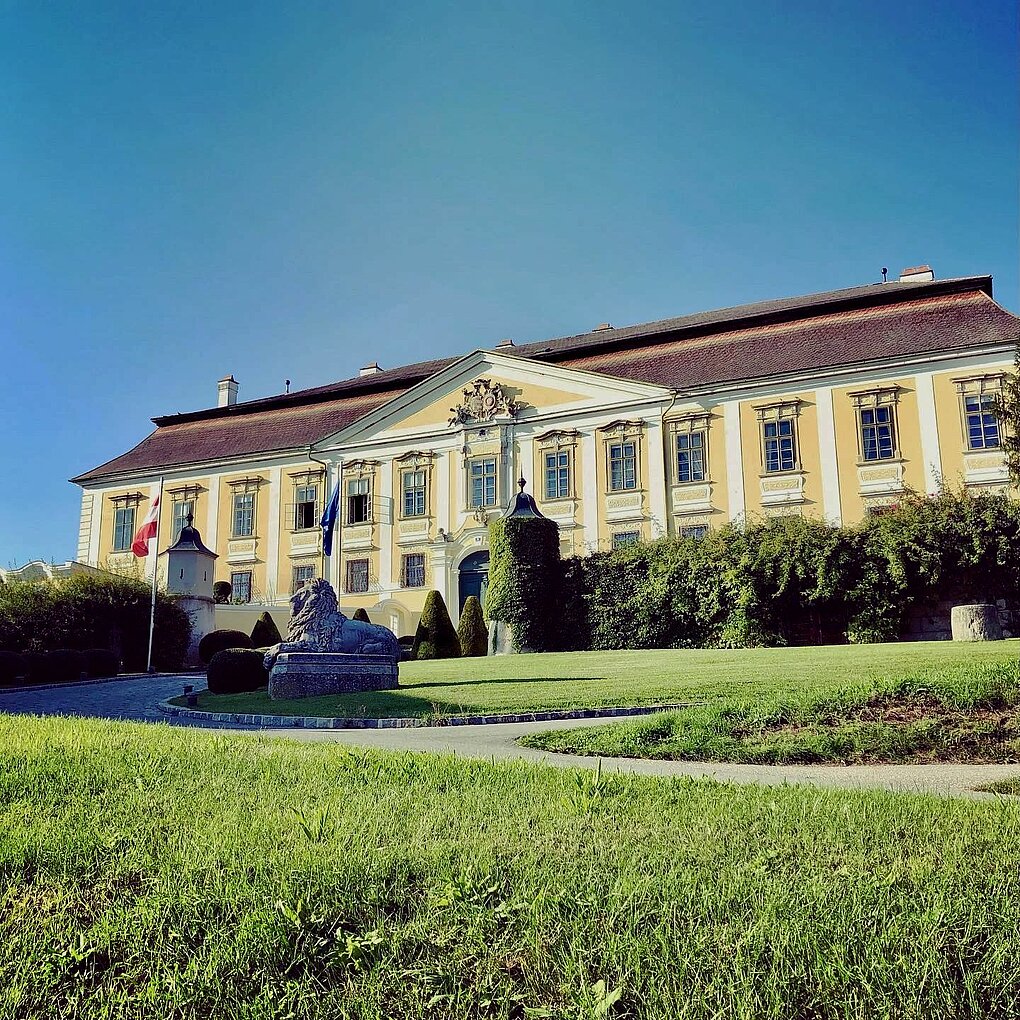 In the context of winemaking history, the first half of the 19th century is an especially interesting period.
On the one hand, professionals could look back on empirical knowledge accumulated over 2,000 years of wine-growing history. On the other, winemaking was not yet marked by the developments of industrialization. Only around 1850 did scientists and cellarmasters begin to pose the classic industrial question: "How can we produce more wine in a shorter time?" This led to countless technological innovations such as the first filtration machines and new press and pump systems, which in turn led to both the craft and the mindset of cellarmasters and growers undergoing major changes that slowly but steadily ushered in what we understand as modern winemaking.
Even vintners who today claim that they're entirely committed to tradition work overwhelmingly in accordance with modern notions. Above all, modern winemaking is characterized by working to all intents and purposes reductively. For white wines, the grapes are pressed, processed as gently as possible, allowed to settle, and then matured on their lees. This makes for a reductive environment that on the one hand protects aromas from oxidation and on the other generates aromatic components of its own. Then the wine is filtered and bottled.
The most modern form of winemaking is represented by so-called "natural wines" that emerged out of the "non-interventionist" movement of the early 21st century. Experience with technologization in the realm of wine brought this insight: The more technological and chemical interventions I permit in generating my wine, the more uniform it will taste. And, conversely: The less I intervene technologically or chemically, the more individual my wine will be. And so, the question got posed: How drastically can one reduce interventions on the technological or chemical level and still speak of the result as wine—as opposed to of spoilage or vinegar—while maximizing individuality?
This differs fundamentally from what counted as traditional winemaking in the 19th century.
In the early 19th century, cellarmasters had an entirely different concept of wine. One drew comparisons with human existence and deduced from this that wine, like a human being, when it is born has to undergo certain developments until it can be savored as mature. Encouraging these developments was known as the "schooling of the wine"—hence the expression élevage. After macerated grapes were pressed, the must was fermented directly, without sedimentation. Through repeated rackings—three or four times in the first year alone, which meant a complete separation from the lees—the wine was continually allowed to "breathe," in order to initiate the next developmental step. The idea was to promote subsequent resistance to air and oxygen—which means that it made perfect sense to sacrifice fragile aromatic components and promote more stable ones—and in that way lead each wine toward its Platonic ideal.
Only when this ideal had been achieved was the wine released for sale and enjoyment.
So, my conclusion concerning technology was: If I want to learn how to render individualistic wines without all the technology that is at our disposal, then I need to transport myself back into a time when all of these machines and technical apparatuses did not exist.
D.S.: Has it been your experience that, aesthetically speaking, a certain sort of vintage, or wines with a certain analytical profile, benefit longer from this extended and more oxidative élevage? For example, I had envisioned a rounding of high acids might be a particular advantage of traditional cask maturation. But in my experience certain "Tradition" bottlings from especially ripe years—the 2011 Riesling, for example—have been especially successful, with impressions of alcohol and breadth seemingly diminished by the élevage, and the slight wood notes especially well married.
M.M.: Warmer vintages do seem to profit especially from this approach.
D.S.: Making it perhaps particularly well-suited to our times.
M.M.: An explanation or interpretation of this is not so easy to discover; but possibly warmer years yield somewhat more tannin that profits from oxygen and aging.
D.S. Apropos "Tradition" and "ancienne," have you ever felt the urge to revert to a yet older tradition and attempt skin fermentation of your white grapes?
M.M.: If I were not at Gobelsburg, I would experiment and come to terms with this approach. I find the trend interesting and important for the wine industry. But at Gobelsburg, I prefer to concern myself with our estate's own history and continue working in the direction of Gobelsburg's historical winemaking. Skin fermentation of white grapes was not common practice in our northerly winegrowing regions—particularly not in the cellars of monasteries or the nobility, because they always had enough money to afford presses. There was some pre-fermentative maceration, but generally for no longer than the time—likely at most six hours—that it took to get grapes from the vineyard to the cellar.
D.S.: Can you explain the motivation behind your "Jubiläums Cuvée?" And will your concept of a "Heritage" cuvée composed of many vintages, similarly to your "Tradition" project, be continued and expanded?
We wanted the character of the wine to reflect as many aspects and typicities of the Danube area as possible.
M.M.: With vintage 2001, I began each year to offer a Grüner Veltliner and a Riesling "Tradition" with two years' cask maturation. In 2009, I began setting aside one cask each year in order to build up a stock of reserve wines. At this point, we already have around 100,000 liters of reserve wine that are meant to age [in cask] for at least ten years. For 2021—in the context of our estate's 850th anniversary festivities—I revised my concept. For the "Tradition Heritage" wines, which will appear in a new edition each year, I want to put at the center no longer exploring different expressions of a grape variety, but rather the theme of maturation. The "Edition 850" comprised three wines: a three-year "Tradition," a ten-year "Tradition," and a cuvée assembled from among the last 50 vintages.
This 50-year anniversary cuvée is in itself a special wine [Ed. Note: and represents a separate bottling labeled "Heritage Tradition Cuvée 50 Years"]. It not only epitomizes the conceptual transformation of the direction being taken with "Tradition" wines, it also joins contemporaneously 25 years of monastic wine culture and 25 years of today's wine culture. For this anniversary edition, bottles were uncorked from the vinotec, tasted to ensure that they were free of flaws, then emptied into small containers which were gradually blended. It required a clear vision and many years of experience with wines of our area to assemble such a cuvée.We wanted the character of the wine to reflect as many aspects and typicities of the Danube area as possible. One had to understand the various soils and grape varieties in order to judge the role each could play in such a wine. Step by step, over many sessions, the definitive cuvée was assembled, until the whole cellar team agreed that a true masterpiece had been accomplished that would do justice to the aspirations of such an anniversary. ​