Canton of Zürich: Tiny Wine World, Top Pinot Noirs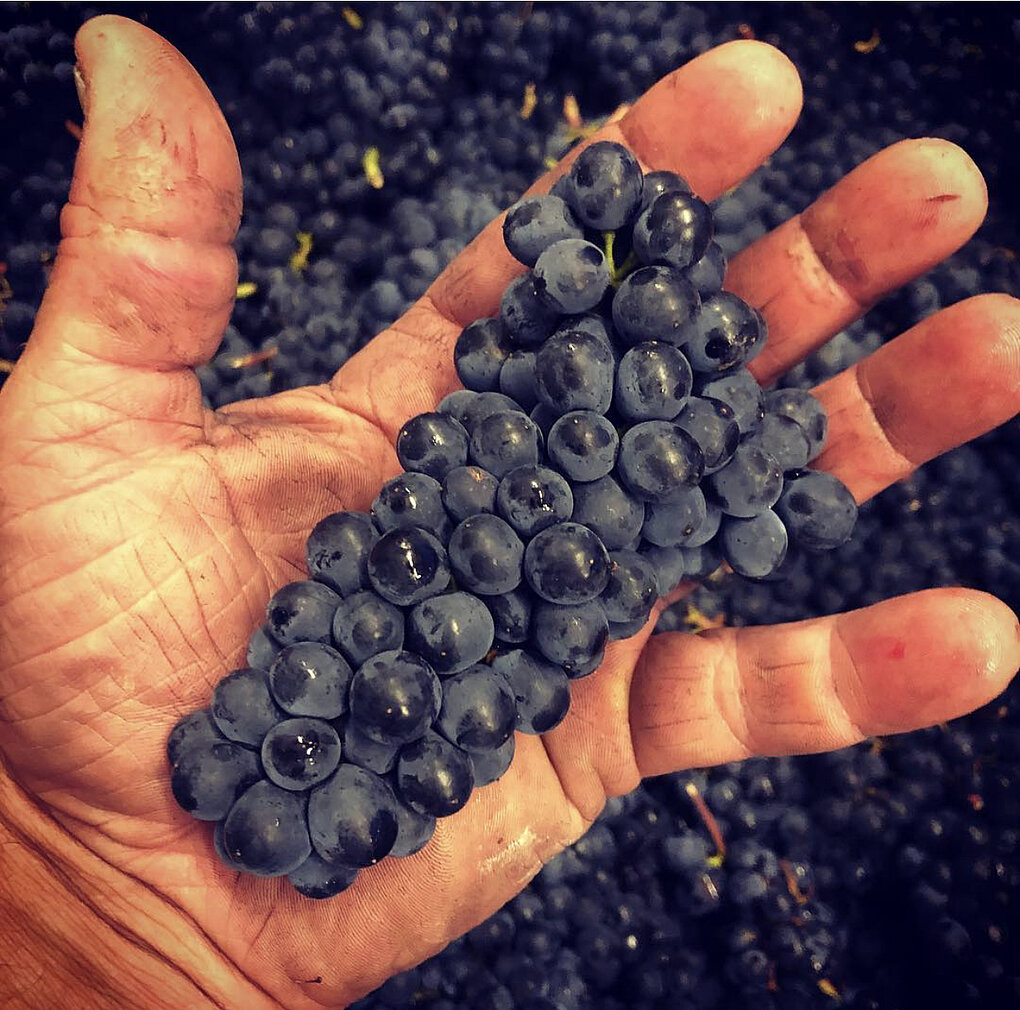 Pinot Noir from Switzerland? Gantenbein! Donatsch! Hardly another country exists whose reputation among international wine lovers for producing quality wines from this variety boils down to just two names. It's high time that other Swiss producers get some of that spotlight – and there's no reason why they shouldn't come from the Canton of Zürich. 
Deutschschweiz, the sizable swath of eastern Switzerland that is German-speaking, is Pinot Noir land.  Reportedly, the vine was introduced to Graubünden in 1631 by the Duke of Rohan, as a gift to local farmers, to win them over as mercenaries during the 30 Years War. From there, the vine spread throughout German-speaking Switzerland, including the Canton of Zürich. Some 335 of its total 610 hectares are planted to the red diva.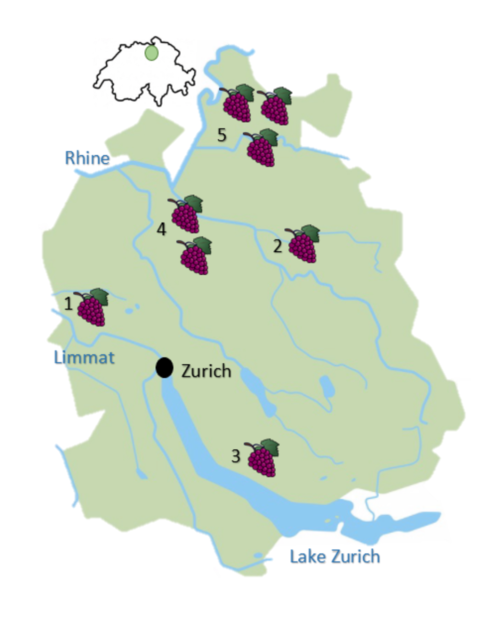 The grape is quite content in the canton's five tiny wine regions (on the map: 1. Limmattal 32 hectares, 2. Winterthurer Weinland 78 hectares, 3. Zürichsee 136 hectares, 4. Zürcher Unterland 144 hectares, 5. Zürcher Weinland 220 hectares). There, at 47° N latitude and at elevations around 400 meters above sea level, the climate is generally mild and sunny, with average to high precipitation.
But despite their proximity (the distance between the wine regions Zürichsee and Zürcher Weinland, for example, is just 60 kilometers), each region has its own microclimate. Zürichsee profits from the temperature-moderating effect of the 90 square kilometer lake on the vineyards along its northern shores. Furthermore, the region benefits from the warm downslope wind called Föhn coming from the Glarus Alps south of the lake. The Limmat (Limmattal) and the Rhine (Zürcher Unterland) have similar tempering effects on the vineyards stretching along their riverbanks.
The risk of frost is somewhat greater in the hilly regions of Zürcher Weinland and Unterland, which are without larger bodies of water (save for the few vineyards Unterland has along the Rhine). Its soils are also diverse, ranging from sandy moraines with minimal calcareous content in the Zürcher Weinland to the sandstone-Nagelfluh covered by a thin layer of humus and clay of the Zürichsee.
Zürich's producers offer many variations on the Pinot Noir theme: From Federweisser (in Deutschschweiz, a designation for light, pale white wines from red wine grapes) to rosés and sparkling wines, through to reds labelled as Blauburgunder or Pinot Noir. "Clevner," once a common term for the grape, has practically disappeared, not least because it's associated with the simplest, cheapest table wine, and has become hardly marketable as such. Today Blauburgunder indicates a light, fruit-forward red wine, while Pinot Noir is typically reserved for top bottlings aged in wood.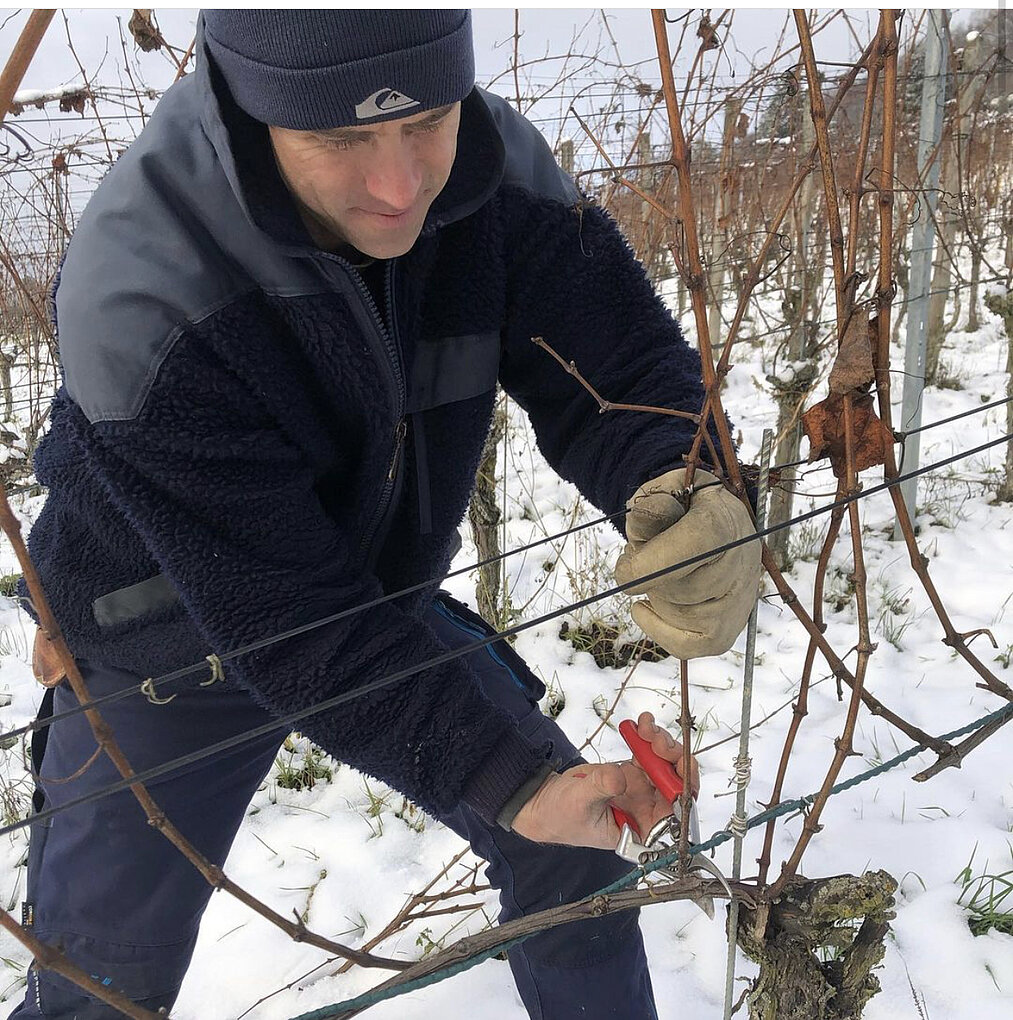 Besson-Strasser: To the top through biodynamics
Among the best producers of the region,top bottlings have reached world-class levels. Yet the perception of the canton as a source of high-value Pinots lags slightly behind the jump in quality of recent years. "Pinot Noir from Zürich is still tied a bit to the image of Clevner," says Nadine Besson-Strasser, who runs the 7-hectare Besson-Strasser winery together with her husband Cédric Besson. "And there are still many growers who rely on excessive interventions in the cellar," adds Cédric. In 2009, the couple took over Winzerhof Strasser, established by Nadine's parents in 1984 in Uhwiesen (Zürcher Weinland) and gave it its current name.
By 2004, they had already joined as technical directors and converted vineyard management to biodynamics. Their love of Pinot Noir, however, had to wait a bit.
"Right after you complete your training, you are convinced you can already do everything – but actually, you have no idea," recalls Nadine with a laugh. "We had to find our own way first – also in relation to the varieties we wanted to work with." Initially, the couple ripped out some of the Pinot Noir plantings, to replace them with Merlot and Malbec. They believed Pinot Noir might not be ideally advisable in their sites. "Only 10 years later, with the necessary personal maturity and exchanges with vigneronnes from Burgundy, did we learn to value Pinot Noir properly," she goes on to explain. "We realized that Pinot Noir is different, but can also be made very well here – though that took time," adds Cédric. "We first had to learn to do nothing in the cellar with Pinot Noir."
Neither had any doubts that they would convert their farming to biodynamics — something that sets them distinctly apart in Zürich. "Biodynamics requires us to observe nature and interact with it like an orchestra conductor," explains Cédric. The couple is convinced that only healthy soils, which present the entire diversity of insects, fungi, and microorganisms, yield wines that depict their terroir optimally. That Nadine and Cédric have succeeded in making just such wines is proven not least by their three wonderful, pure Pinot Noirs, which are (mostly) fully destemmed, spontaneously fermented, and only lightly sulfured just before bottling.
Chlosterberg is the pinnacle of three fascinating terroir wines from the Zürcher Weinland.
The charmingly fruit-forward "Cholfirst," raised in neutral 500L casks, provides a good idea of the house style. The expressive "Albi" from the loam soils of the neighboring Schaffhausener Klettgau is their only Pinot permitted time in barrique and displays powerful aromas of dark cherries, blueberries, and dried meat without ever being too masculine or heavy. Their crown jewel is the highly complex single vineyard "Chlosterberg" from old vines, for which 500L casks with 20-30% new wood come into use. It is a wine of majestic beauty showing layered aromas of sour cherries, raspberries, hints of blood orange, and a touch of elderberry framed by perfectly measured acidity and noble tannins. Over time, it develops an enchanting layer of minerals and wintry spices. Chlosterberg is the pinnacle of three fascinating terroir wines from the Zürcher Weinland.
Erich Meier: Burgundy on Zürichsee
Erich Meier took over the 6.8-hectare estate in Uetikon on the northern shore of Zürichsee from his father in 1999. The farm, which has been in the family since 1793, had until then been based on mixed agriculture; wine growing played a minor role. But then came a fresh start, including the professionalization of its wine production. "That was a difficult, but also a rewarding time," recalls Erich. "Import limits on foreign wines were lifted and there was an economic crisis; I was under pressure from the start."
Yet from day one he succeeded in converting the experiences he had gathered in Australia, New Zealand, and California into first-class wines. Much has happened at the estate since then: its assortment of varieties has expanded to 10, conversion to organic farming started three years ago, and in recent years all wines have only been spontaneously fermented. "Spontaneous fermentation just gives more exciting, much more intensive wines though they always take a little longer to find their expressions," explains Erich. "But we have the customers for such wines."
With his Pinots, Erich orients himself toward Burgundy. "I'm not part of the trend toward brawny, saturated Pinots," he says. "My wines should be slender, with 12.5% to a maximum of 13% alcohol by volume." His three Pinots are in fact prime examples of this style. All three are fermented with their stems in large wooden tanks, then matured in wood – the entry-level wine "Classic" in 1,550L cask, the parcel selection "Barrique" for a year in small cask, and the single-vineyard "Kirche," limited to just 2,000 bottles, a year in small new cask. The latter is of exemplary finesse, coating the palate with elegant aromas of sour cherry, redcurrant, violet, and rose. If flavors could materialize this would be finest silk.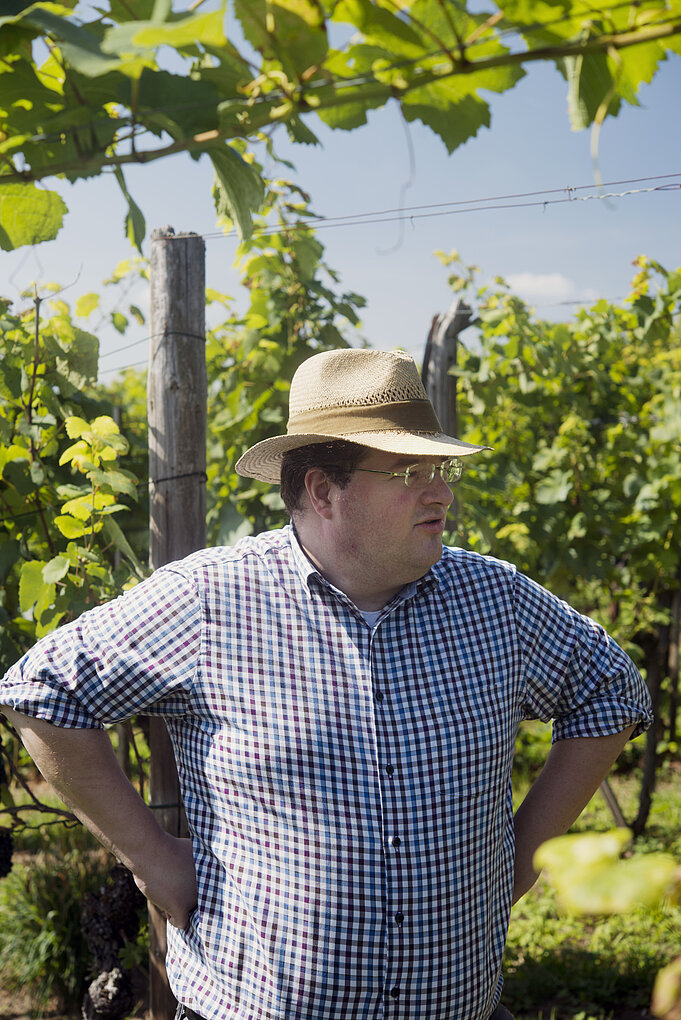 Career-switcher Patrick Thalmann pursued a rocky path to realize his dream of making his own Pinot Noirs. Soon after his first attempts in his parents' garage in 2009, he moved to an abandoned butcher shop whose cold storage served as barrique cellar — hence the name "Winzerei zur Metzg" (winery at the butcher's) and logo label with the crossed cleavers. Other moves followed, until the operation took up residence in its current headquarters in a hall in the industrial district of Ossingen in Zürcher Weinland.
"At the beginning, I made many mistakes, but benefitted from mentoring by, among others, Thomas Jost, who was then Hanspeter Ziereisen's cellar master," explains Patrick. Since then, his offerings have expanded significantly, though not always as planned. "Many of my white wines came to be because my grape suppliers offered me not only Pinot Noir grapes but also white wine varieties," explains Patrick. "Now we have 12 wines, and in the long run, that will be too many. Besides my five Pinots, in the future I only want to make Räuschling, Sauvignon Blanc, and Chardonnay."
A hailed-out crop on a leased site in 2017 and lockdowns during the pandemic didn't exactly play into the hands of a new enterprise with a relatively high share of sales to the gastronomy sector. But the stylistic spectrum of Patrick's five Pinots is so fascinating that he wants to hold on to this no matter what. "In the meantime, I know how to make great wines. Now I just have to work on awareness of Winzerei zur Metzg," he laughs. He raises all of his Pinots in wood, using either native or commercial yeasts, depending on the wines. From the two elegant "Borstig' Kerl" and "PMG" as well as the more muscular "WZM" to the herbaceous-spicy "Frühlese Junior," he can appeal to all Pinot lovers with his assortment.
"Kirschberg" is, quite literally, the cherry on top. A wine from 45-year-old vines that spends 24 months in first-fill pièces before being bottled unfiltered. It shows complex aromas of sour cherry, plum compote, and cranberry, underlaid with flavors of pipe tobacco, smoke, herbs, and distinctly sandy mineral notes. The aromatic intensity and length of the wine are impressive, even more so given its exemplary finesse. It is the primus inter pares in a portfolio of extroverted wines that clearly express the personality of their creator.
There are, of course, many more Zürich producers whose Pinot Noirs truly belong on the big stage. Nadine Saxer for example, who makes outstanding wines in the Winterthurer Weinland or Stephan Herter, who bottles sought-after natural wines, in addition to terrific Pinots. Or those of old master Urs Pircher, who produces long-lived Pinots in Eglisau on the Rhine.
Additional Recommended Producers
Translated by Valerie Kathawala