Austria's Vanishing Neusiedlersee. Again?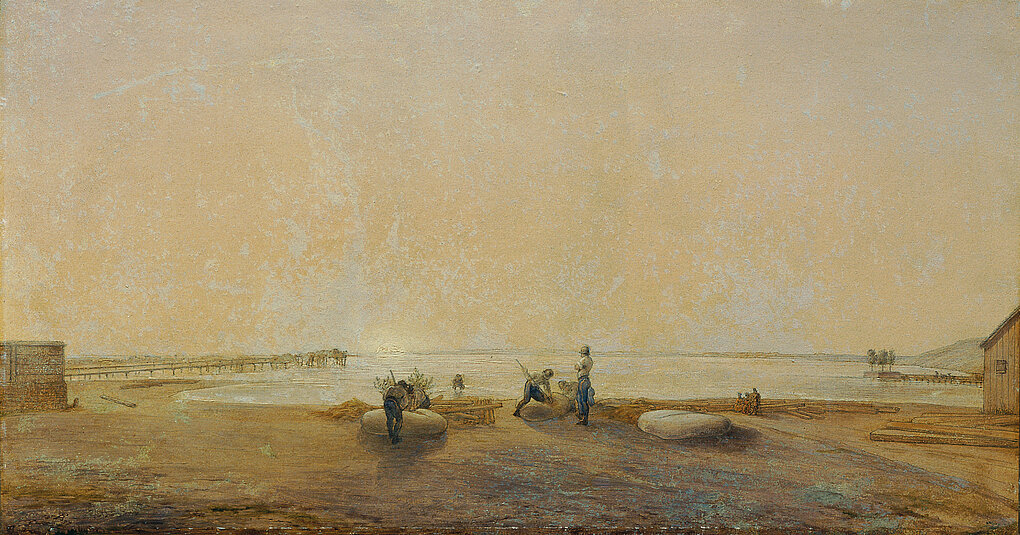 This summer, shrinking waterways worldwide unveiled long-hidden artifacts and remains. One lake in particular may be set to reveal matters of vinous import. Not just the vicissitudes of its waters but even their very existence have long been an enigma. Now, under the onslaught of record-breaking drought, and scrutinized from the perspective of climate change, the Neusiedlersee (Lake Neusiedl) is posing new conundrums for Austrian winegrowers.
On today's maps, Lake Neusiedl is a slender patch of solid blue — oriented north-south and pierced near the bottom by what was once the Iron Curtain — representing roughly 300 square kilometers. Thirty kilometers in length, the lake is at its widest just seven kilometers across. However, a map won't disclose the lake's most curious feature: What appears to be a huge body of water has seldom exceeded three meters at its deepest, and historically averaged scarcely half that. Nor can a map attest the unique flora and fauna associated with this so-called "steppe lake," known to ornithologists worldwide as a migratory flyway, to denizens of Austria's capital as their "sea" — (though much of its shoreline and 38% of its surface are privately held by the Esterházy family, just as four centuries ago) — and to millions farther afield as a touristic and recreational mecca.
One aspect a map in our digital age does reveal is what Austrian wine lovers already know: The perimeter of this lake is practically one enormous vineyard. Nearly a thousand winegrowers tend more than 10,000 hectares of vines, penetrating the interior for miles: to the west into foothills of the Leitha Range (once the Austro-Hungarian divide, today that between Lower Austria and Burgenland); to the east into clusters of tiny lakes, as well as gently undulating hills that herald the vast Pannonian Plain. The necklace of communities on its western shores and near its northern apex boasts vinous reputations going back five centuries — traditionally for sweet Ausbruch wines favoring Furmint, but today for dazzling diversity from grapes both red (especially Blaufränkisch) and white — while expansion to the lake's east created a 20th-century storehouse for robust reds and nobly sweet whites.
By mid-August 2022, average water depths had fallen to the lowest level since reliable measurements began in 1965, and by all accounts the lowest anyone alive today has witnessed.
There's something even more basic that a map also can't tell you — nor would it have prepared habitués for the shock this summer as they crested the Leitha, anticipating a shimmering expanse of water dotted with boats and windsurfers: The lake has receded so much that huge stretches of barren sand first catch the eye; and few craft, recreational or commercial, have drafts sufficiently low to keep sailing. The shoreline retreated strikingly in the hot, dry summers of 2003, 2015, and 2018. But by mid-August 2022, average depth of water had fallen to the lowest level since reliable measurements began in 1965, and by all accounts the lowest anyone alive today has witnessed. Newspapers have been filled with stories treating the shrinking lake as yet another emblem of climate crisis.
The Neusiedlersee has, however, outright vanished on past occasions as well, most recently between 1865 and 1871. That disappearance had been long in coming. A derisive July 1860 letter to Austria's most prominent newspaper, Die Presse, reported: "In contrast with the Dead Sea, the Neusiedlersee is the Dead Puddle." Baedeker's Guide to Austria was still reporting "9-13 ft." of water as late as 1868, which must have confounded those relying on the world's then gold standard for travel advice. The dry bed was derided by naturalist Dr. Gustav Jäger, among others, as "a desolate lake … a foul puddle [garstige Pfütze] devoid of vegetation and impoverished of animal life." (Imagine if those pushing back against today's tourist-spooking headlines had to confront accounts like these!) Locals as well as many scientists deemed it doubtful that the lake would return, and extensive attempts were made to cultivate its former bed. But no sooner had Baedeker's caught up with reality and issued a new, lake-less map, than, in 1871, water reappeared. By 1876, a map from the 1850s could have proven a reliable guide.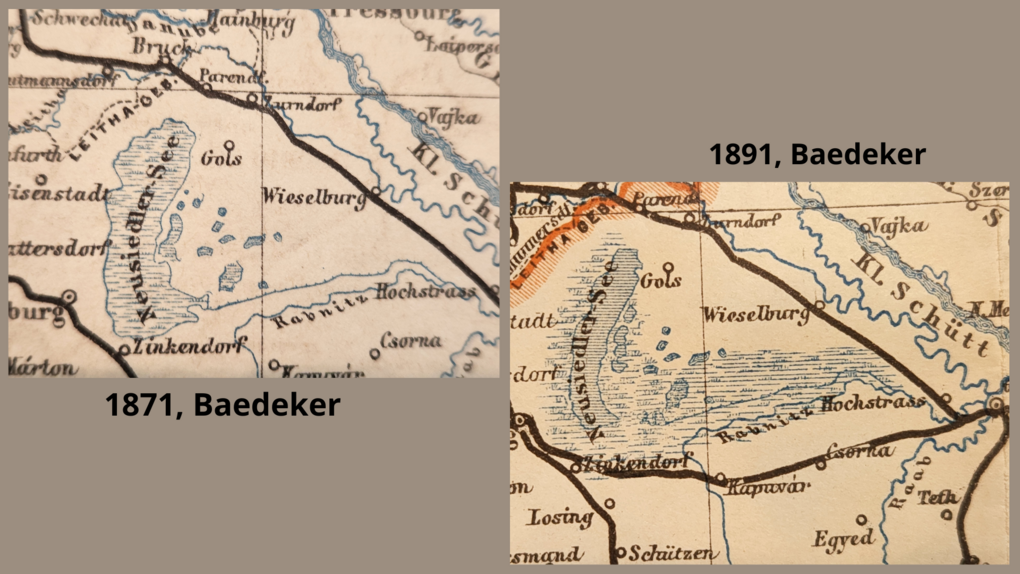 Back then, what sustained this lake remained a mystery. As a multidisciplinary 1979 study would explain: "Only during the past two decades have the application of new methods and modern techniques … brought us nearer to the solution of the hydrogeological riddles presented by the lake," demonstrating how topography and underlying geology promote regular inflows of water from aquifers as well as from myriad tiny tributaries in the surrounding catchment area. But that water levels correlated with those of a yet more expansive adjacent marsh called Hánsag, was common knowledge. Ever since the construction of an enormous dike by brother princes Paul Anton and Nikolas Esterházy, projects for containing and draining this sector had proliferated. Savvy observers of the 1865 scene were quick to point to the contemporaneous opening of a huge canal diverting water south into the Rabnitz River, thereby delivering the coup de grâce to an already drought-stricken lake.
No such sudden intervention accounts for today's precarious water level. But binational agreement was reached in late July of this year for a canal extension discharging into the lake some 30 million cubic feet of water from the Danube. (As of October, Hungary had not begun digging their promised link, and calls were mounting for an "intra-Austrian" diversion.) Unsurprisingly, the 90 million euro July plan sparked controversy. Opponents point to drastic, unforeseeable environmental and ecological consequences of any such diversion. Gabrielle Weigelhofer of Vienna's University of Natural Resources and Life Sciences points out that "this would in effect mean suddenly transporting the fauna of the Danube to the Neusiedlersee" and characterizes such a "solution" as only "the absolute last resort." By contrast, veteran Burgenland politician Franz Resch attests its practical feasibility and an urgent responsibility "to prevent the death of millions of living things dependent on this lake not drying up, even if this or that fish species 'has less of a taste' for Danube water." As backdrop, news photos depict massive die-offs and even instances of "fish evacuation."
But ecological imbalance, like threats to the Neusiedlersee's very existence, should be seen in historical perspective. Setting aside human intervention, shifts in temperature, wind, and water supply, together with chemical instability, have rendered the lake's very substance — to say nothing of its life forms — volatile. "At the end of the fifties," for instance, write contributors to the aforementioned 1979 study, "practically the entire lake contained soda [calcium carbonate], although ten years later it was only detectable in a few places." Depictions from the mid-1800s reveal a shoreline devoid of reeds. But within a century, harvesting them had become an important commercial enterprise, one whose failure to compete in the 21st century has allowed for growth unchecked by cutting. The reed band today comprises 180 square kilometers — the largest such expanse in Europe — and is responsible for accelerating the evaporation of lake water. Although the Oedenburger Lokal-Blatt reported in November 1865 that all of the lake fish — a once and future source of culinary bounty — had died, official accounts from the late 1870s, amazingly, allege their having already returned in numbers.
Uncertain viticultural implications
In practice, it will be hard to separate the effects of Neusiedlersee shrinkage — or that of any other major body of water proximate to vineyards — from those of drought per se. Even with today's sophisticated modeling, predicting whether and, if so, for how long this lake could lie dry might be almost as much a fool's errand today as it was in 1870. But wine growers have gained much recent experience with the effects of drought. They are adopting myriad measures to mitigate its effects, as well as to deal with rain that doesn't just fall less frequently, but also wastefully and destructively. Moreover, scientific research is now focused on these issues. Yet, when it comes to how and to what degree disappearing bodies of water would influence winegrowing, uncertainty reigns.
Historical records from the six years during which Lake Neusiedl last disappeared are unfortunately both scant and "inconclusive," at best. An anonymous eyewitness 1871 report in a prestigious scientific journal insisted that while drought had deleterious effects on vines in higher-lying, stonier soils, "equally outstanding wines were produced during the period when the lakebed was dry."
Shifts in temperature, wind, and water supply, together with chemical instability, have rendered the lake's very substance — to say nothing of its life forms — volatile.
Among maladies allegedly so attributed were frequent hailstorms. Yet, the 1871 commentator — while insisting that, on balance, "it is clear the lake … is of considerable viticultural value, and its perpetuation therefore highly desirable" — reported that "for as long as the lake was there, we had frequent thunderstorms and were often afflicted with hail [whereas] since the drying-up we have very seldom experienced hail damage."
Any significant bodies of water — especially lakes — serve as thermal sinks that moderate temperature, though given how small a volume of water Lake Neusiedl has ever contained, its influence in this respect cannot approach that of, say, New York's smaller but vastly deeper Seneca Lake. Still, there is no reason to doubt the aforementioned 1871 commentator's claim that spring frosts were worse after the lake's disappearance. Earlier budding of vines in recent years has revived the issue of frost, and Lake Neusiedl's growers were not spared Europe's infamous freeze in May 2017. Lake warmth might ward off individual frosts, even as it might also exacerbate precocious budding.
Climate change spotlights the lake's cooling influence. "I believe I can sense in Oggau, near the lake, that in summer the vines are getting extra cooling and humidity in the morning," observes Georg Prieler, most of whose vineyards are farther back into the Leitha foothills, "and if you're working in the canopies early morning in the Marienthal [vineyard] and smell your hands, you detect the earthy scent of the lake," which could only signify lake moisture deposited on the leaves. Moreover, as breezes move across water, the inherent cooling influence of each amplifies that of the other.
A further relevant factor is light reflected off water. The efficacy of such light in ripening grapes is especially pronounced at low solar elevation, notably in higher latitude growing regions as autumn advances and as much as half of solar radiation to nearby vineyards can be reflective. However, the relentless moving-up of harvest dates on winegrowers' calendars lessens this effect's significance.
"It's in the regenerative nature of a steppe lake that it dries up every now and then."
By both tradition and anecdote, fog and mists from proximate bodies of water are critical to places whose winegrowing reputations were built by botrytis: the Rheingau, Tokaj, Coteaux du Layon, Lake Neusiedl …. But scientific studies of this effect aren't readily in evidence. Will a shrunken lake compound the botrytis-inhibiting effects of more frequent and prolonged drought? That question is top-of-mind for Heidi Schröck and her Rust colleagues, whose prestige is bound up with Ausbruch, albeit to nothing like the extent that this was true of their 19th century forebears. Directly across the lake, where sweet botrytis wines dominate, their most renowned practitioner answers in the negative. Though the ubiquitous tale of botrytis promoted by mists and fog is perpetuated in Austrian Wine Marketing's account of the Seewinkel, Gerhard Kracher observes that the many small lakes for which his corner of Burgenland is named "have since 2015 been almost consistently dry. Yet despite such drought years, there's always been sufficient botrytis. I think much of our humidity comes from low-lying meadows that can efficiently store even small rainfalls, then much later give back moisture via evaporation." That said, he emphasizes this is only conjecture on his part.
One factor specific to Lake Neusiedel worries Kurt Feiler. Dust clouds traveling across the dry lakebed after 1865 reportedly upset life's rhythms and affected respiratory health over a wide area. (Locals referred to Zickstaub — szik=sodium bicarbonate — associating such dust with the Seewinkel's many so-called Zicklacken, or small pools.) Feiler imagines a repeat interfering significantly with winegrowing. And when the World Wildlife Fund's Austrian branch weighed in against the proposed diversion of water from the Danube, its biologist Bernard Kohler appeared to raise this very specter by insisting that, if the lake is in an ecological sense to be renewed, "it needs regular dry periods in which the accumulated mud can disperse into the air." Schröck, while emphasizing in mid-August that "nothing like complete drying-up has taken place yet," expresses a similarly long view: "It's in the regenerative nature of a steppe lake that it dries up every now and then."
"The situation is critical, not to say nightmarish," opines Schröck's neighbor Michael Wenzel. "But I honestly can't judge the consequences of it actually coming to a complete drying-up — interactions among the lake's influences are so complex. An entire ecosystem hangs in the balance."
While it might not be giving them nightmares, it's likely Lake Neusiedl's immediate future will be keeping many people awake at night.