Beethoven as Bacchus, Part II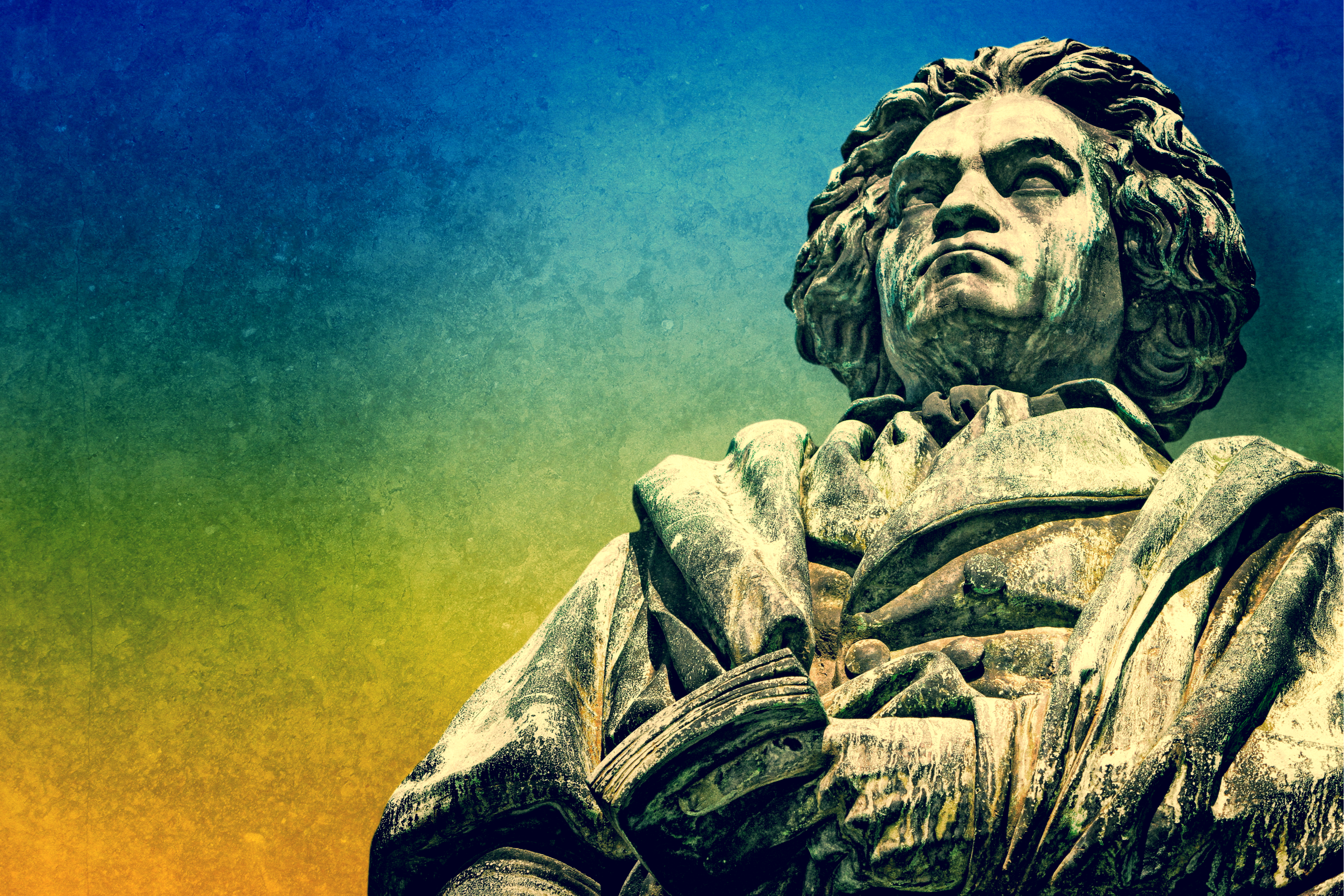 In the first movement of this piece, we looked at the origins of Ludwig van Beethoven's interest in wine and the critical role this played in shaping the composer's musical career. Here, we trace his path through Vienna's living landscape, to find multiple points of intersection between past and present in his music and in some of the city's defining wines. We then head south to the Austrian spa region of Baden, where Beethoven drank, and composed, masterpieces. As we will find, his music comes more vividly to life when appreciated within the context of the vines and landscapes in which it was written and experienced through the prism of the wines he himself enjoyed.
Beethoven in Grinzing
In the summer of 1808, Beethoven kept a residence in the very heart of this leafy, hilltop district of northern Vienna. He would set out from 64 Grinzingerstrasse, a house that still stands today, on his long walks through the surrounding vineyards.
During these months, he composed a direct musical portrait of this landscape — an homage to the hills, brooks, birds, and vines of Grinzing and its environs in the form of his beloved Pastorale Symphony, No. 6. That same summer he also put the final touches on his heroic Fifth.
Numerous Beethoven residences dot the streets between Grinzing and Dobling, Heiligenstadt and Nussberg, all within close proximity to each other. Each is but a stone's throw from vines that still press right up against these residential neighborhoods.
In the early 19th century, Grinzing's Heurigen, or wine taverns, were especially famous for evening carousing. But while most Viennese would have to make the journey from the inner city to this leafy outer district and return the same night, Beethoven lived right there.
We know Beethoven frequently drank the lighter white Grinzing wines in the taverns. His friends noted that he did so only after asking first for the light red wines of Voslau or the Kahlenberg Hills. He preferred these quaffable reds with fresh pike fish from the Danube (his ideal wine and food pairing), but he would usually agree to drink the white Grinzinger as a suitable alternative.
Jutta Ambrositch and the Wines of Beethoven's Time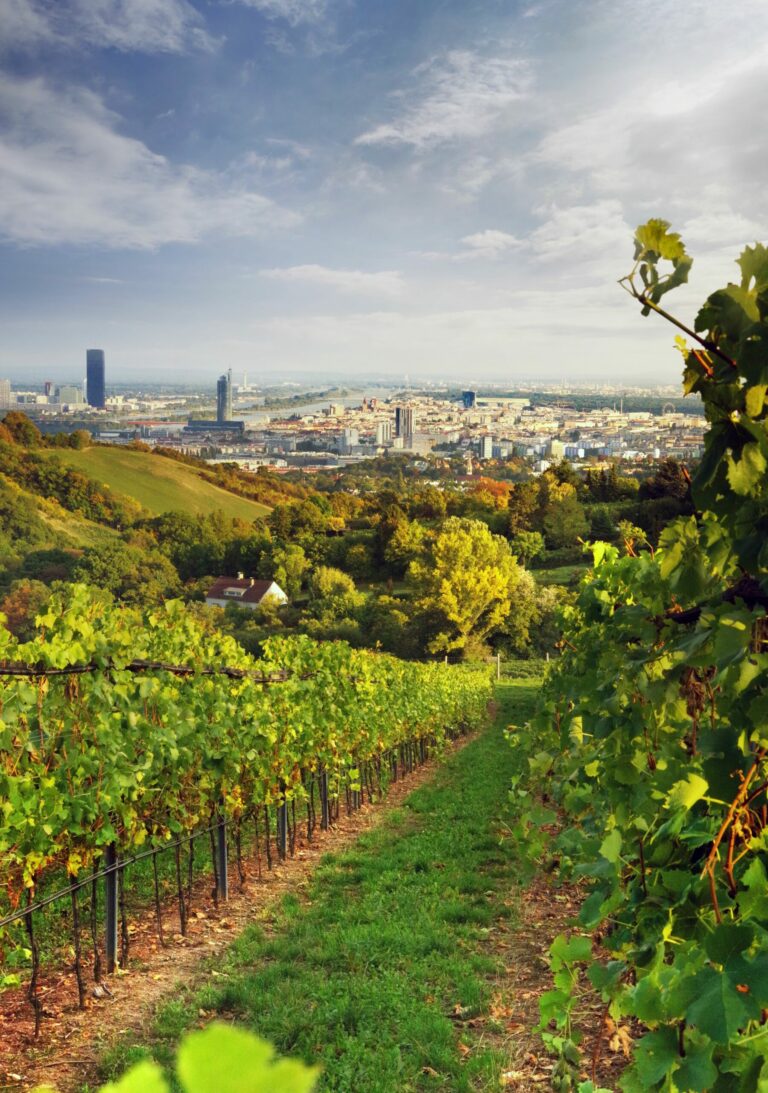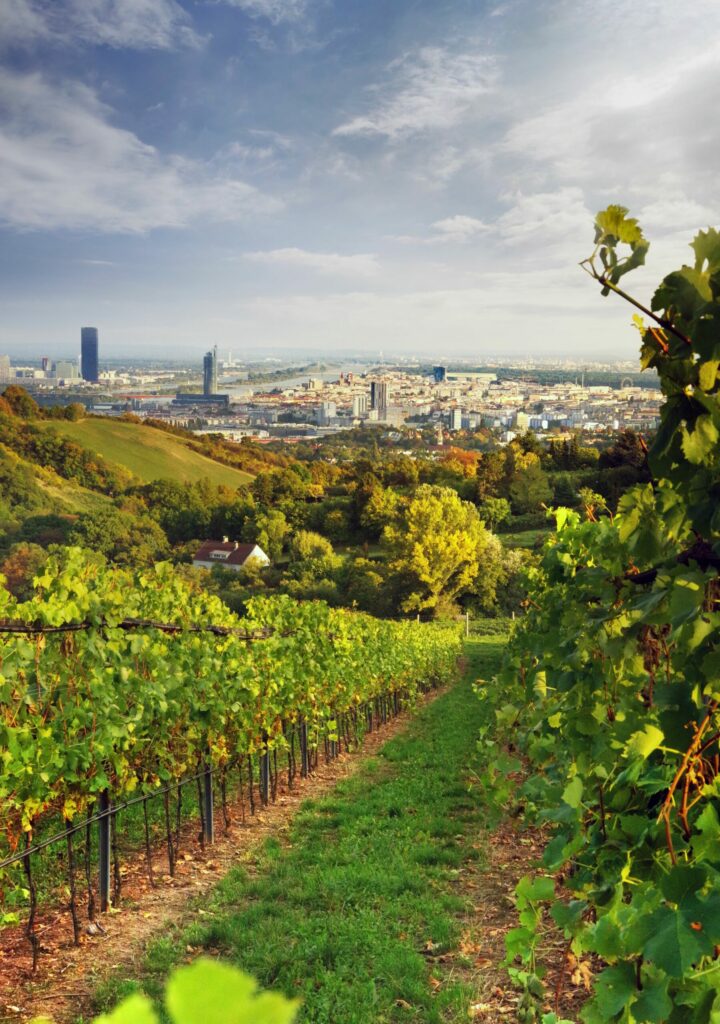 In the summer of 2019, grower Jutta Ambrositsch offered me a chance to walk among those of her vines that were as close as we could find to the remaining Beethoven residences. I knew Ambrositsch had been tireless in her devotion to resurrecting historic vineyards throughout the city, farming them under careful biodynamic and organic principles, honoring the terroir, history, identity, and character of each of these profound old-vine sites — some no more than eight long rows.
With their purity, power, poetry, and musicality, Ambrositsch's wines suggest a taste of Beethoven's past.
We set off tracing the composer's footsteps. It quickly became apparent that nearly everywhere we walked, one of his residences was in sight. In fact, Ambrositsch's special block of old Riesling vines in the Rosengarten vineyard is but a short hike from a path leading right down to Beethoven's Kahlenbergerstrasse residence.
The vines truly are still now as they were then, living in concert with Beethoven's spirit.
With this proof from our walking tour, two of Ambrositsch's wines in particular become perfect reflections for the Beethoven wine narrative: "Kosmpolit" Gemischter Satz and "Utopie" Riesling.
"Kosmopolit" is a pan-Viennese blend. But much of the wine comes from the Preussen vineyard in Grinzing. It grows within view of several of Beethoven's former homes. While the wine enfolds some varieties that may not yet have been cultivated there in Beethoven's day (Grüner Veltliner, Sauvignon Blanc, Chardonnay), the composition of the Preussen vineyard is about as historically authentic as anyone can find. Its unique mix of Zierfandler, Riesling, and Welschriesling is a holy trinity of white varieties that mirrors the make-up of an early 19th-century vineyard in Vienna.
This is a wine that celebrates the style of what Beethoven surely drank more often than any other, a wine born from the paths and vines on and in which his music was conceived.
"Kosmopolit" is as delicately fresh, floral, and springlike in taste as Beethoven's Sixth is in sound. We find fresh peach, apple, and gentle citrus on the palate, honeyed blossom on the nose, and just the right touch of minerality to bind it all together. It has a sincerity that lingers in the senses like the recurring memory of a Beethoven melody long after the bottle, or music, is finished.
The "Utopie" is a single-vineyard bottling, 100 percent Riesling from the Rosengarten vineyard mentioned above, situated higher on the Nussberg hill. The wine is a thrilling example in this discussion, given the vineyard's placement so very close to a Beethoven dwelling. It is also a rare find: a monovarietal wine from within the confines of Vienna, where field blends dominate.
Many wine historians believe Riesling was far more prevalent among the Viennese vines in Beethoven's day than it is now. Others argue that the vineyards likely evolved over centuries towards one or two predominant varieties. If we accept this as true (and it is only one point of view), a single vineyard full of Riesling such as Rosengarten, which casts its afternoon shadow over Beethoven's footpaths, may give us an even more vividly accurate taste of history.
"Utopie" is savory and serious, bone dry, complex, and age-worthy. Like much of Beethoven's music, it has an enduring nerve and contemplative structure that will reward cellaring and repeated tastings over time.
"Utopie" has an enduring nerve and contemplative structure that will reward cellaring and repeated tastings over time.
It is worth mentioning that Ambrositsch also produces a light red wine from the Kahlenberg Hills, her much-loved "Rakete" Gemischter Satz. The wine is a blend of red and white grapes, most of which post-date the early 19th century (Zweigelt, Blauburger) and others (Merlot, Sankt Laurent) that would not yet have reached the city in Beethoven's lifetime. However the intent of the wine — a fresh expression to be drunk young and with pleasure in a Heuriger — again perfectly mirrors the kind of light red wine that Beethoven so loved with his meals.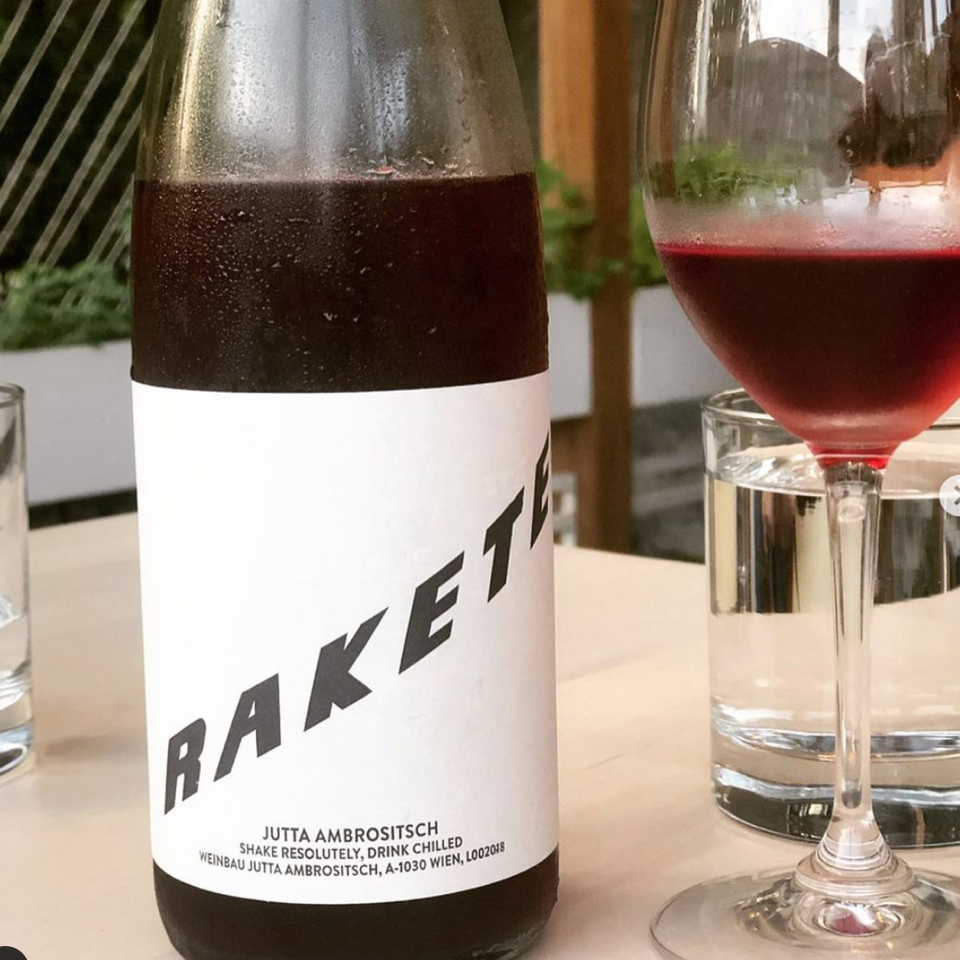 Supreme Inspiration from Spa Country
Beethoven returned to the spas of Baden south of Vienna more than 20 times throughout his life. It was his source of regeneration, healing, and creativity. The area's importance cannot be understated given the number of major masterpieces Beethoven composed during his many stays there: among them the epic Ninth Symphony, many of the late String Quartets, the Missa Solemnis, and the Archduke Piano Trio.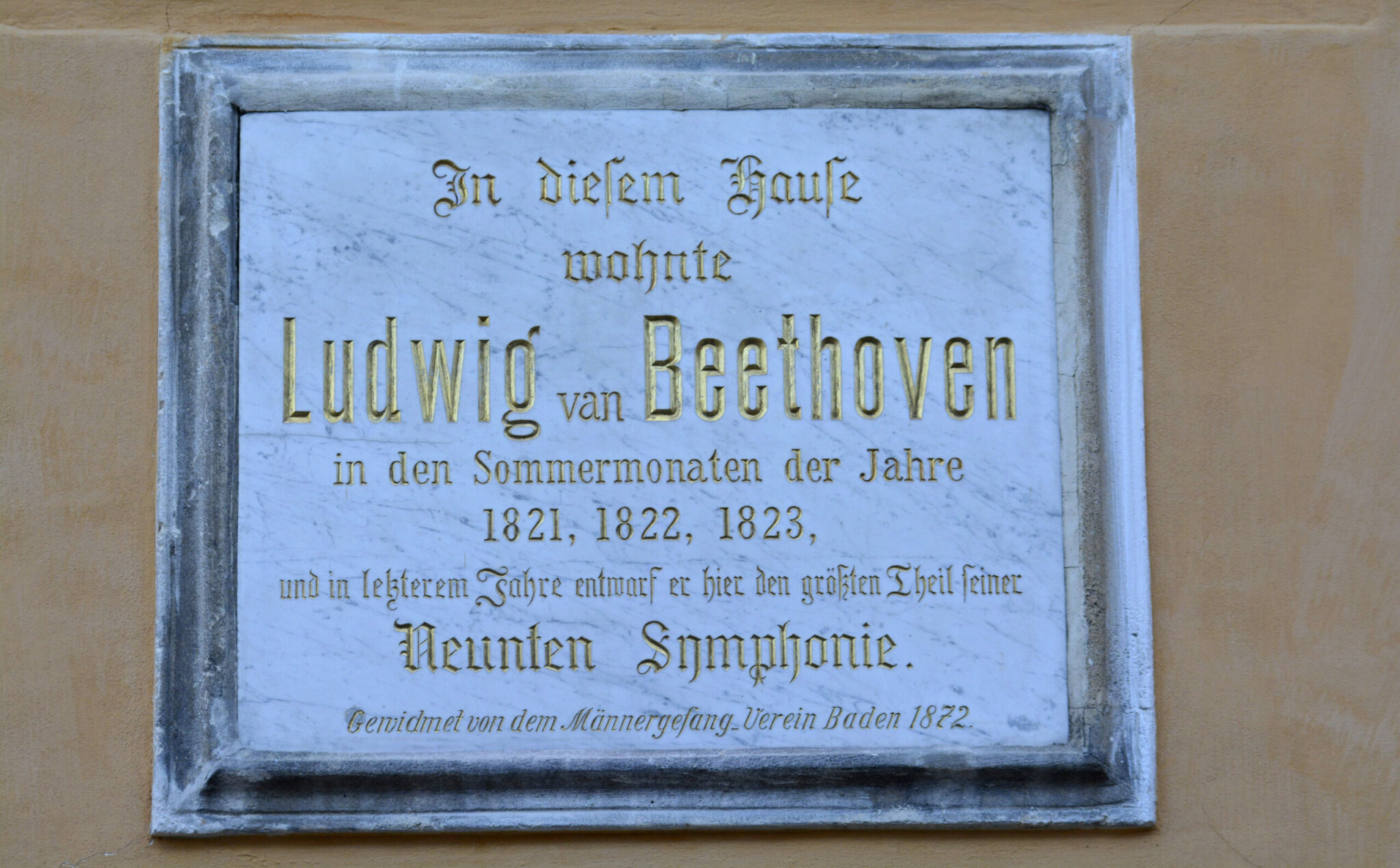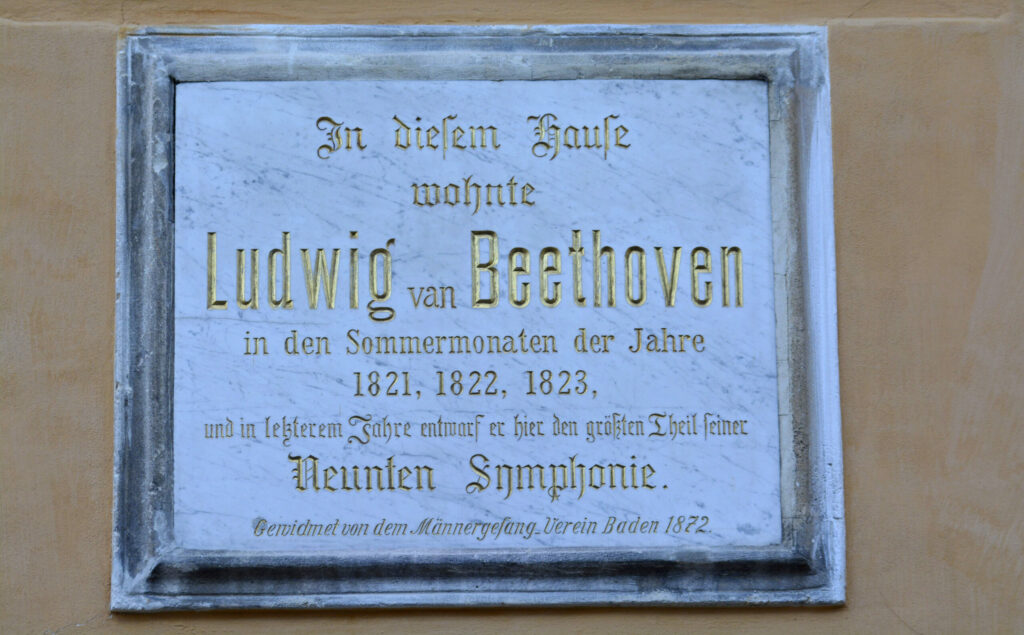 Baden's position as the royal summer residence made it a smart destination for the composer. There he networked with patrons and nobility — mostly through chance encounters with them on walking paths. But it was Baden's surrounding countryside that appears to have made it one of Beethoven's most cherished places. The Helenental, west of Baden, with its castles and dramatic geology, called Beethoven into its heart over and over. He would often disappear into these woods for days on end.
At other times, Beethoven could be seen cresting the vine-strewn Anninger Hill, with its extensive medieval vineyards, as he made his way from Modling, another favorite summer destination. We know he would pass directly through the famous white wine village of Gumpoldskirchen on his way. And this brings us directly to the wines of Bernard Stadlmann.
The Music of Stadlmann: Contrast and Harmony
The Stadlmann winery officially opened its doors to the public in 1780, but current winemaker Bernhard Stadlmann says his family was producing wine in and around the area for at least a century before that. He tells us that the family's Pinot Noir vines can be traced to the original 1141 plantings at Heiligenkreuz Abbey, founded by Cistercian monks just below Anninger Hill.
Stadlmann's white grapes include several that are historical local indigenous varieties, notably Rotgipfler and Zierfandler. We know for a fact that Zierfandler was widely planted here in Beethoven's day.
Few winemakers anywhere know more about these old varieties than Stadlmann. While today's classic Gumpoldskirchen wine is an equal mix of Zierfandler and Rotgipfler, Stadlmann believes that in Beethoven's time most vineyards there would likely have been planted to a blend of Zierfandler and Riesling. Rotgipfler did not appear in official records until 1840.
Stadlmann reminds us that the term "Gumpoldskirchener" referred generally to all white wines from the Thermenregion until well into the 20th century, not just those from the village of Gumpoldskirchen; "Voslauer" referred to all red wines from the same area. So Beethoven's mention of the wine could imply any white wines from this general area.
He also believes that Zierfandler would have offered Beethoven an affordable local alternative to fine German Riesling, which was hard to get and often quite expensive.
Zierfandler was prevalent in the local vineyards and it grew comfortably side by side with the Riesling vines already in the area. Perhaps Beethoven's doctors even confused the two grapes, or intuitively understood that there was some commonality between what Beethoven could drink from Gumpoldskirchen and the Rhine Rieslings.
Stadlmann produces several expressions of Zierfandler, the basic "Anninger," which blends younger vines from several vineyards, and a single-vineyard version from the Mandel-Höh cru on the southeastern face of Anninger Hill from mature vines. The geology here offers one of the very few outcroppings of concentrated limestone and chalky soils in the area.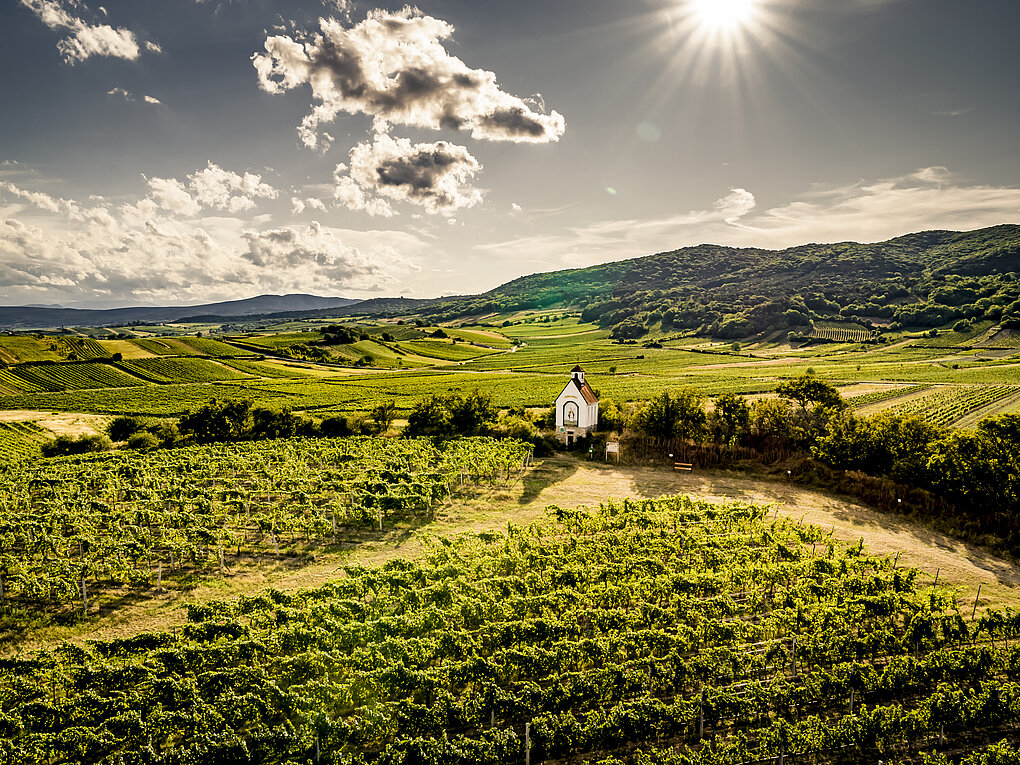 Zierfandler shares many flavor characteristics with riper, more exotic styles of Riesling: quince, pineapple, lime, apricot, and grapefruit notes abound. But there are also more pungent, robust layers less commonly found in Riesling, such as honey, nuttiness, and even hints of herbal tea. In the younger-vines version, herbaceous, slightly grassy, bitter melon notes set it apart quite distinctly from a classic Riesling.
Stadlmann farms organically and his cellar work is minimalistic. He ferments and ages his Zierfandlers in traditional neutral 2,000 L oak casks. These are pure, direct, elegant, subtle yet endlessly engaging wines worthy of reflection and serious appreciation. They are also stunningly ageable wines with ample acidity to offset their slightly more full-bodied natures.
Comparing the two wines side by side is almost an exercise in listening to two contrasting Beethoven compositions.
"Mandel-Höh" is lyrical, pastoral, burnished, and poetic. "Anninger" can be full of wit, lively energy, and sharp intensity. Both are from the same hand or land, yet deliver entirely different experiences in taste, or sound.
Stadlmann is a passionate music lover. He shared with me a few family anecdotes linking Beethoven to Baden that are not readily available in the history books.
According to local lore, Beethoven often returned from his long hikes in the woods (or possibly from long nights of drinking in the countryside Heurigen) so late at night that all the gates to the walled town of Baden were locked. All but one that is. The Lumpenturl, or rag door, set low into the city walls, was left open so Beethoven could safely return at any time. The composer was known to use this entryway more than anyone else and so it came to be known as the Beethoven door. This may be merely spurious, but it is very much a part of the shared oral history there even today.
Stadlmann also mentions that while in Baden, Beethoven would often run out of manuscript paper while composing. To keep the moment of inspiration alive, he inked notes directly onto the wooden windowpane frames of wherever he was staying. After his death, many of these "notated" windows were sold off as souvenirs.
These stories highlight the very real impact Beethoven's presence had on the lives of the people in a place he deeply loved. The composer's music becomes so much more personal when seen through the eyes of those who lived around him, appreciated within the context of the vines and landscapes in which it was written, and experienced through the wines he himself enjoyed.
What you have read here is but a taste of the full narrative, just enough to empower you to listen with fresh ears as you raise a glass of Austrian wine and a reminder that wherever Beethoven went, wine was always there. And so I leave you with Beethoven's own words, spoken to and transcribed by his friend Bettina Brentano from a conversation in Baden in the summer of 1810:
"When I open my eyes I must sigh, for what I see is … the world which does not know that music is a higher revelation than all wisdom and philosophy, the wine which inspires one to new generative processes, and I am the Bacchus who presses out this glorious wine for mankind and makes them spiritually drunken."
The Wines

JUTTA AMBROSITSCH
"KOSMOPOLIT" GEMISCHTER SATZ
A blend of five Vienna vineyards (Stammersdorf, Sievering, Preussen, Mukenthal, and Plagen). The mix of grapes includes some still unidentified, alongside many old biotypes of Veltliner — Grüner, Roter, Frühroter, even Brauner — as well as Sauvignon Blanc and Chardonnay plus the holy trinity of early 19th-century varieties: Zierfandler, Riesling, and Welschriesling. All grapes are co-fermented with 12 hours maceration and direct-pressed to stainless steel tank.
"UTOPIE" RIESLING
A single-vineyard, single-varietal Riesling from the magnificent Rosengarten vineyard high on the slope of the Nussberg Hill. There are a mere eight rows of vines here, all located on a limestone spur on a south-facing plateau. Winemaking is the same as for "Kosmopolit."
STADLMANN
ZIERFANDLER "ANNINGER"
A young-vines blend of several vineyards at the base of Anninger Hill. Chalk, limestone, and sandy clay soils. Fermentation and aging sur lie in neutral 2000 L barrels for five months.
ZIERFANDLER "MANDEL-HÖH"
Old-vine, single-vineyard Zierfandler grown on the prime southeast face of Anninger Hill. Chalk, limestone, and sandy clay soils. Fermentation and aging sur lie in neutral 2000 L wood barrels for 10 months.
The Music
SYMPHONY NO. 6 IN F MAJOR, OPUS 68 "PASTORALE"
This is Beethoven's "Grinzing" nature composition, each movement is a sound portrait of some aspect of the landscape and rural lifestyle. Pair with the "Kosmpolit."
PIANO SONATA NO. 29 IN B-FLAT MAJOR, OPUS 106 "HAMMERKLAVIER"
One of the gigantic keyboard works, its massive scope and scale mirror the longevity of the "Utopie." The Rosengarten vineyard stands watch over the very house in which Beethoven composed this grand masterpiece in 1818.
PIANO TRIO IN B-FLAT MAJOR, OPUS 97 "ARCHDUKE"
Beethoven's most ambitious piano trio (almost a mini piano concerto) that quotes from the birds and nature of the Helenental Valley, where it was conceived in the summer of 1810. An ideal partner for the lively "Anninger."
MISSA SOLEMNIS IN D MAJOR, OPUS 123
Composed over many summers both in Baden and Modling, and completed in the summer of 1823 in Baden, when listening to this celebration of the divine in humanity and nature it is hard not to imagine the imposing presence of the Heiligenkreuz Monastery as surely seen by Beethoven on his daily hikes. Surrender to this awe-inspiring masterpiece as you meditate on the "Mandel-Höh."