Germany's Blanc de Noir: In Praise of B Sides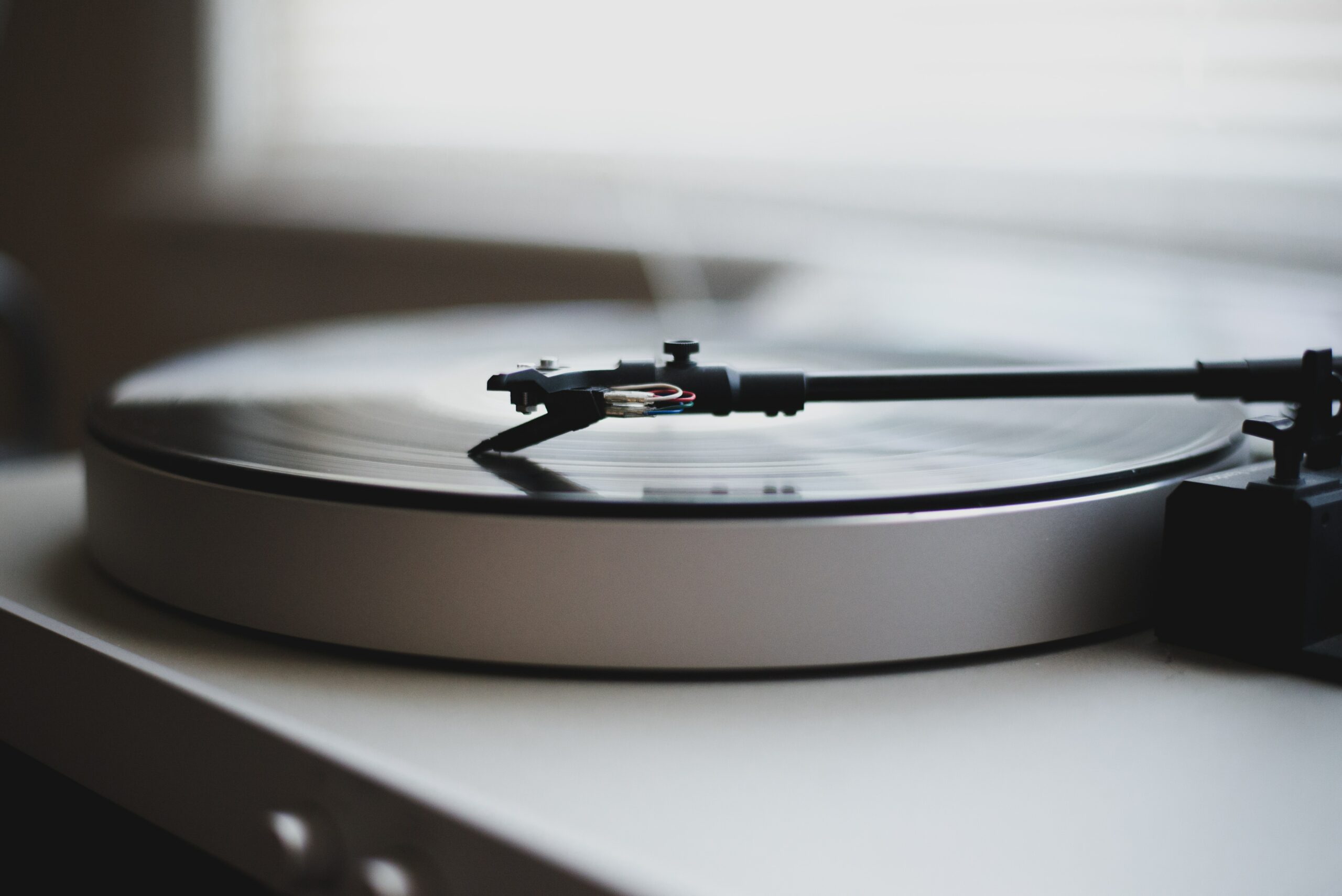 I've been a fan of B sides since, well, pretty much since there have been B sides. Record companies have historically used vinyl's flipside as a holding pen for unreleased or less desirable concept material. Pieces that don't fit the brand; supplementary songs with minimal hopes and lower aspirations. Filler. Yet, to me B sides embody the edgy and unpredictable, the vulnerable creative underbelly of both artist and medium.
Let's call rosé, the pink "wunder" of the last decade, our A side.
Industry figures show that rosé now constitutes some 9% of the global wine market. Thirty-nine percent of wine drinkers in the U.S. alone acknowledged in a recent trade study that they drink rosé two to five times a week. That's the vinous equivalent of Cyndi Lauper's 1984 hit single "Girls Just Want to Have Fun" — fun but not likely to end up in a museum.
Making Blanc de Noir our B side.
Literally translated, Blanc de Noir is "white wine from black grapes." And given that many of the Romance languages refer to red grapes as "black," the concept is easy enough. Worlds away from a modern cellar trick, our "B side" enjoys a history that starts where all good things do: Champagne. But don't get too caught up in the formalities. While Blanc de Noir as a descriptor didn't appear on the label until a bottle of 1957 Champagne Palmer, red grapes have been a part of Champagne's constitution since the beginning.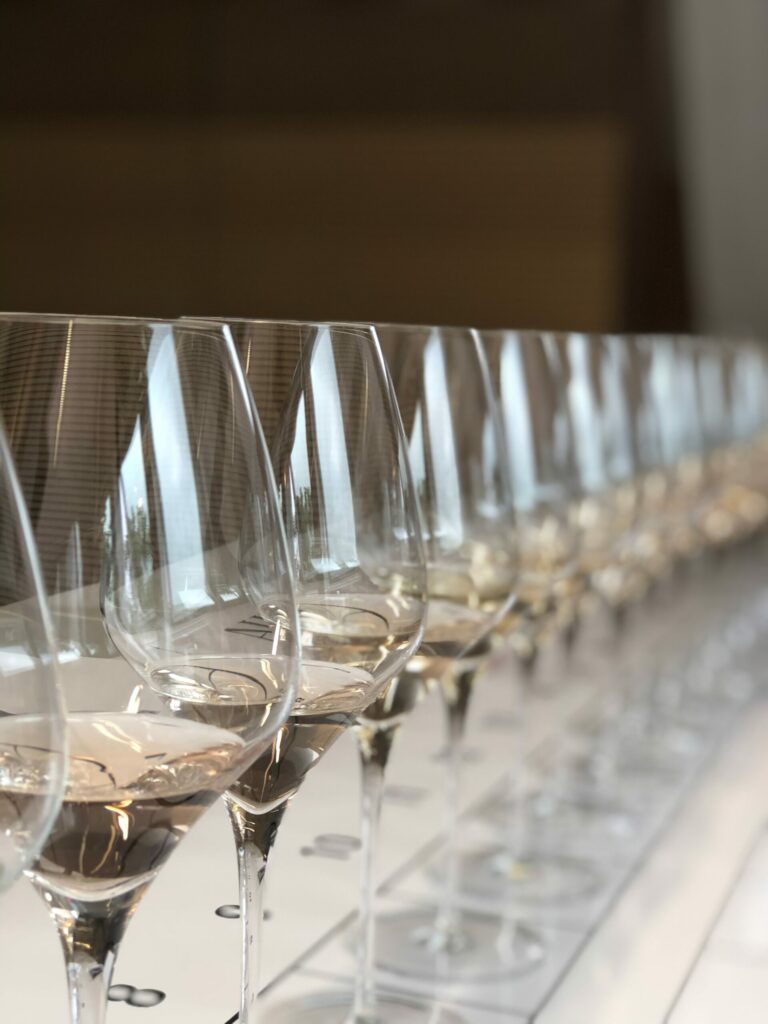 What's Life (or Wine) without Bubbles?
Much like in the production of the Champagne of the same name, key components in a still Blanc de Noir include early harvest, healthy grapes, extremely gentle handling, and lightning-fast separation of the pre-fermented must from the skins. For beyond controlling color, the winemaker also wants to minimize the bitter elements found in the skins and seeds. In other words, the less skin contact, the closer one gets to "A Whiter Shade of Pale" (B-side: "Lime Street Blues," 1967). The rest is up to the winemaker's choice of style, which can range from steely and bone dry to rich and Rubenesque. Although this gentle handling generally requires small volumes, the tradeoff is freshness, purity, balance, and structure.
While Blanc de Noir can be made from any dark-skinned grape, achieving one capable of walking the tightrope between crisp "white" style and developed "red" structure ideally involves varieties with thin skins and good acidity.
Sound like any grape we know?
Riesling's Flipside: Pinot Noir
Germany is the third-largest producer of Spätburgunder (Pinot Noir) in the world after France and the U.S., with a documented history stretching back to the fourteenth century — and hints that cultivation dates all the way back to the fourth. Spätburgunder vines today account for more than 11% of Germany's total vineyard area and are planted in nearly all of the country's 13 winegrowing regions. It is a particular specialty of the northernmost region along the Rhine River: the Ahr.
"There is no more flexible grape variety in the world than Pinot Noir. It thrives on all types of soils and rocks, revealing a different expression every time," says Denis Appel, Director of Sales at Weingut Meyer-Näkel of Dernau. Gentle tannins and high acidity suit it to a crisp and crunchy style in marginal regions such as the Ahr, which actually sits a tick north of Champagne in latitude.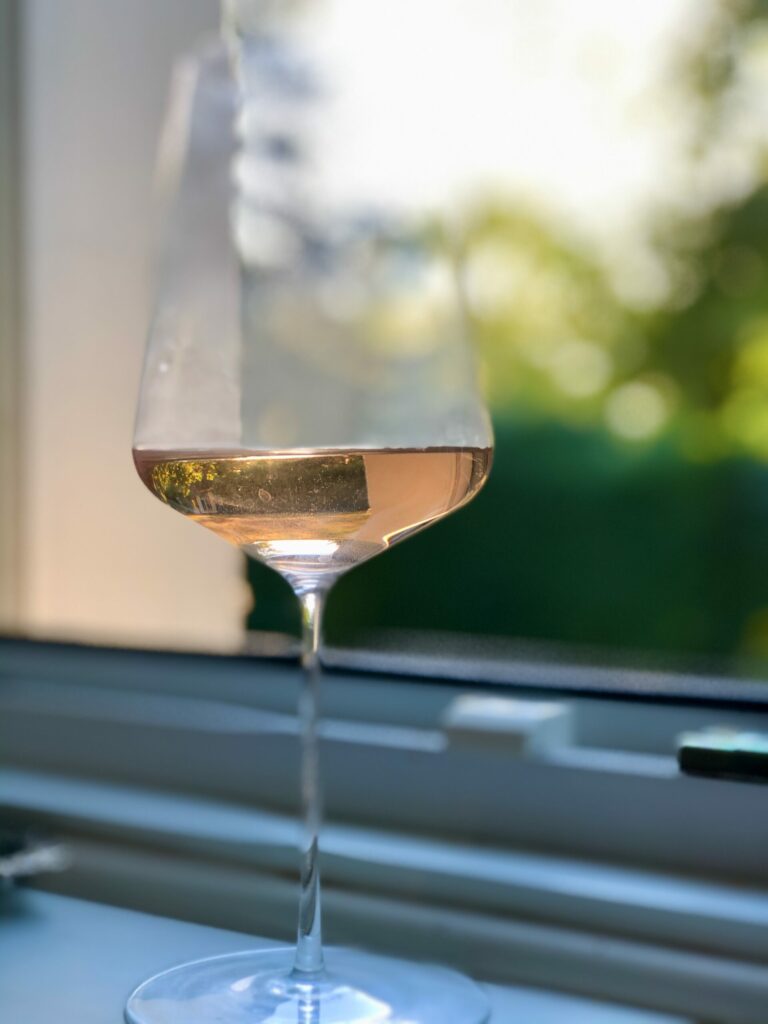 Like Ginger Rogers dancing with Fred Astaire, understanding German Blanc de Noir requires us to take everything we already know and relearn it "backwards and in high heels."
"Blanc de Noir is the very soul of Pinot Noir." — Julia Bertram-Balthes
Julia Bertram of Weingut Bertram-Baltes knows Spätburgunder like few others. 95% of her 3.5 hectare estate, also in Dernau, is planted with the Pinot grape.
"For me, Blanc de Noir is the very soul of Pinot Noir," she says. "We can learn so much about how to make a better red wine through our Blanc de Noir, where the artistry can be best expressed, and how to better reveal the finesse and elegance of the variety."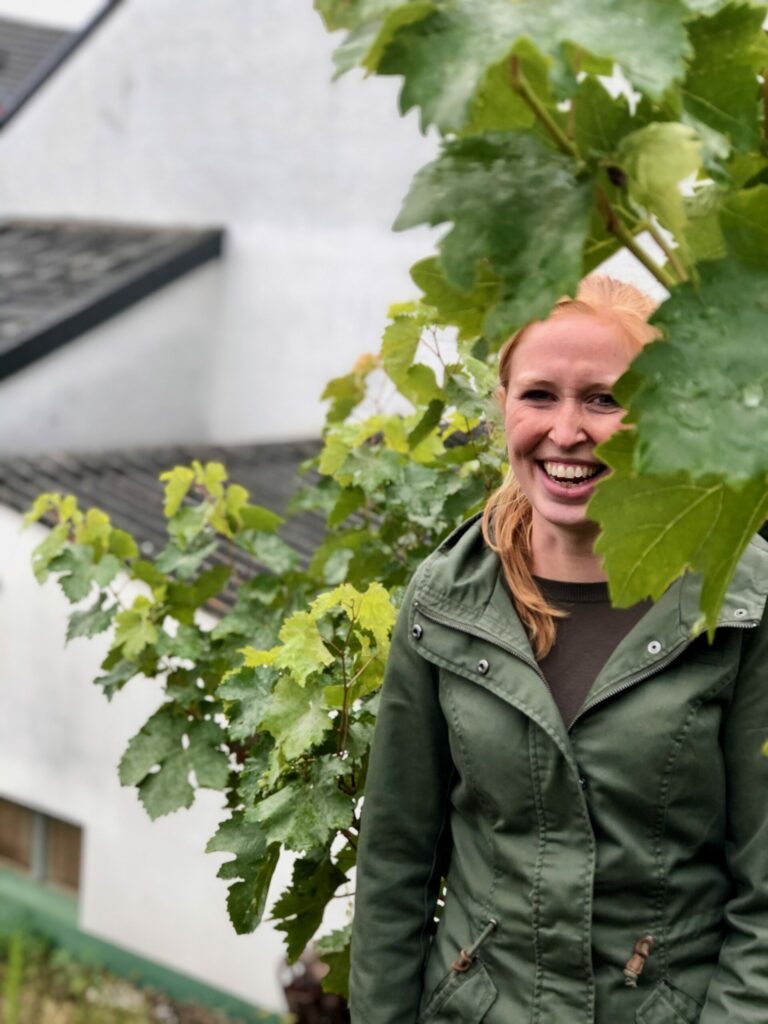 "Das Kleine-Ich-Bin-Ich"
One year after the passing of the 1971 German wine law, a now classic children's book called Das Kleine Ich Bin Ich emerged on the Austrian market. The main character, a colorful mix of horse, hippo, parrot and — this being the 70s —plaid pants, spends most of the book's pages being told by those who share some of his characteristics how he just doesn't belong. Without a name, he is nothing and might as well not exist. This search for identity ends in a teary night of self-doubt, after which he names himself "Ich-bin-ich!" (I-Am-Me!). And from that moment forward, he is accepted, if not fully understood.
The story of Blanc de Noir in Germany is not that different. One central aspect of the 1971 Wine Law was a clear definition of what could and couldn't be written on wine labels. Four categories of color designation were permitted: weiß, weißherbst, rosé and rot (white, vin gris, rosé and red). Observant readers will note that, like our beloved "ich-bin-ich," Blanc de Noir was left out.
Blanc de Noir is the wood sprite cousin, playfully flitting across the meadows and embracing the world…
Nor is Weißherbst quite the same thing. Traditionally, that style — sometimes known as Vin Gris in California — is richer, often barrel aged, with a creamier, more luscious texture. Blanc de Noir is its wood sprite cousin, playfully flitting across the summer meadows and embracing the world while Weißherbst, unafraid to sport a bit of padding and residual layers, sits placidly in the grass and waits for the world to come to her.
Of course, just because the name was illegal didn't mean the style didn't exist and producers continued to make Blanc de Noir — especially in regions where red grapes predominate. Not surprisingly, the best examples come from the regions that have significant experience with the cooler, edgier, more mineral styles of Pinot Noir. Regions such as the Pfalz, Nahe, and Rheinhessen. And, above all, the Ahr where the vintners know red grapes better than white and appreciate how Pinot can play Cinderella at the Blanc de Noir ball.
The Little Pinot that Could
Perched at the northern edge of winemaking along the Rhine River, the Ahr (562 hectares) is one of Germany's smallest winegrowing regions, but don't let its size fool you. It is tiny and fierce. Fiercely red.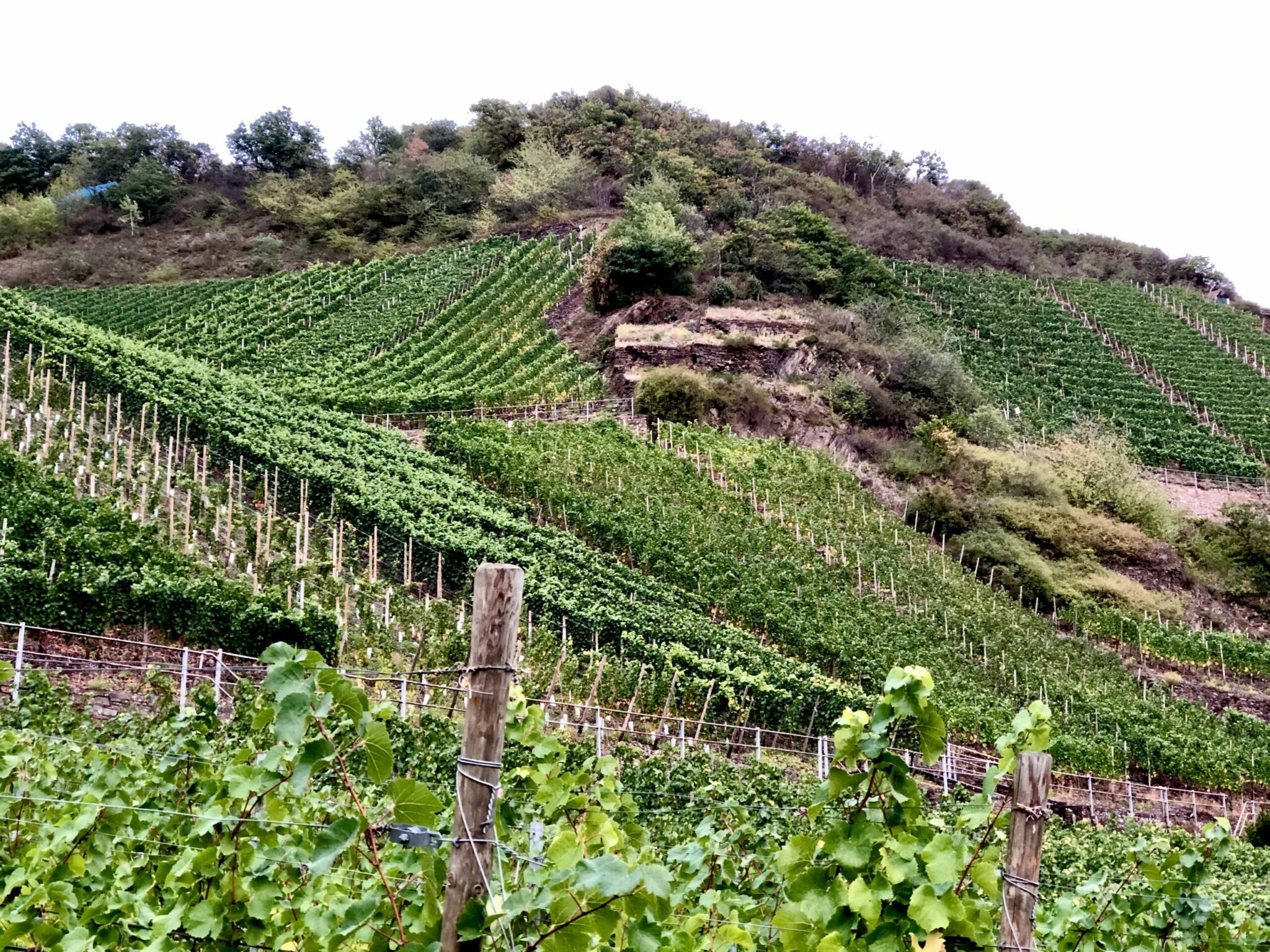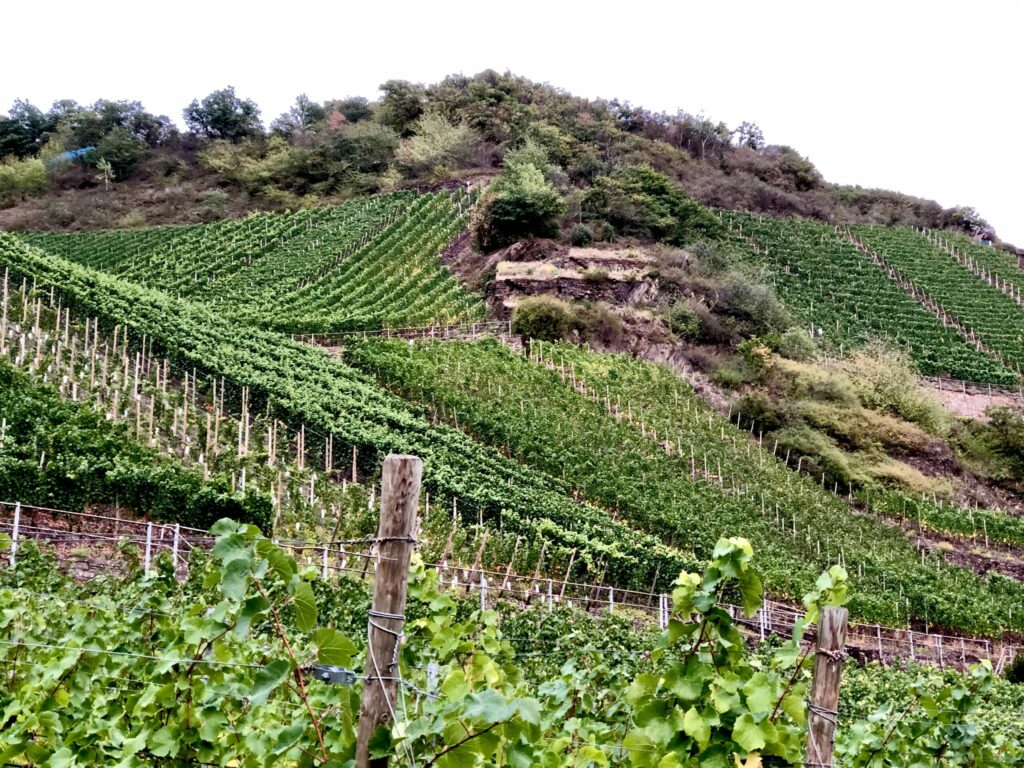 82% of the region's vineyards are planted with red grapes and 65% of those are Pinot Noir. The soils are primarily gray and weathered slate, with the hillsides and steep terraces forming a warming amphitheater that ensures an almost Mediterranean microclimate despite its northern latitude.
This is the perfect recipe for aromatic, refreshing wines of great flavor and length. In some ways, this is absolutely logical. These are the sorts of wines Germany is known for, this is a style in which they excel. And it allows the primarily red producing region to get a foothold in the white wine segment while still respecting the geological, geographical and climatic conditions of their vineyards and vines.
Nowhere else in Germany does Blanc de Noir play such an important role as it does in the Ahr. "Bleichart" and "ahrbleicher" were traditional terms used in the region to describe pale wines made from red grapes, vinified in a white style and can be found in Mayschoss cellar books dating back to 1664. In the mid-1980s, Werner Näkel released his then-new wine to the market, a chimera, his Ich-Bin-Ich, and he named it "Illusion."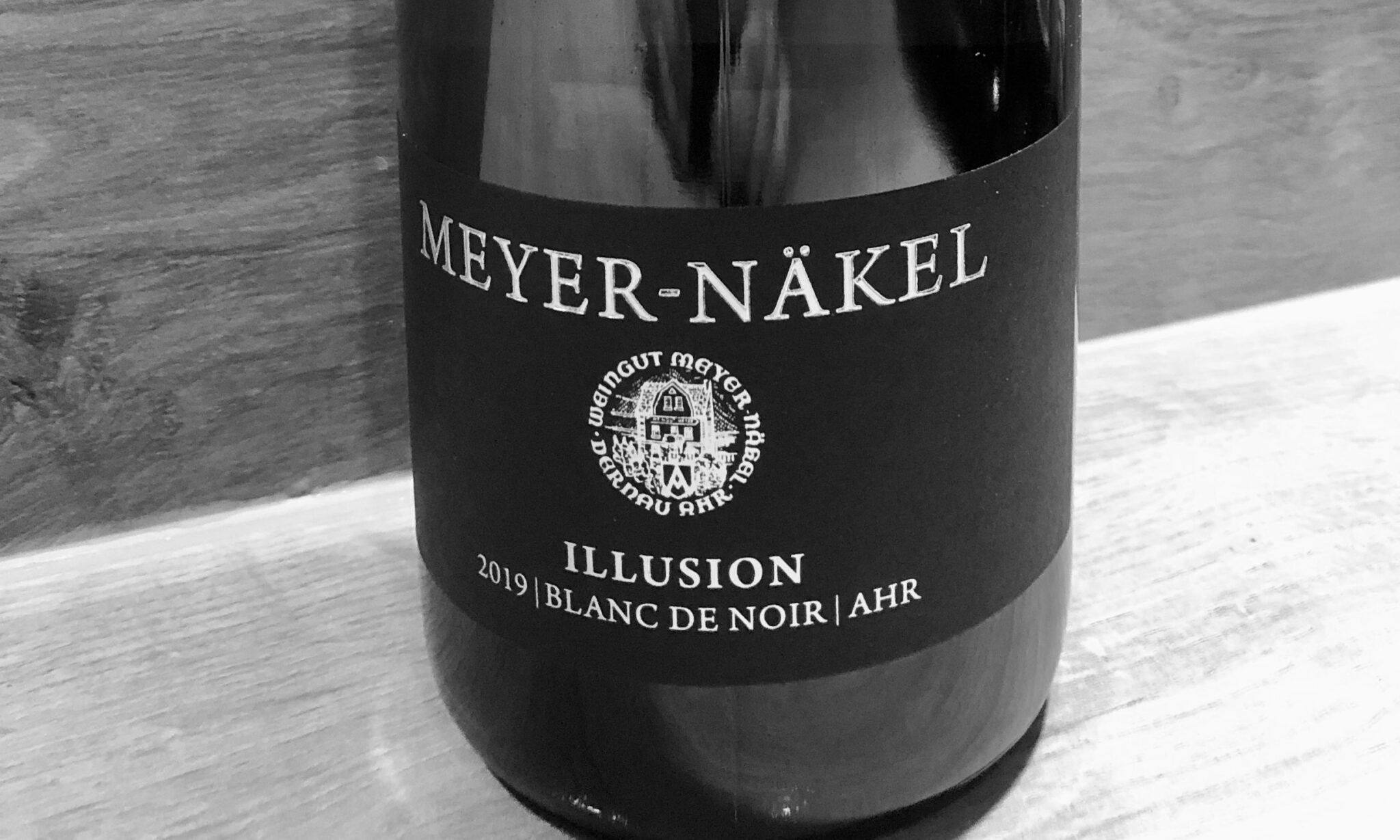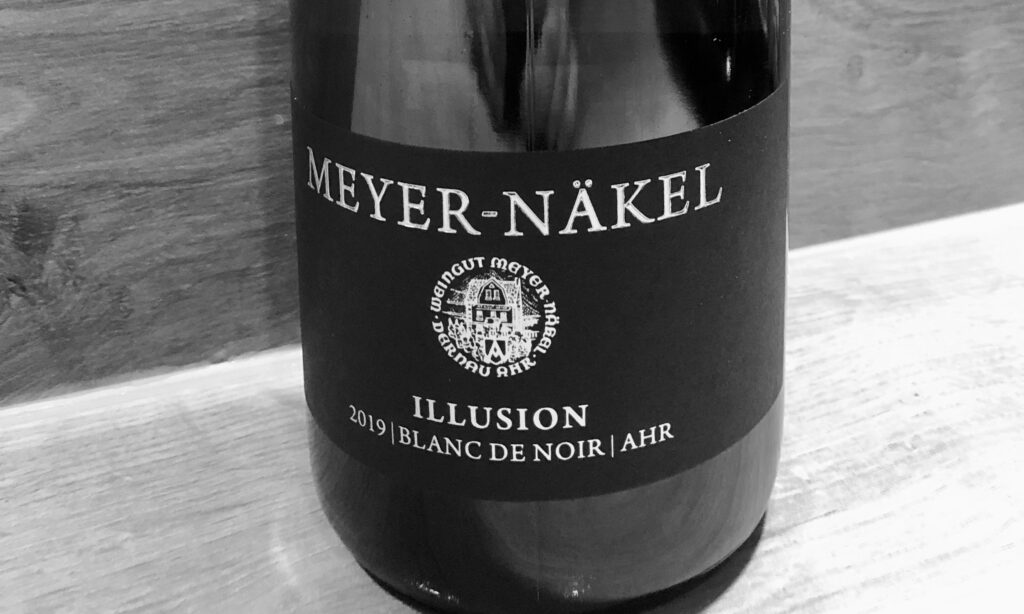 "No estate in the Ahr is without a Blanc de Noir in its portfolio," says Meyer-Nӓkel's Appel. "For some of the regional cooperatives, I dare say it is likely not only the most important white wine in its portfolio, but perhaps their most important wine overall." Today the style has established itself as a hallmark of the region. Blanc de Noir is a true expression of the soil and soul of Pinot. And indeed in the regional competition Ahr Wein des Jahres 2020, the category had over 28 submissions, up 6 just from the year before.
As many of these examples demonstrate, quality Blanc de Noir is far more than a summer fling. Over time its floral freshness recedes and it can develop serious depth, moving in the direction of a fine Chardonnay. "This is not a rosé that will fade at the end of summer," says Appel. " At our estate we like to hold back a section of the production each vintage — 120 bottles or so — and then pull them out for special pairing dinners to show how they mature."
We Will Rock You
In 1978, Gloria Gaynor sold her cover single "Substitute" with the B-side release "I Will Survive." Sometimes, B-sides do come to rule the world.
Rosé, your days are numbered.
---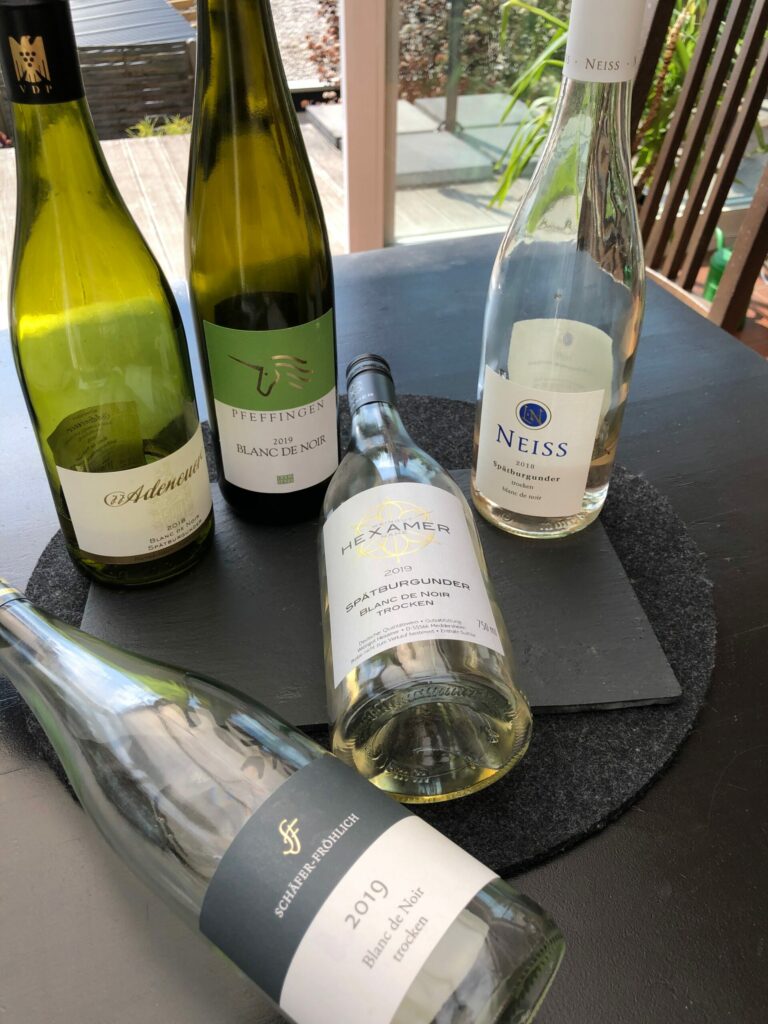 8 B Side Worthy Wines to Try
With the taste of a white and the texture of a red, the pairing possibilities Blanc de Noir offer are endless. Dry, mineral-driven examples make for a beguiling aperitif, while richer and mature examples graciously support even sturdy main dishes from seafood to poultry to game. But also poached vegetables, fresh ramps, avocado. The versatility means the world is your oyster (also a perfect companion with the Schäfer-Fröhlich Blanc de Noir listed below). Blanc de Noir is, well, a wonderfully clean slate.
2019 Blanc de Noir Trocken. Weingut Pfeffingen | Bad Dürkheim, Pfalz
A serious expression from a serious winemaker with Pfalz staying power. This little-Pinot-that-could swings back and forth between white flowers and an electric, crunchy core. The dreamy soft-filter aromas rotate into a crystalline focus on the vibrant, textured palate with racy raspberry, red currant, orange peel, a focused, tense acidity and a bittersweet orange peel kiss on the finish.
2018 Spätburgunder, Blanc de Noir Trocken, Weingut Neiss | Kindenheim, Pfalz
High in the limestone-laced northern Pfalz, Axel Neiss has transformed rosé's naive charms into a racy expression of Kindenheim's edge and sass in a steel-aged liquid performance worthy of Olivia Newton John in Grease. Wild, citrus aromatics open into a core of crunchy red fruit and nuts, and a fresh herbal finish. Long hang times, old vines, and deep limestone soils give the wine depth and character.
2019 Spätburgunder Blanc de Noir Trocken, Weingut Schäfer-Fröhlich | Bockenau, Nahe
Tim Fröhlich's Blanc de Noir is sourced from his mature Pinot vines, delivering a very serious expression of the Nahe's slate terroir. The nose offers elegant restraint, crisp green apple, apricot and grapefruit. Fine texture and fruit concentration define the palate, with verve, drive, precision and plenty of mineral weight at its core. Great food wine, with all the crisp charm of a Chablis and enough red fruit whispers to remind us that while it may wear white clothes, this is anything but a white wine.
2019 Blanc de Noir, Spätburgunder Trocken, Weingut Hexamer | Meddersheim, Nahe
The very definition of a flipside Pinot Noir. It's hard to imagine something this affable and approachable could be grown on the austere red sandstone cliffs in and around Meddersheim. This is a wine of suggestion not statement. Gentle aromas of guava and ripe raspberries; melon and apple flavors with a fine, crisp and playful acidity. The sort of bottle that lets you know it's fine to put your feet up on the coffee table, eat with your fingers, stay the night.
2018 Spätburgunder Blanc de Noir Trocken, Weingut Marc Adeneuer | Bad Neuenahr-Ahrweiler, Ahr
Here slate reigns supreme in the nose and on the palate. Aromas of baked apple, dried apricot and ripe melon lead to a creamy, generous palate cinched tight with a ripcord acidity. When released a fruit-soaked parachute opens to settle you on the cool grass in the warm sun and remind you, "life ain't half bad." The quintessential example of a Blanc de Noir. True to itself.
2019 Blanc de Noir Trocken, Maibachfarm | Bad Neuenahr-Ahrweiler, Ahr
Small barrels and big dreams are the secrets to success as revealed by organic winemaker Alexander Weber. Dry, crisp herbality, delicate elderflower and accents of mint are balanced with crunchy hibiscus, raspberries, and dried spice. Pristine minerality lingers into a steely, salty finish. Moderate alcohol levels are a testament to the health of the vineyards despite the heat of the vintage. It starts red and ends white, with one taut vein of acidity to rule them all.
2019 Illusion Blanc de Noir Trocken, Weingut Meyer-Näkel | Dernau, Ahr
Germany's first Blanc de Noir sings with a richness and confidence that only comes from having history and experience on your side. Dry, with creamy layers of yellow and white fruits, fine florality and a barrel kiss. Fruit and spice caress the palate with a velvety texture and a lingering herbal finish. A stunning companion to any dish. Beautiful now, with a spicy swagger that signals it knows the best is yet to come.
2019 Handwerk Blanc de Noir Trocken, Weingut Bertram-Balthes | Dernau, Ahr
Champagne without the bubbles. Delicate citrus and white fruit aromas spring to the nose and over palate in a stunning modern and mouth-watering expression of the variety and style. Flinty and floral with an intense saline finish. The "very soul of Pinot Noir," according to Bertram herself.