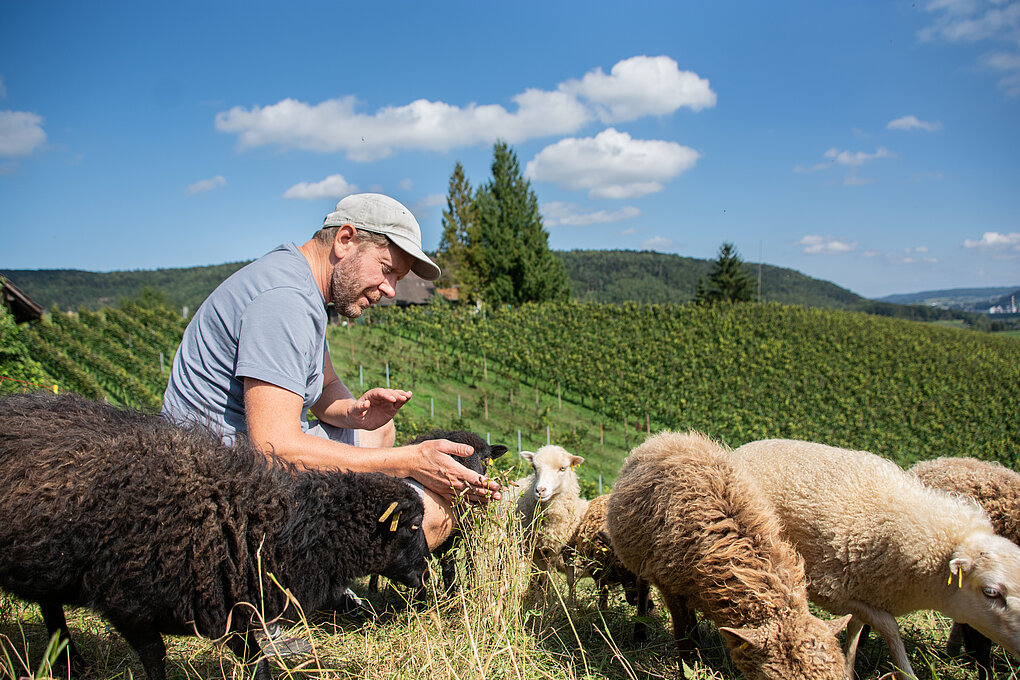 ​
We, the people of the north, do not have wine in our DNA. But there is a close bond with nature and a strong relationship with the environment that identifies us. People born there, like Hoss Hauksson, or who have lived and worked there for a long time, as in my case, tend to share an unspoken belief that people belong to nature on the same terms as all the other organisms.
When I learned an Icelandic winemaker is living and working in Switzerland, I needed to see for myself whether my convictions held true for this particular specimen.
My husband and I arrived at Hoss's cellar in Rufenach a few minutes before 1 p.m.
Since we are accustomed to Swiss ways, we wait patiently until exactly 1 p.m. to knock on the door. It turns out that we didn't have to be skittish. Hoss was already waiting for us. From the first seconds, he radiates a striking sense of sincerity. He greets us with dry humor and a quiet firmness.
Soon we're off to visit his vineyards in Remigen and Döttingen, where he grows a hodge-podge of varieties: Pinot Noir, Blaufränkisch, Malbec, Pinot Gris, Riesling, Kerner, Chardonnay, Sauvignon Blanc, and Müller-Thurgau. The last one won't be available much longer. With no regret in his voice, Hoss tells us about his plan to graft his mature Müller-Thurgau vines over to Chardonnay. "A shame," I think to myself, recalling his skin-contact Müller-Thurgau 2020, which delivers a level of multidimensionality in the same league as the orange wines of Gut Oggau (think Theodora).
But the man has other plans. Big plans.
Hoss naturally grabs over-the-border attention for his unusual (for a Swiss winemaker) heritage. Born in Reykjavik, Iceland, the mathematician and financial manager settled with his Swiss wife in Switzerland in 2009. Five years later, while working for some big guns in the financial industry, Hoss bought half a ton of Pinot Noir and started making wine in his laundry room. ("His family must love him very much," I note to myself, thinking of my own laundry room.) He did all the work himself, from fermentation through pressing to bottling. With a steel tank squeezed between the washing machine and laundry baskets, he worked this way for two years until 2016, when he rented his first parcels of Pinot Noir in Remigen, in the central part of northern Switzerland, and moved his steel tank from the laundry room to a real cellar in Rufenach. 2017 saw his first commercial release.
After a short drive, we arrive at Alpberg to visit a small herd of dwarf sheep that helps Hoss mow the vineyards. Just then, the sheep are dispatched onto a meadow, far from ripening, tasty grapes. The animals run toward Hoss, hoping for snacks. "The Ouessant sheep" — also called the Breton Dwarf, although Hoss is convinced the sheep were initially brought to Ouessant island by the Vikings — "perfectly complement the vineyard," he says. "They're small, so they won't climb too high for the fruit, they're robust mowers, and they fertilize the plots with nutrients they obtain from that very plot." Two black rams, Kolur and Skuggi, sniff Hoss' hands in search of carrots as he continues: "I want the vineyard to be self-sufficient. The goal is to bring tamed nature back where it belongs and let it do its job."
Hoss has been farming biodynamically since he rented his first parcels four years ago. By the end of 2021, almost all of his vineyards will be certified. But his idea of a biodynamic vineyard goes far beyond the boxes that need to be checked during a certification control. He shows us a prototype of his brand-new inverted trellis system, on which the grapes grow at the top, protected from hail by a net, and the branches grow downwards, where the furry mowers eagerly wait. "This way, I don't have to trim the branches and there is far less leafing to do," Hoss says.
Our conversation shifts to drainage systems in Switzerland, which funnel a large portion of small streams into pipes, destroying local stream ecosystems. One such pipe runs through one of his parcels, and Hoss would like to bring that stream back to the surface to allow for renaturation of the slopes.
To Hoss, spirituality and farming are inseparable elements of the universe.
At some point, Hoss mentions birds, and if he had not captured all of my attention already, he has it now. To Hoss, spirituality and farming are inseparable elements of the universe. Referring to Rudolf Steiner, founder of biodynamics, and the seventh lecture of Steiner's famed Agricultural Course, Hoss explains that to attract astral forces, he plans to plant nut trees around the vineyards. The birds, he explains, are needed to help spread the forces evenly. In his estimates, he would need 200 to 300 birdhouses or other nesting opportunities to reach his goal — subject to the condition that the invited birds don't eat the grapes. Being a trained ornithologist, this idea leaves me ecstatic.
Strolling along, I can't help but notice how Hoss' parcels resemble the vineyards of Arbois, in the French Jura, pasted onto a dark forest edge, with birds of prey soaring above the trees, woodpeckers drumming, and songbirds calling in the distance. From a biodiversity perspective, it is great. But roe deer find the grapes irresistible. During my visit, Hoss is experimenting with various herbal infusions, such as a wild garlic tea, to repel the beasts. We're passing by his herb garden, where he grows wormwood, sage, and other herbs for the herbal mixtures he uses to spray the vines for health, strength, pest- and mold-resistance — and for his vermouth.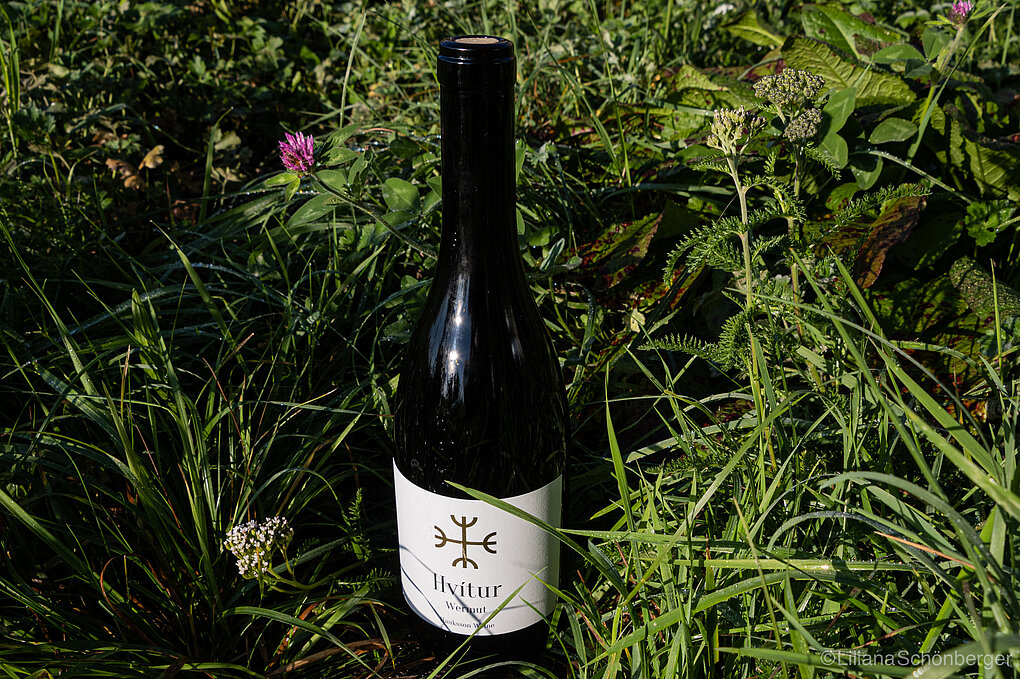 The vermouths are called Hvítur ("white" in Icelandic) and Rauður ("red") and reflect Hoss' minimalist, Fukuoka-influenced approach to farming. They remind me of Icelandic weather: bitter, unpredictable, but when the sun comes out, magical. The Hvítur, based on Müller-Thurgau, is on the very dry side, with dominating aromas of wormwood, hyssop, and yarrow that grow all over the vineyards.
The vermouths remind me of Icelandic weather: bitter, unpredictable, but when the sun comes out, magical.
The main focus is on Hoss's pure ingredients. Herbs unroll their aromas and bitterness undisturbed by additives, like sugar or alcohol. The bitterness of the Hvítur can be balanced with a thin slice of orange, which is how Hoss drinks it. Rauður is slightly more approachable. Here, beyond the usual herbal mix, we have a whole spice cabinet. Hoss uses Pinot Noir stems to aromatize the base wine and it's a game-changer, giving notes of grass, black pepper, flint, smoke, nutmeg, cardamom, licorice, and olive brine. Hoss is obsessed with stems and uses them to infuse small, experimental Pinot Noir batches that gain an intriguing depth of earth and spice.
Although Hoss produces a wide range of wines, his main focus (and the majority of his vineyards) is Pinot Noir. We taste a vertical: the 2017, 2019, and 2020 vintages of Alpberg, his prime site for Pinot Noir (2018 was a tough year for wine in Switzerland; 2019 and 2020 were still in barrel). The goal here was to observe how Hauksson has developed his style since his first official vintage in 2017.
2017 is fantastic – the tannins have mellowed, red berries have come to the fore. Rich undertones from the new barrels he purchased back in 2017 bring notes of licorice, coffee, bacon, and smoke. This is a lean, dry, medium-bodied, very elegant Pinot Noir. 2019 is lit with vibrant color and notes of strawberries and red cherries, lilac and violets, as well as flowering meadow, thyme, and rosemary. This is the vintage I look forward to tasting after letting it mature for a few years. 2020 is still in an early phase of development. The harvest occurred twice, before and after a big rain, 10 days apart and fermented 100% whole cluster. Those two batches are still separate and it is difficult to predict which direction the wine will take.
All red and white grapes undergo whole-cluster fermentation. All white grapes are macerated between several days and three weeks. Those two techniques trace the local identity (terroir, if you will) into the wines. For Hoss, what's important is that his wine expresses the whole plant and its environment. Hence the whole clusters: tiny green branches deliver a different set of aromas (earthy, leafy notes) than the grapes themselves. Prolonged skin contact, he believes, allows for a better expression of the elements to which the grapes were exposed (e.g. sun exposure, humidity, temperatures)

Whole-cluster fermentation and prolonged skin contact, as well as wild fermentation and little or no added sulfur, are what distinguish Hoss's wines from those of his wine-making neighbors in the Aargau, who still mostly follow a conventional style. In fact, on the natural wine scene in the Aargau, there is only one other significant player beyond Hoss: Tom Litwan in Oberhof.
Even the average Swiss citizen has probably never tried a wine from the Aargau. With just 400 hectares of vineyards, it remains a marginal canton for wine production. However, those vineyards, perched between 400 and 500 meters above sea level, with lime-rich soils of the Jura and a surprisingly mild climate similar to Burgundy, have great potential to achieve top quality under attentive cultivation. There are not many daring spirits in the region testing new ideas and deciding to take their own individual path in winemaking. But Hoss is one.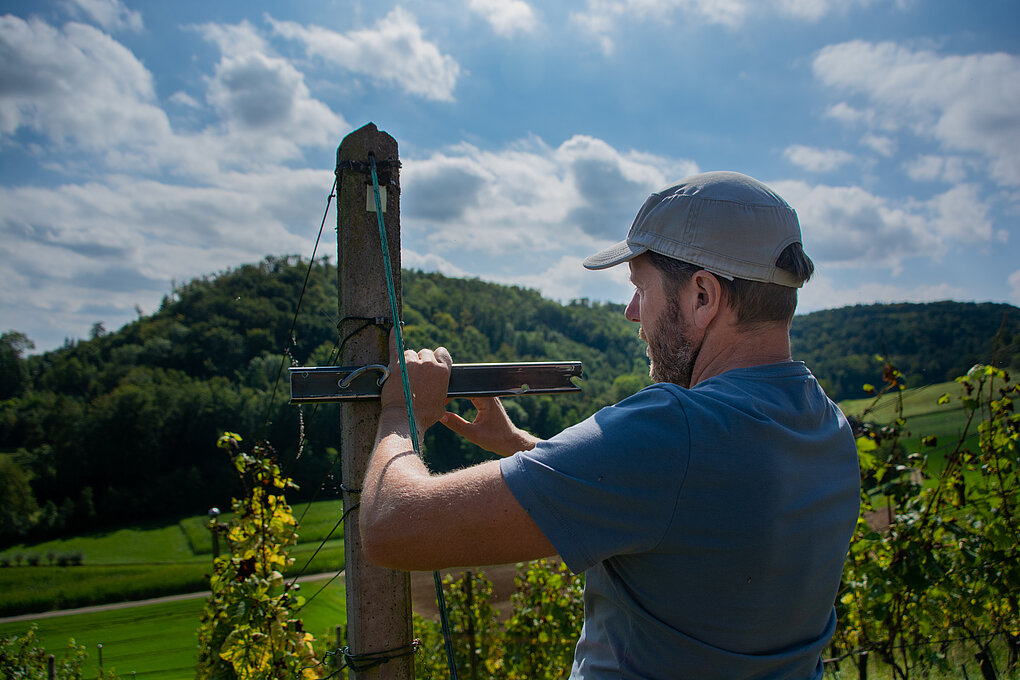 I ask him when all his plans about holistic, self-regulating farming would come to fruition. "I don't know," he answers with disarming candor. "It's a path, I am not yet sure where it will take me. I constantly learn from my wines. I will consider myself a successful winemaker when I see other vintners copying my methods and approach to farming. It all starts there."
Hoss understands nature as a partner and humbly accepts all the teachings it offers. He and his wines have a lot in common: they are honest, bold, natural, as only an Icelandic winemaker in alpine Switzerland can be.
I, personally, wish a future me will be driven by the same steady determination and confidence to follow my own paths, while remaining honest, unpretentious, and able to learn from my mistakes with humility and openness, as Hoss does. Who knows, maybe I'll be back to help him fix those 300 birdhouses in his vineyards. ​