Big Rainbow Love in Burgenland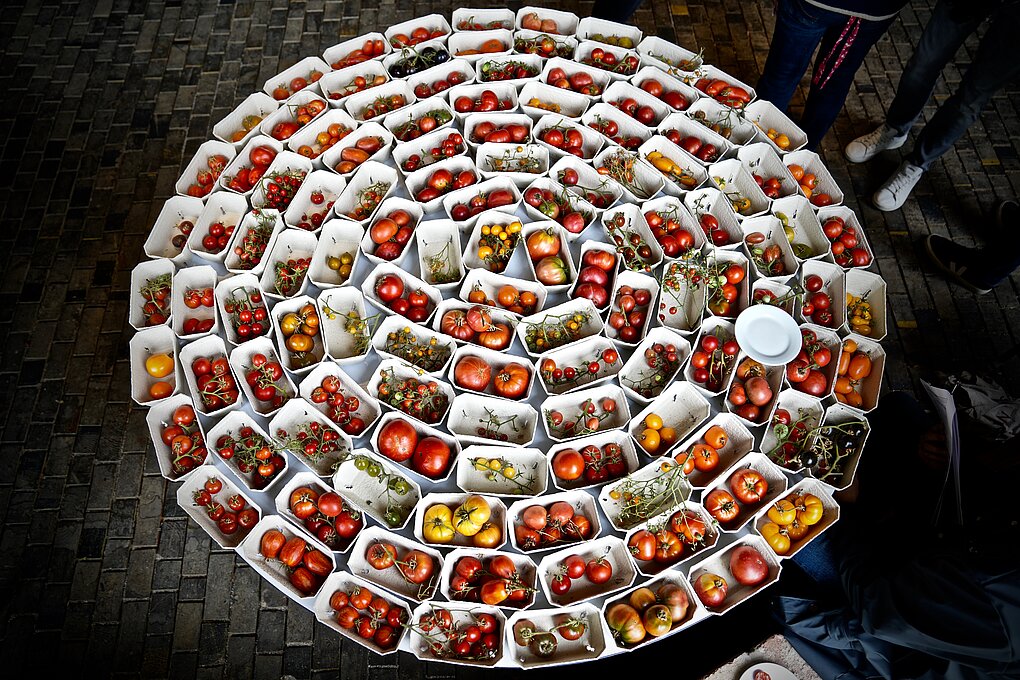 Calling from the expansive, flat landscape that forms the western edge of the Pannonian Puszta steppe flatlands, Erich Stekovics is a lone voice in the tomato world. Where others seek high yield and hardy reliability, Stekovics makes the case for flavor and site. He and his wife Priska belong to the tiny share of Austrian farmers cultivating tomatoes without the cover of glass or foil, and without irrigation. At the eponymous estate in Frauenkirchen, the pair cultivate and safeguard several thousand varieties in the open, and in addition to chili peppers, onions, and garlic, their fields are surrounded by vines.
Although Stekovics started his seed collection as a child, the farmer's son only embarked on his present career as a gardener at the age of 35. I met him on the occasion of a field excursion, part of the ongoing Koch.campus series of Austrian top chefs' explorations of local products, which I had been invited to join. Appropriately for someone nicknamed Kaiser der Paradeiser, "Emperor of Tomatoes," the lively, rotund 50-something arrived clad in a red-orange cardigan. (Austrians in general, but particularly towards the east of the country, favor the term Paradeiser, pronounced paradi:sa, going back to the fruit's association with biblical Eden's forbidden fruit and hence paradise, over the one based on the Mexican Nahuatl term tomato).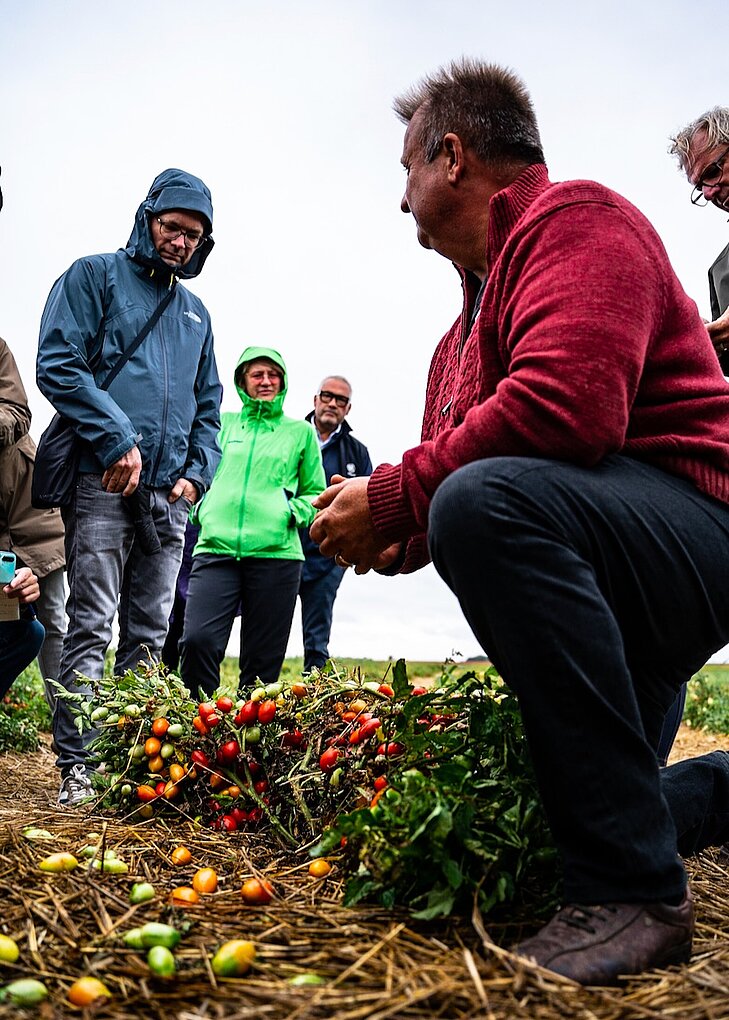 Beneath our feet, the farm soil was covered with straw to keep it cool and prevent evaporation due to the near constant, at times ferocious, wind. "In the wild, soil is never bare!" Stekovics said. "Soil needs to be alive for plants to communicate with each other." In spite of being annuals, tomatoes, like grape vines, love occupying the same spot for several years. The Seewinkel, Austria's lowest-lying and hottest region, where so-called lakes are mere puddles or in summer sometimes even less, clearly is a favorite location; the severe conditions eliciting extra character in both types of fruit.
Stekovics has long been an advocate of drought-resistant varieties that can survive, even thrive in dry conditions. He sees little reason to waste precious water on plants that don't need it. "Our tomatoes receive 3.5 liters of water at planting, and that's it," he said, standing amongst sprawling green foliage marked with a rich crop of brightly colored fruit. He is convinced that tomatoes are the world's most intelligent plants: "Their huge root system knows perfectly well how to get what it needs."
Twenty tomato varieties stretched before me in a riot of red, yellow, orange, pink, purple, and brown, filling the air with their fruity aromas.
Case in point: Big Rainbow, my new tomato love, which I encountered during the tasting that followed the field excursion. In lieu of a wine tasting's long row of bottles, 20 varieties of tomatoes stretched before me in a riot of red, yellow, orange, pink, purple, and brown, filling the air with their fruity aromas… and there it was! Big Rainbow. Largish, slightly ripped and tender to the touch, with colors as flamboyant as its name suggests, its enveloping perfume reminiscent of Cavaillon melons.
Be it for wine or tomatoes, a tasting can never replace the real thing, that is truly imbibing and absorbing. Which is what I did later, at night, tempted by the half bottle of Heinz Velich's 2017 Tiglat Chardonnay lurking in the minibar. I was yearning to mingle its golden glow with the glistening tomato rainbow.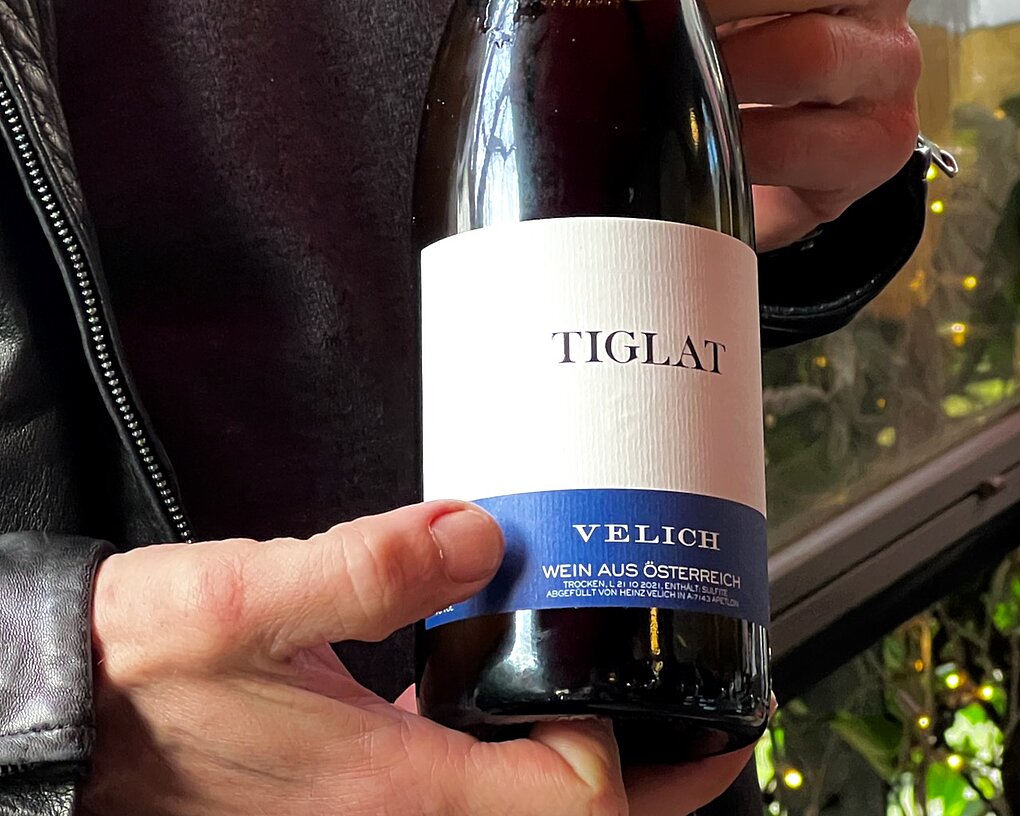 I vividly remember the splash the Velich Chardonnay made at its 1992 debut. A dry wine, made from an international grape variety in the Seewinkel, almost in Hungary, where wines' only claim to fame historically was sweetness — back then, that was as daring and crazy as Stekovics dry and open-farming his Paradeiser. Which is why someone like Heinz Velich completely understands and supports the Stekovics' endeavors and passion. "We need to plant hedges and trees as windbreakers," he emphasized over a meal lunch of tomato delights, "and think much more about water management."
Over the years, the Tiglat style has evolved from impressive power to refined elegance, full of fruit and minerality. I savor the glorious moments of sweet, sour, juicy deliciousness, worthy of this extraordinary day, tomato and wine play ball with each other like tennis champions at Wimbledon, both having been through the same unforgiving heat and drought, nurtured by the same, ancient soil, the perfect précis of this day — and then I fall into a golden rainbow sleep. ​